These proats (A.K.A. protein overnight oats) taste delicious and will keep you full all morning long. They're easily going to become your fave breakfast!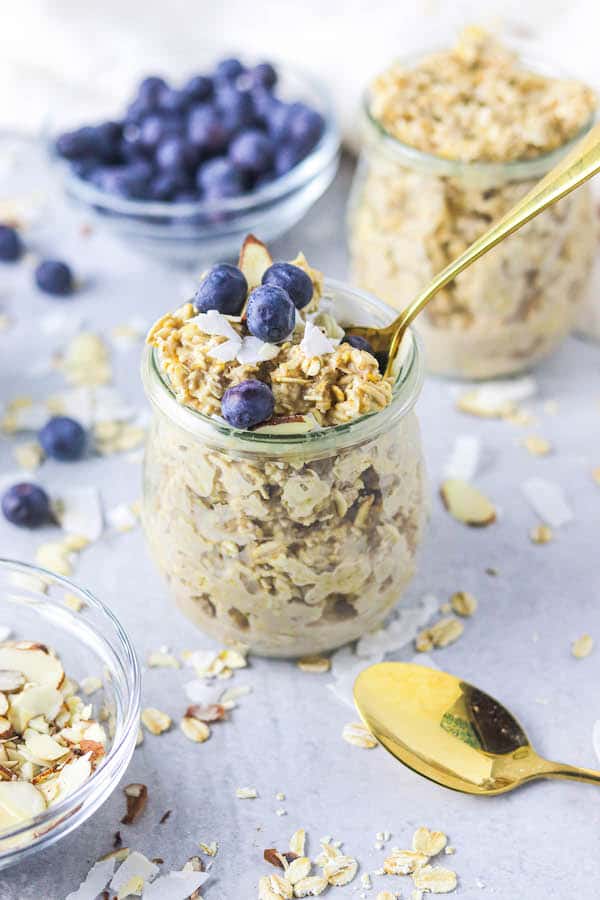 Why Are Proats A Good Breakfast?
Oatmeal is one of my go-to breakfasts. Oats give you complex carbs which will give you energy that will last all morning. And then, when you pair that with protein, like I do when I make these proats, you're more likely to stay full longer. And don't we all need more of that! Protein is super important to have at breakfast because when you eat more protein at breakfast, VS not having any, you won't want to eat your arm off at 10am! #hangry.
Another high protein breakfast that I love is my feel-full banana protein shake. SO. Good. Honestly, it tasted just like a frosty! Ice cream for breakfast? I'm IN!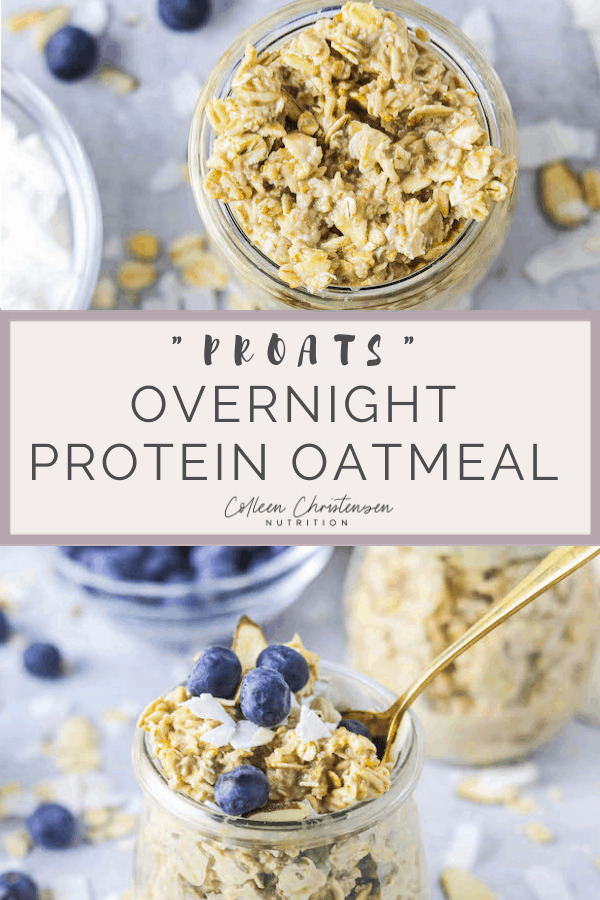 Be sure to take a second and pin this recipe to your Pinterest board. Your friends will thank you. Aaaaand think you're super trendy!
How To Make High Protein Overnight Oats (Proats)
Making this high protein overnight oat recipe couldn't be easier. All you have to do is mix everything together in a container or jar the night before you're planning to have it for breakfast and let it sit in the fridge. That's it! And, honestly? You can do this even just 1 hour before you're planning to eat it if you're running around in the morning and realize you forgot to make these proats the evening before!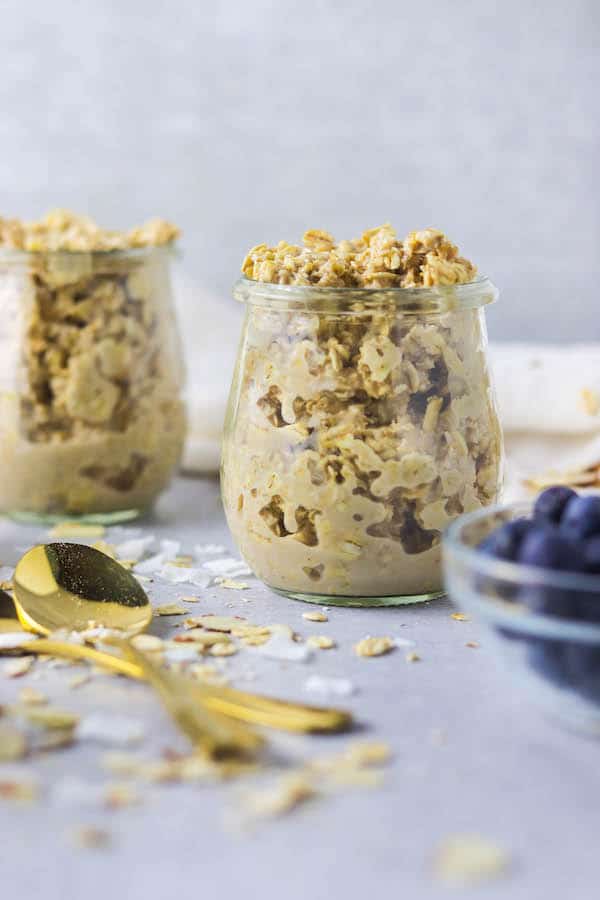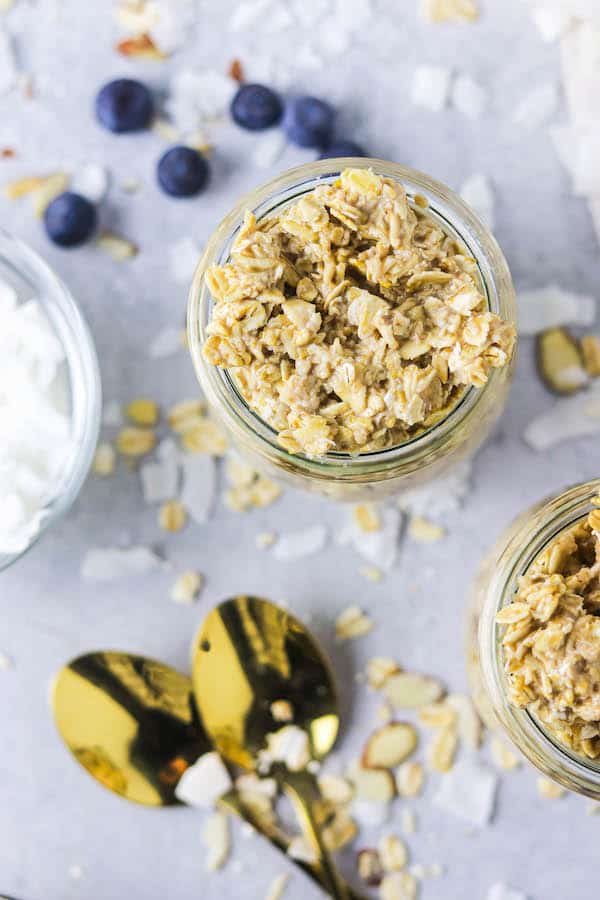 Then, you can add whatever you want on top or mix in some extra flavors. You really could make these proats a different way every day do you'd never get sick of them. Add in some cocoa powder, nuts, seeds, dried fruit, etc.! The options are endless for these high protein overnight oats!
If you need some jars to make these proats checkout this set of 12 oz mason jars. They're less than $20 bucks and, let's be real... overnight oats look even more appetizing when they're put in a trendy mason jar!!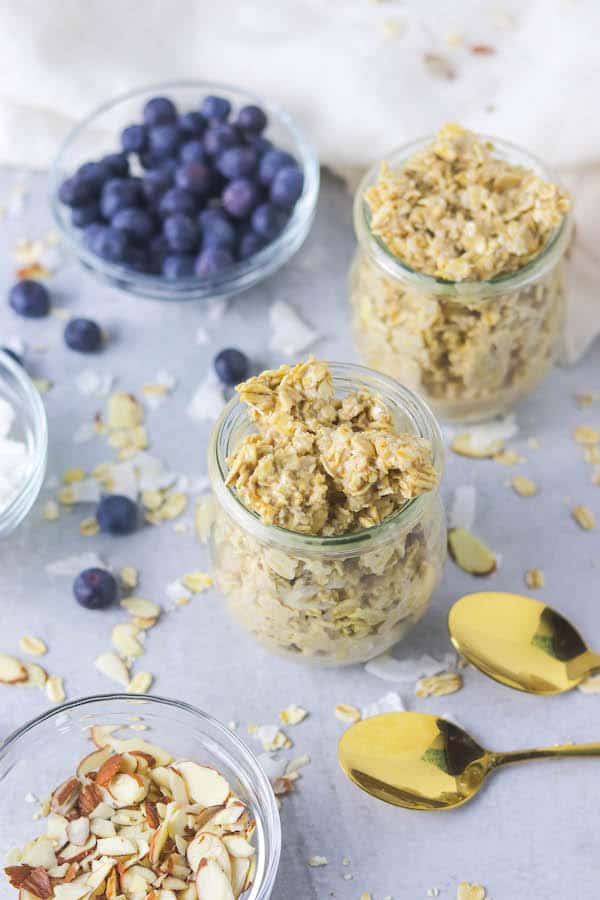 Overnight Oats With Protein Powder
To increase the overnight oatmeal protein content I add in some protein powder. I like to use Optimum Nutrition Gold Standard Whey (you can find some great deals on Amazon sometimes!). Birthday cake flavor is one of my faaaaves. But I also like a nice vanilla so I can really change up the flavor however I want by adding fruit, nuts, etc.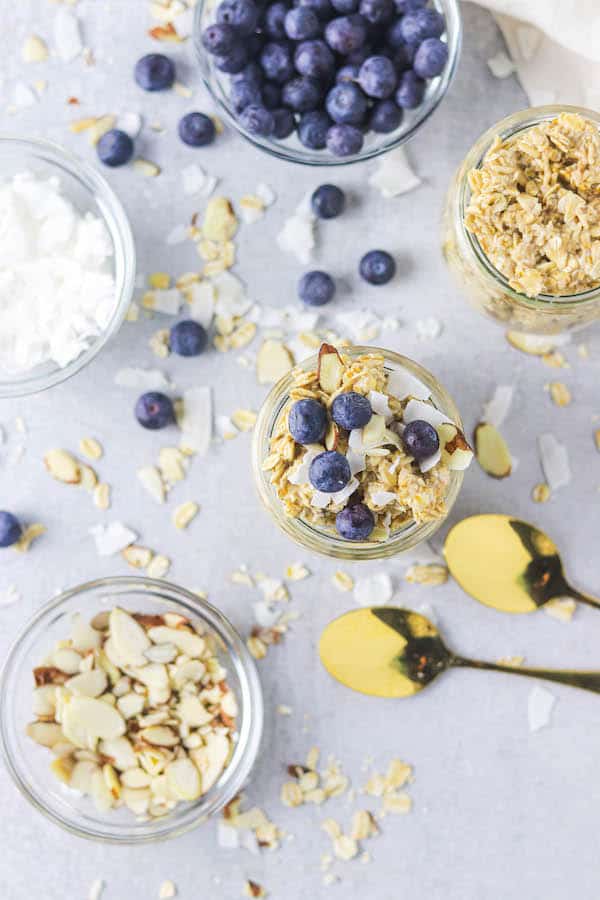 You can totally use whatever protein powder you want. You can even do a plant based protein if you want to make this recipe vegan.
Overnight Oatmeal Protein Content
The amount of protein these overnight oats with protein powder will have is going to differ based on the protein powder that you use. I'd say on average protein powder has about 20-25g per serving, so when you pair that with the ~5g from the oats and ~4g from the milk (if you're using standard milk) that would bring you to about ~15g of protein. Not bad!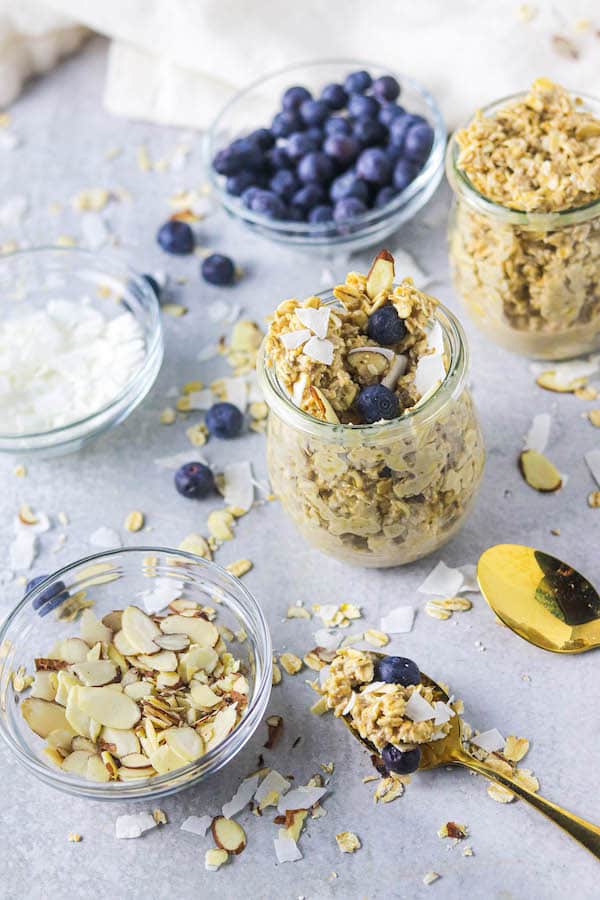 How much protein we need per day depends on our bodies, muscle mass, and our activity level. But, honestly? I don't count grams of protein or freak out about getting enough. I just make sure to have some (USUALLY!) at meals and snacks when I can. Not just because my body will benefit from it, but I do notice that I feel fuller longer, so I WANT to. Noticing this feeling is key to making it not feel like a food rule.
If you're looking to add a dose of veggies in the morning you might like my recipe for cauliflower oatmeal. Add a scoop of protein powder to that and BOOM, best of both worlds!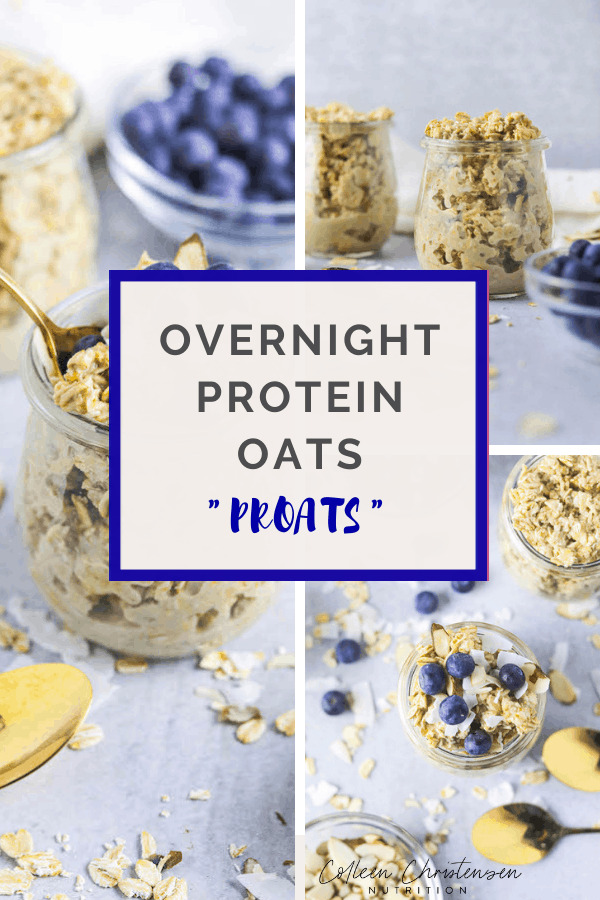 Proats FAQ's
Can I use plant-based milk, like almond?
100%! You can use whatever type of milk you like!
Do these proats need to stay in the fridge?
They'll set best if they're in the fridge. Because of the milk, you'll want to store these in the fridge. If you are using water in place of the milk they may be able to stay out of the fridge longer (great for travel) because there is nothing perishable in there.
How long in advance can I prepare these?
I think this really depends on your preference. I know people who make these for the week, in one batch. So, Sunday to Friday! Personally, I like to eat them within a couple of days to prevent them from getting too mushy. But the choice is totally yours!
Leave a comment below with what types of topping you'd add to your high protein overnight oats. I love getting new, fun ideas from you guys!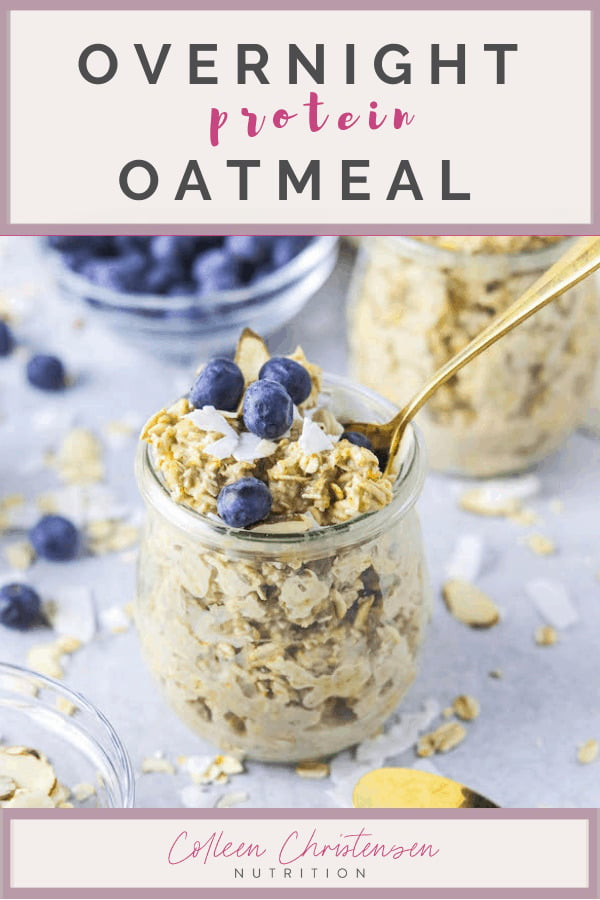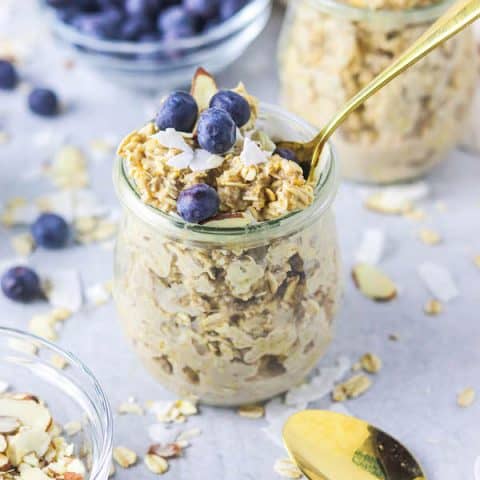 Proats (Protein Overnight Oats)
These "proats" a.k.a. protein overnight oats are an easy breakfast perfect for meal prep! Eat them alone or top with your fave mix-ins, these proats will keep you full all morning long!
Ingredients
1.5 cups old fashioned, rolled oats
1 scoop protein powder (~1/2 cup)
1 cup milk of choice (I used whole)
Instructions
In a medium-large bowl combine all ingredients, mixing well
Either leave mixture in the bowl or divide into smaller containers to eat each day
Let sit for at least 1 hour in the fridge, ideally overnight
Add whatever toppings you like and enjoy!
Notes
*You can increase or decrease this recipe by using the ratio of 1/2 cup oats to 1/3 cup milk
*Adjust protein powder as you like, adding more will thicken!
*If you don't have protein powder you can sub greek yogurt for protein
*Nutrition info is provided for Google, however you can decide what portion feels best for you to eat!
Nutrition Information:
Yield:

3
Amount Per Serving:
Calories:

244
Total Fat:

6g
Carbohydrates:

32g
Protein:

15g
Happy breakfasting! (or snacking- whatever works!)
XOXO
-Colleen
Want more recipes like this? You might like these!