DISCLAIMER: This post was developed in sponsored partnership with Safe + Fair however, as always, all opinions are genuine.
This birthday cake protein shake is like drinking a cake batter milkshake for breakfast that is PACKED with 32g of protein to keep you full and satisfied for hours! Plus, it takes just 5 minutes to make!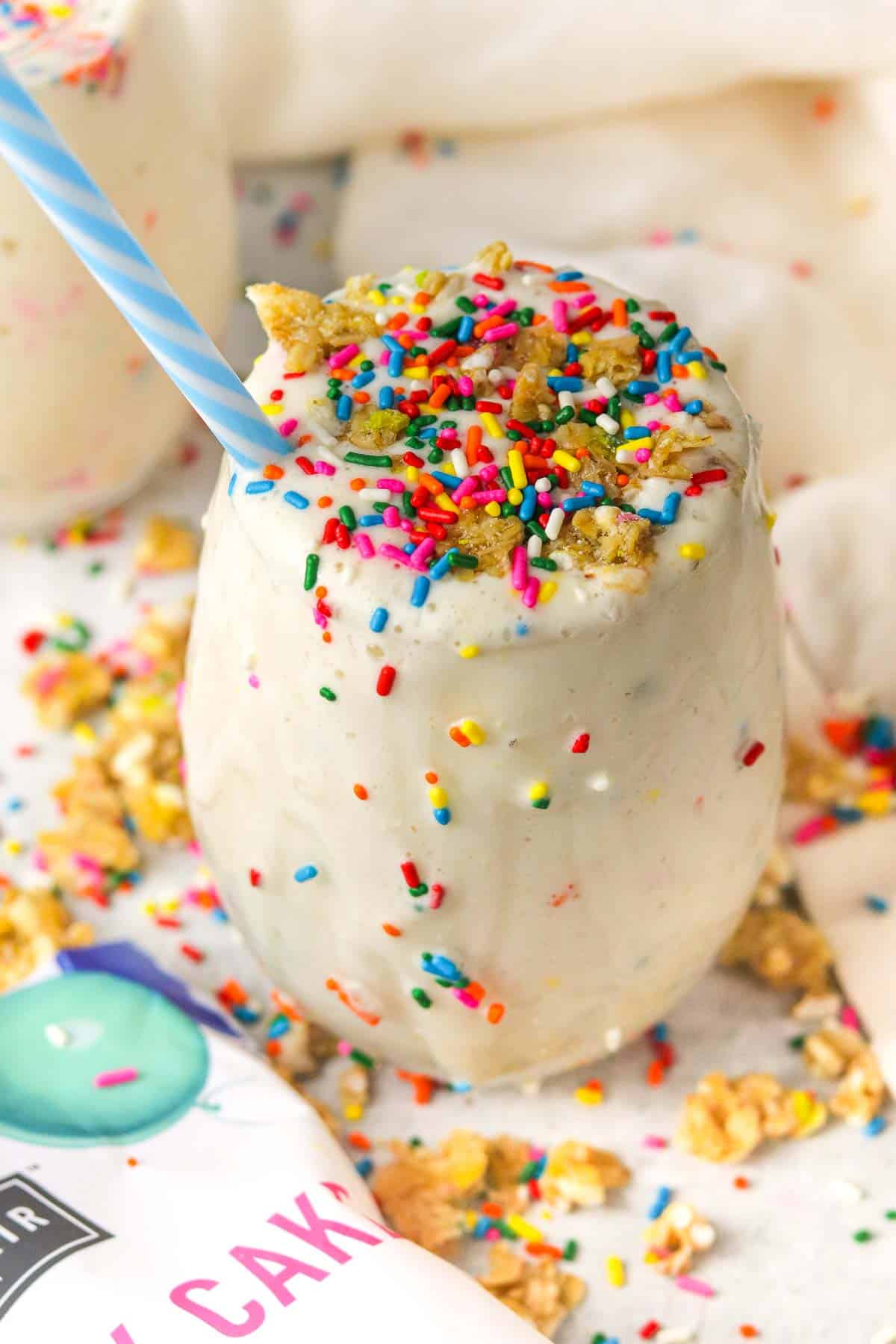 Why This Recipe Works
Who says you can't have cake for breakfast?! Not me! Sure, I COULD eat actual birthday cake for breakfast on the daily but let's be real: that would NOT feel super great. So? I decided to implement some of what I call "gentle nutrition" (something I teach in The SociEATy non-diet membership community) and came up with the best of both worlds: a super filling protein shake that also scratches that birthday cake itch!
One of my biggest pet peeves with birthday cake flavored recipes is they hardly ever taste like birthday cake… they're more like glorified vanilla. And it's the biggest let down! Well, not this recipe. Thanks for a few secret ingredients this baby tastes like you're downing legit cake batter… except way more nourishing. (Side note: no shame in the eating cake batter game or even having it for breakfast… sometimes it's what you want and I've totally done it!)
Besides tasting like heaven in a glass and giving your body fab fuel we GOTTA talk about the consistency of this birthday cake protein shake… it's like a milkshake! The only thing worse than a vanilla tasting birthday cake item is a watery smoothie! This one is THIIIICK!
If you like thick high protein shakes like I do be sure to take a peek at my super fluffy banana protein shake (I have recipe variations for mocha, "chunky monkey", banana cream pie and cinnamon peanut butter!), creamy cranberry pie smoothie and my high protein eggnog smoothie for a more seasonal vibe!
Ingredients Needed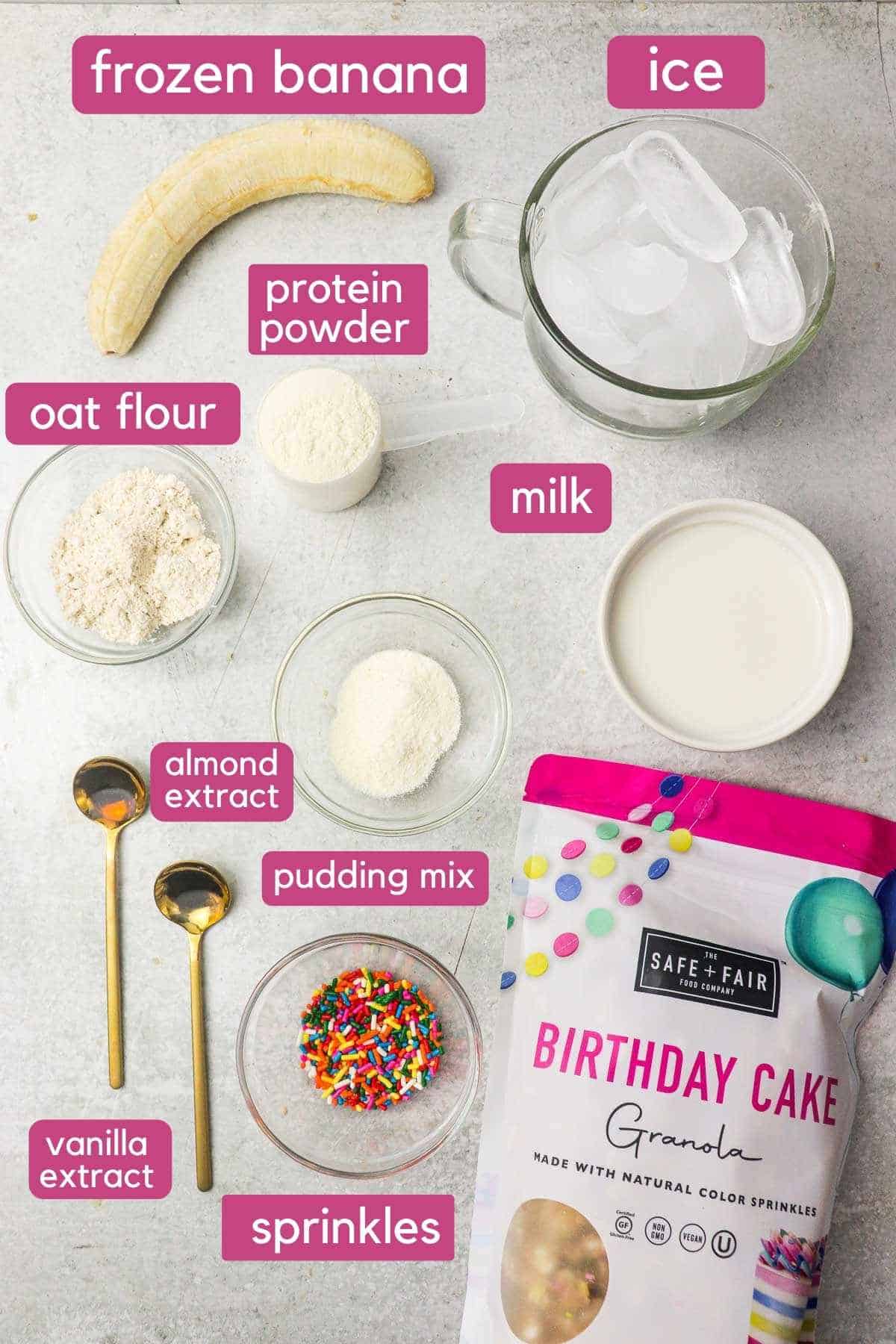 Milk. You can use any type of milk here but I like to use whole milk for the protein and fat it provides. This help makes the recipe keep you full and adds creaminess!
Protein powder. I use a vanilla whey protein powder. You can use a plant based protein powder if you like however I notice that the whey makes the most creamy, fluffy cake batter protein shake!
Pudding mix. I use vanilla flavored pudding mix but white chocolate or even a cheesecake (any vanilla-y flavor) will work!
Birthday cake granola. Safe + Fair birthday cake granola is a must! Besides being a birthday cake flavor I like Safe + Fair granola because it's less dense than other granolas because it has oats and puffed rice. The puffed rice makes it more "airy" and feels less like I'm eating a melted hunk of sugar. Nothing wrong with that, it'd be delish, but I just like a little texture change, ya know?
Honestly, Safe + Fair granola is the only granola that I regularly stock in my house at the moment. The birthday cake flavor is SO good (they also have a birthday cake drizzled popcorn which is my go-to snack and a birthday cake blondie mix) I swear every time I open the bag I ask myself "HOW do they do it?!" It's that good.
You can use code NOFOODRULES and get 15% off your order (any order!) at safeandfair.com. Trust me on this, your mind is going to be BLOWN it's so good! Safe + Fair is also allergen friendly, so all of you with allergies can enjoy without fear!
How To Make This Recipe
First you'll want to add the ice, banana, milk, protein powder, pudding mix, oat flour, vanilla extract, and almond extract to a high speed blender. (I have had the same Ninja blender for years now and it's so great!)
Blend it up for a total of ~5 minutes. First start on the low setting then increase to high speed after the first minute or so.
Once your high protein birthday cake smoothie is super smooth and fluffy fold in the sprinkles and ~½ of the granola with a spatula.
Pour your smoothie into a glass and top with the remainder of the Safe + Fair birthday cake granola and additional sprinkles if desired! And voila! A delicious cake batter protein smoothie! Enjoy!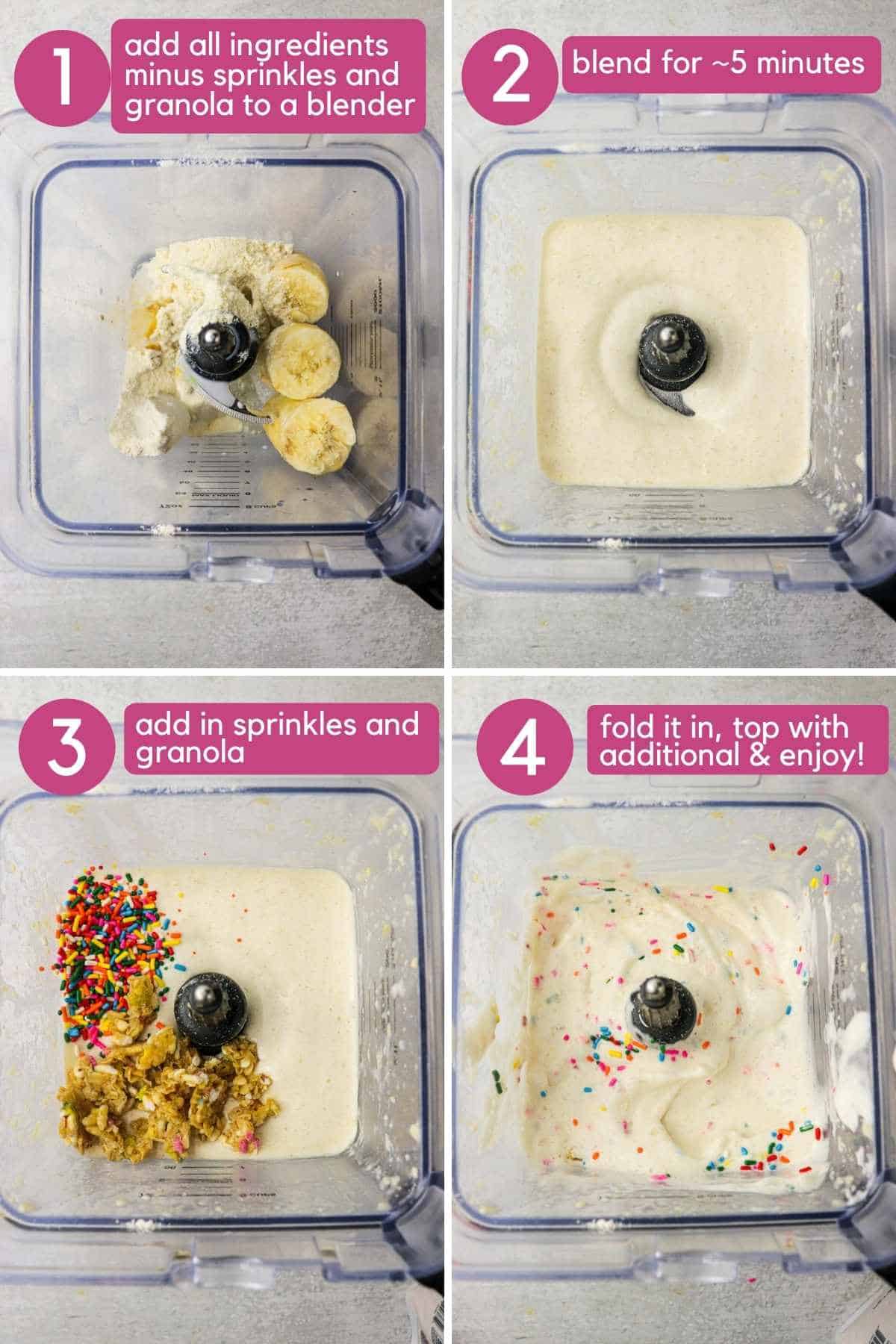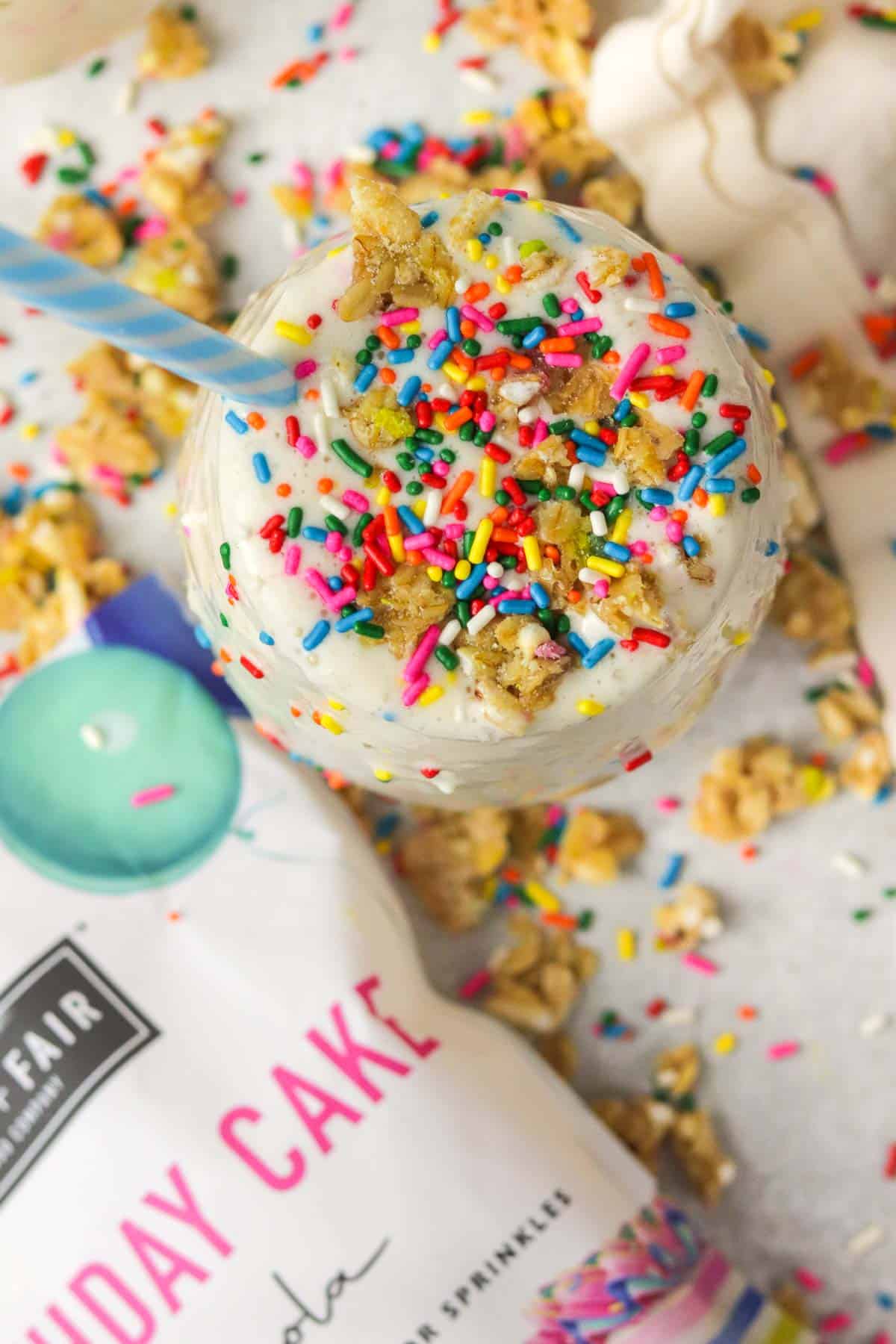 Recipe FAQs
What if I don't have protein powder?
Use 2/3 cup vanilla greek yogurt in place of the protein powder and reduce milk to 1/4 cup. Your protein shake may not be as fluffy but it will still have the birthday cake taste and be super thick!
Can I use a different fruit besides banana?
The banana is KEY to getting this cake batter protein shake super thick. However, if you want to sub I'd recommend trying frozen mango. Things like berries could work but they won't make it thick and ice cream like.
Can I skip the extracts?
The almond extract is KEY to this recipe as well. Otherwise your recipe might taste like those recipes that I hate like the glorified vanilla cake batter ones!
Why do you add oat flour?
The oat flour may seem strange but it adds a flour-y, cake-y taste to it. Again, making it taste less like a glorified vanilla protein shake and like actual birthday cake!
Expert Tips
When you think the protein shake is done you're going to want to let it go for an additional 1-2 minutes. This makes it SUPER fluffy and ensures that there is no chunks of ice (the worst!)
This does make a big protein shake so you can throw it in the freezer if you don't finish it all!
Other Recipes You Might Like:
If you love this recipe, be sure to leave a star rating on the recipe card and leave a comment below!
Don't forget to pin it on your Pinterest board for later, or tag me on IG @no.food.rules if you try the recipe and love it!
XOXO
-Colleen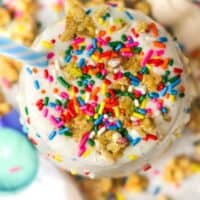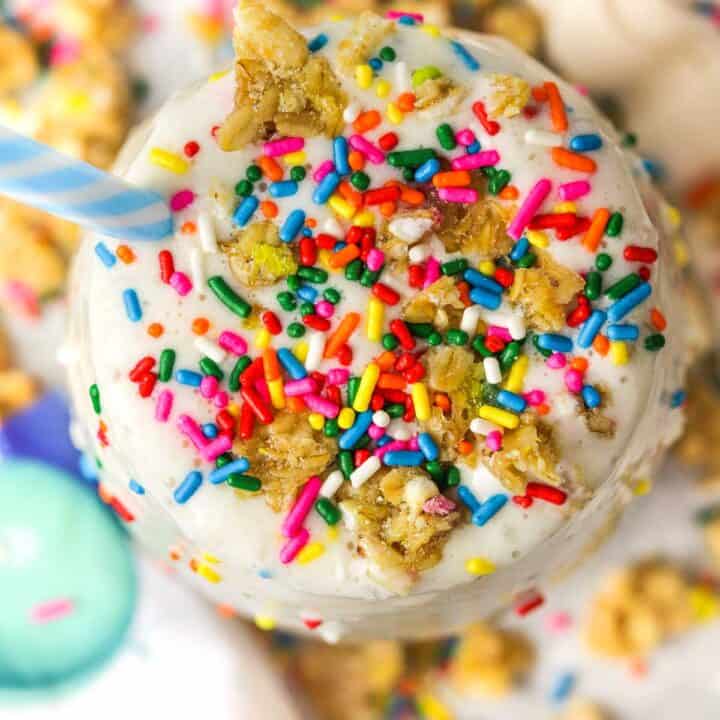 Birthday Cake Protein Shake
This birthday cake protein shake that is ready in just 5 minutes is packs 32g of nourishing protein to help keep you full but tastes JUST like a cake batter milkshake!
PRINT RECIPE
Ingredients
1

frozen banana

2

cups

of ice

½

cup

milk

1

scoops vanilla protein powder

2

tbsp

oat flour

2

tsp

vanilla pudding mix

½

tsp

vanilla extract

½

tsp

almond extract

1-2

tsp

sprinkles

1/4

cup+ Safe + Fair Birthday Cake Granola
Instructions
In a blender combine all ingredients minus the sprinkles.

Blend for ~5 minutes, starting on low and then gradually increasing to high speed.

Once blended fold in sprinkles and ½ of the Safe & Fair birthday cake granola.

Top your birthday cake protein shake with the remainder of the granola and additional sprinkles if desired. Enjoy immediately!
Notes
Substitution if you do not have protein powder: Use 2/3 cup vanilla greek yogurt in place of the protein powder and reduce milk to 1/4 cup.
click To display nutrition info
Nutrition Facts
Nutrition Facts
Birthday Cake Protein Shake
Amount per Serving
% Daily Value*
* Percent Daily Values are based on a 2000 calorie diet.