I've tested a LOT of banana protein shake recipes recently, but I've found the winner! This recipe will give you a thick, creamy protein shake in just a few short minutes and only 5 ingredients.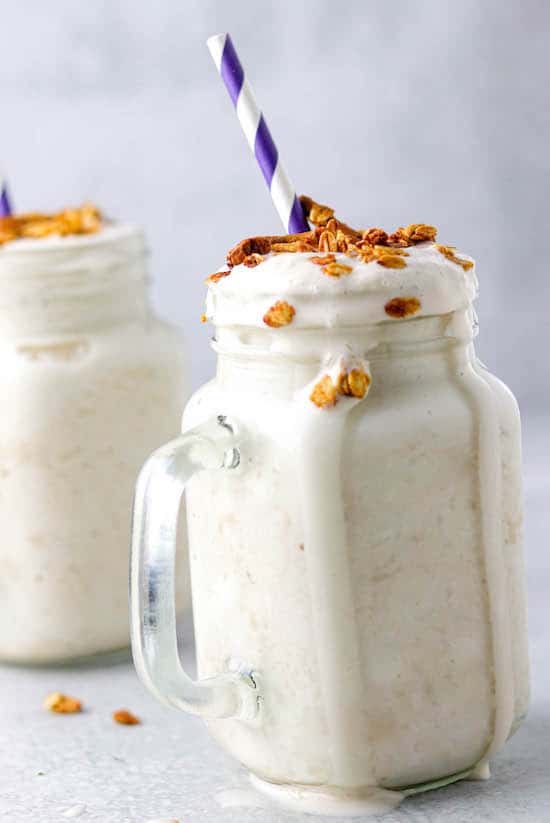 Banana Protein Shake Ingredients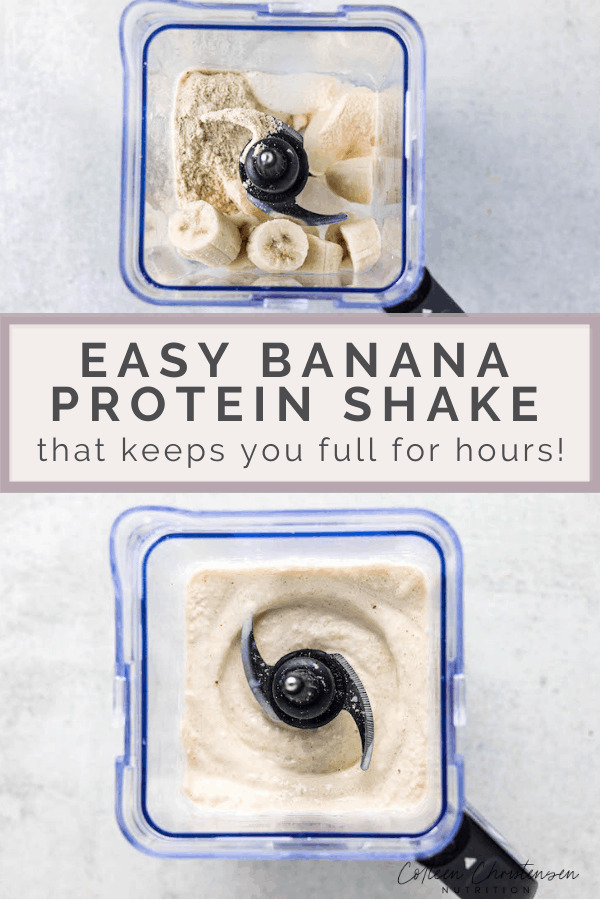 Frozen Banana
Okay, this one is NOT shocking. But, you have to use the FULL BANANA! No, bananas are NOT too high in carbs or sugar. When I shifted away from my food rule that smoothies could only have half a banana and started using a full one I noticed I stay full WAY LONGER! Use the whole banana.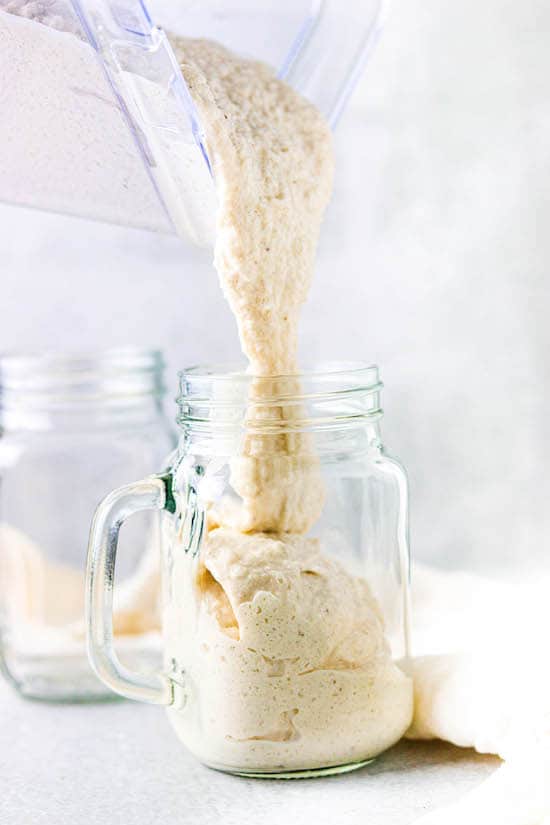 Whole Milk
This banana protein shake breaks another common food rule! Using WHOLE MILK! Higher in calories and higher in fat than, say, almond milk. BUT, let me tell you, again, this is going to help keep you FULL. Ain't nobody got time to be hungry again an hour after having breakfast.
Protein Powder
Honestly, I'm not super picky when it comes to protein powder. I usually buy whatever is on sale at Costco. I don't worry about ingredients a bunch. You do want it to be as short and simple as possible, but sometimes that doesn't fit into the budget. Protein powder shouldn't be your ONLY source of protein, nor make up a huge amount of your intake. So I say, use it in moderation. Don't stress over the ingredients.
This banana protein shake can use any flavor protein powder you have. Vanilla protein will keep the banana-y taste, but a chocolate or even salted caramel would taste delish, too!
The gals over at Fit Foodie Finds have a guide to protein powders, if you're looking for more info on that!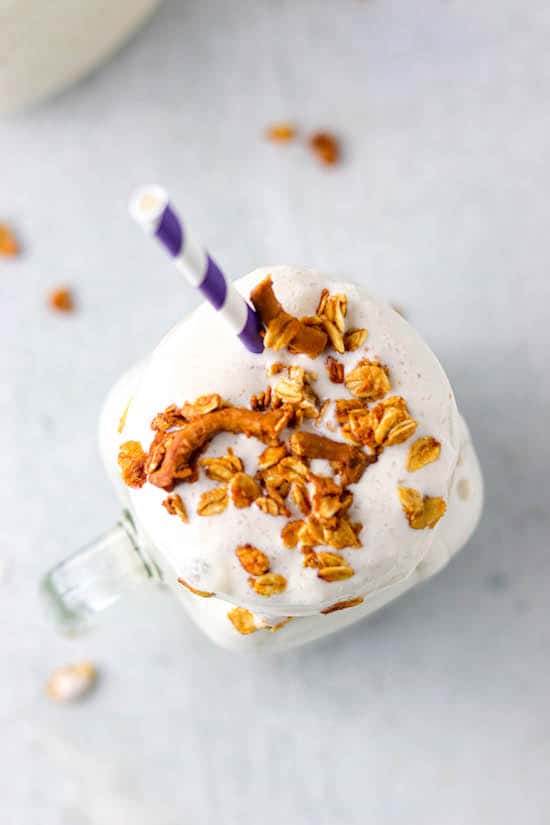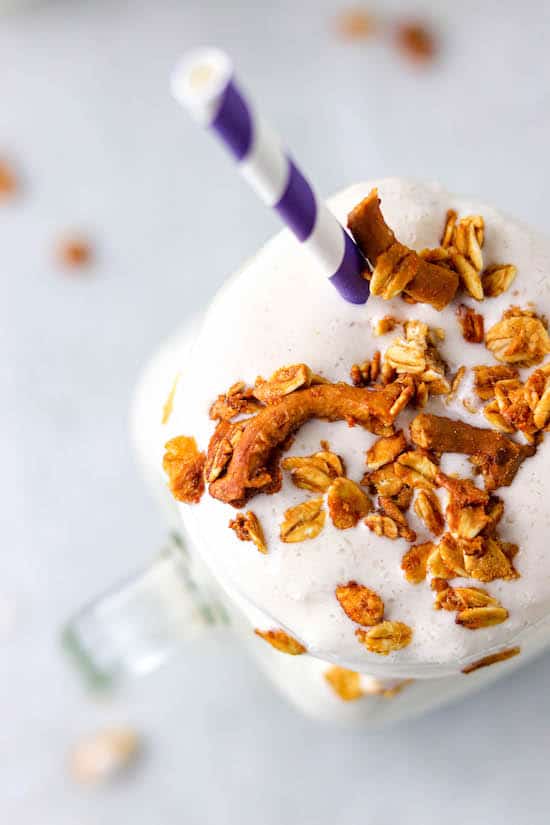 Pudding Mix
Okay.. this one is random, I know... BUT hear me out here. Adding a touch of pudding mix makes this delish protein packed smoothie insanely thick and a touch sweeter, too. A lot of smoothie bars actually use this trick, too! You can totally leave this out, but I never do. You can use whatever pudding mix you want. If you're looking for more natural ones there are a ton on the market now, but, again, I don't freak out over ingredients. You're literally using a couple teaspoons. Don't stress.
Ice
...Duh. I'm not going to explain this one. It doubles as hydration. So, love it. Cause ya' girl sucks at drinking water.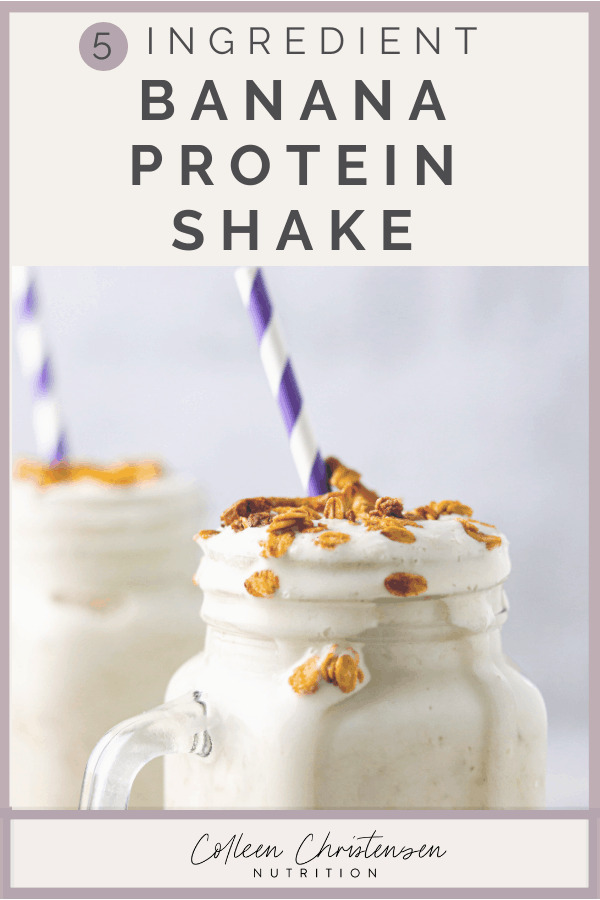 How To Make This Banana Protein Shake
It's literally as easy as throwing all of the 5 ingredients into a blender. I have a Ninja that I am OBSESSED with. You can find the same Ninja Blender here. The quality of your blender will play a role in how your smoothie turns out. The better the blender you have the better your smoothie will be. That's just the way the cookie crumbles.
I also always suggest blending it for a solid minute more than you think it needs. This will ensure that it is SUPER smooth. I HATE finding a huge chunk of ice. Then it blocks the straw. The. Worst.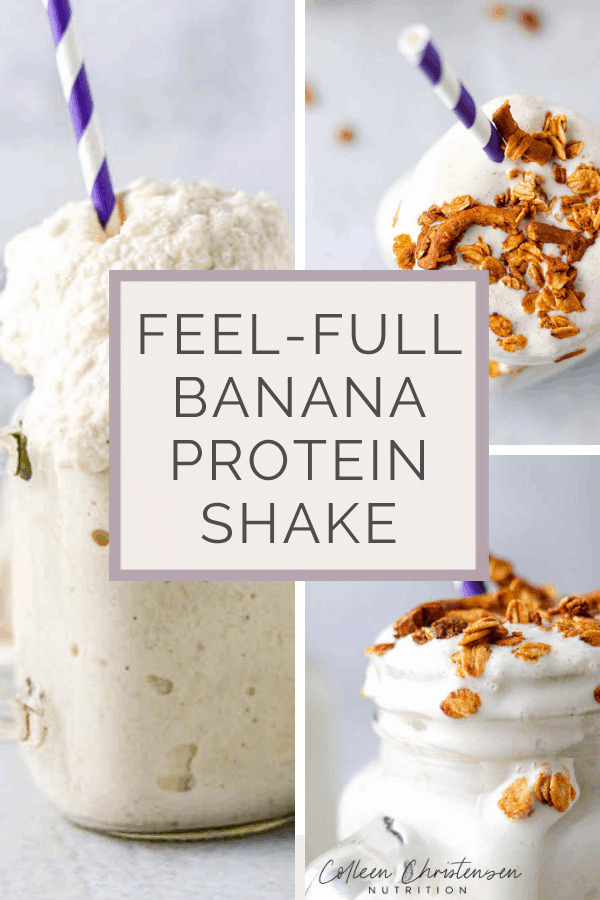 Also, I'm a BIG fan of topping this thick, creamy banana goodness with some cinnamon pretzel granola. I make a big batch of this granola almost every week. It's SO good!
FAQs
Can I use other fruit?
Honestly, the key to a really thick smoothie is the banana. While you can add in other fruit, I wouldn't suggest taking out the banana!
What if I don't have protein powder?
I'd suggest adding some greek yogurt in place of protein powder if you don't have any. Protein IS key to feeling full. And if you're using this as a post-workout snack your muscles are going to want some protein to help them recover from your workout.
More banana recipes:
If you love this recipe be sure to leave a star rating and share with me in the comments your thoughts!!!!!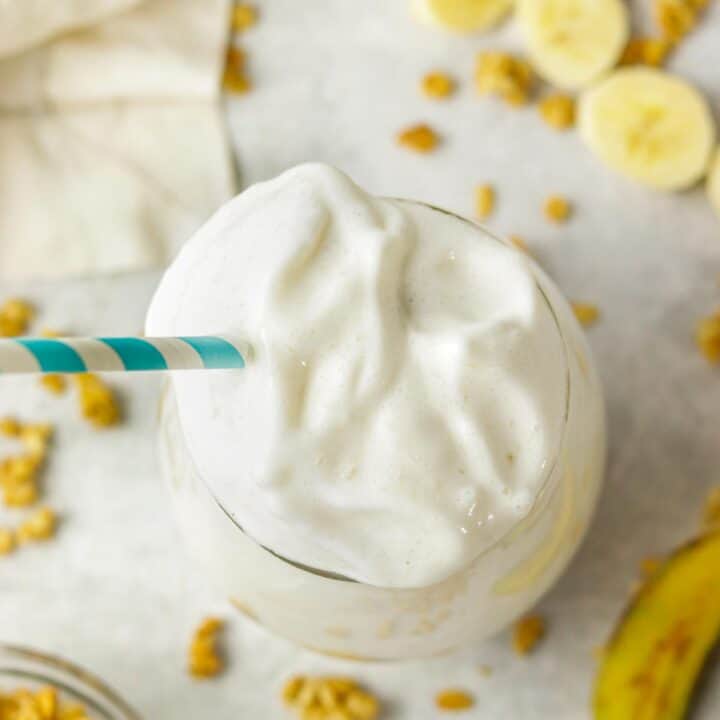 Easy & Quick Banana Protein Shake
Additional Time:
5 minutes
This thick and creamy banana protein shake has only five ingredients and will keep you full for hours!
Ingredients
2 cups ice
1 frozen banana
1/2 cup whole milk
1 scoop protein powder
2 tsp vanilla pudding mix
Instructions
Place all ingredients in a large blender and blend until smooth.
Notes
Be sure to blend this smoothie extra- more than you think! That is how you get it nice and creamy.
You can sub any type of pudding mix flavor your like!
You can also omit the pudding mix if you don't have it on hand.
Using a FULL banana is key!
If you need to sub a fruit try a mango.
Nutrition Information:
Yield:

1
Serving Size:

1
Amount Per Serving:
Calories:

296
Total Fat:

5g
Saturated Fat:

3g
Trans Fat:

0g
Unsaturated Fat:

2g
Cholesterol:

17mg
Sodium:

123mg
Carbohydrates:

36g
Fiber:

4g
Sugar:

22g
Protein:

30g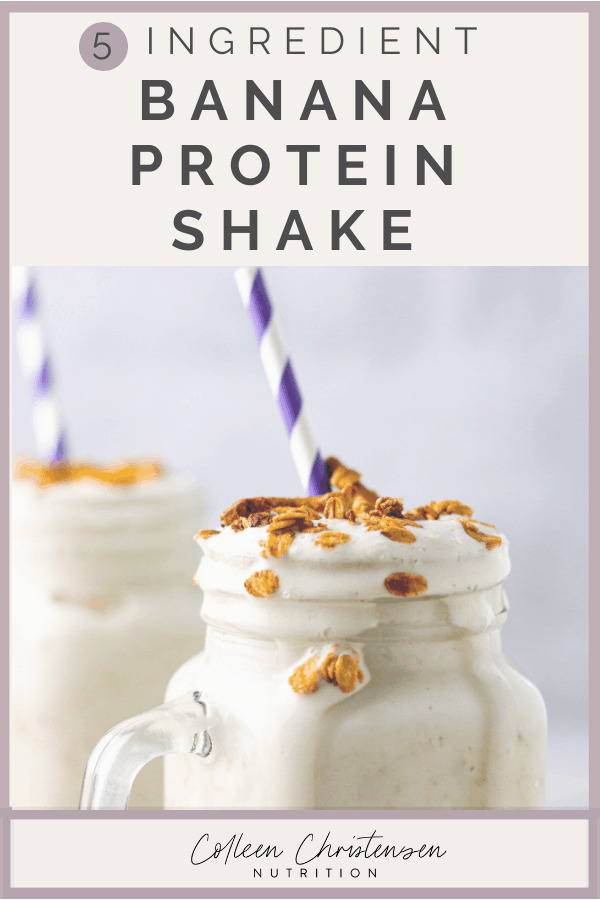 Happy eating!
XOXO
-Colleen
Want more recipes? You might like these!