Granola is my jam. I make a batch every single week as part of my "meal prep". I put that in quotes because I don't really meal prep, per say. At least not the way you'd think. I don't make full out meals and put them into matching container to eat Monday through Friday. No, sir. What I do "prep" are a few things that will make the week a touch easier and that is: hard boiled eggs, a big batch of shredded chicken and this cinnamon pretzel granola.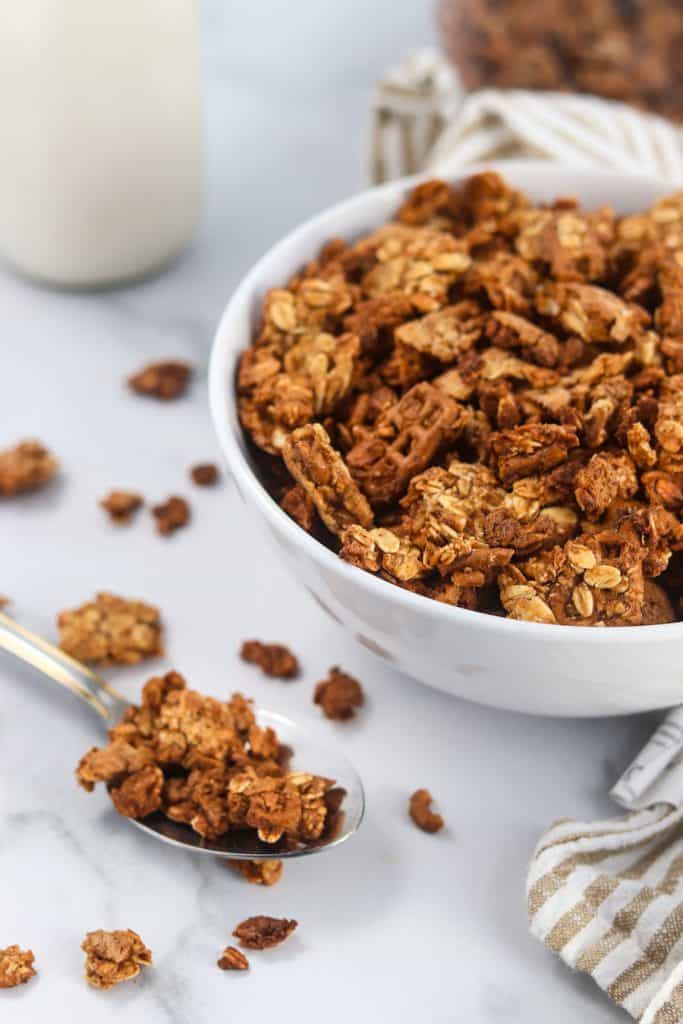 The hard boiled eggs are a super easy snack or can be used to egg salad for a quick lunch. I love the chicken to put on salads for lunch throughout the week. I usually get the pre-packaged salad kits from Aldi, add a little extra lettuce to bulk them up then top with chicken. SO simple. And, like, super cheap. Then, there is the granola. I add this to my greek yogurt that I have almost every afternoon as a snack. Or, I dip giant clusters in almond butter for a little sweet treat- oh my GOSH. If you haven't done this before, you gotta! It's amaze.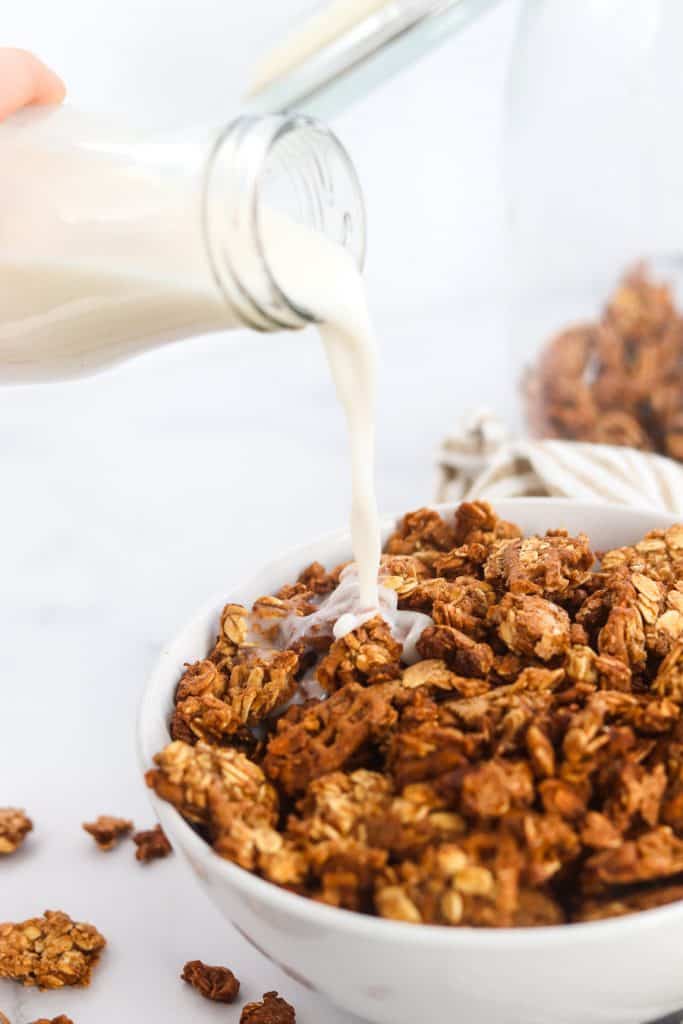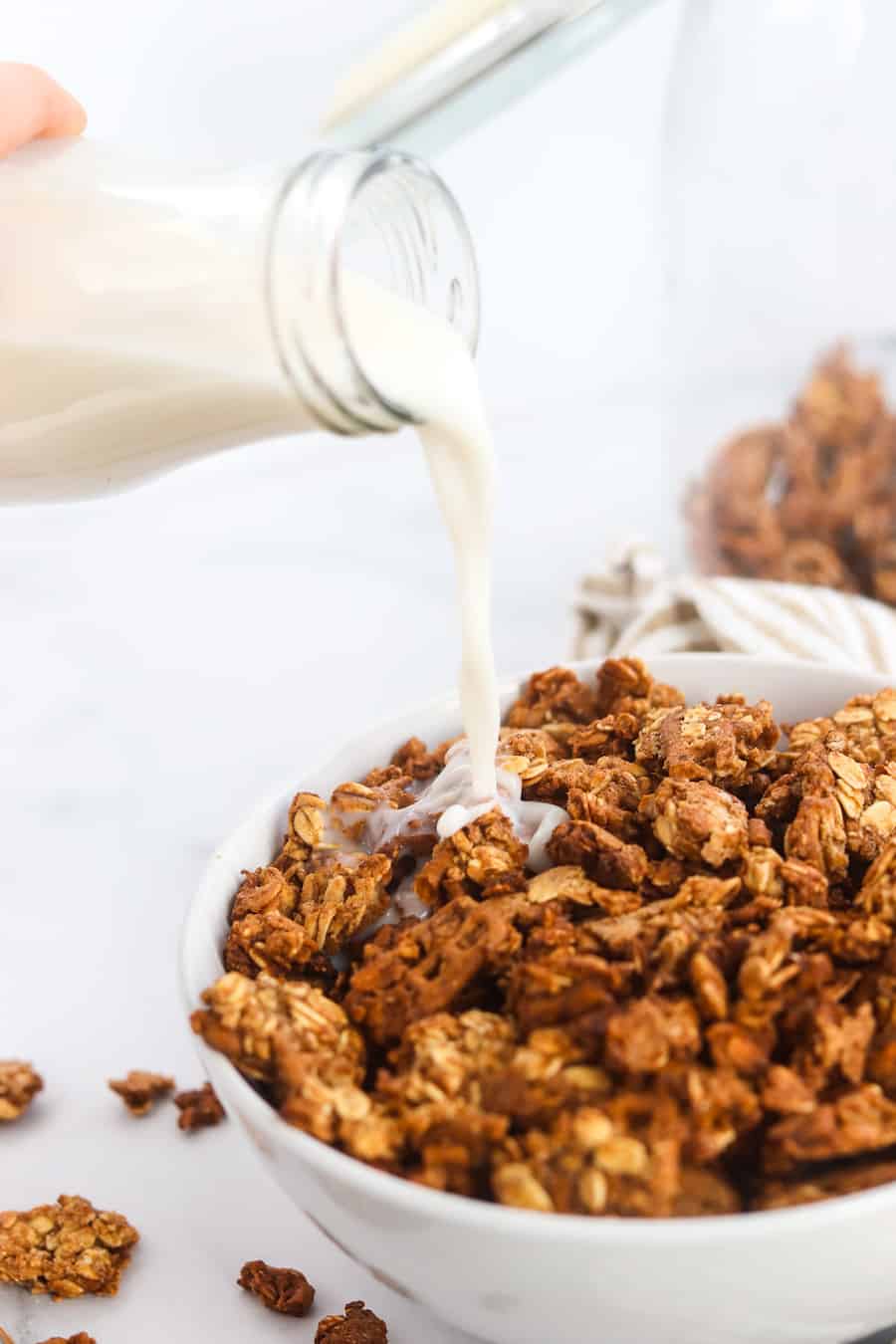 Let's talk about those clusters, okay? With all of my granola recipes I use applesauce in place of oil and I do this for a few reasons. Firstly, I like to eat a LOT of granola at a time- a couple tbsp just won't cut it. I know myself. I like volume. And I just don't love how much oil is in usual granola recipes because when I eat the amount I want I feel weighed down and sluggish- not ideal. So, I swapped out the oil for applesauce for that reason. Secondly, guys, applesauce is the KEY TO CLUSTERS! I firmly believe this. 
When you make this granola (and all of my granola recipes) you'll press the granola into one, large rectangle. It'l essentially be one large chunk. After 20 minutes you can start to break it up in as large or as small chunks as you want. I usually do a mix of large and small.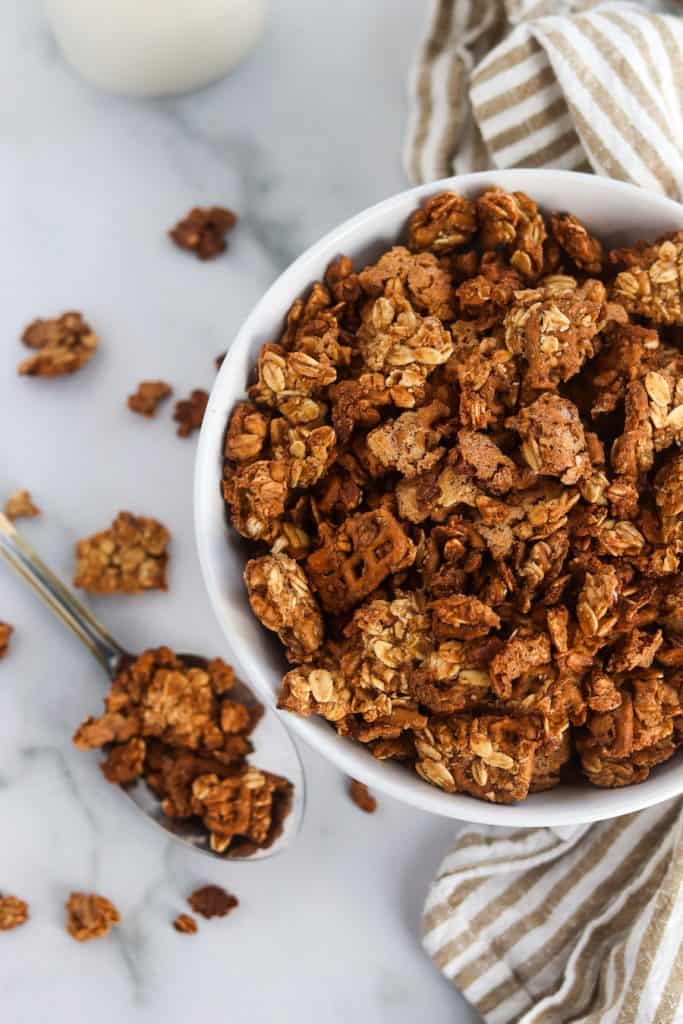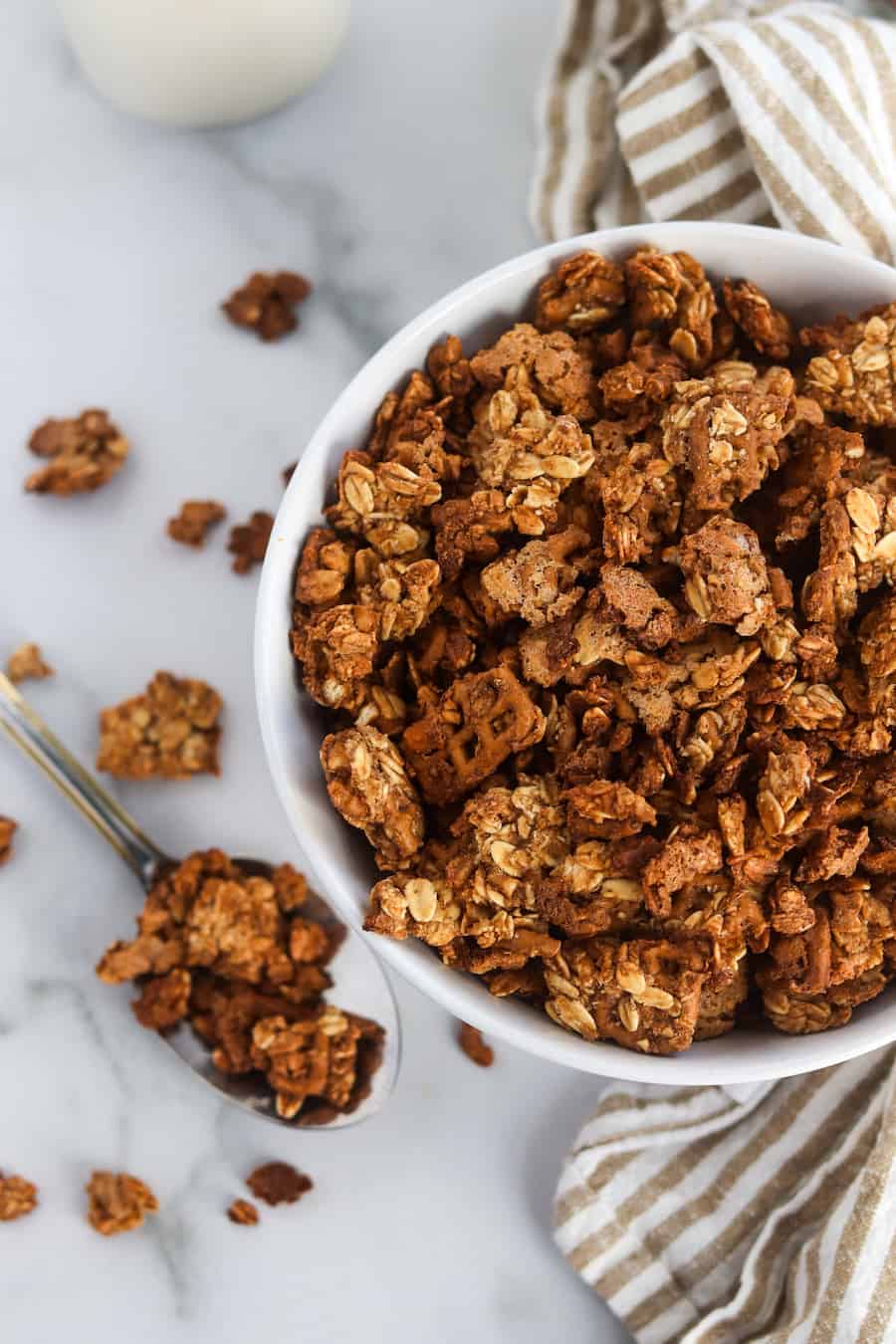 I find it is easiest to, honestly, use your hands for the small chunks. Let it cook in top of the stove until you can handle it (like 1-2 minutes), crumble it up, then put it back in the oven!
Now that I've added pretzel to granola I'm not totally sure I can do back to granola without it. It's AMAZING!
Want to add some chocolate chips, peanut butter, almonds, or coconut to this recipe for a little extra flava flave? GO FOR IT! That's the beauty of this recipe- totally customizable!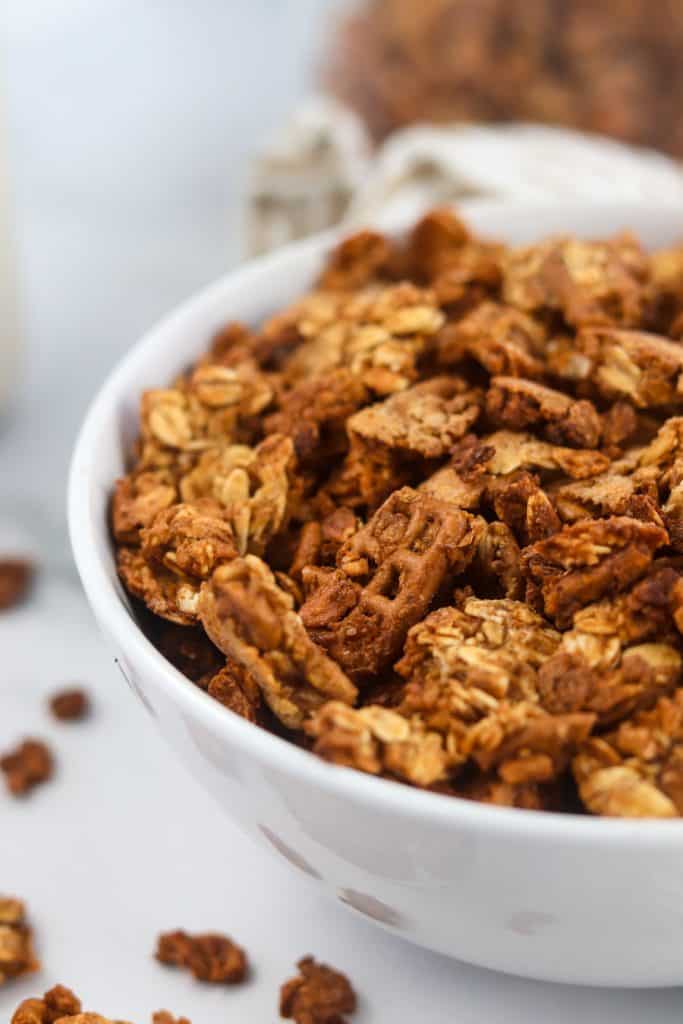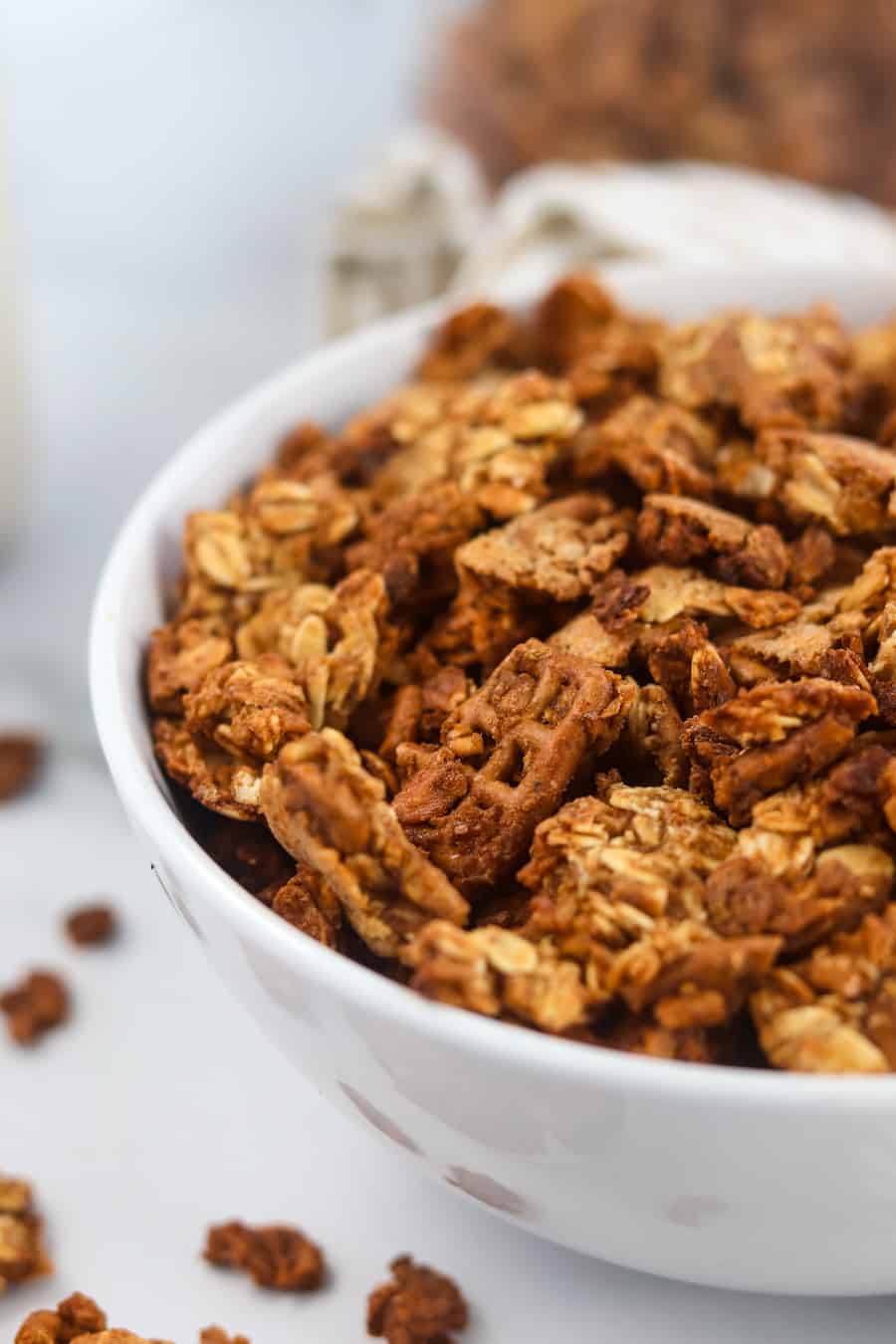 Leave a comment and let me know what you'd add!!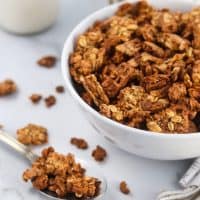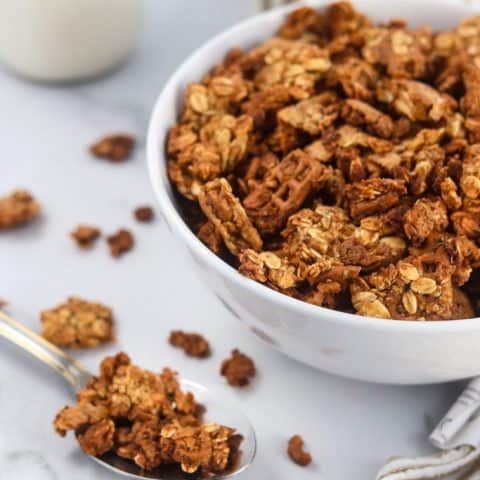 Cinnamon Pretzel Granola
You'll never want to make another granola recipe again! This cinnamon pretzel granola will be your new go-to!
PRINT RECIPE
Ingredients
1

cup

crushed pretzels

2

cups

old fashioned oats

1/3

cup

brown sugar

1/2

tsp

cinnamon

1/4

tsp

salt

1

cup

applesauce

1

tbsp

vanilla
Instructions
Preheat oven to 350 degrees, lightly spray a sheet pan with non-stick spray and set aside

In a large bowl combine pretzels, oats, brown sugar, cinnamon and salt

Next, add applesauce and vanilla and stir until evenly coated

Spread mixture onto prepared baking sheet and spread into one thin layer. Be sure to press firmly on the granola (this is how you get chunks!)

Bake for 20 minutes, remove from oven, break up clusters, and return to oven for ~25-35 more minutes. Removing from oven to stir every 10-15 minutes.

Granola is done when it is golden brown and firm.

Remove from oven and allow to cool/continue to harden for ~10-15 minutes.

Enjoy!
click To display nutrition info
Happy eating, 
Colleen