Perfect french toast in just 10 minutes! Perfectly crisp on the outside yet fluffy on the inside. A touch of cinnamon and vanilla makes this the BEST sourdough french toast ever!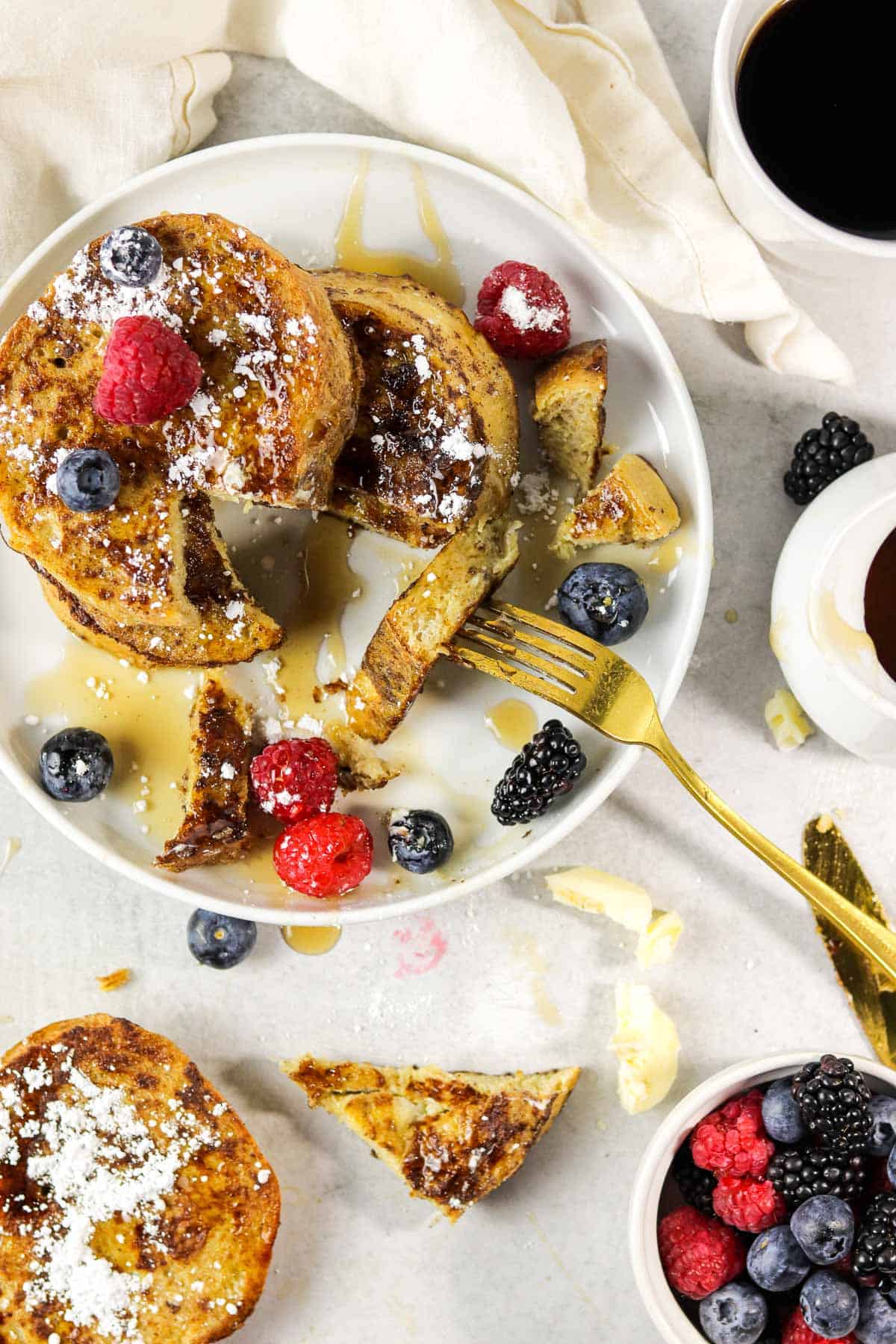 Why This Recipe Works
Not only is this recipe delicious but it's SO fast! Long gone are the days where french toast is only reserved for lazy weekend mornings. With this recipe every day can be worthy of french toast!
When making french toast it's important to use a sturdy bread, like the sourdough used here. This will prevent your french toast from getting soggy (the worst!) and keep it nice and fluffy on the inside!
Sourdough bread isn't as sweet as other types of bread, like brioche or french, which will keep your french toast from being overpoweringly sweet.
Ingredients Needed
Here is what you'll need to round up in order to make yourself a batch of this delicious french toast:
A loaf of sourdough – I like to get an unsliced loaf so that I can cut my slices a little thicker than the store does, but pre-sliced will work just fine. The key is to let your bread get a little stale (see below for how to do this fast!)
Milk – I like to use whole milk for sourdough french toast. I think it adds more flavor, but you can use any milk you like. (checkout my complete guide to diary VS plant based milk to learn the nutritional, environmental and taste differences!
Butter – cooking french toast on a skillet with butter is the BEST! You can use oil, but butter takes the flavor to a whole new level!
How To Make The BEST French Toast
First, heat a skillet or griddle to medium high heat. I usually set my electric griddle to 375 degrees.
Crack your eggs into a shallow baking dish.
Now add milk, vanilla and cinnamon.
Whisk it all up!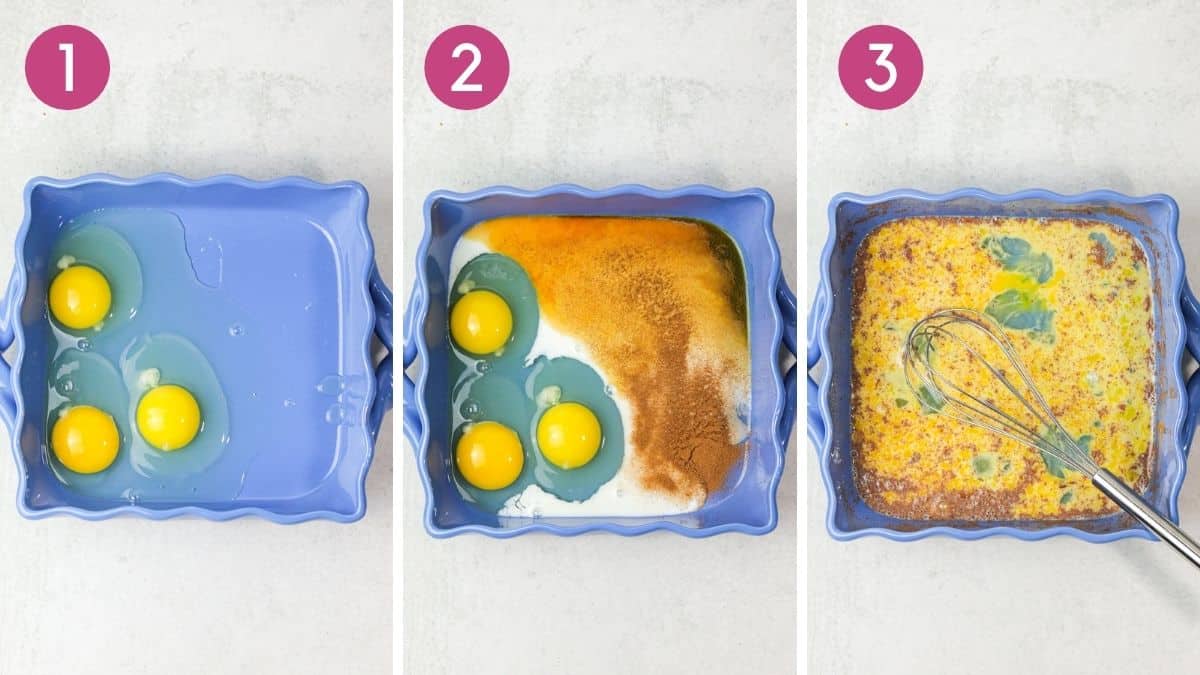 Dip each slice of sourdough bread into your egg mixture. You want to leave your slices in here for ~2 minutes minimum and then flip it to the other side. You want each slice of bread to be nice and soaked!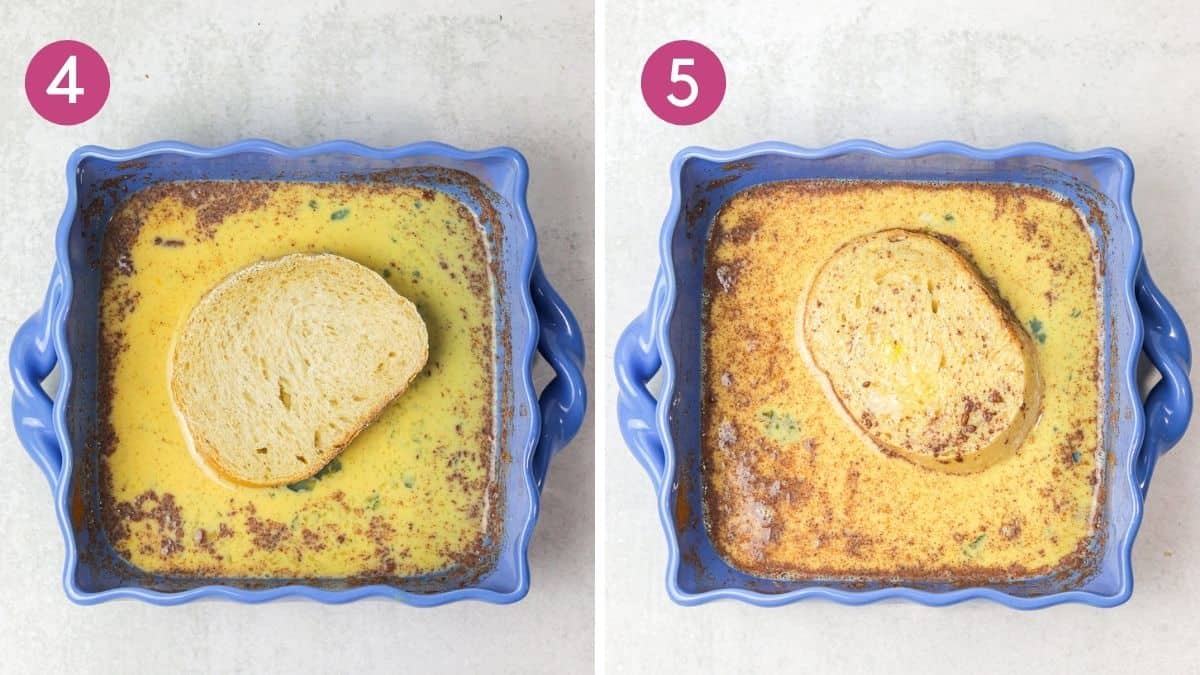 Take a pat of butter and place it on your hot griddle, swirling it around to evenly cover the surface.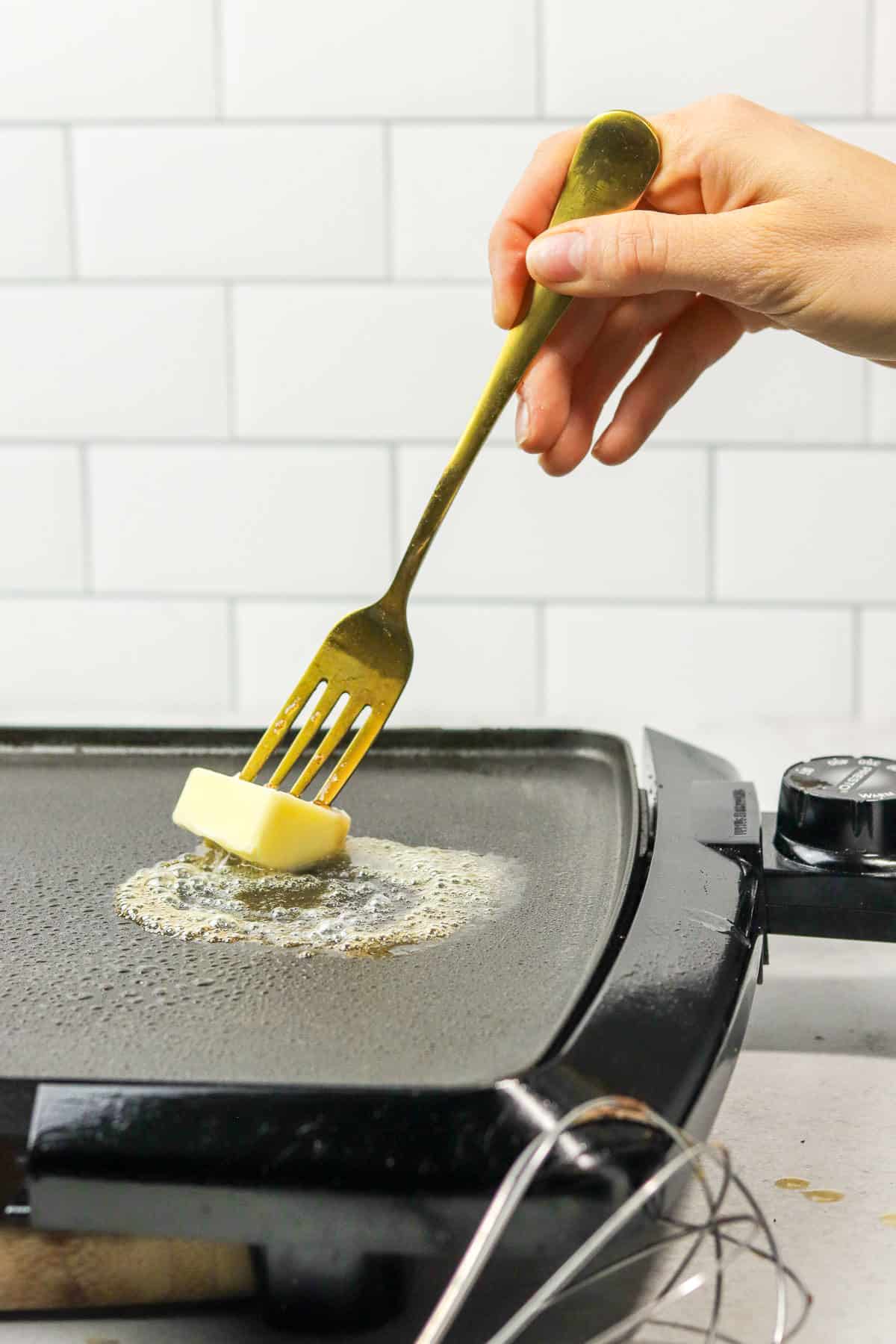 Place your soaked sourdough french toast slices on the hot, buttered griddle and cook for 2-3 minutes per side. You'll know it's done when the outside is nice and golden brown!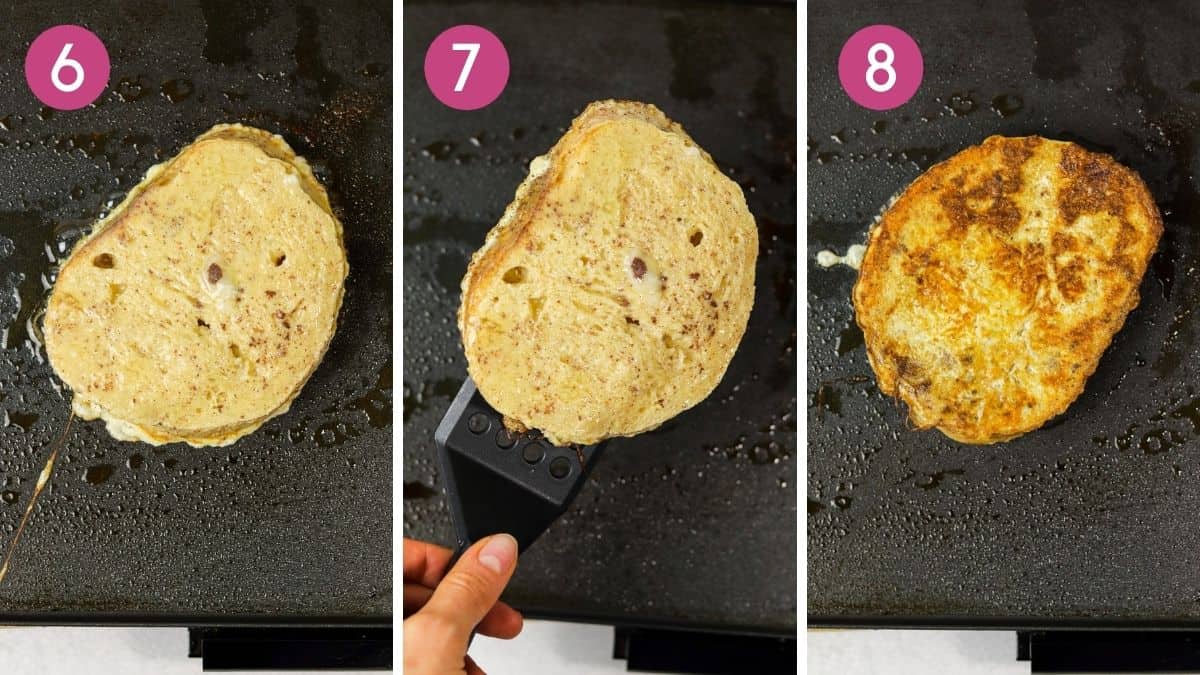 Remove your cooked sourdough french toast slices from the griddle.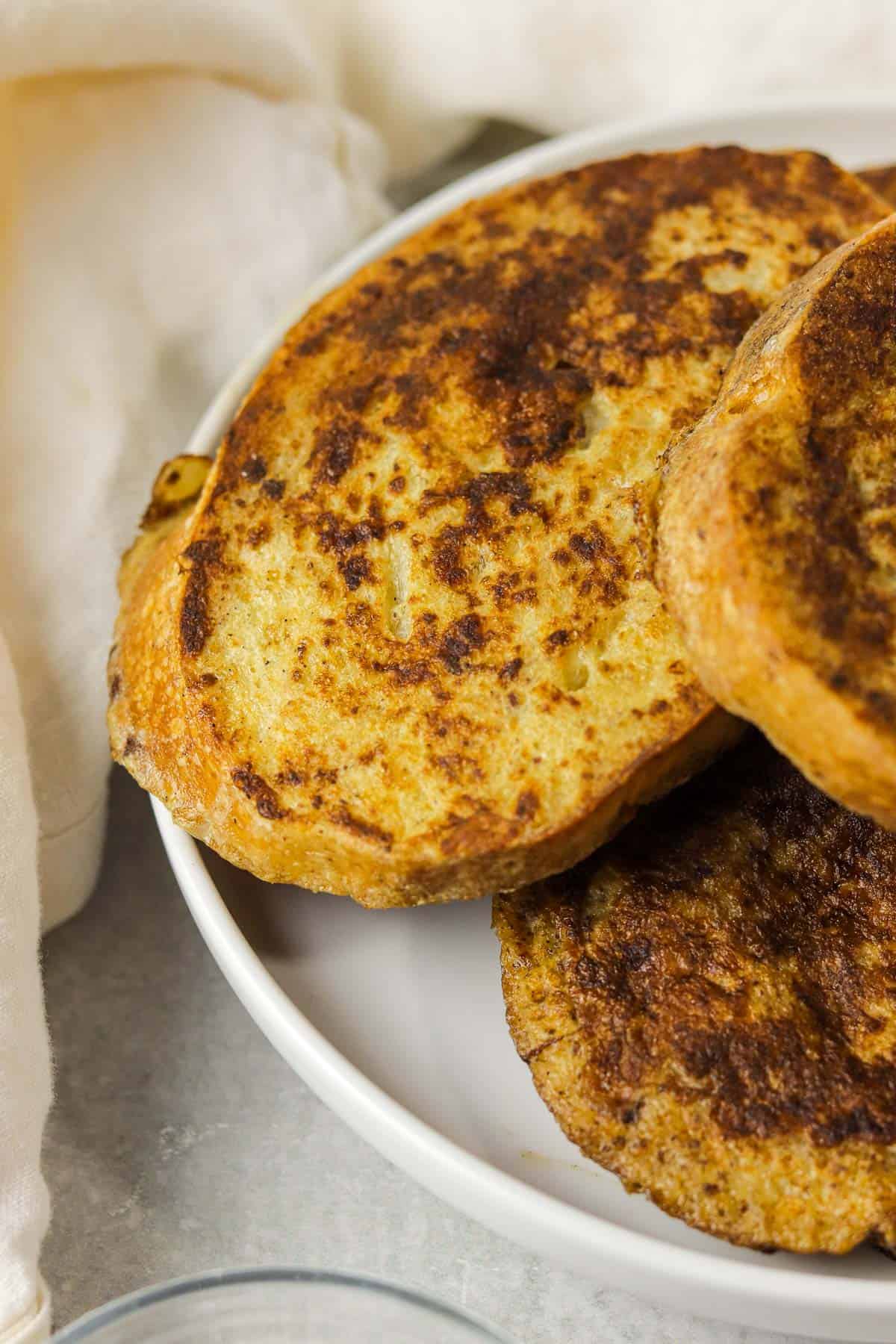 Now get ready to dress up your sourdough french toast slices with toppings! Here are a few of my favorite ways to these top thick, delicious slices:
maple syrup (obviously!)
berries or sliced bananas
jam (this 2 ingredient blueberry jam is my fave!)
yogurt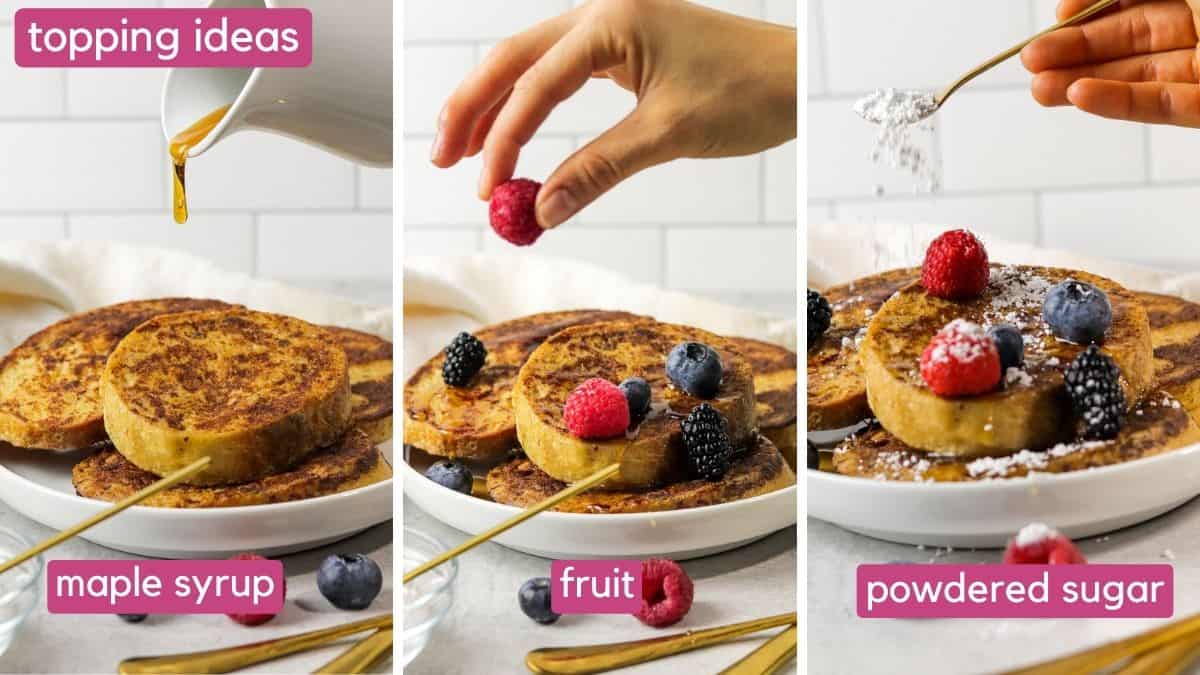 Recipe FAQs
How Stale Should Bread Be For French Toast?
You want your bread to be stale enough to soak up the batter without getting too soggy, but not too stale where it is going to feel like a rock (no bueno!). Bread will naturally become stale in about a week.

I like to leave my bread out for ~1 day on the counter to make it perfectly stale. But, if you forget or want to make french toast on a whim you can pop it in the oven at ~300 for a few minutes on each side.
Can You Soak French Toast For Too Long?
Yes, if you're not using a sturdy, thick, stale bread. This is why using the right type of bread is key!

However, I think that a lot of times people don't soak it enough and let the egg mixture soak all of the way through.
Why Is My French Toast Soggy?
If your french toast comes out soggy it can be for a few reasons such as: your bread is too fresh, slices are too thin, you're not using a crusty bread, you added too much milk.
How Do I Store Leftovers?
If you don't eat all of the sourdough french toast that you make, or if you are doing some meal prep (yep, you can meal prep french toast!) here is how you will want to store it:

In The Fridge: Simply pop it into an air tight container for 3-5 days. Wait to put on any toppings otherwise it will get soggy!

In The Freezer: Freeze your french toast on a baking sheet or plate, then place it in a freezer bag. (This will prevent the slices from sticking together!) They will stay fresh for up to 3 months. To re-heat you can pop them in the toaster, in a pan, microwave or my fave way- the air fryer!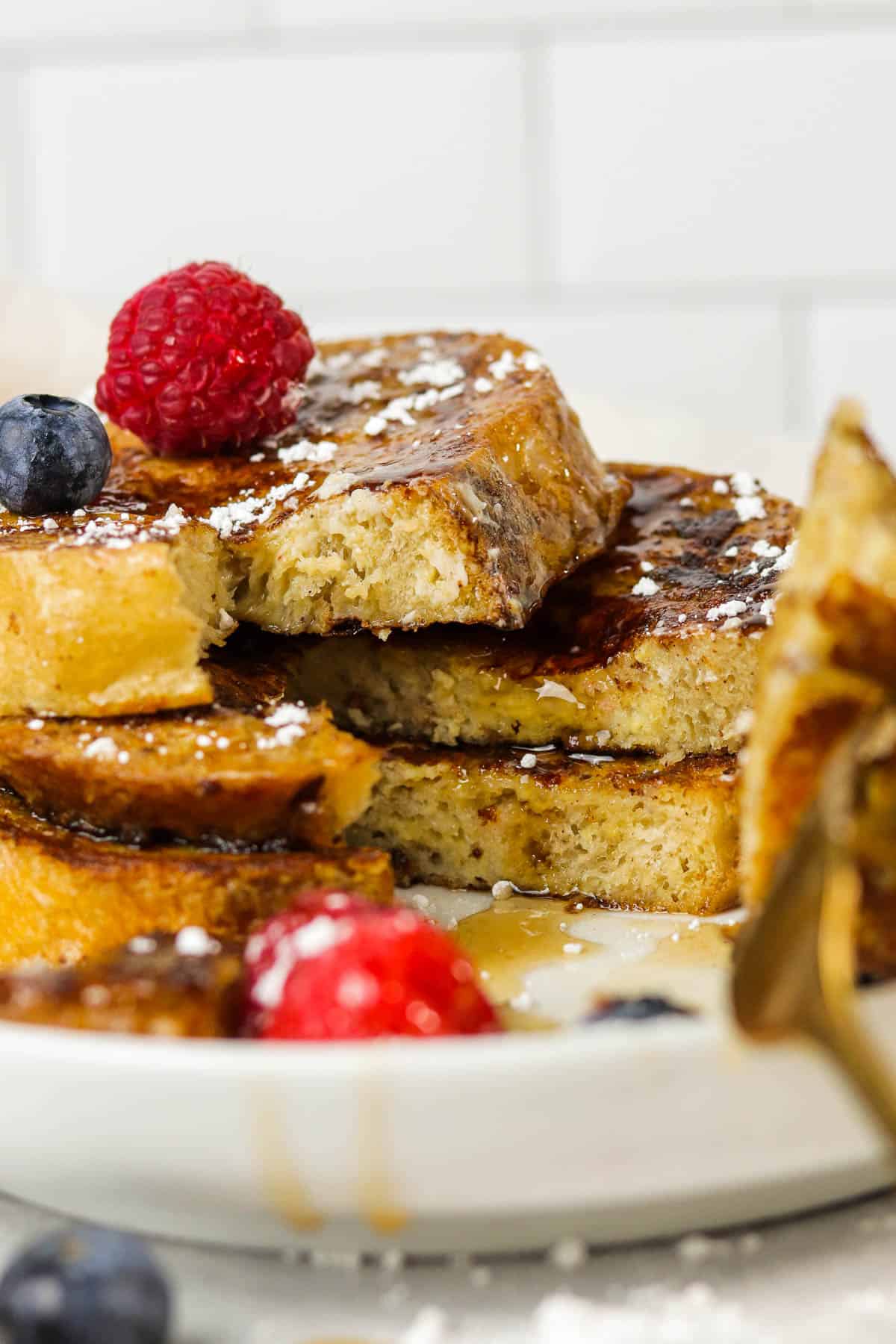 Other Breakfast Recipes You Might Like:
If you try this sourdough french toast recipe be sure to leave a star rating on the recipe card and a comment! Be sure to share your favorite topping ideas!
XOXO
-Colleen
This blog post contains affiliate links, which means that if you click on a product link, I may receive a commission. All opinions are my own, and all brands featured represent what I personally like and support. This blog is a participant in the Amazon Services LLC Associates Program, an affiliate advertising program where I earn advertising fees by linking to amazon.com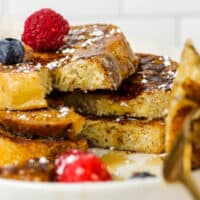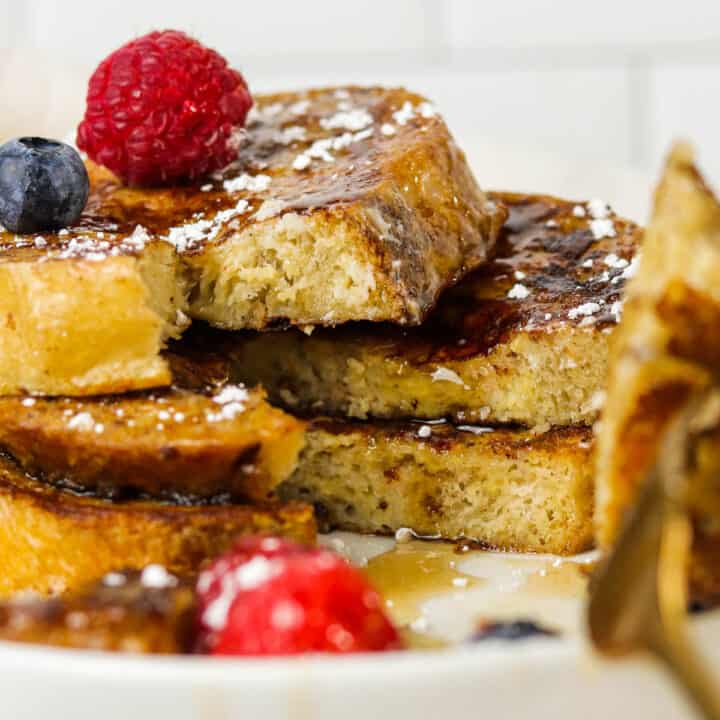 Homestyle Sourdough French Toast
Golden & crisp on the outside and perfectly fluffy on the inside! This sourdough french toast is the perfect, FAST breakfast or brunch!
PRINT RECIPE
Ingredients
4

slices

of 1″ thick sourdough bread

slightly stale

3

eggs

1/3

cup

milk of choice

I use whole

1

tsp

vanilla extract

1/2

tsp

cinnamon

1-2

tbsp

butter
Instructions
Crack eggs into a shallow dish, I use an 8×8 dish.

Add milk, vanilla and cinnamon. Whisk well.

Take your bread slices and soak them in the egg mixture for at least 2-3 minutes per side.

While your bread is soaking you can heat your skillet to 375 degrees. Once hot place the butter onto the skillet and spread it around to coat evenly.

Place your soaked bread slices onto the hot skillet and cook for 2-3 minutes per side until the outsides are golden brown.

Once cooked remove from the skillet and top with your favorite toppings such as maple syrup, fruit, jam, yogurt, or whipped cream!

Dig in and enjoy!
Notes
May sub flax eggs for each egg. To make your flax eggs combine 1 tbsp of ground flax seed with 3 tbsp of water. For this entire recipe use 3 tbsp of ground flax seed with 9 tbsp on water (this is also 1/2 cup + 1 tbsp!)
May use non-dairy milk if desired however it may adjust the texture/taste depending on what kind you use.
click To display nutrition info
Nutrition Facts
Nutrition Facts
Homestyle Sourdough French Toast
Amount per Serving
% Daily Value*
* Percent Daily Values are based on a 2000 calorie diet.