Delicious banana muffins packed with 10g of protein and ready in under 30 minutes! They've even got a punch of whole grains that will help you stay full and satisfied all morning long. A great grab-and-go breakfast or snack perfect for meal prep!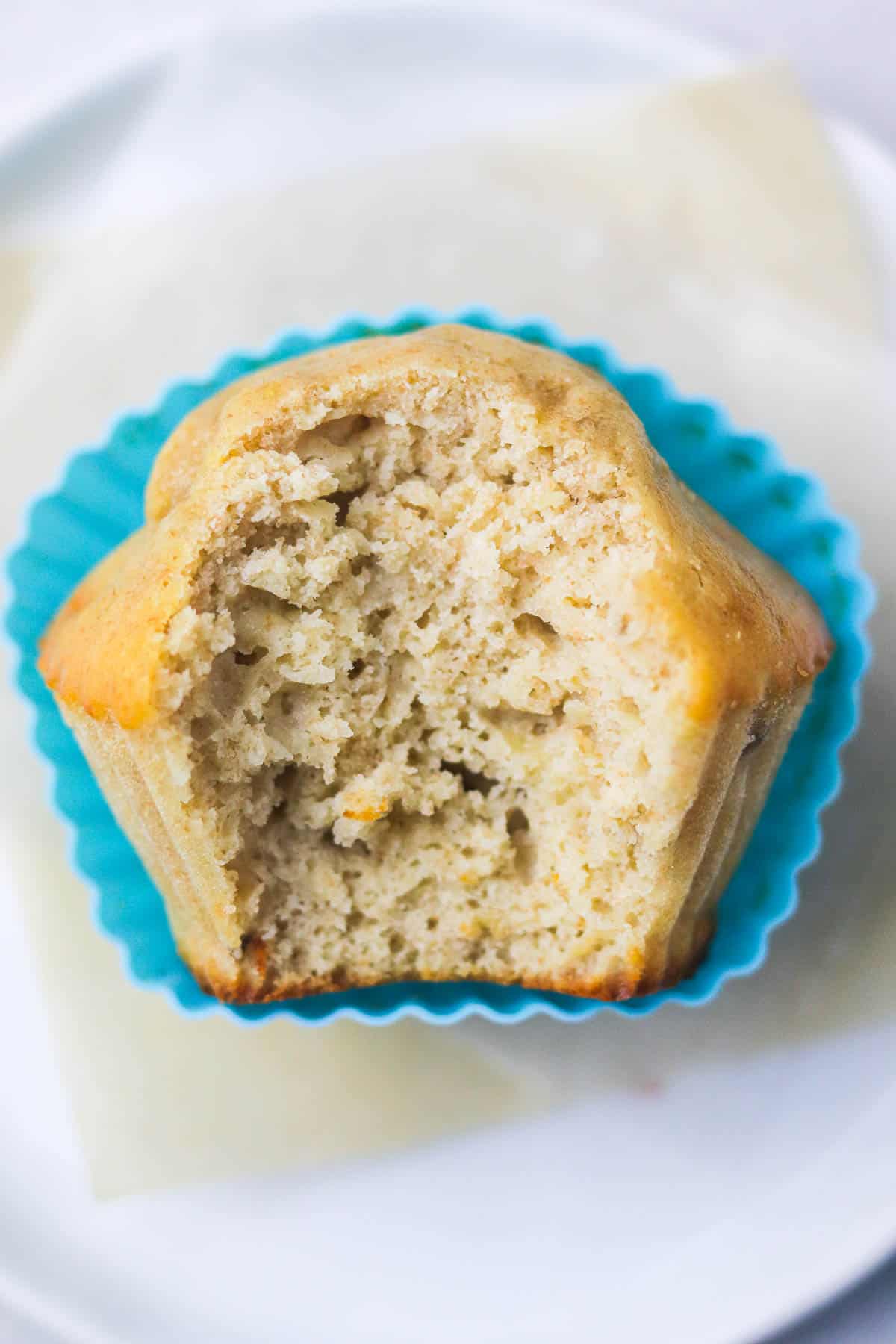 Why This Recipe Works
These muffins are a GAME CHANGER for hectic weekday mornings. They're a one-stop-shop for some whole grains, protein and fruit. Plus, they make a great vehicle for things like your favorite nut butter! And I mean it doesn't hurt that they taste like they're from a bakery!
I knew you would all love these muffins just as much as I do because you all went absolutely nuts for both my blueberry protein muffins and my banana carrot muffins! And these banana protein muffins are basically like those two had a baby: packed with protein AND fluffy!
Ingredients Needed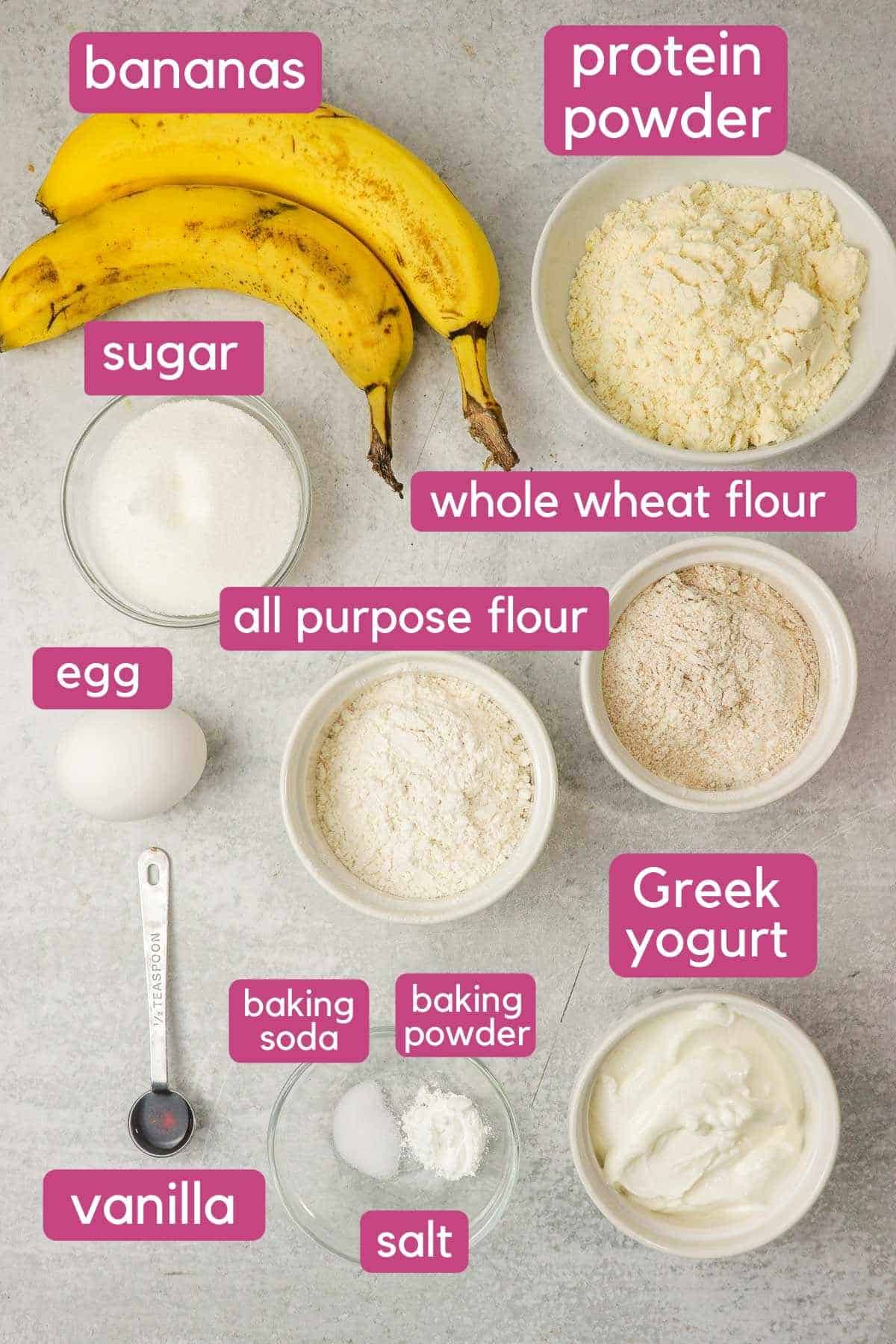 Banana. Ideally you want this to be dark and spotty. If your banana is not super spotty you may want to add a little extra sugar, since overly ripe bananas are sweeter.
Flour. I like to use a mix of whole wheat and white flour. That's just a little of what I call "gentle nutrition" to get my body some whole grains easily in the morning. Using a mix kinda gives you the best of both worlds since the regular all-purpose flour IS softer. You can totally use 100% all purpose or whole wheat though!
Protein Powder. I like to use Optimum Nutrition Gold Standard Whey (vanilla ice cream flavor!) for baking. To me it tastes the best and gives a good, sturdy texture. I've noticed that plant based protein powders, such as Garden Of Life, tend to be almost "silkier" and have less structure to the muffin. Moral of the story: your muffins may turn out a tad different based on the protein powder you use! I recommend whey if you can tolerate it (i.e. no allergies or intolerances!)
How To Make This Recipe
Preheat your oven to 400 degrees and lightly grease a donut pan with non-stick spray. I like to use these reusable silicone muffin liners- they're fab!
In medium sized bowl mix up your flours, protein powder, baking powder, baking soda and salt. Set aside.
In a large bowl mash up your bananas with either a potato masher or a fork.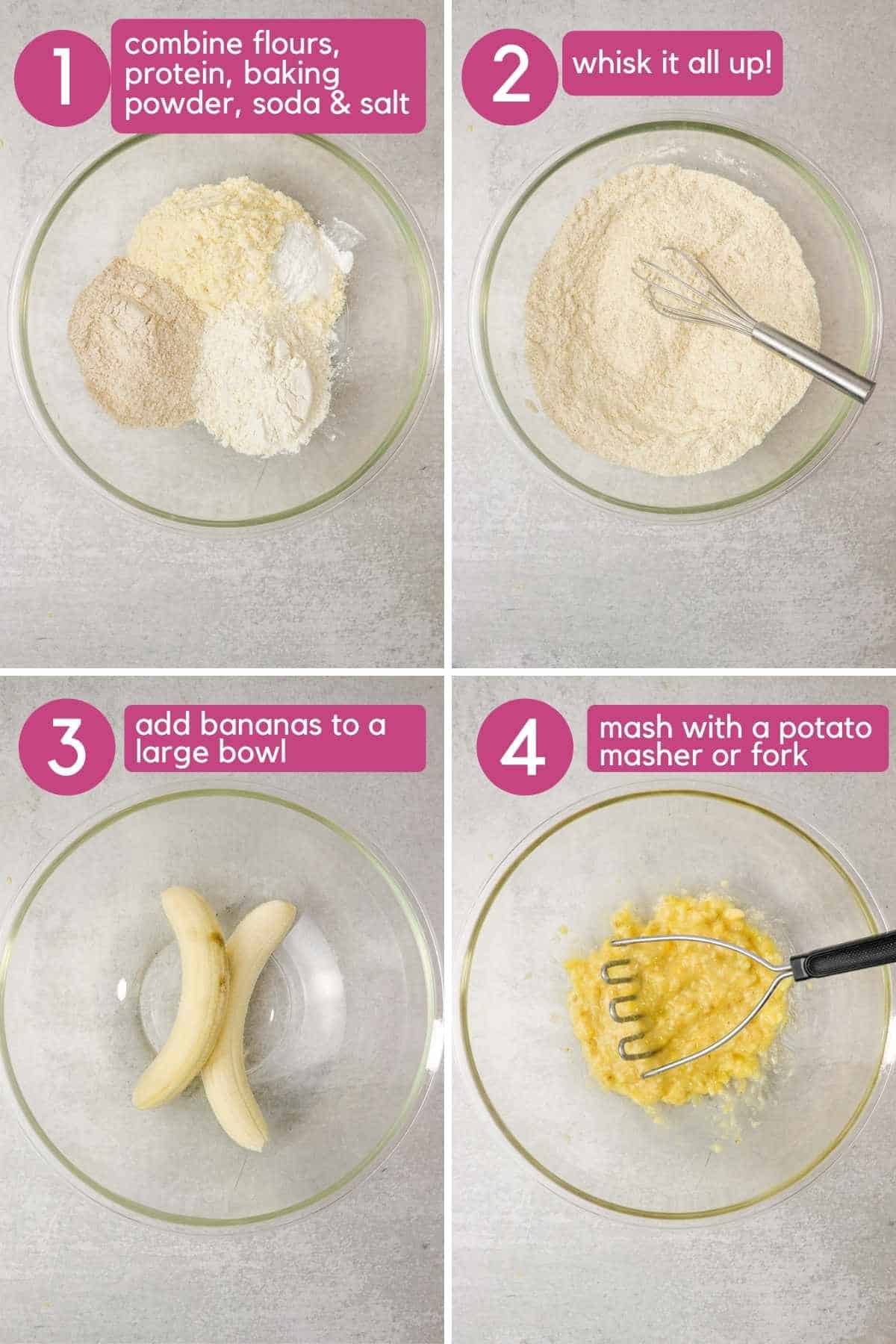 Then add in your sugar, greek yogurt, egg and vanilla.
Next, add the flour mixture to the wet ingredients. Mix everything up until just combined and pour into muffin liners.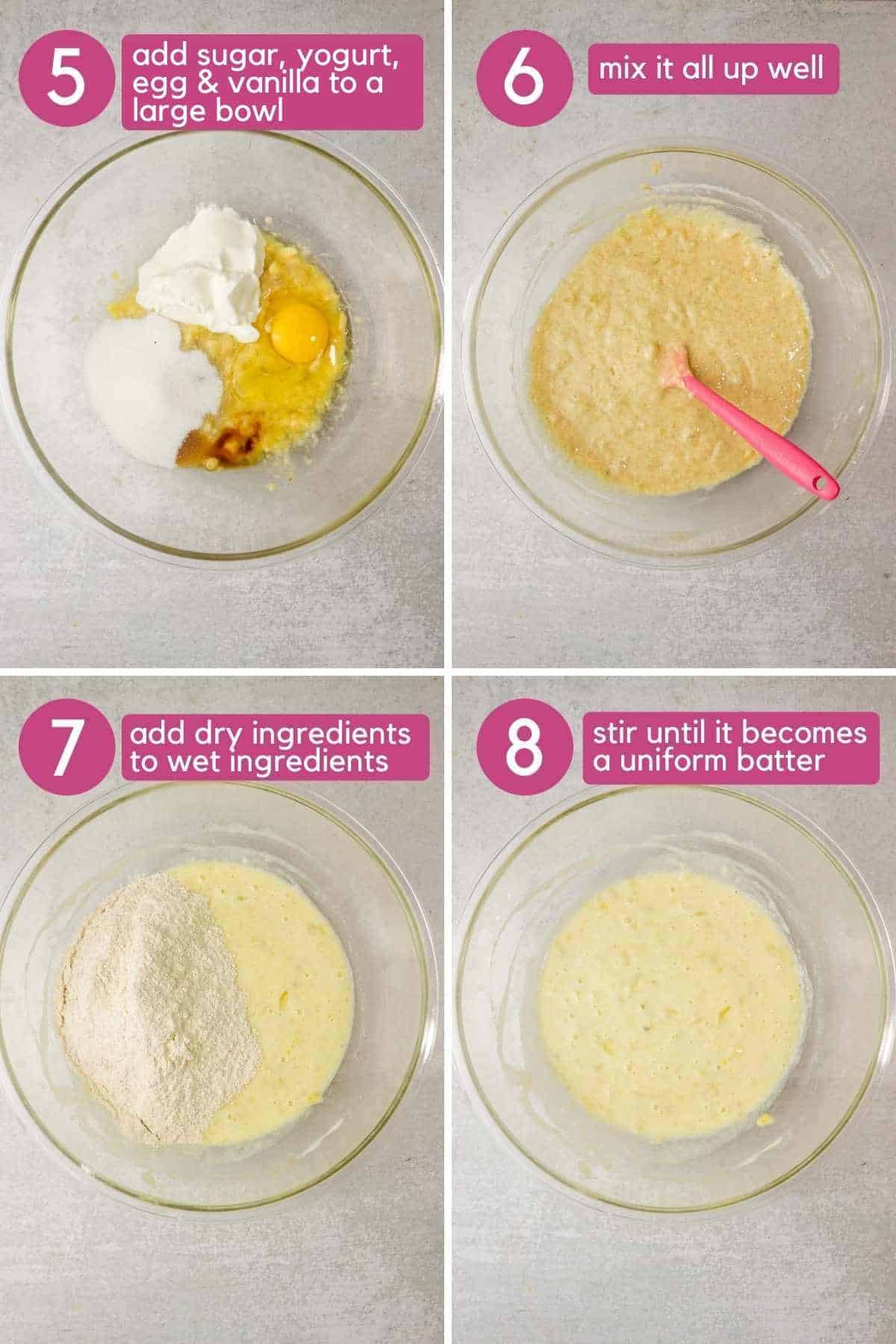 Now, bake for 18-20 minutes until golden brown and a toothpick (or one of these reusable cake testers) comes out clean!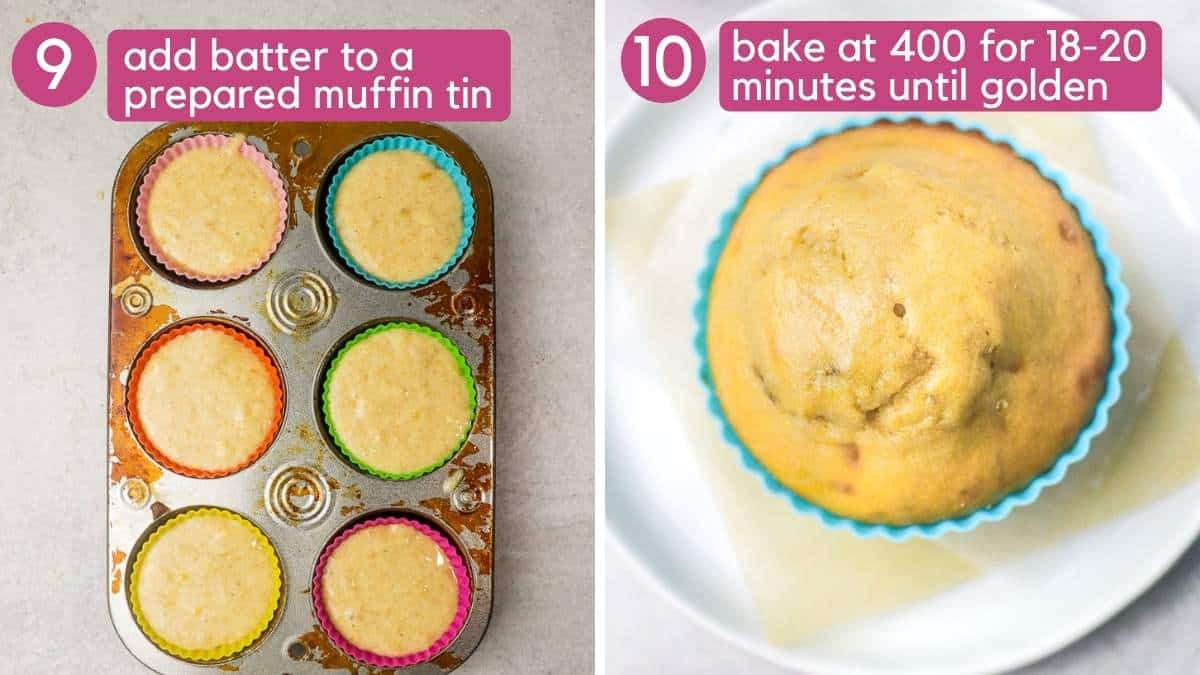 Allow them to cool fully and enjoy! Eat them plain or slather with some peanut butter!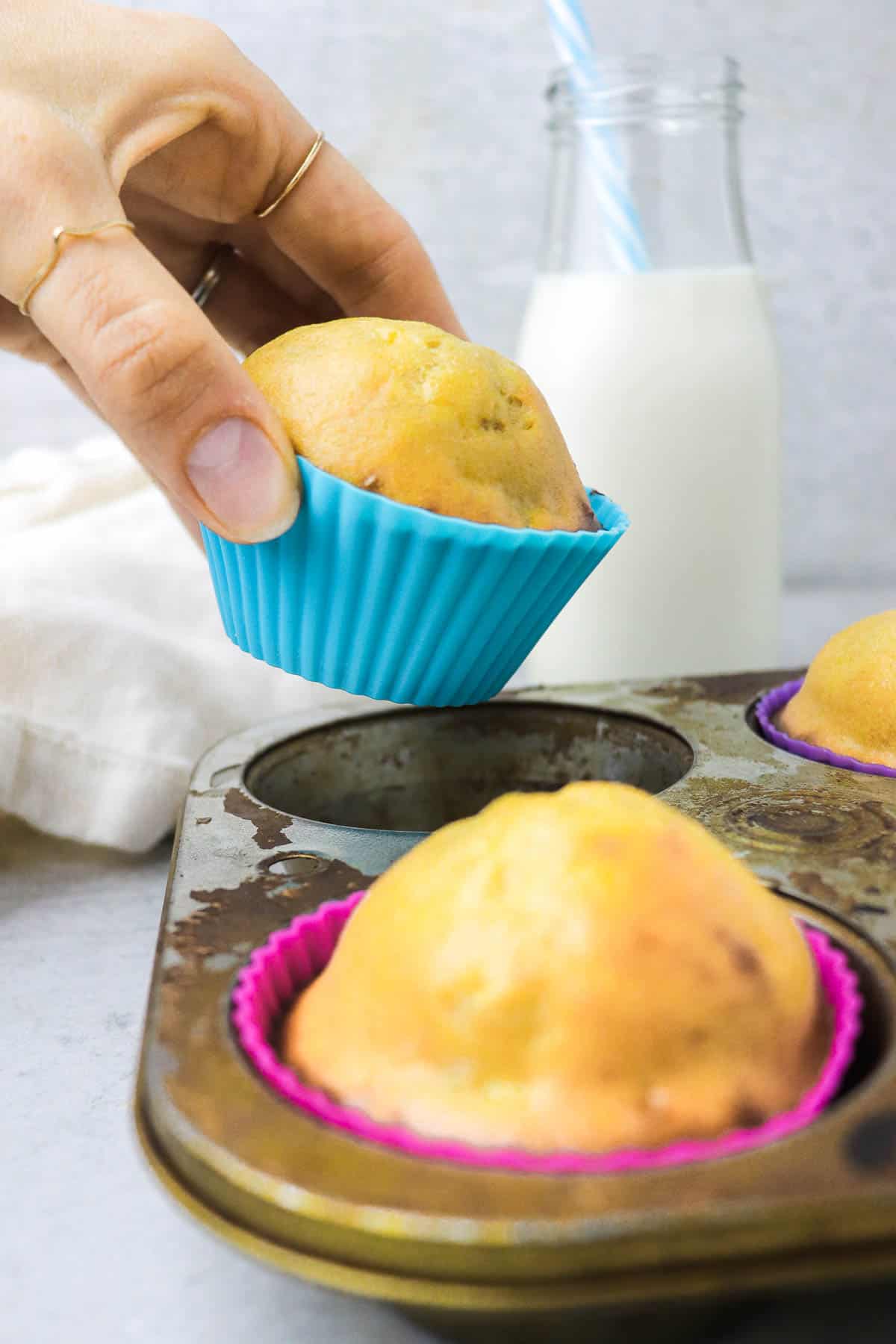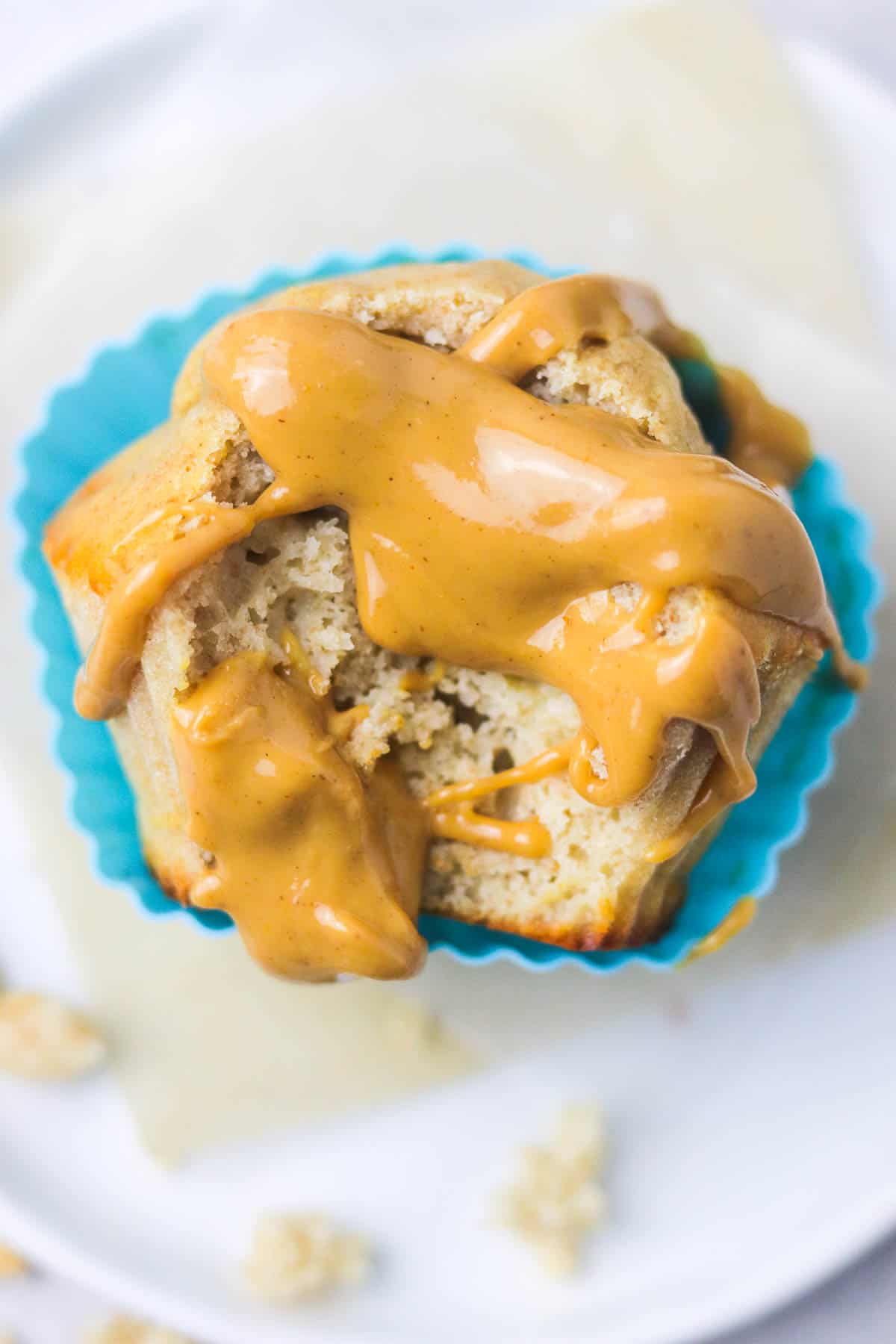 Recipe FAQs
Can I add things like chocolate chips or nuts to these muffins?
Yes! You can add nuts, chocolate chips, or swirl in some Nutella for protein banana Nutella muffins! The limit of the protein muffins recipes you can make does not exist! You can also top them with anything you like like peanut butter or my no added sugar blueberry jam!
Can I sub almond flour, coconut flour, or other specialty types of flours?
This recipe will work with all-purpose flour, wheat flour, and gluten-free flour. I don't recommend simply swapping other flours like coconut or almond flour. These flours act differently and your muffins likely won't turn out! Instead, checkout my recipe for almond banana muffins!
How do I store these muffins?
I keep then in a container on the counter for 5-7 days, or you can pop them in the freezer for 2-3 months!
Can I sub something for the protein powder?
I haven't tested this recipe with any protein powder substitutes.
Expert Tips
In order for these muffins to turn out fabulous, you want to make sure you're using the best kind of banana for this protein muffins recipe. Here are a couple tips when you're gathering you bananas at the store or from your fruit bowl:
Pick bananas that have brown spots on them, ideally. They're sweeter and easier to mash so the consistency is right.
If you don't have any super ripe (brown spotted) bananas you can quickly ripen bananas by placing them in a 250 degree oven for 15-20 minutes (with the peels on!)
I also do NOT recommend using paper liners for these muffins. They will stick. It's best to just use non-stick spray or the silicone muffin liners I mentioned above!
Other Recipes You'll Love:
If you love this recipe be sure to leave a star rating on the recipe card and a comment below!
Want to learn more about intuitive eating and finding food freedom so that you too can feel comfortable enjoying ALL foods without guilt, stress or anxiety and in ways that feel good? Get started by taking this quiz which will give you a personalized workbook to stop dieting and get started!
XOXO
-Colleen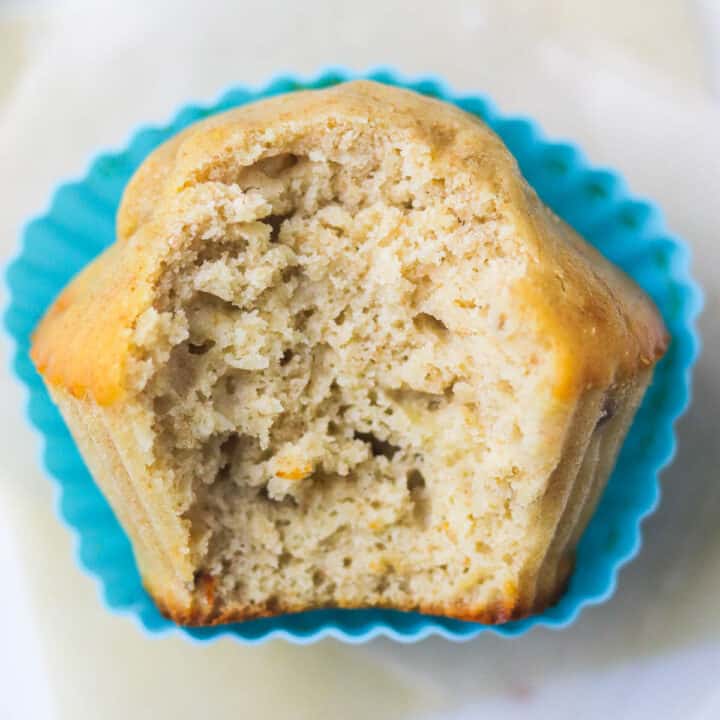 Banana Protein Muffins
Perfectly fluffy & soft, these banana protein muffins are packed with 10 g of protein to keep you full each morning or as part of a grab-and-go snack!
Ingredients
1/3 cup all-purpose flour
1/3 cup whole wheat flour
2 scoops protein powder (~2/3 cup)
1/2 tsp baking powder
1/4 tsp baking soda
1/4 tsp salt
2 spotty bananas
1 egg
1/2 cup whole milk greek yogurt
1/3 cup sugar
1/2 tsp vanilla
Instructions
Preheat oven to 400 degrees. Line a muffin tin with silicone liners or use non-stick spray. (I don't recommend using paper liners)
In a medium sized bowl combine flours, protein powder, baking powder, baking soda and salt.
In a large bowl mash your bananas. Then add yogurt, egg, sugar and vanilla.
Add flour mixture to the wet ingredients and mix until just combined.
Fill the prepared muffin tin, nearly filling each muffin to the top. This should make ~8 or so muffins, depending on the size of your muffin tin.
Bake muffins at 400 for 18-20 minutes until golden brown and a toothpick inserted comes out clean.
Allow to cool fully and enjoy! Store in an airtight container for up to 1 week or freeze for up to 2 months.
Notes
May use all all-purpose flour, wheat flour, or gluten free flour. This recipe has not been tested with alternative flours like almond or coconut flour.
I tested this recipe using a whey and plant based protein powder. The whey turned out fluffier and more dense, while the plant based was more moist. Both were great, just different textures!
Nutrition Information:
Yield:

8
Serving Size:

1
Amount Per Serving:
Calories:

146
Total Fat:

2g
Saturated Fat:

1g
Trans Fat:

0g
Unsaturated Fat:

1g
Cholesterol:

26mg
Sodium:

130mg
Carbohydrates:

24g
Fiber:

2g
Sugar:

12g
Protein:

10g