Like banana bread and carrot cake had a baby! Not only are these banana carrot muffins insanely delicious, but they couldn't be easier to make, are prefect for meal prep and are freezer friendly.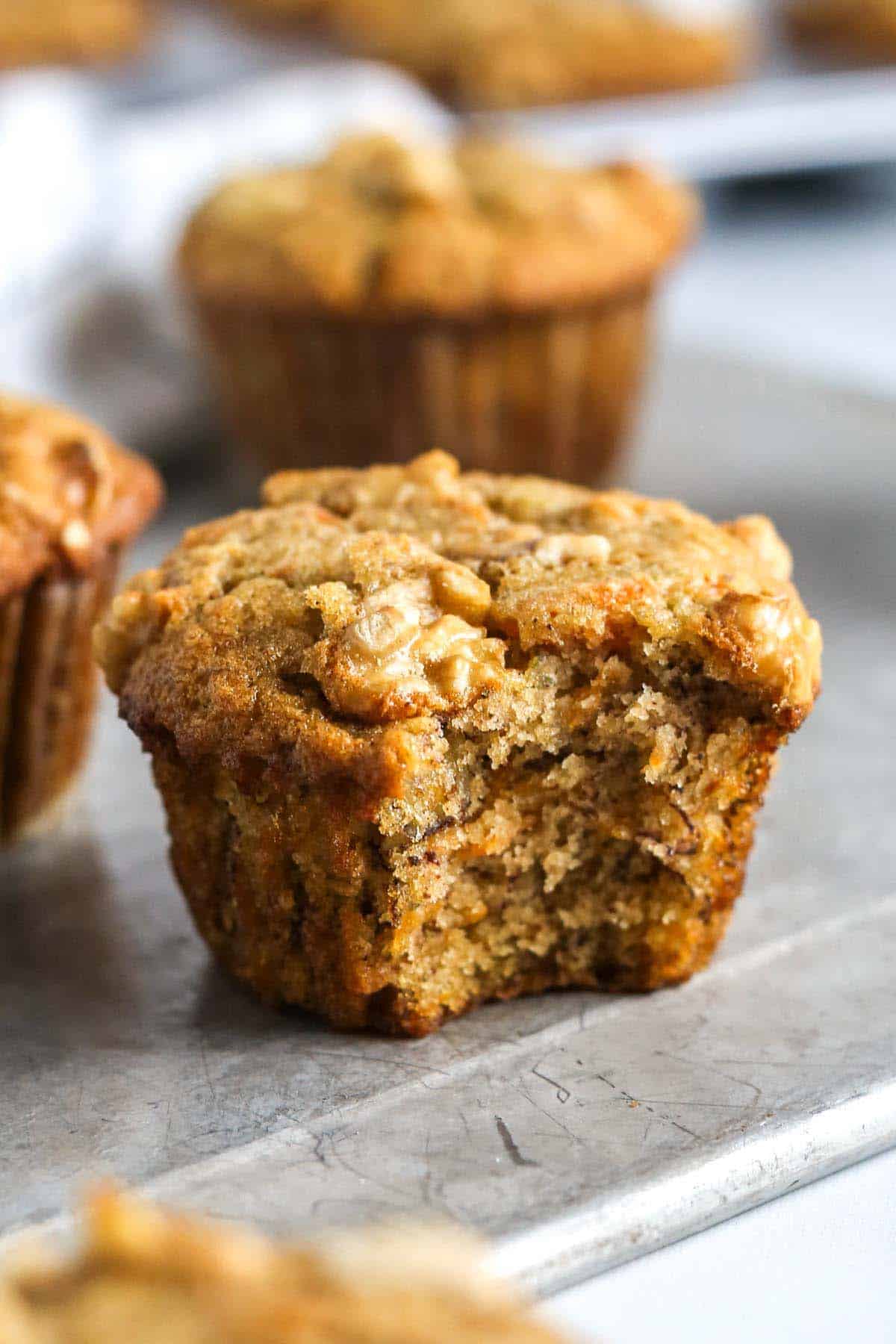 We have a very old, very top secret family recipe for banana bread that gives you the most perfect, delicious loaf every time. So naturally, I adapted THAT recipe to make these soft & fluffy banana carrot muffins! Biting into one of these banana carrot- or maybe carrot banana muffins- (they're equal parts of each!) makes you feel like you're at a high end bakery shoppe. They're THAT good!
Ingredients Needed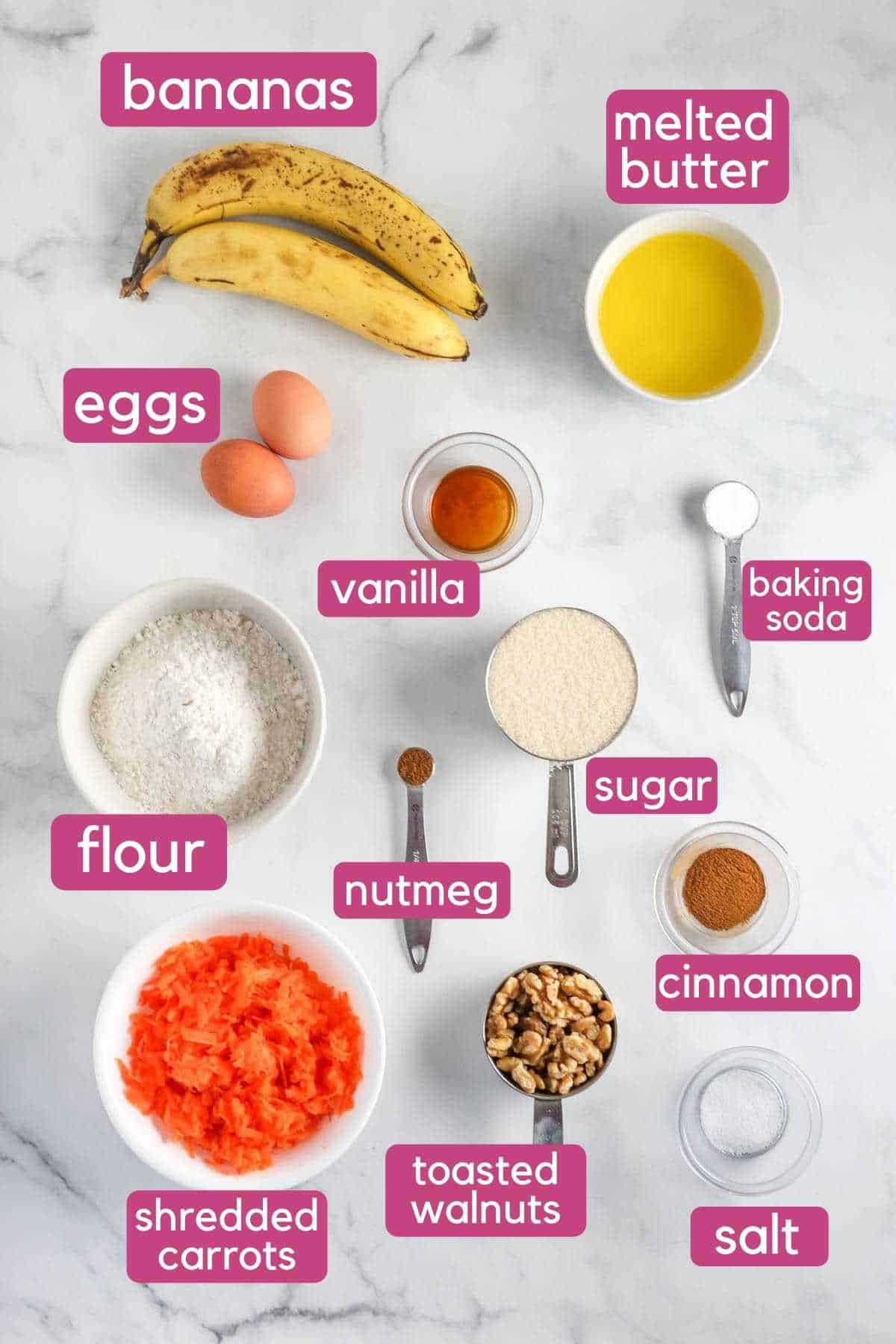 Bananas: Mashed ripe bananas give these banana carrot muffins their insanely delicious banana flavor, as well as some additional sweetness!
Carrots: Shredded carrots are hearty, and bring such a beautiful color to your muffins!
Walnuts: These are totally optional, but I STRONGLY encourage you if you like walnuts. They add a great crunch and compliment the banana and carrot perfectly. 
Butter: A foundational element to these yummy muffins! You can totally use greek yogurt or even applesauce for a plant-based option if you prefer, too!
Eggs: Acts as a binder to keep everything together and moist.
In addition to the ingredients listed above, you'll need some basic pantry staples to make these yummy banana carrot muffins! Flour, sugar, baking soda, salt, cinnamon, nutmeg, and vanilla extract are all used, and are items that most of you will have on hand!
How To Make Banana Carrot Muffins
Even though the end result of these muffins is that of a bakery style muffin, they couldn't be more fool proof to make!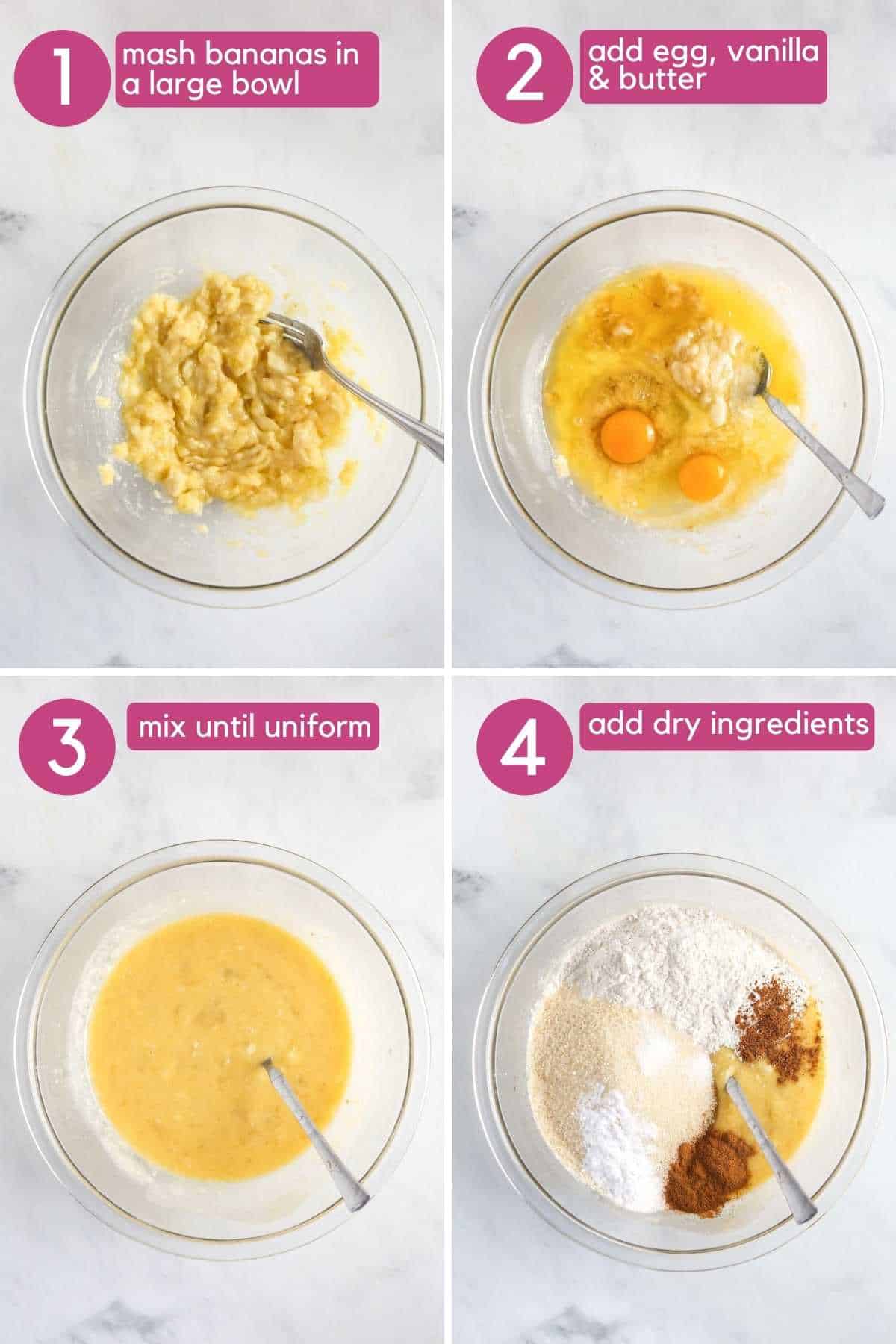 First up, and probably my favorite part, mash the bananas! Honestly that's the hardest part! Then, all you have to do is mix the wet ingredients together, combine the dry ingredients together, and then stir them all together to make the batter.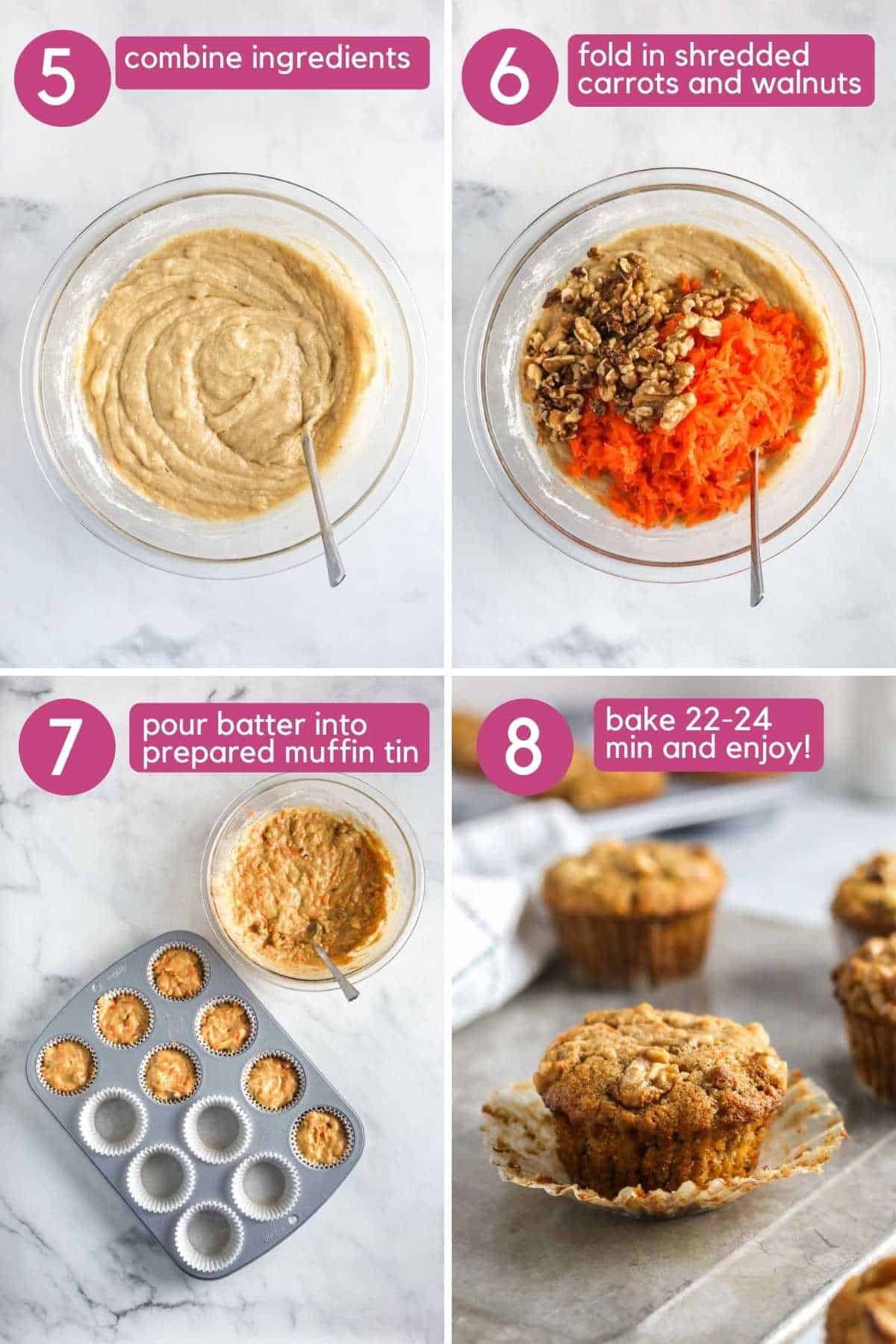 Once you have your batter mixed together, add in the carrots and walnuts (if using) and fold them in gently.
Fill your muffin tin with batter, add more walnuts if you like (and I DO like!), and pop them in the oven at 350 for about 35 minutes. BOOM. DONE. Seriously could NOT be easier! Takes all of 5 minutes, seriously!
Now you have delicious, easy, and oh-so-satisfying banana carrot muffins ready to enjoy!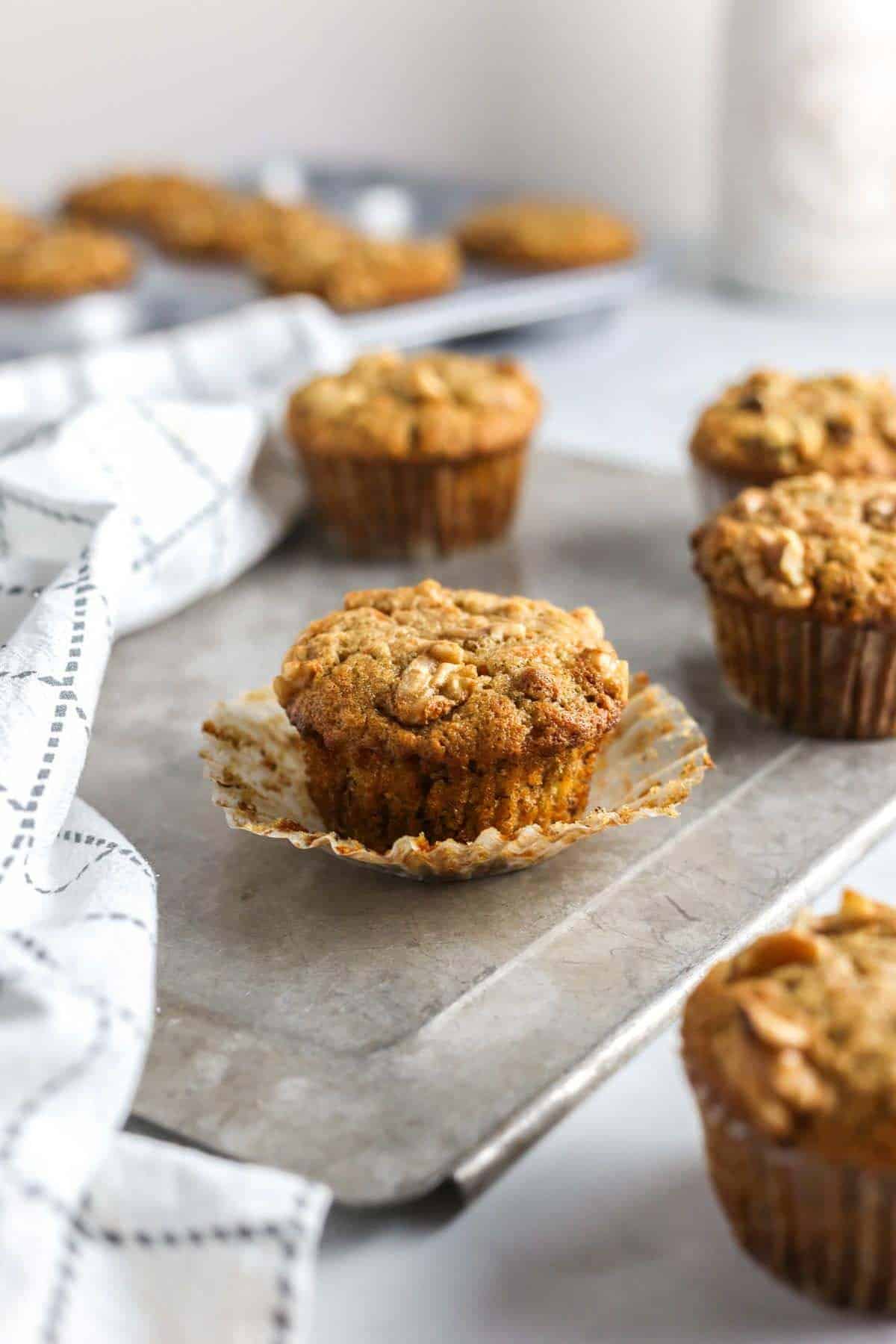 Expert Tips
When I make these banana carrot muffins I like to use my food processor to shred full-sized carrots. You can also do this by hand with a cheese grater, or you can buy pre-shredded carrots. This is the food processor that I have, it's a Kitchen Aid food processor that I've had for YEARS! So worth the investment! 
If you're adding nuts to these I like to pop them in the oven for 5-10 minutes before adding them. When you toast nuts this way it helps to bring out their flavor. Just be sure you allow them to cool all of the way before adding them to the batter so they don't start cooking it! I usually put mine in the freezer for a few minutes to make sure they cool down.
As with most banana baked goods, use the real ripe ones! The more brown spotty-ness on the outside the sweeter your bananas will be. Plus, they're way easier to mash!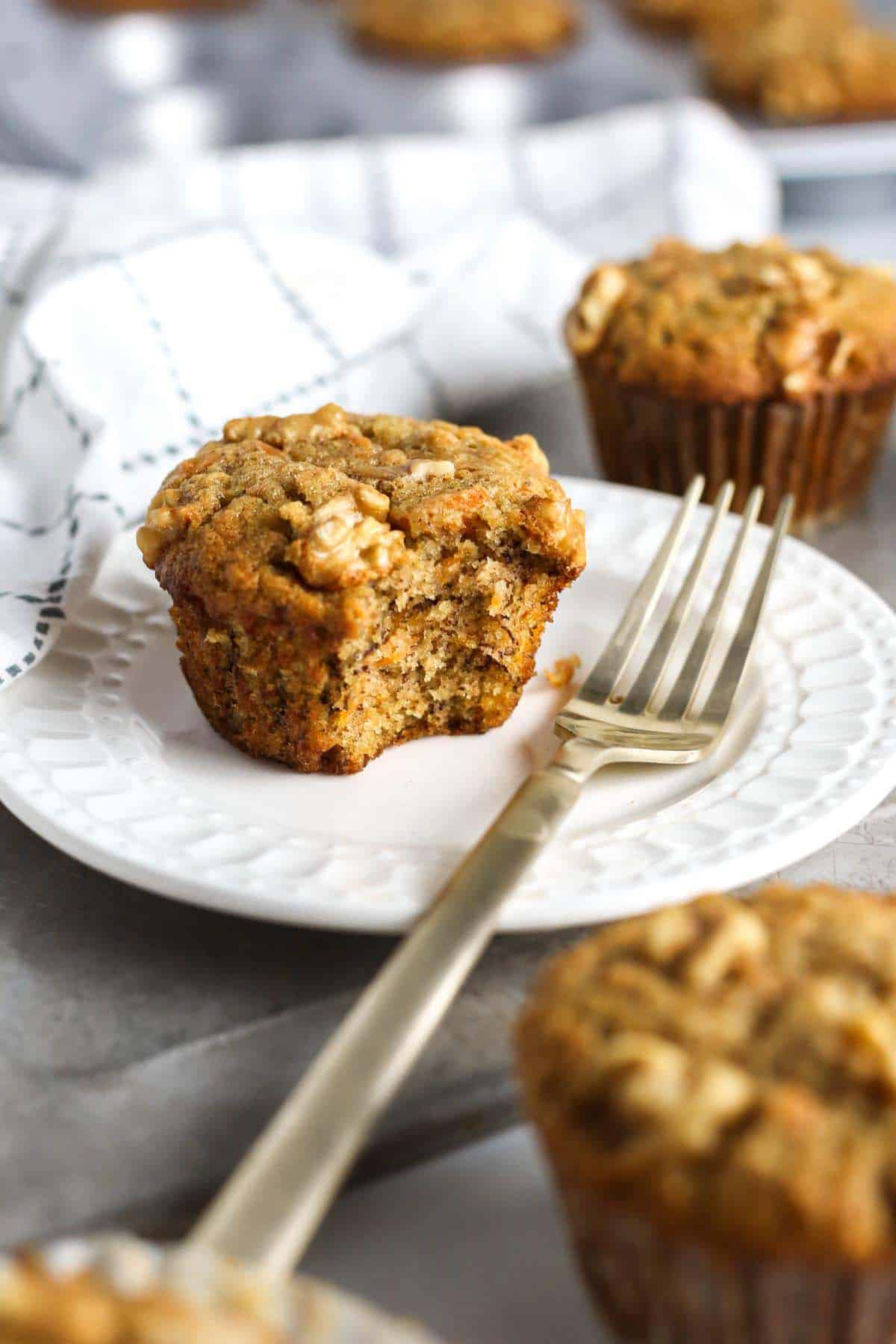 Frequently Asked Questions
What can you use in place of butter?
You can easily substitute greek yogurt or applesauce for butter in MANY recipes. I make these carrot and banana muffins both ways, to be honest. Some days I use butter, some days I use greek yogurt for an added protein punch. Neither is right or wrong. You can also sub applesauce. But, don't fear using real butter either! So satisfying!
How should you store muffins?
Keep your muffins on the counter in a container for 5-7 days. If we have extra or if we don't get through them all I'll pop them in the freezer and store for 2-3 months (but they never make it that long haha!) A little tip is to freeze them in a plate or sheet pan first, THEN put them in a bag. This way they won't stick!
Should muffins be stored in the fridge?
While muffins tend to last longer when stored in the fridge, they also tend to dry out and become dense! For that reason, it's recommended to store them either at room temperature or in the freezer for long term storage.
What nuts can replace walnuts?
If you don't have walnuts on hand, you can easily use chopped pecans, hazelnuts, brazil nuts, pistachios, or almonds in their place!
What can I add to my muffins?
Get creative and add some serious to your flavor with any mix-ins of your choice! Coconut flakes, chocolate chips, additional chopped nuts, or raisins are all great additions. I am all about adding more flavor and adapting recipes to use up whatever you have on hand!
I know you'll love these banana carrot muffins as much as I do- and my husband does, too! Be sure to leave a star rating on the recipe and a comment if you like them! I love hearing how you guys like each recipe!
Happy eating!
XOXO
-Colleen
More Easy Muffin Recipes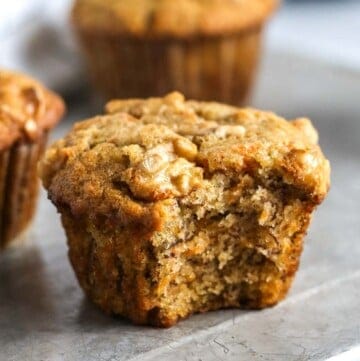 Easy Banana Carrot Muffins
Soft and fluffy banana carrot muffins are the perfect way to start your day or to enjoy as a mid-afternoon on-the-go snack!
PRINT RECIPE
Ingredients
2

bananas

ripe and spotty!

2

eggs

1

tsp

vanilla

1/2

cup

melted butter

cooled

1 1/4

cups

flour

1

cup

sugar

1

tsp

soda

1/2

tsp

cinnamon

1/4

tsp

salt

1/4

tsp

nutmeg

1 1/2

cups

shredded carrots

I like to use a cheese grater!

1/2

cup

toasted walnuts

optional (let's use!)
Instructions
Preheat oven to 375 and line a muffin tin with liners or spray with non-stick spray, set aside.

Mash bananas in a large bowl with a potato masher (may also use a fork)

Add in egg, vanilla and butter, mixing well.

Next, add the flour, sugar, soda, cinnamon, salt and nutmeg until well combined and uniform.

Fold in the shredded carrots and walnuts (if using)

Pour batter into prepared muffin tin (topping with extra walnuts if desired) and bake for 22-24 minutes. Muffins are done when they are golden and a toothpick inserted comes out clean.

Allow muffins to cool fully before storing in an air tight container for 5-7 days on the counter. May also freeze the muffins and keep for 2-3 months.
Notes
Bananas: Pick the ripest bananas you can find! They mash easily, and have a little boost of sweetness that works great in these banana carrot muffins. Add ins: Feel free to get creative and add in some fun flavors to your muffins. Coconut, chocolate chips, and raisins all make good additions.
click To display nutrition info
Nutrition Facts
Nutrition Facts
Easy Banana Carrot Muffins
Amount per Serving
% Daily Value*
* Percent Daily Values are based on a 2000 calorie diet.
This blog post contains affiliate links, which means that if you click on a product link, I may receive a commission. All opinions are my own, and all brands featured represent what I personally like and support. This blog is a participant in the Amazon Services LLC Associates Program, an affiliate advertising program where I earn advertising fees by linking to amazon.com.