These nutrient packed muffins that taste like dessert are the BEST way to start your morning! The whole grains in these banana buckwheat muffins will keep you feeling full all morning long.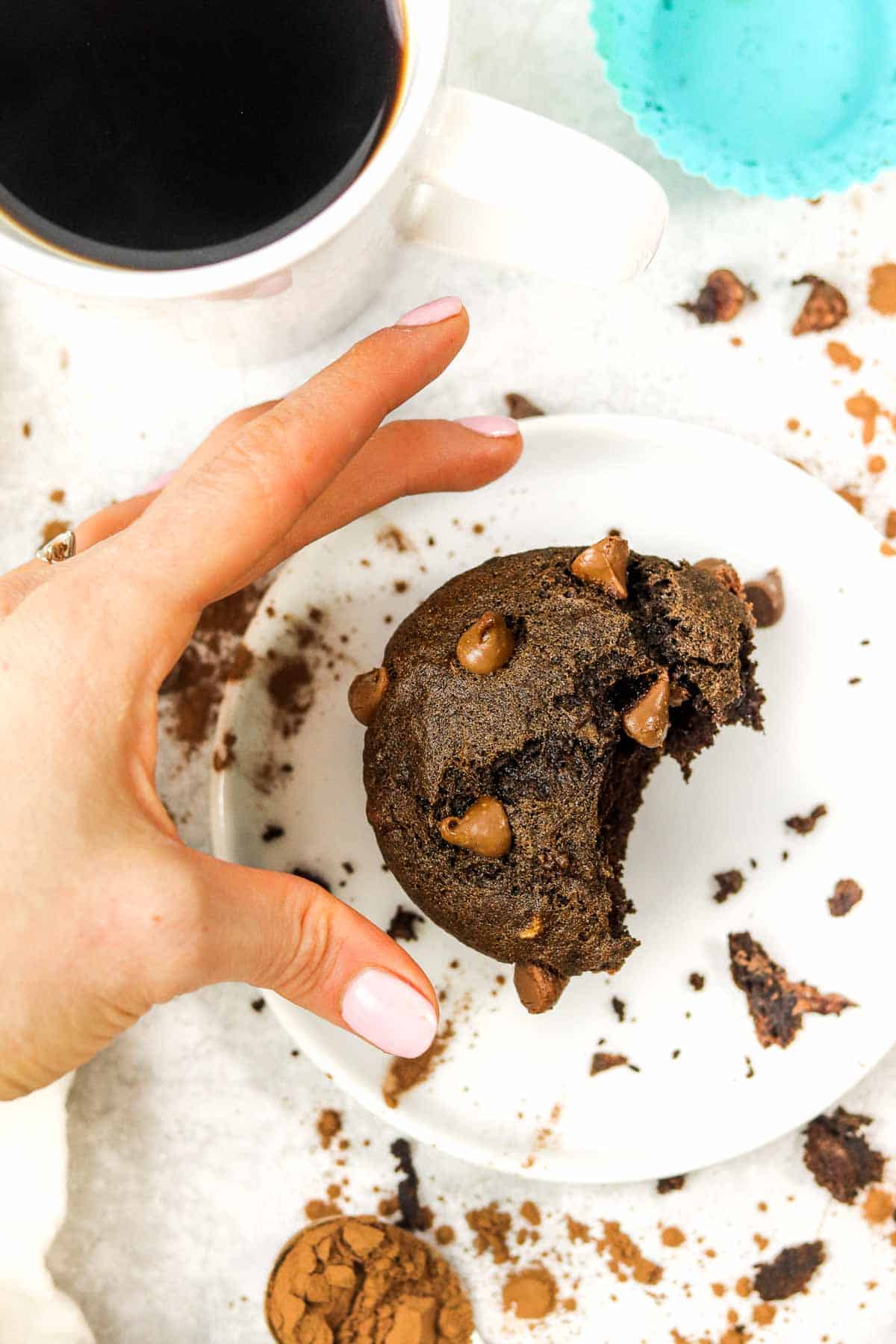 Why I Love This Recipe
This recipe is a favorite of mine because it's like two of my favorite things had a baby: buckwheat pancakes and banana bread. I love how buckwheat has such a hearty, homey taste and banana bread… well… who doesn't love that?!
We pretty much always have a batch of some sort of baked good on hand like these double chocolate buckwheat banana muffins, banana carrot muffins, blueberry protein muffins or whole wheat baked donuts (yep.. I frequently meal prep donuts on Sundays!)
Buckwheat is a whole gain which our bodies love. Whole grains provide our bodies with a slew of vitamins, minerals and nutrients while also helping prevent things like heart disease, cancer, and diabetes (that's just to name a few!) Buckwheat flour also has more fiber than regular flour, so this can help you to feel full for longer as well as keep your regular in the bathroom.. if you know what I'm saying!
Basically… these banana buckwheat muffins are the perfect morning solution! Delicious, chocolatey taste (honestly, they taste like a cupcake!) while giving your body loads of nutrition. The Registered Dietitian that I am obviously loves this!
Ingredients Needed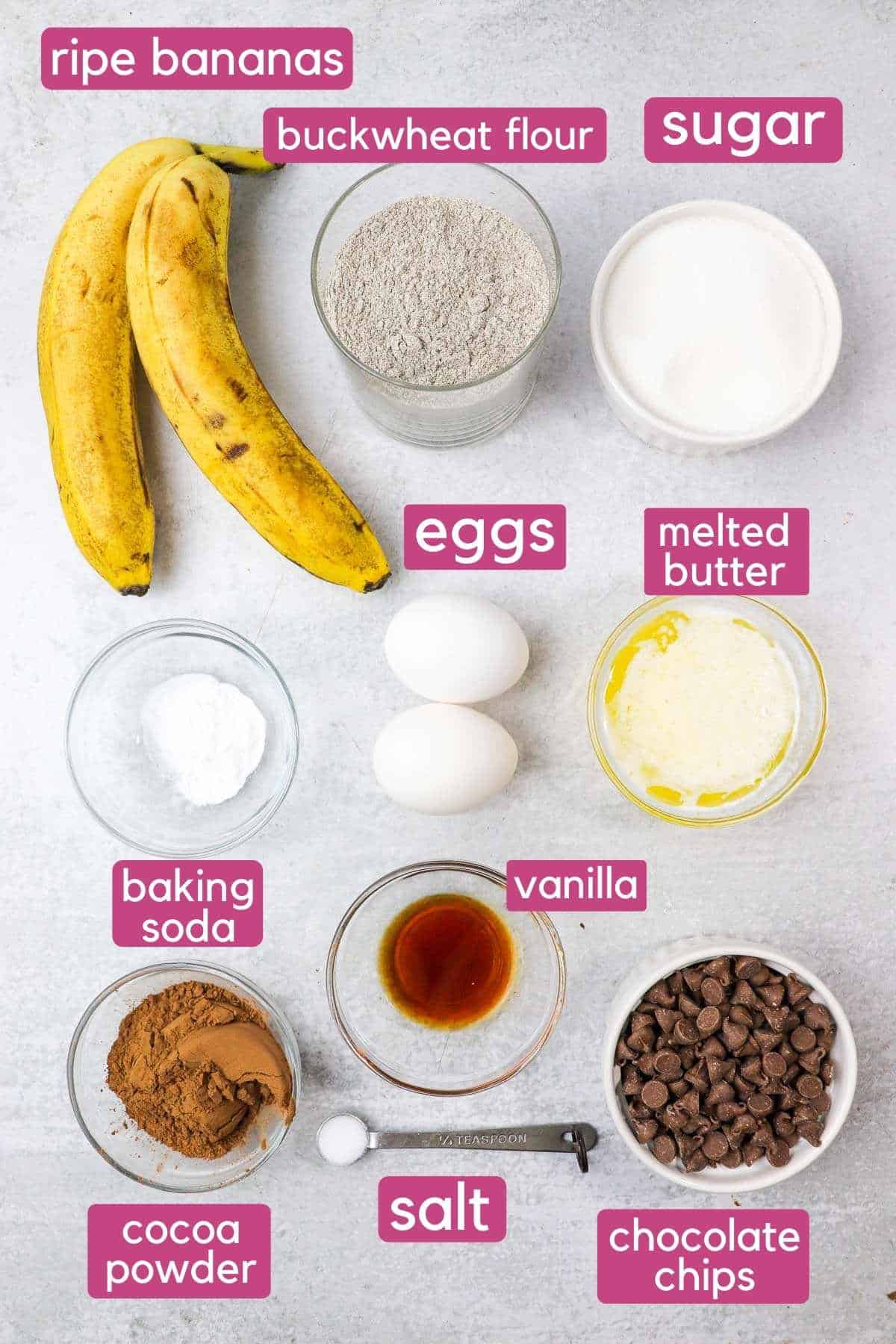 Melted butter. Be sure that your melted butter is cooled to room temperature otherwise it will cook your eggs and cause your Instant Pot banana bread to not turn out!
How To Make This Recipe
First, preheat your oven to 350 degrees and line a muffin tin with liners. I am OBSESSED with these silicone muffin liners! I use them over and over and since you get 45 for about $10 bucks I'll never have to buy them again (Yay saving money AND the environment!) Set your prepared pan aside.
In a medium sized bowl combine flour, sugar, cocoa powder, baking soda and salt. Whisk it up and set aside.
In a large bowl mash up your bananas really well. I like to use a potato masher for this.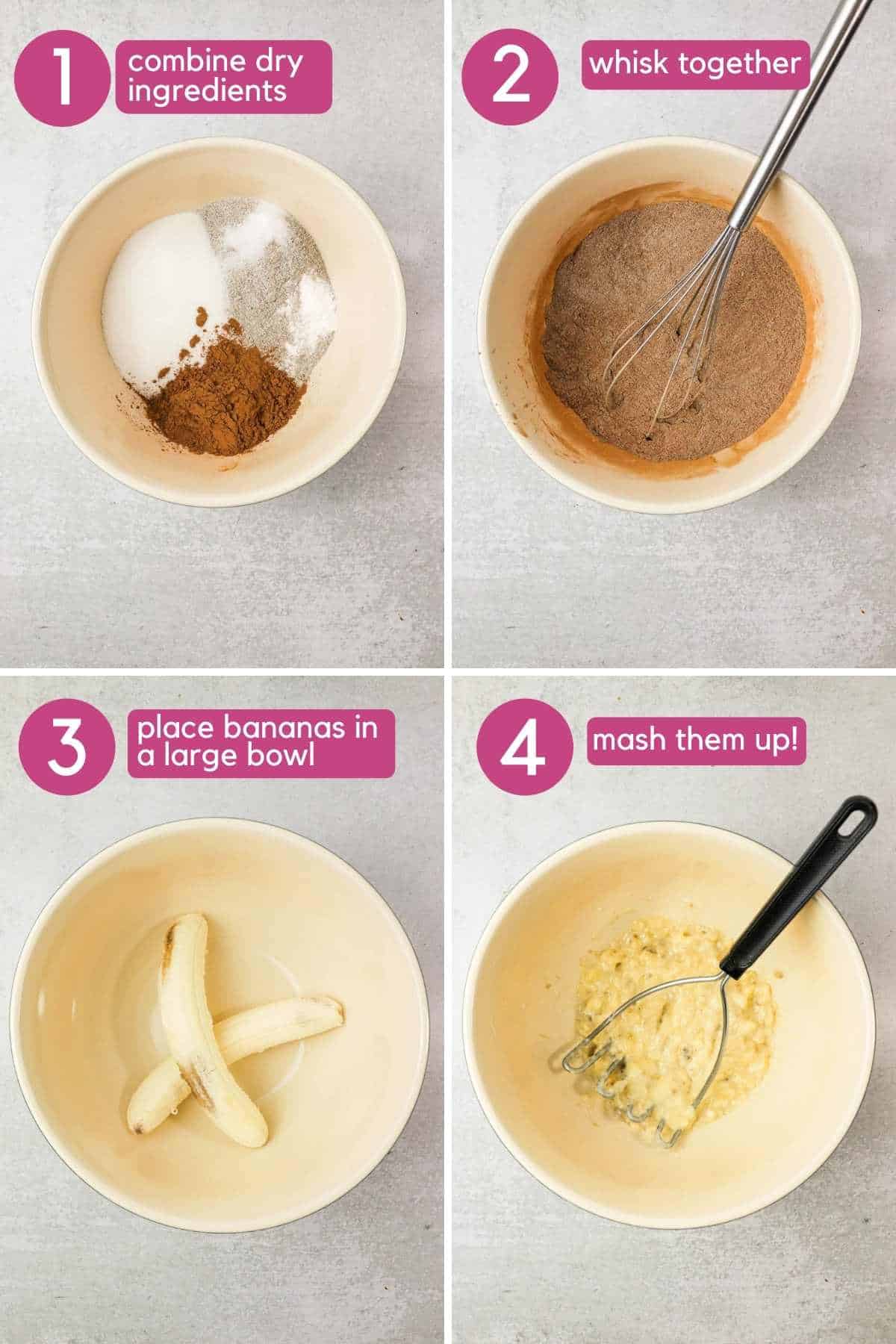 Once the bananas are all mashed up add in your melted butter, eggs, and vanilla. Mix it up really well. I like to use old school rotary beaters here, but a spatula will totally work as well. We always did this when making my grandma's banana bread recipe growing up so I use them for EVERY banana recipe I make basically! It's just a fun tradition.
Now, add your dry ingredients (the flour mixture) to the wet ingredients and mix until just combined.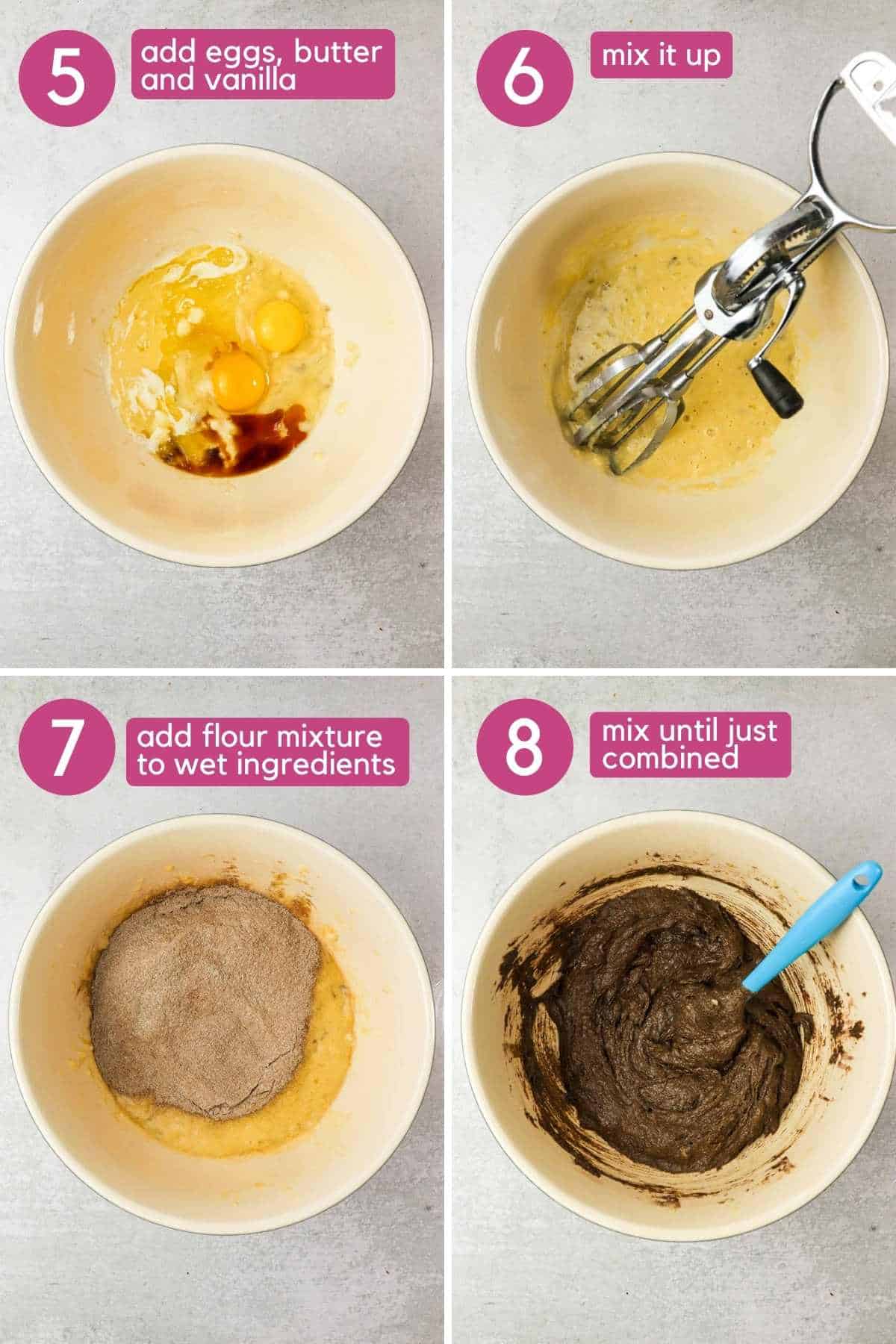 Next, add your chocolate chips and fold them in until they're evenly distributed.
Scoop your muffin batter into your prepared muffin tin. It's important to make sure your muffins are all the same size. I like to use an ice cream scoop for this, it works super well!
Feel free to add a few more chocolate chips on top!
Bake your muffins for ~27 minutes or until a toothpick comes out clean.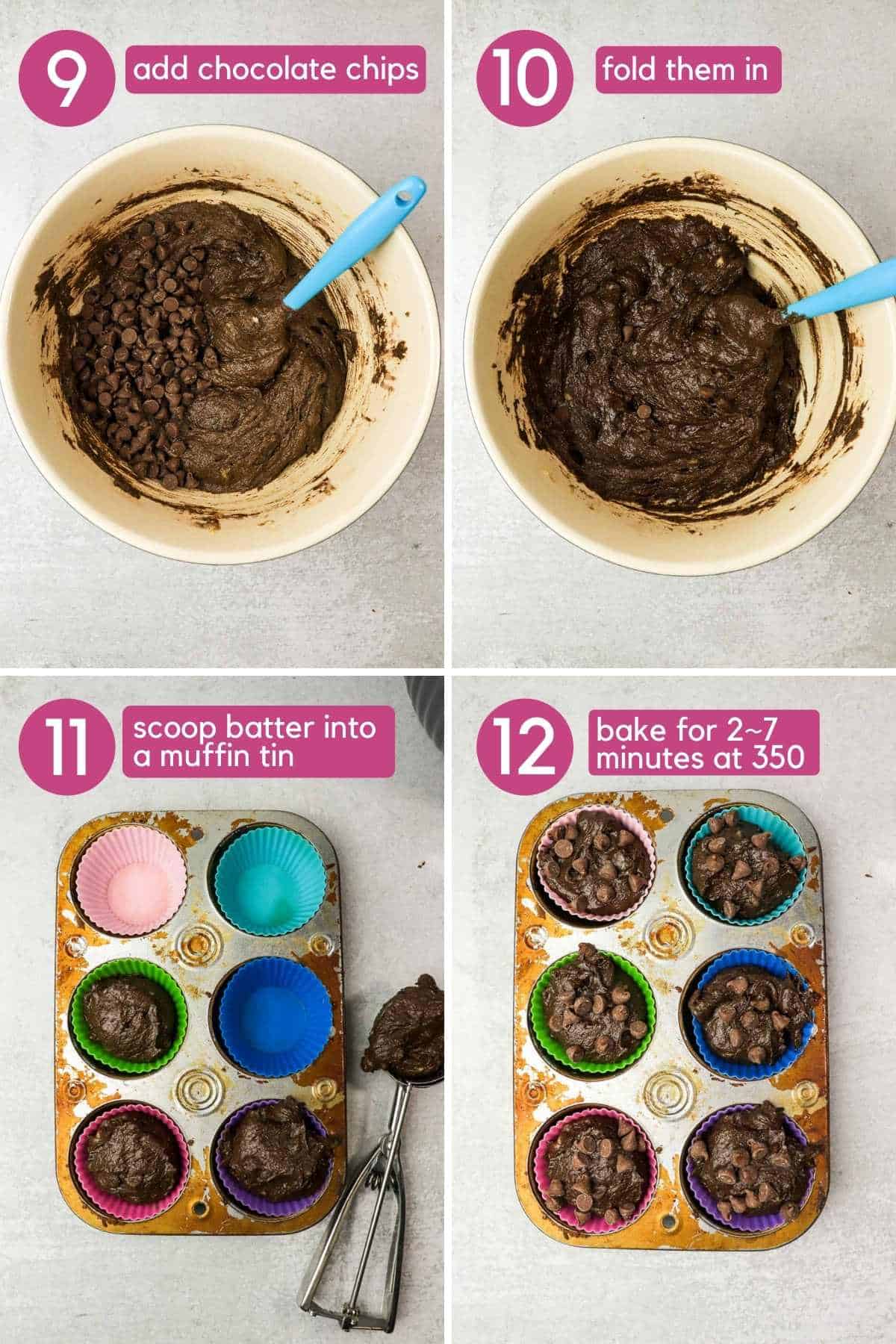 Allow them to cool, grab one and enjoy!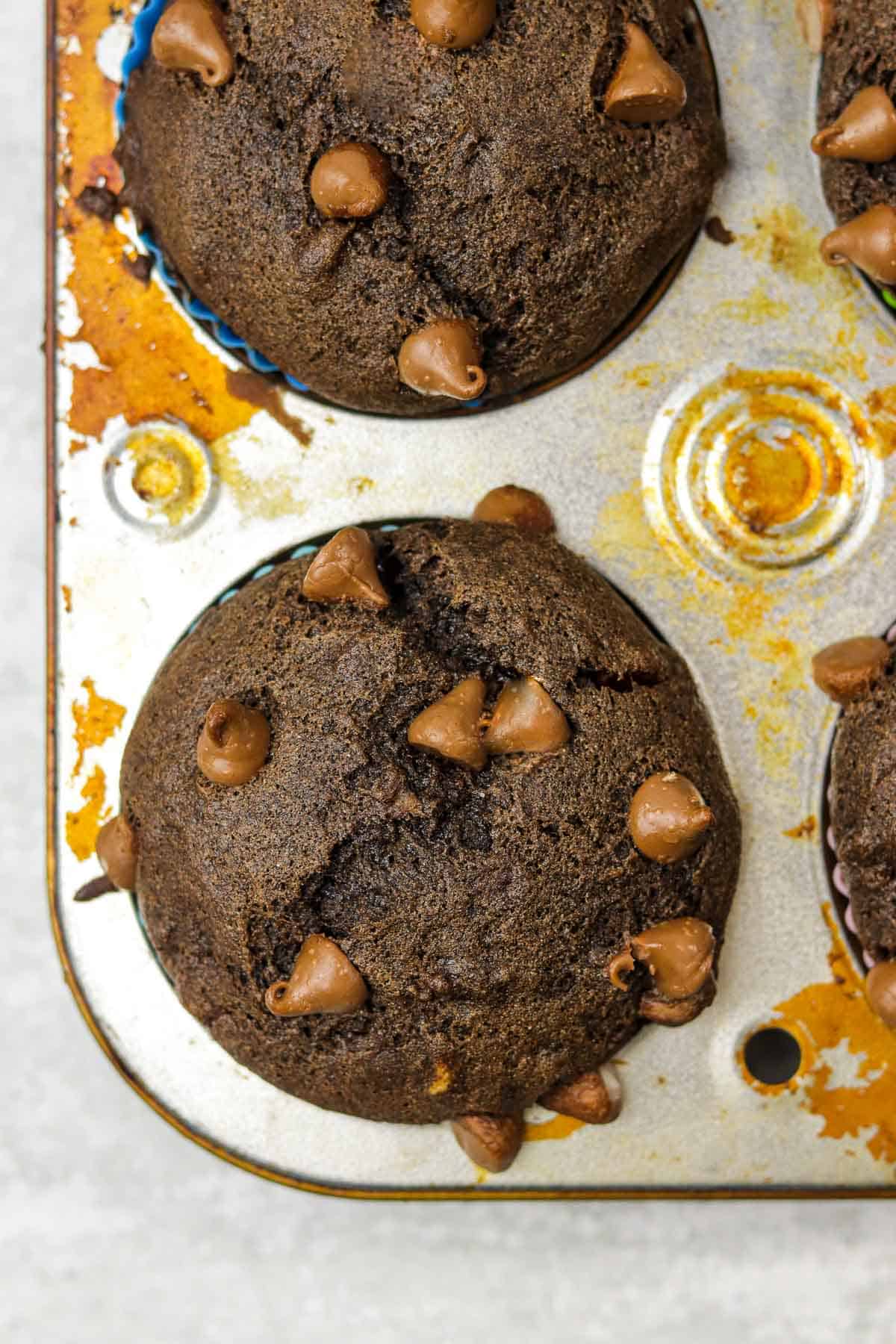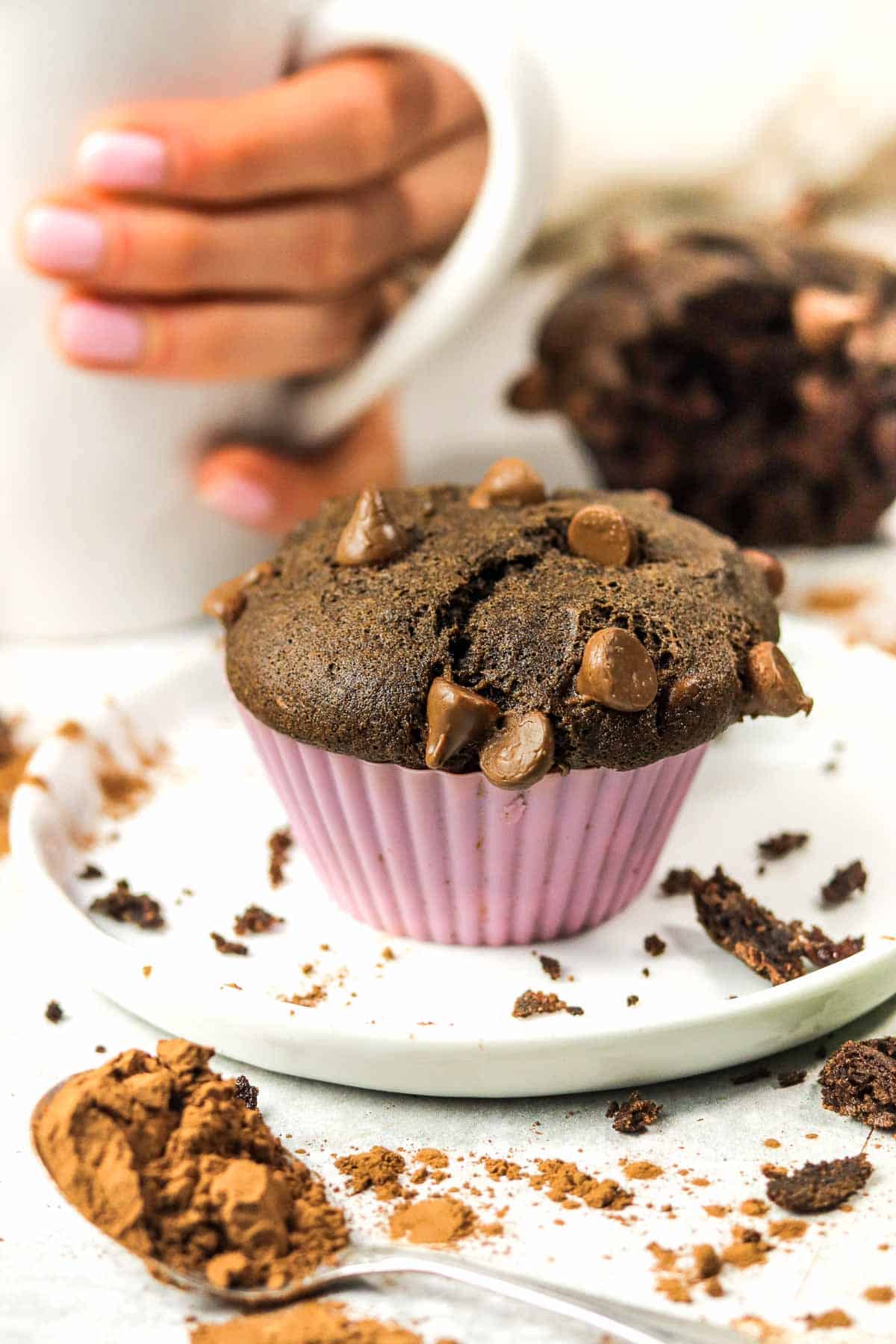 Recipe FAQs
Does buckwheat taste different?
Buckwheat does taste much more "earthy" than regular flours. I love this taste! It's kind of like how whole wheat tastes different than regular flour, expect buckwheat's "earthy-ness" is a step above the wheat.
Can you substitute buckwheat flour for whole wheat?
Buckwheat flour differs from wheat or even white flour in that it's gluten free. This will cause your muffins to have a different texture. I wouldn't recommend it. I also wouldn't recommend substituting flours like almond flour here. Almond flour is going to have a lot more fat and be more dense, causing your muffins likely to not turn out.
Can I sub something else for the bananas?
Yep! If you don't have bananas you can sub really any fruit puree. Applesauce or pumpkin puree will work well. You'll need about 1 cup of each. This may alter the water content of your muffins, altering the final product slightly. If your batter looks super runny just add a touch more flour here.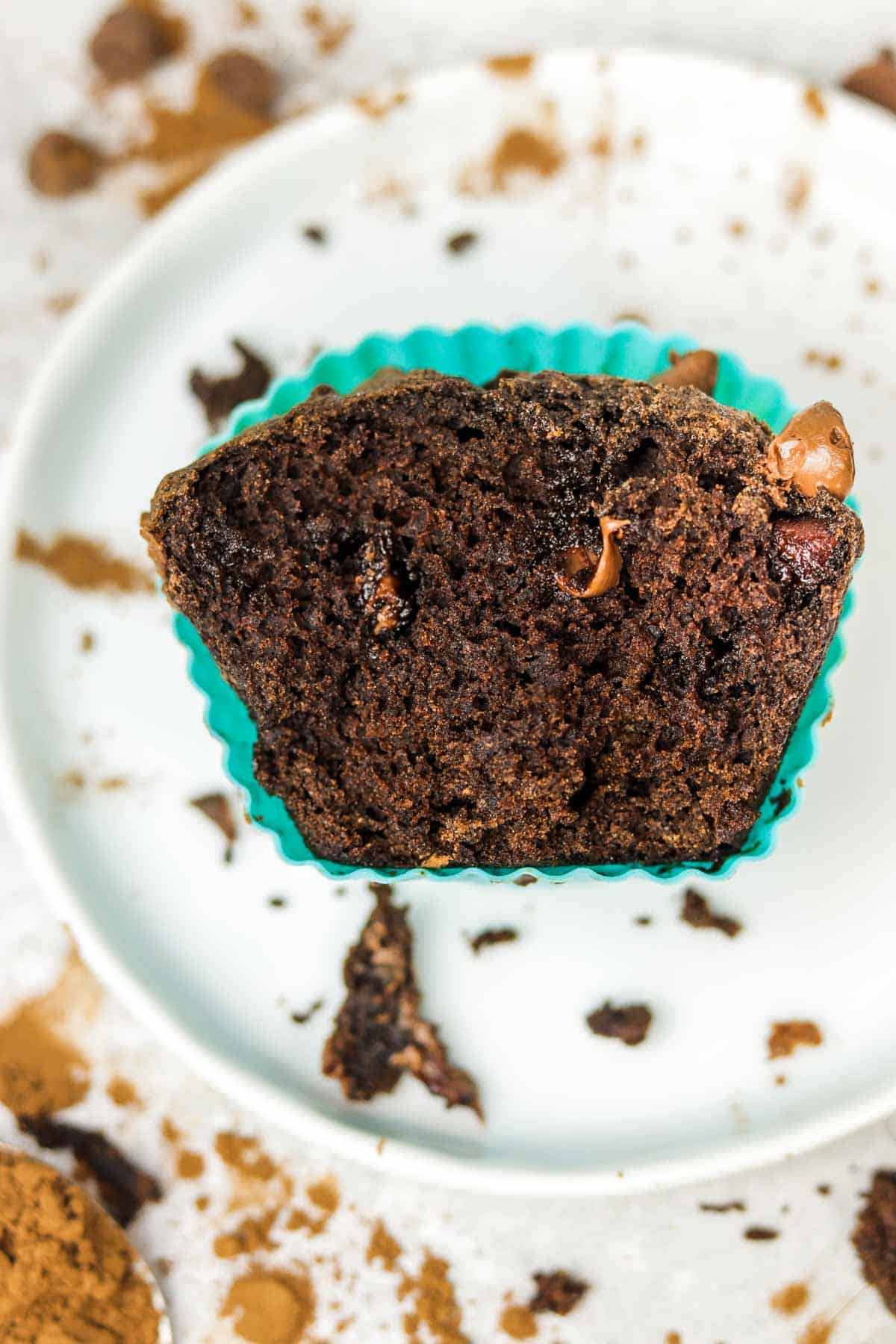 Expert Tips
Get creative and add nuts, shredded coconut, seeds, etc to these muffins!
If you won't eat the muffins in 5-7 days then I recommend freezing them. Just throw them in a freezer bag. They'll keep for about 3 months.
If your bananas aren't quite spotty you can follow these tips; 1-2 days until baking: pop them in a paper bag and store in a dark place. 20 minutes until baking: place in the oven at 300 (unpeeled) for 15-20 minutes. No time until baking: pop a peeled banana in the microwave for 30 seconds until softened. NOTE: Your muffins might not be as sweet if you quickly ripen your bananas using these tips. Throughout the ripening process bananas get sweeter.
Other Muffins & Bread Recipes You Might Like:
If you love this recipe, be sure to leave a star rating on the recipe card and leave a comment below!
Don't forget to pin it on your Pinterest board for later, or tag me on IG @no.food.rules if you try the recipe and love it!
XOXO
-Colleen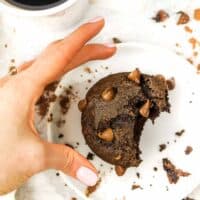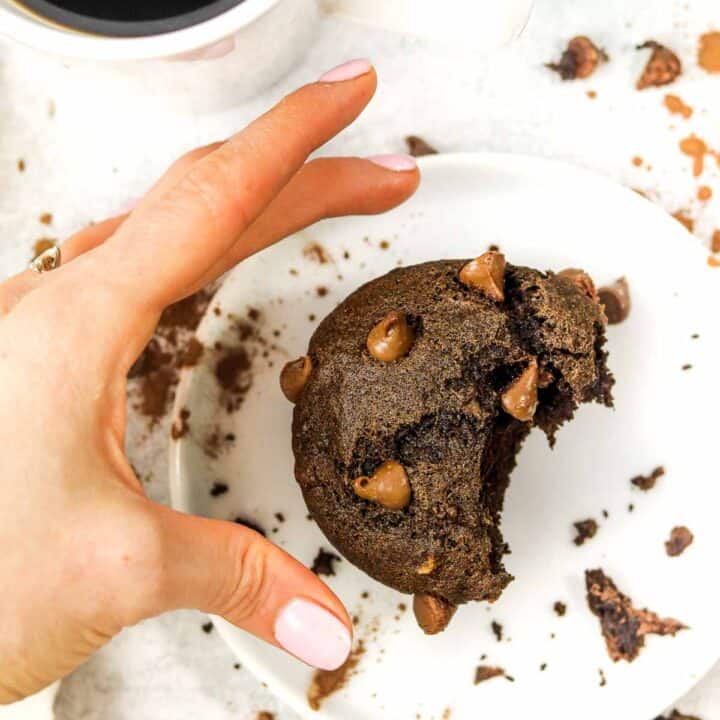 Double Chocolate Buckwheat Banana Muffins
These double chocolate buckwheat banana muffins are simple to put together and leave you with only ONE bowl to wash!
PRINT RECIPE
Ingredients
1

cup

buckwheat flour

2/3

cup

sugar

1/4

cup

cocoa powder

1

tsp

baking soda

1/4

tsp

salt

2

very ripe bananas

1/4

cup

butter

melted & cooled

2

eggs

1

tsp

vanilla

2/3

cup

chocolate chips
Instructions
Preheat oven to 350 degrees; line a muffin pan with muffin liners, set aside

In a medium sized bowl whisk together flour, sugar, cocoa powder, baking soda and salt. Set aside.

Now in a large bowl mash bananas with a potato masher or fork until uniformly smooth.

Add in butter, eggs and vanilla. Mix well.

Next, add the flour mixture to the wet ingredients and mix until just combined.

Fold in your chocolate chips to the muffin batter until evenly distributed.

Fill your prepared muffin tin with batter almost to the top, you should end up with ~12 muffins.

Bake your muffins for ~27 minutes or until a toothpick comes out clean.

Allow your muffins to cool and enjoy!
Notes
I don't recommend substituting flours for this recipe.
If you don't have ripe bananas you can use 1 cup applesauce or pumpkin puree (any fruit puree should really work)
For sweeter muffins you can increase sugar to 1 cup.
click To display nutrition info
Nutrition Facts
Nutrition Facts
Double Chocolate Buckwheat Banana Muffins
Amount per Serving
% Daily Value*
* Percent Daily Values are based on a 2000 calorie diet.