What's better than chocolate? Double chocolate. And what makes it better? Eating it for breakfast. Agreed? Good. Now get excited because I'm about to share my recipe for double chocolate buckwheat banana muffins!! And, guys? They're to die for.
When you spot a basically black banana sitting on the counter what do you think?
A.) Well, shoot.. there goes that 'naner.
or
B.)HECK TO THE YES. Time to get baking!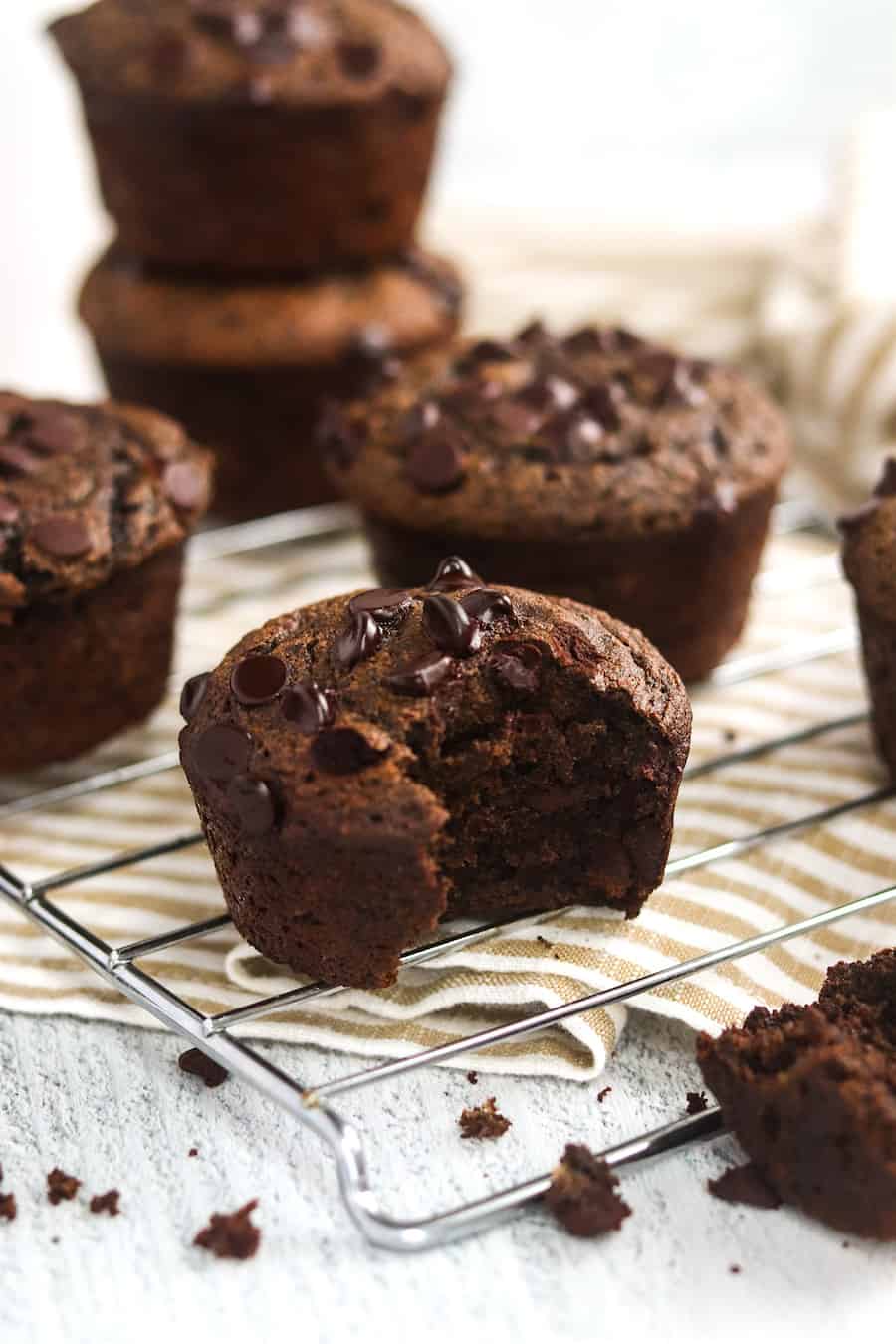 I'm totally in camp B. I purposely buy way more bananas than I need so that they'll go bad and I'll HAVE to make something with them. Please let me I am not the only one who does this...
On New Year's day I had the rare occurrence of having next to no obligations for the day. The hubs and I went to a new workout class, GRIT by Les Mills. (You guys know I'm already obsessed with Body Pump, I think I'll be just as obsessed with this!) and then the day was ours. It was glorious. After making breakfast (be sure to eat after your workout people!) and showering I got right back into the kitchen to use the waaaaay over ripe banana I had sitting in the fridge.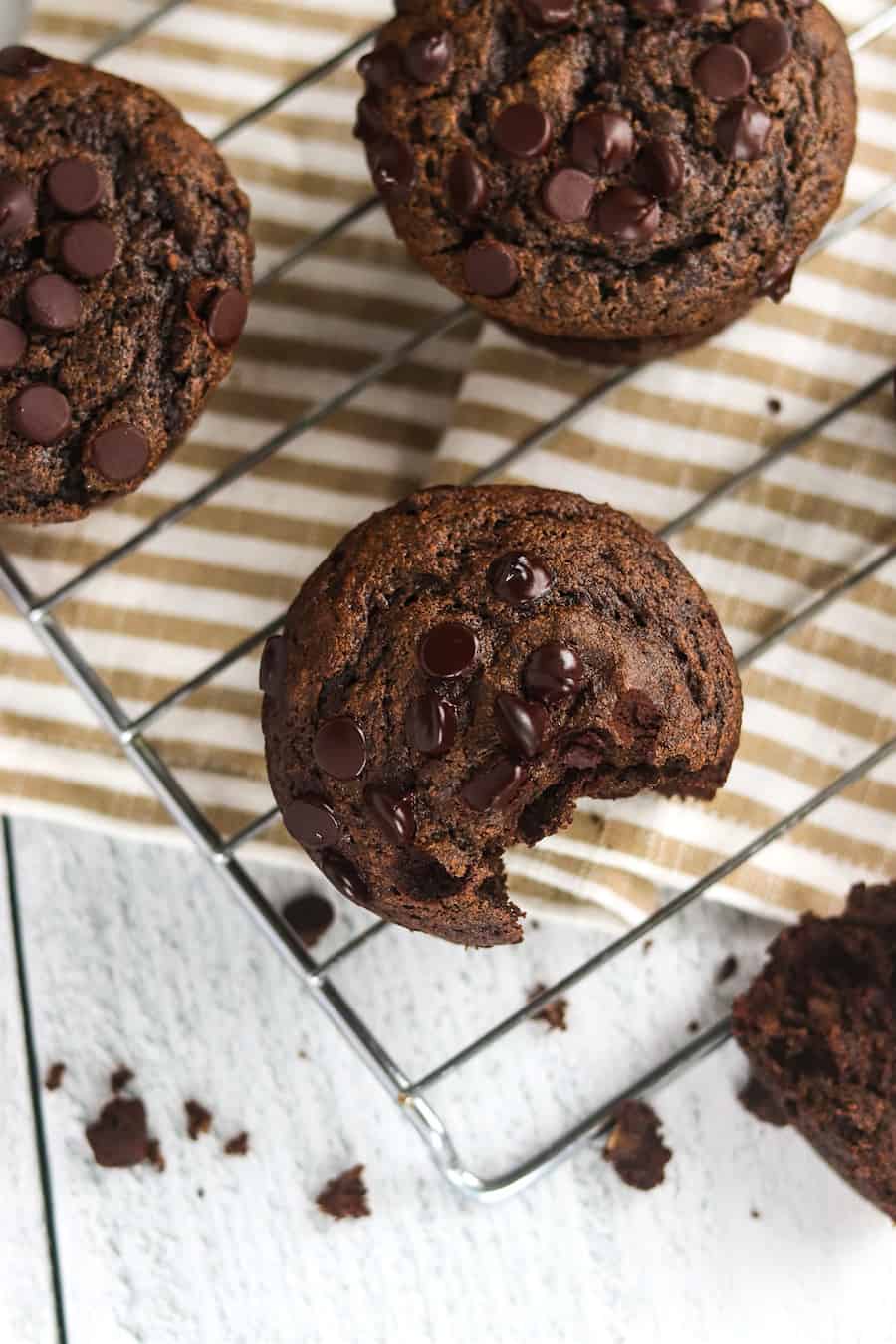 Pro-tip: Keeping your bananas in the fridge will prevent them from ripening too fast. Since my banana was already prefect for baking I quickly put it in there before it went to far on the ripe spectrum (i.e. spoiled).
I whipped up my usual banana bread recipe and made a few adjustments. Holy cow you guys... when I tasted the batter (#necessary) I could have eaten the entire bowl. I love banana bread batter to start with, but these double chocolate buckwheat banana muffins are extra.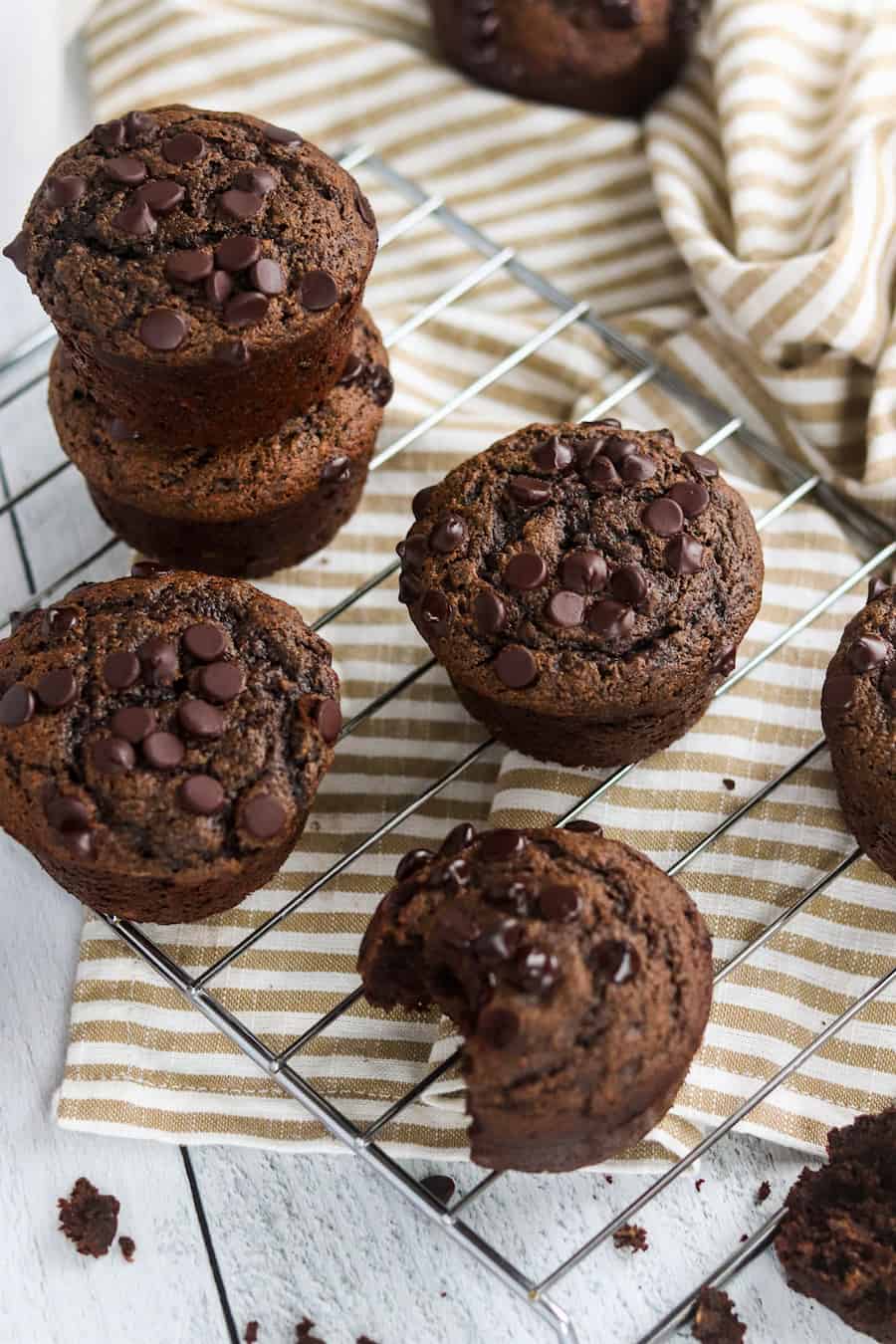 I used buckwheat flour for this recipe, which complimented the chocolatey goodness perfectly. Plus, it has more fiber than all-purpose flour, which will help you to stay full in the morning (or whenever you choose to eat these babies!). It'll also provide you with a food variety of minerals, such as manganese, copper, iron and phosphorous.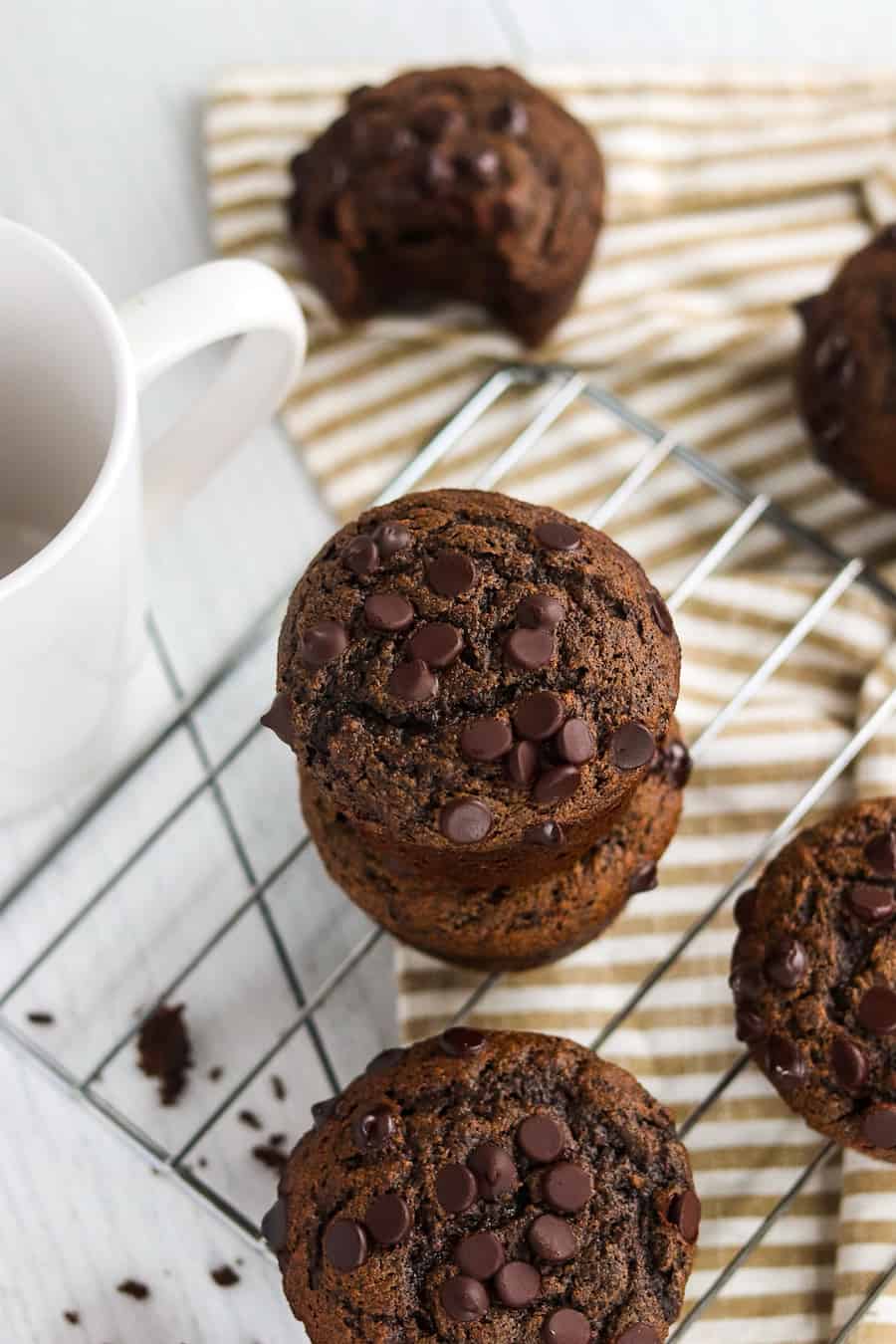 I used a silicone muffin pan, which made me some pretty large muffins. So, with that being said, if you're using a standard muffin tin this recipe may make you a few more muffins than the 9 that it made me. If you haven't used a silicone muffin tin you MUST! I tried it once on a whim (impulse buy!) and will never go back to a tin and liners. Here is one that I found that is similar to the one I use:

The next time you head to the store remember to always buy extra bananas! Great things like this come of it. Give this recipe a try them come back and leave a comment on what you think of them!
Also, don't forget to pin this recipe for later!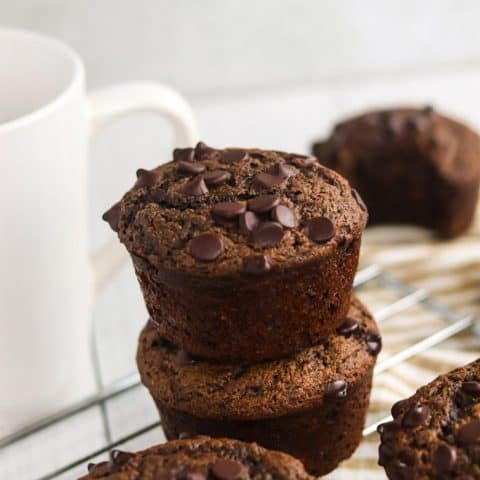 Double Chocolate Buckwheat Banana Muffins
These double chocolate buckwheat banana muffins are simple to put together and leave you with only ONE bowl to wash!
Ingredients
2 very ripe bananas
1/2 cup unsweetened applesauce
2 eggs
1/2 tsp vanilla
1/2 cup sugar
1 1/4 cup buckwheat flour
2 tbsp cocoa powder
1 tsp baking soda
1/2 tsp baking powder
1/4 tsp salt
1/2 cup chocolate chips
Instructions
Preheat oven to 350 degrees; lightly spray a muffin pan with non-stick spray, set aside
In a large bowl, mash bananas with a potato masher until uniformly smooth
Using rotary beaters, add in applesauce, eggs and vanilla
Add in remaining ingredients, minus the chocolate chips, and stir until just combined
Fold in 1/2 of the chocolate chips
Pour batter into prepared muffin pan, sprinkle tops of muffins with remaining chocolate chips, and bake for ~30-35 minutes until toothpick comes out clean
Notes
**These are large muffins! It may make more if you use a standard size muffin pan, mine was a little large.
Nutrition Information:
Yield:

9
Serving Size:

1
Amount Per Serving:
Calories:

196
Total Fat:

5g
Saturated Fat:

2g
Trans Fat:

0g
Unsaturated Fat:

2g
Cholesterol:

41mg
Sodium:

251mg
Carbohydrates:

37g
Fiber:

3g
Sugar:

21g
Protein:

4g
Happy eating!
Colleen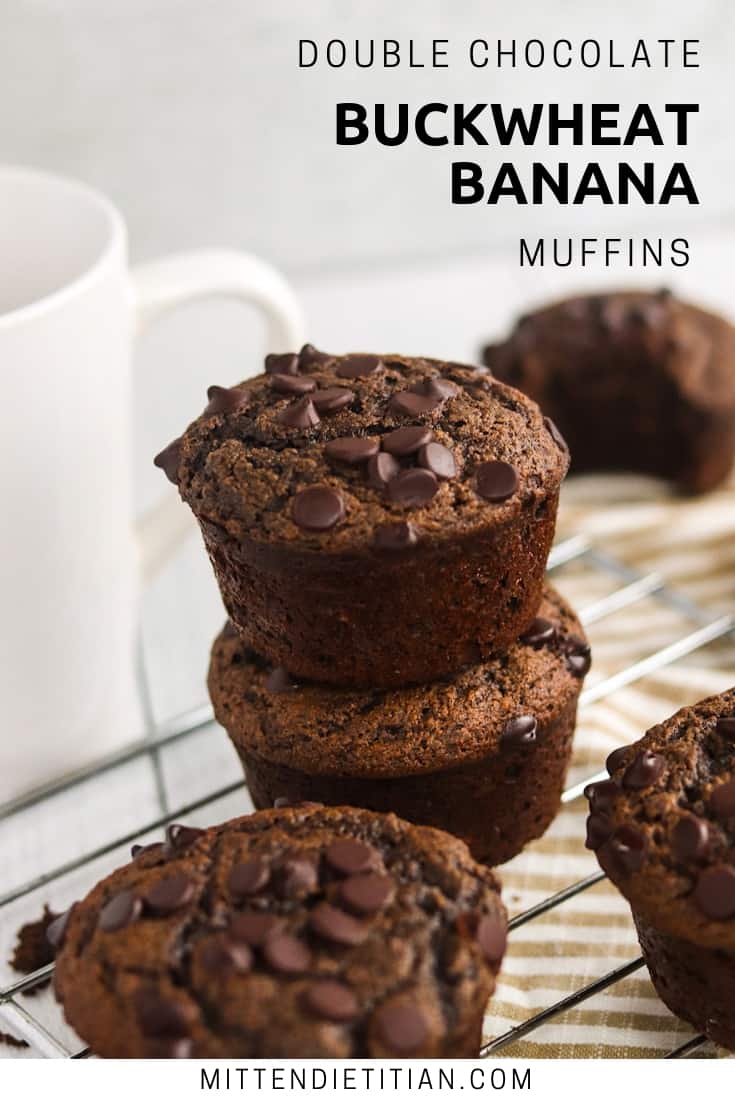 *This post contains affiliate links and I may earn a small commission based on purchases.