I don't say this lightly, because I know how many banana bread recipes there are out there... but this is the BEST dairy free banana bread recipe you'll ever use! Heck, it's the best banana bread recipe you'll use period. Dairy free or not!
Every time I make a load of banana bread my husband says "That is some good banana bread!". Every. Single. Time. Why? Because I base every banana bread recipe I make off of a family recipe that's been passed down and is not only insanely delicious, but FOOL PROOF!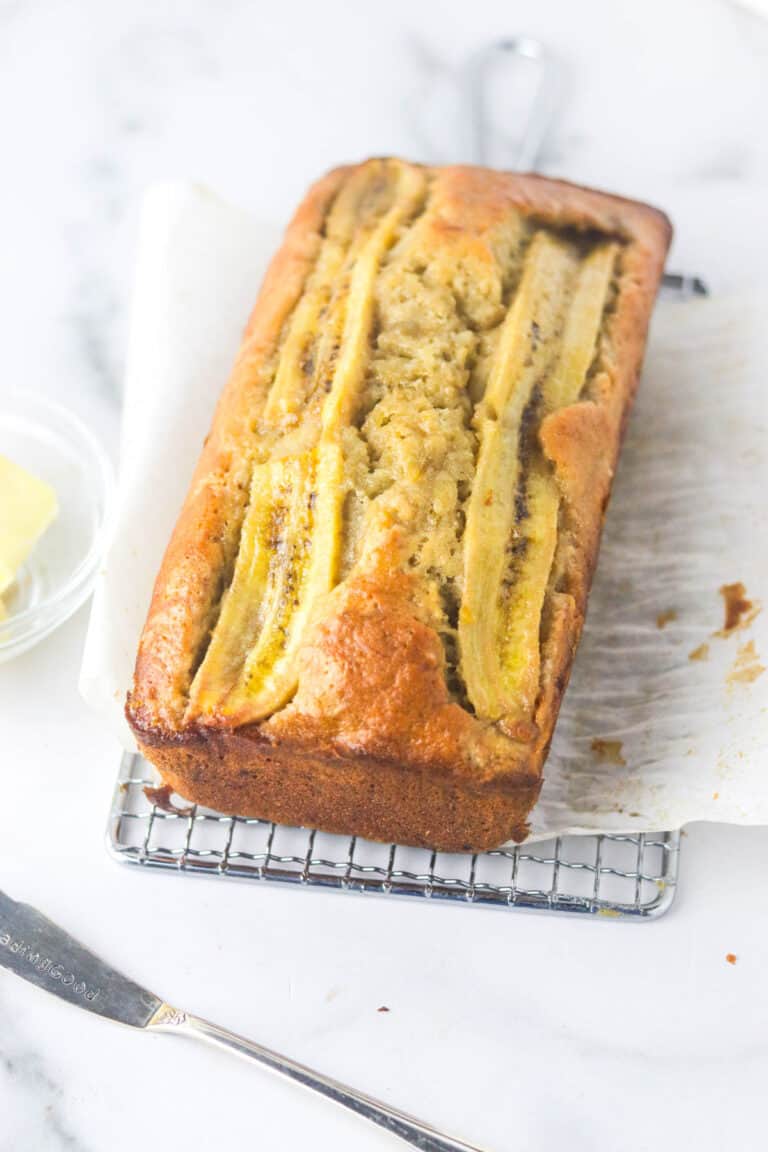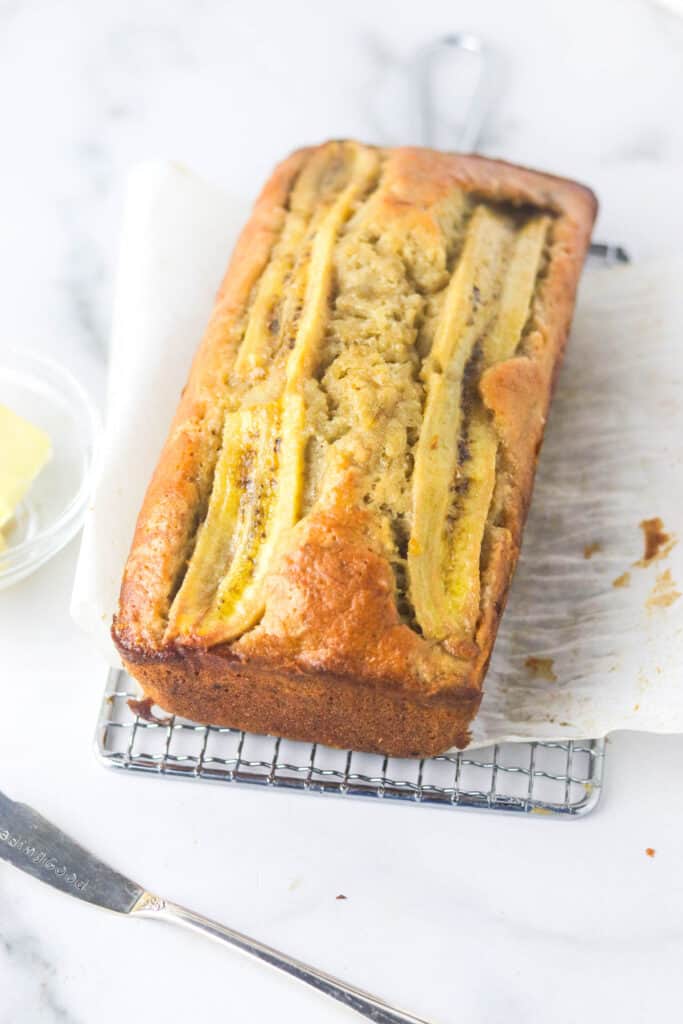 What You Need For This Dairy Free Banana Bread
The ingredients for this dairy free banana bread recipe are simple: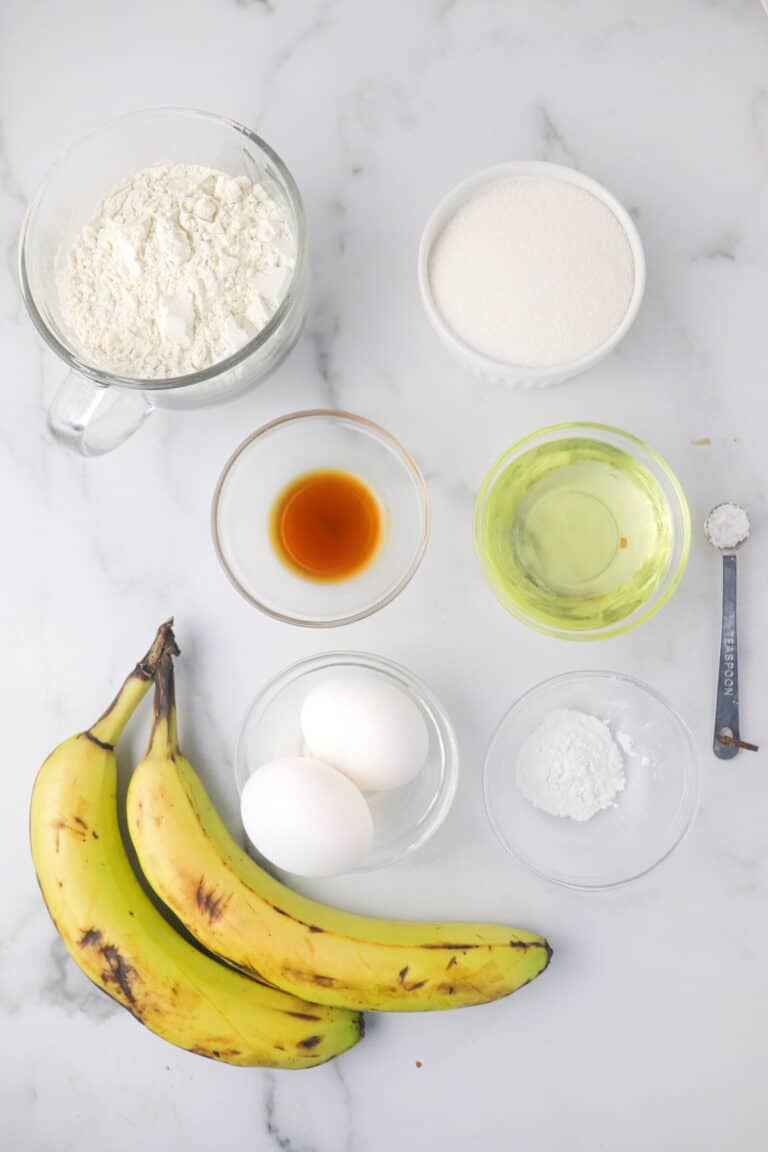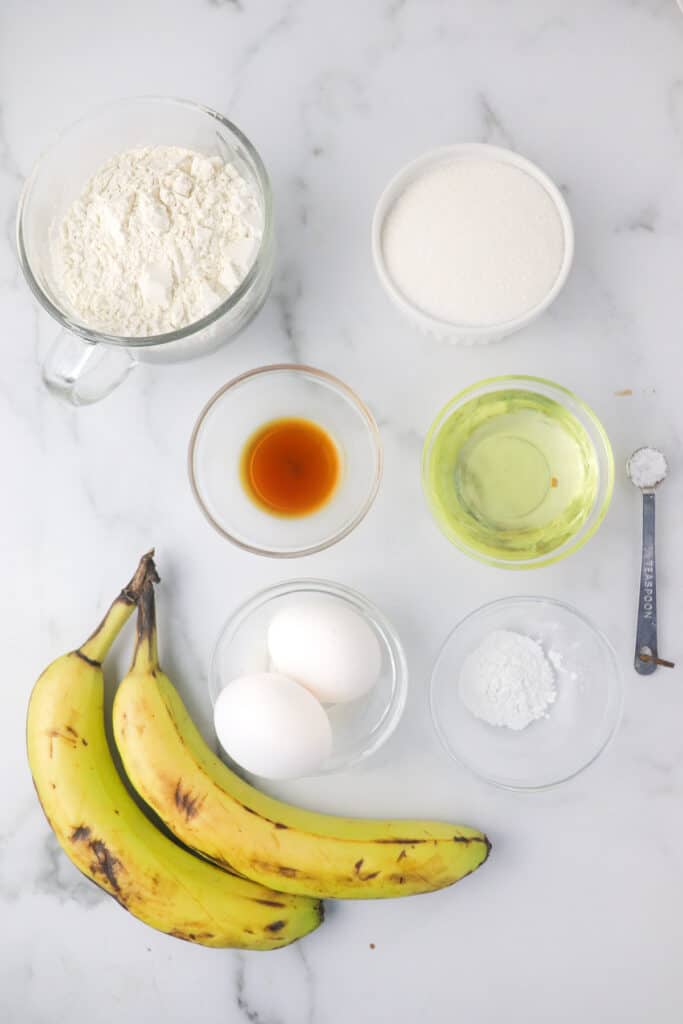 2 large bananas that are brown and spotty
vegetable oil
eggs
vanilla
sugar
flour
baking soda
salt
How Ripe Should Bananas Be For Banana Bread?
Ideally, the bananas should be brown and spotty, but not pitch black. I say ideally because it will work with most levels of banana ripeness, but that sweet spot is where they've still got yellow and just spots of dark.
The spotty-ness of the bananas is actually cause by something called "enzymatic browning" which results in the bananas tasting sweeter and being easier to mash. Both ideal things for this dairy free banana bread!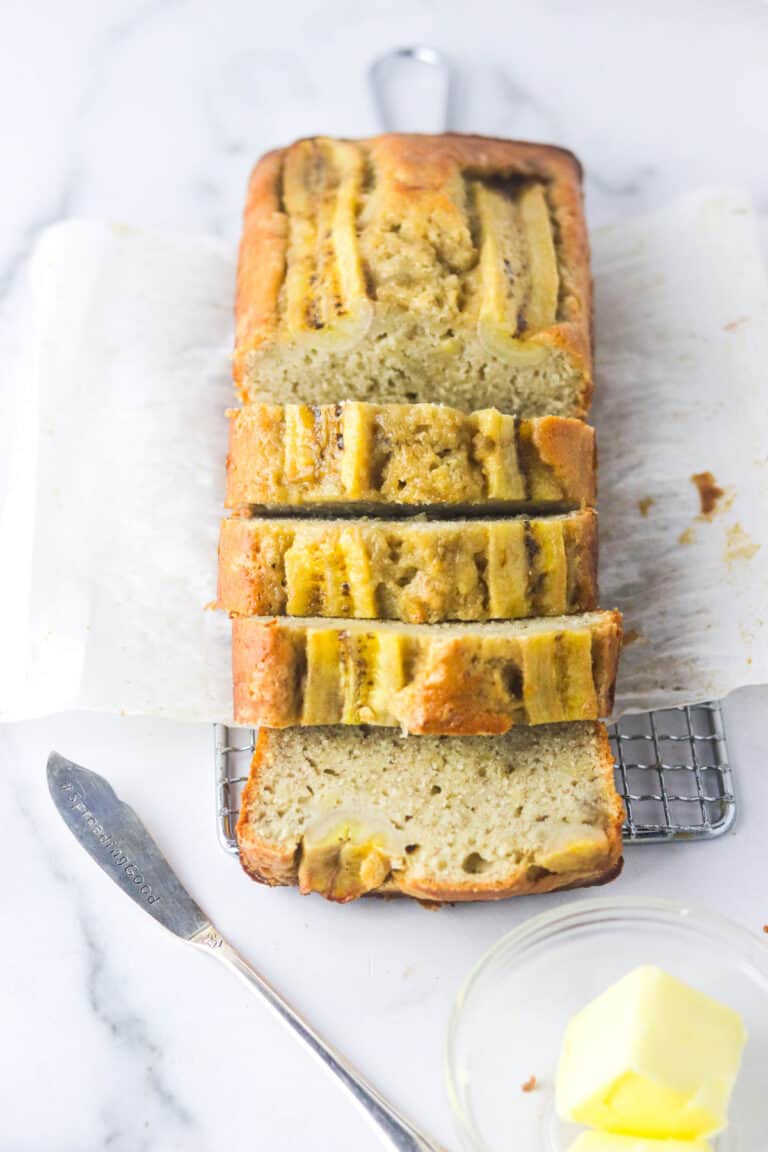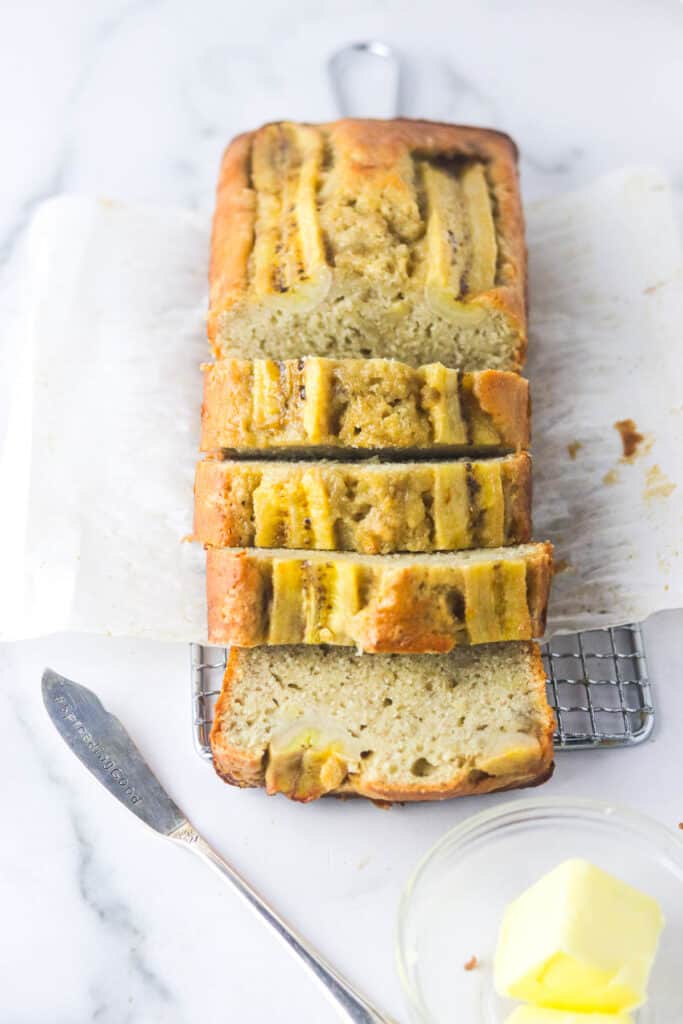 How To Make Dairy Free Banana Bread With Oil
First, preheat your oven to 350 degrees and lightly spray a bread pan with non-stick spray.
Mash your bananas well, you can use a fork or a potato masher. Then add in your eggs, oil, and vanilla. Mix well!
Now, go ahead and add the flour, sugar, baking soda and salt to your banana mixture.
Optional step: slice a banana in half then dip, cut side down, in brown sugar and place on top (brown sugar side up!)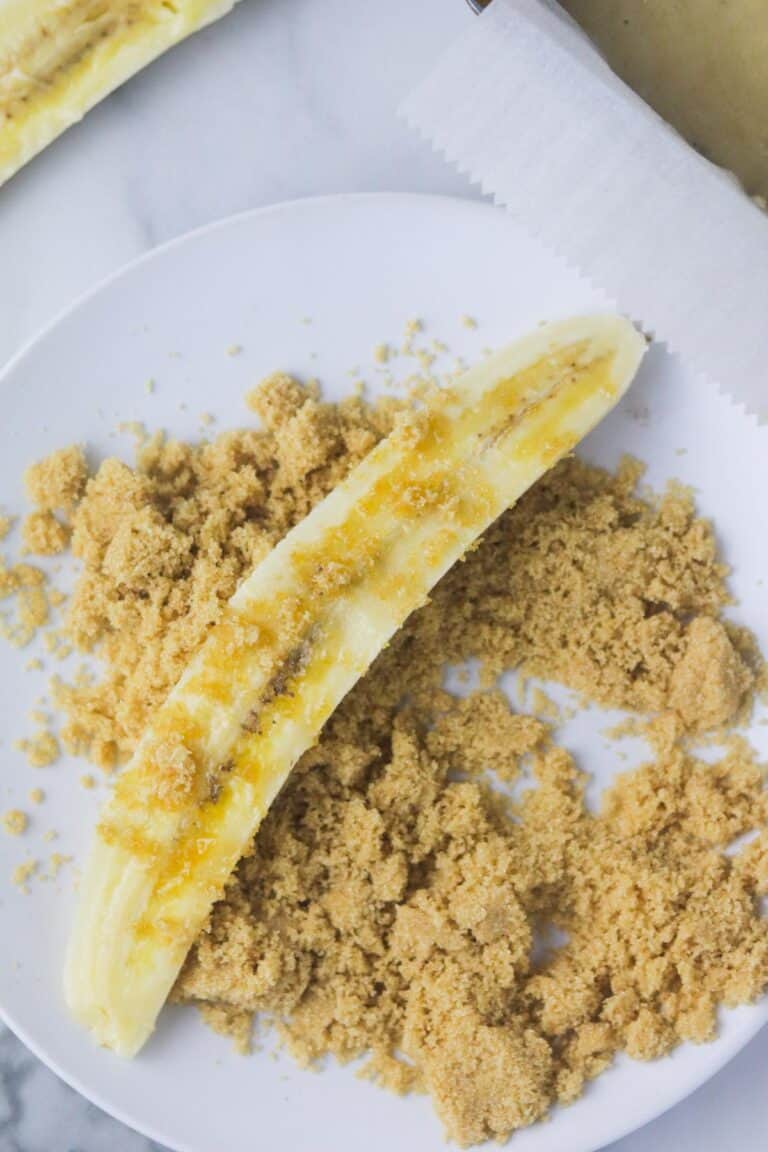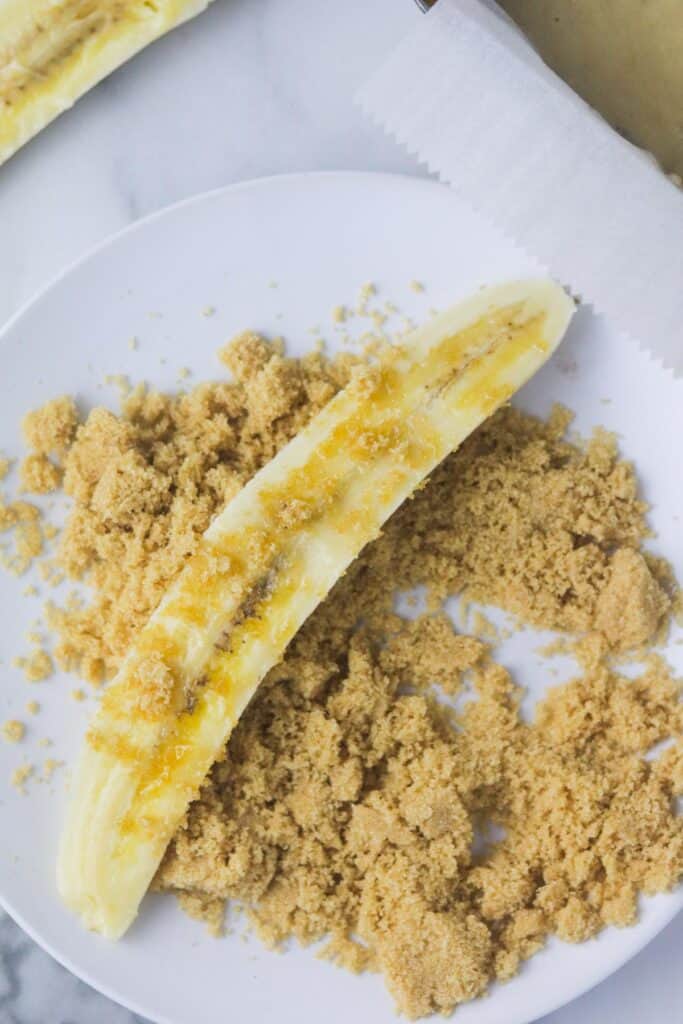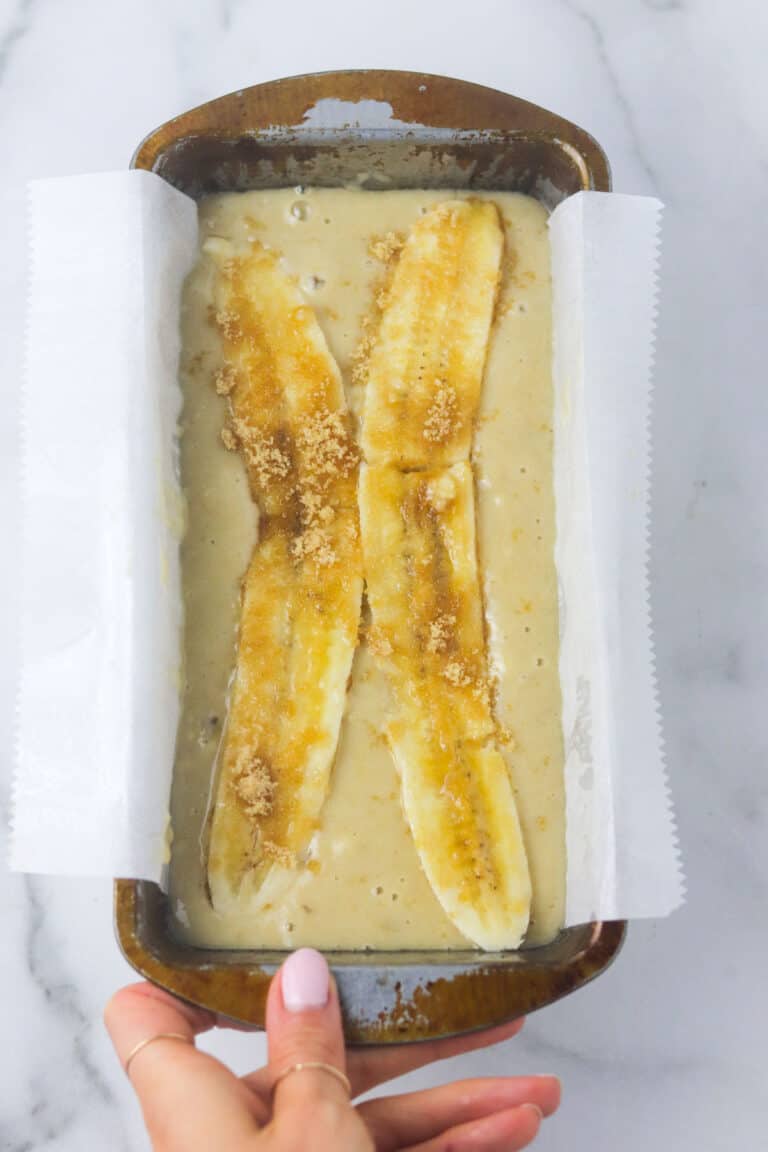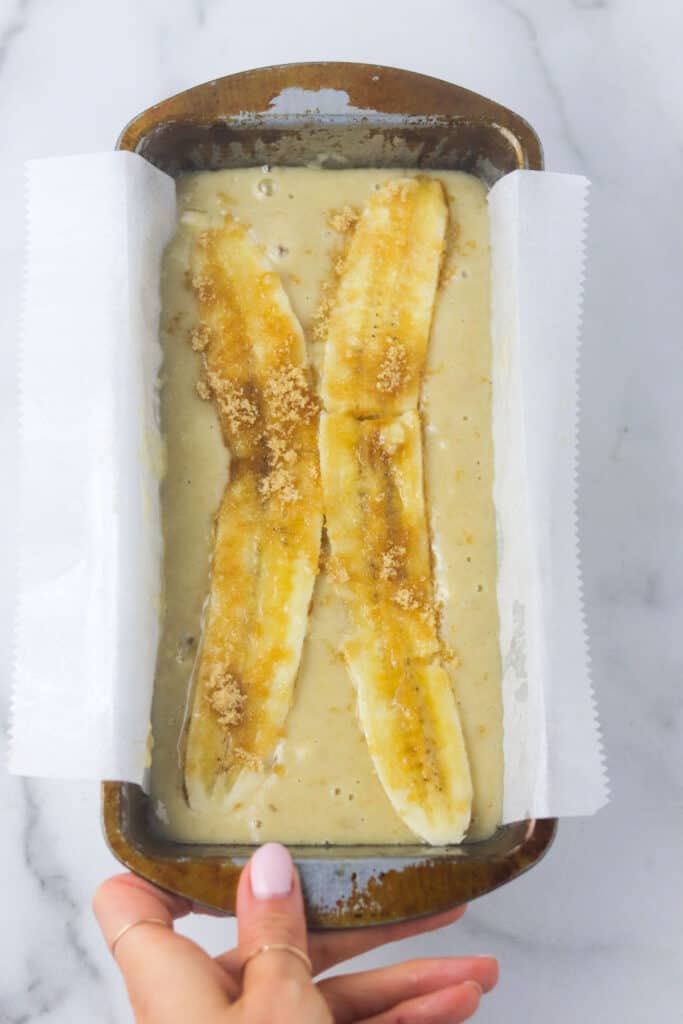 Pour the banana bread batter into the prepared baking pan and bake for ~45-50 minutes, until a toothpick comes out clean.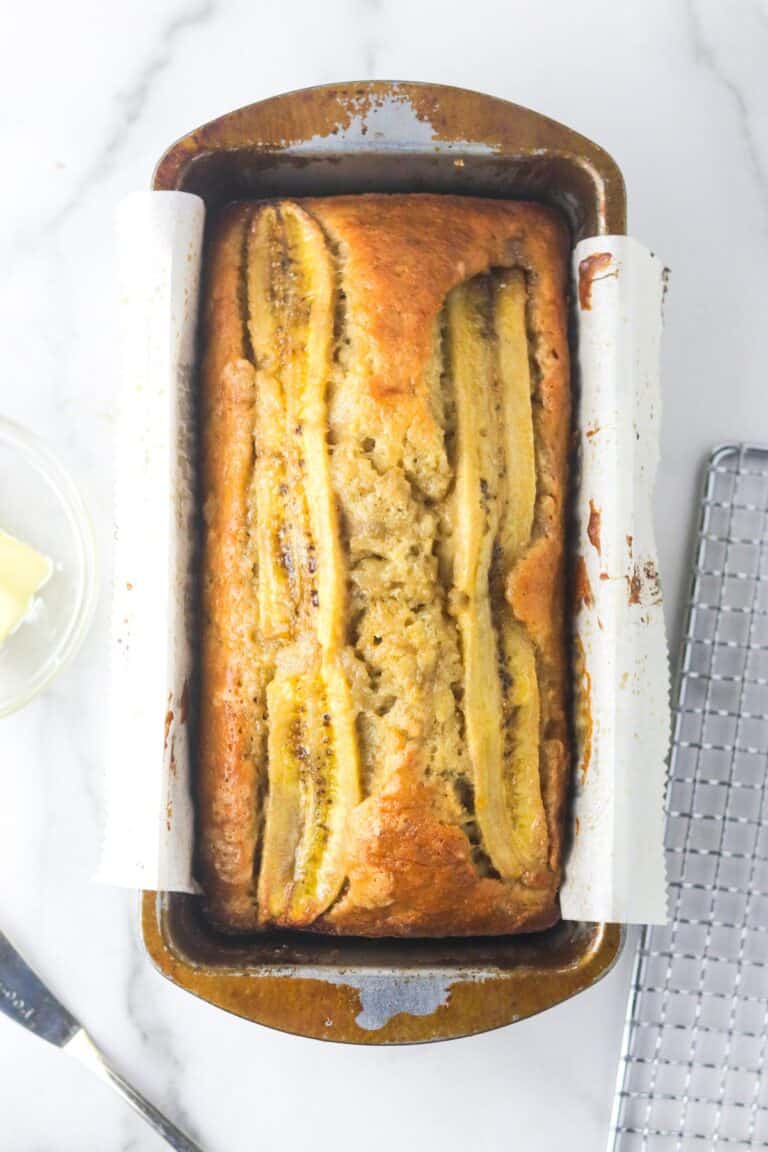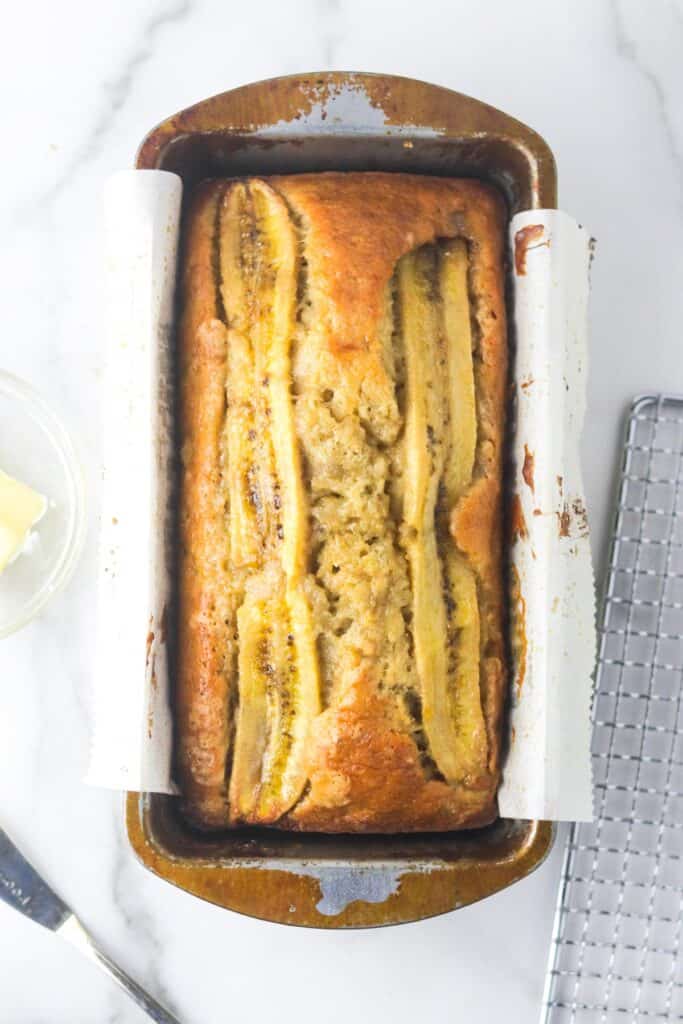 Allow bread to cool fully, slice with a bread knife, and enjoy!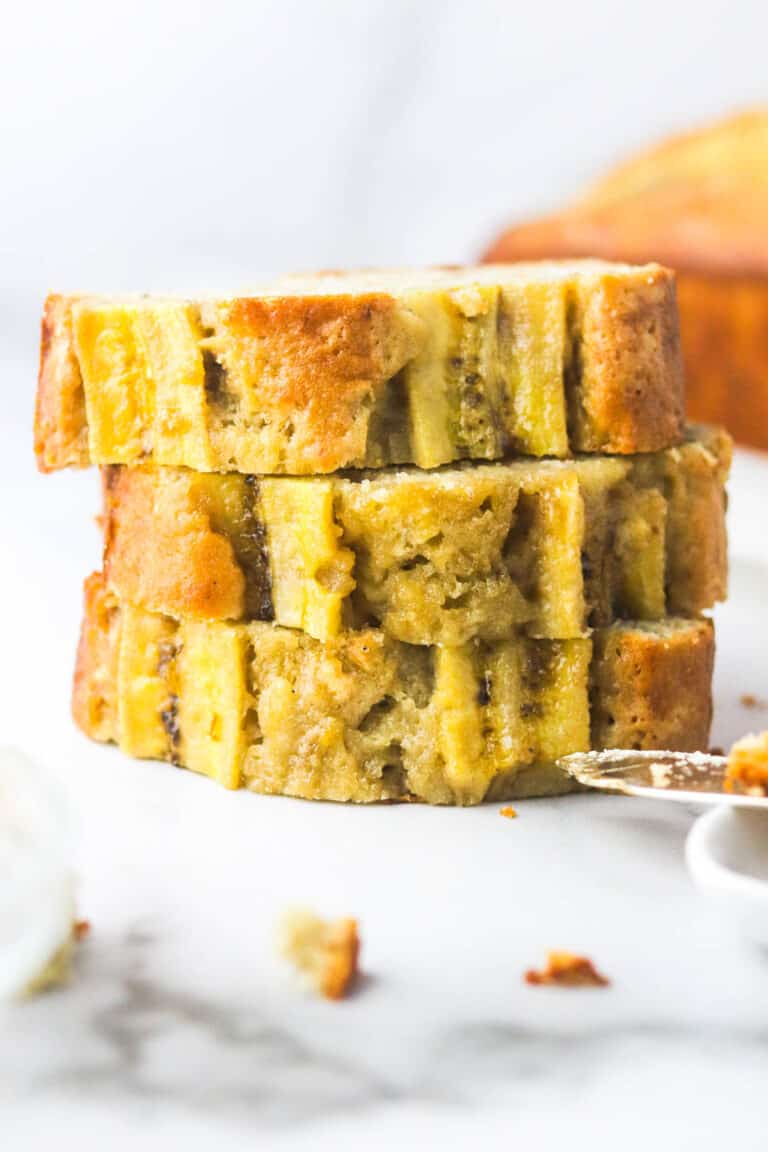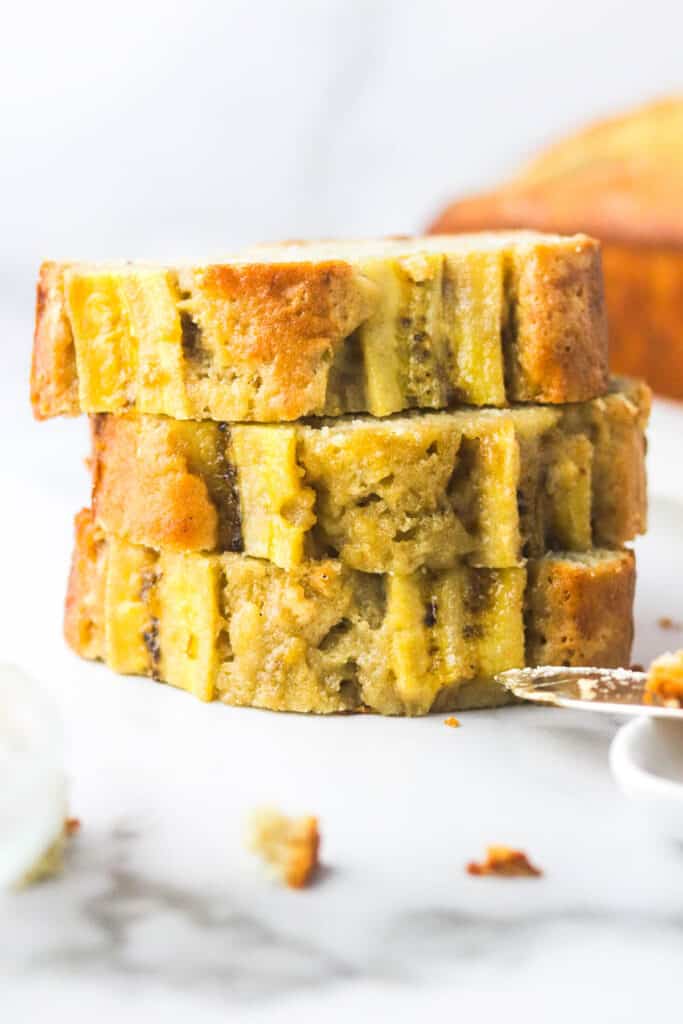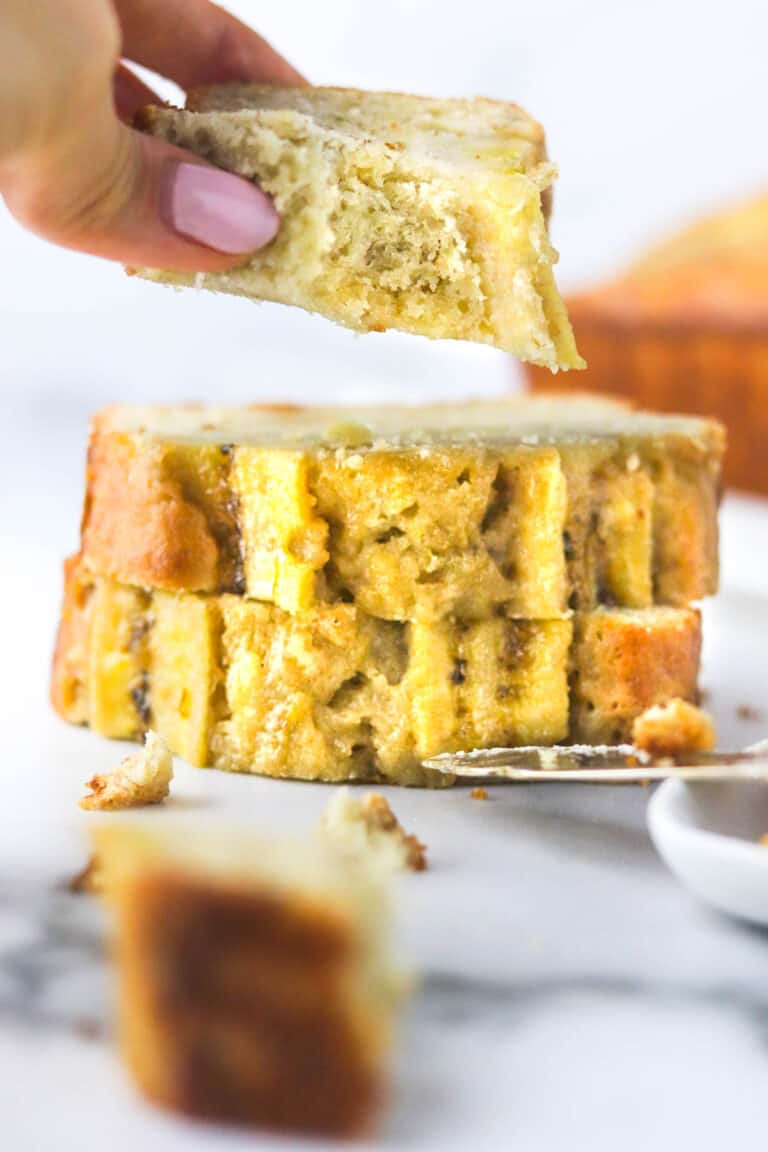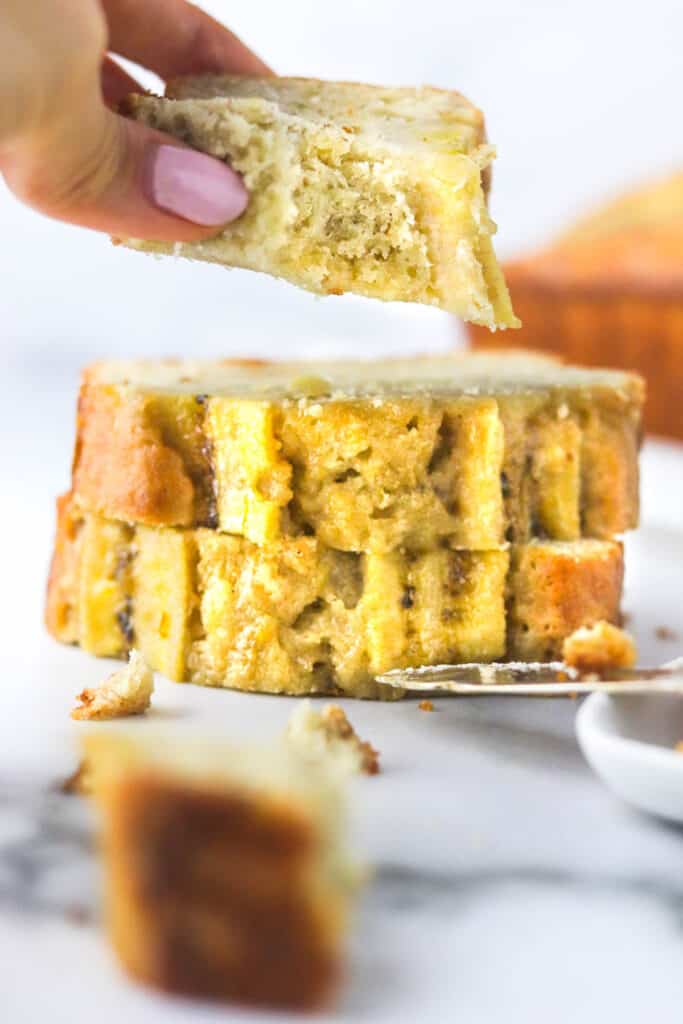 When To Eat Banana Bread
You can enjoy this banana bread any time of day! Have a slice with breakfast drizzled with some peanut butter, take a slice and crumble it into a container of yogurt, or top it with ice cream for dessert!
Is Banana Bread A Healthy Snack?
If you know me at all you know that I don't like to label foods and "healthy" or "unhealthy". Sure there are some foods that are more nutrient dense than others, but there are also foods that nourish the soul more!
Pairing this dairy free banana bread with some protein, like yogurt, can help it be a more filling snack. You could also use whole wheat flour for a nutrition punch!
I'm all about gentle nutrition and allowing nutrition to impact your food choices but not determining your food choices!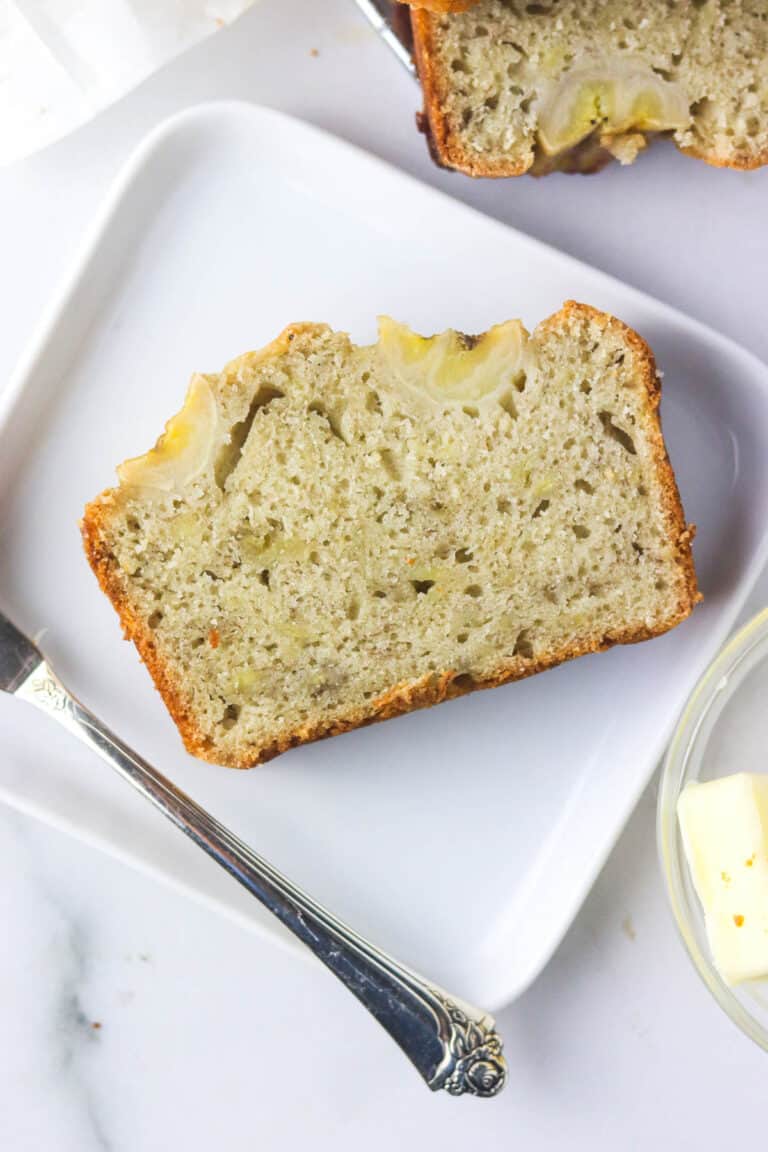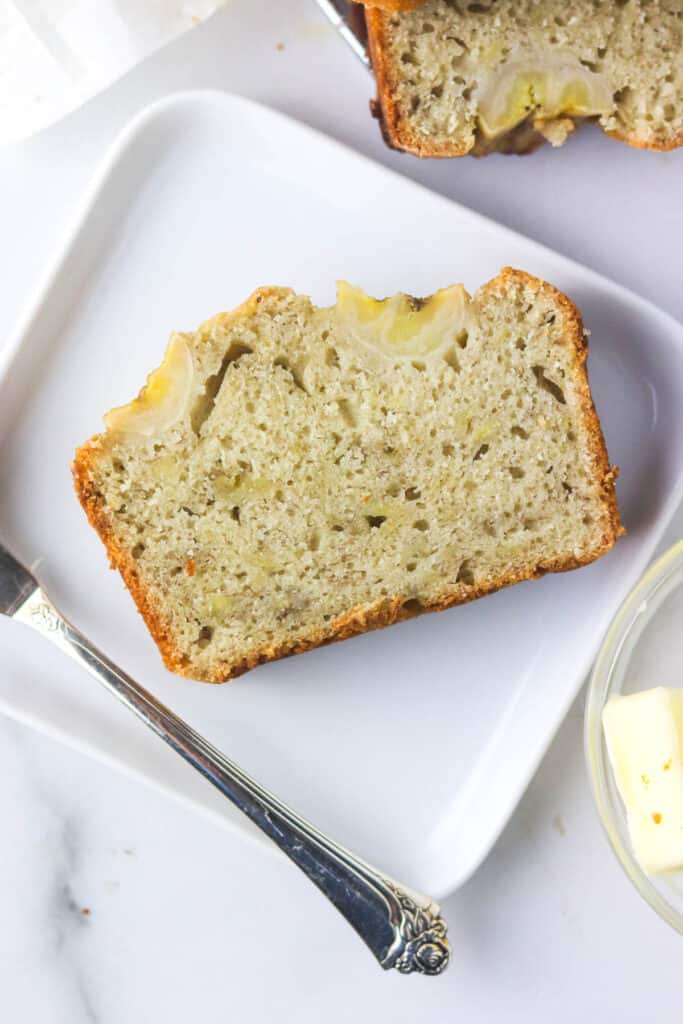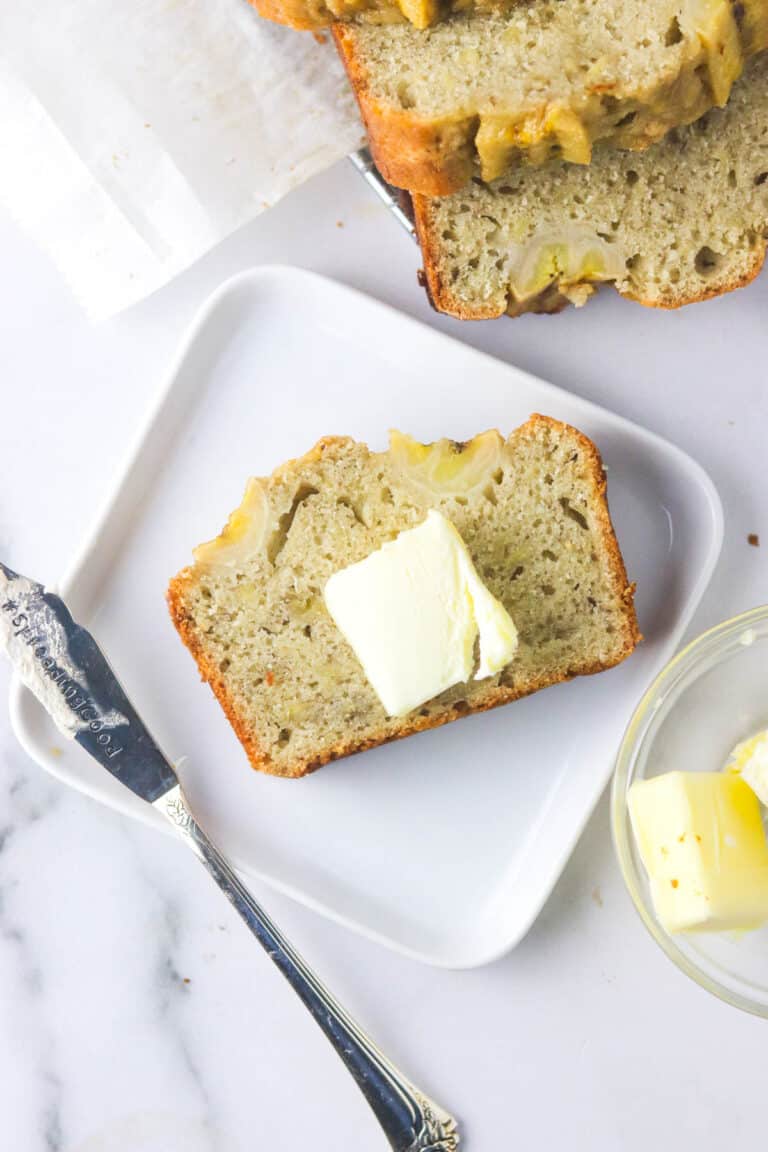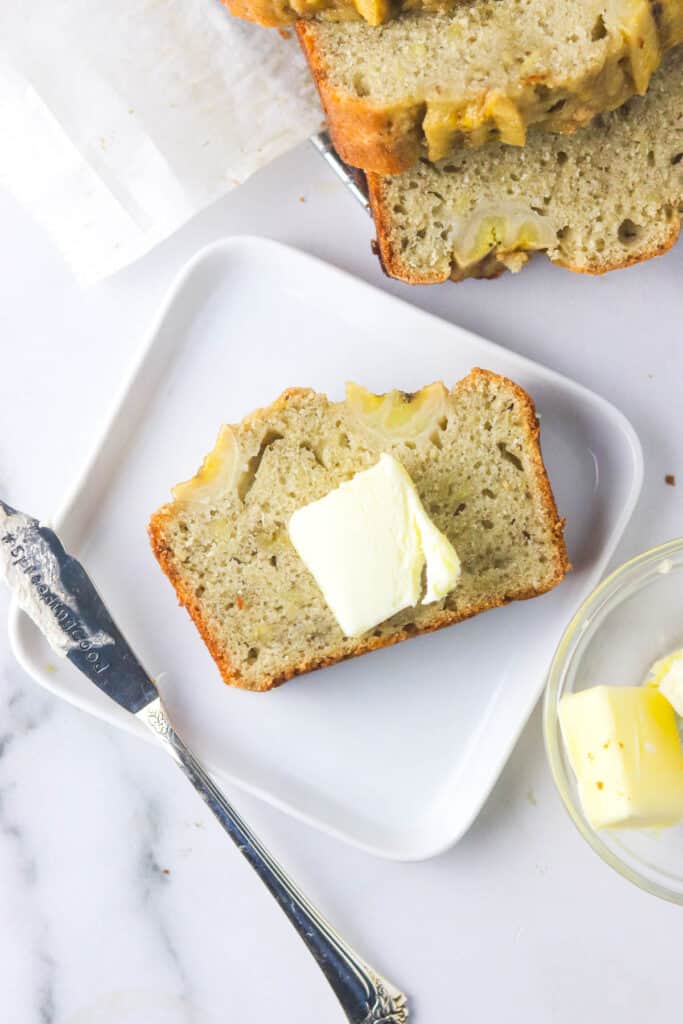 Dairy Free Banana Bread With Oil Or Dairy Free Banana Bread With Applesauce?
I like to use oil for this recipe, but if you want, from a stance of gentle nutrition, you could swap applesauce. The recipe will work, but it will have a less rich flavor.
It's important to think about satisfaction in additional to nutrition. I mean, you could eat allll of the "healthiest" things, yet still be searching for something to "hit the spot". For instance, if you make this dairy free banana bread with applesauce in place of oil when you really wanted a nice, classic slice of banana bread like grandma used to make, you'll probably be left searching after you've had a slice. Versus, if you eat what you want off the bat there is less overeeating going on, trying to hit that spot, and less mental anxiety!
One questions I always say to ask yourself is: Would I feel anxiety if I had to only use oil for this recipe, not applesauce? If the answer is yes, then that likely signals a disordered food rule, not a gentle nutrition practice. You can learn more on the different between food rules VS food preferences here!
Moral of the story: Don't be afraid to use the oil!
Dairy Free Banana Bread With Chocolate Chips
Want to add even more sweetness to this banana bread? Why not try dairy free banana bread with chocolate chips! If you're making this a strictly dairy free recipe be sure to check the chocolate chips, too!
No real changes are needed to the recipe, just fold in about 1/2-1 cup of chocolate chips before you pour the batter into your prepared bread pan. Sprinkle a little more on top to make it fancy looking!
How Banana Bread Became The Unofficial Food Of The Pandemic
So, this year (2020 at the time I'm writing this) things have been a little....weird. We're in the middle of a global pandemic, COVID-19, and at the start of it all, when we all became quarantined and ordered to stay at home, I swear the world started making more banana bread than ever before!
The reason I think this happened is because banana bread is:
delicious
fool proof
comforting
I, myself, have totally been on an all-things banana kick, too! I've been making Greek yogurt banana cake, banana carrot muffins, and banana protein muffins!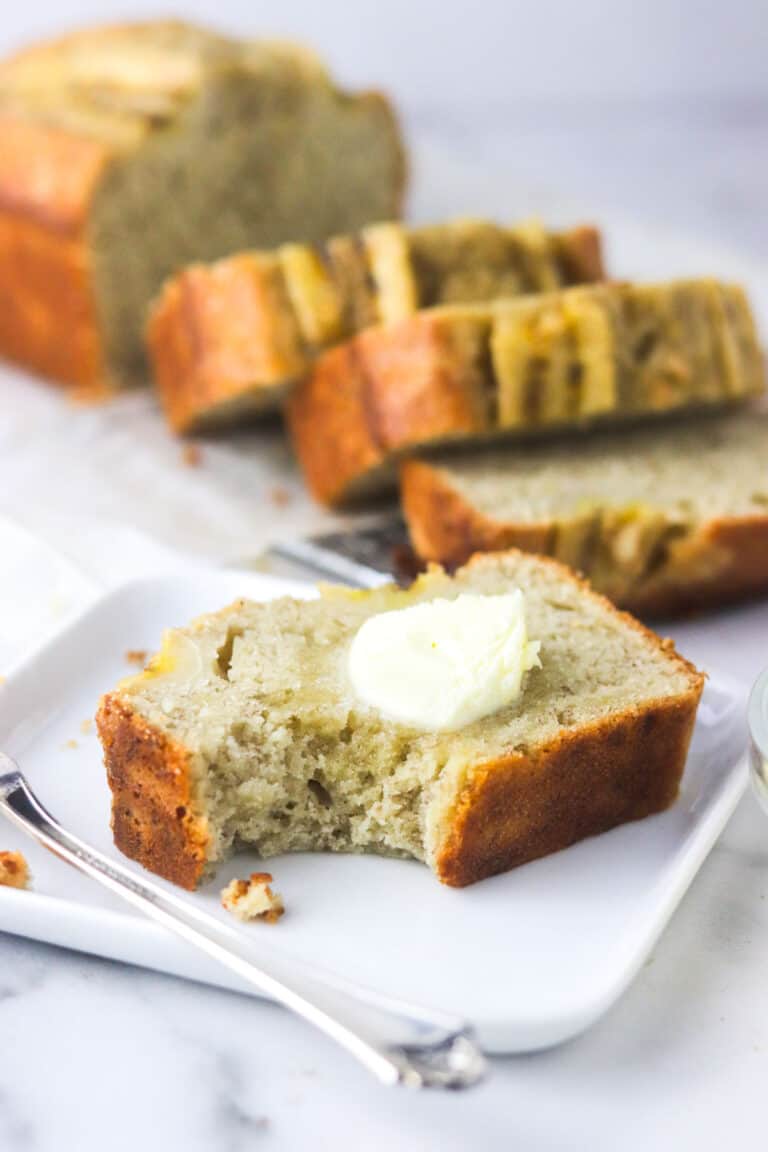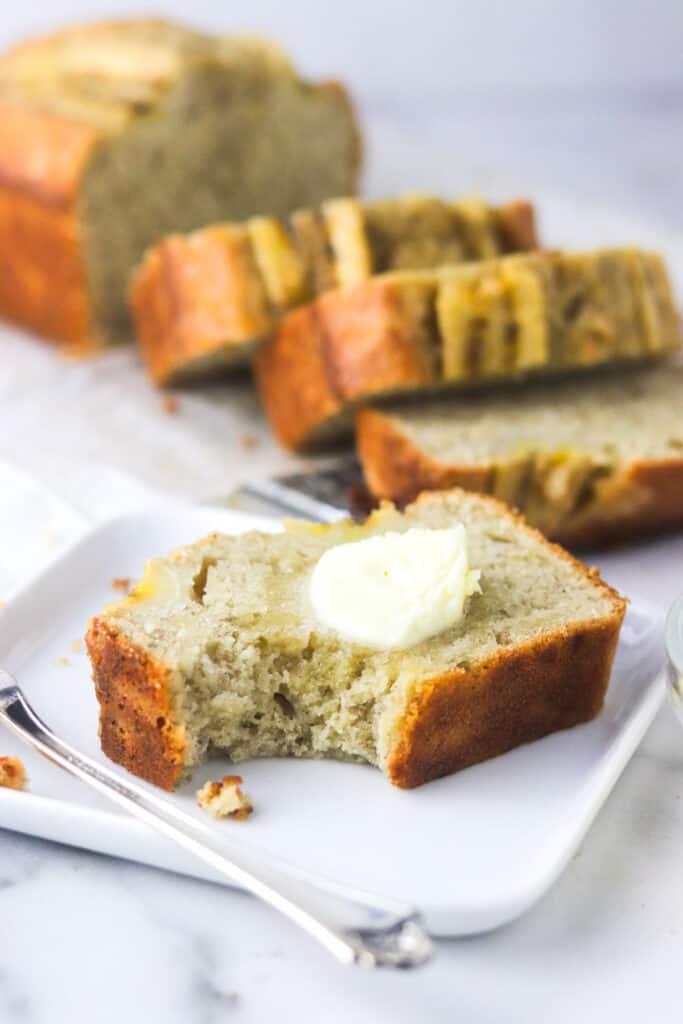 Dairy Free Banana Bread Recipe FAQ's
Will banana bread freeze?
Absolutely! You can totally freeze this banana bread either in the full load form or in slices! Throw it in a freezer bag (bonus points if it's reusable freezer bags, like these!) and store for 2-3 months in the freezer. I recommend, if slicing before freezing, to freeze slices on a baking tray individually before putting into a bag together. This will help them not stick!
Why bread sinks in the middle
When banana bread sinks in the middle it happens for a few reasons. Your banana bread may not be done cooking in the middle, your bananas may have been very large (extra moisture), your oven temp may be off, or you may have mis-measured the baking soda.
If this happens you can place your banana bread back in the oven to cook longer. If it seems like the top is burning you can place a sheet of aluminum foil over the top to help prevent it from overcooking in those areas.
Can banana bread be gooey?
To be honest, I really don't mind gooey banana bread! Half the reason I make this dairy free banana bread is to eat the batter... it's the best part! (I know, I know.. raw egg!) If your banana bread is gooey it is likely one of the reasons listed above as to why banana bread sinks in the middle.
Can I make this into a dairy free banana cake?
Sure thing! To make this a dairy free banana cake recipe simply bake this in an 8x8 pan instead of a loaf pan and reduce cooking time for 25-30 minutes. Frost with your favorite dairy free frosting!
Does this also make banana muffins?
Of course! Just reduce the cooking time to 20-30 minutes! I love using these silicone muffin liners when I make muffins. They make clean up such a breeze! I use these when I make my blueberry protein muffins and my air fryer muffins!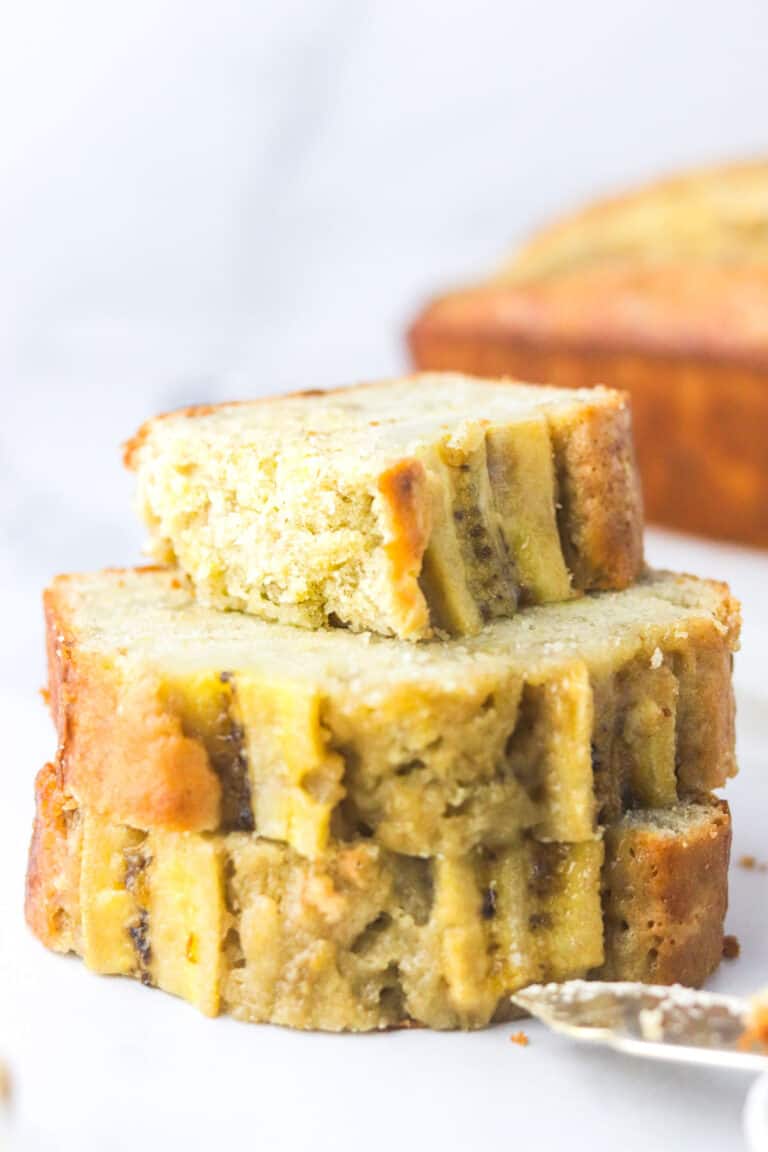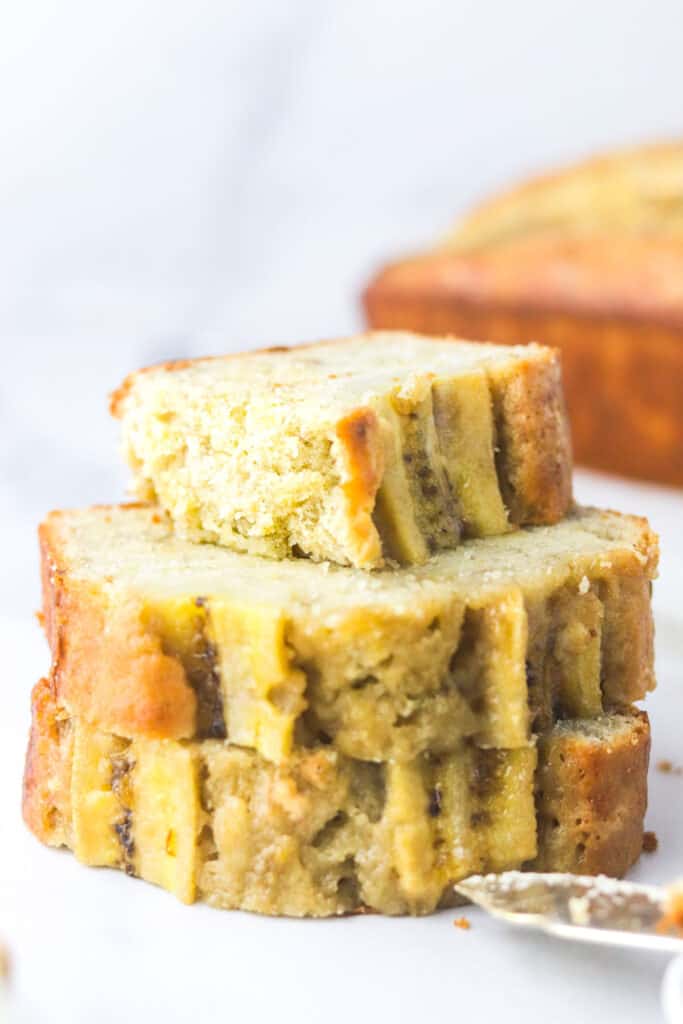 I hope you are as OBSESSED with this banana bread recipe as I am! If so, please leave a star rating on the recipe card!
Also, comment below with any changes you make, like adding chocolate chips or nuts!
XOXO
-Colleen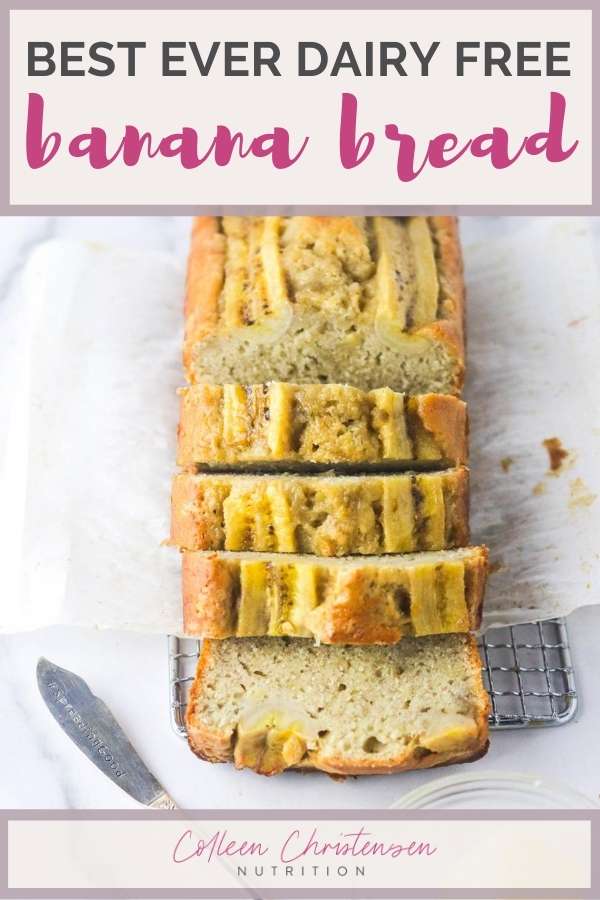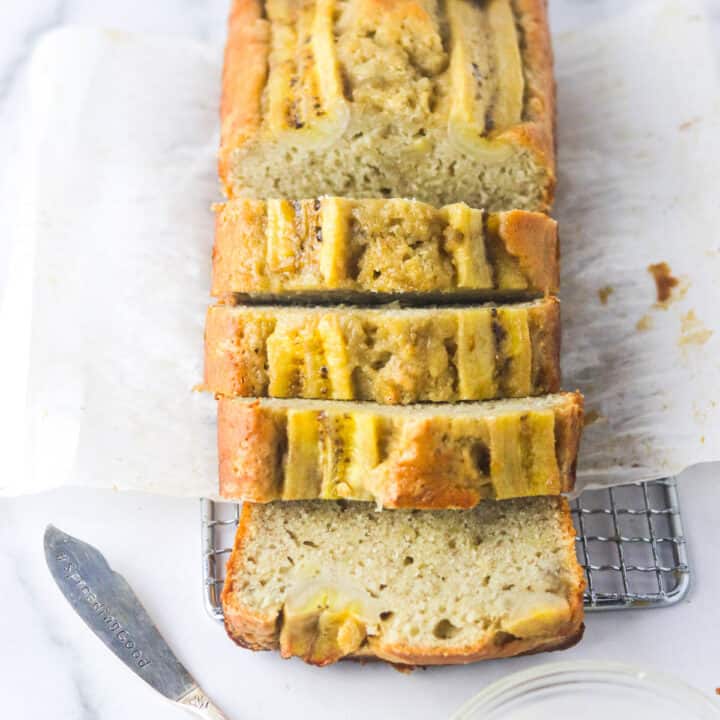 The Best Dairy Free Banana Bread Recipe
Total Time:
1 hour
10 minutes
Super most, soft and with the perfect touch of banana sweetness, this is easily the best ever dairy free banana bread recipe!
Ingredients
2 large, ripe, spotty bananas
2 eggs
1/3 cup vegetable oil
1 tsp vanilla
1 1/4 cup flour
2/3 cup sugar
1 tsp baking soda
1/4 tsp salt
Optional: 1 extra banana & brown sugar
Instructions
Preheat oven to 350 degrees. Lightly spray a baking sheet with non-stick spray or line with parchment paper and set aside.
First, mash bananas well and then add in eggs, oil and vanilla. Mix well.
Add in your flour, sugar, baking soda and salt. Stir until batter is uniform.
If you want to add the banana on top simply slice the banana in half lengthwise, then dip (cut side down) in brown sugar and place on top (cut side up!)
Bake for ~60 minutes or until golden brown and a toothpick comes out clean.
Allow to cool fully and enjoy!
Nutrition Information:
Yield:

12
Serving Size:

1
Amount Per Serving:
Calories:

186
Total Fat:

7g
Saturated Fat:

1g
Trans Fat:

0g
Unsaturated Fat:

6g
Cholesterol:

31mg
Sodium:

166mg
Carbohydrates:

29g
Fiber:

1g
Sugar:

15g
Protein:

3g
This blog post contains affiliate links, which means that if you click on a product link, I may receive a commission. All opinions are my own, and all brands featured represent what I personally like and support. This blog is a participant in the Amazon Services LLC Associates Program, an affiliate advertising program where I earn advertising fees by linking to amazon.com.