This super moist, totally fool proof dairy free banana bread recipe takes just 5 minutes to put together and is made in just one bowl! Whether you're dairy free or not you're sure to love this freezer friendly classic recipe!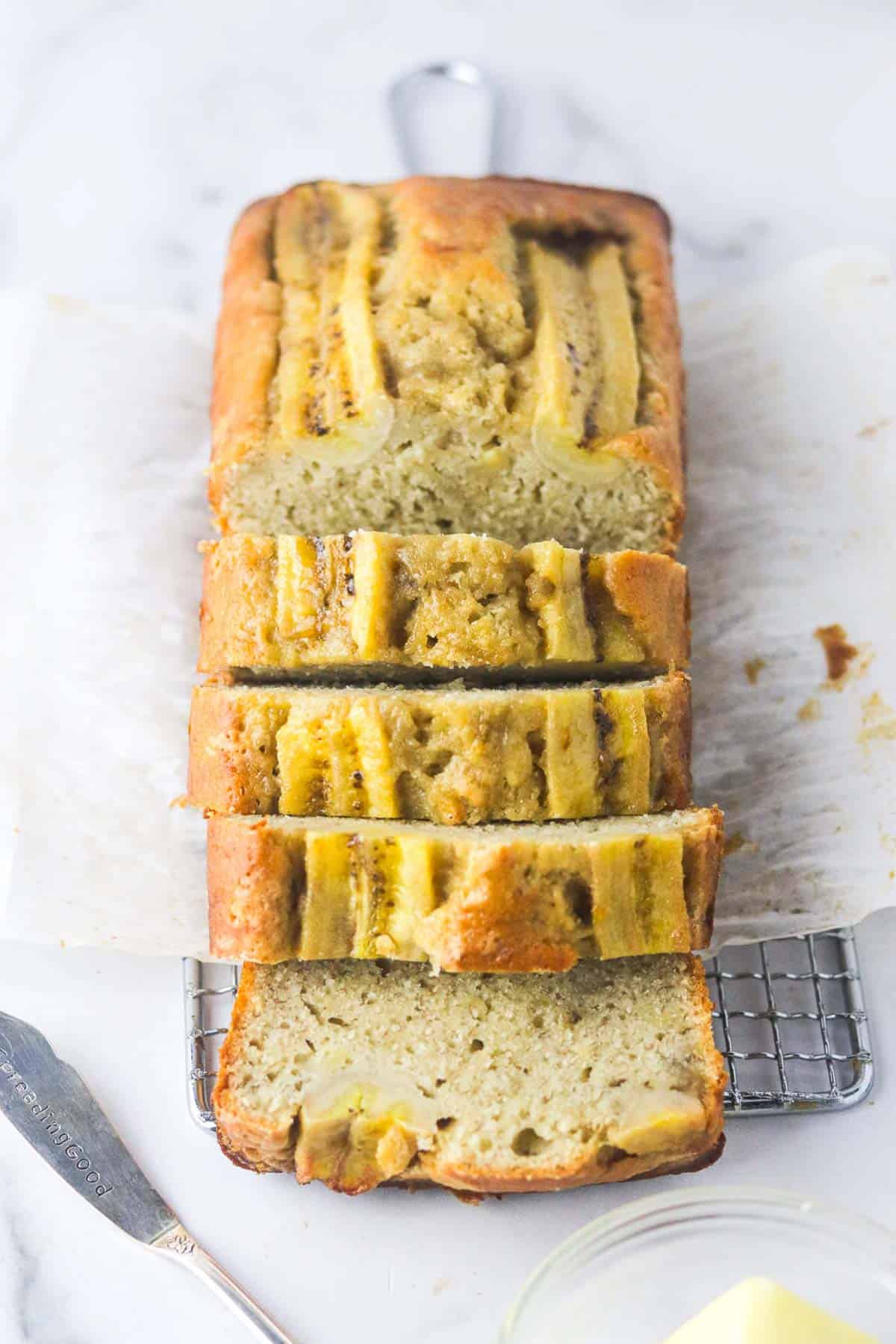 Why This Recipe Works
I know everyone thinks they made the best banana bread but…. I make the BEST banana bread! I use a recipe that's been passed down through my family and it's nails it EVERY time! Plus, it's the EASIEST recipe every with super simple ingredients!
This is a dairy free banana bread version of that tried and true recipe. It uses oil in place of butter. Whether you're dairy free or you just ran out of butter you're sure to love this super moist (sorry if you hate that word!) and delicious banana bread made with oil.
Ingredients Needed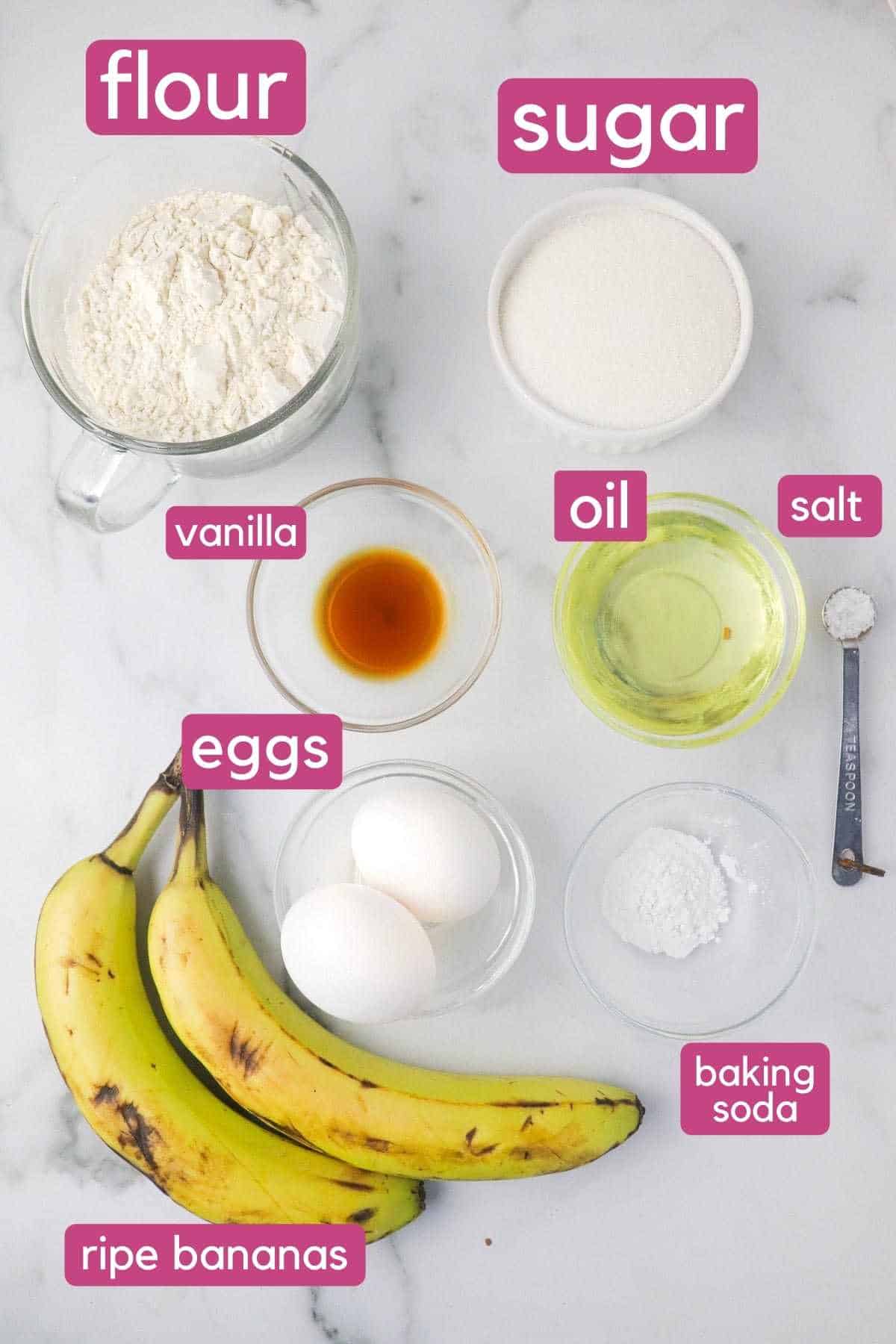 Bananas. Be sure that your bananas are brown and spotty. This is KEY for good dairy free banana bread. The process of ripening (or "enzymatic browning") actually allows for the bananas to become sweeter and change in texture.
Oil. This is a dairy free banana bread with oil recipe VS the usual melted butter that I use. I use vegetable oil but you could also use melted coconut oil here.
Flour. You can sub 1:1 gluten free flour or whole wheat flour.
How To Make This Recipe
First, preheat your oven to 350 degrees and lightly spray a bread pan with non-stick spray.
Mash your bananas well, you can use a fork or a potato masher. Then add in your eggs, oil, and vanilla. Mix well!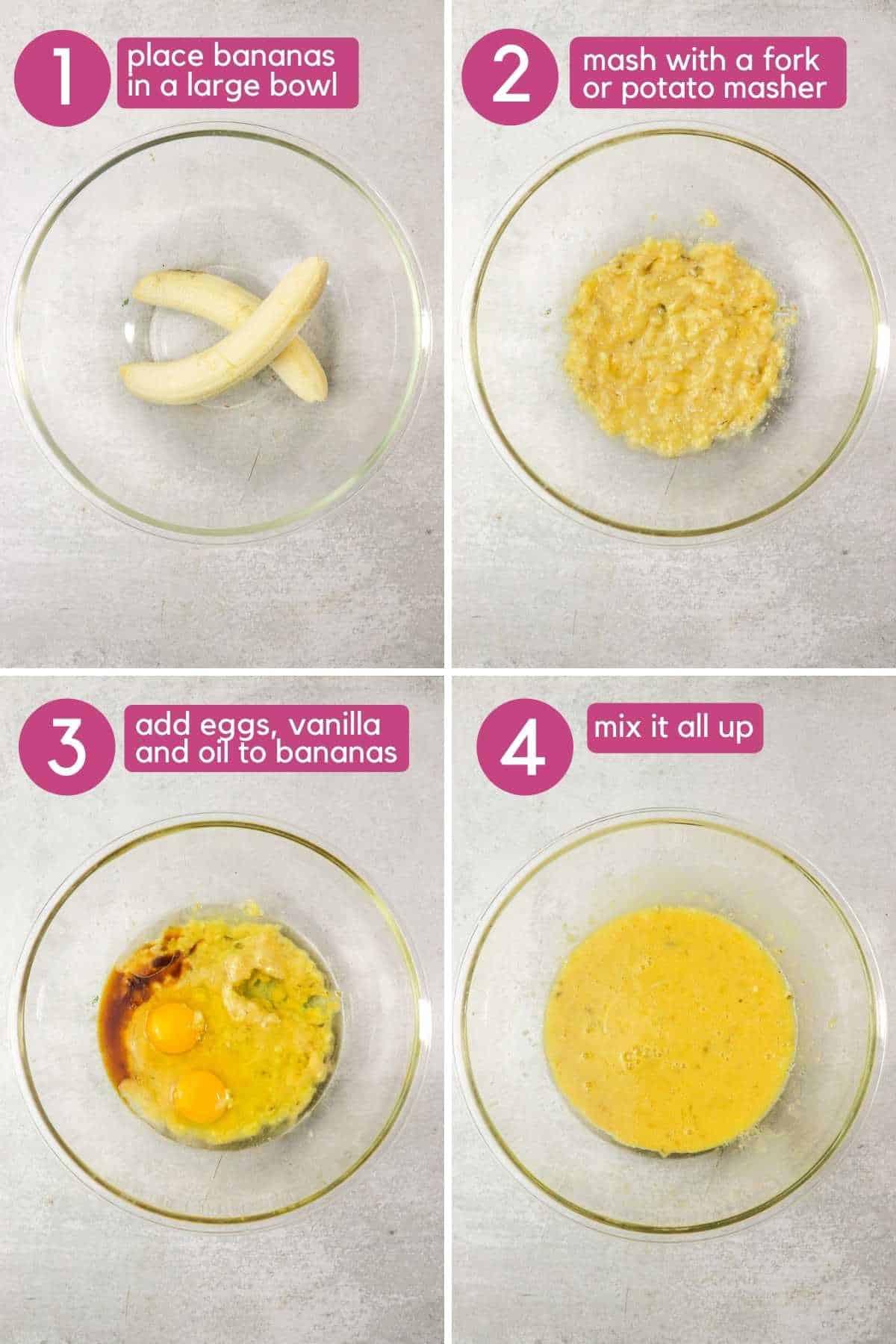 Now, go ahead and add the flour, sugar, baking soda and salt to your banana mixture.
Optional step: slice a banana in half then dip, cut side down, in brown sugar and place on top with the brown sugar side up! (See expert tips section for photos!)
Pour the banana bread batter into the prepared baking pan and bake for ~45-50 minutes, until a toothpick comes out clean.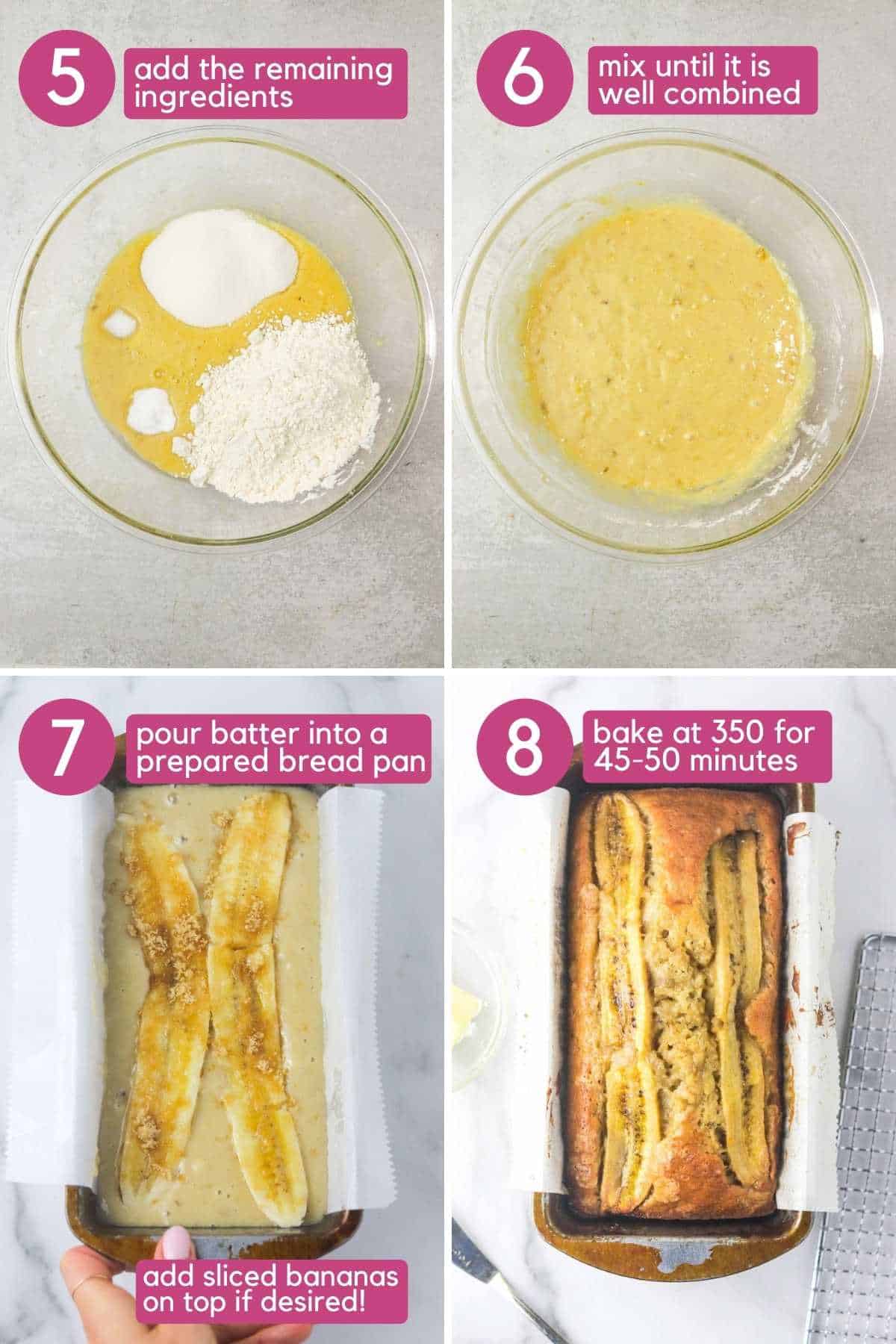 Allow bread to cool fully, slice with a bread knife, and enjoy!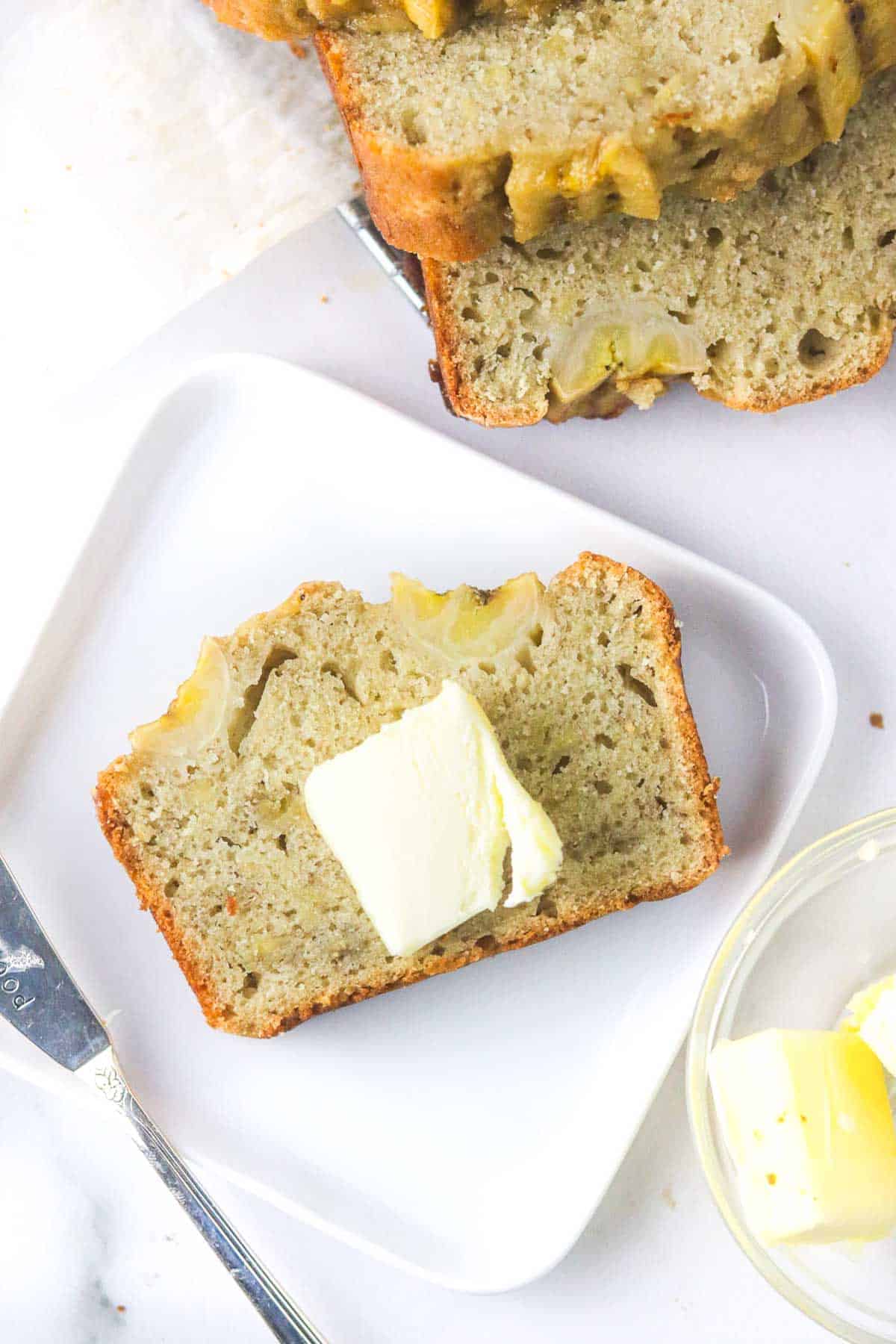 Recipe FAQs
What if my bananas aren't brown and spotty?
If your bananas aren't quite spotty you can follow these tips:
–1-2 days until baking: pop them in a paper bag and store in a dark place.
–20 minutes until baking: place in the oven at 300 (unpeeled) for 15-20 minutes.
–No time until baking: pop a peeled banana in the microwave for 30 seconds until softened.
-NOTE: Your muffins might not be as sweet if you quickly ripen your bananas using these tips. Throughout the ripening process bananas get sweeter.
Why did my bread sink in the middle?
When banana bread sinks in the middle it happens for a few reasons. Your banana bread may not be done cooking in the middle, your bananas may have been very large (extra moisture), your oven temp may be off, or you may have mis-measured the baking soda.

If this happens you can place your banana bread back in the oven to cook longer. If it seems like the top is burning you can place a sheet of aluminum foil over the top to help prevent it from overcooking in those areas.
Why is my dairy free banana bread gooey?
If your banana bread is gooey it is likely one of the reasons listed above as to why banana bread sinks in the middle. To fix this you can pop it back in the oven for additional cooking time. If the top is cooked but the inside isn't put some aluminum foil over the top of it to prevent the top from burning.
Can I made this recipe into dairy free banana bread muffins?
Of course! Just reduce the cooking time to 20-30 minutes! I love using these silicone muffin liners when I make muffins. You could also make my almond flour banana muffins, which are also a dairy free recipe!
Is this recipe freezer friendly?
Absolutely! You can totally freeze this banana bread either in the full load form or in slices! Throw it in a freezer bag (bonus points if it's reusable freezer bags, like these!) and store for 2-3 months in the freezer. I recommend, if slicing before freezing, to freeze slices on a baking tray individually before putting into a bag together. This will help them not stick!
Expert Tips
To jazz up your banana bread try adding a cut banana on top- totally Instagram worthy! First, slice it in half length wise so you have two pieces that are curved.
The key is to not just plop it on top, but to dip it first in brown sugar then carefully place it on top of the unbaked bread. Do this for both slices of banana and have the curves face outwards. It's okay if they're offset!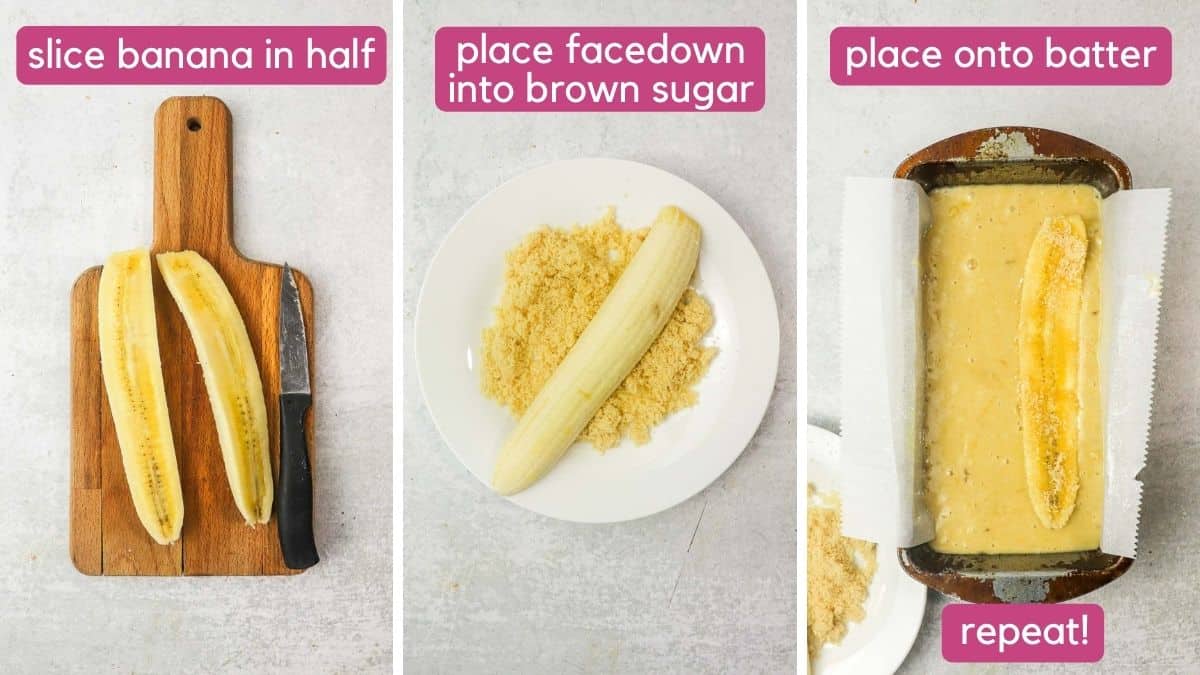 You can also add chocolate chips to this to make it chocolate chip dairy free banana bread! I'd recommend using 1/2-3/4 cup.
Other Recipes You Might Like:
If you love this recipe, be sure to leave a star rating on the recipe card and leave a comment below!
Don't forget to pin it on your Pinterest board for later, or tag me on IG @no.food.rules if you try the recipe and love it!
XOXO
-Colleen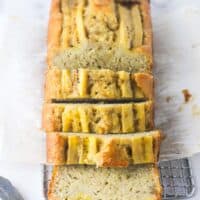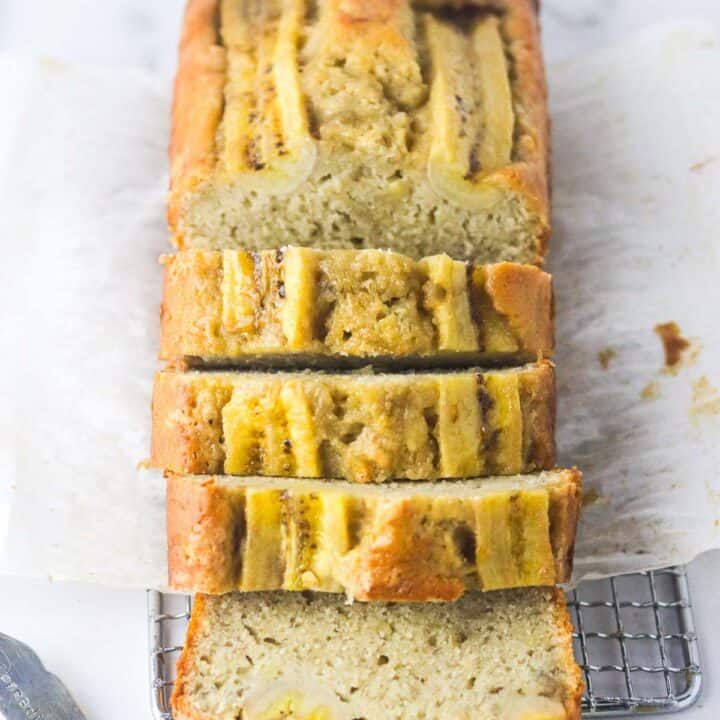 The Best Dairy Free Banana Bread Recipe
Super most, soft and with the perfect touch of banana sweetness, this is easily the best ever dairy free banana bread recipe!
PRINT RECIPE
Ingredients
2

large

ripe, spotty bananas

2

eggs

1/3

cup

vegetable oil

1

tsp

vanilla

1 1/4

cup

flour

2/3

cup

sugar

1

tsp

baking soda

1/4

tsp

salt

Optional: 1 extra banana & brown sugar
Instructions
Preheat oven to 350 degrees. Lightly spray a baking sheet with non-stick spray or line with parchment paper and set aside.

First, mash bananas well and then add in eggs, oil and vanilla. Mix well.

Add in your flour, sugar, baking soda and salt. Stir until batter is uniform.

If you want to add the banana on top simply slice the banana in half lengthwise, then dip (cut side down) in brown sugar and place on top (cut side up!)

Bake for ~60 minutes or until golden brown and a toothpick comes out clean.

Allow to cool fully and enjoy!
Notes
You can sub whole wheat flour or 1:1 gluten free flour.
Be sure your bananas are nice and spotty! (see FAQs for ripening tips if yours aren't brown and spotty)
Optional: place a banana dipped in brown sugar on top. Dip a banana cut in half into brown sugar (facedown) then place on top. Repeat with remaining half of banana.
click To display nutrition info
Nutrition Facts
Nutrition Facts
The Best Dairy Free Banana Bread Recipe
Amount per Serving
% Daily Value*
* Percent Daily Values are based on a 2000 calorie diet.