Fluffy almond flour banana muffins are the tastiest treats you'll ever eat! Naturally gluten-free and made with moist almond flour with creamy almond butter, this muffin recipe is the best! These muffins taste just like soft banana almond bread or even cupcakes!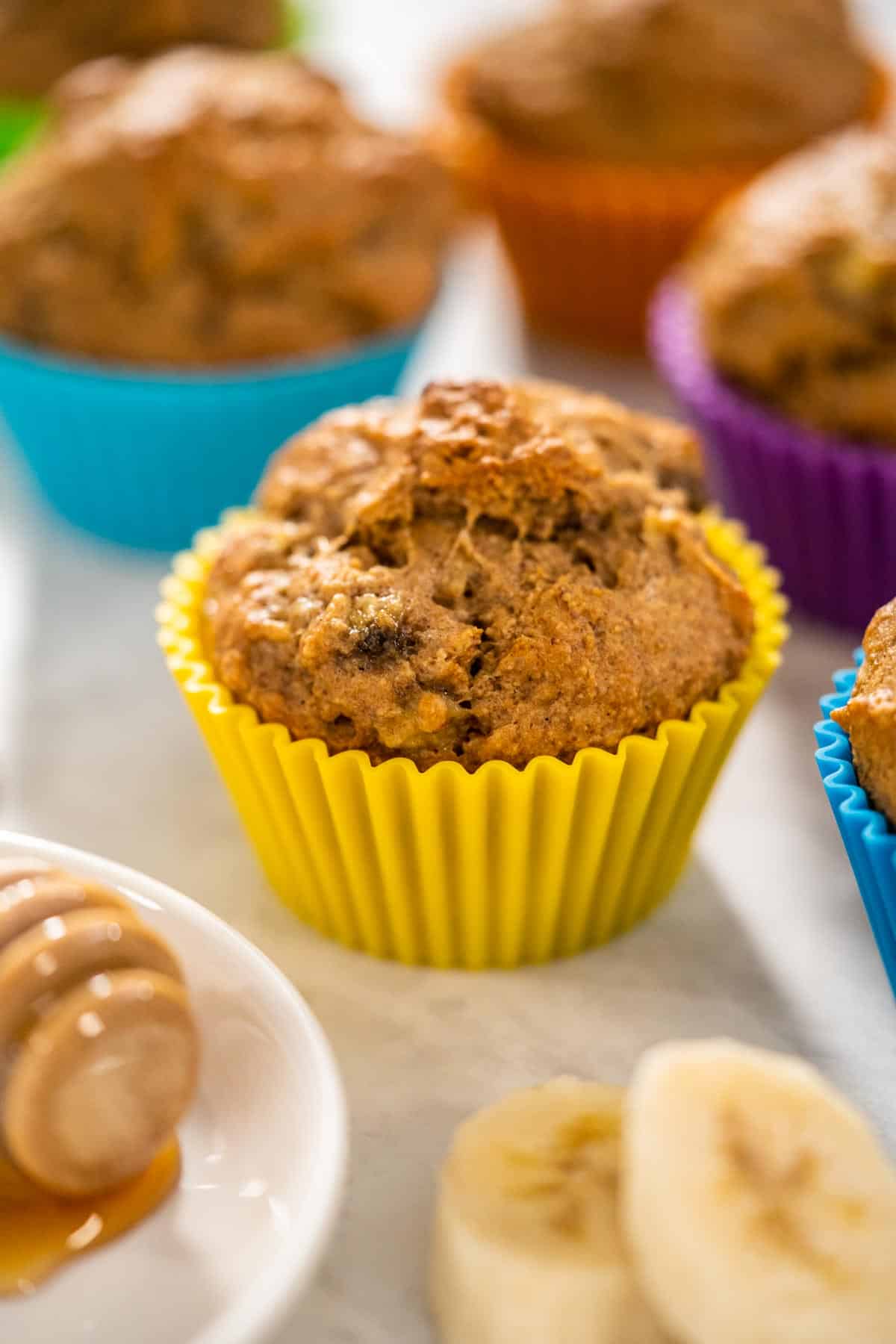 Why This Recipe Works
Do these almond flour banana muffins not look insanely delicious, fluffy, and moist? These banana and almond muffins can be served straight out of the oven for the best warm and sweet nutty flavors or served at room temperature!
I like that these banana and almond muffins are gluten-free AND dairy-free because sometimes I just want to switch things up–you understand, right? What's even better about this recipe is that you can incorporate different ingredients into the muffin batter like chocolate chips, oats, and more. Get creative!
These muffins are perfect for whenever you are wanting to eat intuitively because not only are they perfect for whenever you have a sweet tooth but they keep you full with protein, too!
I love to serve these muffins with other tasty breakfast options like chocolate-baked oats, proats, fresh fruit, and this super creamy sweet birthday cake shake!
Ingredients Needed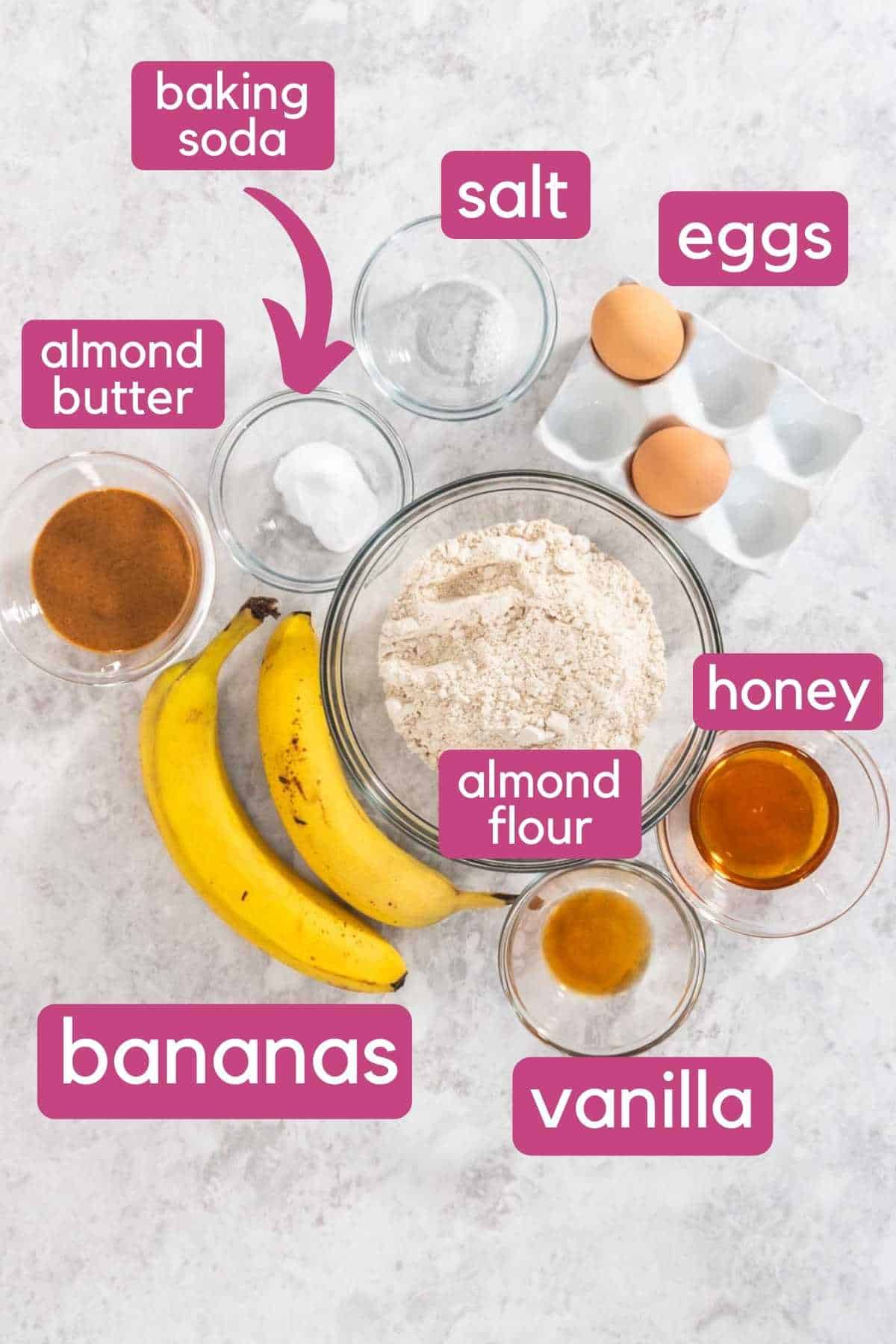 Nonstick Spray: Nonstick cooking spray is perfect for making sure these almond flour banana muffins do not stick! You can also use butter to grease the muffin pan or another type of vegetable oil.
Bananas: The riper the bananas are the sweeter and more moist these muffins will be! Your bananas should be soft and spotty. If you have sliced frozen bananas stored away in the freezer.
Eggs: The eggs allow these banana and almond muffins to bind together and stay moist!
Almond Butter: Be sure to use the creamy kind of almond butter that is drizzly. The creaminess from the almond butter really rounds these muffins out to make them extra soft.
Vanilla: Rich vanilla extract is a staple in all baking recipes pretty much! The notes of vanilla are aromatic in these sweet muffins and blend perfectly with everything else.
Honey: Sweet sticky honey is a natural sweetener for this recipe and allows these muffins to be sweet and delicious. Alternatively, you can use maple syrup or any other type of sweetener.
Almond Flour: Nutty almond flour is a dense flour that allows these muffins to be incredibly delicious to bite into. Almond flour is probably one of my favorite flours to cook with for gluten-free muffins because it keeps the muffins moist.
Baking Soda: Baking soda allows these muffins to stay super fluffy and rise to their fullest while they bake!
Salt: Sea salt rounds the sweet flavors out!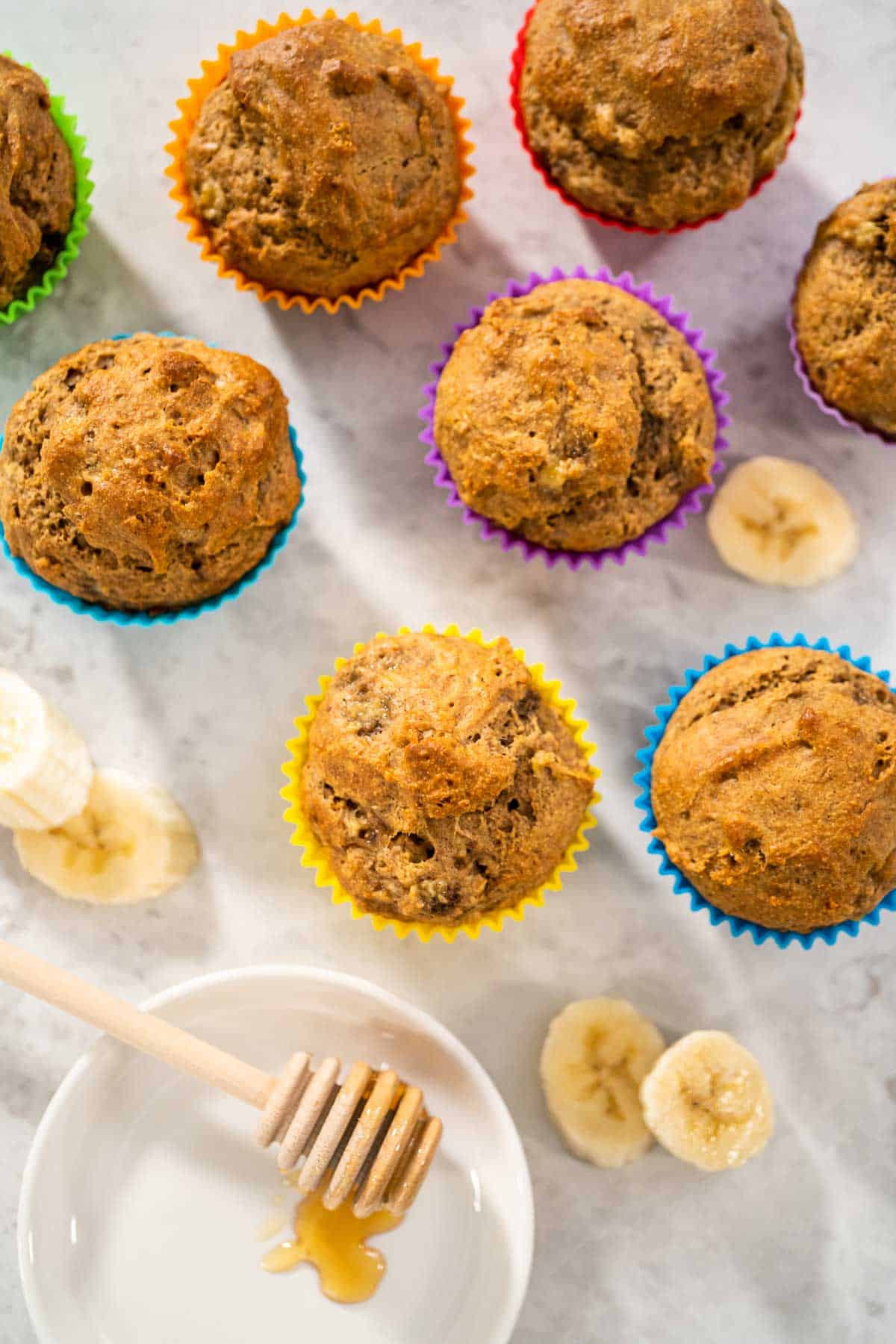 Variations
For vegan almond flour banana muffins, use a flax egg in place of the eggs. To make a flax egg just mix one tablespoon of ground flaxmeal with three tablespoons of water. Allow the mixture to sit for five minutes until it has congealed. Use maple syrup or granulated sugar in place of the honey.
Use creamy peanut butter in place of almond butter for PB flavors!
Sprinkle chocolate chips in this muffin batter recipe for banana muffins with chocolate chips.
Fold in oats within the batter to enjoy almond banana muffins with oats!
If you are not dairy-free, then you can add some melted butter to the muffin batter.
How to Make This Recipe
Step One: First, preheat the oven to 350 degrees Fahrenheit to make sure it is ready for muffin time! Next, line cupcake or muffin pan with your choice of liners or use nonstick spray. Both options are great!
Step Two: Slice the bananas and place them in a medium bowl. Mash the bananas with a potato masher, spoon, or fork. Make sure to fully mash the bananas until they are smooth and without chunks.
Add the eggs, almond butter, vanilla, and honey to the mashed bananas and mix until fully incorporated. Everything should be blended together well!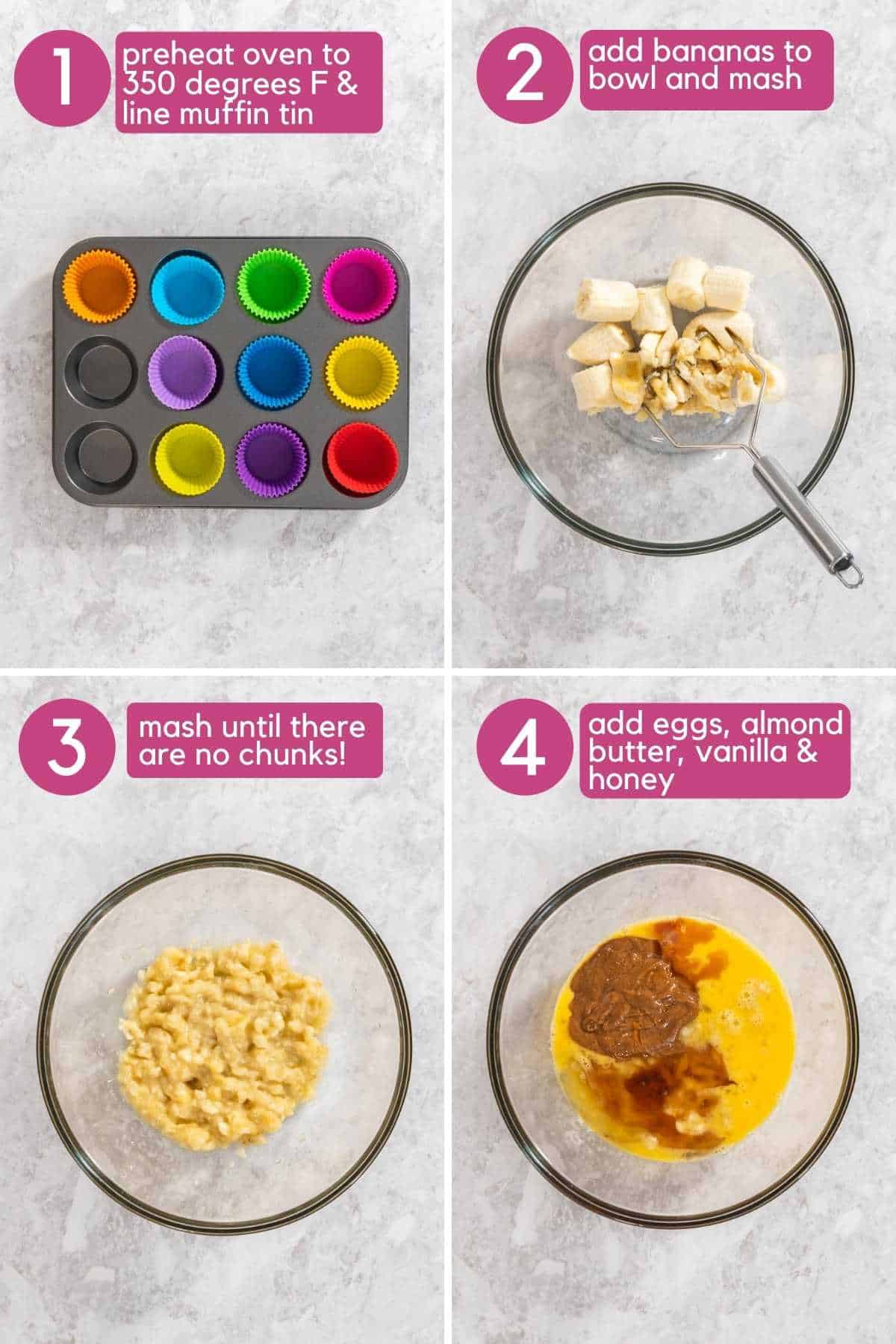 Step Three: Next, add the almond flour, flour, baking soda, and salt to the wet ingredients. With a wooden spoon or rubber spatula, mix everything until smooth.
Step Four: With a spoon or ice cream scoop, transfer the batter into the muffin pan and make sure all of the liners are evenly full.
Bake the muffins for 25 minutes until fully baked. You should be able to insert a knife or toothpick into the muffins without crumbs sticking to them.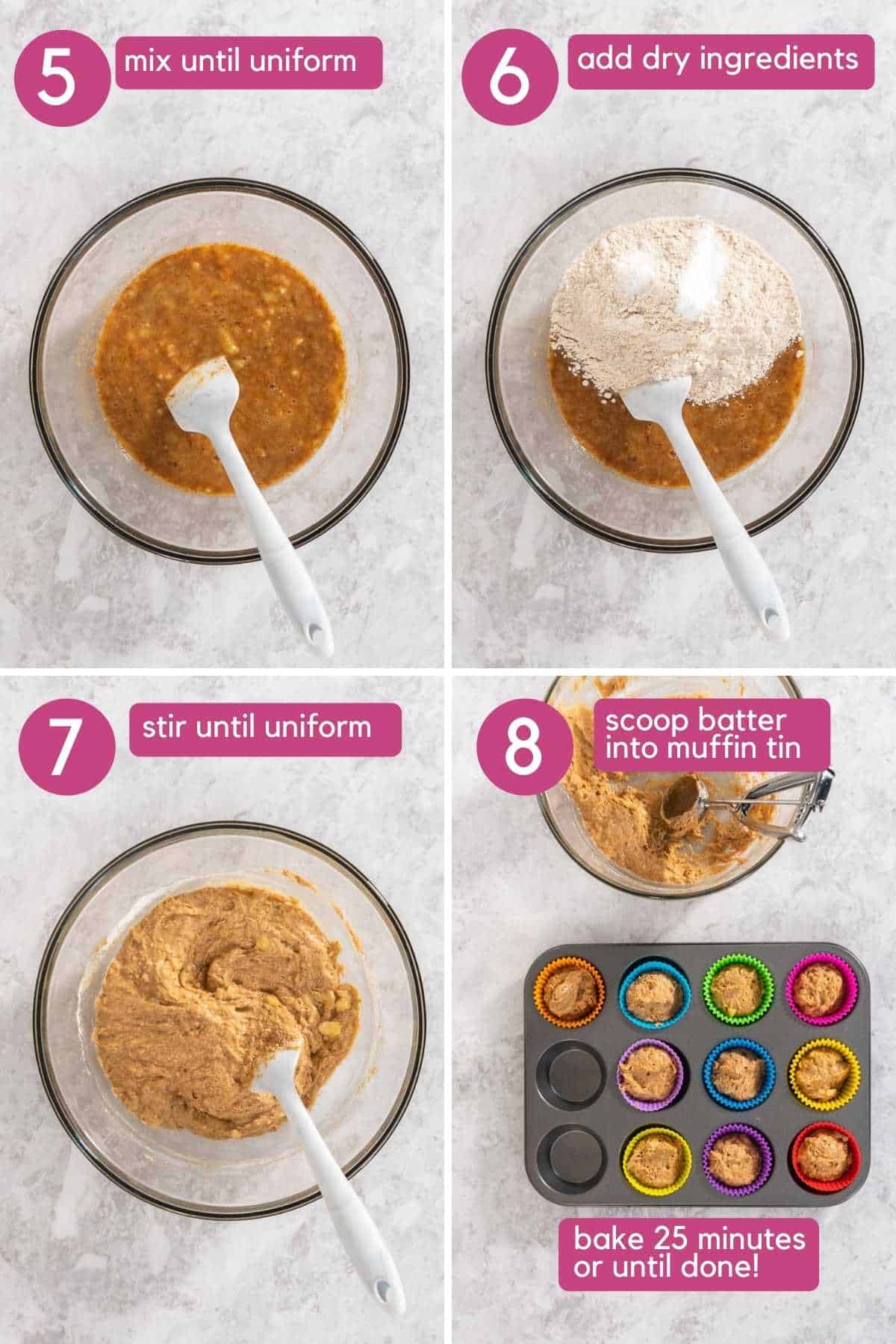 Allow the muffins to cool for about seven minutes after you remove them from the oven. Enjoy warm with butter, more almond butter, coconut flakes, chocolate sauce, and so much more!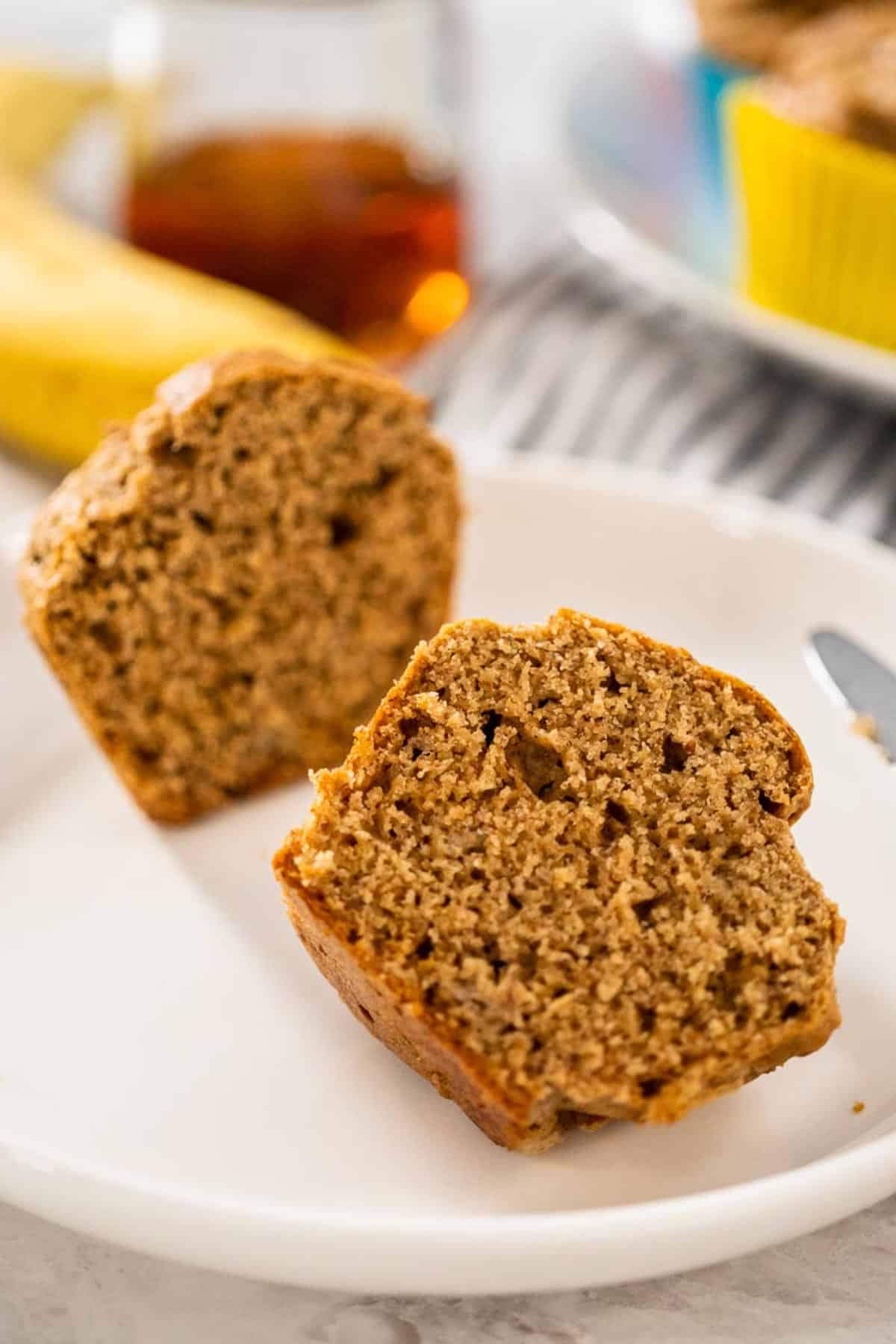 Expert Tips
Store the leftover muffins in an airtight container at room temperature for up to five days.
You can freeze the muffins by placing them in a freezer-safe bag to freeze for three months!
Be sure to not overbake the muffins or they will be dry! So be sure to keep close eye on them once you start smelling the banana aromas.
Recipe FAQs
What makes banana bread dense?
Make sure to add enough baking soda to the recipe to make sure the muffins can rise and become fluffy!
Are almond meal and almond flour the same?
Although the two are very similar, almond flour and meal are different! Almond meal is more grainy and made from raw unpeeled almonds so it is naturally darker in color, too. Almond flour is made from peeled almonds and creates a lighter consistency with a lighter shade.
Can you substitute almond meal for flour in baking?
It depends on the recipe! Since almond meal is thicker and denser than almond flour, using almond meal can sometimes change the textures of your recipes.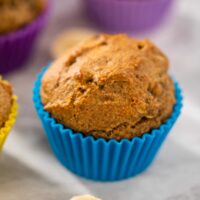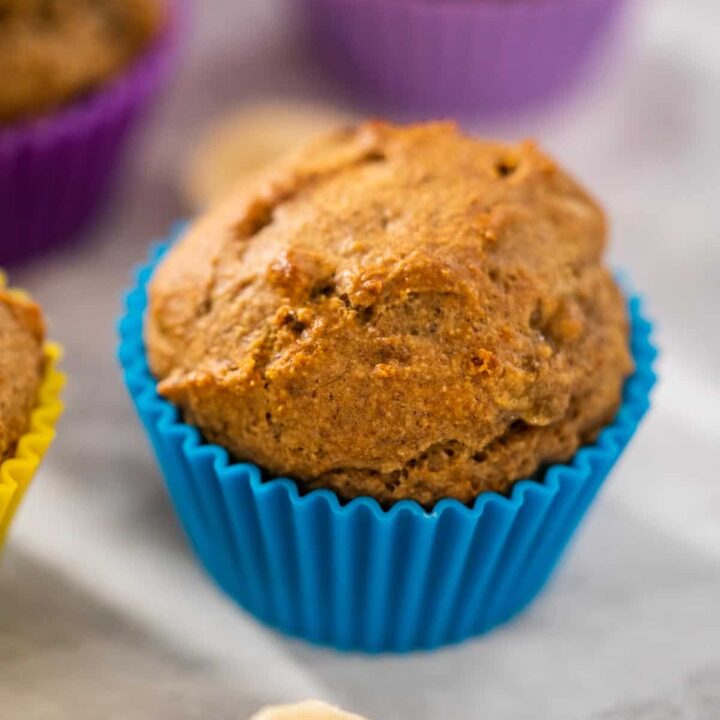 Fluffy Gluten-Free Almond Flour Banana Muffins
Fluffy almond flour banana muffins are the tastiest treats you'll ever eat! Naturally gluten-free and made with moist almond flour with creamy almond butter, this muffin recipe is the best! These muffins taste just like soft banana almond bread or even cupcakes!
PRINT RECIPE
Ingredients
2

bananas

ripe & spotty!

2

eggs

½

cup

almond butter

creamy not chunky

1

teaspoon

vanilla

¼

cup

honey

2

cup

almond flour

Bob's Red Mill works best!

1

teaspoon

baking soda

¼

teaspoon

salt
Instructions
Preheat oven to 350 degrees and line a muffin tin with liners (I like the silicone ones) or use non-stick spray. Set aside.

In a large bowl mash bananas super well! There should be no banana chunks.

Add eggs, almond butter, vanilla and honey. 

Mix well until it's a uniform mixture.

Now, add almond flour, baking soda and salt. 

Stir until well combined & uniform.

Scoop batter (I like to use an ice cream scoop) into muffin tin and bake for 25 minutes, or until a toothpick when inserted comes out clean.

Allow to cool and enjoy!
click To display nutrition info
Nutrition Facts
Nutrition Facts
Fluffy Gluten-Free Almond Flour Banana Muffins
Amount per Serving
% Daily Value*
* Percent Daily Values are based on a 2000 calorie diet.