These almond flour banana muffins are unbelievably moist and fluffy! You'd never know these muffins are gluten free and sweetened with banana and honey. Truly a delicious and nourishing snack, breakfast, or add ice cream for dessert!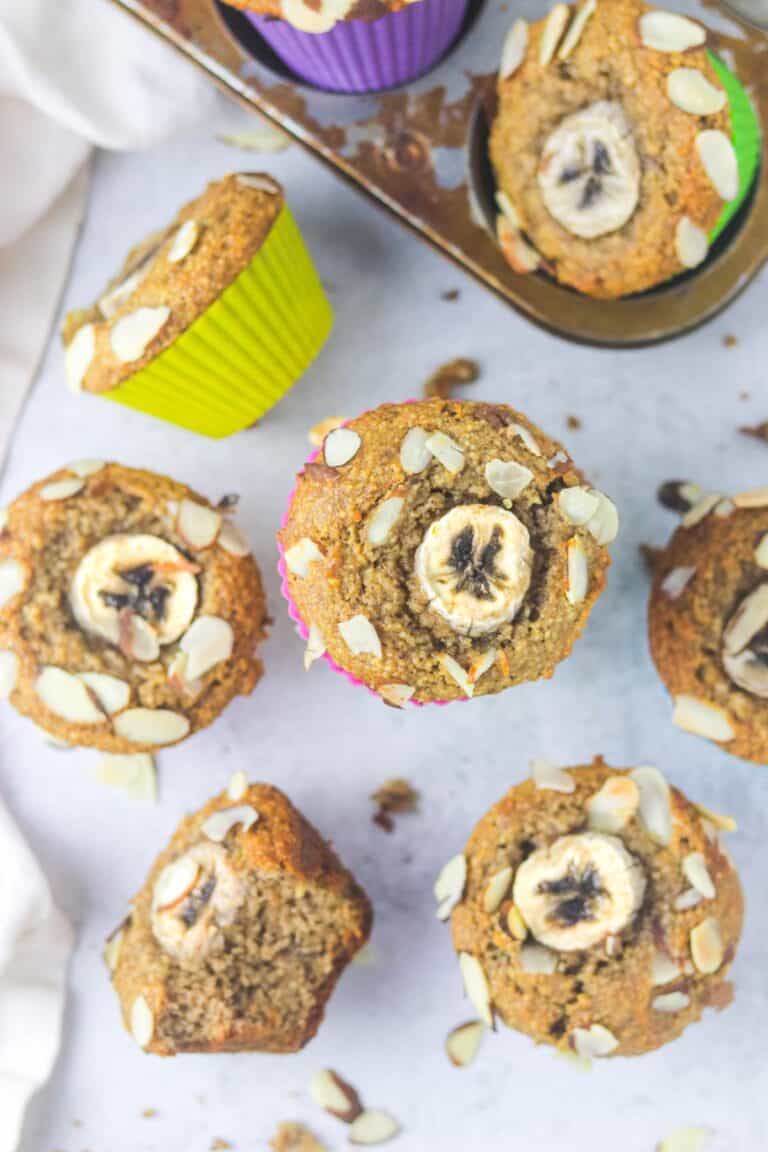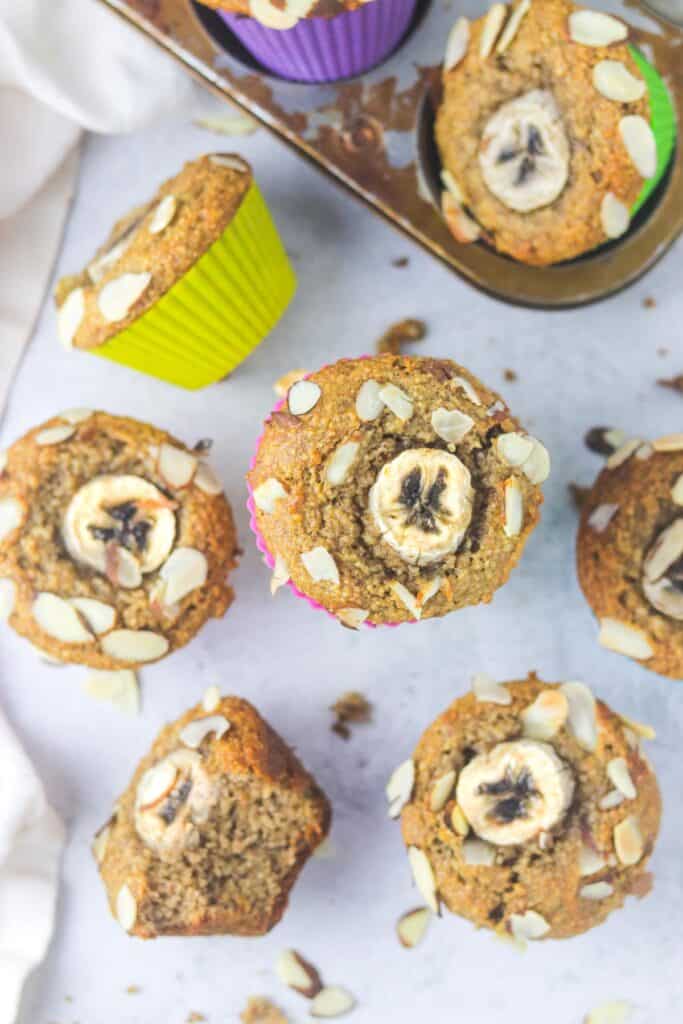 The Best Ever Almond Flour Banana Muffins
These muffins are legit. I'm pretty darn confident in saying they're the only recipe you're going to need for banana muffins with almond flour. How can I be so confident? Well, I gave some to my father who is a typical meat & potatoes, none of that "healthier" stuff, kinda guy and his exact text to me was "Hola. those muffins were fantastic. thank you." Baking wizardry success!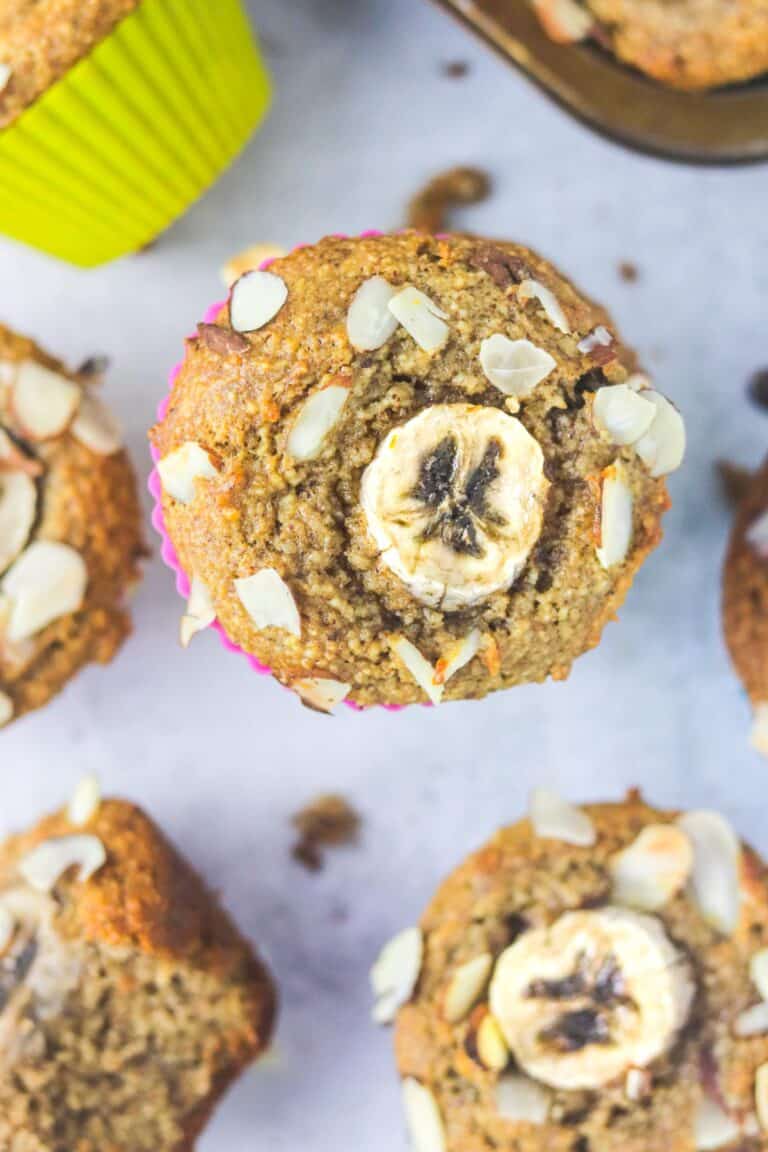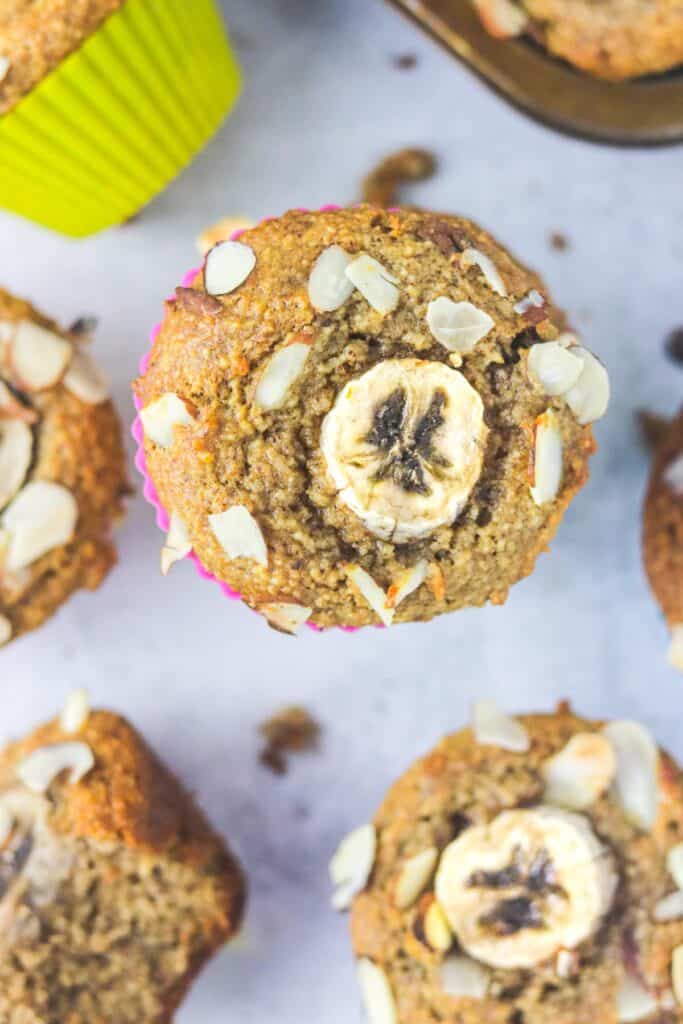 How Healthy Is Almond Flour?
You guys know me, I don't label food as "healthy" or "unhealthy". However some foods are more nutrient dense than other, I'm aware of that. I mean, I am a registered dietitian after all!
I believe in gentle nutrition, which basically means that you listen to both your inner wisdom (what your body wants) and outer wisdom (nutrition knowledge). Nutrition CAN play a role in our food choices, but it has to be in conjunction with what our bodies want and can't be the ONLY reason for our food choices. Make sense? It's okay to have a food preference for a more nutrient dense option, but it shouldn't become a food rule that causes you guilt, stress or anxiety if you eat the less nutrient dense option!
Huge difference between a food rule VS food preference! Bottom line, be honest with yourself.
That being said, almond flour is pretty darn nutrient dense! It provides some health promoting monounsaturated fats that help to keep you full as well as a dose of protein. Incorporating nuts into your diet, such as almond and almond flour, can also have benefit your heart health. Plus, it's a great alternative to flour if you have food allergies or intolerances!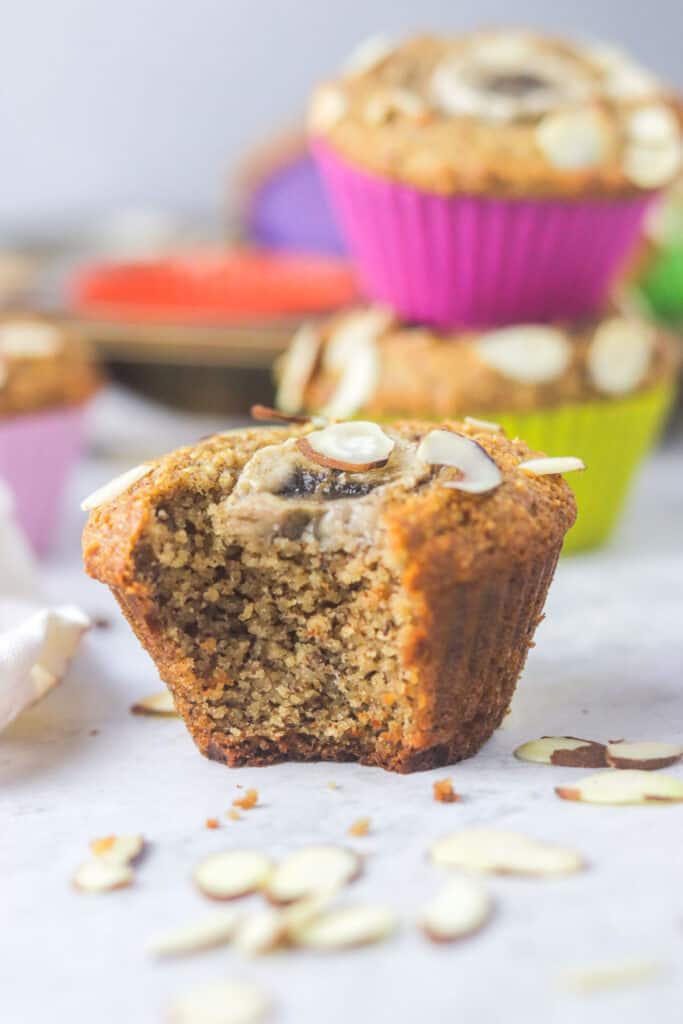 Is Almond Flour Good To Bake With?
Baking with almond flour is totally different from using all-purpose flour. It's much heavier than "regular" flours. Typically you'll need to add more almond flour than you would all-purpose or whole wheat flour and also possible more leavening agent, like baking soda or powder.
But, fear not! I won't turn this almond flour banana muffin recipe into a math and science experiment! I've done all of the leg work for you here, just like I've done with my peanut butter cookies recipe!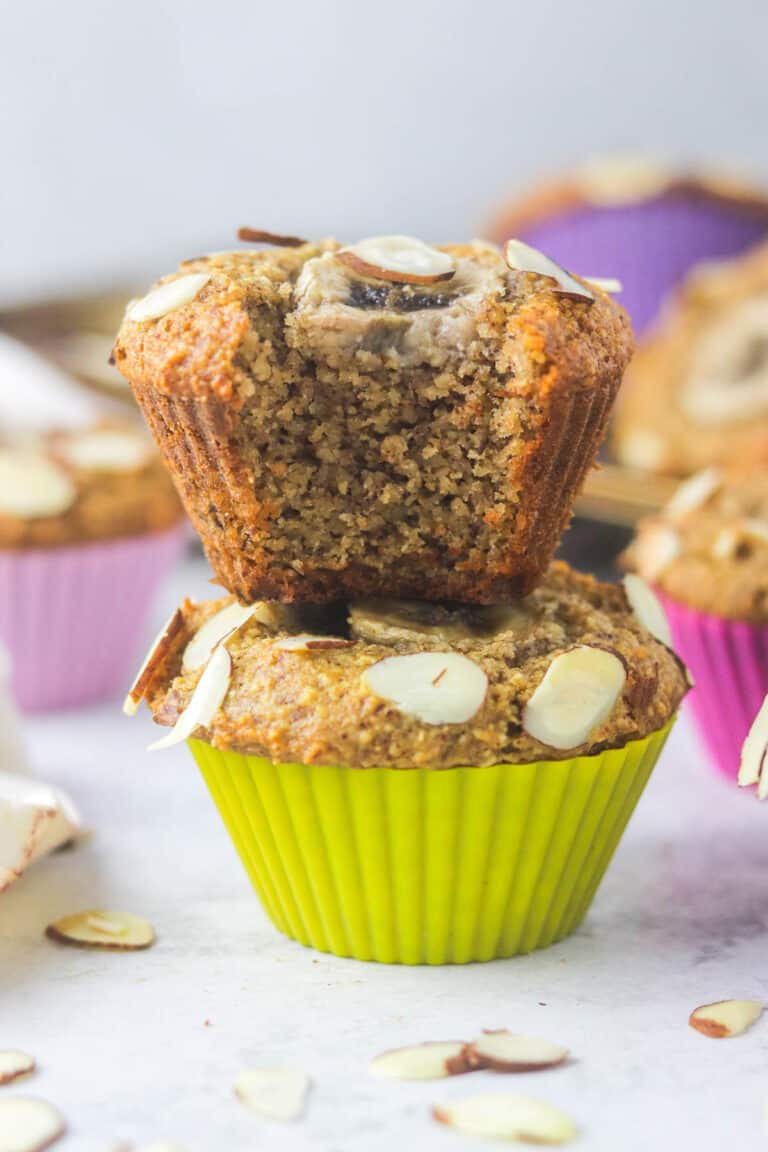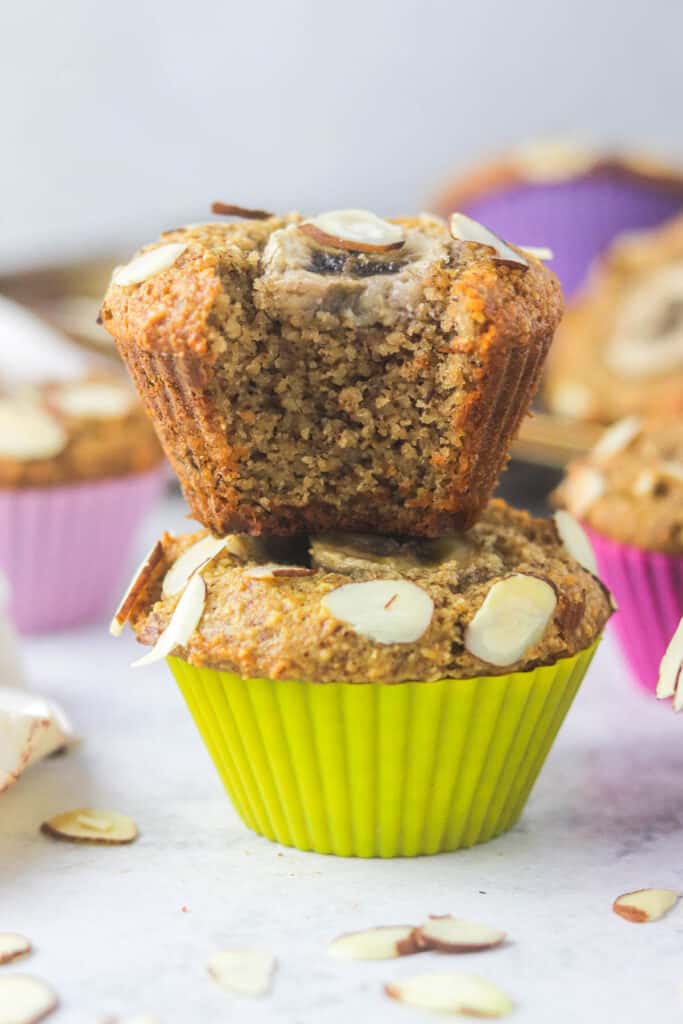 Are These Considered Paleo Banana Muffins With Almond Flour?
I don't do diets. I don't believe in having food rules. But if you want to get technical these would be considered a paleo banana muffin. There is nothing wrong with making a paleo recipe, but I don't think you should make it because it's paleo. Always make a recipe based on what you want to make, not a label.
Ingredients For Almond Flour Muffins Banana Bread Style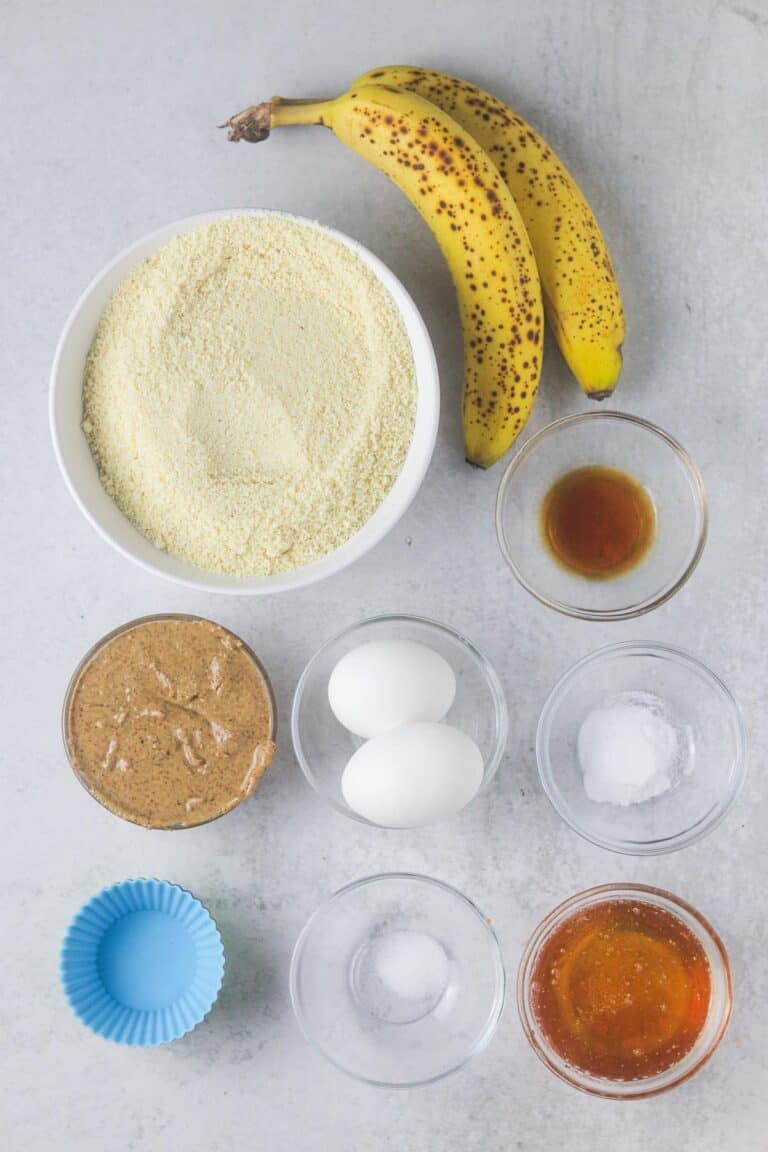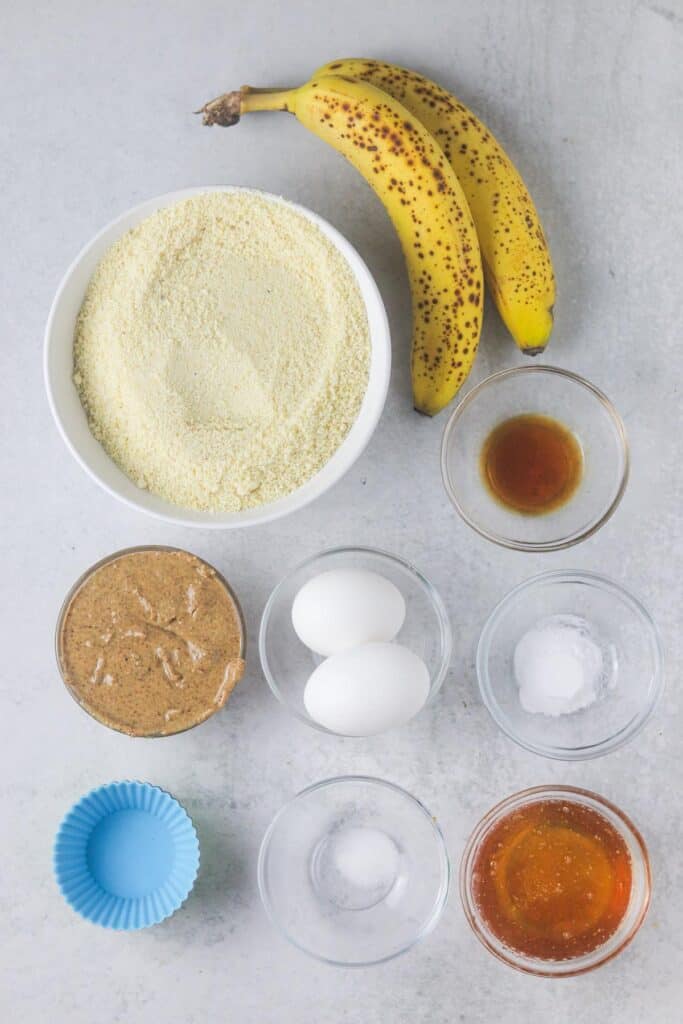 You don't need a ton of ingredients for these banana almond flour muffins. Just round up these basic pantry staples:
bananas
eggs
vanilla
almond flour
baking soda
salt
I also highly suggest snagging yourself some silicone baking muffin liners. You can snag the same ones I got on Amazon for like 10 bucks! It's a pack of 45 and you'll literally never need to buy liners again. Save money and be eco-friendly? Score! Checkout those silicone muffin liners here!
How To Make Almond Flour Muffins With Banana
First, preheat oven to 350 degrees and line a muffin tin with liners (I love those silicone ones!) or spray with non-stick spray. Then set that baby aside.
Next, mash bananas in a large bowl with a potato masher or a fork.
Once your bananas are nice and mashed go ahead and in egg, almond butter, honey and vanilla. I like to use rotary beaters for this, but you can also use a spoon or spatula!
Now, add the almond flour, soda, and salt. Mix it until well combined and uniform.
Pour your batter into your prepared muffin tin and bake for ~25 minutes. Muffins are done when they are golden and a toothpick inserted comes out clean!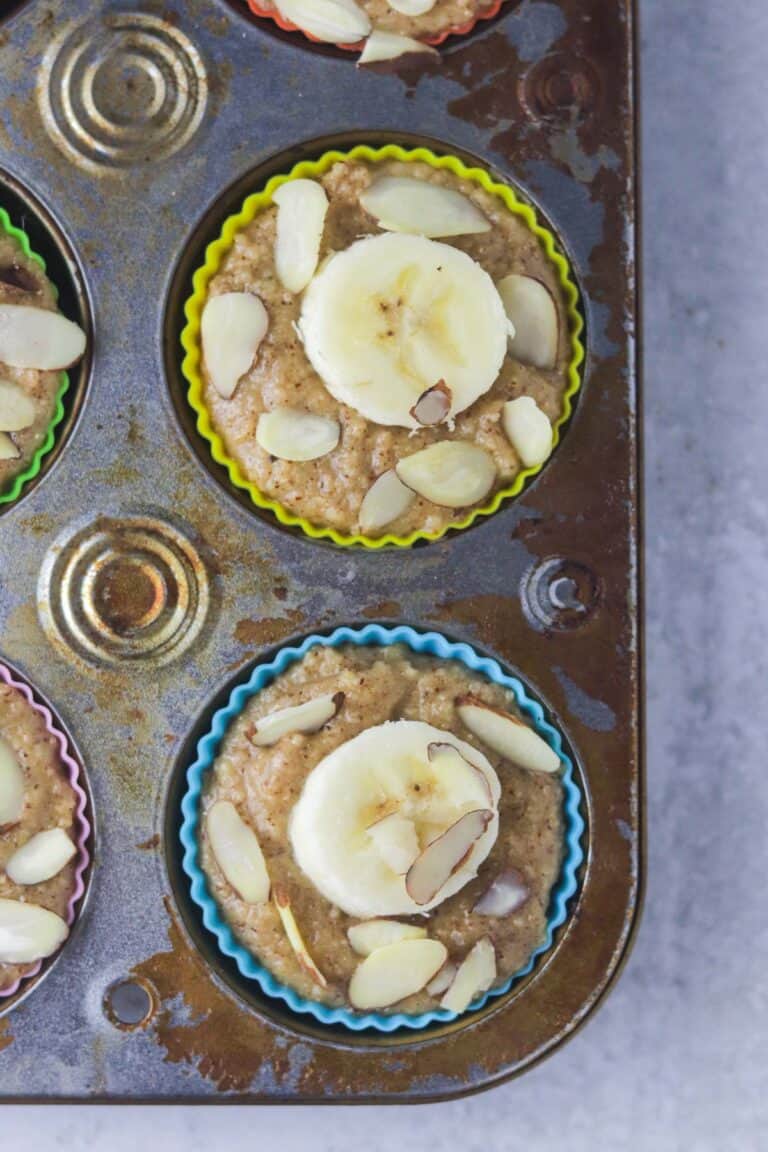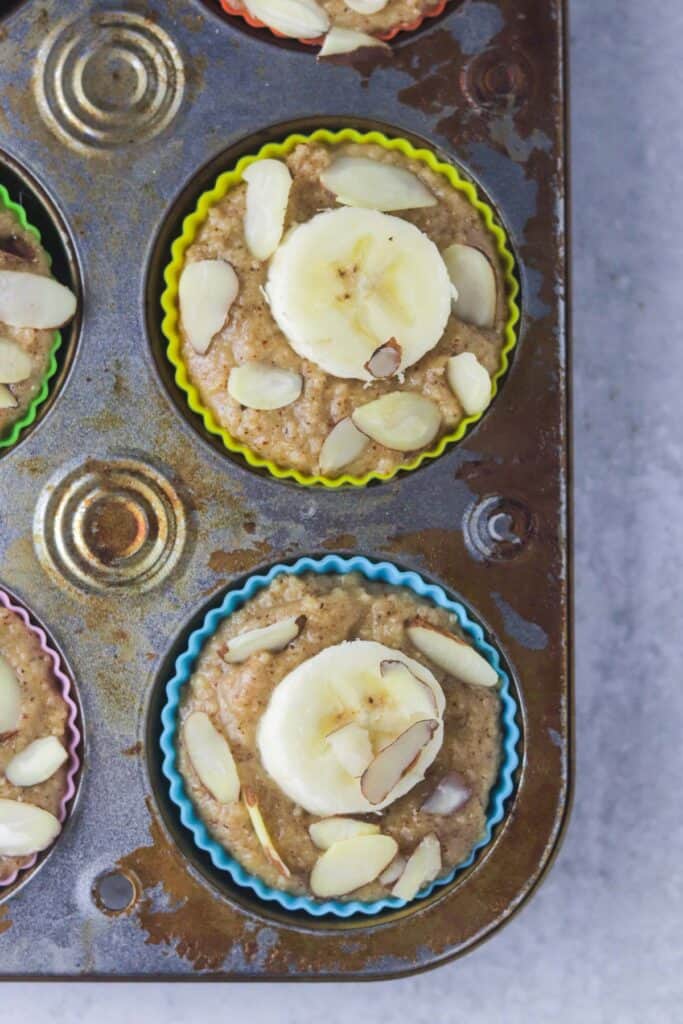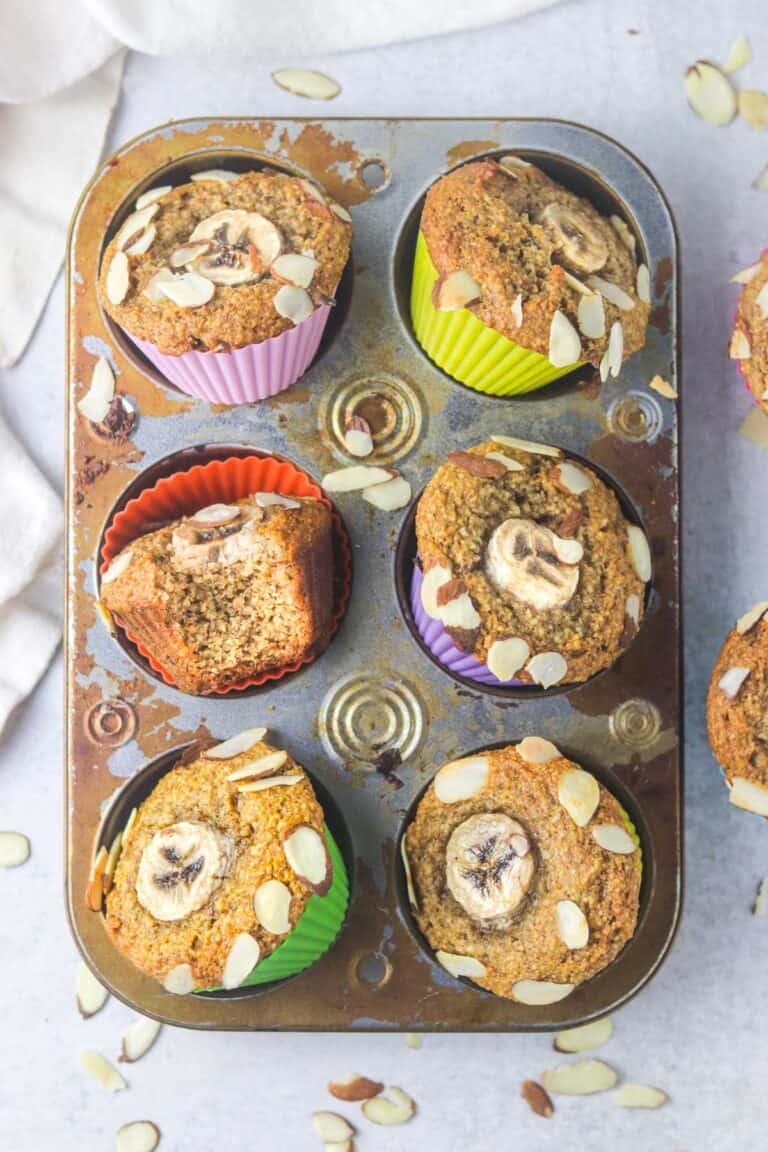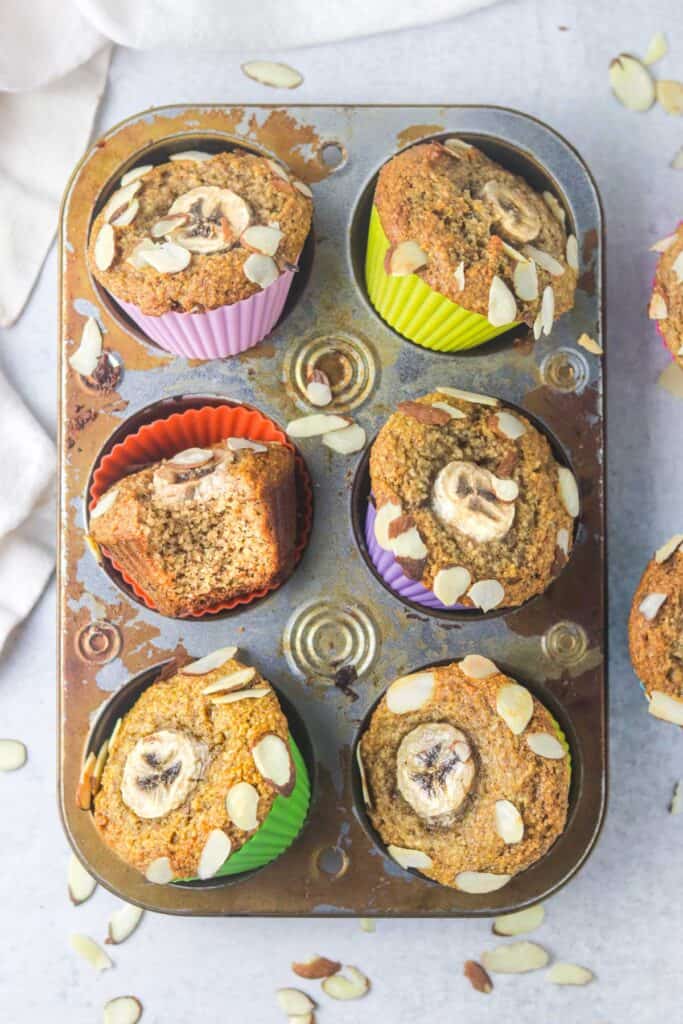 How To Store Almond Flour Muffins
I usually keep these banana almond flour muffins on the counter, but like to leave the lid slightly off. This helps prevent them from getting too moist. You can also throw them in the fridge.
If you won't be eating them in the next 5-7 days I'd suggest putting them in the freezer. Freeze them on a plate or baking sheet first, THEN put them into a freezer bag. This helps them not stick together in one large muffin lump!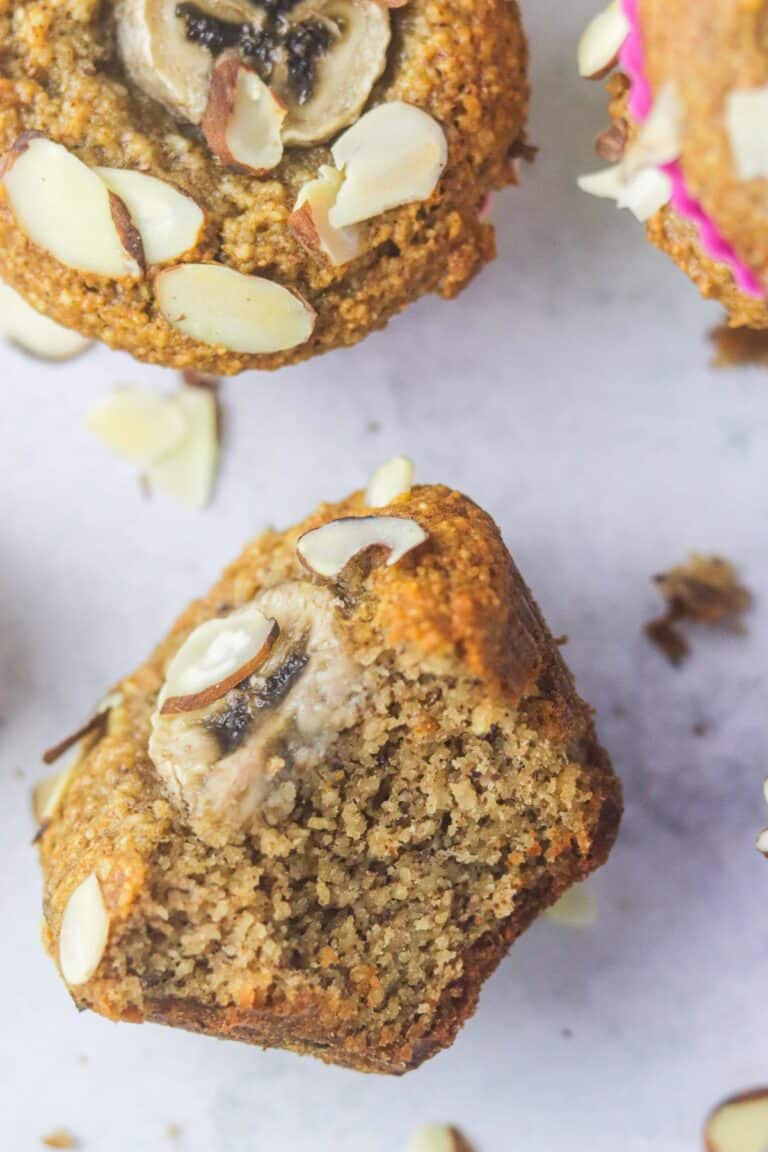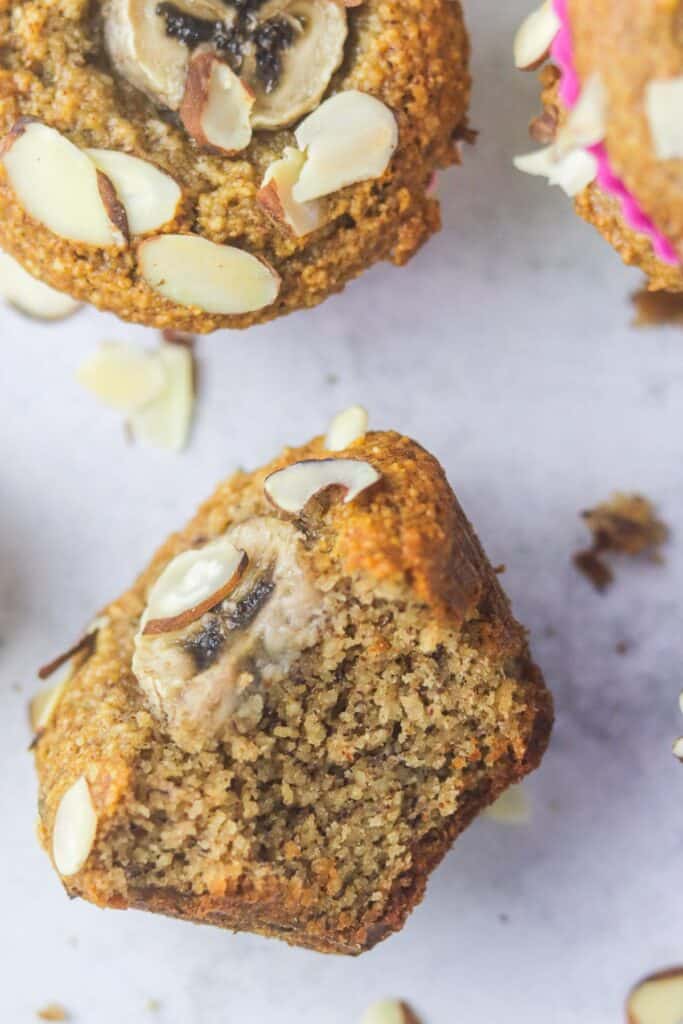 Here Are Some More Delicious Recipes To Bake!
I hope you love this recipe! If you do be sure to leave a star rating on the recipe card and a comment! I love hearing from you and it helps me to be able to create more and more recipes!
XOXO
-Colleen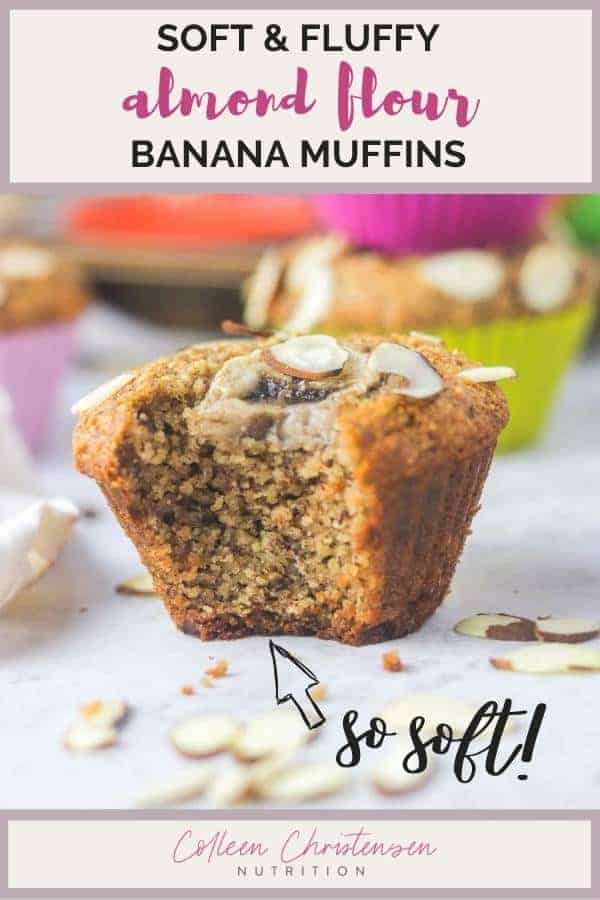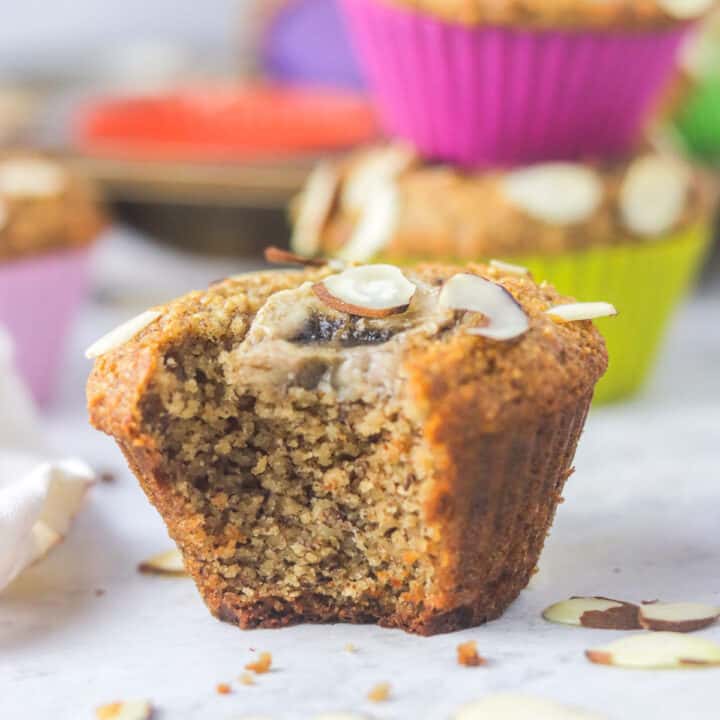 Almond Flour Banana Muffins
Unbelievably moist & fluffy almond flour banana muffins! They are naturally gluten free and sweetened with banana and honey!
Ingredients
2 bananas
2 eggs
1/2 cup almond butter
1 tsp vanilla
1/4 cup honey
2 cup almond flour
1 tsp soda
1/4 tsp salt
Instructions
Preheat oven to 350 degrees and line a muffin tin with liners (I like the silicone ones) or use non-stick spray. Set aside.
In a large bowl mash bananas well.
Add eggs, almond butter, vanilla and honey. Mix well.
Now, add almond flour, baking soda and salt. Stir until just combined & uniform.
Top with sliced bananas and almonds, if desired.
Pour batter into muffin in and bake for 25 minutes, or until a toothpick when inserted comes out clean.
Allow to cool and enjoy!
Recommended Products
This blog post contains affiliate links, which means that if you click on a product link, I may receive a commission. All opinions are my own, and all brands featured represent what I personally like and support. This blog is a participant in the Amazon Services LLC Associates Program, an affiliate advertising program where I earn advertising fees by linking to amazon.com.
Nutrition Information:
Yield:

12
Serving Size:

1
Amount Per Serving:
Calories:

224
Total Fat:

16g
Saturated Fat:

1g
Trans Fat:

0g
Unsaturated Fat:

13g
Cholesterol:

31mg
Sodium:

62mg
Carbohydrates:

16g
Fiber:

4g
Sugar:

10g
Protein:

7g