So, you've decided to dive into the world of intuitive eating and no food rules…but aren't sure how to explain this to others. In this post I'll show you how to break down the fact and explain intuitive eating to those who may not be familiar!
What Is Intuitive Eating & No Food Rules
Intuitive eating is a non-diet approach to nutrition, health and wellness that focuses on becoming in-tune with our bodies to help guide us. The focus of your eating choices is shifted away from food rules and restriction and guided towards a place of abundance. No food are off limits. There are no food rules.
Intuitive eating was developed by two Registered Dietitians and consists of 10 principles to overcome dieting and regain trust with your body. Understanding hunger and fullness is an important piece, but intuitive eating goes beyond that. It's about understanding our emotions, satisfaction, and mental health in order to meet both our physical and psychological needs.
My no food rules approach to intuitive eating, which was developed during my journey to discovery a way to implement intuitive eating that was practical and easy to understand for me, consists of 3 pillars: shifting the mindset away from diet culture messaging, challenging ones food rules in a systematic way, and improving body image. All 3 pillars work together to truly transform ones relationship with food and body to find a life of food freedom. A life where you can feel comfortable and confident in your body, mentally and physically.
You can learn more about my story and how I was able to make peace with food & my body here.
Intuitive eating is a weight neutral approach to nutrition. Meaning, it is not aiming to loose or control weight. It works in conjunction with the set point weight theory, which tells us that our bodies have a weight that they want to be, feel most comfortable at mentally and physically, and can maintain within a range effortlessly. For some, this may be weight gain, weight loss, or simply weight maintenance. None of these outcomes are bad and I am confident you'll feel your best- mentally and physically.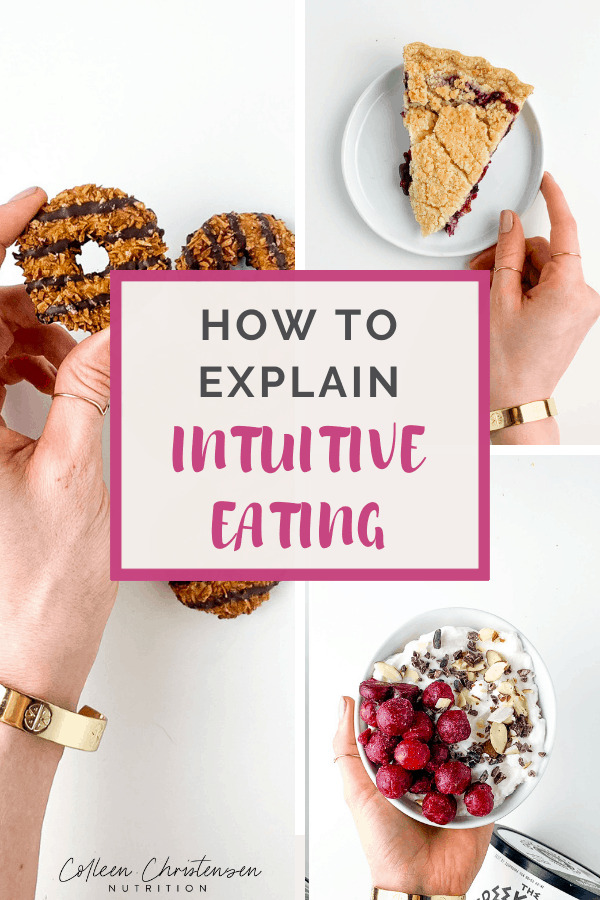 How To Explain Intuitive Eating & No Food Rules
Whenever I try to explain living a life of no food rules I try to keep it short and concise, unless they open the conversation to learn more. Typically, what I will say is "It's an approach to nutrition that focuses on abundance, rather than restriction, and listening to your body to tell you what feels good." Now, this 180% does NOT even begin to cover it, but I think it's the best way to introduce it.
If the interest is peaked, then typically I will direct them to some other blog posts and/or the intuitive eating book.
What If They Don't "Get It"?
If you try to explain living with no food rules to someone and they are combative or just don't understand my advice is to OWN your decision. Don't let their skepticism or own diet culture ridden thoughts influence what you know to be right for you. I've created a community of supportive food rule breakers inside of my membership, The SociEATy, so you can always feel like you have girlfriends who DO get it.
Hop on the waitlist for the next time the SociEATy membership opens for enrollment! Enrollment opens only a few times a year, so you don't want to miss out.
Everyone deserves to eating in a way that they feel is best for them. And for some, they do not feel ready to let go of diet culture. I think that the best thing we can do to help others who may benefit from living a life of no food rules is to share our stories of actually LIVING it.
For instance, you might be out to dinner and are ordering dessert and your BFF gasps saying "But doesn't that have a lot of calories?!" You can respond with a story of your own experience, such as "Ever since I've started living with no food rules and have allowed myself dessert I don't feel that strong pull to inhale it all or binge on it. It's amazing!" or "When I actually let myself eat the things that I want, when I want, I am able to eat them in amounts that make me feel GOOD! No urge to eat the entire pint of ice cream in the freezer. I feel so much better!"
I encourage you girlfriends to share your story. Help combat diet culture and share the amazing life of living with no food rules!
If you're still navigating a life of no food rules and need a little assistance, I got you. You can snag a copy of my free e-book, The Ultimate 5 Step Guide To Food Freedom, here!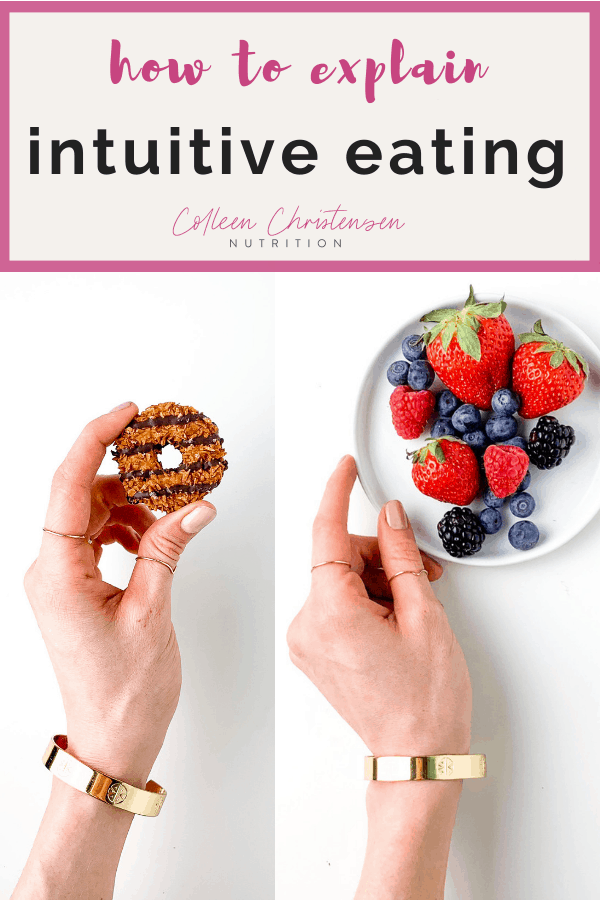 Let me know in the comments if you have any questions or anything needs further explaining. Bonus points if you share a story of how living a life of no food rules has positively impacted you! I'd love to hear!
Happy food rule breaking!
XOXO
-Colleen
Want more blog posts like this? You might like these: