The most PERFECT peanut butter cup recipe that is a straight copycat of the Perfect Bar recipe for peanut butter cups! Satisfy your sweet tooth and nourish your body with loads of nutrition at the same time. How perfect?!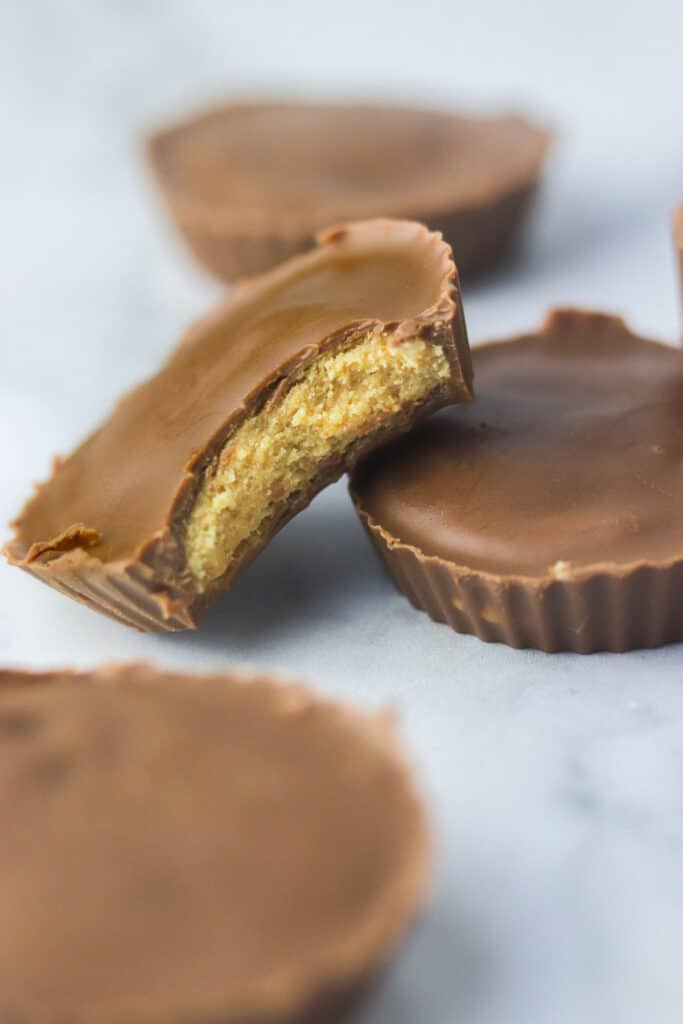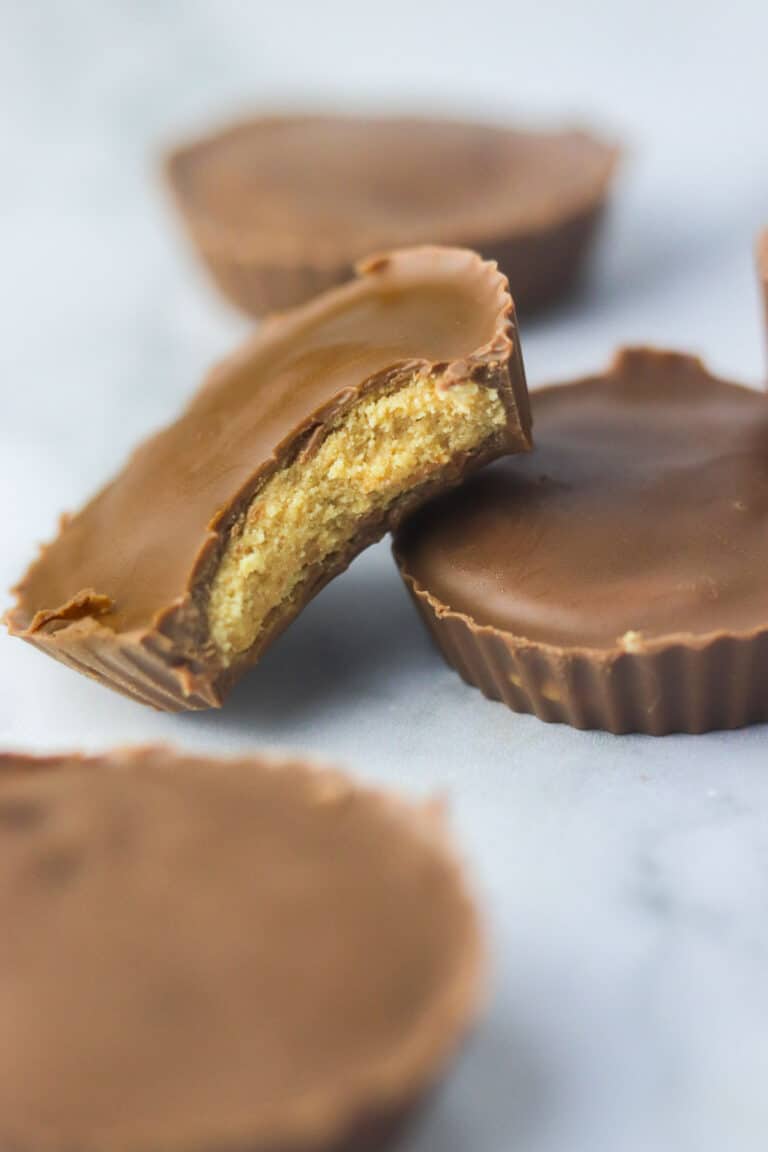 Why Peanut Butter Cups Are Great
As a Registered Dietitian I love anything that packs a one-two punch when it comes to food: taste & nutrition. So, makes sense why I am obsessed with Perfect Bars and Perfect Bar cups!
Now, there is nothing wrong with picking up a traditional Reese's cup to satisfy that chocolate-peanut butter craving, but it's totally okay to use some gentle nutrition and say "Hey, let me also pick something that might give me a little protein, health promoting fats, etc."
My "rule of thumb" when it comes to gentle nutrition is that you shouldn't feel ANXIETY if you were to only have the Reese's as an option and not the "healthier" one. If that's the case you're likely talking about a food rule around "unhealthy" food (Totes not a thing, btw. All food is part of a healthy diet!) not a food preference for an extra nutrition punch! Make sense?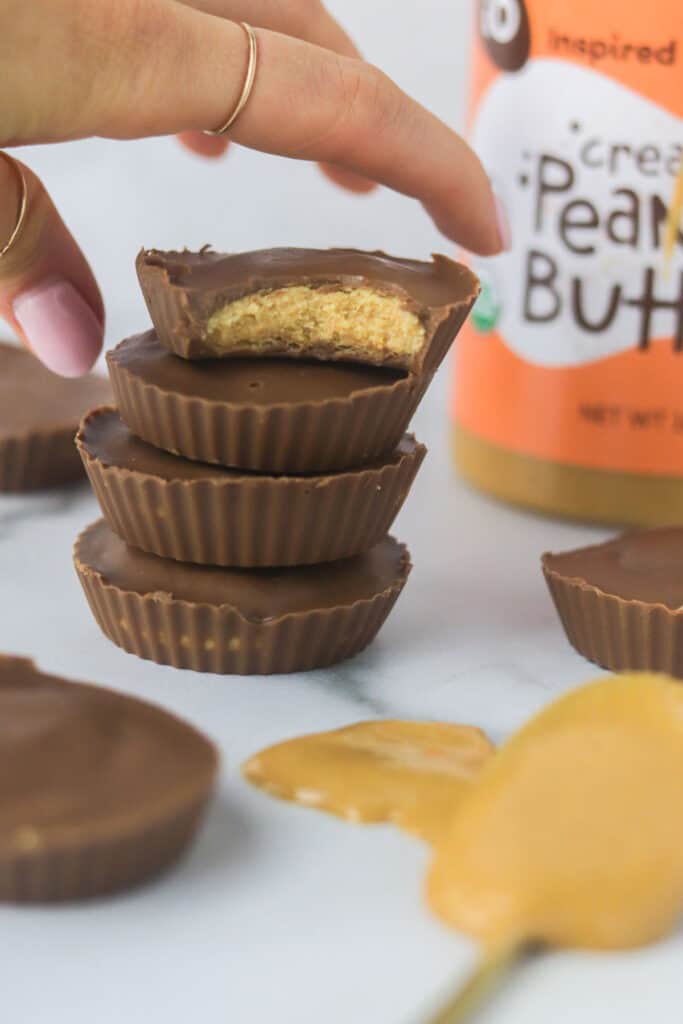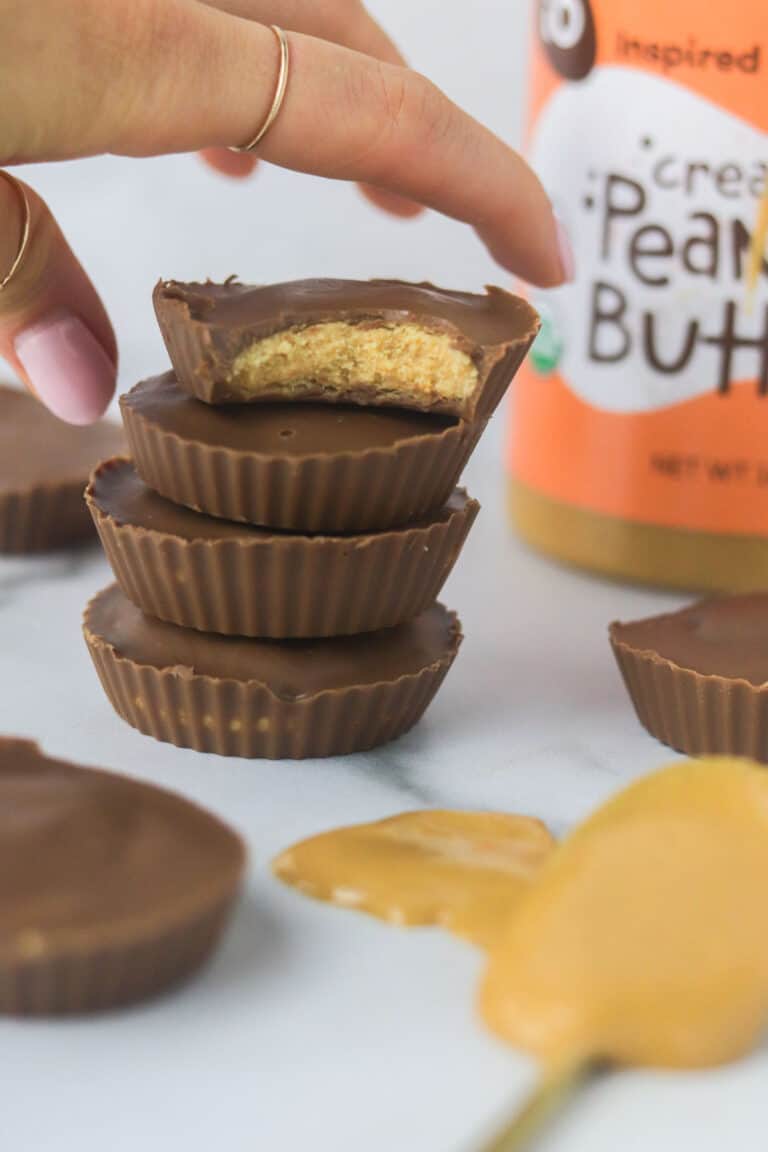 What Are The Perfect Bar Ingredients
The Perfect Bar ingredients list differs between their products, but here are the most common and consistent ones:
nut butters (peanut butter, almond butter, cashew butter, etc.)
honey
nonfat dry milk
dried whole egg powder
coconut oil
rice protein
dried whole food powders (kale, flaxseed, rose hip, orange, lemon, papaya, tomato, apple, alfalfa, celery, carrot, spinach)
sunflower lecithin
flax seed oil
sunflower oil
sesame seed oil
olive oil
pumpkin seed oil
Many of the ingredients listed in the Perfect Bar ingredients list are said to be organic, as well. I know the whole organic food topic can be confusing, so I wrote an entire blog post on the topic of organic VS non organic food. Be sure to give that a read to understand what the true differences are and if it's worth it to you to purchase organic.
The Perfect Bar cups have mostly the same ingredients, but also have either milk or dark chocolate as the #1 ingredient behind the nut butter.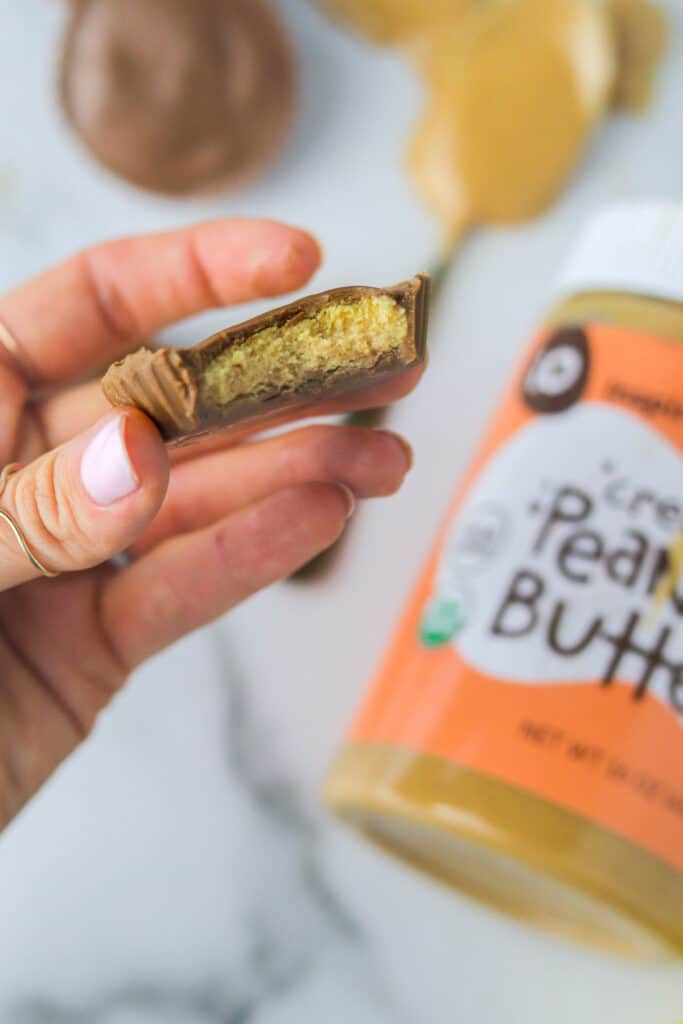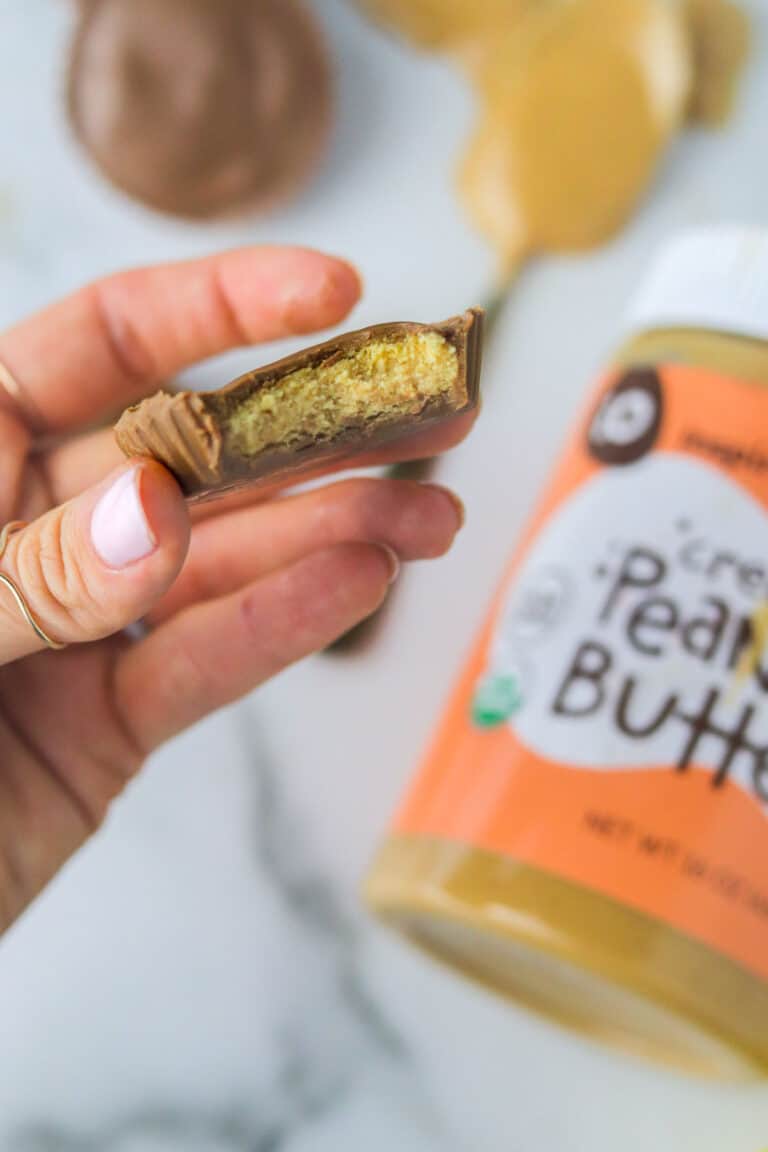 Are Perfect Bars Healthy?
Like I said, I don't label food as "healthy" or "unhealthy". However, there are foods that provide your body with more nutritional nourishment and there are foods that nourish our souls more. Perfect Bars, both the original bar and perfect bar cups, can provide both a pretty big nutritional punch, but also nourishment for the soul since the flavors and texture are very much so what we might think of as "indulgent", like biting into a log of cookie dough, or as a "candy", like being reminiscent of a Reese's cup.
This peanut butter cup Perfect Bar recipe give you 6g of protein and a good dose of health promoting fats.
How To Make Protein Peanut Butter Cups At Home
You only need 4 ingredients to make this copycat Perfect Bar recipe for their peanut butter cups! And? I bet you have them on hand right now:
honey
protein powder
chocolate chips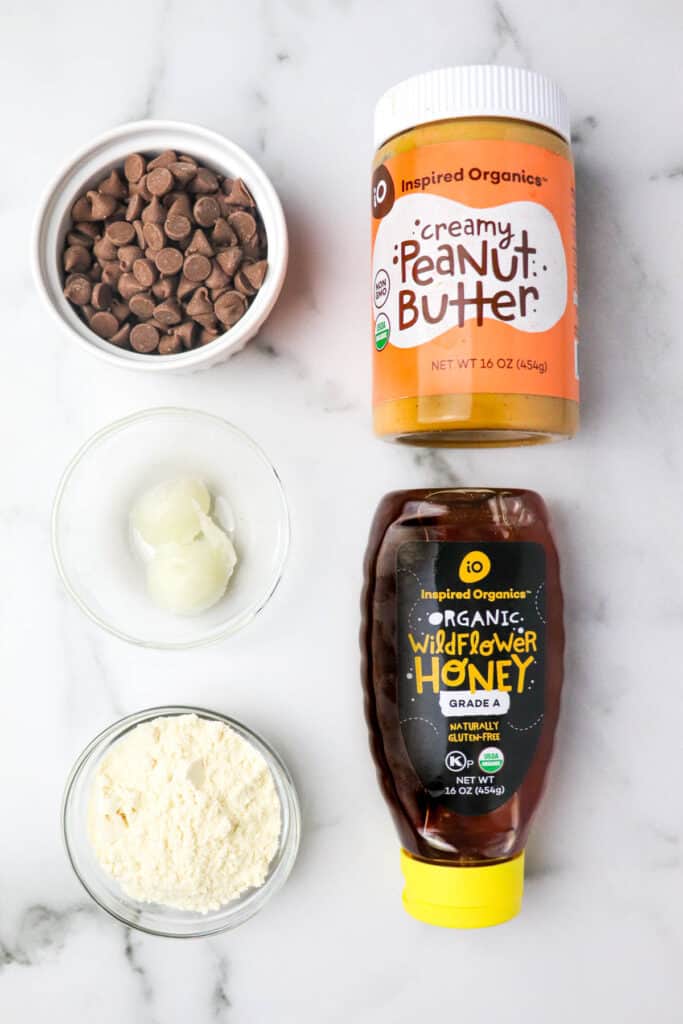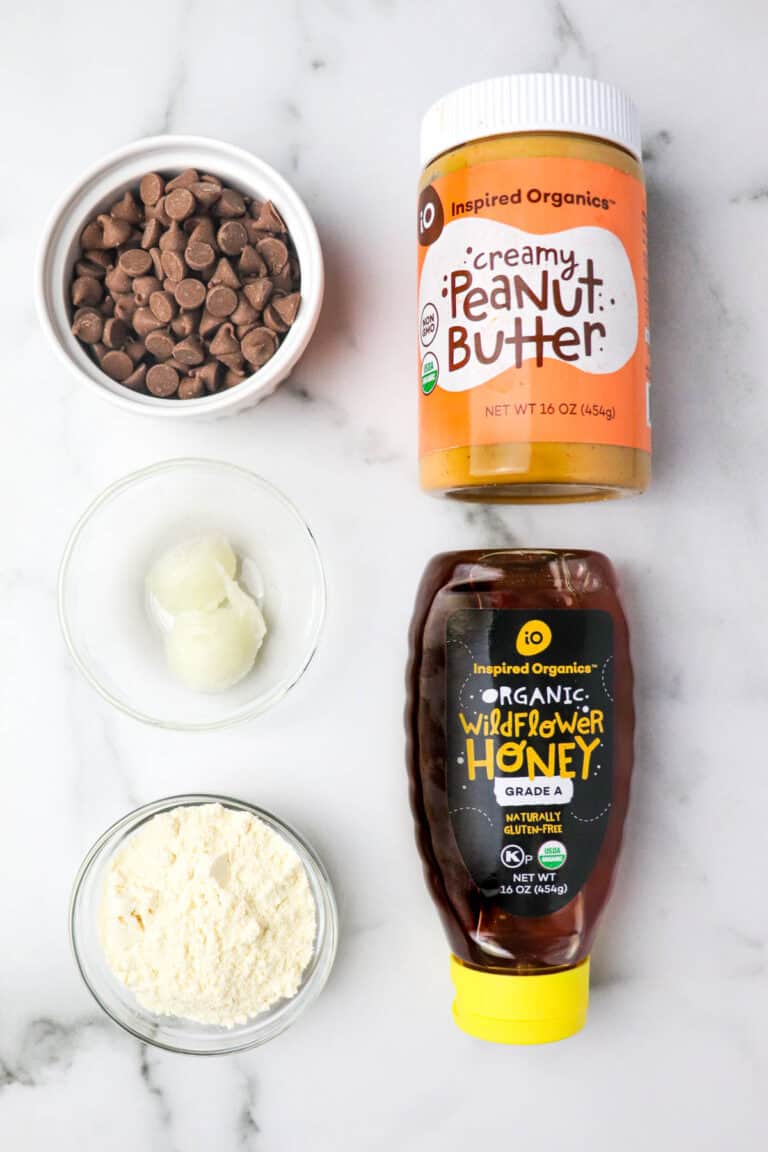 For the peanut butter I used Inspired Organics brand. For this recipe it's important to use a nice, drippy peanut butter like Inspired Organics. This is because when you add the protein powder it needs that drippy-ness in order to get a really creamy, not chunky or grain-y, consistency.
Inspired Organics also has a nice, drippy almond butter that would work super well for this recipe, if you wanted that almond taste! I have this in my pantry right now (along with tons of their other products) and it's uh-maze. The perfect consistency for this peanut butter perfect bar cup recipe!
The reason I use protein powder in place of the nonfat milk, egg protein, and the dried whole foods powder that the Perfect Bars use is… well.. who the HECK has that in their kitchen?! Using a high quality protein powder will do the trick just fine, giving you the protein punch you're looking for and other various nutritional benefits!
Assembling Your Protein Peanut Butter Cups
First, you're going to want to grab a muffin tin or some silicone muffin liners. (I'm OBSESSED with these silicone muffin liners I got on Amazon for less than 10 bucks. They work SO well for not only this recipe but also muffins and egg cups!)
Next, in a medium sized bowl combine the peanut butter, honey and protein powder. The drippy peanut butter should soak up the protein powder and leave you with a thick mixture that you can shape.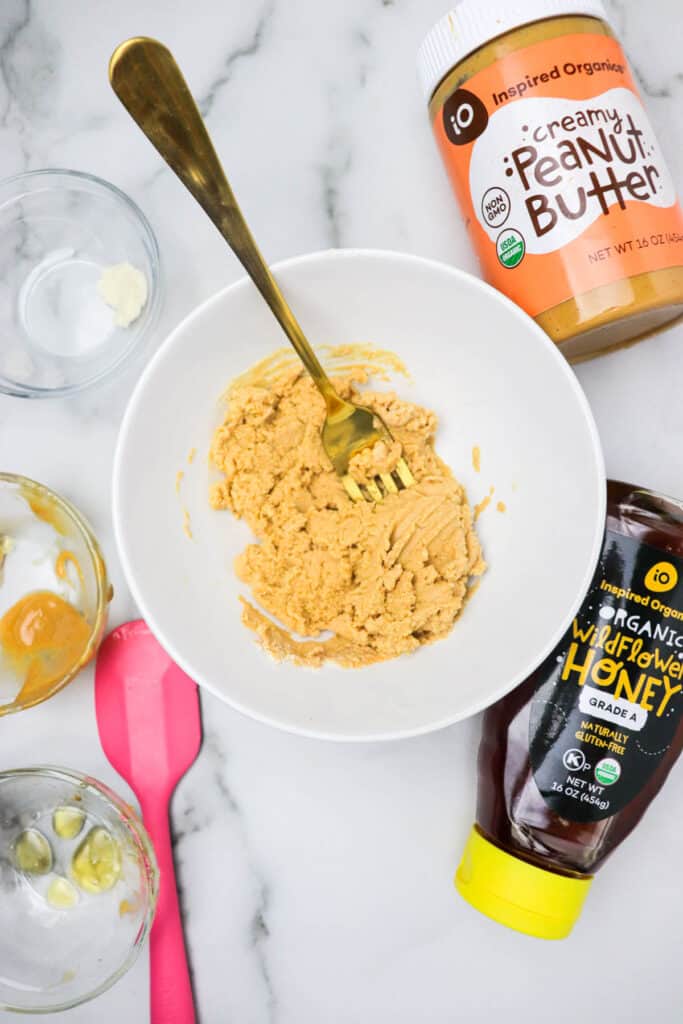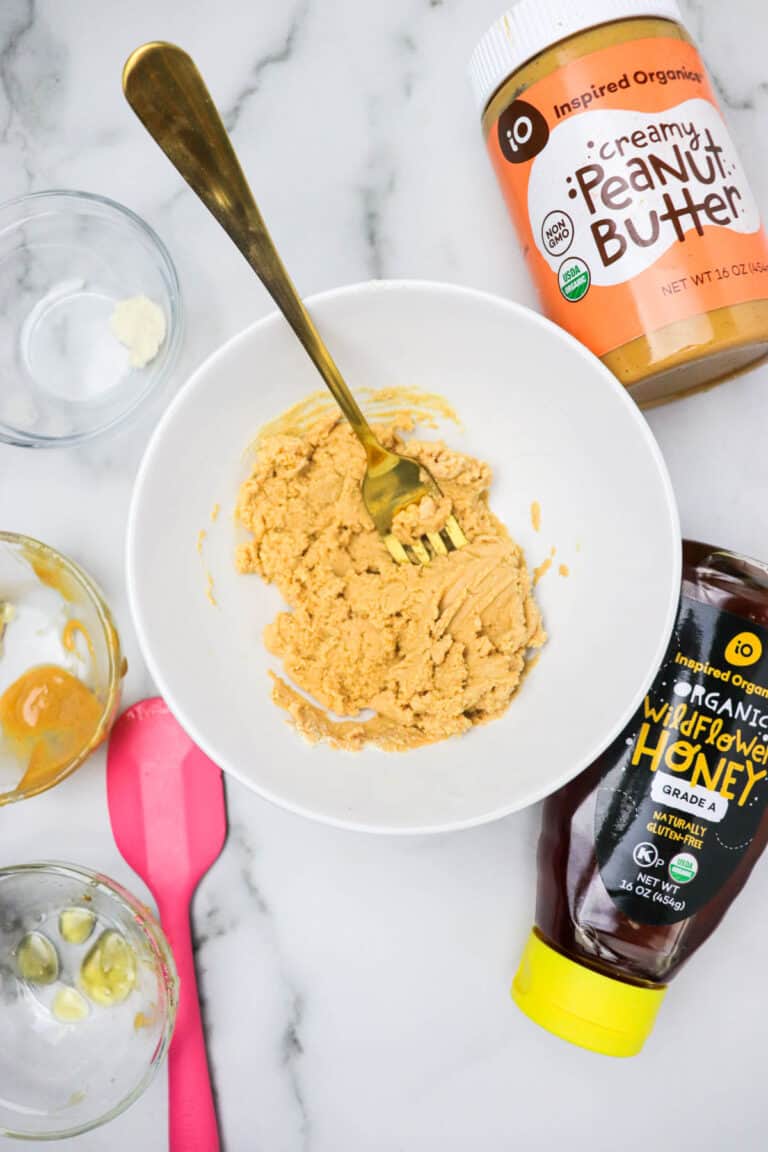 Now combine your chocolate chips and coconut oil and melt it in the microwave. To do this just pop the chocolate chips in the microwave for 30-60 seconds, stopping every ~20 seconds to stir and avoid burning.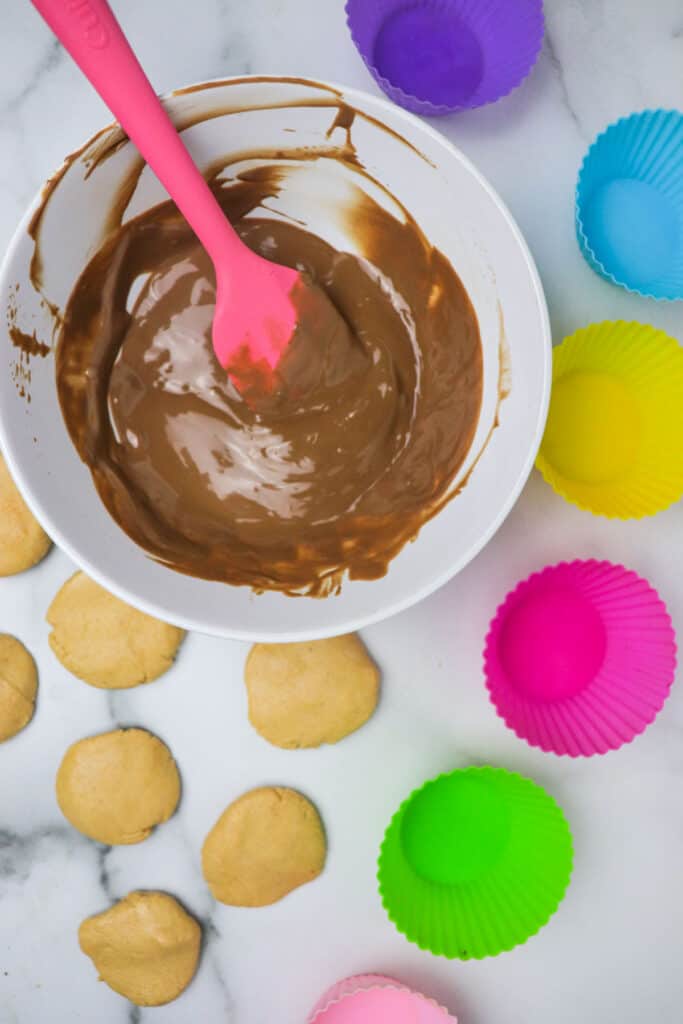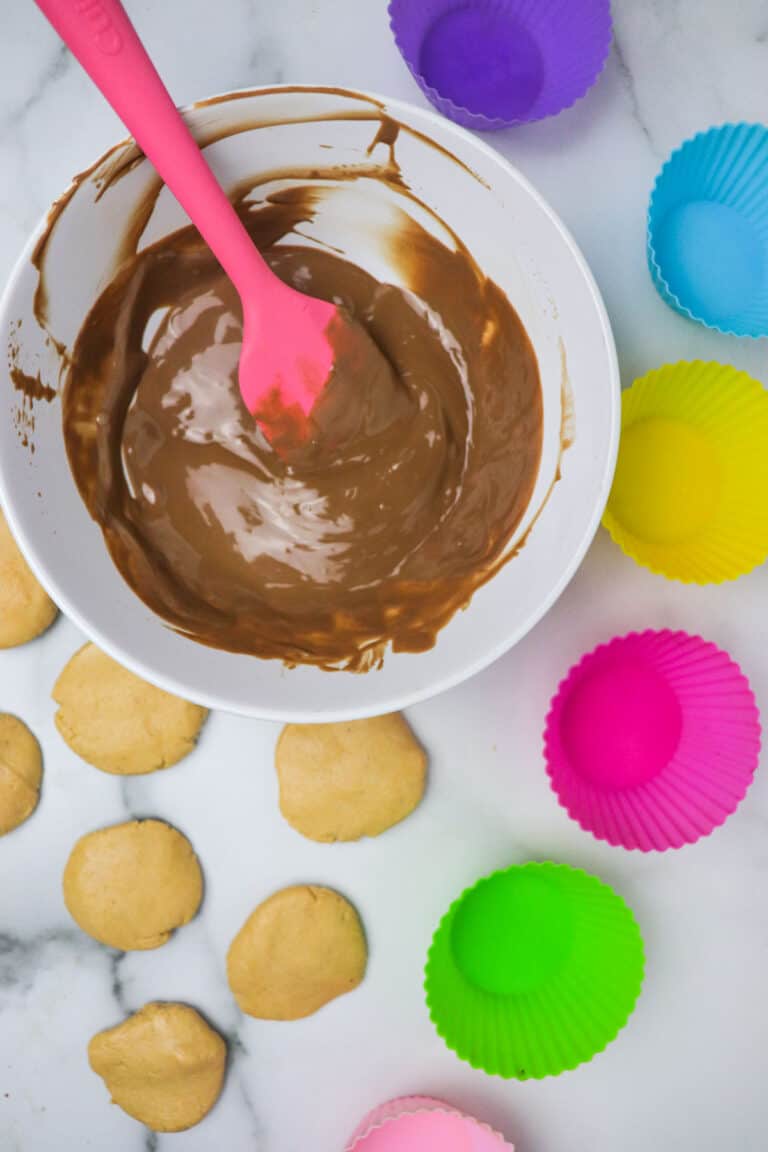 Cover the bottom of your muffin tin or silicone muffin liners with some chocolate, enough so it covers the bottom.
Then, take 1/7th of your peanut butter mixture and roll it in to a ball, flattening it slightly so it's a disk. Place this on top of the chocolate.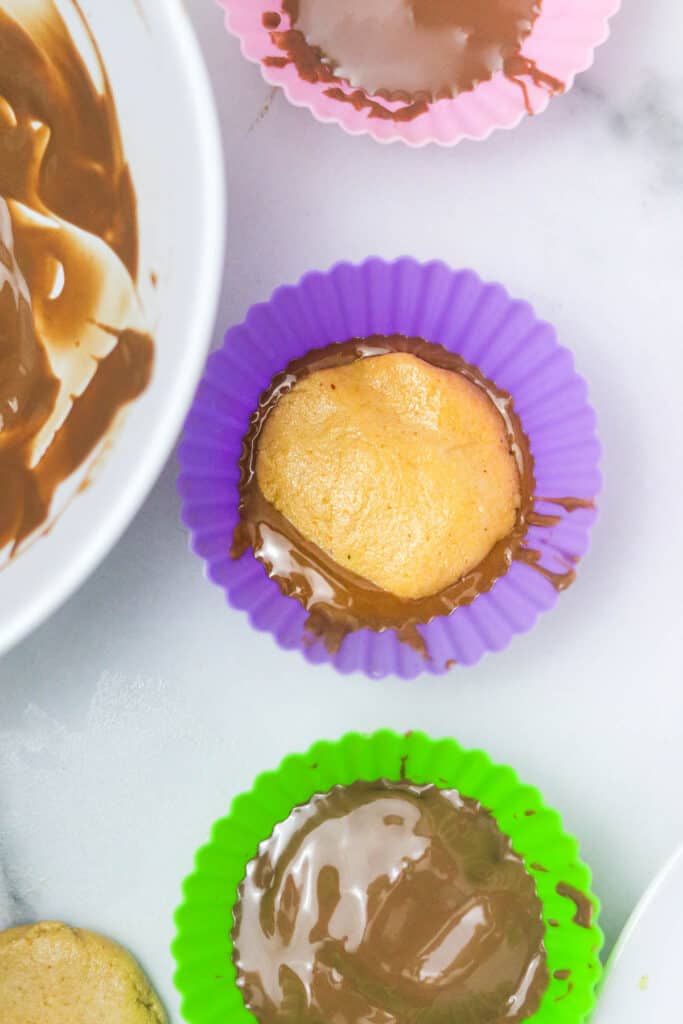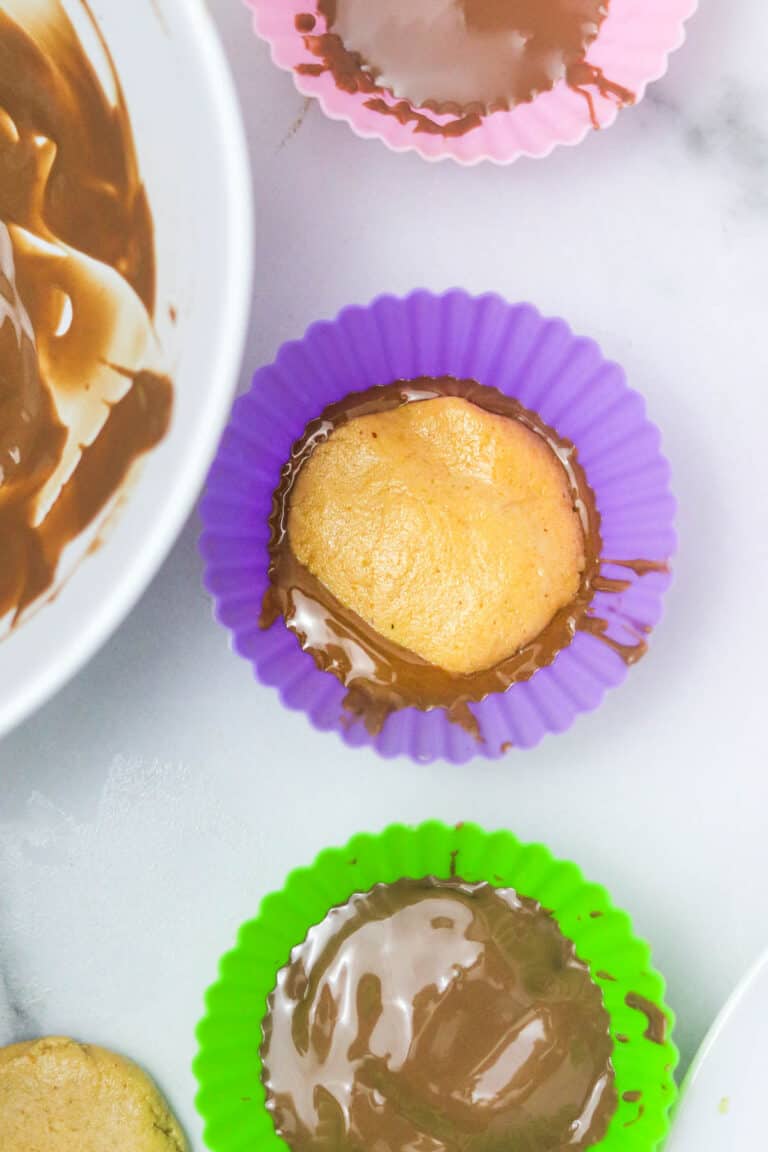 Cover the peanut butter mixture that's now in your muffin tin/liners with more chocolate.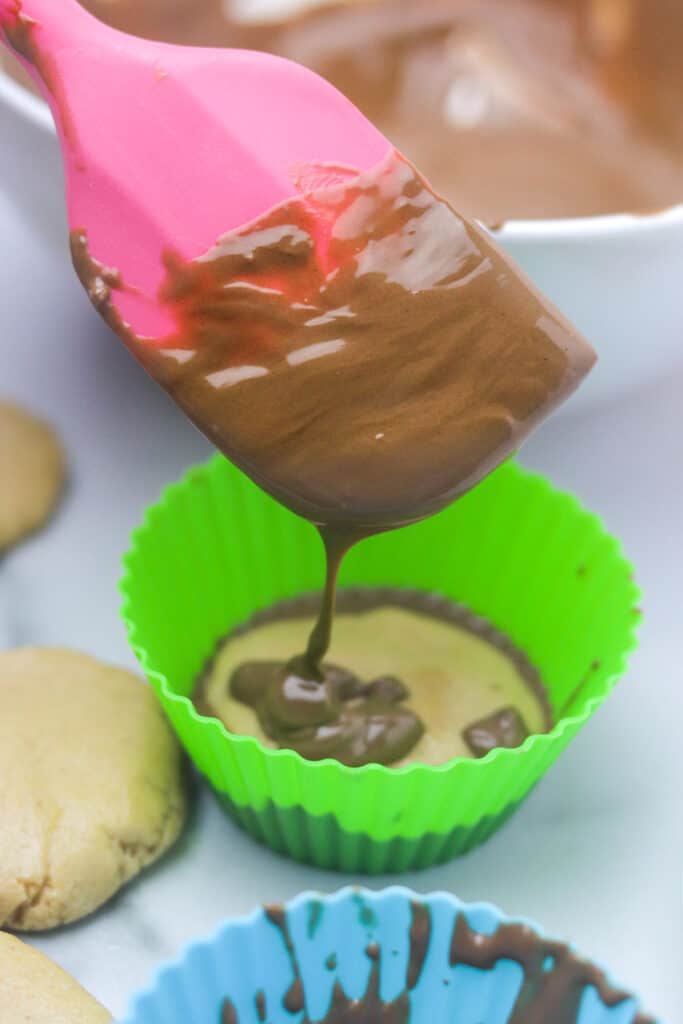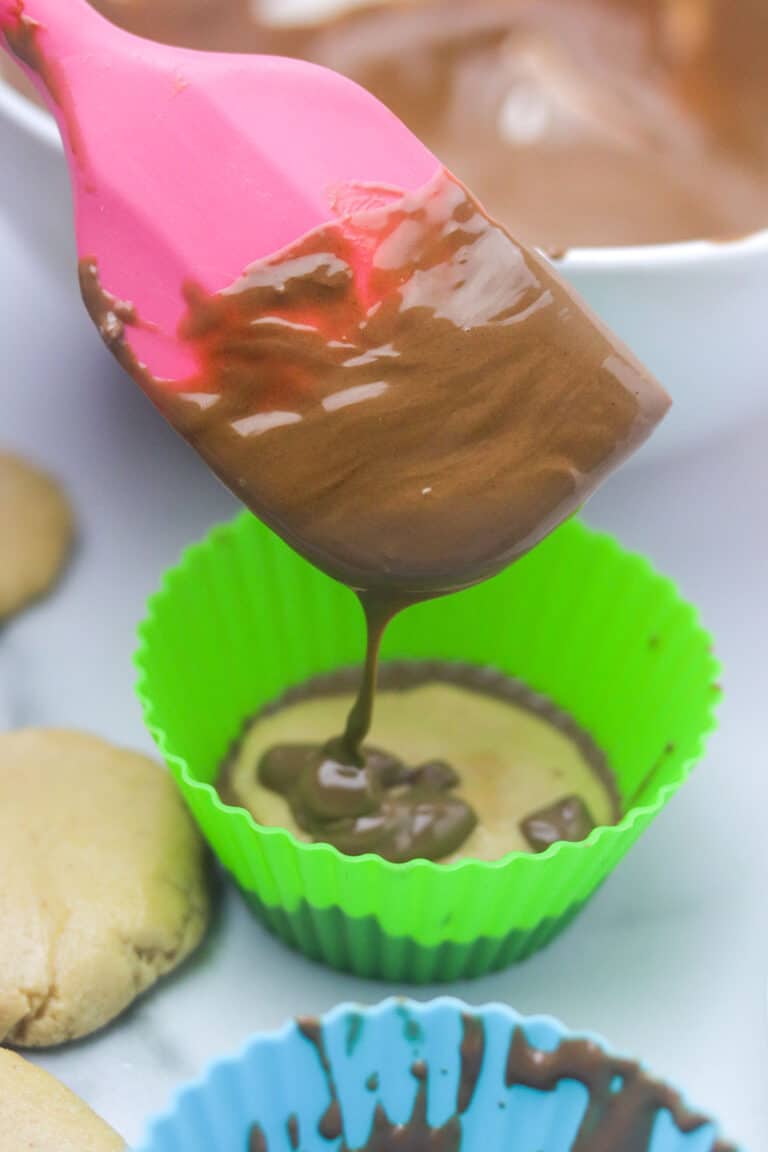 Repeat this process about 6 more times, or until you've used all of your peanut butter/chocolate. (The amount it makes might depend on how big your tin/liners are!)
Allow your copycat peanut butter perfect bar cups to cool fully. I like to pop mine in the fridge to harden faster- I usually want to eat them ASAP!
Once hardened, grab one and dig those teeth into it! ENJOY!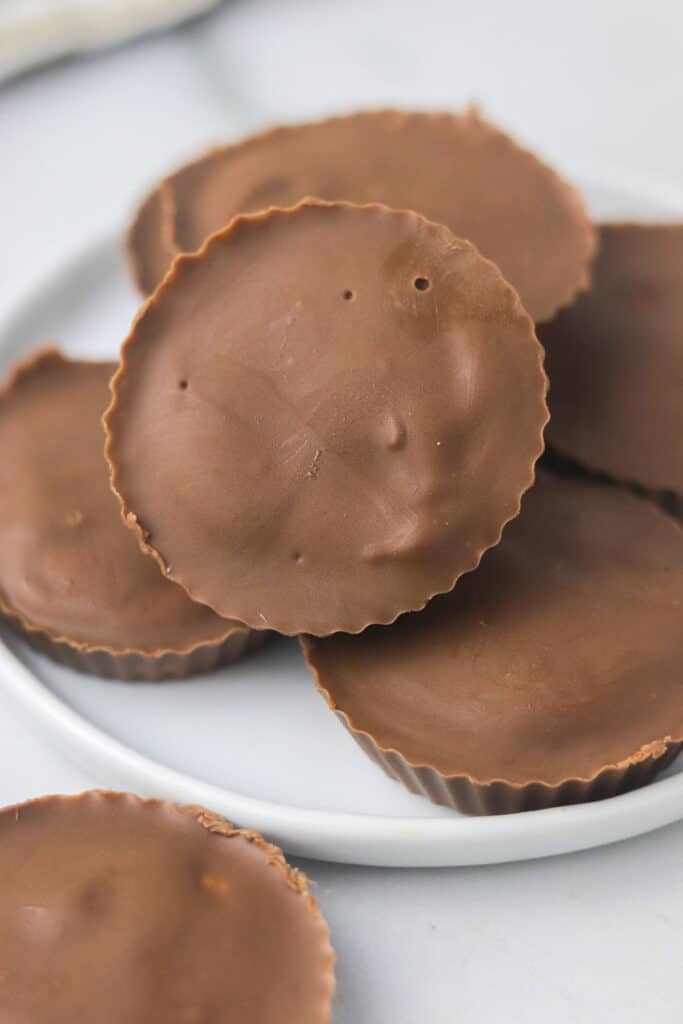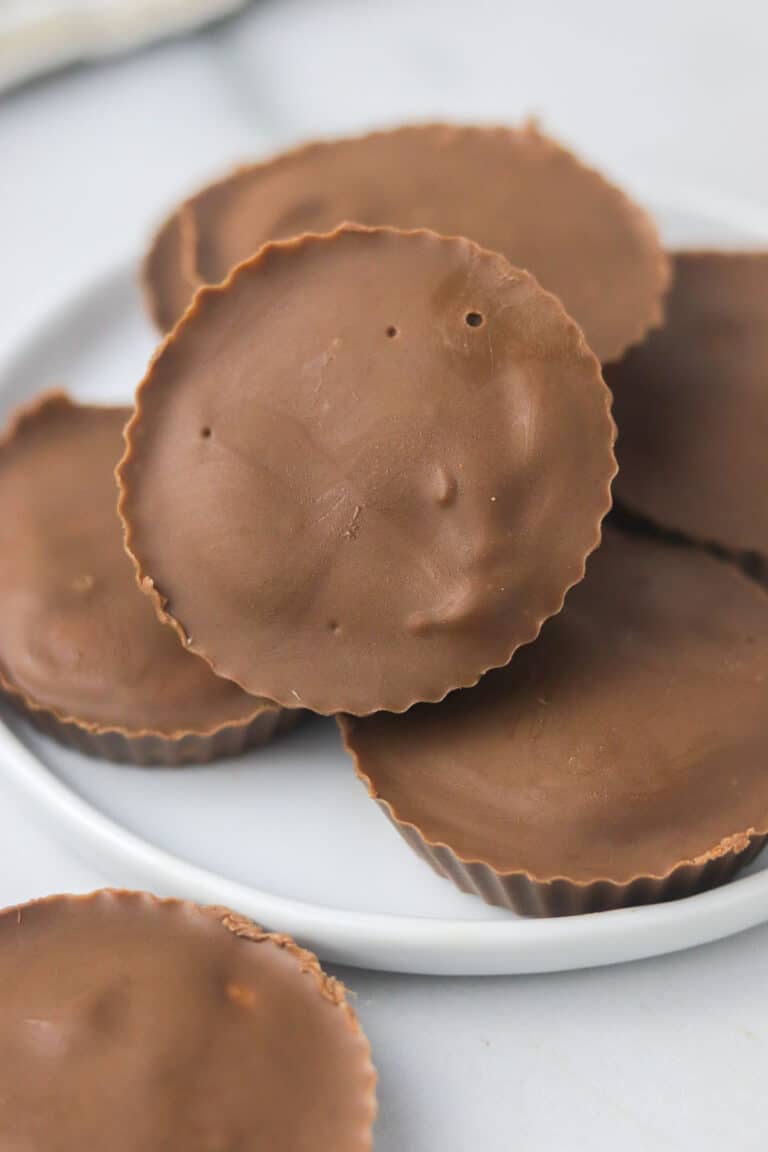 Homemade Perfect Bar Protein Peanut Butter Cups FAQ's
Is this Perfect Bar cup recipe dairy free?
It can be, yes! This will depend on a few things like the protein powder and the chocolate chips you use. Be sure those are dairy free and then, yes, totally!
Are these vegan peanut butter Perfect Bar cups?
Again, they can be! Just be sure to take a look at your protein powder and chocolate. Sometimes you might need to check the peanut butter, too, just to be safe. That's another reason I recommend Inspired Organics!
Can you freeze this peanut butter cup perfect bar recipe?
Heck YES. I either store these in the fridge or in the freezer. Both are FAB! Just be careful when eating them frozen, you don't want to chip a tooth! Usually, I'll let them sit out for a few minutes before eating if they've been in the freezer.
When to eat a Perfect Bar peanut butter cup?
Legit ANY time of day. Morning, noon, night. If the craving strikes, go for it! Heck, I also love chopping one of these babies up and putting it on top of a smoothie. Or just biting into one at 7am. There are no rules! Do what feels good to you.
I hope you LOVE this homemade Perfect Bar peanut butter cup recipe as much as I do! And… I think you're going to love how much money you save, haha! I'm a big budget person and making these cups yourself is WAY cheaper than buying them. Pair that with super affordable ingredients, like Inspired Organics, and you've got a lot more cash in your pocket, my friend!
Be sure to leave a star rating on the recipe card! It helps me to create more recipes for you and more of the ones you love!
Leave a comment if you make these! I love hearing from you!
XOXO
-Colleen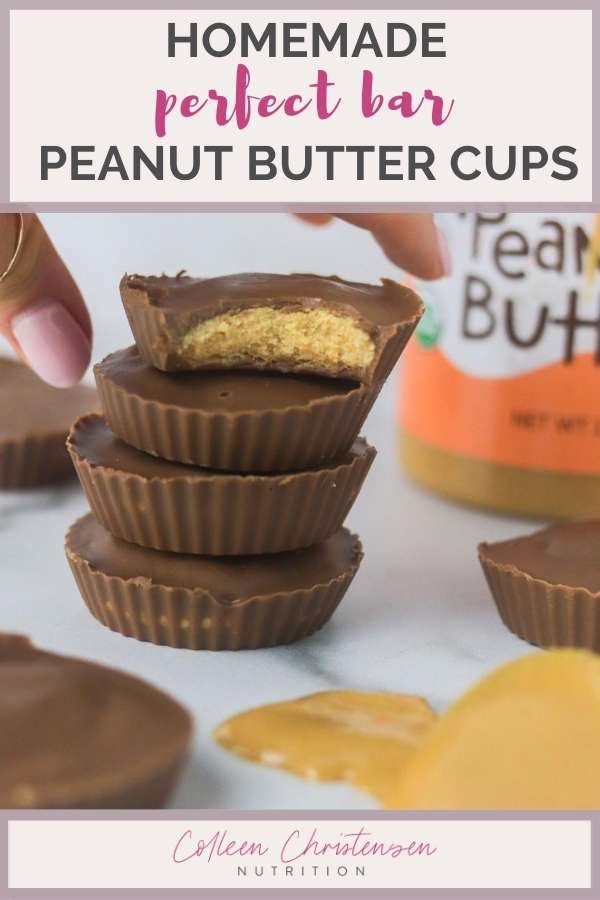 This blog post contains affiliate links, which means that if you click on a product link, I may receive a commission. All opinions are my own, and all brands featured represent what I personally like and support. This blog is a participant in the Amazon Services LLC Associates Program, an affiliate advertising program where I earn advertising fees by linking to amazon.com.
**This blog post has been sponsored by Inspired Organics. However, all thoughts and opinions are my own**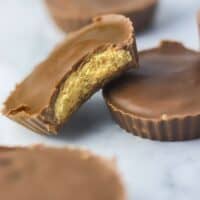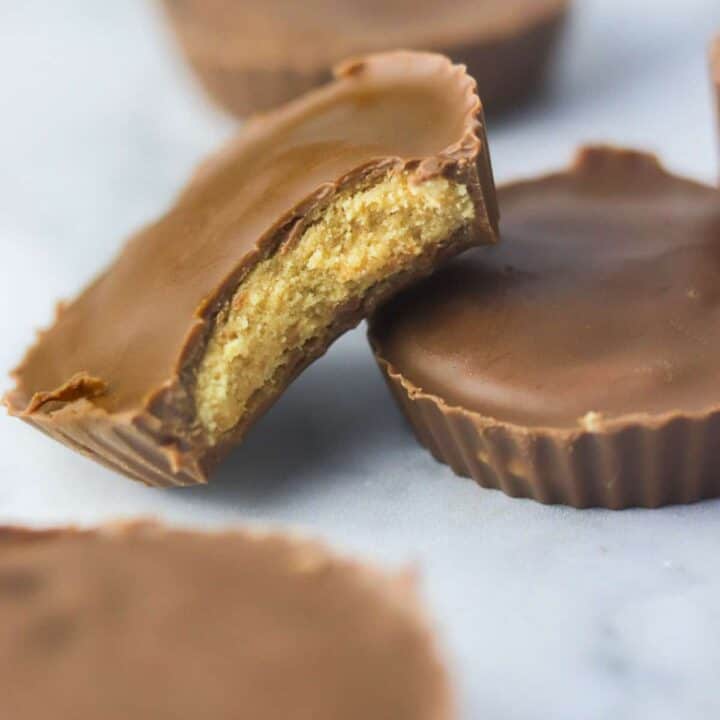 Peanut Butter Cup Perfect Bar Recipe
These creamy peanut butter cups are a total Perfect Bar copycat! The delicious peanut butter cups you love with an added protein boost!
PRINT RECIPE
Ingredients
1/2

cup

chocolate chips

2

tsp

coconut oil

1/4

cup

Inspired Organics peanut butter

1

scoop protein powder

~1/3 cup

1

tbsp

honey
Instructions
Combine peanut butter, protein powder and honey, mixing well. You should be able to shape this mixture into a ball.

Melt together the chocolate and coconut oil in the microwave cooking for ~60 seconding, stopping to stir every ~15-20 seconds.

Take a muffin liner ( I recommend the silicone ones!) and cover the bottom with chocolate.

Then, take 1/7th of your peanut butter mixture (roughly 1 tbsp), roll into a ball and flatten slightly. Place on top of the melted chocolate in the muffin liner.

Top peanut butter mixture with more chocolate until covered.

Repeat with remaining chocolate and peanut butter mixture (about 7 in total)

Pop your assembled peanut butter cups in the fridge for about 20 minutes to harden.

Once hardened, sink your teeth into one and enjoy!
Notes
In order for the peanut butter mixture to work, use the drippy peanut butter with just peanuts as an ingredient. If your peanut butter isn't super drippy you'll need to pop your peanut butter in the microwave to melt it slightly.
click To display nutrition info
Nutrition Facts
Nutrition Facts
Peanut Butter Cup Perfect Bar Recipe
Amount per Serving
% Daily Value*
* Percent Daily Values are based on a 2000 calorie diet.