Peanut butter and jelly. Macaroni and cheese. White chocolate and cherry. These duos are just BOMB, right?! Glad you agree because today I'm sharing with you a mind-blowing recipe for easy white chocolate cherry granola!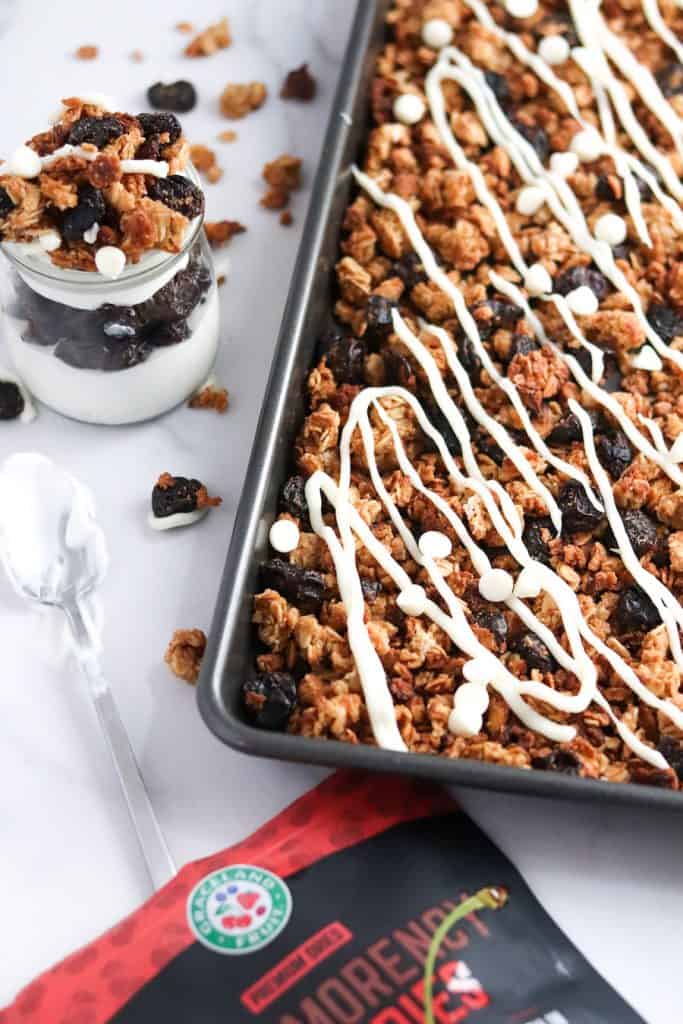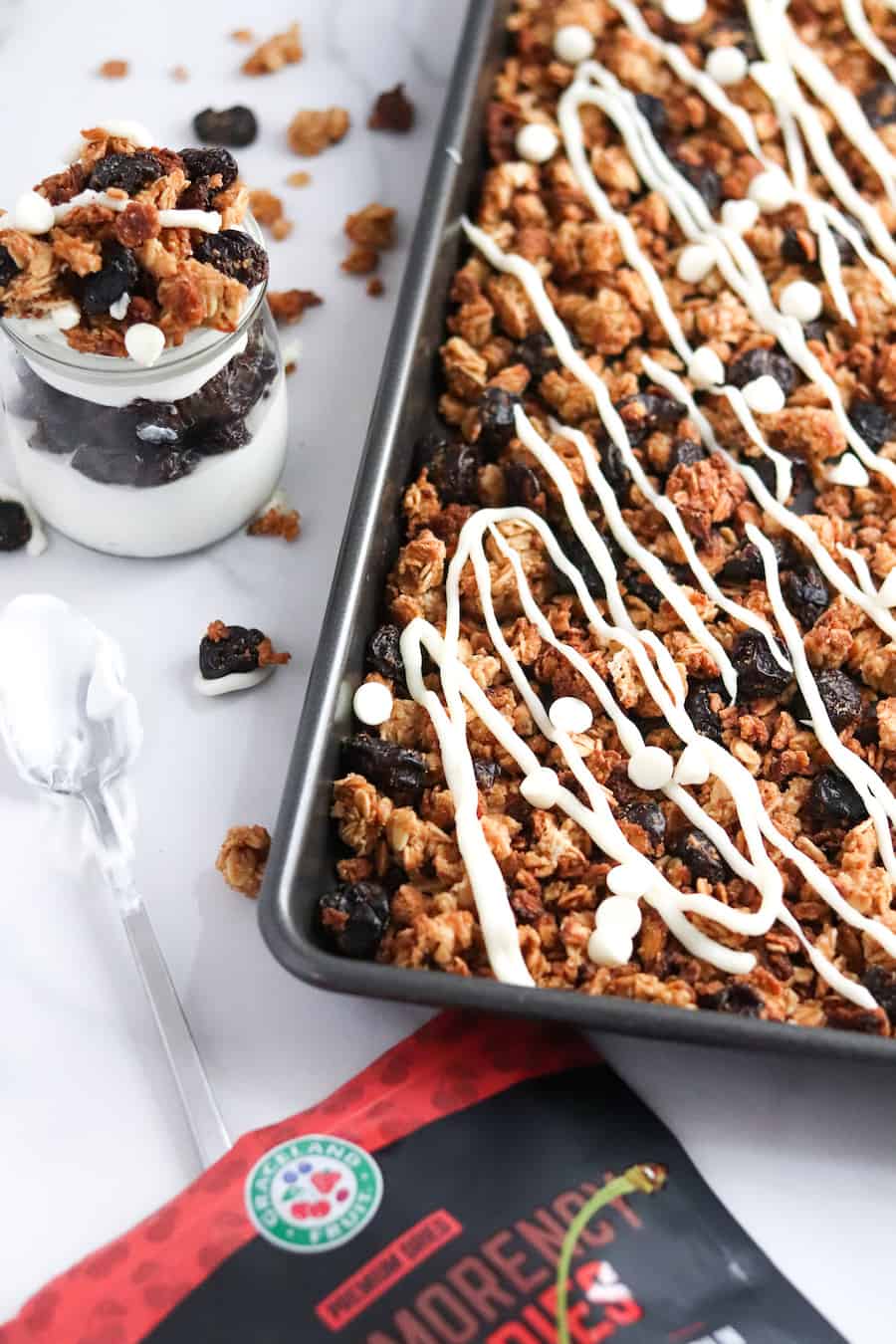 Secret? I didn't eat granola for 6 years. An even bigger shockers? I didn't eat it because I LOVED it. Back Asswards, right?! I avoided eating granola because I was scared of eating "too much" and exceeding the bizarre, bogus calorie limit I had been restricting myself to. This limit was making me HANGRY 24/7 'cause I had set the calories WAY too low, like almost everyone who counts calories does.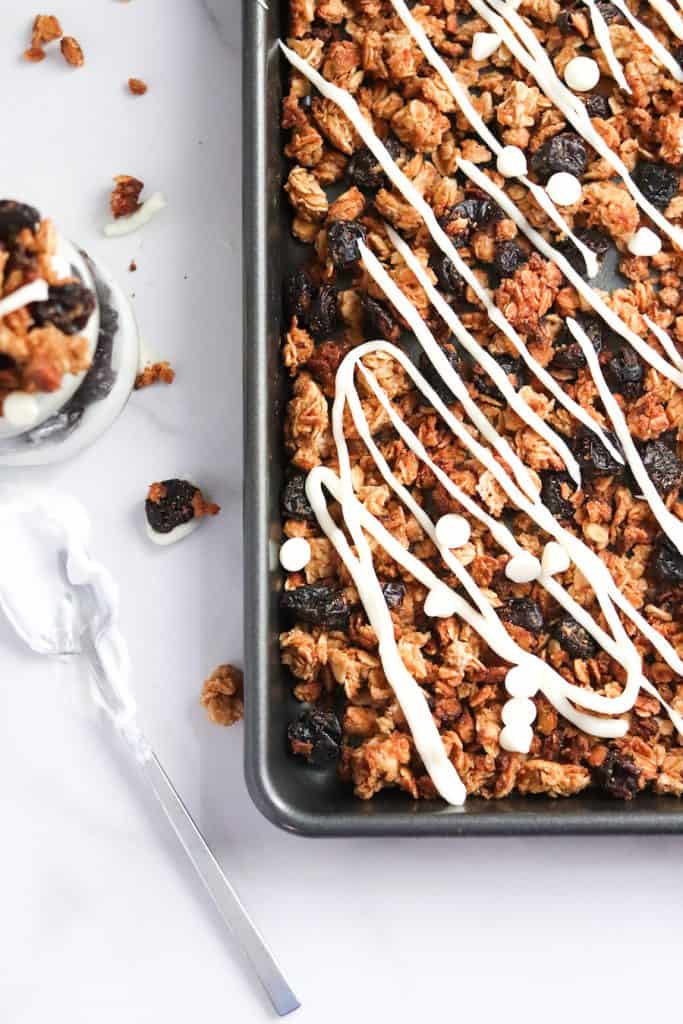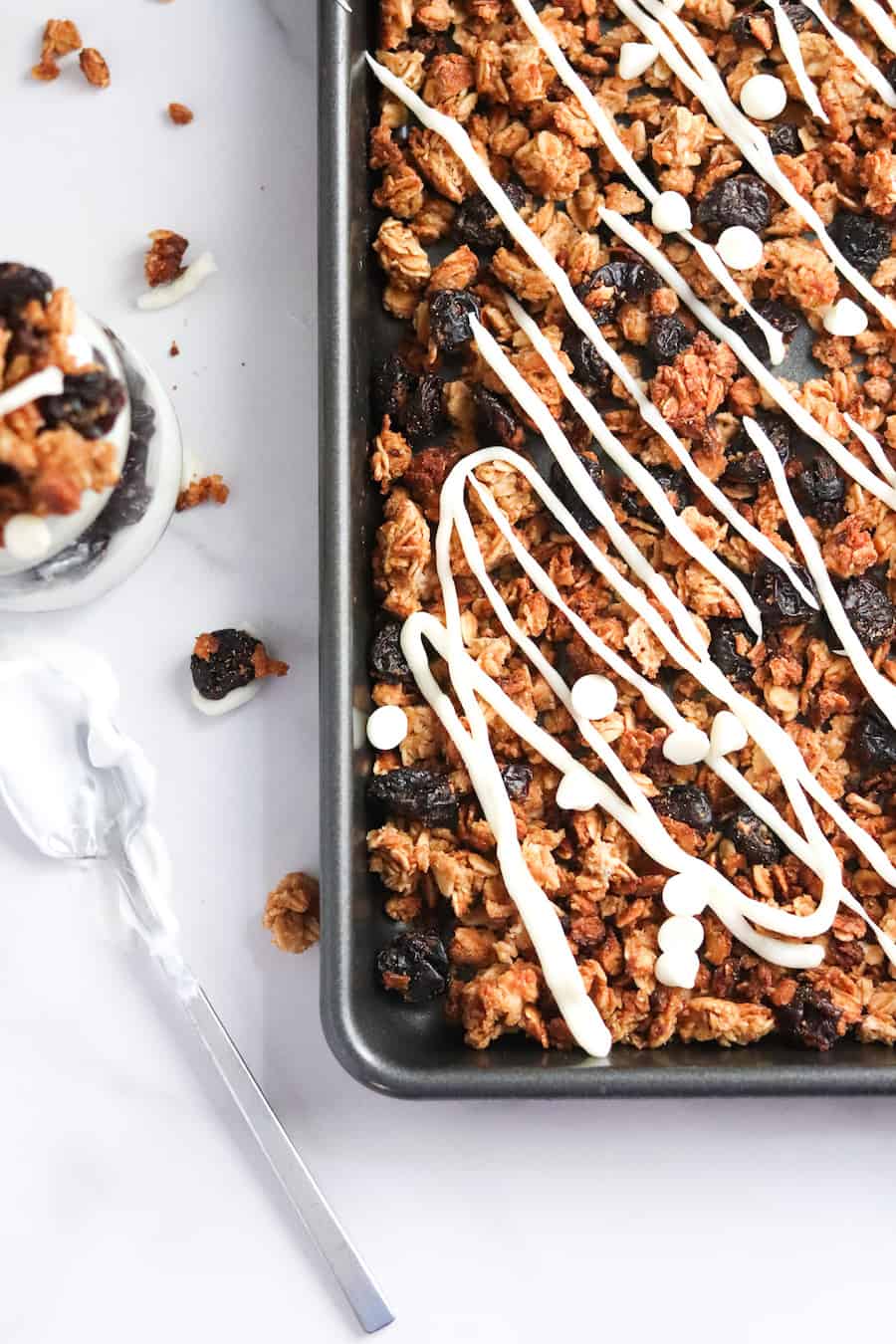 When I finally stopped counting calories and started listening to my body to tell me when, what, and how much to eat I was able to enjoy the foods I loved again, like granola. I was able to do this without the fear of seeing that negative number in MyFitnessPal, which felt SO GOOD.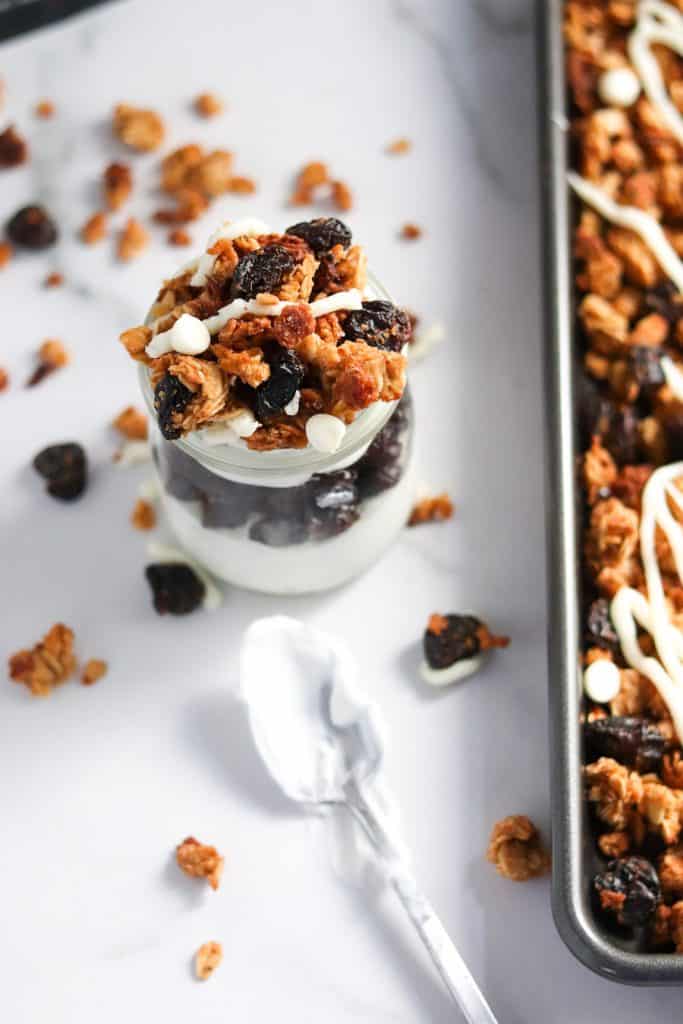 You can download my free step-by-step guide to finding food freedom and ending calorie counting here!
I'm SO happy that I'm back on the granola train because I can NOT get enough of this white chocolate cherry granola! I live in Michigan, which is kinda known for it's amazing, high quality supply for cherries. We even have a giant Cherry Festival each July, which is basically like heaven on earth. Seriously.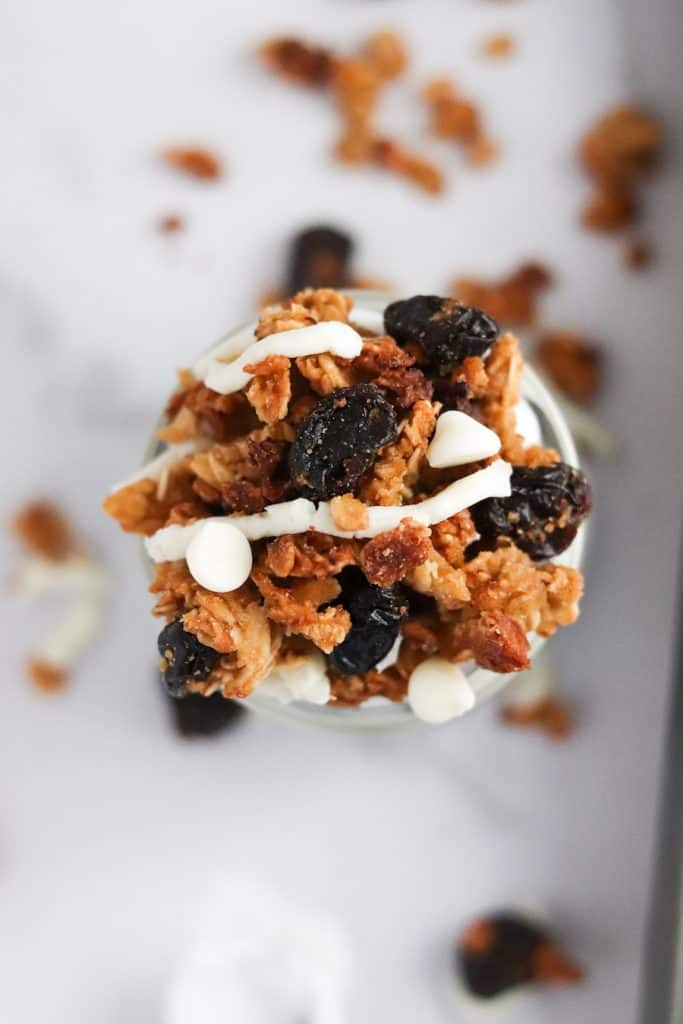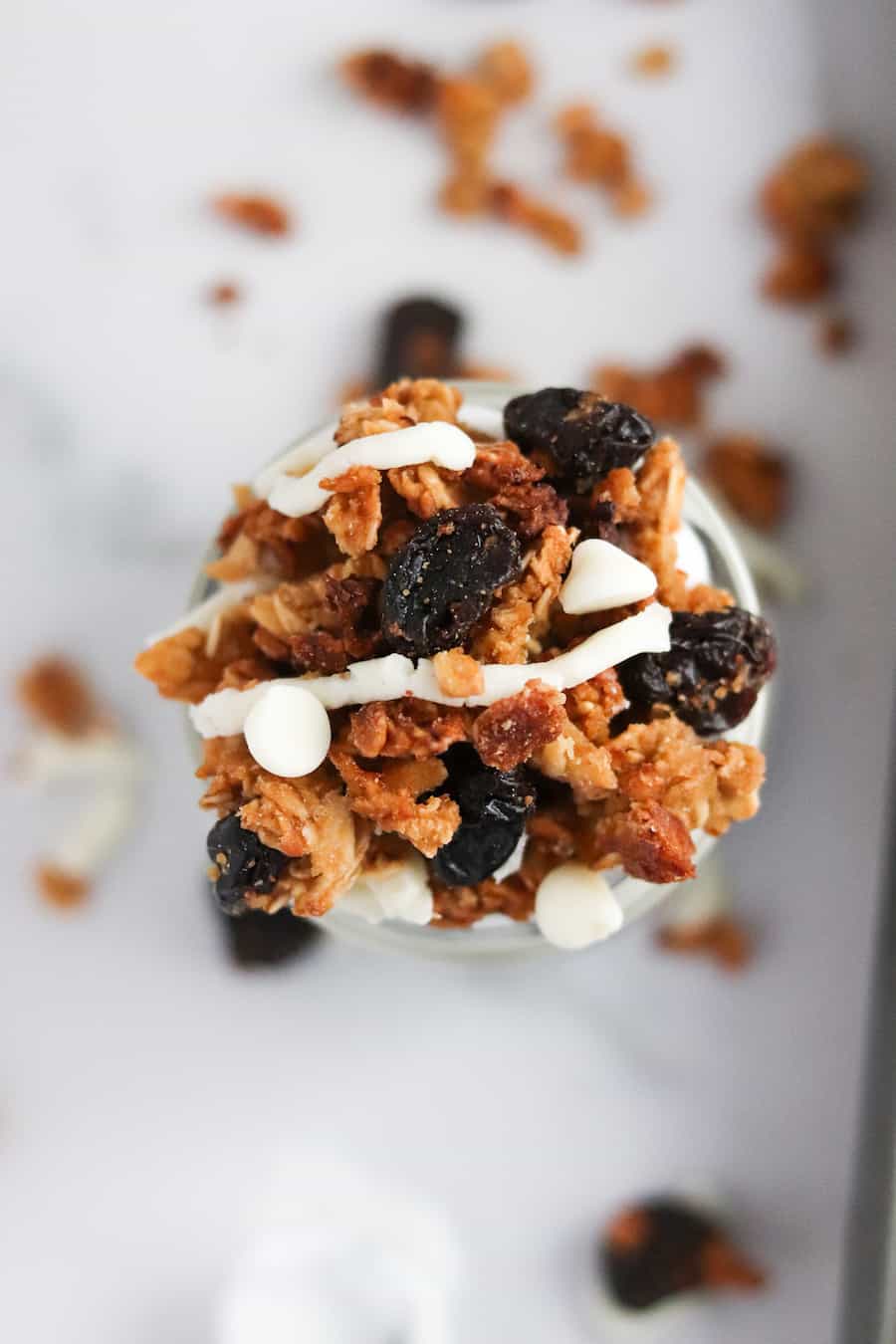 Since Michigan has FAB cherries I make sure to use Michigan grown cherries in all of the recipes I make. My fave, and what I used for this white chocolate cherry granola recipe, is Graceland Fruit. They never fail me with the flavor of their dried fruits!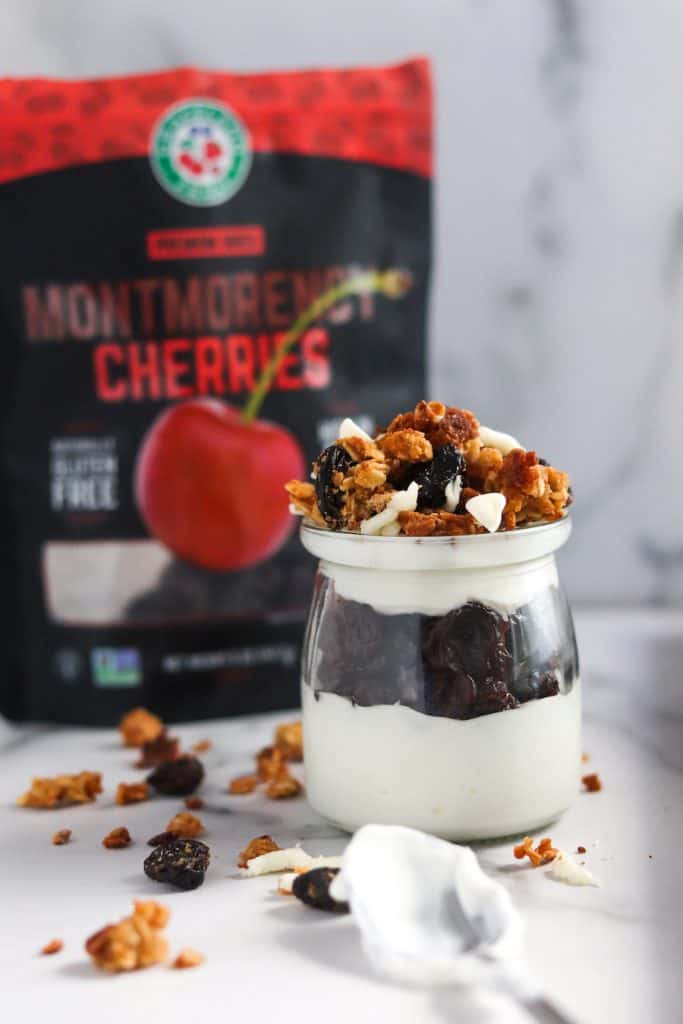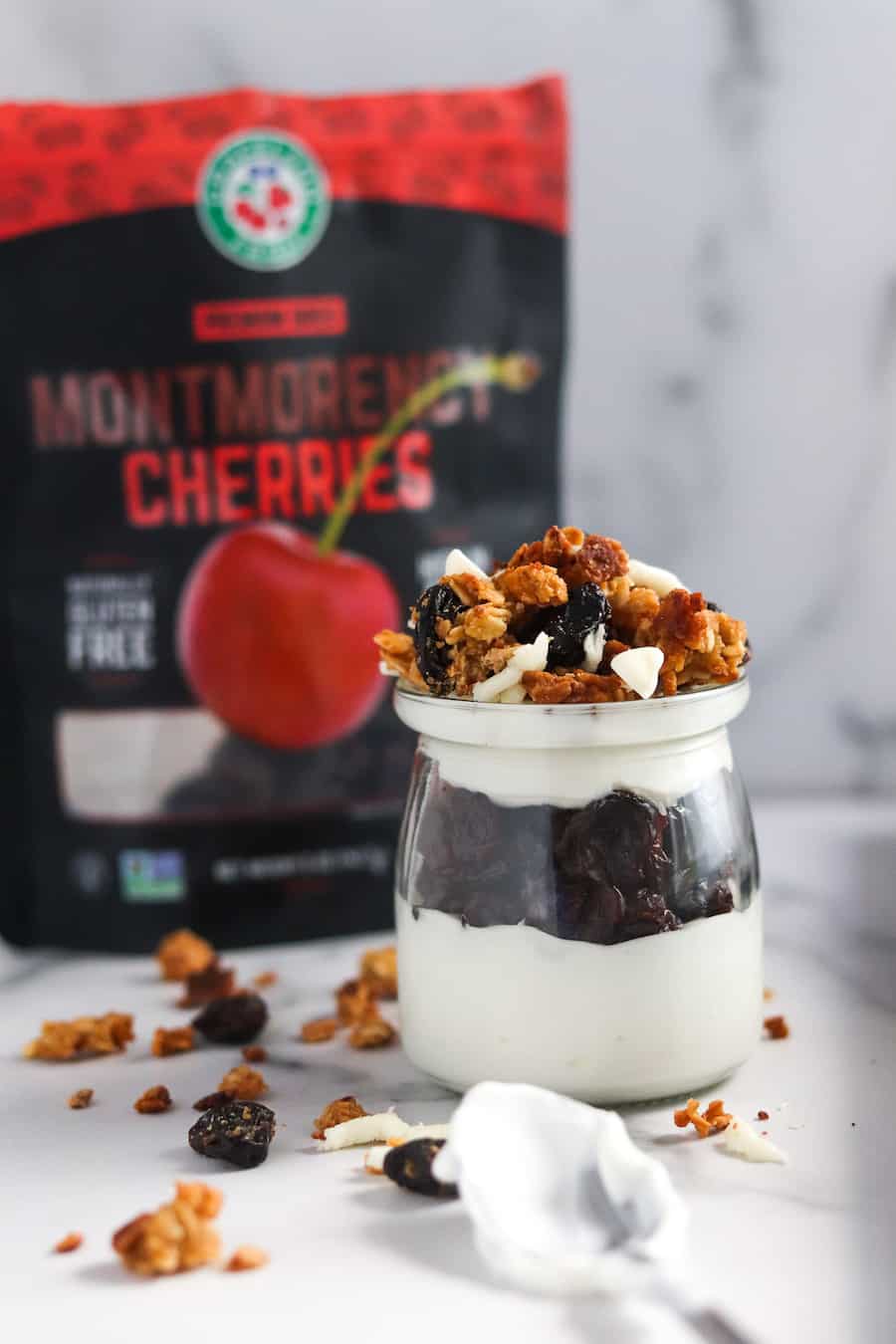 Honestly, this granola recipe is stupid simple. Fool proof, really! Plus, when you're making it your house will smell utterly amazing! You can thank me later for that =]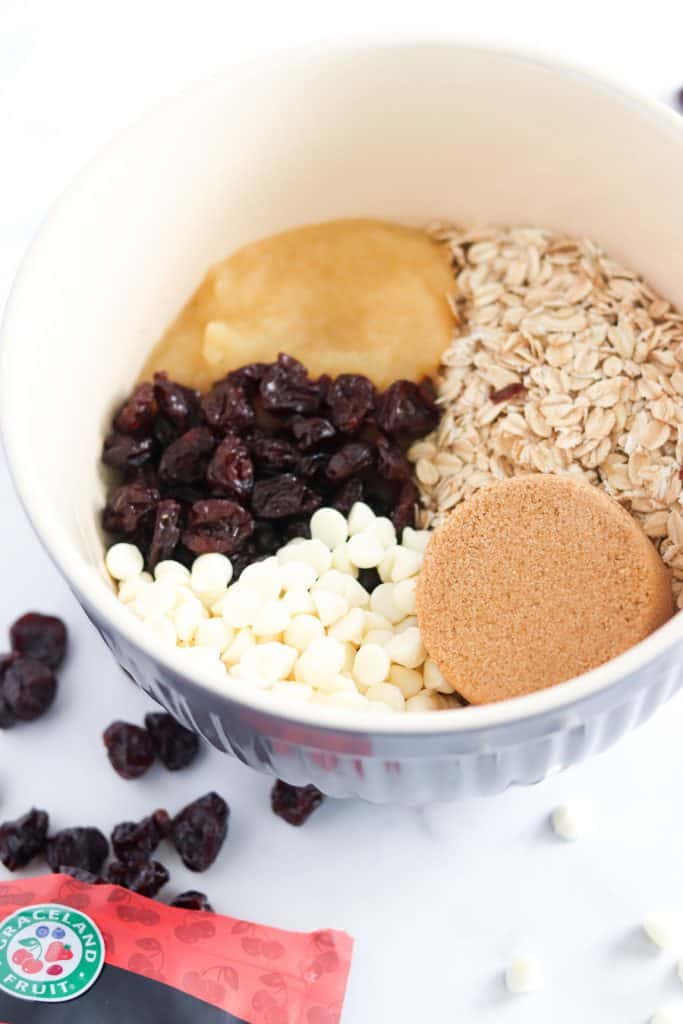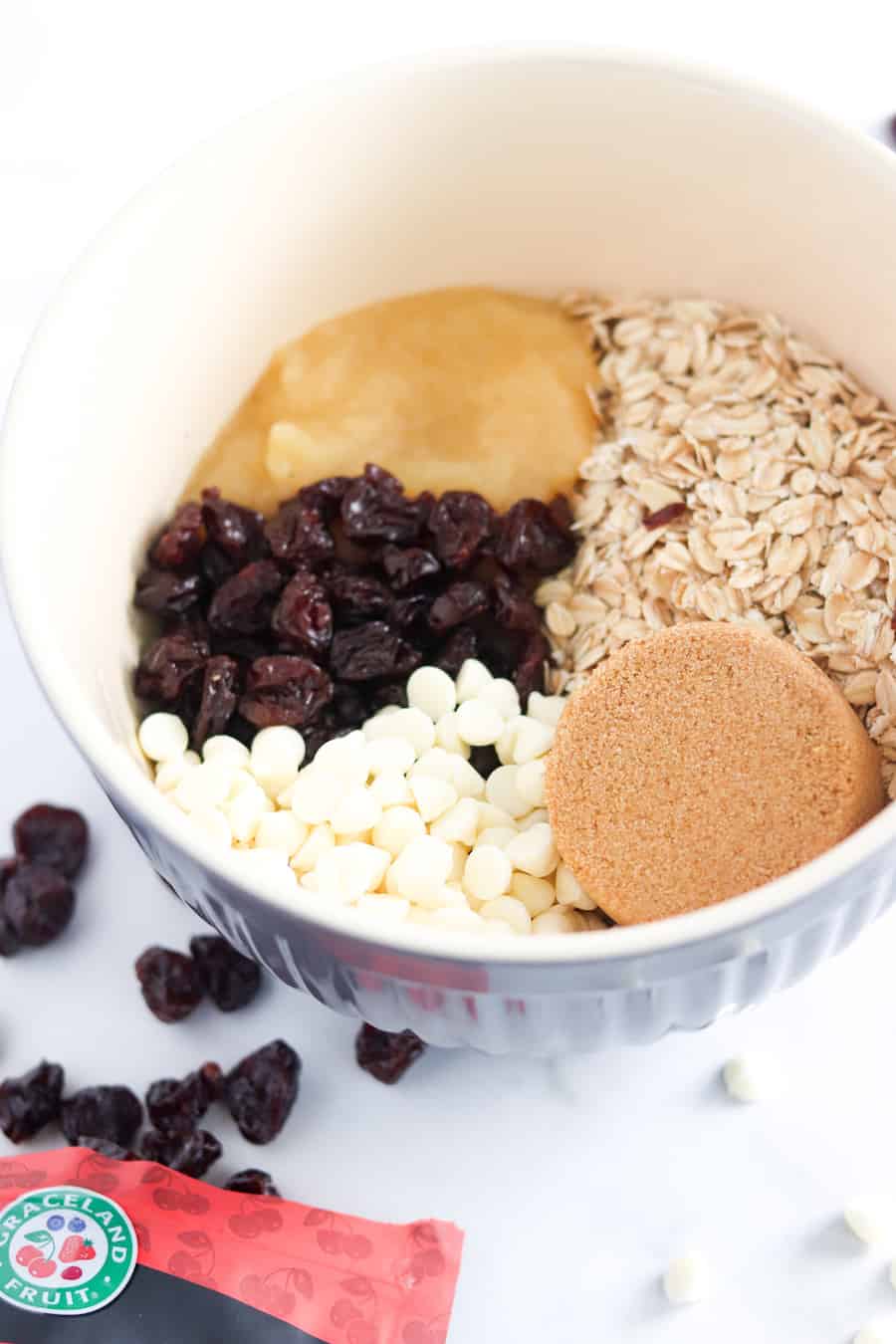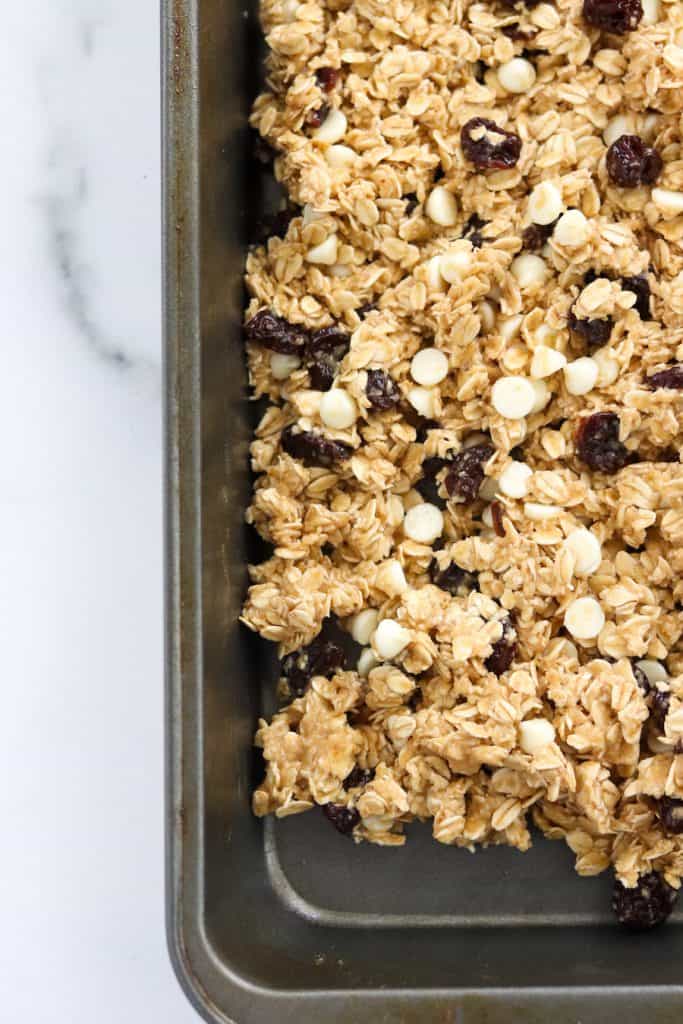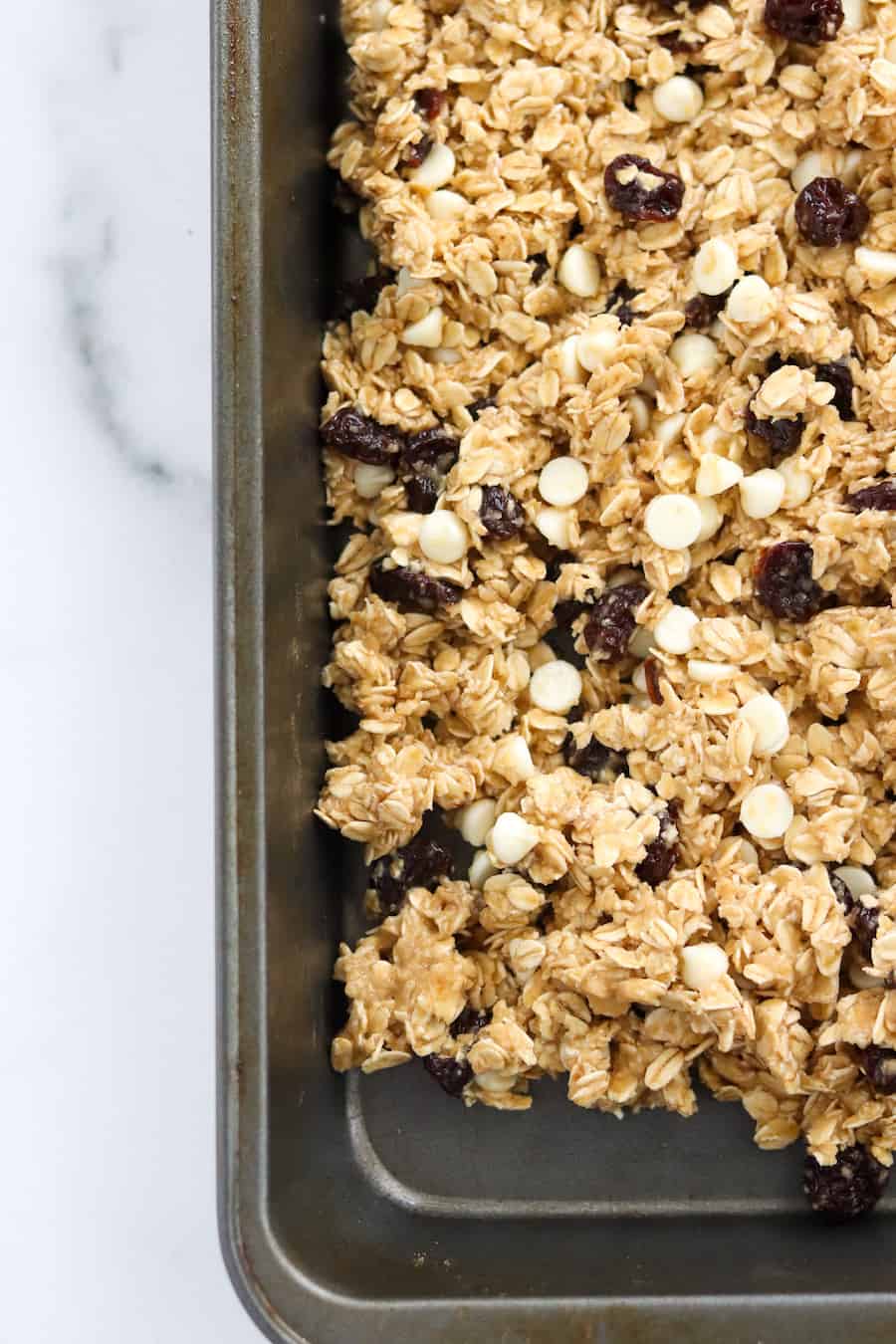 Take a second and save this recipe to your Pinterest board so you can keep it handy! You'll want to make this white chocolate cherry granola year round, not just in the peak cherry season of summer!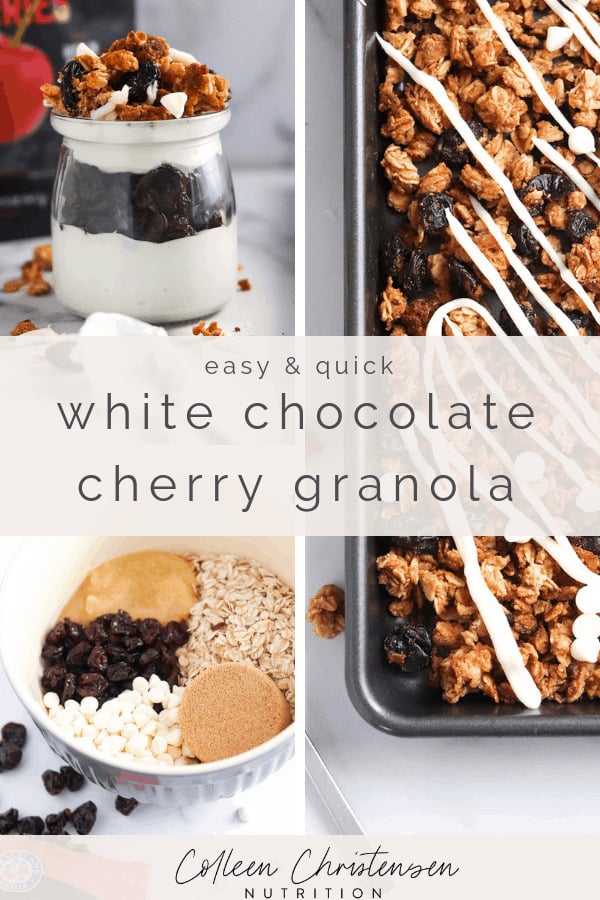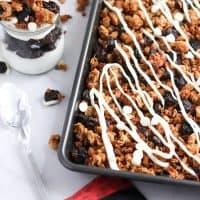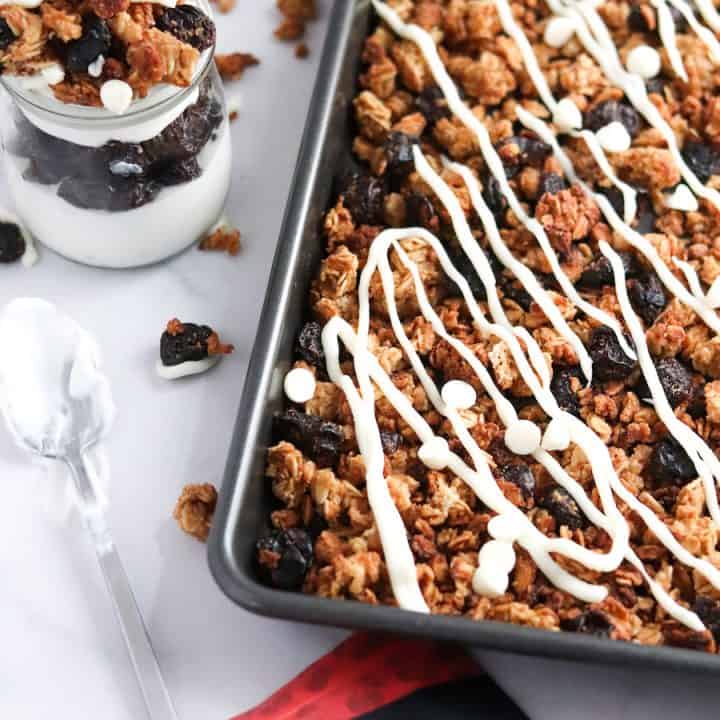 White Chocolate Cherry Granola
This white chocolate cherry granola is the perfect crunch for yogurt, on top of fruit, mixed with milk or simply snacking on by itself!
PRINT RECIPE
Ingredients
2

cups

old fashioned oats

½

cup

brown sugar

1

cup

applesauce '

1

tbsp

vanilla

1

cup

dried cherries

½

cup

white chocolate chips

¼

tsp

salt
Instructions
Preheat oven to 350 degrees, lightly spray a large baking sheet with nonstick spray. Set aside.

In a large bowl stir together oats, brown sugar, applesauce, vanilla, cherries, chocolate chips and salt. Combine well.

Spread mixture onto prepared baking sheet and bake for 60 minutes, stirring every 15 minutes.

Drizzle with additional melted white chocolate, if desired.

Remove from oven, allow to cool, and enjoy!
Notes
Notes: For larger chunks of granola start by forming mixture into one solid, thin layer on the baking sheet, like one large clump. At the first 15 minute stir break into desired chunk size.
click To display nutrition info
Nutrition Facts
Nutrition Facts
White Chocolate Cherry Granola
Amount per Serving
% Daily Value*
* Percent Daily Values are based on a 2000 calorie diet.
Get to the kitchen and make a big ol' batch of this recipe, then leave a comment with how you ate it! In a parfait? Snacking plain? Can't wait to hear!
Also, don't forget to snag your free food freedom guide here!
XOXO
-Colleen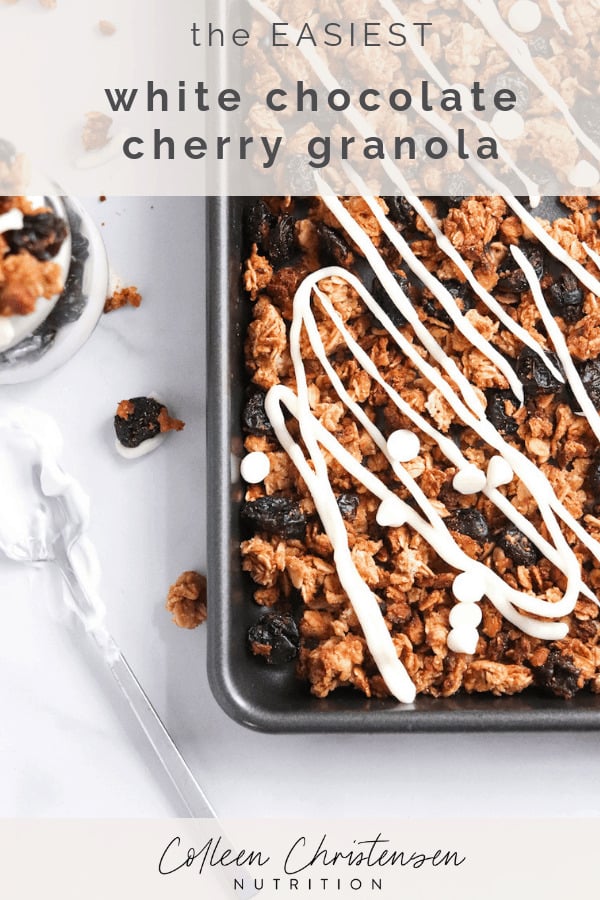 **This blog post has been sponsored by Graceland Fruit. However, all thoughts and opinions are my own**
Looking for more delish recipes like this? You might like these!
2 Ingredient Cherry Cashew Bites
Cranberry Orange Poppy Seed Muffins