There is one thing that my husband asks me to make almost every week and that's scones. I totally don't mind because they're delicious and kinda make me feel a little bit fancy when I have one in the morning with my coffee. Lately, I've been LOVING these easy apple cinnamon scones.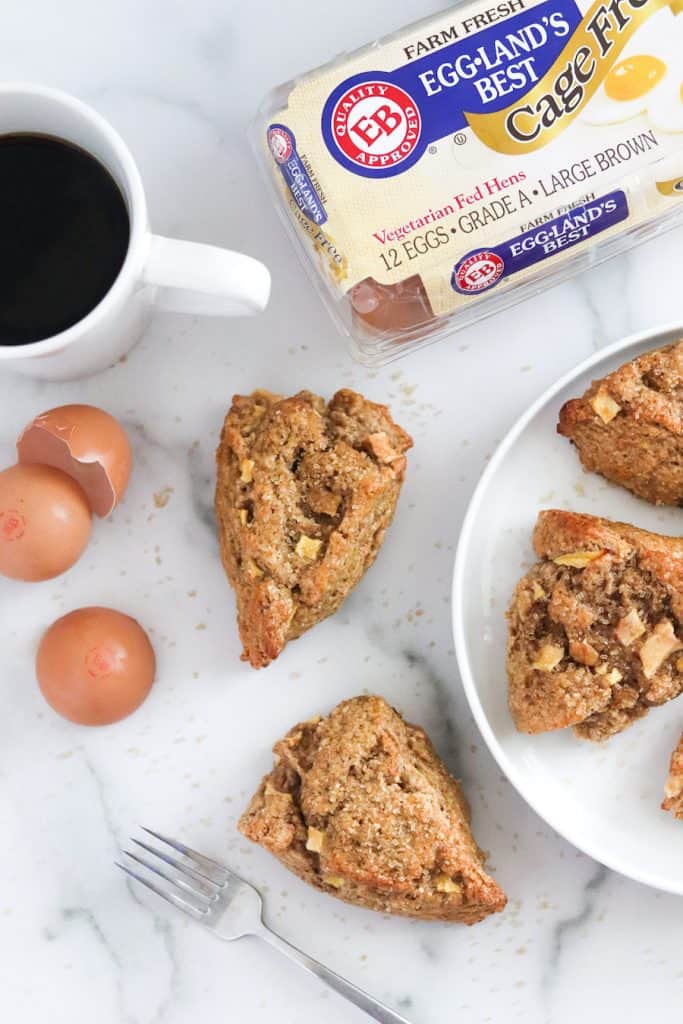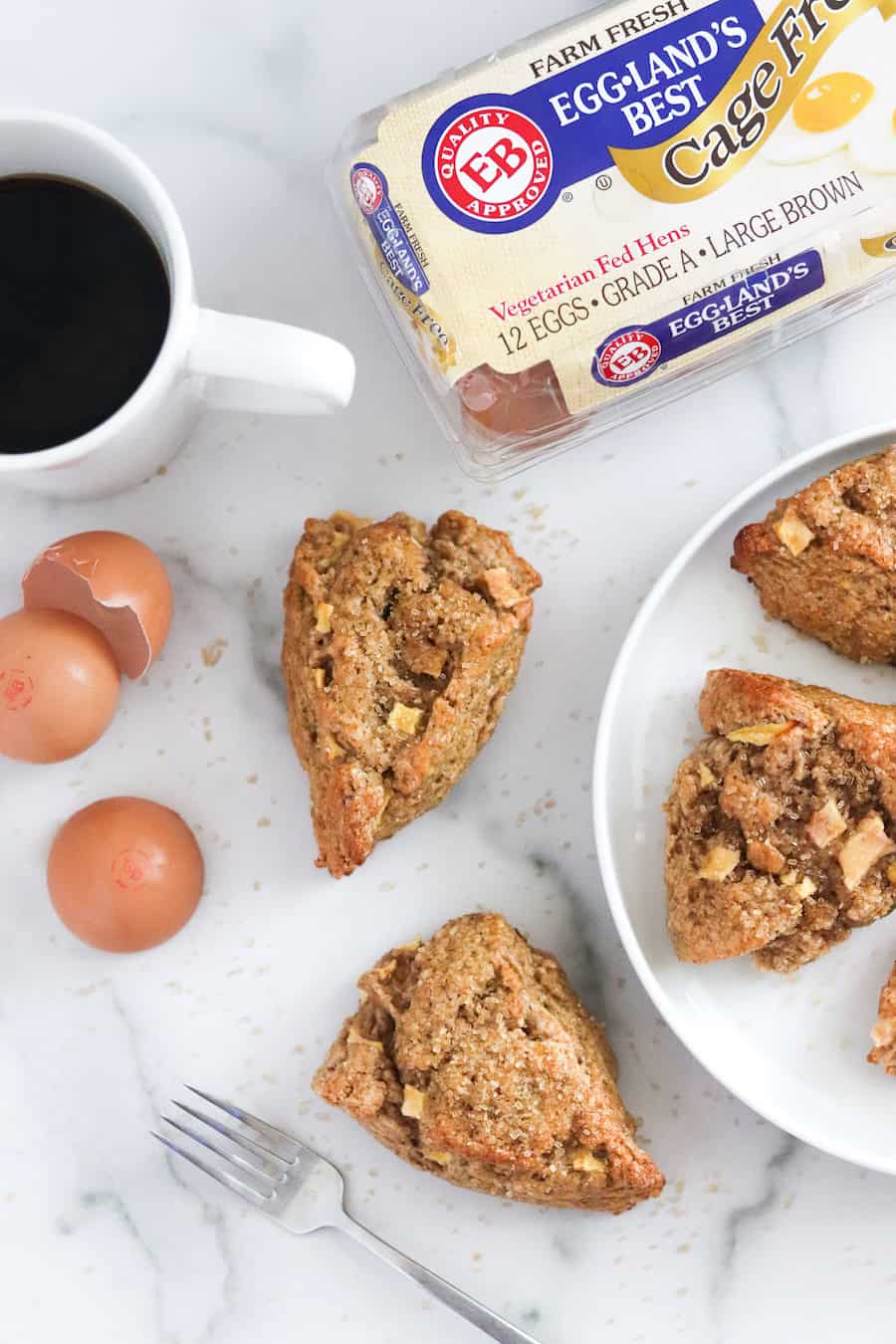 I can't stress the "easy" part of these scones enough. Seriously. When it comes to baking I'm not a complicated kinda gal. Actually, pretty much every aspect of my life is plain Jane and simple, but that's the way I like it. Uncomplicated. And these easy apple cinnamon scones are no exception.
Take a second to pin these easy apple cinnamon scones to your Pinterest board. When you make these once I thiiiink you're going to be asked to make them again, like I was. And I'd hate for you to misplace the recipe!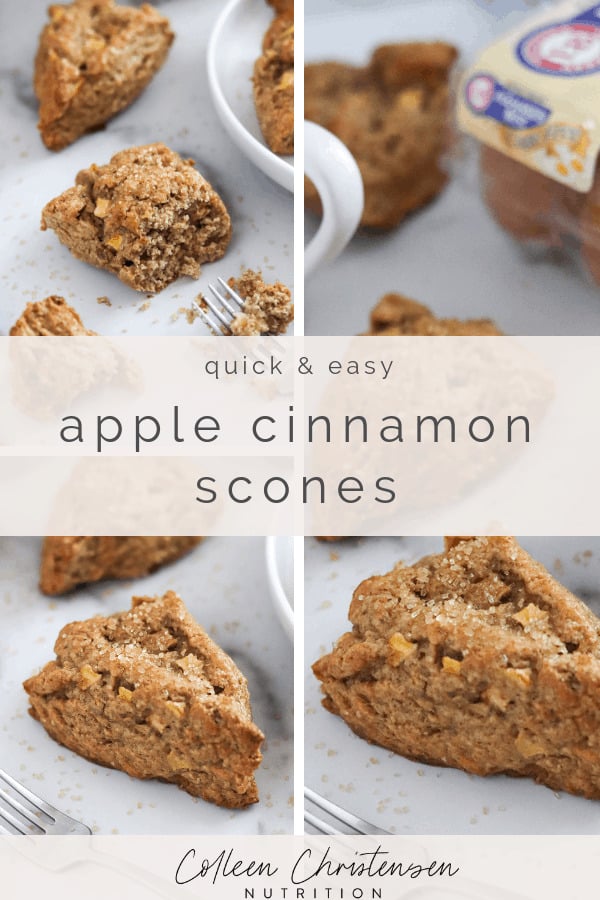 When you think "scone" you think of a big, ol' slab of butter, fat, and carbs from a bakery, right? Me too. And while I do LOVE those babies, eat them on the daily doesn't exactly make me feel super fabulous. I'd more so feel sluggish and probs be craving something whole grain with a little more nourishment. That's what happens when you start living a No Food Rules lifestyle, you start UNDERSTANDING what your body needs and wants, like whole grains, fruits, veggies, etc. Yet, you feel ZERO guilt or shame when you have that big bakery scone. Amazing, right?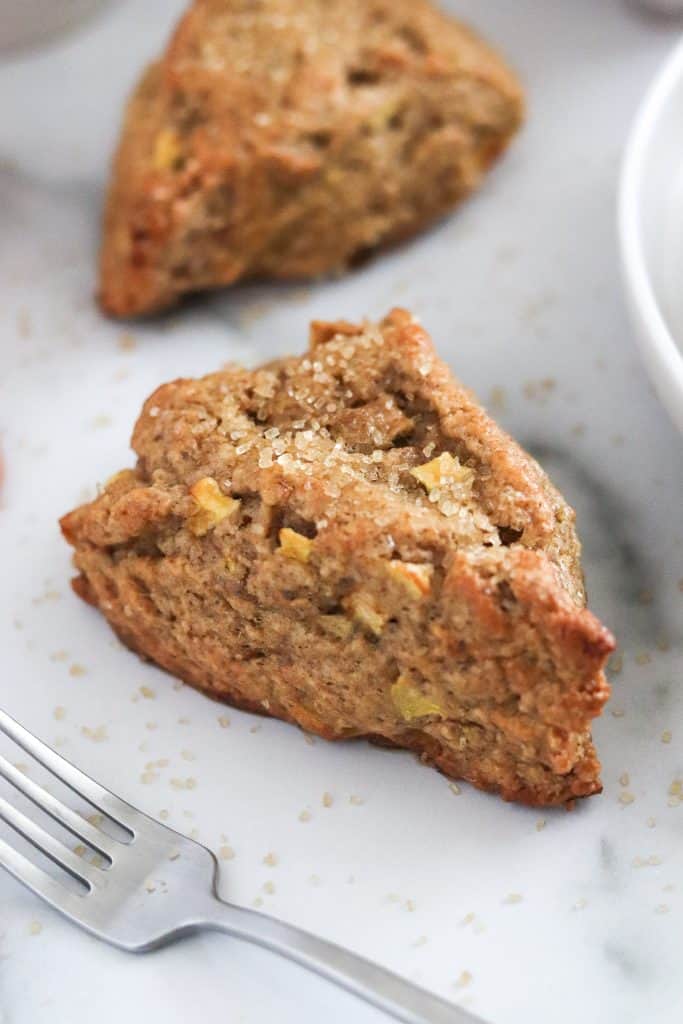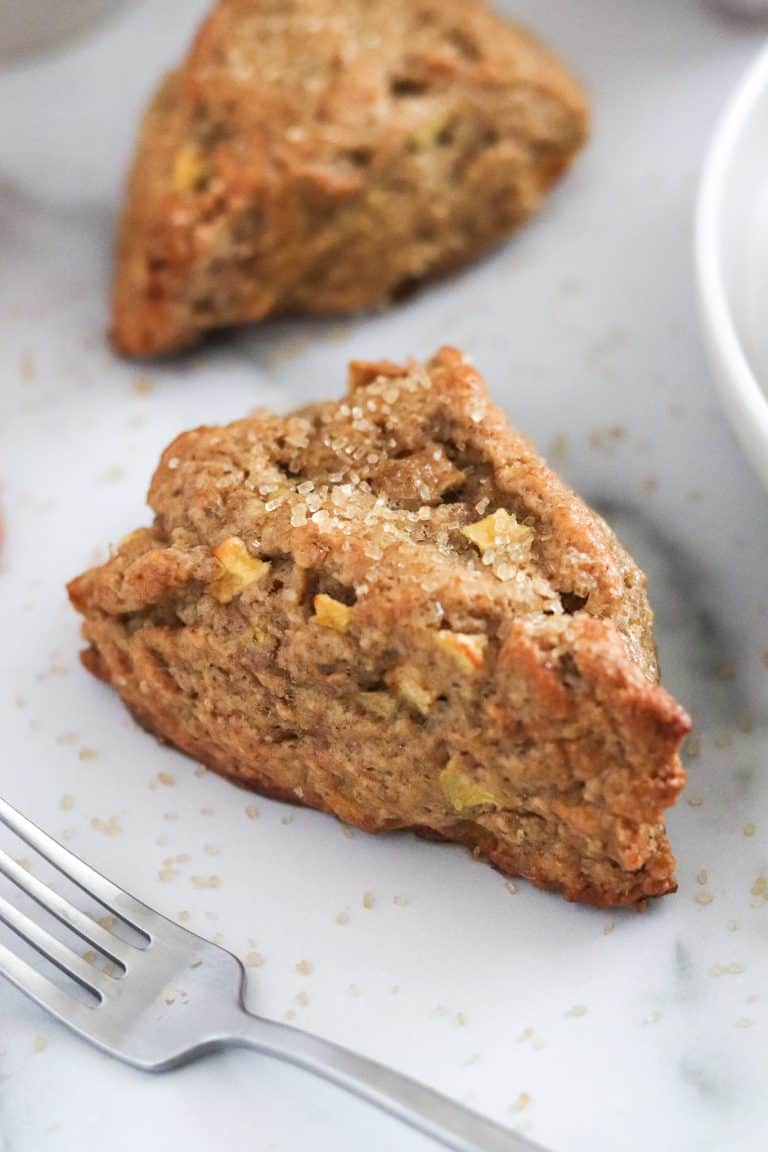 Want to find the No Food Rules lifestyle balance like I have, and the hundreds of women I teach have learned, too? You can get started today by downloading my free e-book: The Ultimate 5 Step Guide To Food Freedom. This is my total roadmap to nourishing your body without obsession AND enjoying life (like bakery scones!) without guilt, stress, or anxiety. Snag that e-book here!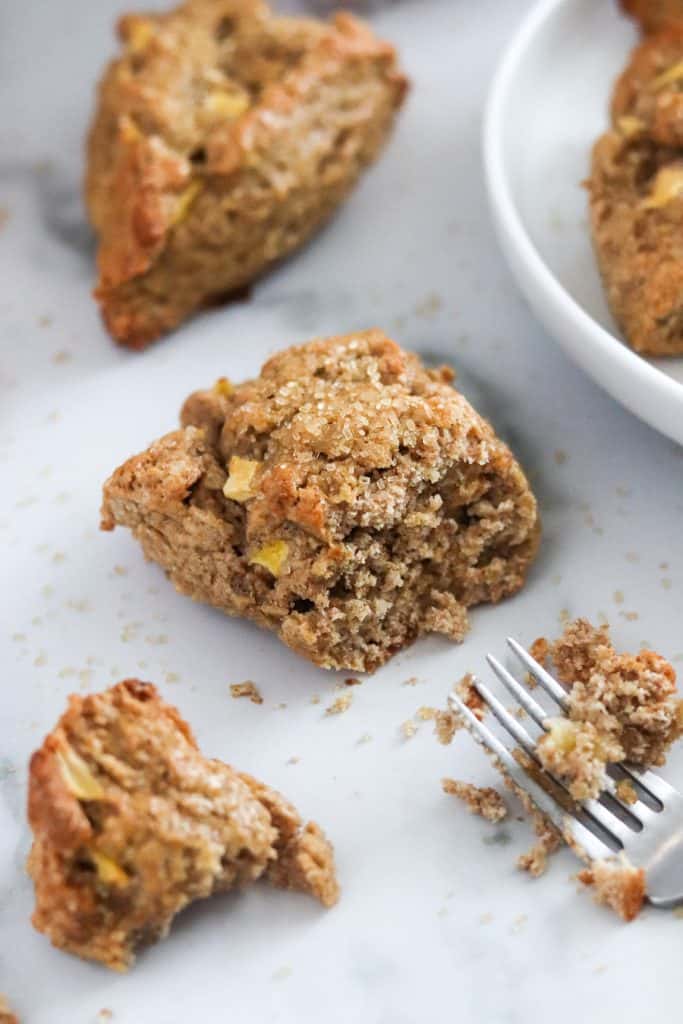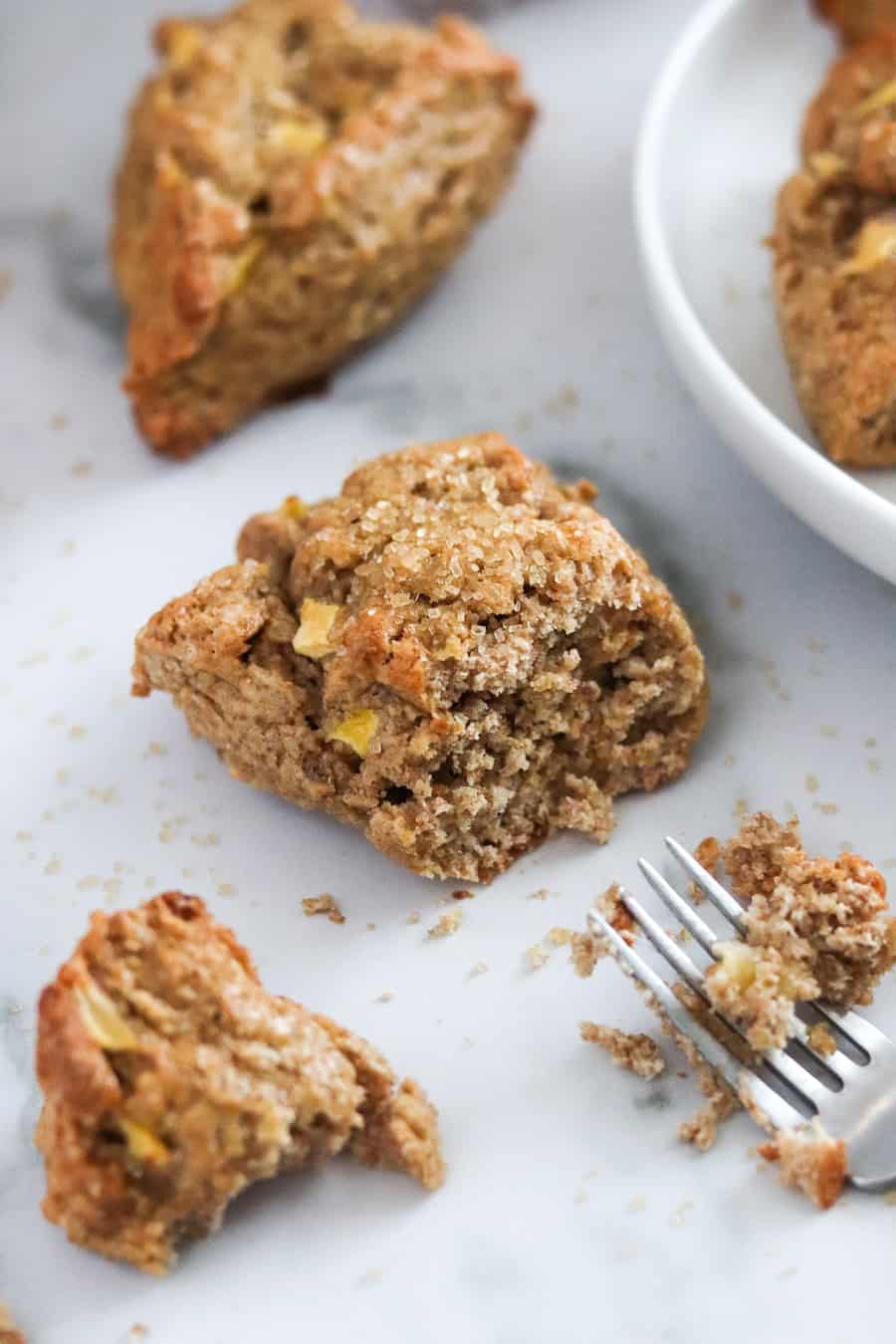 Okay, so, how did I make these scones taste delicious AND make me feel fabulous and nourished? Two things:
Whole Grains.
I used half whole wheat flour and half white flour in these easy apple cinnamon scones. It's just enough so you won't tell, meaning they won't taste "wheaty". Yet, you still get that whole grain benefit to help keep your blood sugar stable and some extra fiber to keep you full.
Eggland's Best Eggs.
I also used Eggland's Best Eggs for the Eggs in this recipe. This is probably the EASIEST switch you can make to upgrade the nutrition of your bakes goods. Why? I'm glad you asked, let me list a few of the reasons Eggland's Best Eggs amps up nutrition:
#1. Double The Omega 3's
Having more than double the amount of omega 3's will help with heart health and brain function.
#2. 38% More Lutein
Lutein is FAB for eye health. So swapping store brand for Eggland's Best Eggs can help keep your lookers SHARP.
#3. 10x More Vitamin E
WOAH. You read that right. 10x more vitamin E helps to keep your skin cells healthy and nourished.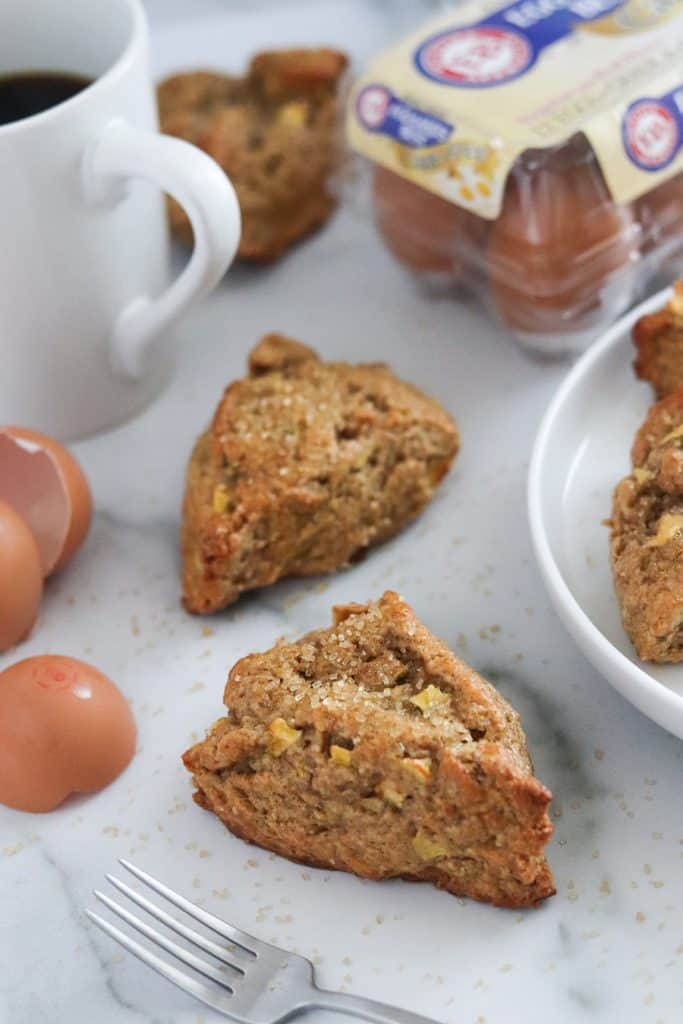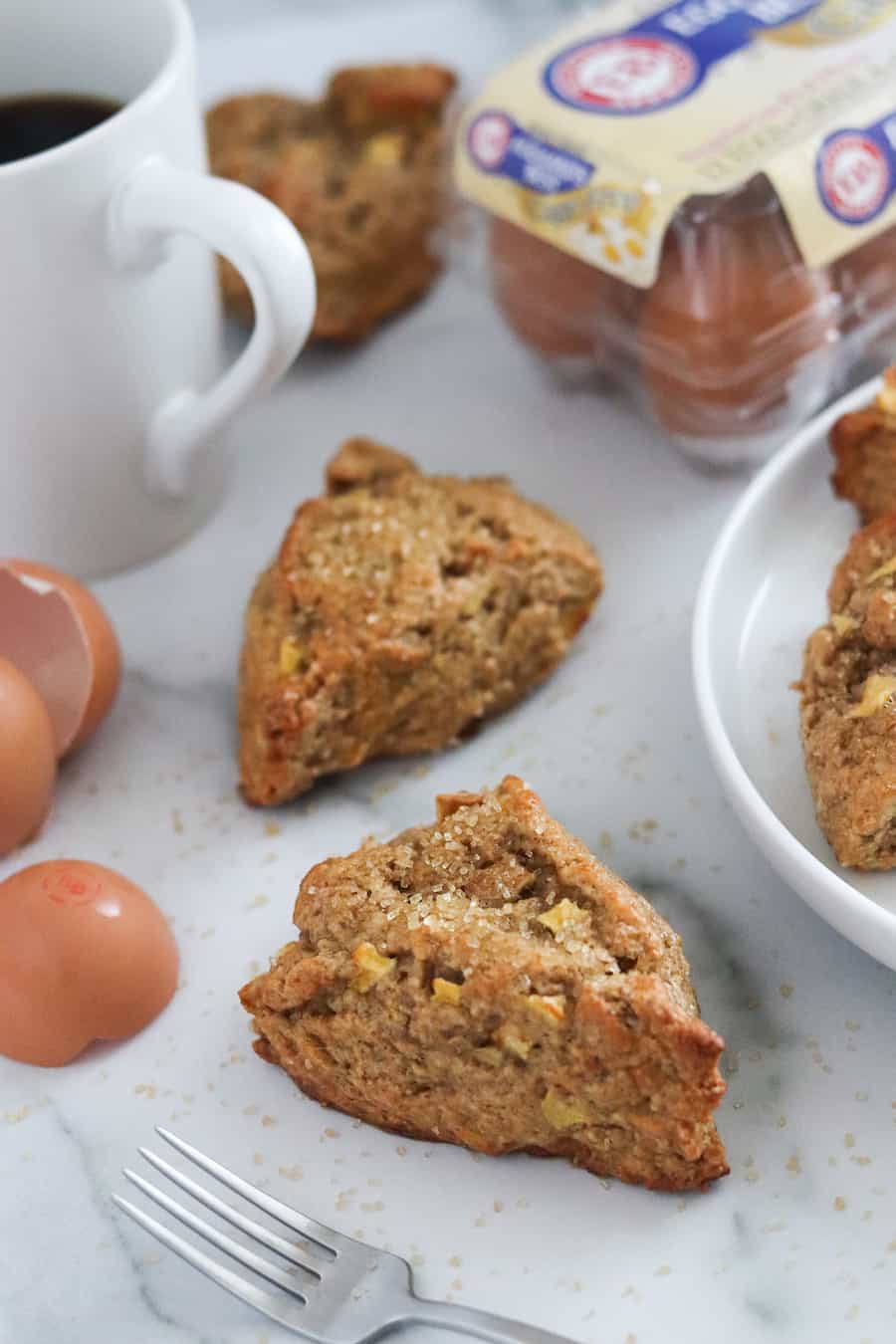 Have I convinced you yet how easy that it is to amp up the nutrition in your baked goods? Snag some Eggland's Best Eggs on your next grocery trip. They're right next to the store brand ones. Really. They're right there.
The last time I made these easy apple cinnamon scones I made a double batch and plopped some in a freezer bag for later. I HIGHLY recommend you do the same. You're going to be REAL sad when you grab the last scone. BUT, if you have some in the freezer you'll immediately get a mood boost when you remember! Awesome, right?!
Make these easy apple cinnamon scones and then leave a comment with you're fave way to enjoy them. Mine is simply warmed with a big ol' cup of coffee. See, plain Jane!
Easy Apple Cinnamon Scones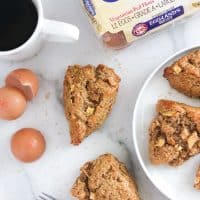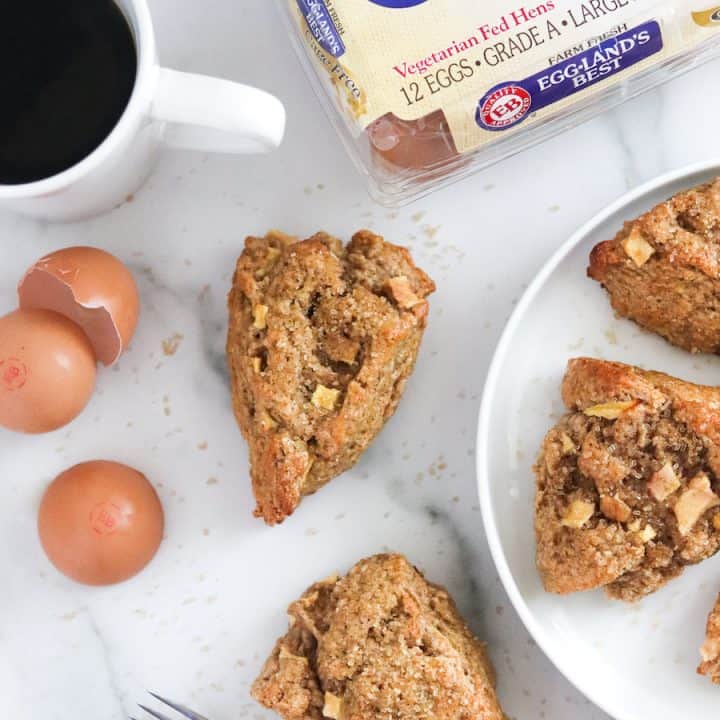 Easy Apple Cinnamon Scones
These easy apple cinnamon scones are the perfect grab-and-go breakfast, snack or just a sweet treat!
PRINT RECIPE
Ingredients
2

Eggland's Best Eggs

2/3

cup

plain greek yogurt

3

tbsp

cold butter

grated

1

cup

whole wheat flour

1

cup

white flour

2/3

cup

sugar

1

tsp

baking powder

½

tsp

baking soda

⅛

tsp

salt

1

tsp

vanilla

Heaping 1/2 tsp cinnamon

1

large apple skinned and chopped

Turbinado sugar for topping

optional
Instructions
Preheat oven to 375 degrees, line a baking sheet with a spill mat or parchment paper and set aside.

In a stand mixer, combine 1 egg, entire container of yogurt, and butter. Mix lightly until combined.

Next, add in flour, ½ cup sugar, baking powder, baking soda, cinnamon and salt. Start mixing on low, then slowly increase to medium. The dough will begin to thicken and clump together. You want to keep mixing until it forms a single ball and is no longer crumbly. This may take a few minutes.

Next, add in your apples and mix until these are just dispersed.

Sprinkle a little additional flour onto a cutting board. Roll the dough into on, giant ball and place onto the cutting board. Form a circle about 10" in diameter and 2 " tall (roughly). Cut into 8 even triangles.

In a small bowl take the remaining egg and whisk with a fork. Use a small brush to "paint" each scone on the tops and sides. Set onto prepared cookie sheet.

Repeat brushing each scone until you have done them all.

Sprinkle all brushed scones with turbinado sugar, if desired.

Place scones in the oven for 18 minutes, or until golden brown.

Remove from oven, allow to cool, and enjoy!
click To display nutrition info
Before you get to the kitchen and makin' your easy apple cinnamon scones be sure to pin this recipe to your Pinterest board and share with others- sharing is caring =]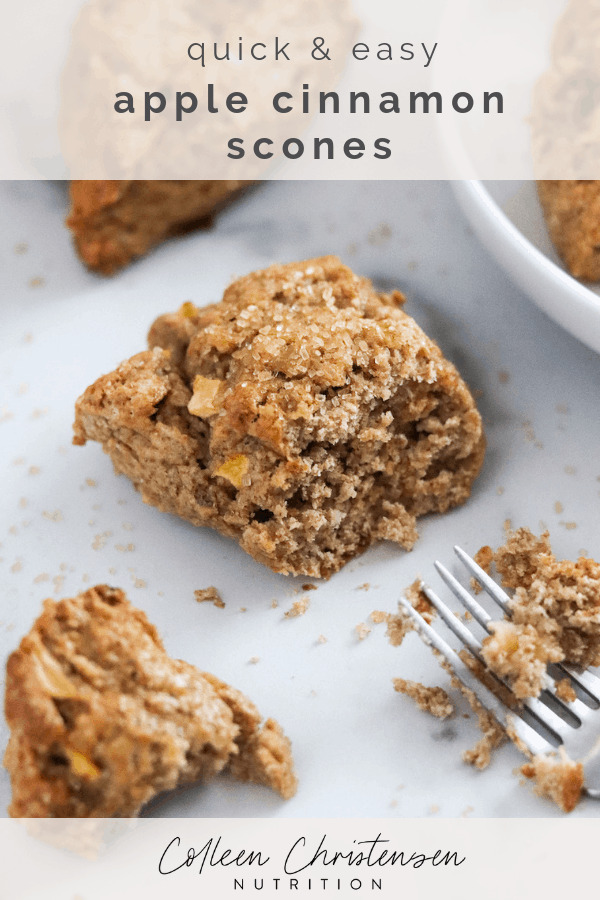 XOXO
-Colleen
]Want more recipes like this one? You might like these!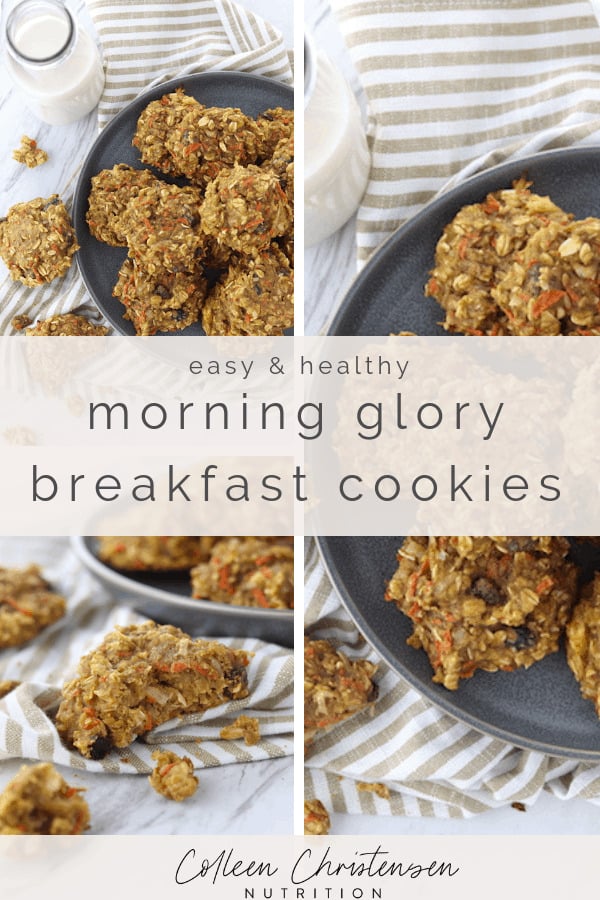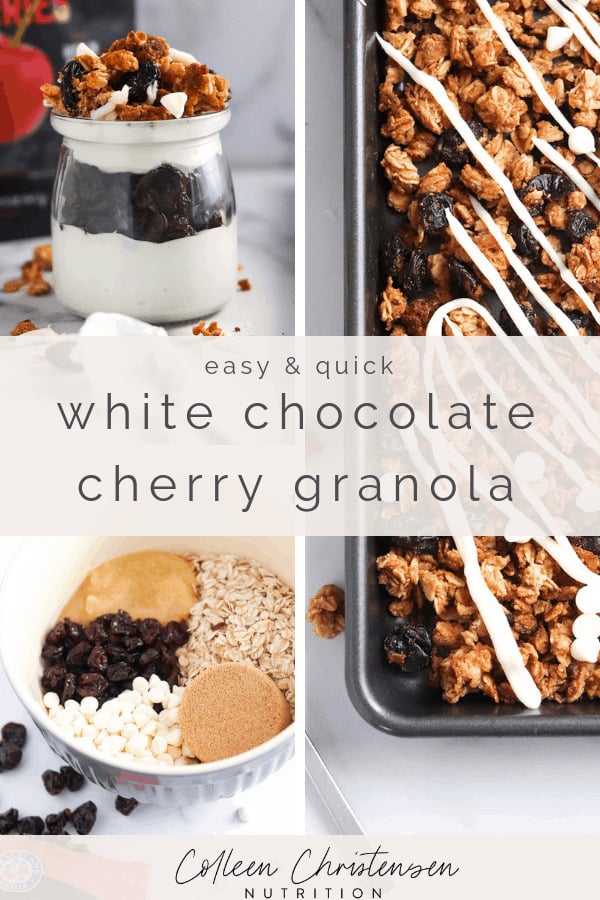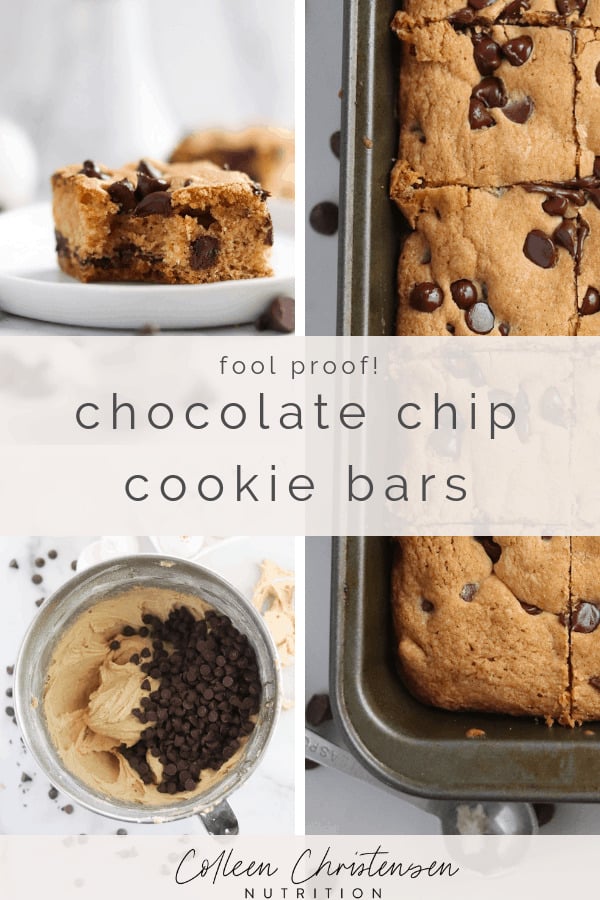 **This blog post has been sponsored by Eggland's Best Eggs. However, all thoughts and opinions are my own**