Mom, if you're reading this, don't panic. I know you always told me not to eat cookies for breakfast, but, well… I totally am. In my defense, these morning glory breakfast cookies aren't your typical cookie. They're like a little bundle of fruit, veggies, and whole grains in one little delicious package.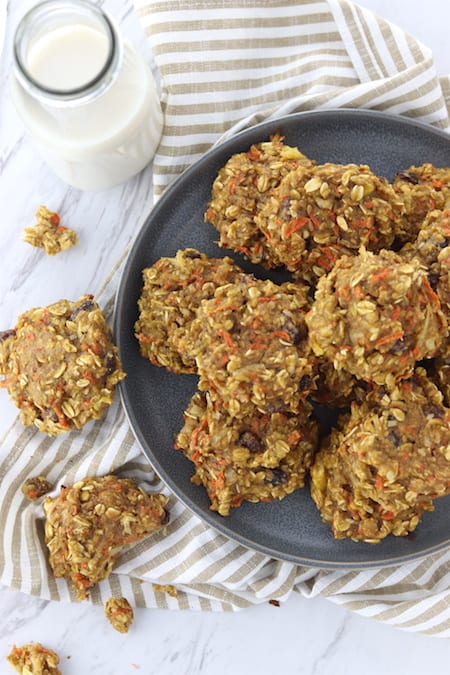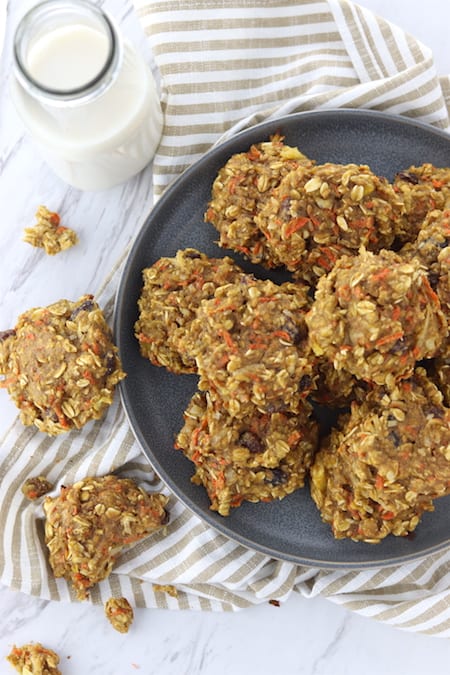 I'm a breakfast lover all the way. It's always been my favorite meal of the day. I love the sweet stuff, the savory stuff, and anything in between. I think one of the reasons that I love it so much is that having a nutritious and delicious breakfast really just sets the tone for the day- and makes me feel like I have my life together, HA.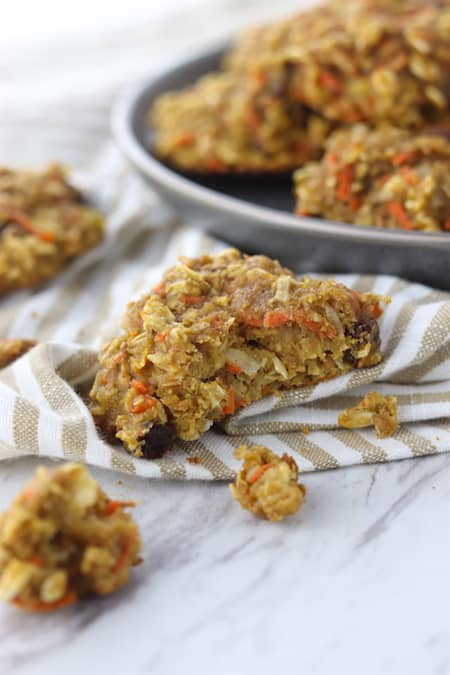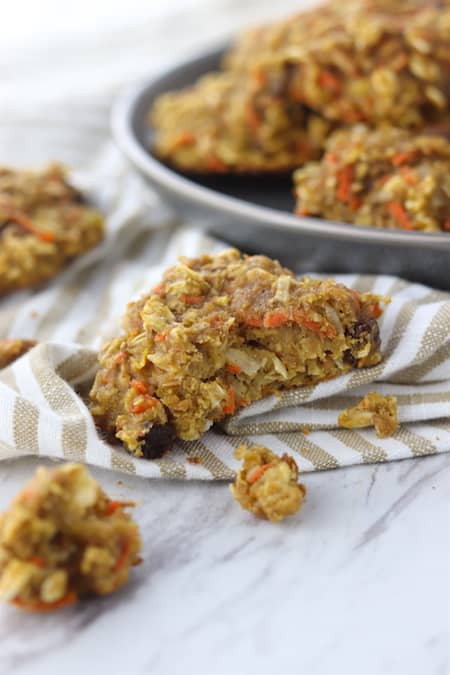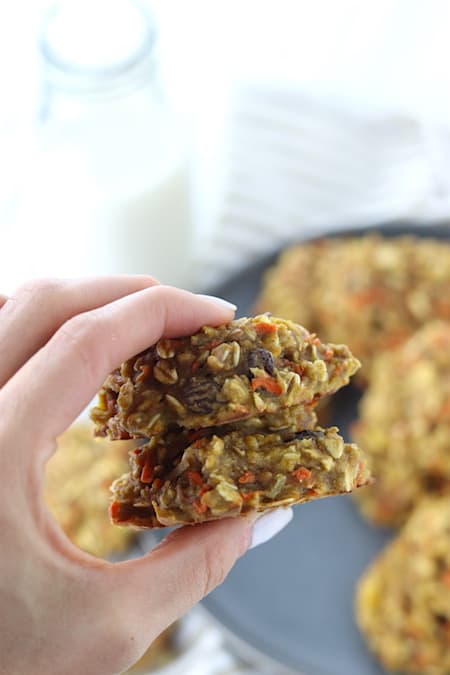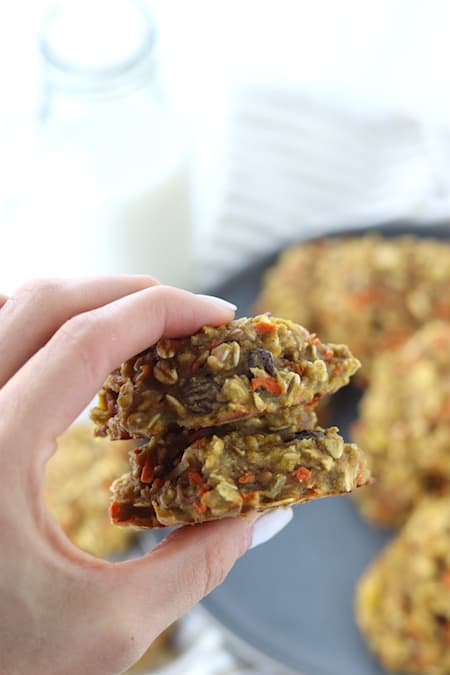 Now, I know not everyone feels this way about the first meal of the day. My clients tell me they're too busy, not hungry, or will end up eating MORE later on. Let's take a look at breakfast for a second.
Break – fast.
You are literally breaking the fast that your body is put into when it doesn't eat for that long period of time when you're asleep. It needs nutrients to get the show on the road!
If you fast too long, your body will go into starvation mode.
This means it feels like it has no idea when it will see food again, so your rate of calorie burn slows to help preserve the energy it does have.
You need a full tank.
If you feel like eating breakfast just leaves you eating more, take a look at what you're eating. My guess is that you may not be eating enough. Firstly, your breakfast just may not be nutrient dense enough, leaving your body needing more. Secondly, you might not be eating enough in the evening, so your body is in that starvation mode when you wake up. When it's in starvation mode and gets food, it'll gobble it down and then some. It's fearful starvation will happen again, so it's stocking up for the apocalypse.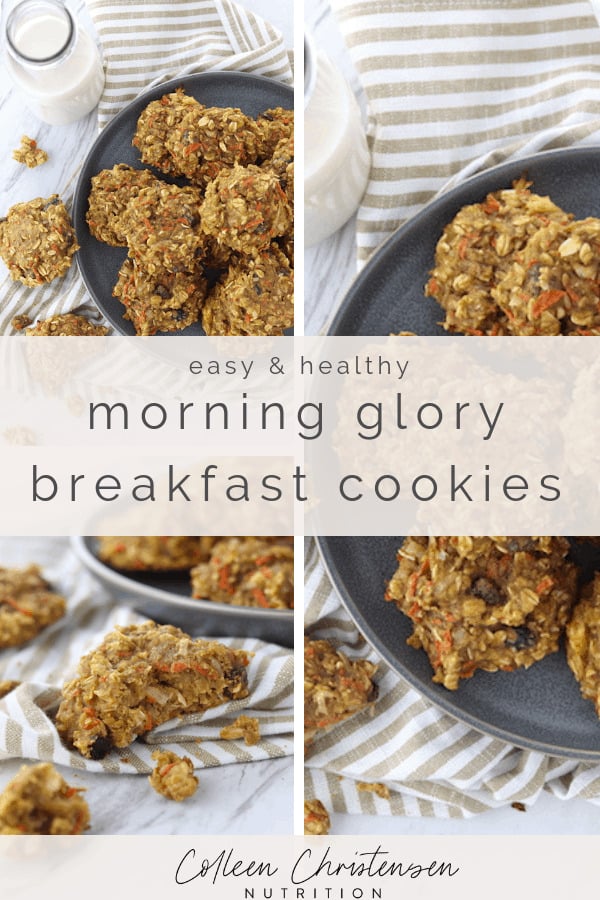 It's obvious that your body needs breakfast, right? But what if you're constantly running around like a chicken with your head cut off and simply don't have time for stack of flap jacks? No problem. Breakfasts DON'T have to be complicated. They can be as simple as a delicious breakfast cookie and Greek yogurt. Easy, portable, and full of nutrients. Whip up a batch of these babies to start your day off strong (and tasty!).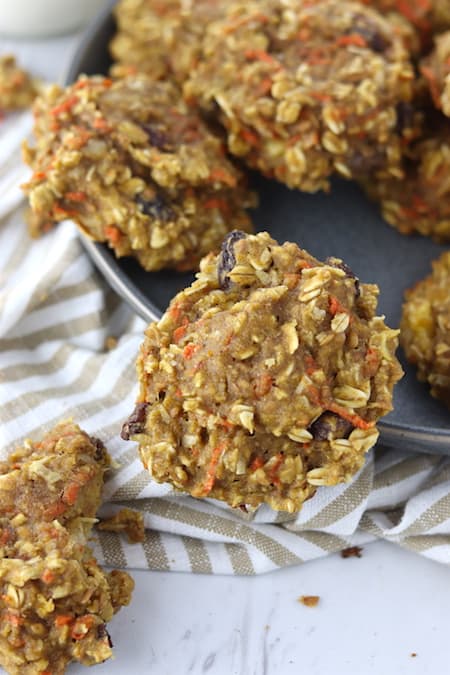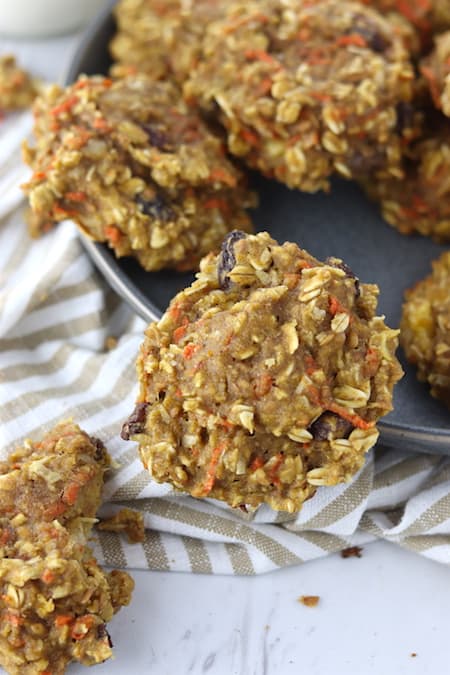 Morning Glory Breakfast Cookies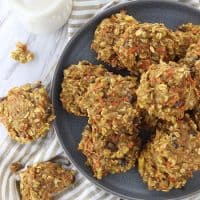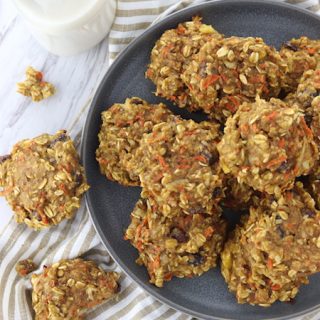 Morning Glory Breakfast Cookies + Why You Need A Morning Meal
Say yes to cookies for breakfast with these morning glory breakfast cookies! Not only are they packed with fruit, veggies, and whole grains, but they're super convenient and portable!
PRINT RECIPE
Ingredients
1

mashed banana

1

egg

1/2

cup

applesauce

1

tsp

vanilla

1

tbsp

maple syrup

1

cup

oats

1/2

cup

flour

1/2

tsp

cinnamon

1/2

tsp

baking soda

1

cup

shredded carrots

1/2

cup

crushed pineapple

1/3

cup

raisins

1/3

cup

coconut

2

tbsp

flax seed
Instructions
Preheat oven to 350 and line a baking sheet with parchment paper, set aside.

In a large bowl, combine banana, egg, applesauce and vanilla, mixing well.

In a medium bowl, mix together dry ingredients, oats, flour, soda and cinnamon.

Add dry ingredients to wet ingredients, mixing until just combined.

Fold in carrots, pineapple, raisins, coconut and flax seeds.

Drop ~1/4 cup of cookie mixture onto lined baking sheet. They can be close together, as they won't spread.

Bake for ~15 minutes, until tops are golden.

Allow cookies to cool completely.
Notes
Store these in a container in the refrigerator for up to 1 week.
click To display nutrition info
Nutrition Facts
Nutrition Facts
Morning Glory Breakfast Cookies + Why You Need A Morning Meal
Amount per Serving
% Daily Value*
* Percent Daily Values are based on a 2000 calorie diet.
When it comes to storing these bad boys I love these clear, air tight containers:
What's your go-to, quick and portable breakfast? Drop it in a comment!
Don't forget to pin this powerhouse of a recipe for later!
Happy eating,
-Colleen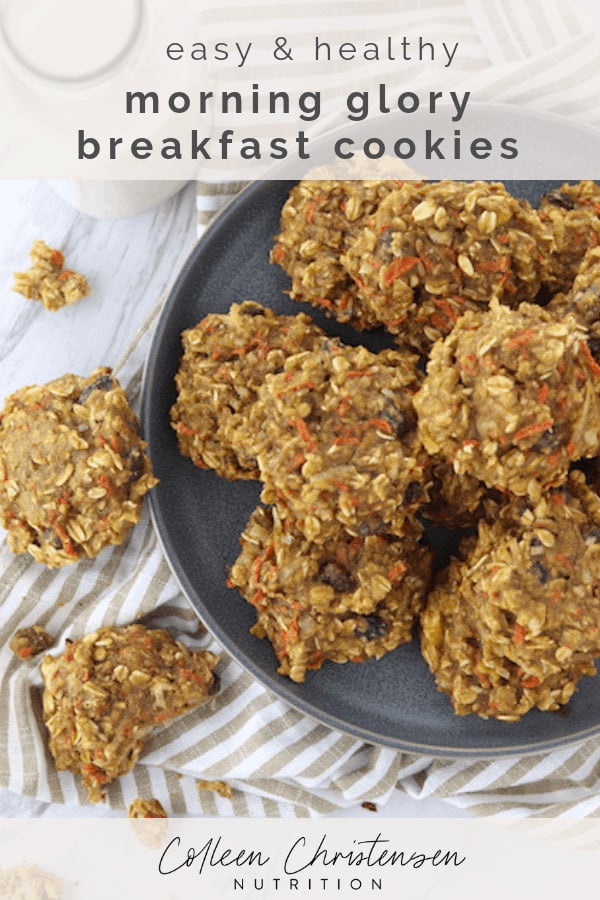 Want more recipes like this? You might like these:
Whole Wheat Greek Yogurt Blueberry Scones
White Chocolate Cherry Granola
Cranberry Orange Poppy Seed Muffins
**Disclaimer: This post may contain affiliate links**