I was over at my in-laws house a few weeks ago and Alice, my mother-in-law, was just in the kitchen whipping up some scones. Finding her in the kitchen isn't unusual, she's quite the cook/bakers/etc. What struck me was that she was making scones. Scones to me just feel so FANCY, ya know? I've always thought, who am I to make scones? I live in sweatpants, can't seem to keep my house clean and have been using foundation as eye shadow for the past 6 months. Not exactly Grace Kelly. When I told her my silly fear "oh, I, could never make scones" she giggled in her Alice way and said "Yes you can". So, I did! I went right home – okay, I lied, it was a few days later- and made a batch of these whole wheat greek yogurt blueberry scones. That I have since made twice…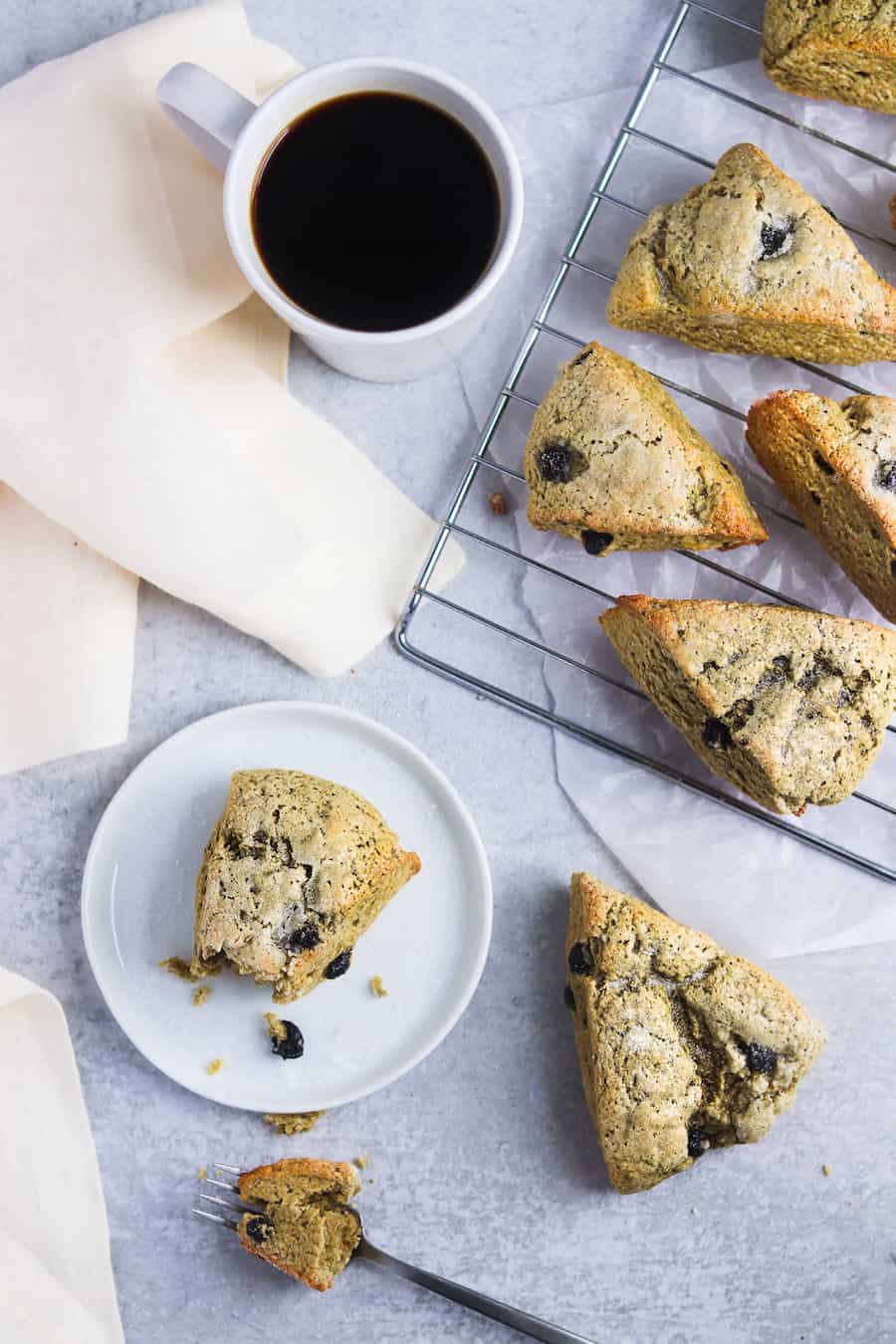 Look at me now! Maybe I AM a modern day Grace Kelly. HAHA. That was a joke, guys.
Alice was right. Scones are, like, stupid easy. These whole wheat greek yogurt blueberry scones really only take about 5 minutes to put together and another 15 to bake. They're totally customizable in the flavor department, so you can make them with whatever you love! I chose blueberries because it's February in Michigan which means that summer seems like a gazillion years away and I needed a little reminder that it is actually going to come around again.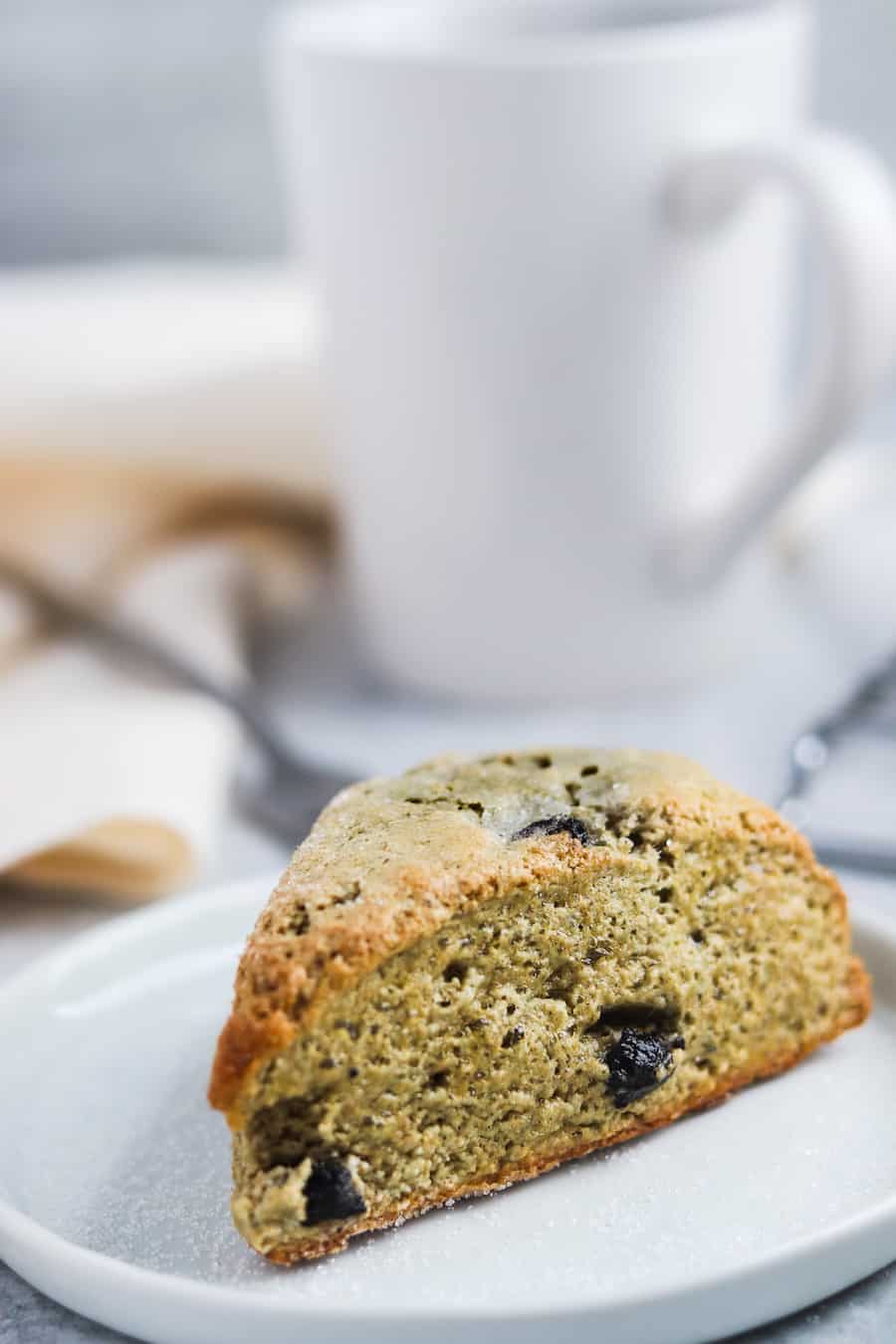 A couple things make this scone recipe special:
whole wheat. I used white whole wheat flour instead of regular, run of the mill white flour. This added extra fiber to the scones, which will help to satisfy you and keep you full. I love white whole wheat because you can seriously hardly taste a difference!
greek yogurt. Instead of using the loads of butter that scones usually call or I subbed in some greek yogurt. This helps them from being to "heavy" and making me feel like I want to go take a nap instead of head to work in the morning.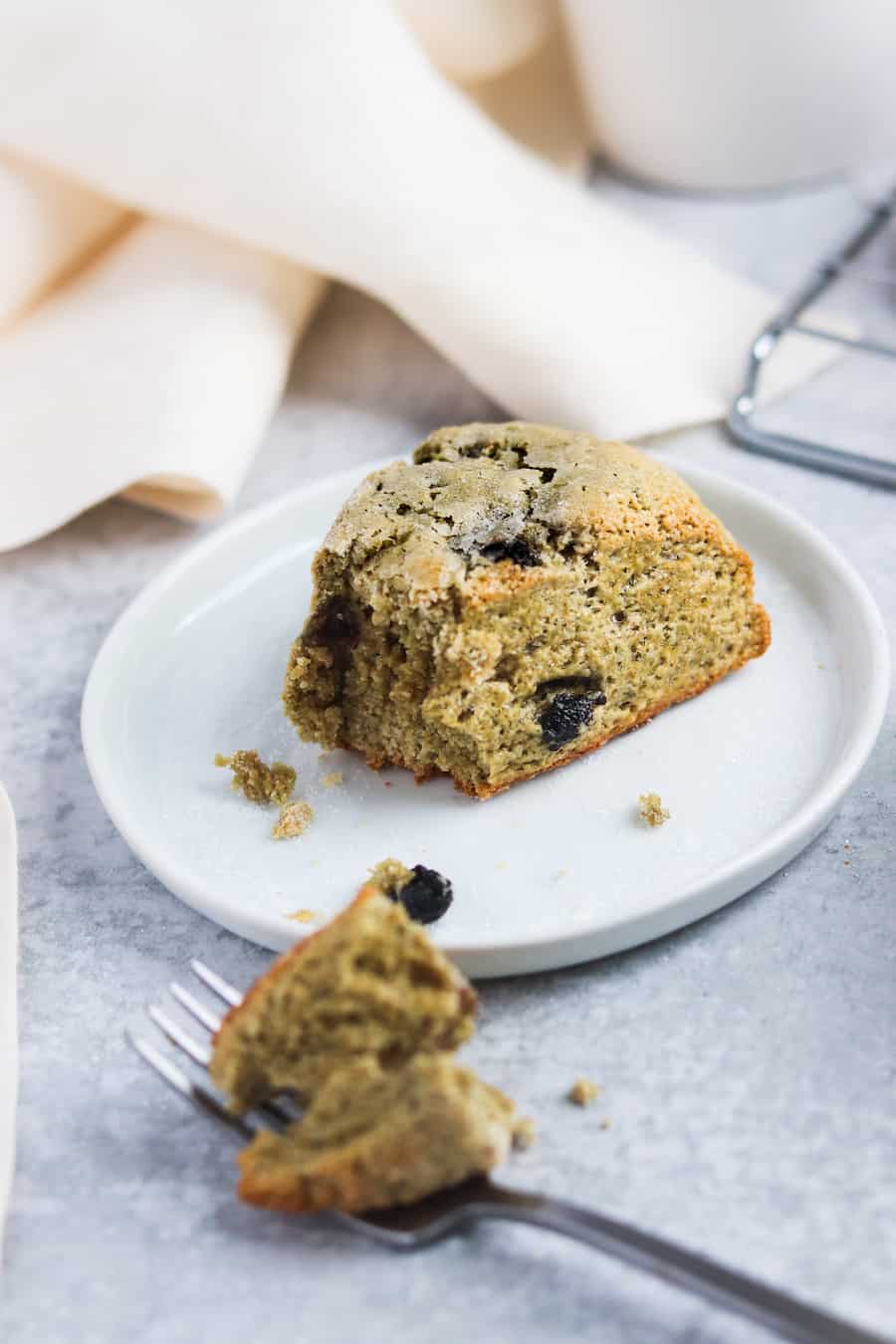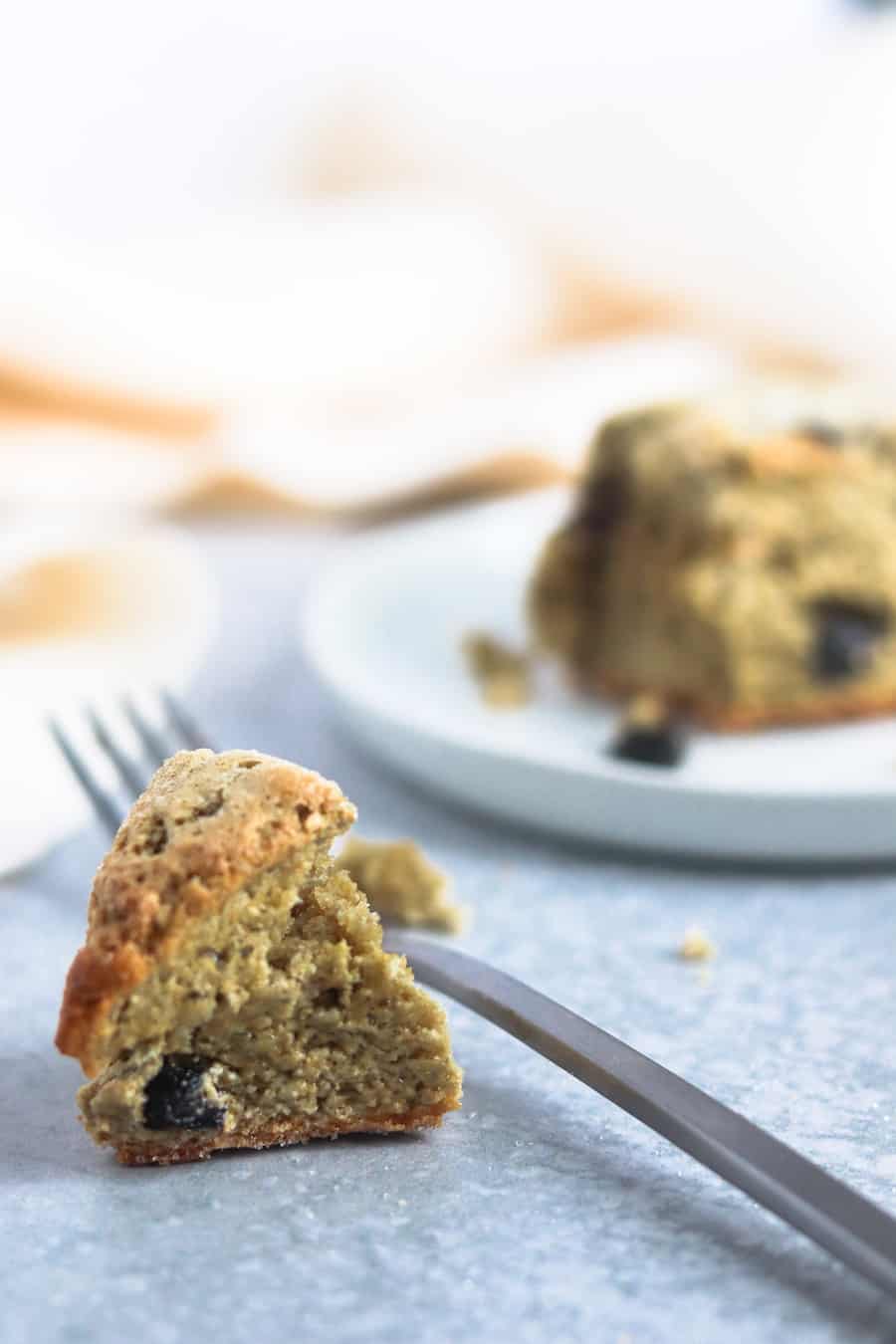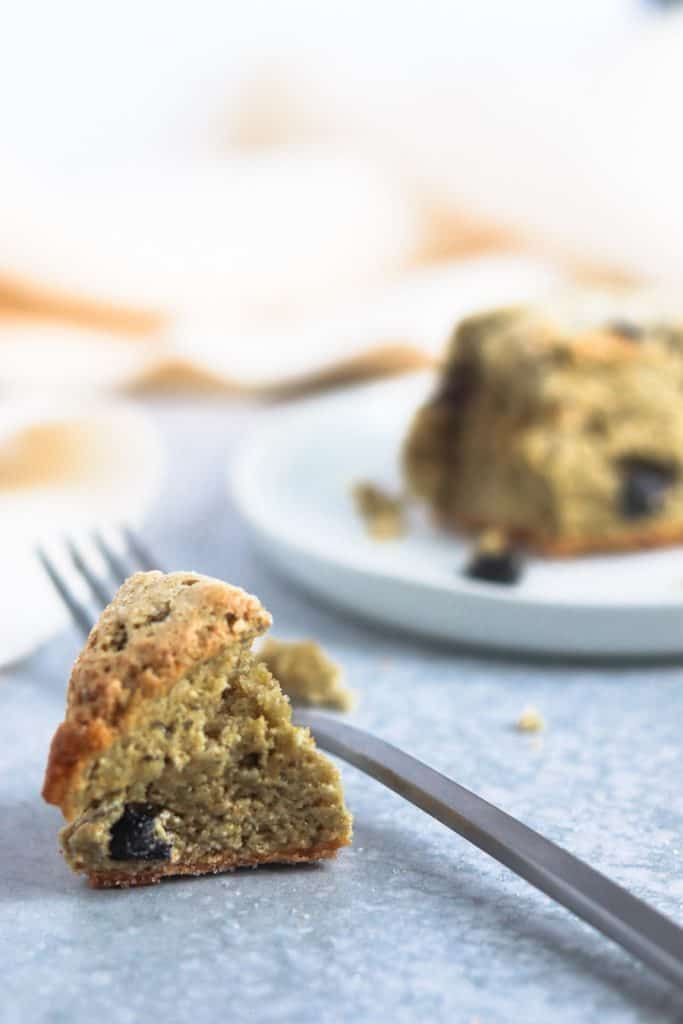 The last thing I'll mention about this recipe- I promise I'll stop talking and just hand it over soon!- is to NOT skip the egg wash! That stuff, in my opinion, MAKES the scones. It gives it such a delicious coating, holds on to some extra sugar for sweetness, and makes them look pretty. And, sometimes, eating pretty food just makes it more satisfying. Right?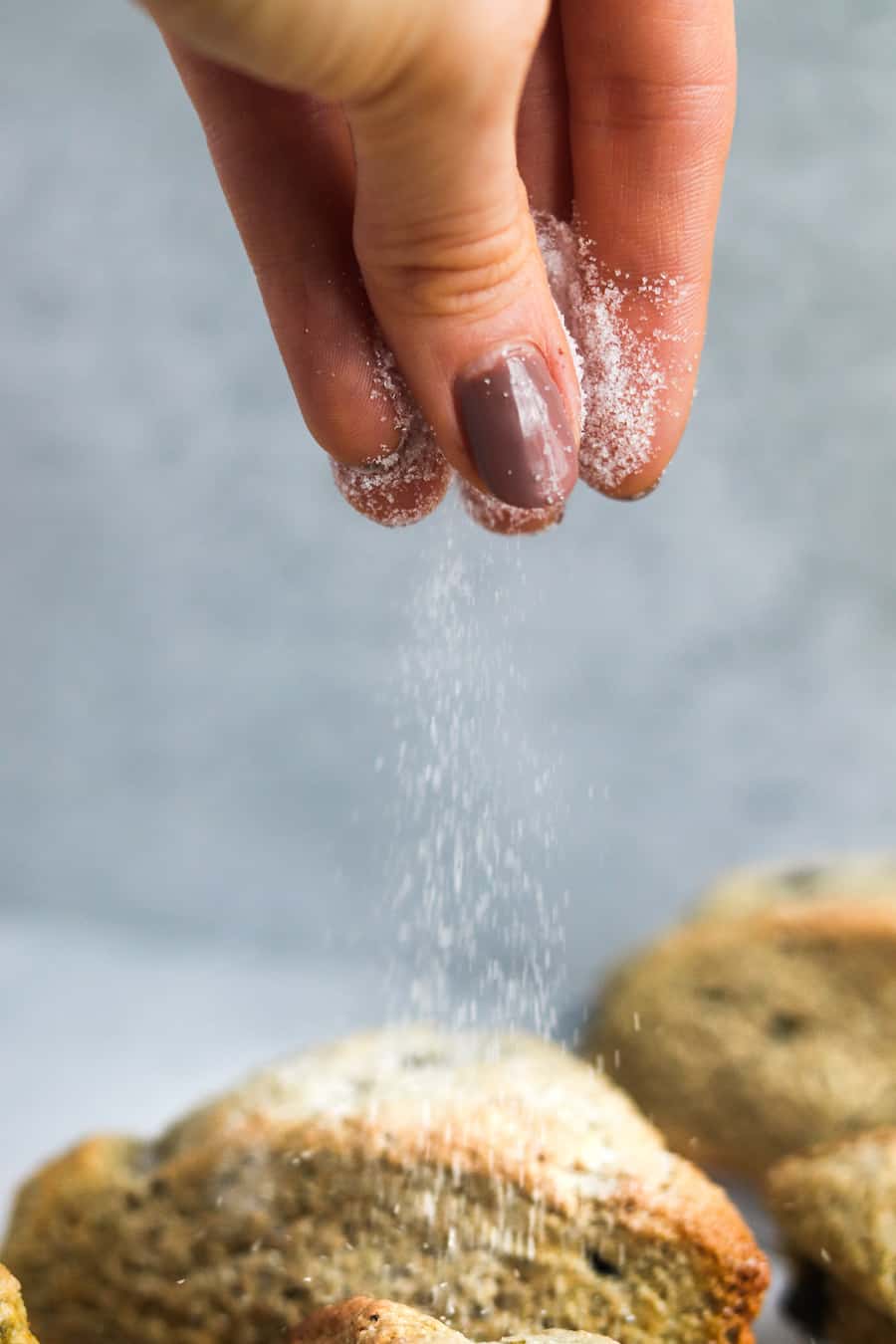 Okay, here it is! My new fave recipe that I am sure will become yours too: Whole wheat greek yogurt blueberry scones!
Ps. Don't forget to pin this recipe for later- you won't want to lose it!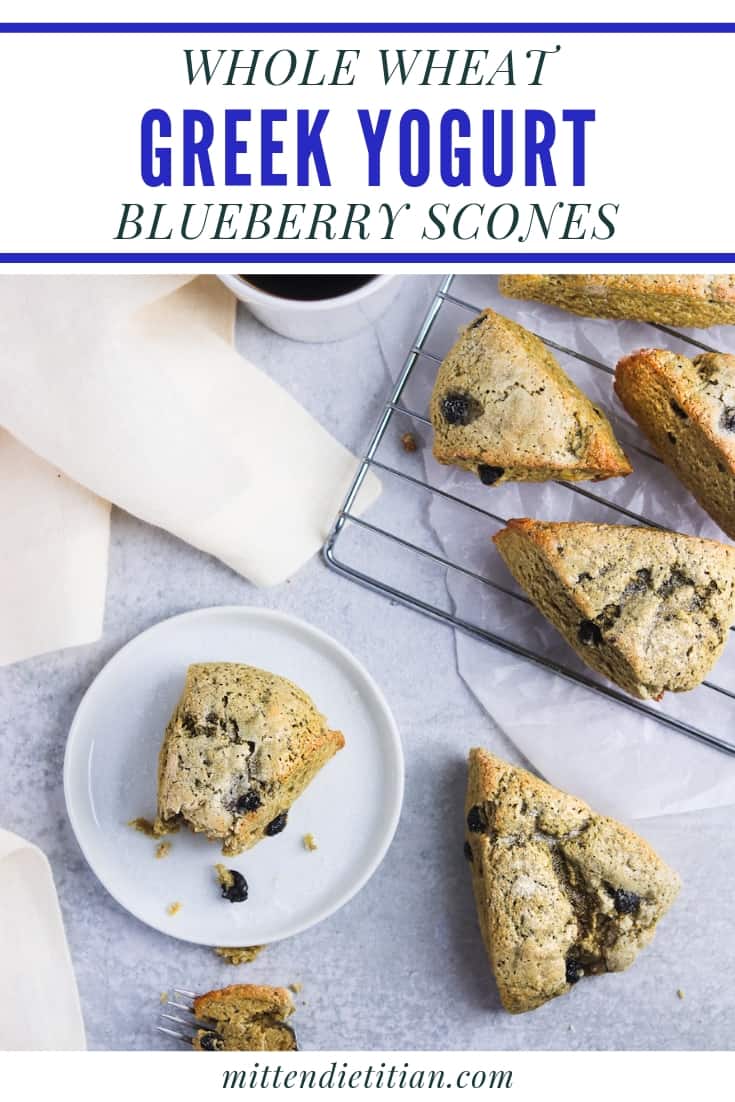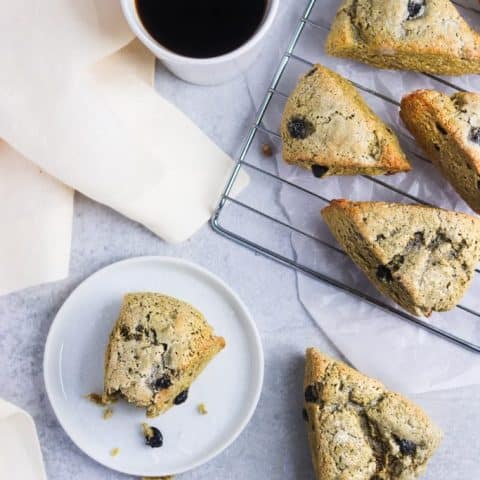 Whole Wheat Greek Yogurt Blueberry Scones
Yield: 8 scones

Prep Time: 5 minutes

Cook Time: 15 minutes

Total Time: 20 minutes

These whole wheat blueberry greek yogurt scones will make you want to leap out of bed in the morning! And, they only take about 20 minutes to make!
Ingredients
2 eggs, divided
1, 5.3 oz container of blueberry Greek yogurt
2 tbsp cold butter, grated
2 cups white whole wheat flour
1/2 cup + 1 tbsp sugar, divided
1 tsp baking powder
1/2 tsp baking soda
1/8 tsp salt
1/4 cup blueberries, fresh or dried
Instructions
Preheat oven to 375 degrees, line a baking sheet with a spill mat or parchment paper and set aside.
In a stand mixer, combine 1 egg, entire container of yogurt, and butter. Mix lightly until combined.
Next, add in flour, 1/2 cup sugar, baking powder, baking soda, and salt. Start mixing on low, then slowly increase to medium. The dough will begin to thicken and clump together. You want to keep mixing until it forms a single ball and is no longer crumbly. This may take a few minutes.
Next, add in your blueberries and mix until these are just dispersed.
Sprinkle a little additional flour onto a cutting board. Roll the dough into on, giant ball and place onto the cutting board. Form a circle about 10" in diameter and 2 " tall (roughly). Cut into 8 even triangles.
In a small bowl take the remaining egg and whisk with a fork. Use a small brush to "paint" each scone on the tops and sides. Set onto prepared cookie sheet.
Repeat brushing each scone until you have done them all.
Sprinkle all brushed scones with remaining 1 tbsp sugar.
Place scones in the oven for 15 minutes, or until golden brown.
Remove from oven, allow to cool, and enjoy!
Notes
For this recipe, I used dried blueberries.


Give these a try and let me know what you think in the comments! Can't wait to hear!
Happy eating,
Colleen