Perfectly fluffy and bursting with blueberries, this truly is the BEST EVER blueberry cake donut recipe! They're easy to make, require only a few ingredients, and have no scary vats of hot oil for frying. It takes just 15 minutes to sink your teeth into one of these blueberry cake donuts!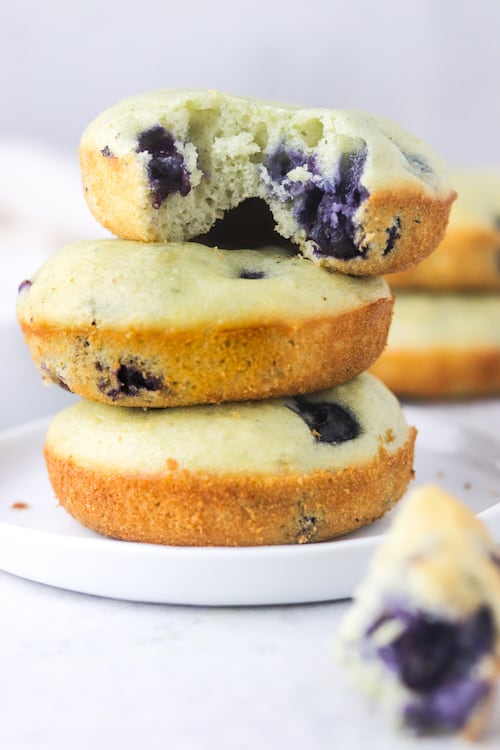 Why Use This Baked Blueberry Donut Recipe?
Now, don't get me wrong, I love a good, fried donut from a donut shop as much as the next gal. But, I'll be honest, I do NOT trust myself with a vat of hot oil... I mean, hello oil splatter burns! Baking this blueberry cake donut recipe is no tonly way easier but also they're great for implementing a little gentle nutrition. While I love myself a good fried donut, would I feel the best eating one daily? Probs not. But baked blueberry donuts, now that feels better on the daily to my body.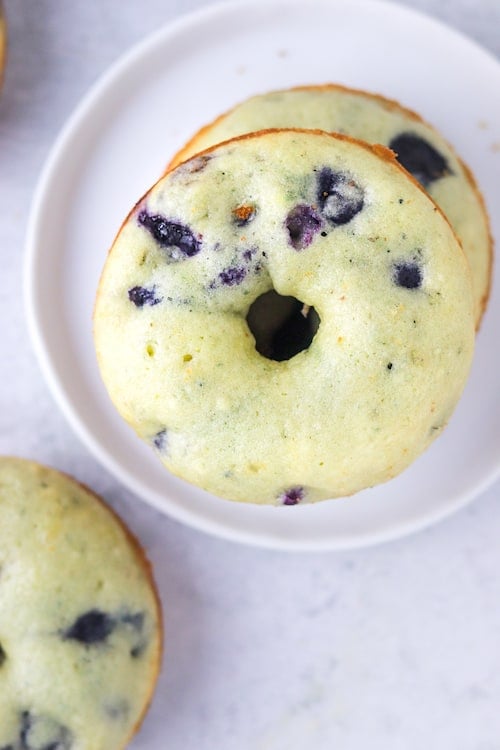 To be honest with you, I eat donuts on the regular. I'm talkin' make a batch on Sundays as part of meal prep regular! If I'm not making a blueberry cake donut batch I'm making my whole wheat donuts or chocolate protein donuts.
Ingredients For Baked Blueberry Cake Donuts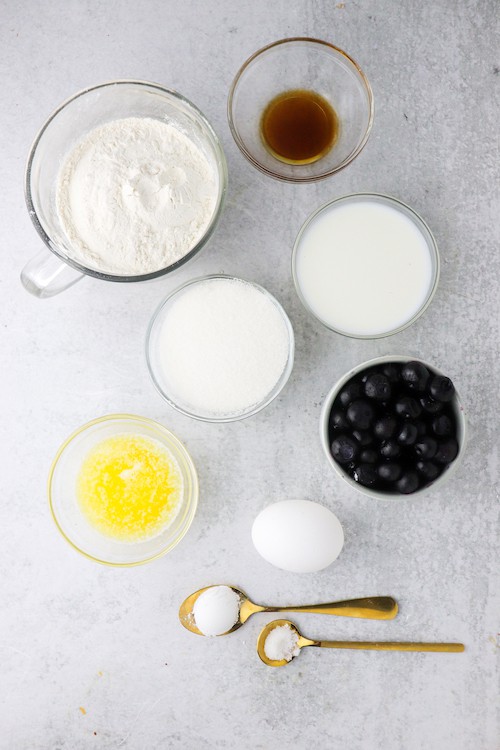 I'm a simple woman, and my recipes are no exception to that! All you need for this recipe are a few simple ingredients that I bet you have in your kitchen right now:
flour
sugar
baking powder
salt
vanilla
milk
eggs
blueberries (fresh or frozen!)
butter
See, made totally of pantry staples!
How To Make The Ultimate Blueberry Cake Donut At Home
Making these donuts is quite easy, here is what you need to do:
First, preheat your oven to 350 degrees and lightly spray a donut pan with non-stick spray, set aside.
Next, in a medium sized bowl combine the 1 cup flour, baking powder, and salt. Set aside.
In a larger bowl, or stand mixer, combine sugar, egg, milk, melted butter, and vanilla.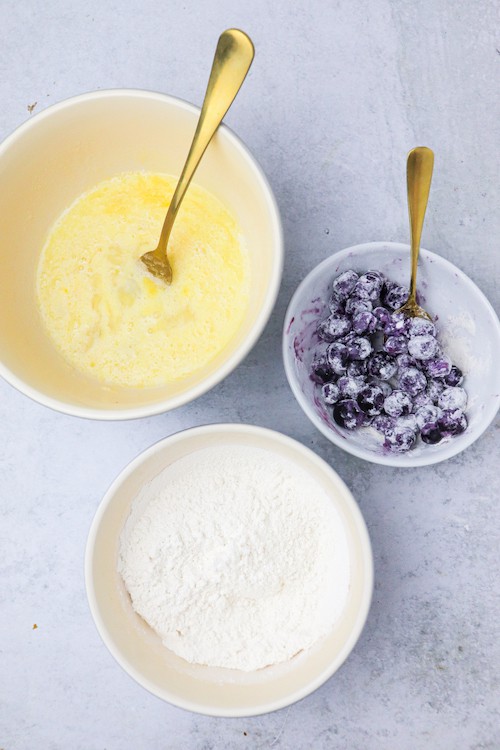 Slowly add in your flour mixture and mix until incorporated.
Now, before you add your blueberries toss them in the remaining 1 tbsp of flour. This will coat them and help prevent them from sinking to the bottom of every single baked blueberry cake donut. Tragedy!
Gently fold in your flour coated blueberries to the donut batter.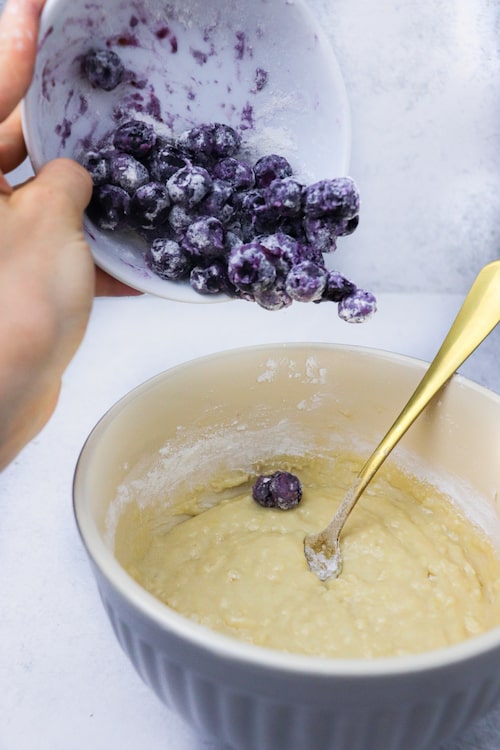 Fill your donut pan with the batter, this will make 6 donuts.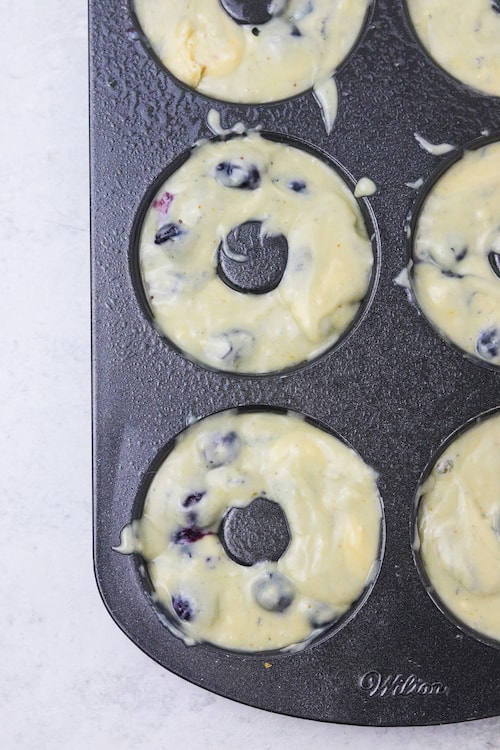 Now it is time to actually bake your baked blueberry donuts! You'll want to bake them for ~12-14 minutes in your pre-heated oven or until golden brown and when a toothpick is inserted it comes out nice and clean.
Allow these blueberry cake donuts to cool fully. They may seen soft at first, but as they cool they will firm up and become more cake-y. Just be careful when you're taking them out of the donut pan.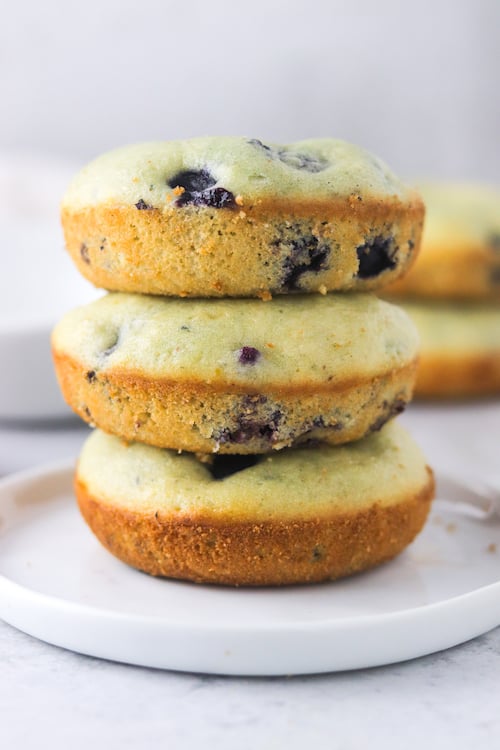 Now grab one with your morning cup of coffee, a dessert, crumble it up on top of yogurt, etc. The possibilities are endless! You can also add some glaze to them, if you like! Side note: These make a MEAN ice cream sandwich! Just sayin'....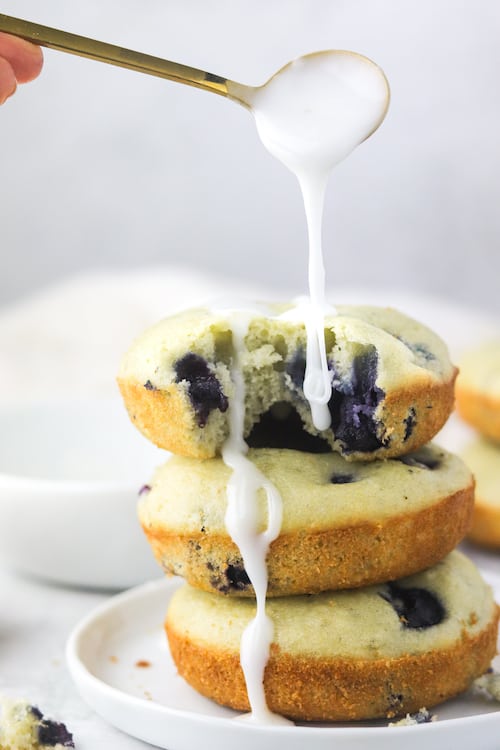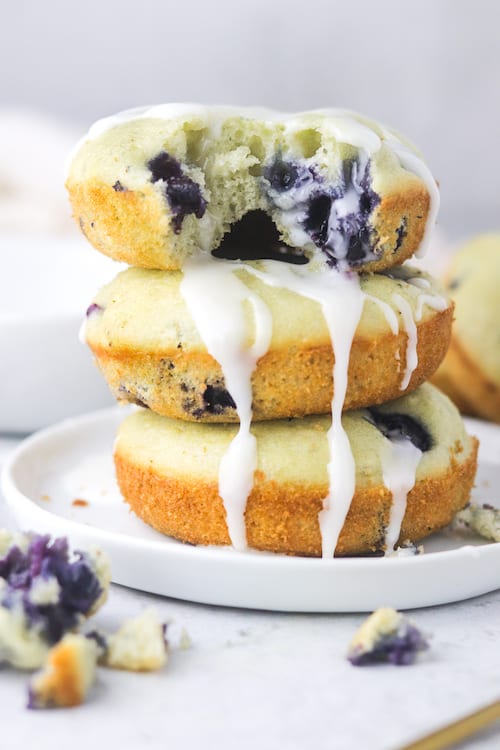 Blueberry Cake Donut FAQ's
What flours can I use for this recipe?
I've made this baked blueberry donut recipe with all-purpose flour, whole wheat flour, and gluten free flour. I wouldn't recommend subbing 1:1 for flours like almond flour, coconut flour, etc.
What if I don't have a donut pan?
No worries! You can make these in a muffin tin as well! You'll likely need to tack on a couple extra minutes of cook time. If you're doing a muffin version you might also like this recipe for blueberry protein muffins! Heck, you could use a mini-muffin tin to turn these into blueberry donut holes. So fun! If you do this cut the time in about half, but watch the time closely.
Should I use fresh or frozen blueberries?
While there is nothing like the taste of a fresh, plump blueberry, I'll be honest with you... I usually use frozen for these blueberry cake donuts. It's just easier! I simply thaw them in a colander under warm-ish water. Really though, both work just fine!
How do I store these blueberry donuts?
I store them in an airtight container on the counter for about 5 days. If you won't get through them in that time (in my house we always do!) I'd recommend freezing them, and you can keep them frozen for a few months!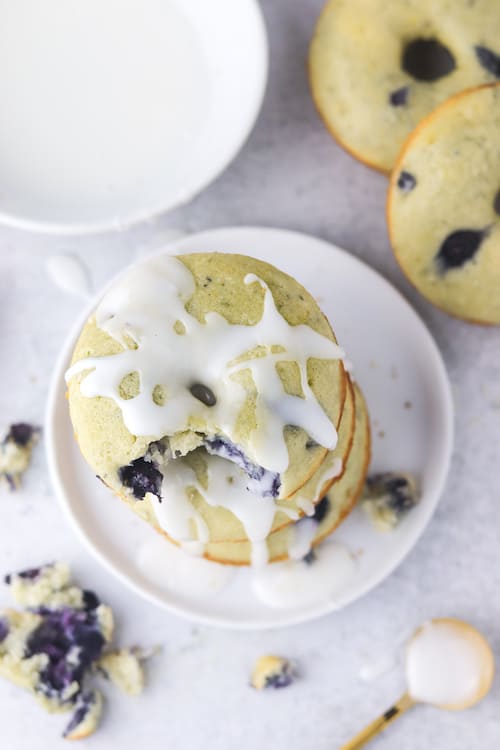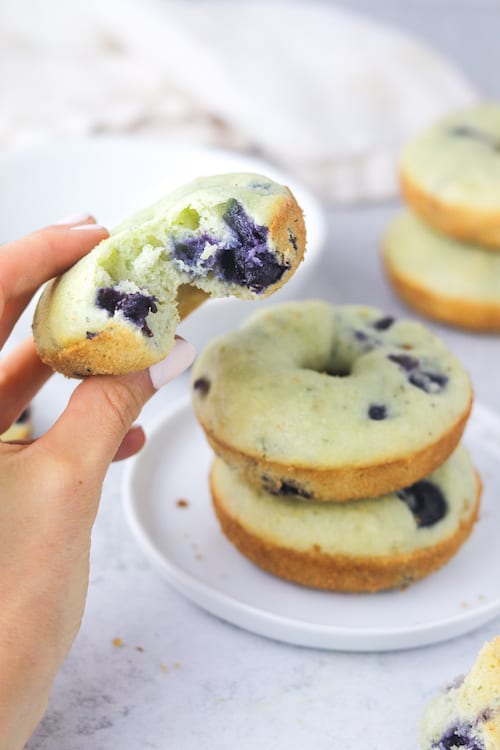 I hope you love enjoy sinking your teeth into one of these best ever blueberry cake donuts as much as I do!
If you do loves these baked blueberry donuts I'd love it if you left a star rating on the recipe card and a comment with your thoughts!
XOXO
-Colleen
This blog post contains affiliate links, which means that if you click on a product link, I may receive a commission. All opinions are my own, and all brands featured represent what I personally like and support. This blog is a participant in the Amazon Services LLC Associates Program, an affiliate advertising program where I earn advertising fees by linking to amazon.com.
Want more baking inspo? You might like these recipes: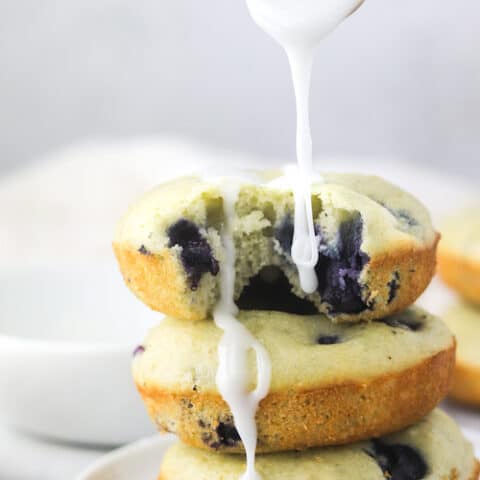 Best Ever Blueberry Cake Donuts
A fully, homemade baked blueberry cake donut is sheer happiness! Made with simple, pantry staple ingredients and ready in just about 15 minutes!
Ingredients
1 cup flour + 1 tbsp flour (divided)
1 tsp baking powder
1/4 tsp salt
1 egg
1/3 cup sugar
1/3 cup milk
1 tsp vanilla
2 tbsp melted butter
1/2 cup blueberries, fresh or frozen (thawed)
Instructions
Preheat oven to 350 degrees and lightly grease a donut pan with non-stick spray and set aside.
In a medium bowl combine 1 cup flour, baking powder, and salt. Set aside.
In a large bowl or stand mixer combine egg, sugar, milk, butter and vanilla.
Slowly add in the flour mixture and mix until combined.
In a small bowl coat your blueberries with the remaining 1 tbsp of flour. Then, gently fold them into your batter.
Fill your prepared donut pan with donut batter. This should make ~6 donuts.
Bake for 10-12 minutes or until donuts are golden brown and when a toothpick is inserted it comes out clean.
Allow donuts to fool fully before if adding frosting, glaze or rolling in powdered sugar.
Enjoy!
Recommended Products
As an Amazon Associate and member of other affiliate programs, I earn from qualifying purchases.
Nutrition Information:
Yield:

6
Serving Size:

1
Amount Per Serving:
Calories:

190
Total Fat:

5g
Saturated Fat:

3g
Trans Fat:

0g
Unsaturated Fat:

2g
Cholesterol:

42mg
Sodium:

228mg
Carbohydrates:

32g
Fiber:

1g
Sugar:

12g
Protein:

4g