Blueberry cake donuts just like the bakery would make in just 15 minutes! You can use fresh or frozen blueberries and even add an optional glaze! They're great for a grab-and-go option for your morning coffee or as an afternoon pick-me-up!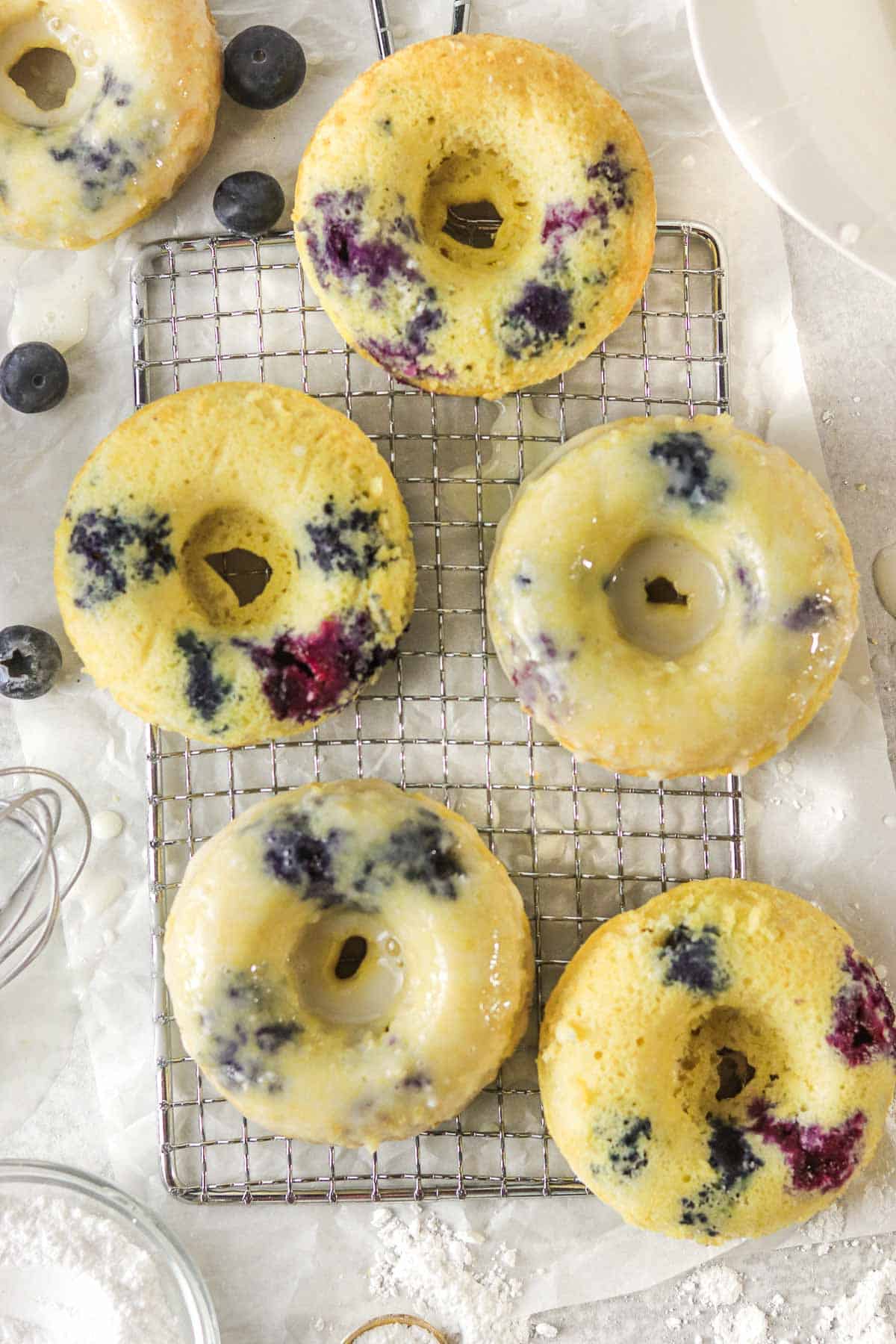 Why This Recipe Works
Now, don't get me wrong, I love a good, fried donut like the ones from a donut shop as much as the next gal. But, I'll be honest, I do NOT trust myself with a vat of hot oil... I mean, hello oil splatter burns!
Baking this blueberry cake donut recipe is not only way easier but also they're great for implementing a little gentle nutrition. While I love myself a good fried donut, would I feel the best eating one daily? Probs not. But baked blueberry donuts, now that feels better on the daily to my body.
I love to make these blueberry cake donuts (or my whole wheat baked donuts, banana donuts, or chocolate protein donuts) as part of meal prep... really! They're so great for a grab-and-go morning snack or as part of breakfast. Dip one of these babies into your morning coffee and *BOOM* ya got yourself an instantly fabulous morning!
Ingredients Needed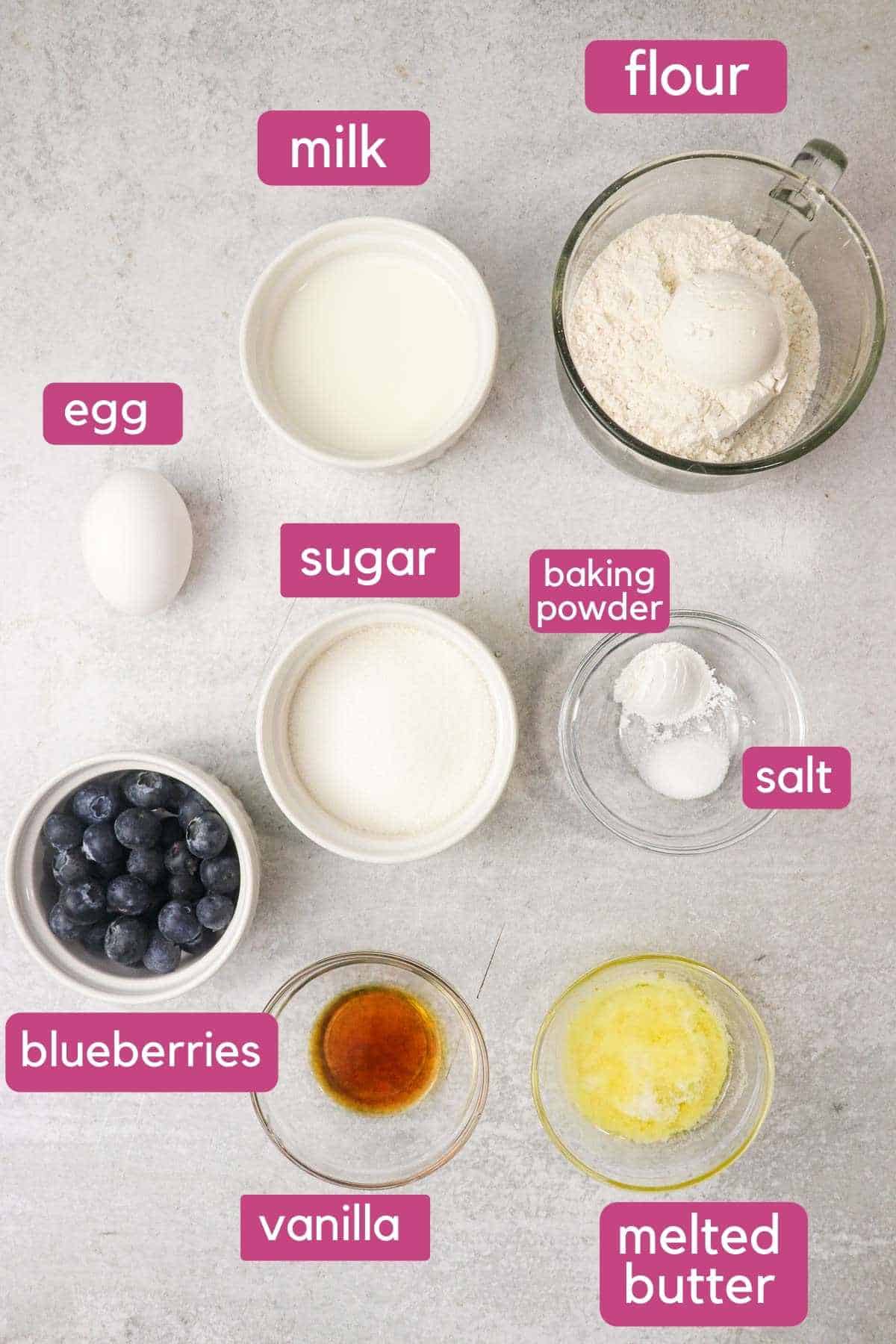 Blueberries. You can use fresh or frozen for these blueberry cake donuts. If you're using frozen be sure to pat them as dry as possible with a paper towel!
Melted butter. Be sure to allow your butter to cool fully before adding it to the other ingredients. If you don't the hot butter will cook your eggs!
How To Make This Recipe
First, preheat your oven to 350 degrees and lightly spray a donut pan with non-stick spray, set aside.
Next, in a medium sized bowl combine the 1 cup flour (reserve 1 tbsp) , baking powder, and salt. Set aside.
In a larger bowl, or stand mixer, combine sugar, egg, milk, melted butter, and vanilla.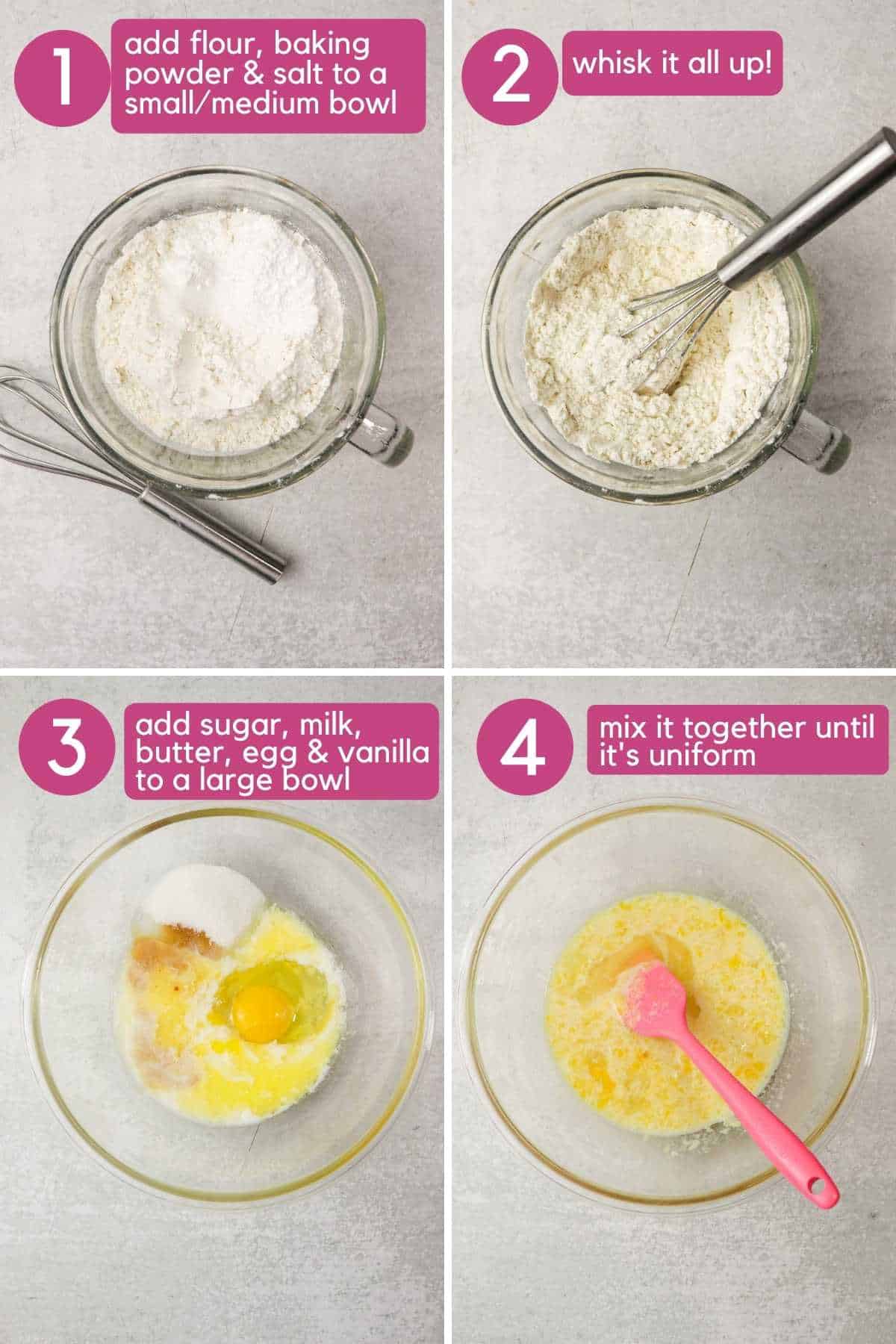 Slowly add in your flour mixture and mix until incorporated.
Now, before you add your blueberries toss them in the remaining 1 tbsp of flour. This will coat them and help prevent them from sinking to the bottom of every single baked blueberry cake donut. Tragedy!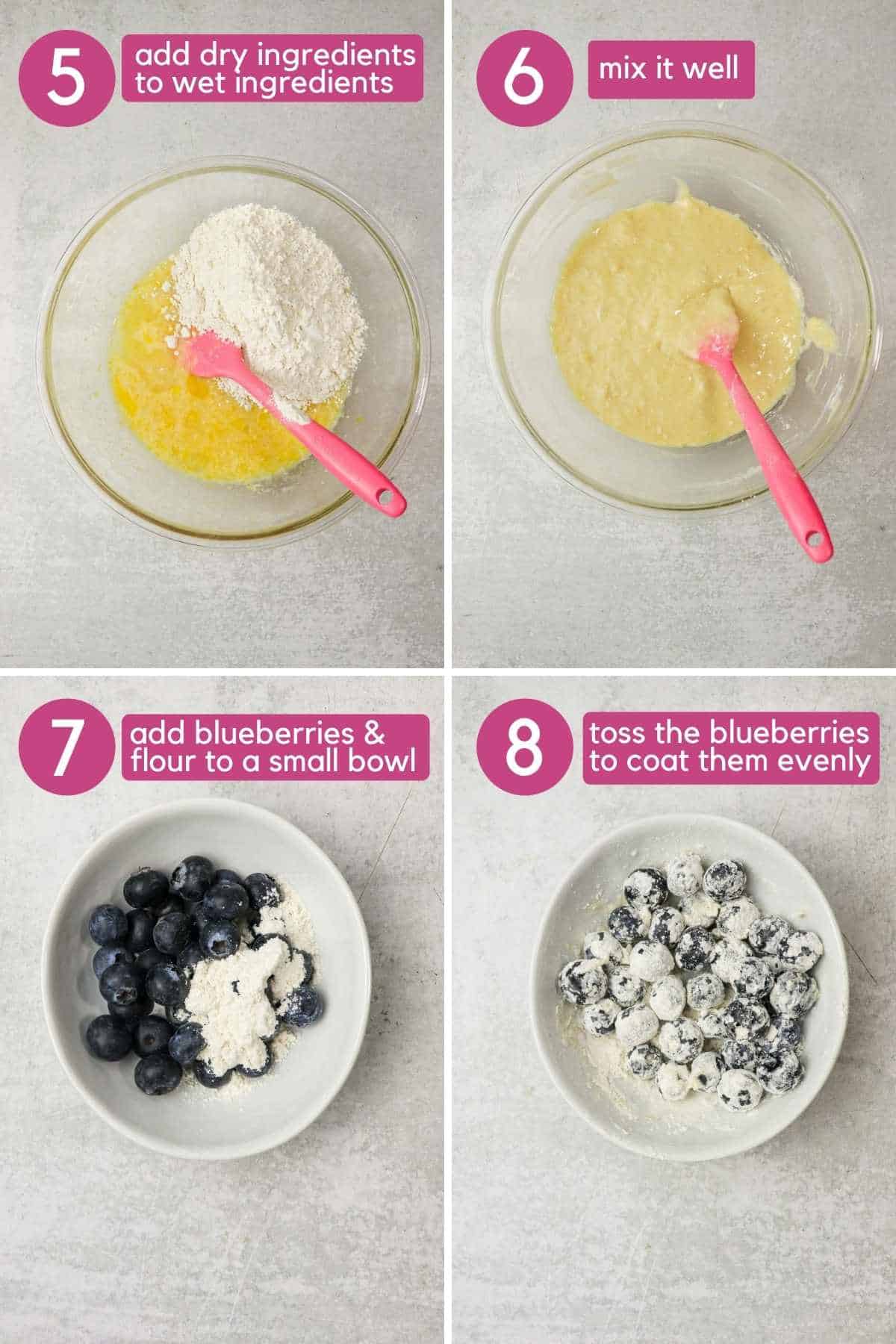 Gently fold in your flour coated blueberries to the donut batter.
Fill your donut pan with the batter, this will make ~7 donuts. If you don't have two donut pans you can add the batter to a muffin tin (extend cooking time by ~5 minutes for that one!)
Now it is time to actually bake your baked blueberry donuts! You'll want to bake them for ~10-12 minutes in your pre-heated oven or until golden brown and when a toothpick is inserted it comes out nice and clean.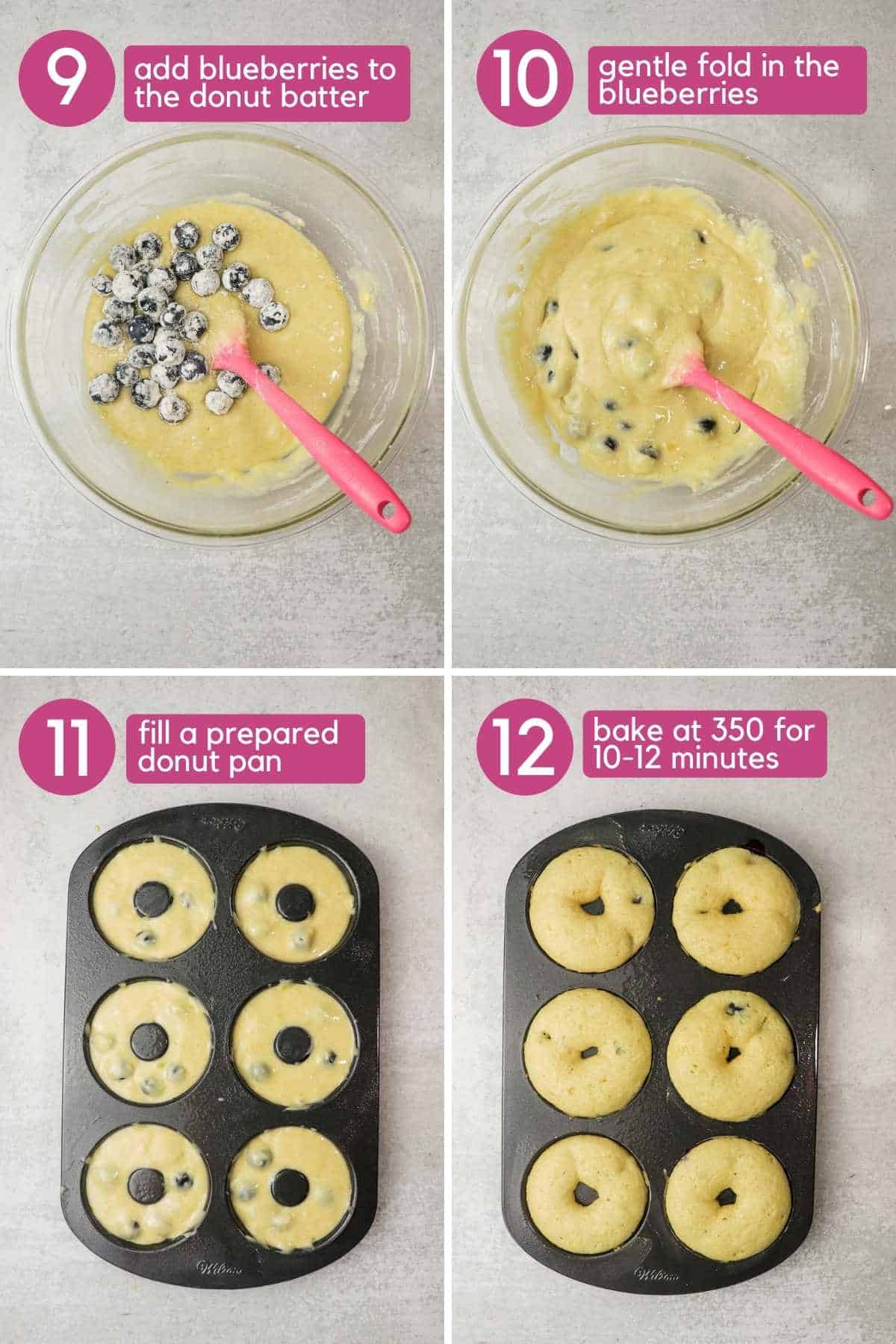 Allow these blueberry cake donuts to cool fully. They may seen soft at first, but as they cool they will firm up as they cool and become more cake-y. Just be careful when you're taking them out of the donut pan.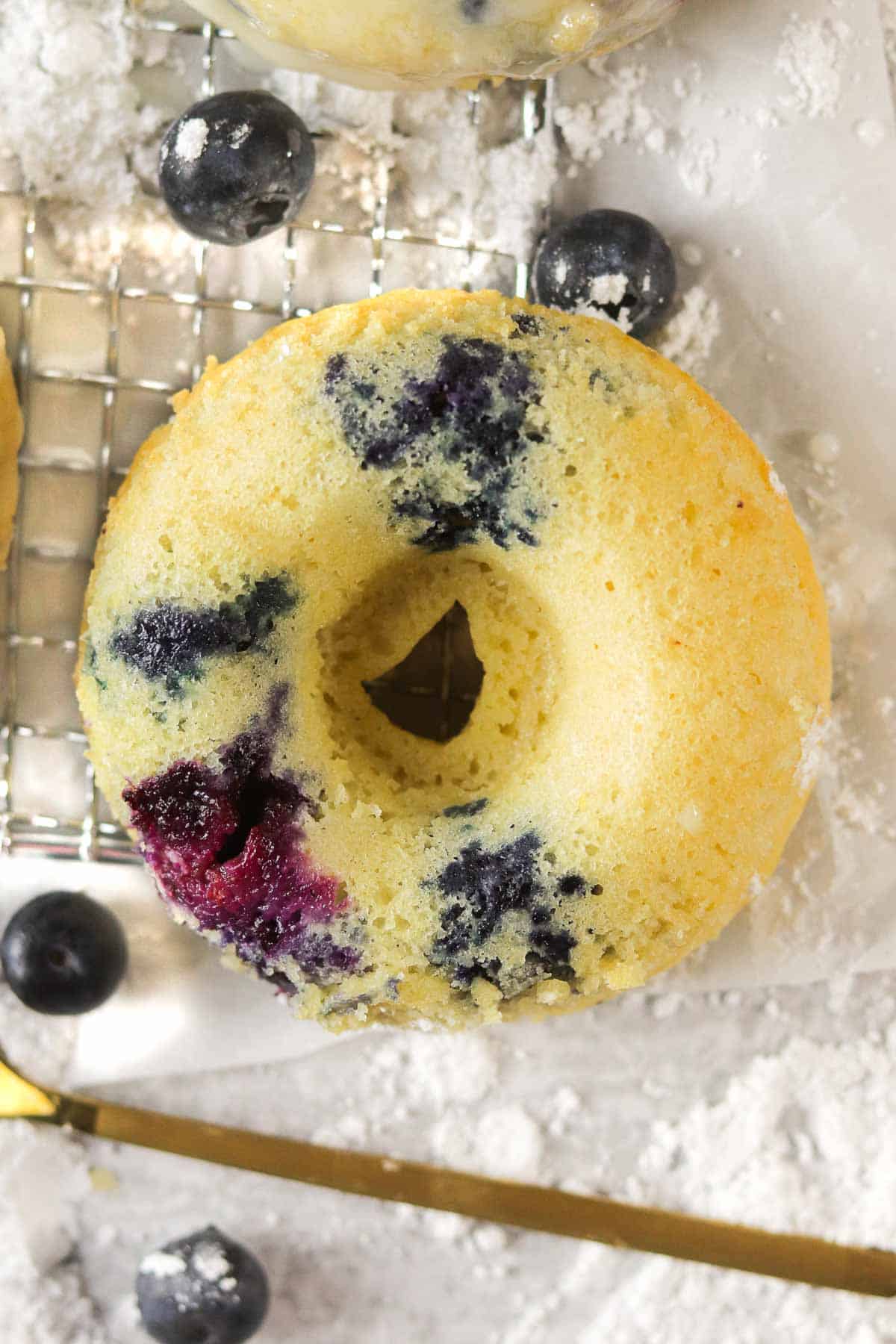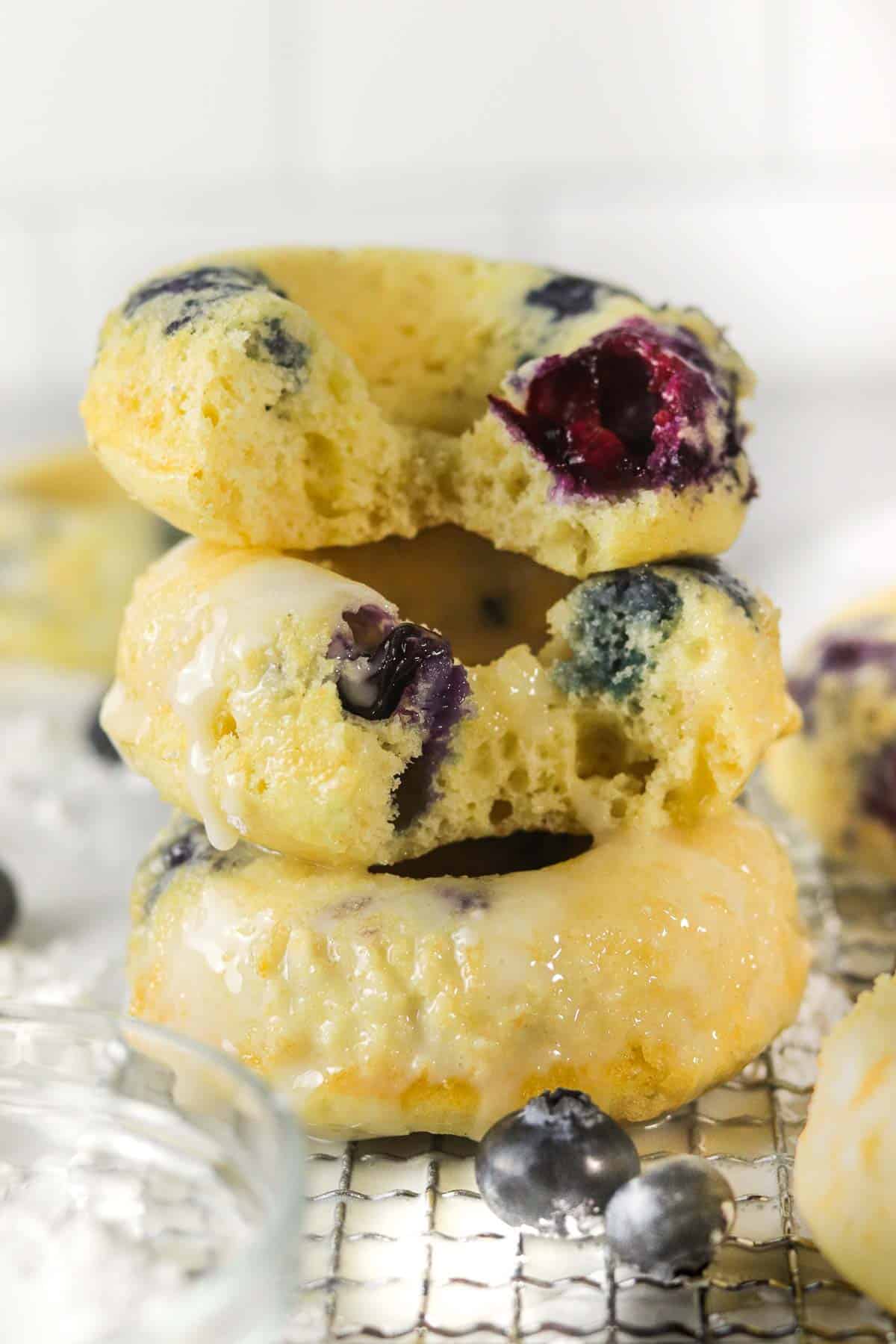 See expert tips section below for the glaze recipe if you want to add that!
Recipe FAQ's
What flours can I use for these blueberry cake donuts?
I've made this baked blueberry donut recipe with all-purpose flour, whole wheat flour, and gluten free flour. I wouldn't recommend subbing 1:1 for flours like almond flour, coconut flour, etc.
What if I don't have a donut pan?
No worries! You can make these baked blueberry donuts in a muffin tin as well! You'll likely need to tack on an extra 5 minutes of cook time. If you're doing a muffin version you might also like this recipe for blueberry protein muffins! Heck, you could use a mini-muffin tin to turn these into blueberry donut holes. So fun! If you do this cut the time in about half, but watch the time closely.
Should I use fresh or frozen blueberries?
I think fresh is best for these blueberry cake donuts because they don't add extra moisture like frozen will (they thaw and get wet). However, I've totally used frozen! You just want to make sure you allow them to fully thaw (run them under cool water in a colander) and then pat them dry as best you can with a paper towel. Be gentle here!
How should I store my blueberry cake donuts?
I store them in an airtight container on the counter for about 5 days. If you won't get through them in that time (in my house we always do!) I'd recommend freezing them, and you can keep them frozen for a few months!
Expert Tips
If you want to add a glaze to your blueberry donuts here is what you'll do:
First take 1 cup of powdered sugar and mix it in a shallow bowl with 3 tbsp of milk (you can use any milk of choice here! checkout my post on the difference between dairy VS plant based milk if you're wondering what the difference is!)
If you need to add a touch more milk to get your glaze to be drippy go ahead and do so but be careful! You don't want it too watery otherwise it won't stay on your donuts.
Id you DO make it too watery just add a touch more powdered sugar to thicken it up a bit.
Now, take one of your FULLY cooled donuts and gently dip it right into the bowl with glaze. Pick it back up, flip it over and place it dipped side up to harden.
Your glaze will harden up super nice and you'll be left with lovely glazed blueberry cake donuts just like a bakery would make!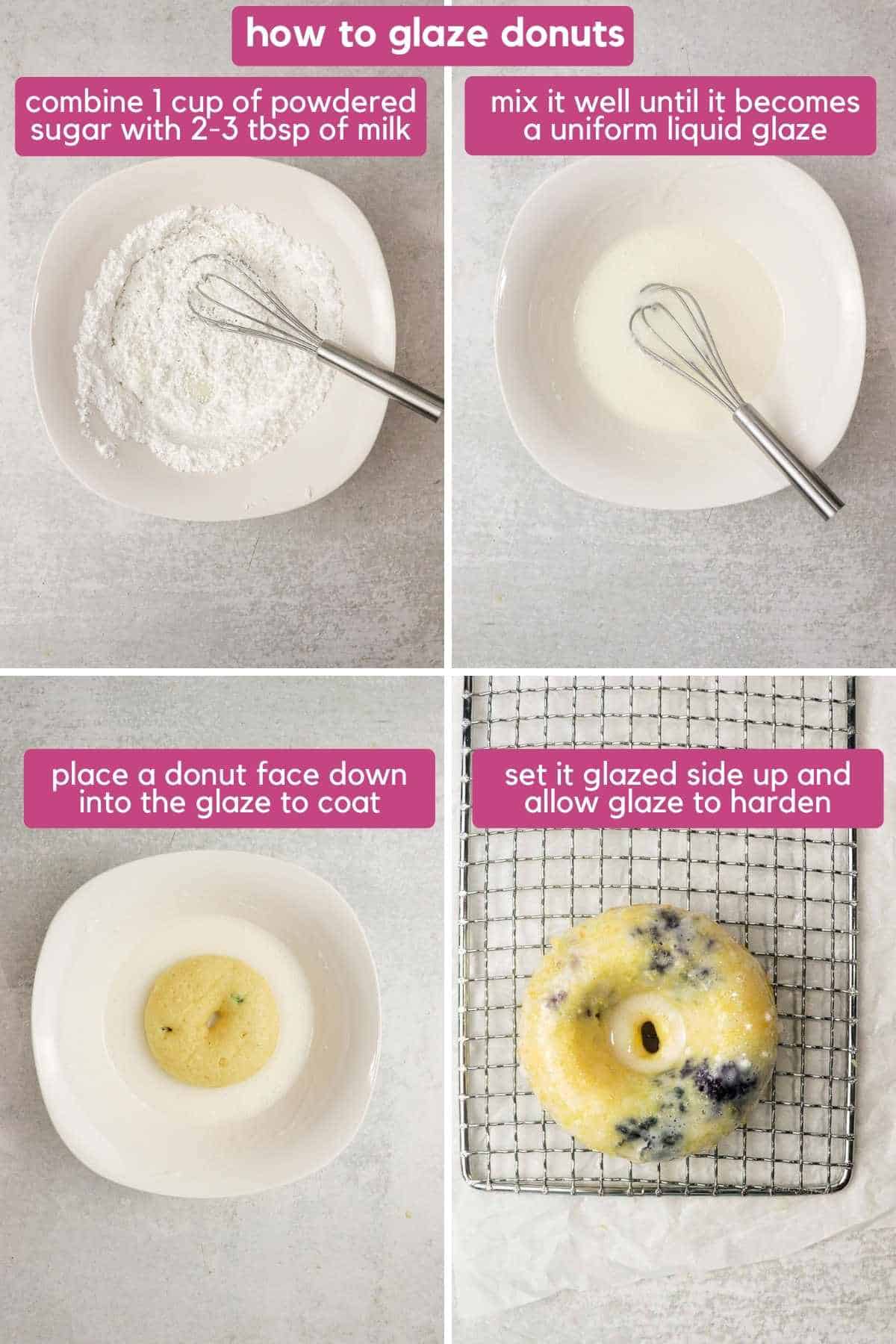 If you love this recipe, be sure to leave a star rating on the recipe card and leave a comment below!
Don't forget to pin it on your Pinterest board for later, or tag me on IG @no.food.rules if you try the recipe and love it!
Other Recipes You Might Like
XOXO
-Colleen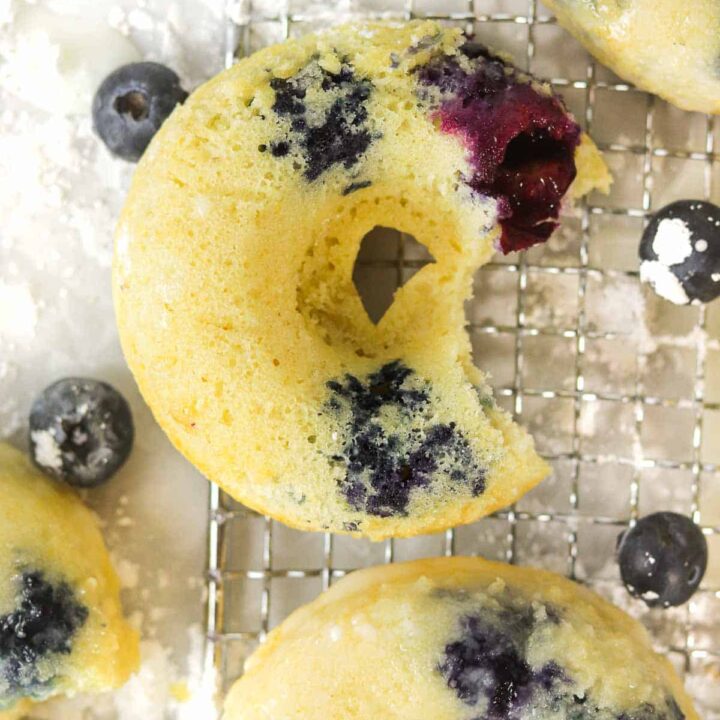 Best Ever Blueberry Cake Donuts
A fully, homemade baked blueberry cake donut is sheer happiness! Made with simple, pantry staple ingredients and ready in just about 15 minutes!
Ingredients
1 cup flour + 1 tbsp flour (divided)
1 tsp baking powder
1/4 tsp salt
1 egg
1/3 cup sugar
1/3 cup milk
1 tsp vanilla
2 tbsp melted butter
1/2 cup blueberries, fresh (rinsed) or frozen (thawed)
Instructions
Preheat oven to 350 degrees and lightly grease a donut pan with non-stick spray and set aside.
In a medium bowl combine 1 cup flour, baking powder, and salt. Set aside.
In a large bowl or stand mixer combine egg, sugar, milk, butter and vanilla.
Slowly add in the flour mixture and mix until combined.
In a small bowl coat your blueberries (rinse them so they're a TAD wet) with the remaining 1 tbsp of flour. Then, gently fold them into your batter.
Fill your prepared donut pan with donut batter. This should make ~7 donuts.
Bake for 10-12 minutes or until donuts are golden brown and when a toothpick is inserted it comes out clean.
Allow donuts to fool fully before if adding frosting, glaze or rolling in powdered sugar.
Enjoy!
Notes
You may sub whole wheat or 1:1 gluten free flours. I do not recommend using almond or coconut flour.
To make the glaze combine 1 cup of powdered sugar and 2-3 tbsp of milk. Mix it up then dip your donuts into the glaze. Allow to harden.
Store donuts on the counter for 5-7 days or freeze for 2-3 months.
Recommended Products
As an Amazon Associate and member of other affiliate programs, I earn from qualifying purchases.
Nutrition Information:
Yield:

7
Serving Size:

1
Amount Per Serving:
Calories:

159
Total Fat:

4g
Saturated Fat:

2g
Trans Fat:

0g
Unsaturated Fat:

2g
Cholesterol:

36mg
Sodium:

196mg
Carbohydrates:

26g
Fiber:

1g
Sugar:

11g
Protein:

3g