An easy bagel recipe that requires no yeast, boiling, or hours spent waiting for the dough to rise. In just about 20 minutes you have a fresh batch of these 3 ingredient bagels coming out of your oven or air fryer ready to be devoured!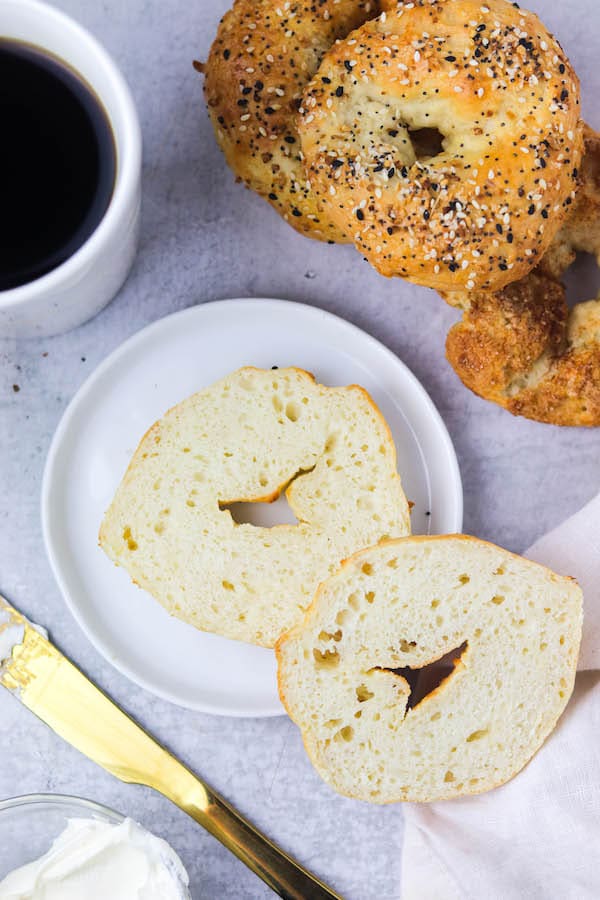 Growing up my family never ate a ton of bagels, we we much more cereal people. However, my husband, Joe's, family loves them. Since my in-laws live only about 6 blocks away we're over there pretty frequently. Mostly we're borrowing tools for house projects or dropping off our fur baby, Theo, for them to puppysit.
Usually when we stop over it's not uncommon for me to see a bag of bagels and a toaster out but one day in place of that I saw a recipe instead. My mother-in-law was making greek yogurt bagels and knew I had to give it a try. After some searching I realized "2 ingredient bagels" were a pretty common thing on Pinterest and that's was likely the recipe.
Why These 3 Ingredient Bagels Work
When looking for a recipe for greek yogurt bagels those two ingredient bagels all called for self-rising flour. To be honest I don't typically have any self rising flour around. So, in this 3 ingredients bagels recipe I use baking powder plus regular all-purpose or whole wheat flour and BOOM! Problem solved!
SkinnyTaste also has a common recipe for greek yogurt bagels without self-rising flour, but there were a couple adjustments I wanted to make, so I adapted it. I wanted to have some fat in my bagels for texture purposed and also to help keep you full and satisfied so I use whole milk greek yogurt and the option to use a full egg VS egg white for the wash if you're adding toppings. I also didn't feel the need to add salt to the bagels, the flavor was on point without!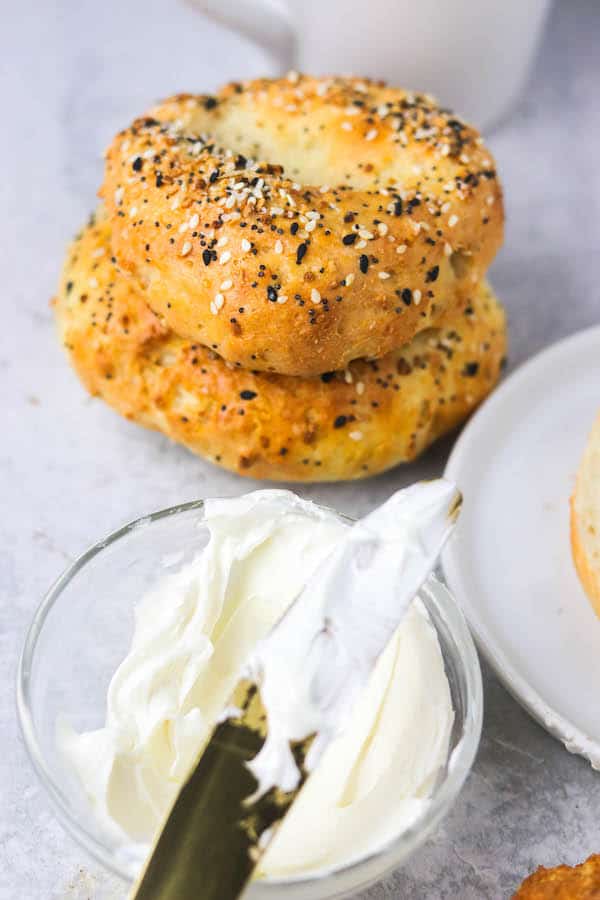 3 Ingredients In Bagels
The basic ingredients you'll need for these greek yogurt bagels are:
greek yogurt
flour
baking powder
You can keep it as simple as that or you can get as fancy as you want adding some everything bagel seasoning, cinnamon sugar, blueberries, cheese, etc. etc. The possibilities are really endless!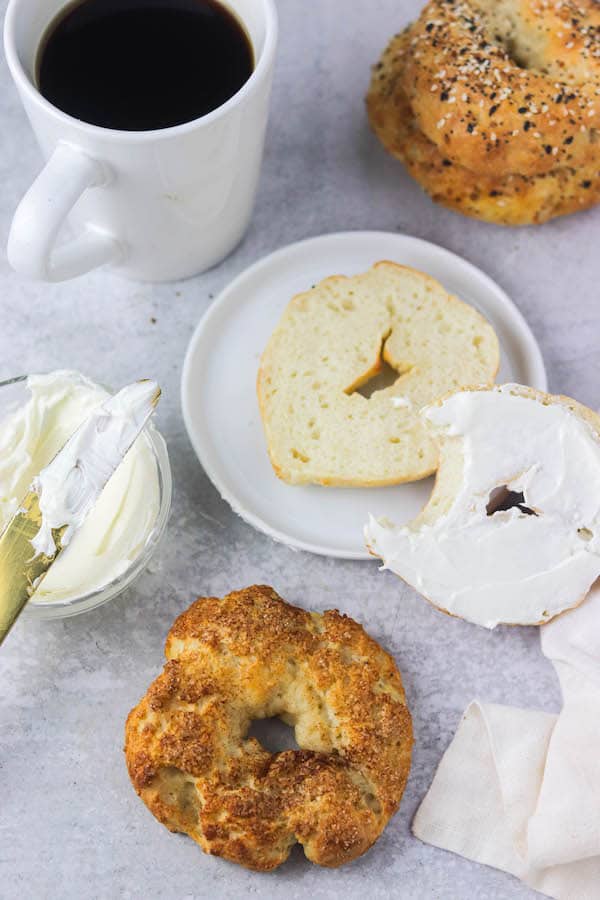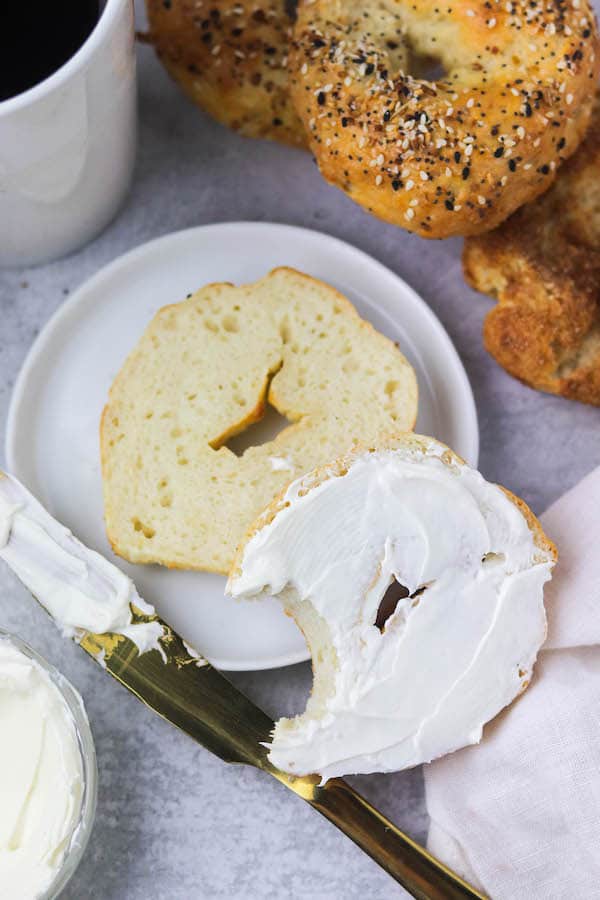 How To Make 3 Ingredient Oven or Air Fryer Bagels
This will be short and sweet, since there really isn't many steps to make this super easy bagel recipe.
First, if you're using an oven preheat it to 375 degrees and line a baking sheet with a spill mat or spray with non-stick spray. (I don't usually pre-heat my air fryer, but that's just me- do whatever your air fryer model calls for!)
Then, in a large bowl or stand mixer combine greek yogurt, flour and baking powder until well combined.
Next, take your dough (which will be kind of sticky) and divide it into 4 sections. Take each section and roll the dough into a log shape, then connect each end, forming a circular bagel shape (simply pinch the ends together). Repeat with remaining dough.
Place your bagels on the baking sheet if using the oven or place in your air fryer basket (spray it with non-stick spray).
If making oven baked bagels bake them for ~22-25 minutes. Mine were perfect at about 23 minutes, but depending on your oven you might need more or less. They should still be slightly soft and squishy when you take them out (they'll harden as they cool), but golden
If making air fryer bagels bake them at 320 for ~10 minutes.
If you don't have an air fryer I'd highly recommend getting on. I use mine every day, usually multiple times per day! You can find one that I recommend here.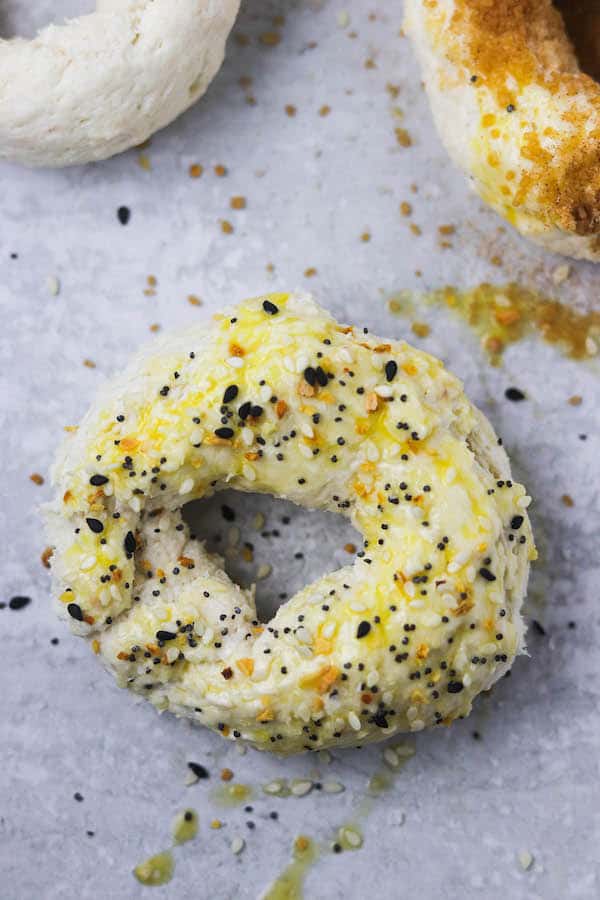 Bagel In Air Fryer VS Bagel In Oven
Both options, air fryer bagels and oven baked bagels, are both delicious and turn out really well. The air fryer method is quicker, but you may need to do 2 batches depending on how large your air fryer basket is.
I'll usually use the oven method if I have other things that I am making in the oven and I have it on already. Typically, on Sundays I'll do some meal prep so I might make these using the oven method at that time. If I don't have anything else in the oven or if it's summer time and I don't want to heat up the whole house with the oven, I'll use the air fryer. Neither is right or wrong, you can use whatever method you like best or have access to!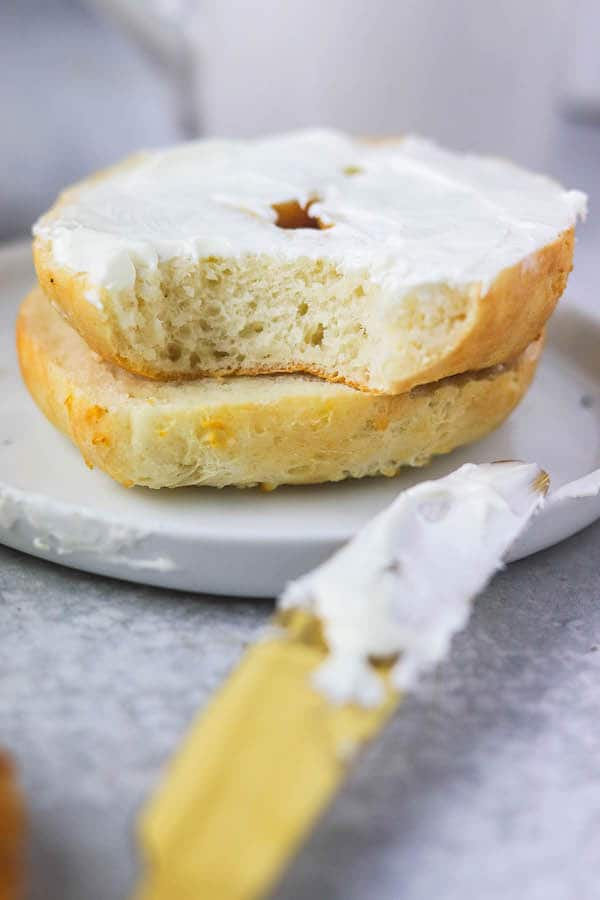 3 Ingredient Bagel FAQs
What kinds of flour can I use?
You can use regular all-purpose flour, whole wheat flour, or gluten free flour. If you use alternative flours like coconut, almond, etc. you will likely need to use extra flour and may get a different result.
What kinds of bagels can I make?
You can make really any kind of bagel! Everything bagels, sesame bagels, blueberry bagels, cinnamon sugar bagels- you name it! If you're hoping for seasonings to stick to the top I would recommend using an egg wash to help. For this simply scramble and egg in a cup with a fork and brush on top of your bagels before cooking and adding your toppings.
What type of yogurt do I need to use?
For this recipe you'll need a greek yogurt. These yogurts are thicker than regular yogurt and provide an extra dose of protein for your bagels, which help to keep us fuller longer. I use whole milk greek yogurt when I make mine. I've hear people say that non-fat works well, too. However fat also helps to keep us fuller, longer so that's something I take into consideration when choosing! I haven't tested this recipe with non-dairy alternatives, however these yogurts tend to be of thinner consistency, so you may not wind up with the same result.
How long can I keep these bagels?
I keep these 3 ingredient bagels on the counter for about 5 days, or you can store them in the freezer for 2-3 months.
Give this recipe for these super easy greek yogurt bagels a try and be sure to leave a star rating on the recipe card below if you love them! It really does help me to be able to create more recipes for you.
Leave a comment with which method you used- oven baked bagels or air fryer bagels!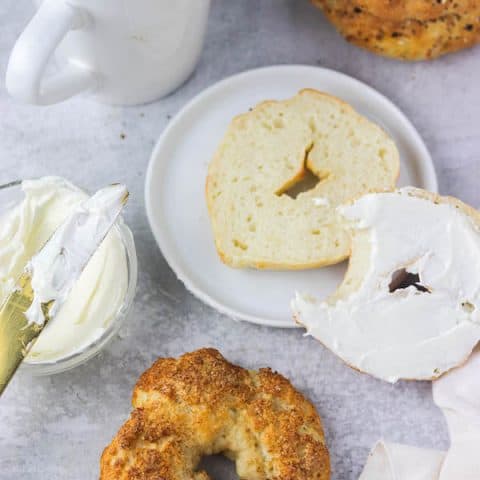 3 Ingredient Bagels
Fresh, perfectly cooked bagels in just 20 minutes! These 3 ingredient bagels require no yeast, boiling or waiting time for the dough to rise!
Ingredients
1 cup whole milk greek yogurt
1 cup all-purpose flour
2 tsp baking powder
1 Egg (optional)
spices/seasonings for topping (optional)
Instructions
If baking in the oven, preheat oven to 375 degrees and line a baking sheet with parchment paper, a spillmat, or lightly spray with non-stick spray.
In a large bowl combine greek yogurt, flour and baking powder, mixing well.
Take 1/4 of the dough and roll between your hands and form a log. Then, crimp the ends together to create a circular bagels shape. Repeat with remaining dough. You will have 4 bagels.
If you're planning to add toppings whisk an egg with a fork, coat bagels, and top with choice of topping (I like everything bagel seasoning or cinnamon sugar!)
To bake in the oven: Bake for 22-25 minutes.
To cook in the air fryer: air fry at 320 for 10 minutes.
Allow bagels to cool and enjoy!
Notes
May sub whole wheat or gluten free flour.
I like the air fryer version because it's quicker and they end up a little crisper on the outside. But both turn out really well!
Adapted from SkinnyTaste
Nutrition Information:
Yield:

4
Serving Size:

1
Amount Per Serving:
Calories:

192
Total Fat:

4g
Saturated Fat:

2g
Trans Fat:

0g
Unsaturated Fat:

2g
Cholesterol:

54mg
Sodium:

283mg
Carbohydrates:

28g
Fiber:

1g
Sugar:

2g
Protein:

10g
Happy eating, gorgeous humans!
XOXO
-Colleen
Want more recipes like this? You might like these!