Everything tastes better when it comes in egg shape, including this easy candy recipe for coconut cream eggs! Made with all natural, vegan, gluten free and dairy free ingredients, it's a recipe everyone will love.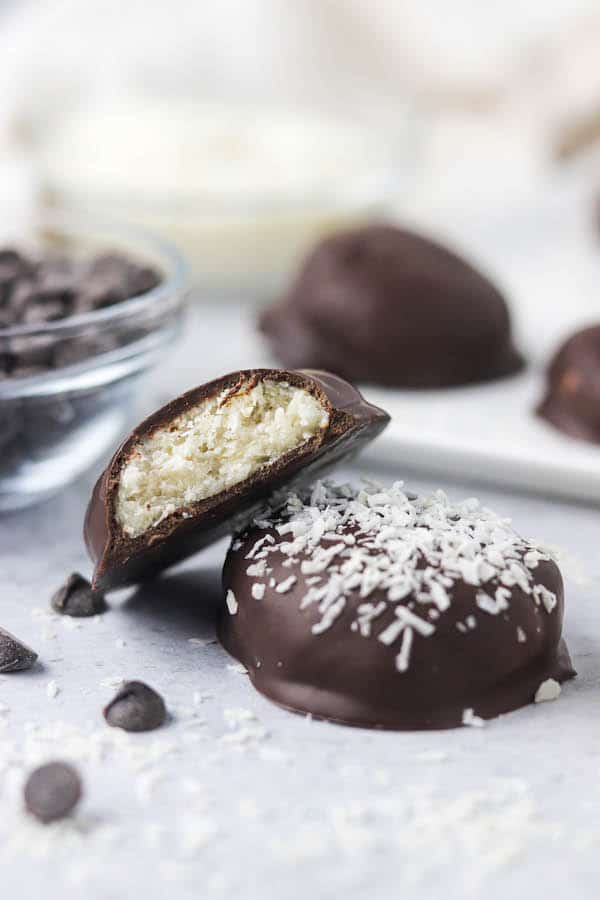 Coconut Easter Eggs
These coconut cream eggs couldn't be easier to make! They're made with just a few simple ingredients and require little work on your part. Win-win! Plus, like I said, all of the ingredients are vegan, gluten free, and dairy free. Chances are, you probably have most of them in your kitchen right now!
These are these coconut Easter eggs are the perfect treat to make during the spring time. Set out a plate of these at Easter and they'll surely be gobbled up in an instant! But, you can also make this coconut Easter egg recipe year round by simply making them into circles. They'd also make a great coconut cream treat to have during the winter holiday season!
Ingredients for Coconut Cream Eggs
Coconut butter: You can purchase coconut butter or make your own. Making your own coconut butter is SO EASY. Literally just put unsweetened shredded for flaked coconut into a food processor and process! Now, it does take some time, about 5-10 minutes, but it will become a nice, smooth, liquid-like consistency! Then, wait for it to firm up!
Shredded coconut: No surprise here! You'll fold coconut into the coconut butter. The ultimate coconut flavor explosion in this coconut easter egg recipe!
Vanilla: To give them a little extra creamy flavor
Maple syrup or honey: You can use either of these to give these coconut cream eggs a touch of sweetness.
Chocolate chips: Now, you can use vegan chocolate chips or simple use regular if no one you're serving these to is vegan. Your call!
Coconut oil: This will help the chocolate chips set and create a nice shell for this coconut easter egg recipe!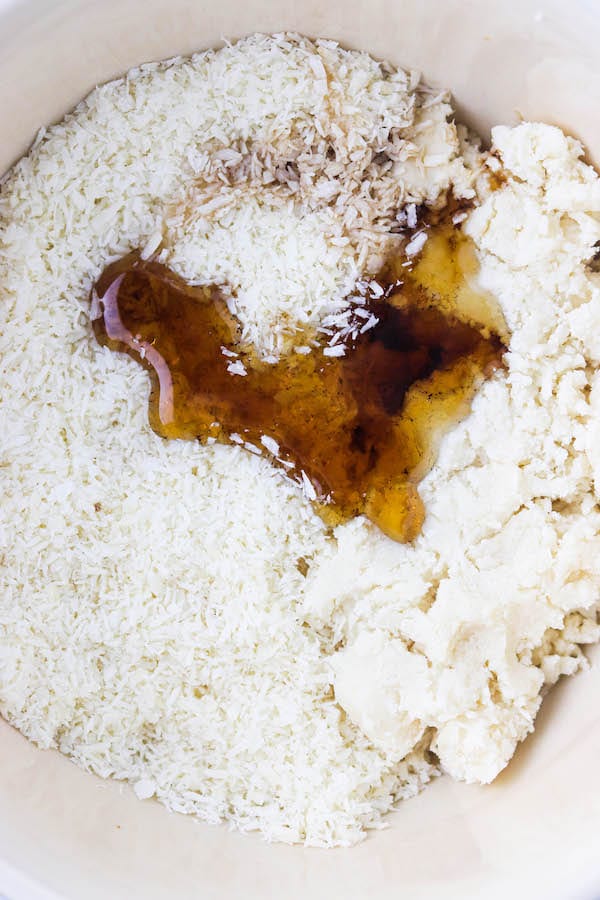 How To Make Creamy Coconut Easter Eggs
First, you'll need to make the coconut butter if you're making it yourself. Like I said, it's so easy to make! Be sure to allow that to set before making the coconut cream mixture. You should be able to scoop it with a spoon, so it shouldn't be drizzly anymore.
Next, combine the coconut butter, shredded coconut, vanilla and honey/maple syrup. Work this all together until it is a uniform consistency.
Shape the coconut cream mixture into egg shapes and place in the freezer for 5-10 minutes to firm up.
While the coconut eater eggs filling is setting in the freezer, melt the chocolate chips and coconut oil together in the microwave for 1-2 minutes. Be sure to stop every 30 second to stir and prevent the mixture from burning. Not good!
Once mixture is melted take your firmed up, naked coconut cream eggs and dip them in the chocolate to cover. Place on wax paper. Repeat for all eggs. You can add sprinkles, extra coconut, or a drizzle of chocolate to the top of the eggs if you like!
After you've covered all of the eggs return them to the freezer and allow the chocolate to harden. This can take ~10 minutes. Remove from freezer and enjoy!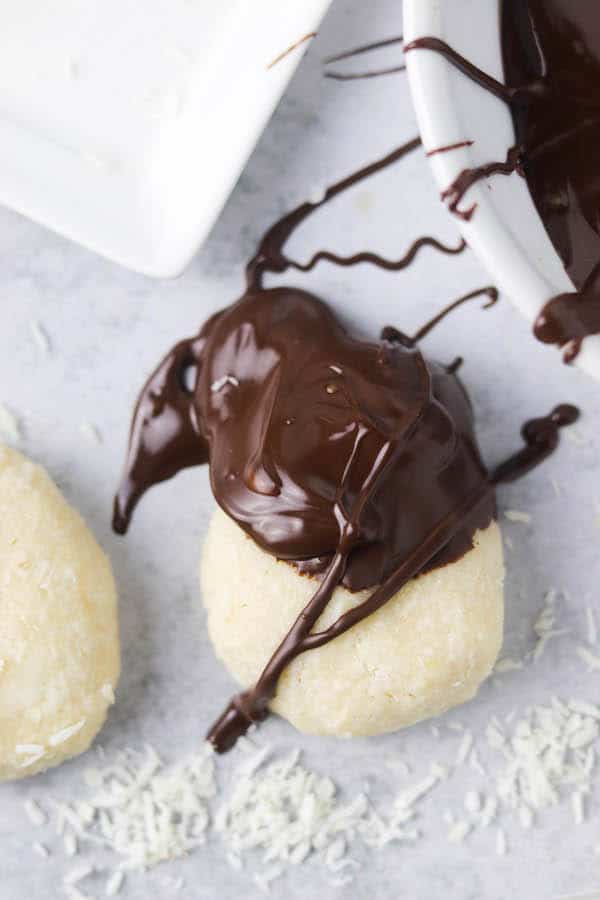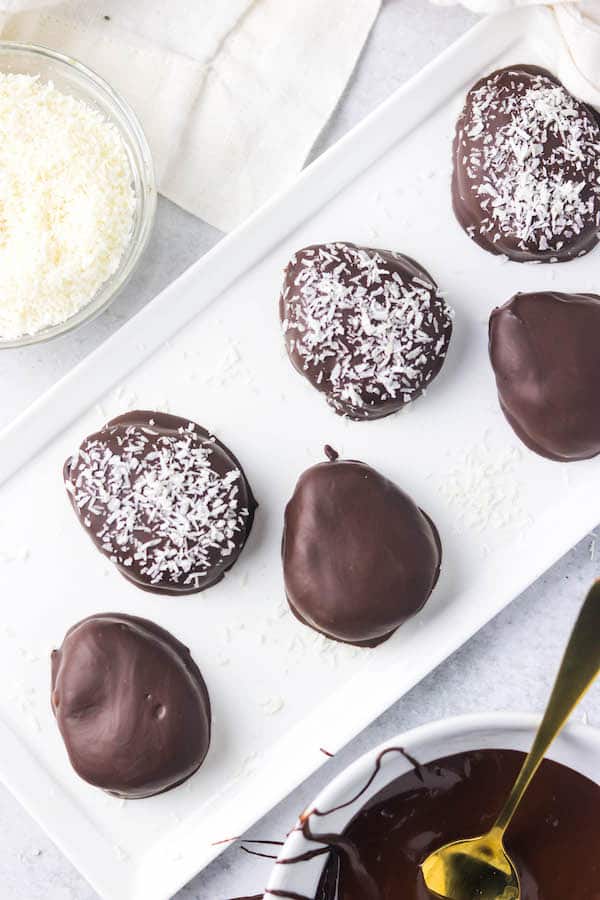 Storing Coconut Cream Eggs
I like to store my finished coconut cream eggs in the fridge. I'd suggest placing a piece of wax paper in between them before stacking to prevent them from sticking together. You can keep this in the fridge for ~1 week…. if they last that long!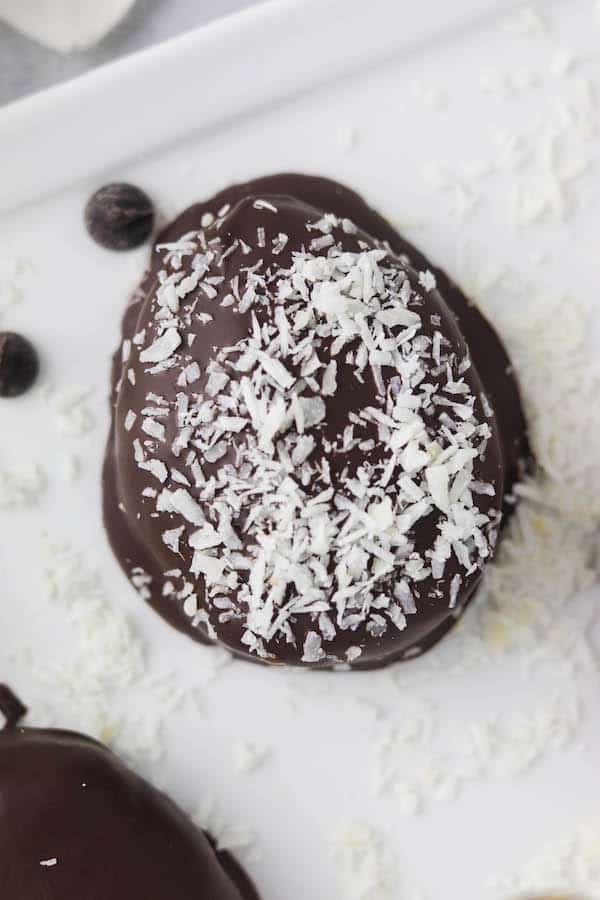 Give this SUPER easy coconut cream egg recipe and if you like it be sure to leave a star rating on the recipe, I'd love that!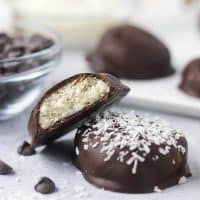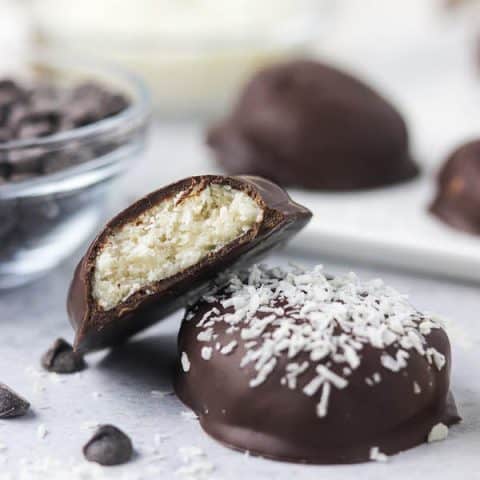 Easy Coconut Cream Eggs
Simple ingredients and even simpler to make! These easy vegan, gluten free, and dairy free coconut cream eggs are sure to be a hit!
PRINT RECIPE
Ingredients
1/2

cup

coconut butter

1

cup

shredded

unsweetened coconut

1

tbsp

maple syrup

or honey

1

tsp

vanilla extract

1/3

cup

chocolate chips

1

tbsp

coconut oil
Instructions
1. Combine coconut butter, shredded coconut, vanilla and maple syrup in a medium sized bowl (instructions for coconut butter in the notes section)

2. Mix all ingredients well. I like to use my hands to really work it together. It may seem tough at first, but as the coconut butter warms up it will mix easier.

3. Using a tablespoon take scoops of the coconut mixture, roll into a ball, then flatten in to an egg shape. Place on a plate lined with wax paper.

4. Repeat this process with remaining coconut mixture.

5. If your coconut mixture is warm from mixing place them in the freezer for ~5-10 minutes to firm up.

6. In a separate small bowl combine chocolate chips and coconut oil. Microwave for 2 minutes, stopping every 30 seconds to stir and avoid burning.

7. Take firmed coconut eggs and dip in the chocolate to cover. Repeat with remaining eggs. Sprinkle with coconut or sprinkles if desired.

8. Allow chocolate to cool fully, I like to place them in the fridge for ~10 minutes.

9. Bit into them and enjoy! Store in the fridge for ~1 week, otherwise freeze them for later!
Notes
To make coconut butter simple place ~2 cups of unsweetened coconut flakes or shredded coconut into a food processor and process for 5-10 minutes. This can take a while, but at the end the mixture will essentially be a liquid. It will get there! Allow it to firm up in a container to become more buttery consistency. This will make ~2/3 cup coconut butter.
Feel free to use whatever chocolate you like! Dark chocolate, milk chocolate, or white chocolate!
Add a dash of peppermint oil for an peppermint treat
click To display nutrition info
Nutrition Facts
Nutrition Facts
Easy Coconut Cream Eggs
Amount per Serving
% Daily Value*
* Percent Daily Values are based on a 2000 calorie diet.
Happy Eating!
XOXO
-Colleen
Want more recipes like this? You might like these!
CopyCat Panera Kitchen Sink Cookies
Chocolate Covered Strawberry Brownies