Perfectly juicy on the inside and insanely crispy on the outside, air fryer frozen chicken nuggets are ready in just 10 minutes! They're a great protein source to add to any meal or snack in a pinch for adults and kids alike!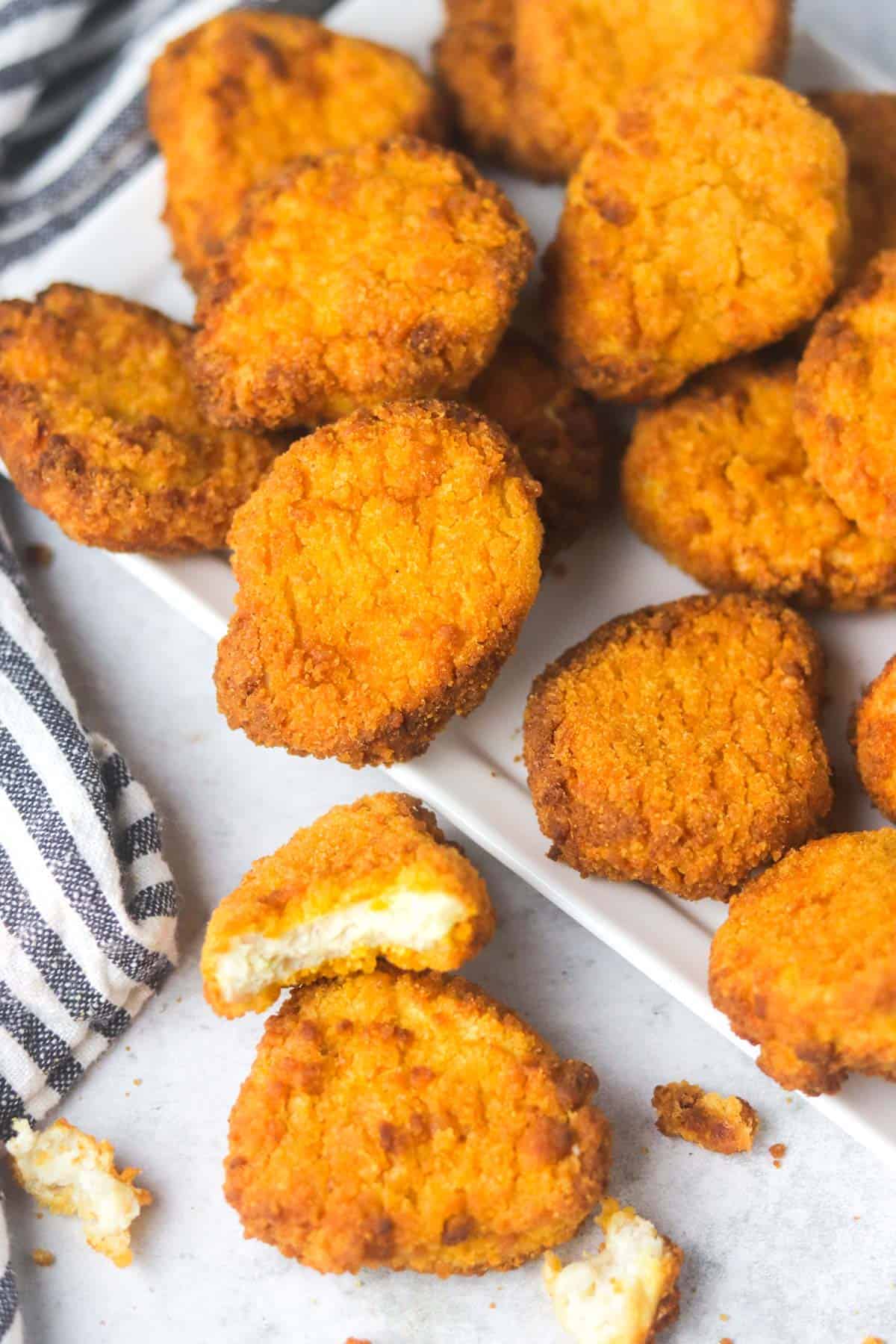 Why This Recipe Works
I may be an adult now but I'll never be sick of chicken nuggets! I like to make a big batch of these and have them on hand throughout the week to throw on salads (they go great in my hamburger salad recipe!) or even in omelettes.
Cooking frozen chicken nuggets in the air fryer is by far the BEST way to make them. It's way faster than cooking them in the oven since the air is circulating VS staying stagnant (which is what happens in a conventional oven). Plus they get WAY crispier!
What You'll Need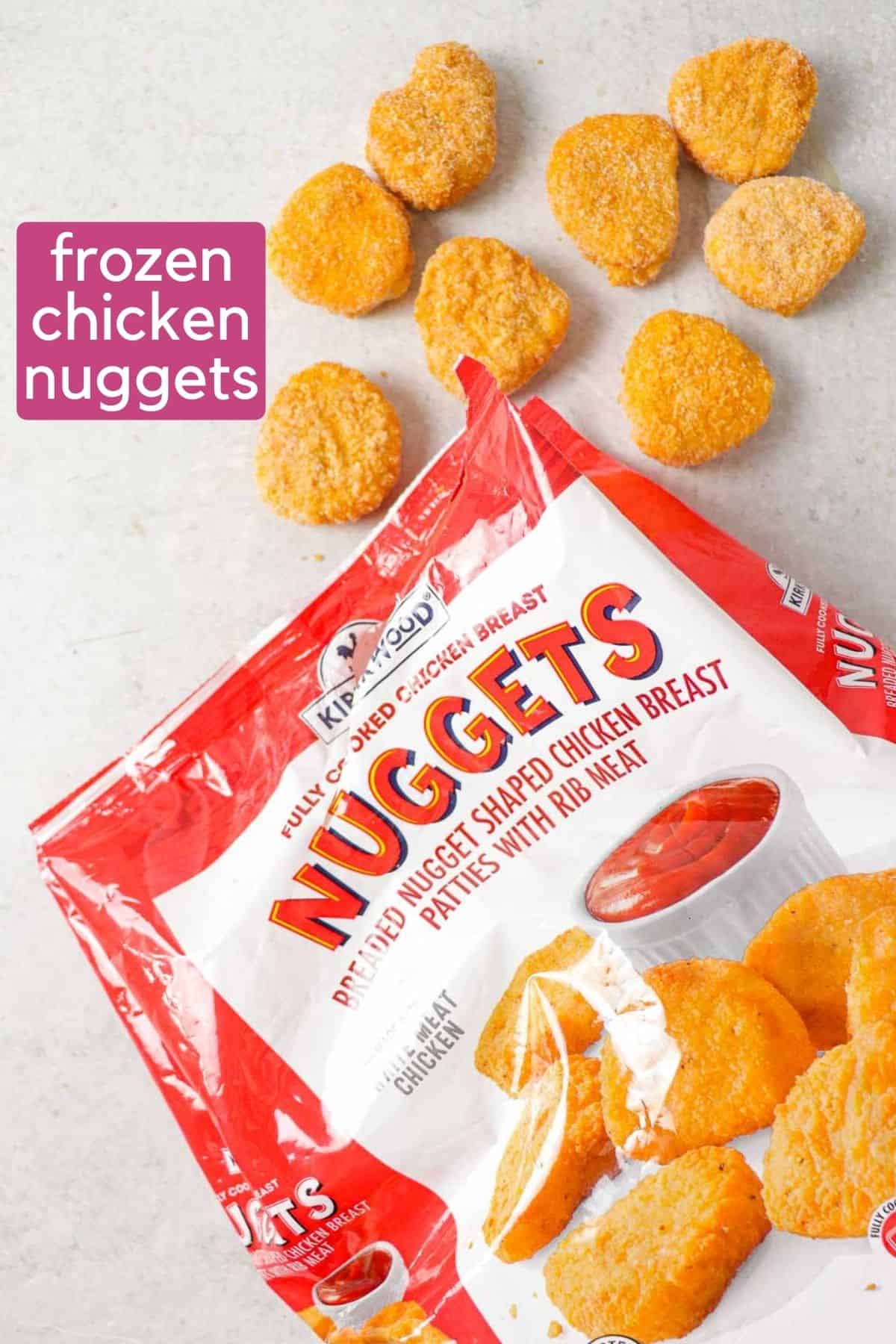 Pretty simple! All ya need is your fave frozen chicken nuggets and an air fryer! I have a 6qt Instant Pot air fryer which I highly recommend. I tested a lot of them and this was by far the best in my opinion.
How To Make Them
First, preheat your air fryer to 370 degrees. If you don't have a preheat function you can let your air fryer run at 370 for about 5 minutes.
Once preheated, spray the air fryer basket with non-stick spray and place in your chicken nuggets; You want to avoid over crowding your basket. I like to keep them in just one layer. It's okay if they're touching but you want to avoid them overlapping.
Now, cook your chicken nuggets in the air fryer for 10 minutes total, shaking once halfway through the cooking time.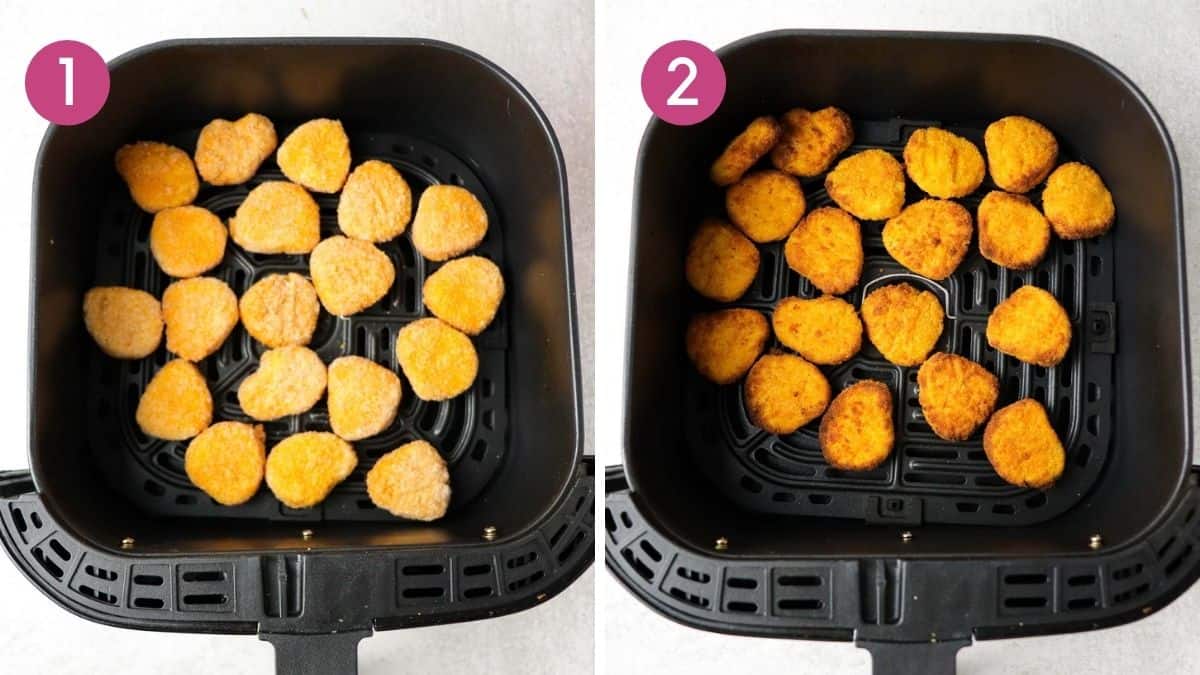 Recipe FAQs
Can I reheat cooked air fryer chicken nuggets?
Totally! I just pop them back in the air fryer at 370 for about 5 minutes!
Are frozen chicken nuggets healthy?
The old thought that frozen chicken nuggets are a kids foods is so, well.. old! I'm a grown woman who loves to pop some chicken nuggets in the air fryer whenever I need a quick meal! They're great because they give your body both protein and carbs, both of which contribute to a satisfying meal that keeps you full!

I like to look for frozen chicken nuggets that are made with white meat chicken breast and have few ingredients. This is a form of gentle nutrition, as I know that helps my body feel it's best. But if all that's available is the regular kind with maybe a longer ingredient list don't worry, totally fine to eat those, too!

If you do want to make your own chicken nuggets from scratch it's really easy! I have a recipe for extra crispy spicy chicken nuggets that I like to cook in the air fryer. You can totally leave out the spices to keep them as just regular homemade chicken nuggets!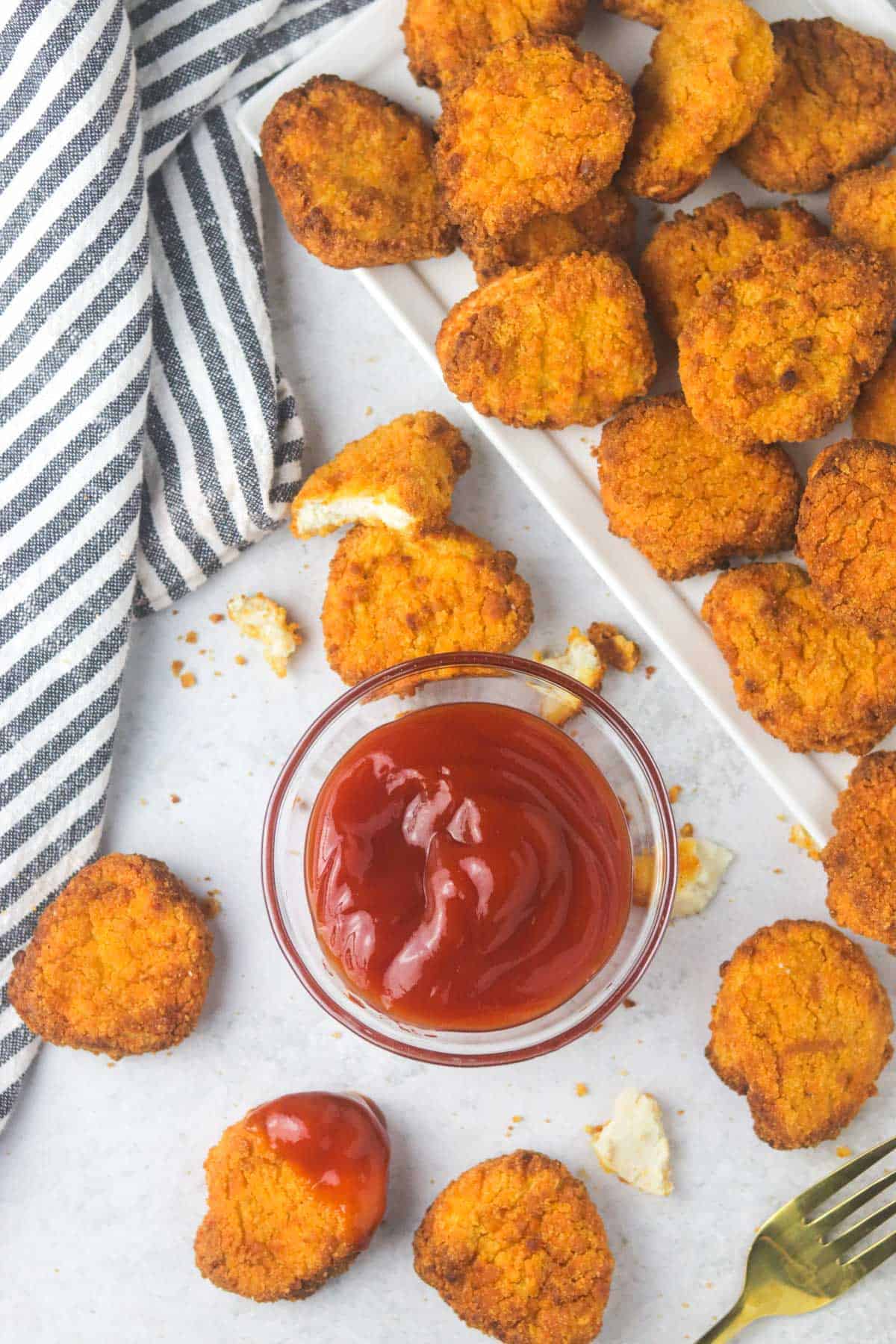 Other Air Fryer Recipes You Might Like:
If you love this recipe, be sure to leave a star rating on the recipe card and leave a comment below!
Don't forget to pin it on your Pinterest board for later, or tag me on IG @no.food.rules if you try the recipe and love it!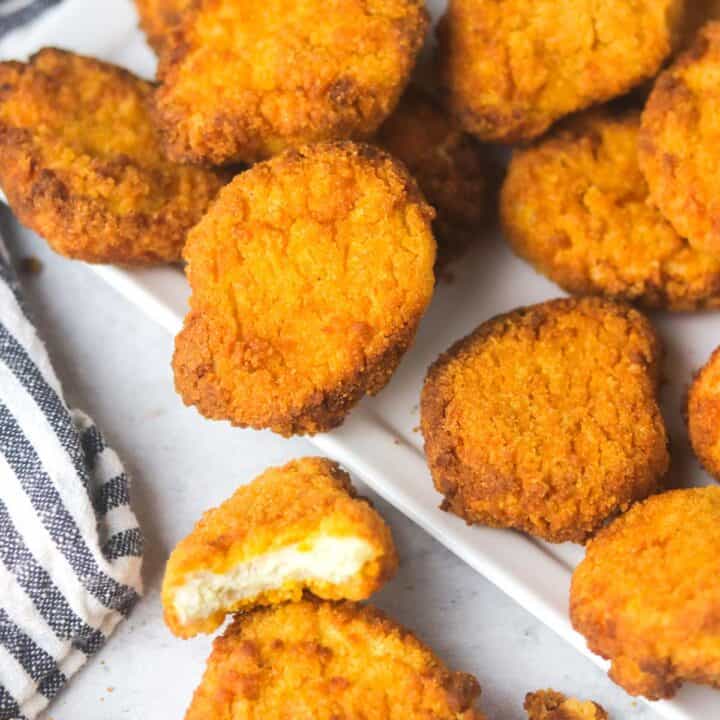 Crispy Air Fryer Frozen Chicken Nuggets
Juicy on the inside and crispy on the outside, air fryer frozen chicken nuggets are ready in just 10 minutes and are a great way to add protein to any meal!
Ingredients
~ 10 frozen chicken nuggets (or as many will fit in your air fryer and you're wanting to cook!)
Instructions
Spray your air fryer basket with non-stick spray.
Place frozen chicken nuggets in the air fryer basket.
Cook at 370 for 10 minutes, flipping once halfway through cooking time
Plate them up as is, serve on a salad, or add to a wrap!
Enjoy!
Notes
You can use any kind of frozen chicken nuggets for this recipe.
Chicken tenders will also work, you may need to extend the cooking time by a couple of minutes if they are large.
To store, place them in an air tight container and store in the fridge for 5-7 days.
Recommended Products
This blog post contains affiliate links, which means that if you click on a product link, I may receive a commission. All opinions are my own, and all brands featured represent what I personally like and support. This blog is a participant in the Amazon Services LLC Associates Program, an affiliate advertising program where I earn advertising fees by linking to amazon.com.
Nutrition Information:
Yield:

2
Serving Size:

1
Amount Per Serving:
Calories:

246
Total Fat:

16g
Saturated Fat:

3g
Trans Fat:

0g
Unsaturated Fat:

11g
Cholesterol:

44mg
Sodium:

475mg
Carbohydrates:

12g
Fiber:

1g
Sugar:

0g
Protein:

13g