When you think of pumpkin you probably think of sweet things like pumpkin pie, pumpkin bread, and pumpkin spice lattes. But have you tried eating savory pumpkin? You might just want to after seeing how amazing this roasted pumpkin feta salad with sunflower dressing is!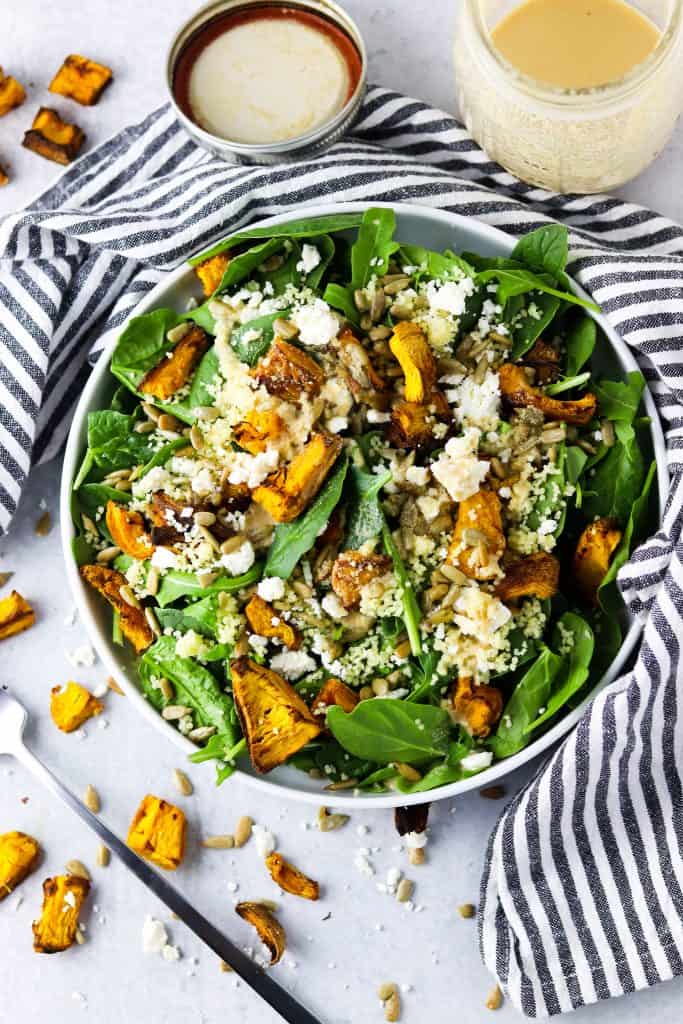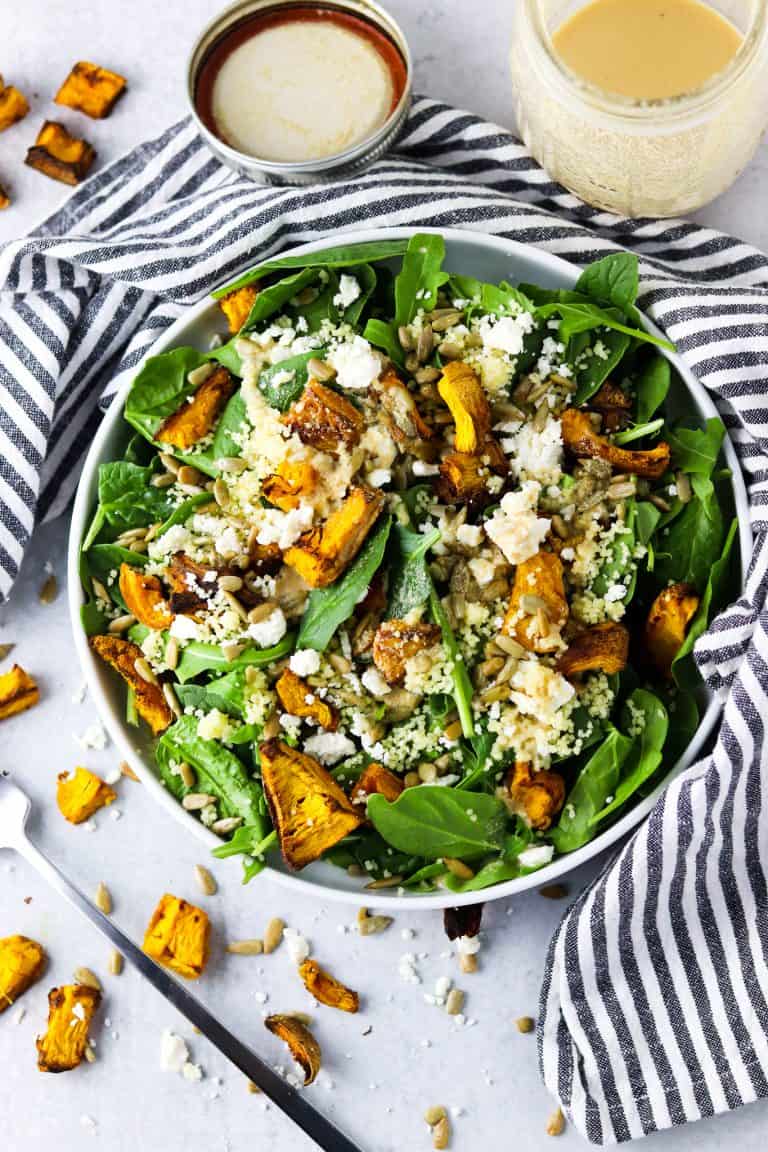 For this recipe we use pie pumpkins. You know, those cute little mini pumpkins you see at the grocery store? I used to be so intimidated to buy them and ONLY made things the called for canned pumpkin. That is until one day I took the plunge to buy one and roast it, bound and determined to overcome this fear! I mean, it's a pumpkin for goodness sake!me tell you, I felt so silly for ever being intimidated to roast fresh, whole pumpkin! Firstly, because it's so easy- and WAY less work that gutting a pumpkin to carve! And secondly because they're SO delicious and give this roasted pumpkin feta salad loads of flavor.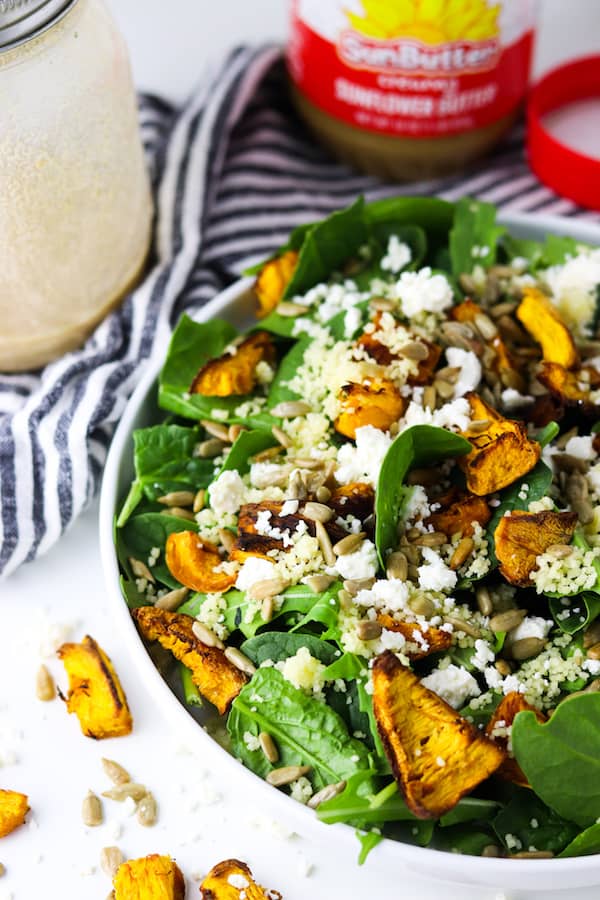 Here is a super simple way to cut and roast them:
How To Roast A Pie Pumpkin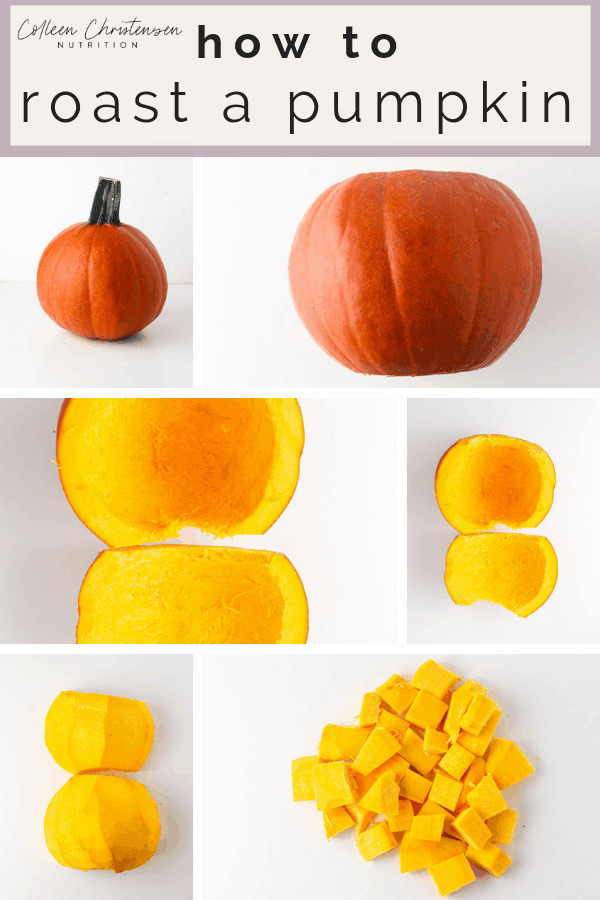 All you have to do is cut the ends off, cut it in half, scoop out the middle, peel it, and chop it! Then I misted it with some EVOO, added a dash of salt and roasted it in the oven for ~45 minutes at 400 degrees. I mean how east is it to roast a pumpkin, right?!
Before we go further take a second and pin this recipe to your Pinterest board, you're going to want to share it!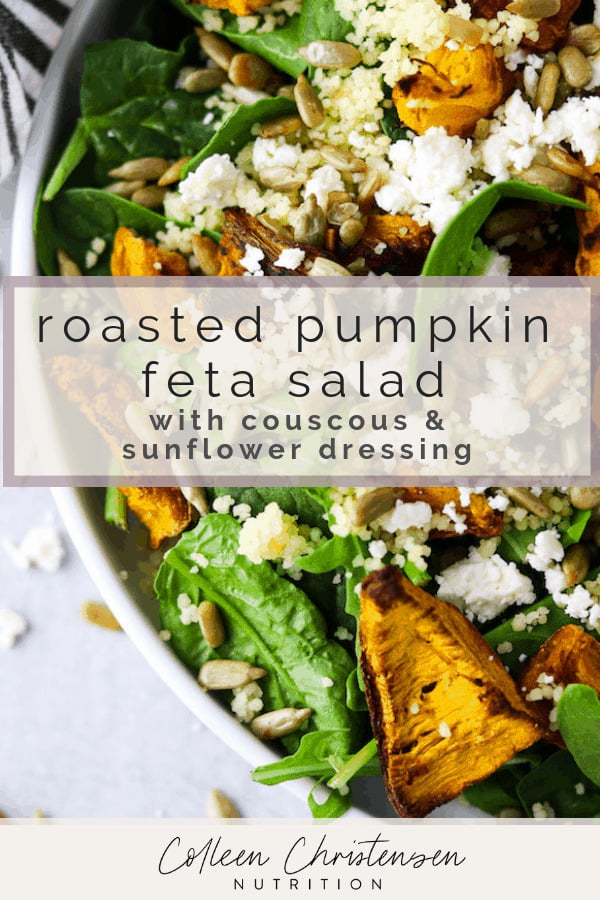 Pumpkin Couscous Salad
Okay, enough of the pumpkin part of this roasted pumpkin feta salad, let's talk about another ingredient, the coucous! A common mistake that people make is they skip carbs when eating a salad. Carbs are NOT bad, girlfriends. They're our bodies preferred energy source and the key to a satisfying meal, in my opinion. So for this salad I made it a pumpkin and couscous salad. The couscous gives your body the carbs you need in order to feel satisfied after eating this salad, NOT searching the pantry.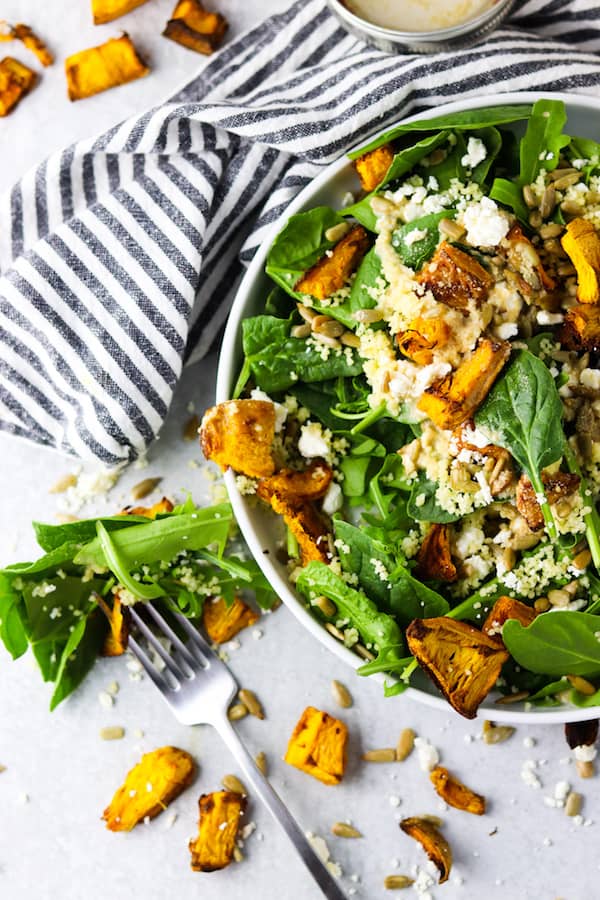 How To Cook CousCous
Even though it sounds super fancy, it's so easy to cook couscous. All you you do is literally boil some water, take it off the stove, add the coucous and let it sit. I honestly think it's easier than pasta!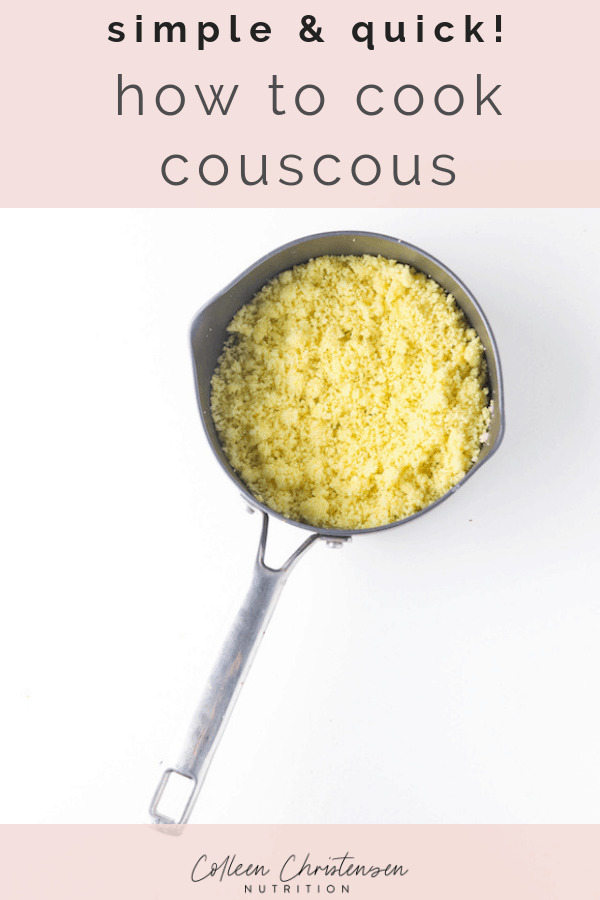 Simple Salad Dressing
The last thing I want to mention about this recipe is the totally EASY homemade salad dressing. It's a super simple combo including apple cider vinegar and SunButter that makes the salad taste utterly AMAZING! Plus, you can snag a coupon for $1 off SunButter. This girl is ALL about saving a few pennies when she can!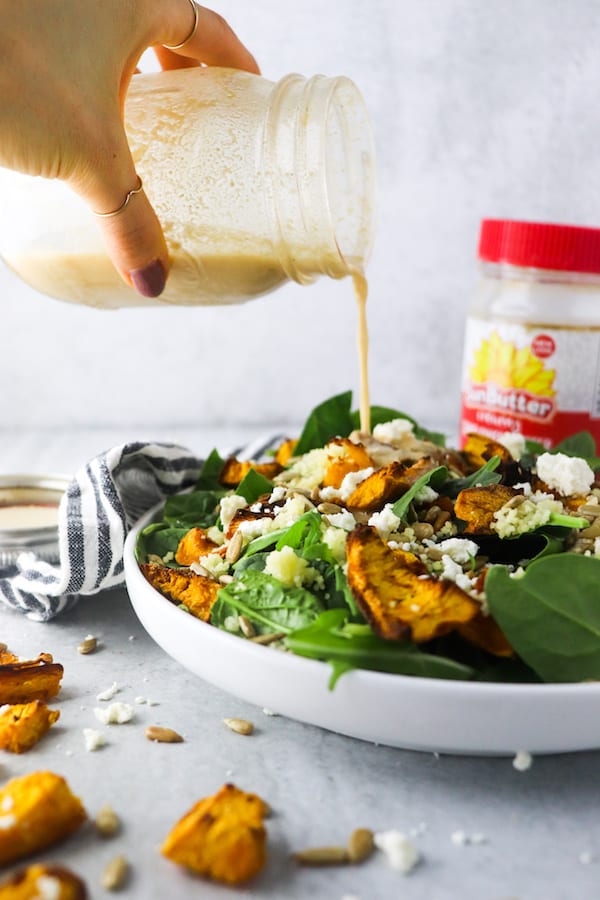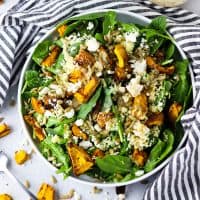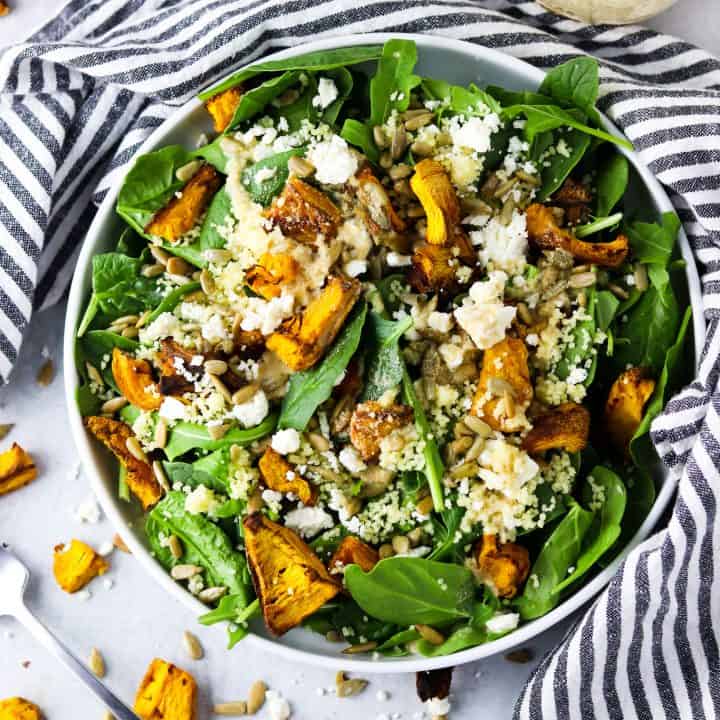 Roasted Pumpkin Feta Salad
With sweetness from the roasted pumpkin and the salty flavor of the sunflower and feta this salad is totally the best of both worlds! Add any choice of protein for a complete meal.
PRINT RECIPE
Ingredients
~1-2 cups mixed greens

1/3

cup

cooked couscous

1/3

cup

roasted pumpkin

cubed

~2 tbsp feta

~1tbsp sunflower seeds

1/4

cup

apple cider vinegar

1

tbsp

SunButter

Juice from 1/2 lemon

dash of salt & pepper
Instructions
To make the salad: On a large plate or in a large bowl later couscous, pumpkin, feta and sunflower seeds on top of the mixed greens.

To make the dressing: In a mason jar combine apple cider vinegar, SunButter, lemon juice and salt & pepper. Shake well until SunButter is dispersed evenly and dressing is uniform.

Enjoy!
click To display nutrition info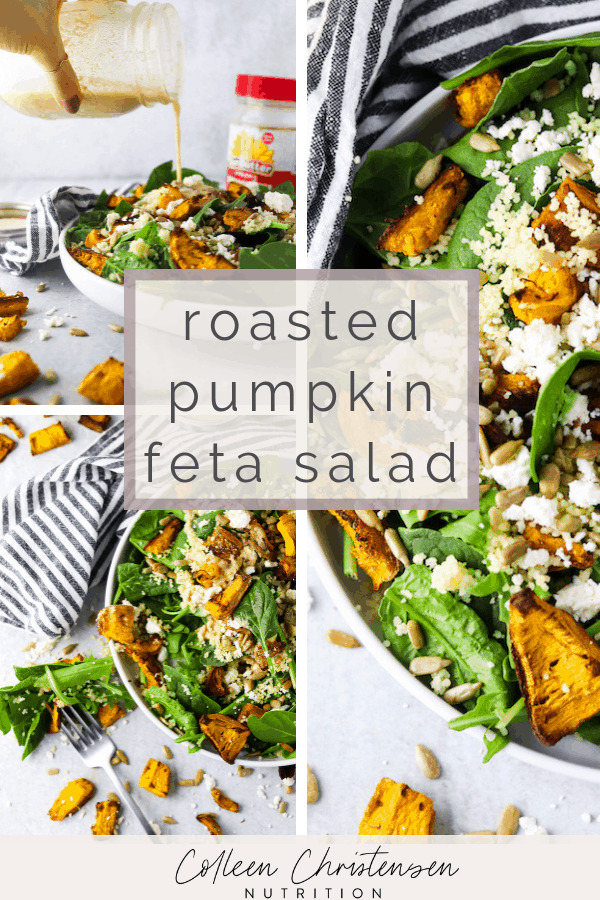 Give this recipe a go and leave a comment with your thoughts! Can't wait to hear how roasting your pumpkin goes! It's actually pretty fun!
XOXO
-Colleen
Want more recipes like this one? You might like these: