Let's be honest, we're ALL busy. Like, really busy. And when it comes down to it I can sit there on a Sunday all I want, scrolling through Pinterest looking for the best dinners to meal plan for the week but... actually making them after a full day of working? Not gunna happen. That's why I always have this tried-and-true recipe for the easiest broccoli chicken stir fry at the ready. Cause it never fails me and is INSANELY fast.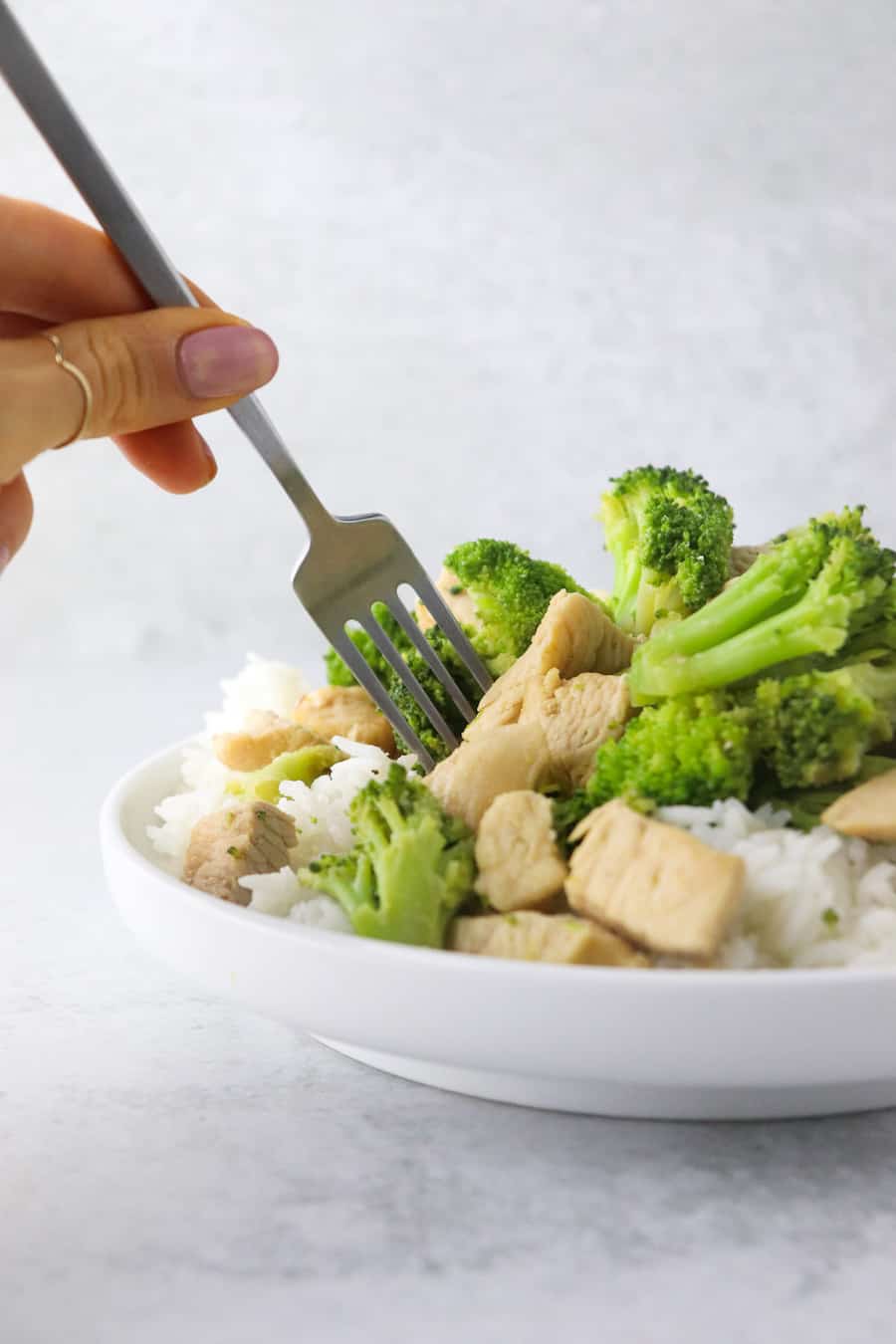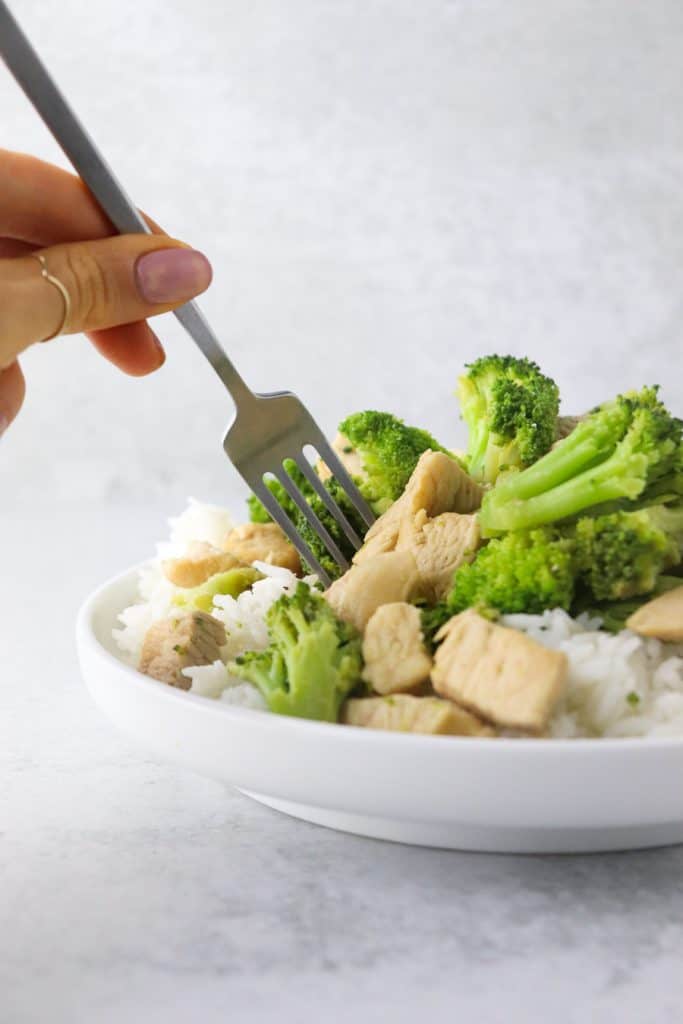 20 minutes. That's all you need to make this. Seriously. I'm not kidding when I say this is the easiest broccoli chicken stir fry you'll ever make. And I say that with sheer CONFIDENCE!
Take a second and pin this recipe to your Pinterest board. It's such an easy recipe I have no doubt you'll memorize it, but pop it in there for the first few times to be sure you nail it.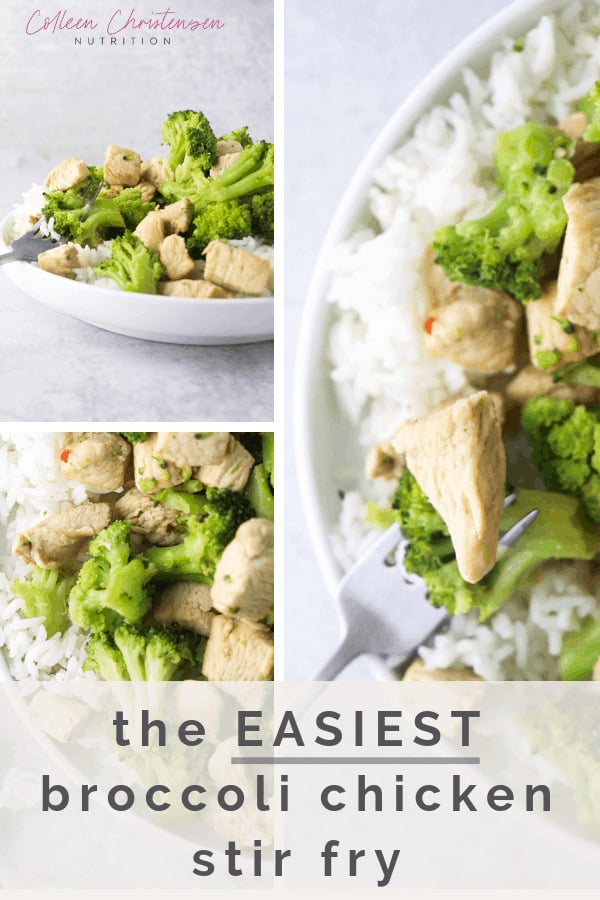 I always use frozen broccoli for this recipe because it's the easiest for me. Ya literally just pop it in the microwave for 6 minutes. Okay, I do 6 minutes and 66 seconds cause it's faster than 6:00. And I don't mind if it's a little softer. BUT, totally take the extra few seconds if you're not lazy like me. And if you're even more ambitious? Use fresh broccoli and simply steam it for roughly 7-9 minutes on the stove.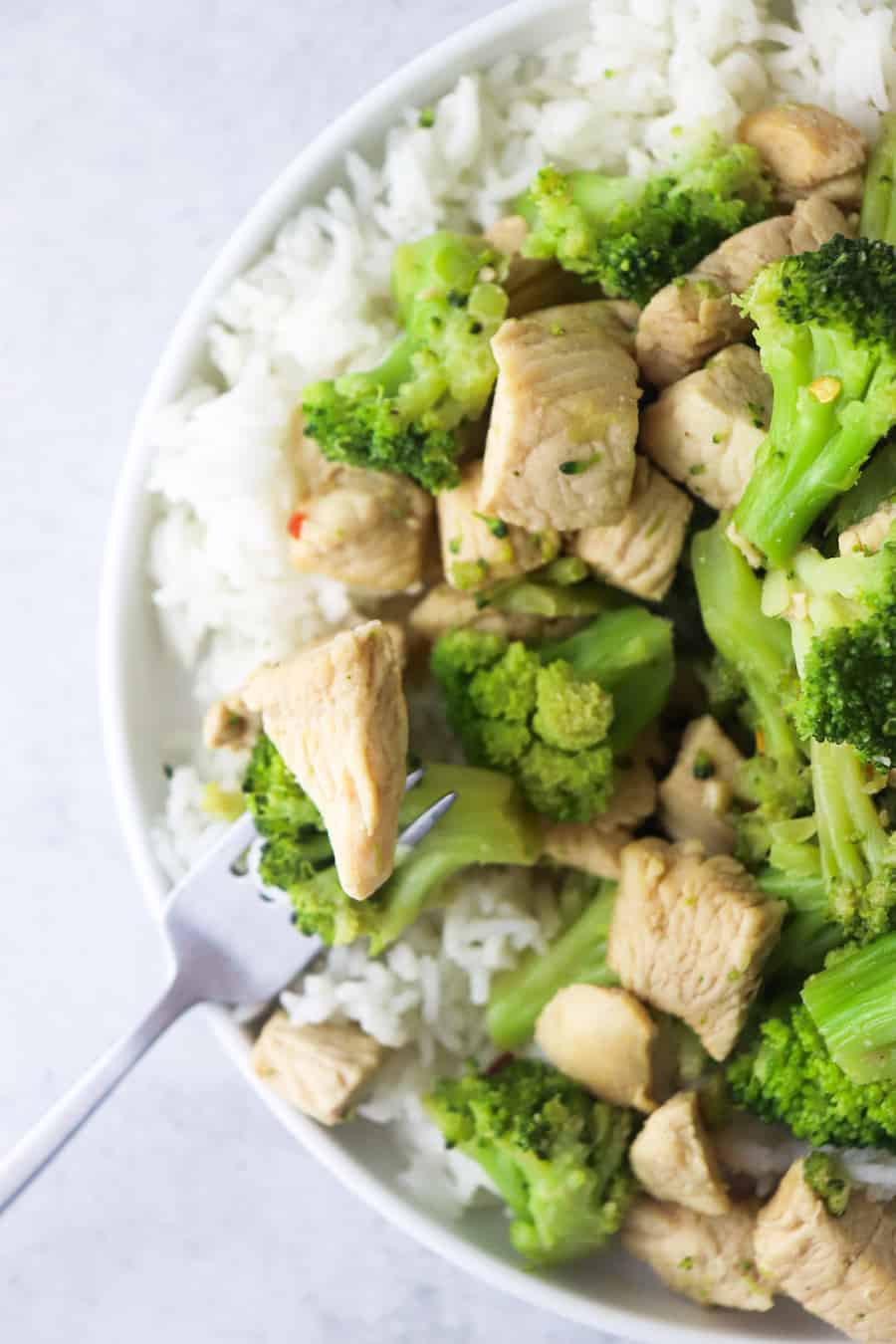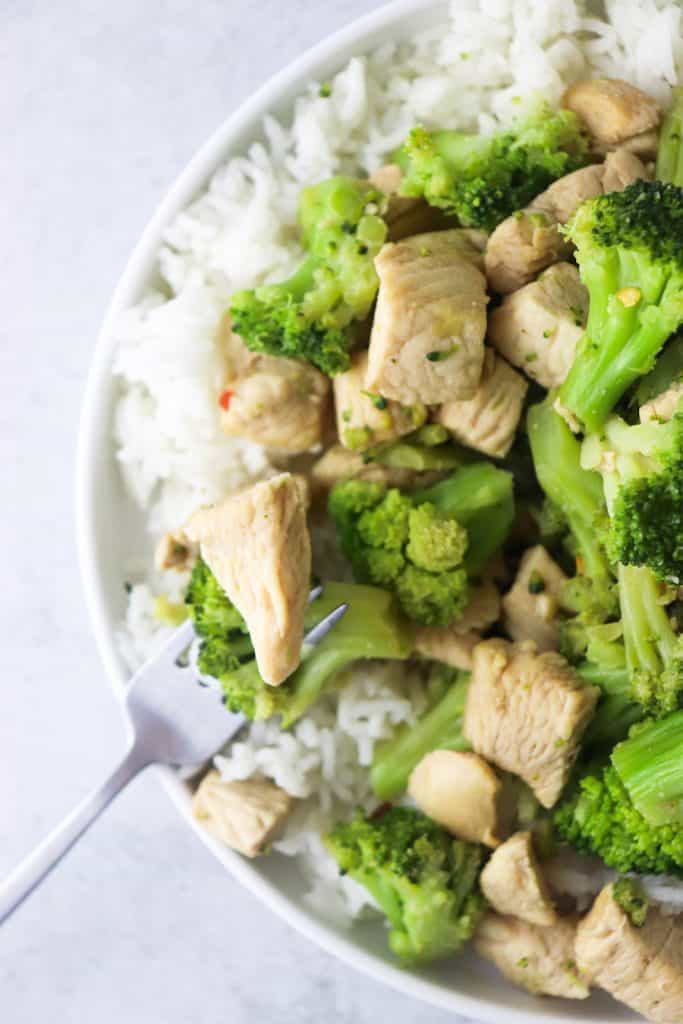 Super important point here: Don't sub the rice for cauliflower rice. Just don't okay? Your body wants carbs. No, your body NEEDS carbs. If you skip it I'll bet 20 bucks you'll find yourself in the pantry 20 minutes after dinner eating cookies. Your body will be searching for carbs. You can totes add a little cauli rice TO the regular rice if you want a veggie kick, I'm all about that. But not in place of. Can you commit to that for me?! Cool. Thanks.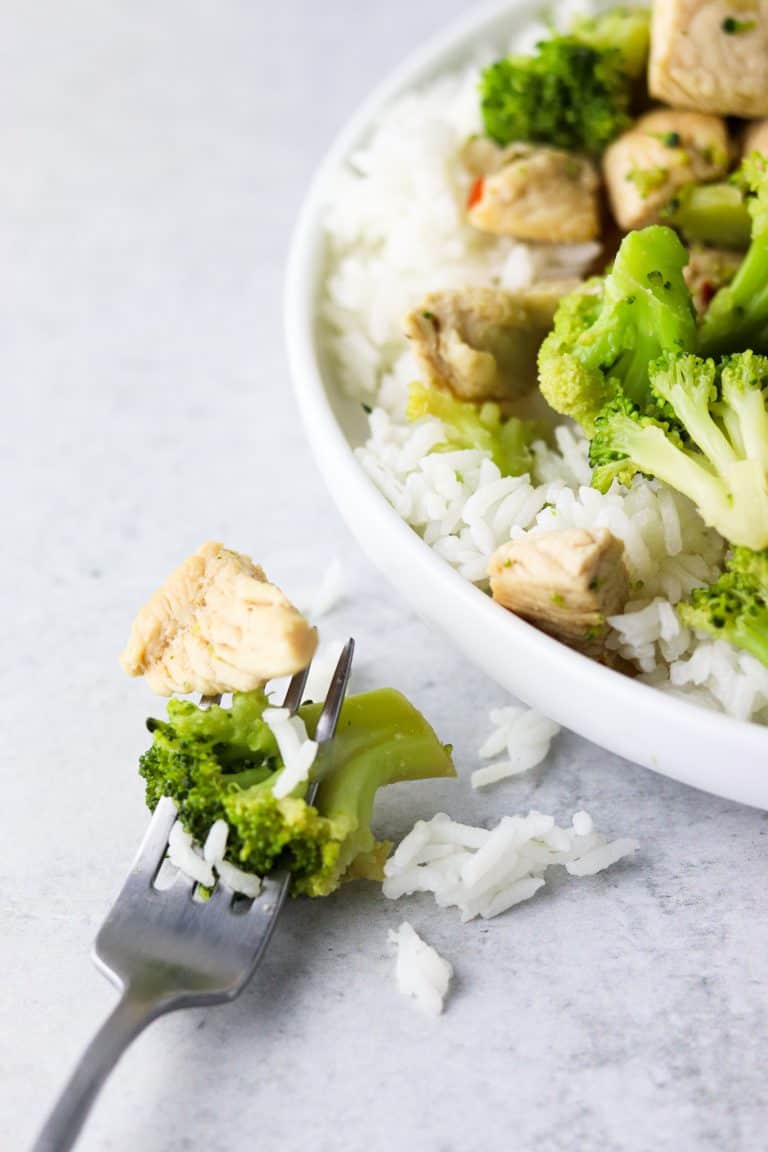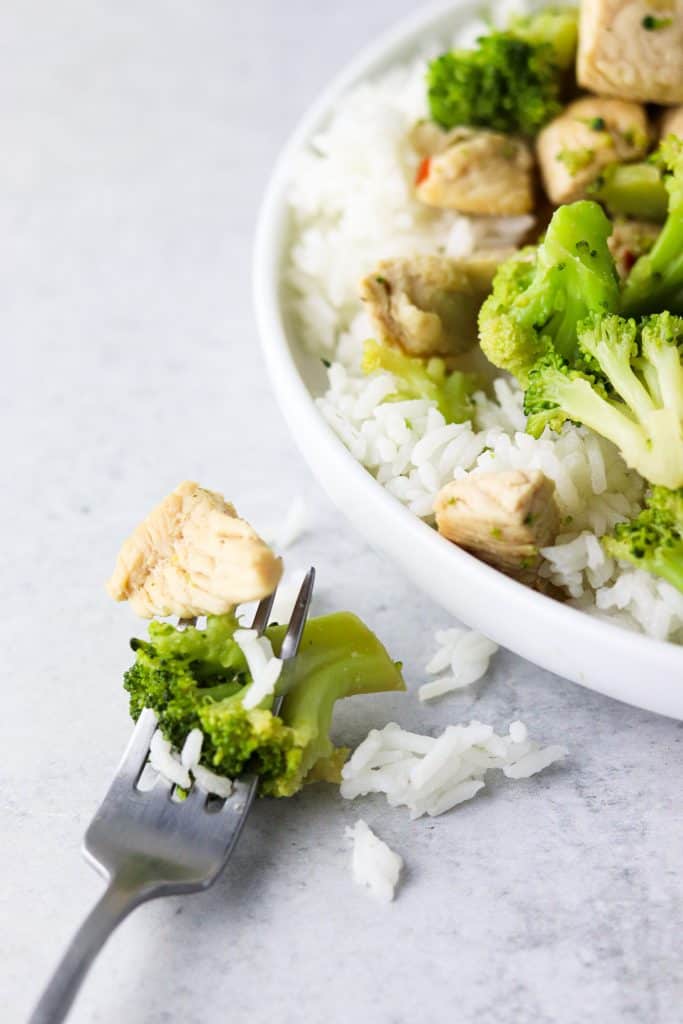 See how easy that recipe is? INSANE. The best part? You can use this super simple recipe as a "template" and swap out basically any veggie or carb or protein you want. Want to do green beans, soba noodles and ground beef? Go for it. Carrots, quinoa and fish? Be my guest! The choice is yours!
I also highly suggest adding some nuts on top for crunch. My fave are cashews!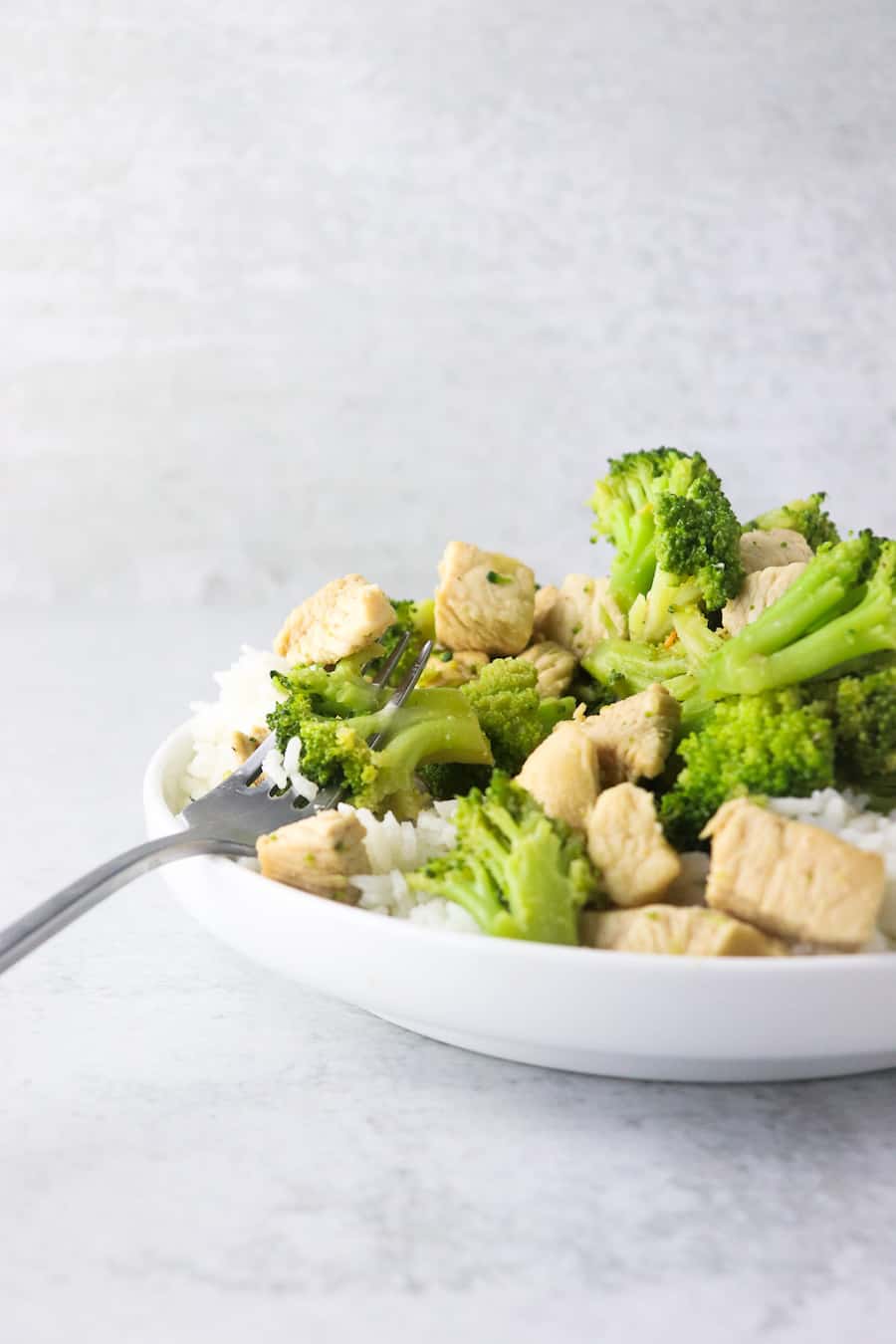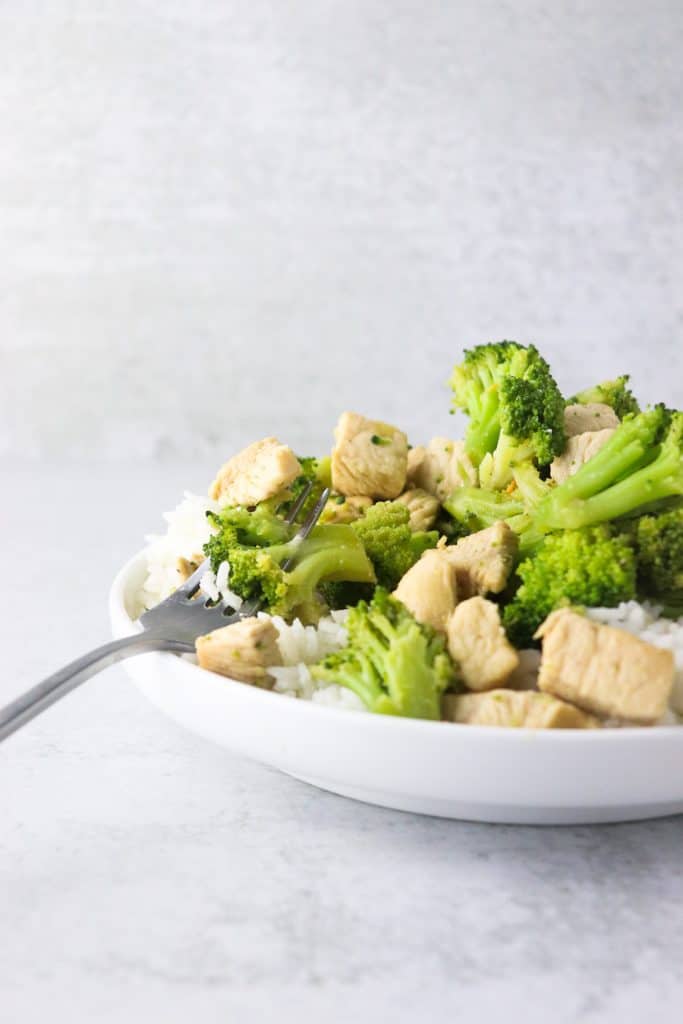 Meal plan this recipe for the easiest broccoli chicken stir fry into your week. Actually, do it a couple time! Broccoli chicken one day and brussels sprouts and ground turkey another! So. Freaking. Easy.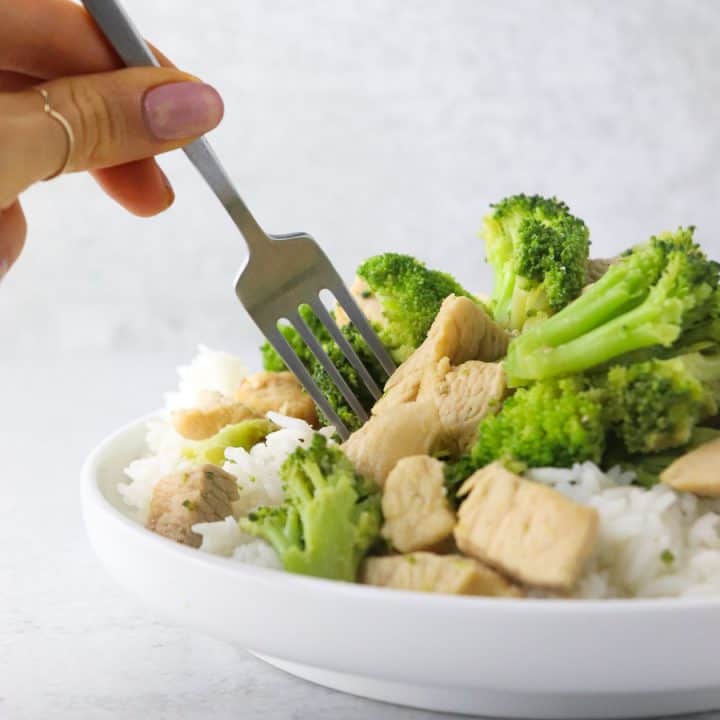 Easiest Broccoli Chicken Stir Fry
The recipe with become your weeknight go-to. The easiest broccoli chicken stir fry comes together in 20 minutes for a healthy & delicious meal!
Ingredients
1/2 cup uncooked rice
1 bag of microwave broccoli
1 large chicken breast, cut into ~1" pieces
~1tbsp oil of choice
3 tbsp soy sauce
1/2 tsp onion powder
1/2 tsp garlic powder
1/4 tsp red pepper flakes
Instructions
Cook rice on the stovetop according to package directions
Microwave broccoli according to the bag directions
In a sauce pan heat oil on medium high. Add the chicken and cook for ~3 minutes until about halfway cooked
Add in remaining ingredients to the saucepan and mix well to coat chicken. Cook for an additional ~3 minutes. Add cooked broccoli to the chicken and mix so that the sauce coats the broccoli, cook for an additional 2 minutes
To assemble, place rice on a plate and top with chicken & broccoli mixture
Add any topping you like such as additional soy sauce, nuts, sesame seeds, sriracha, green onions, etc.
Enjoy!
Notes
Feel free to swap out the carbs/protein/starch for this recipe! Green beans and quinoa with ground turkey or carrots with fish and soba noodles would be great too!
You can also use store bought stir fry sauces.
Add nuts on top, like cashews, for added crunch and some added feel-full fat!
Nutrition Information:
Yield:

2
Serving Size:

1
Amount Per Serving:
Calories:

364
Total Fat:

10g
Saturated Fat:

1g
Trans Fat:

0g
Unsaturated Fat:

8g
Cholesterol:

51mg
Sodium:

1372mg
Carbohydrates:

43g
Fiber:

1g
Sugar:

0g
Protein:

24g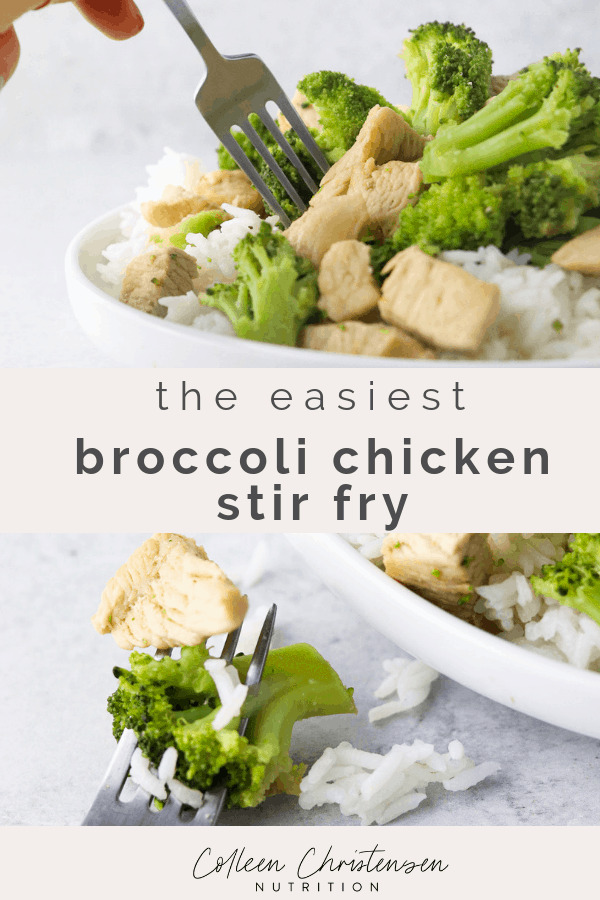 Give this recipe a go and leave a comment with your thoughts! Can't wait to read them!
XOXO
-Colleen
Want more recipes like this one? You might like these: