Perfectly cooked shrimp straight from the freezer in just 10 minutes! No thawing required! Add these perfectly cooked air fryer frozen shrimp to salads, tacos, serve plain, or add one of the seasoning combos I recommend in this post!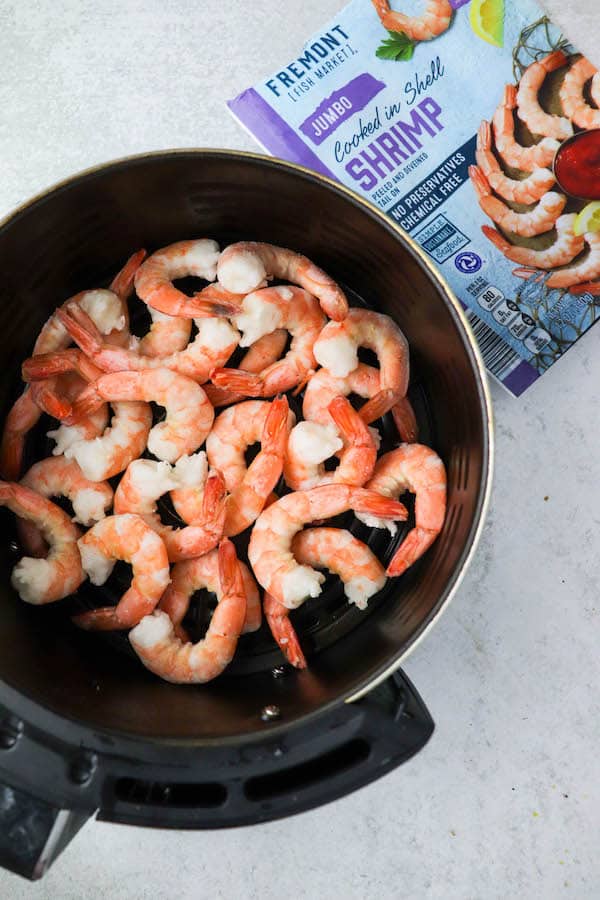 Why I Love Air Fryer Frozen Shrimp
Two things about me: I love my air fryer and use it daily. I love seafood but kinda suck at cooking it if I am being honest. Enter this recipe for air fryer frozen shrimp which makes my life complete! …and way tastier!
Doing this frozen shrimp in air fryer cooking method couldn't be easier, really. I'd say it's pretty much fool proof. And what I love is there is no need to thaw them because, let's be real, in the morning there is about zero chance of me remembering what to thaw for dinner that night!
If you don't have an air fryer you can checkout the one that I recommend here.
Raw Or Cooked Frozen Shrimp In Air Fryer?
Great question! You can do either, really. For some reason I always but the raw if I am going to eat it warm and the cooked if I am planning to eat it cold. Not sure why- but that's just how I decide! I'll give you instructions for both.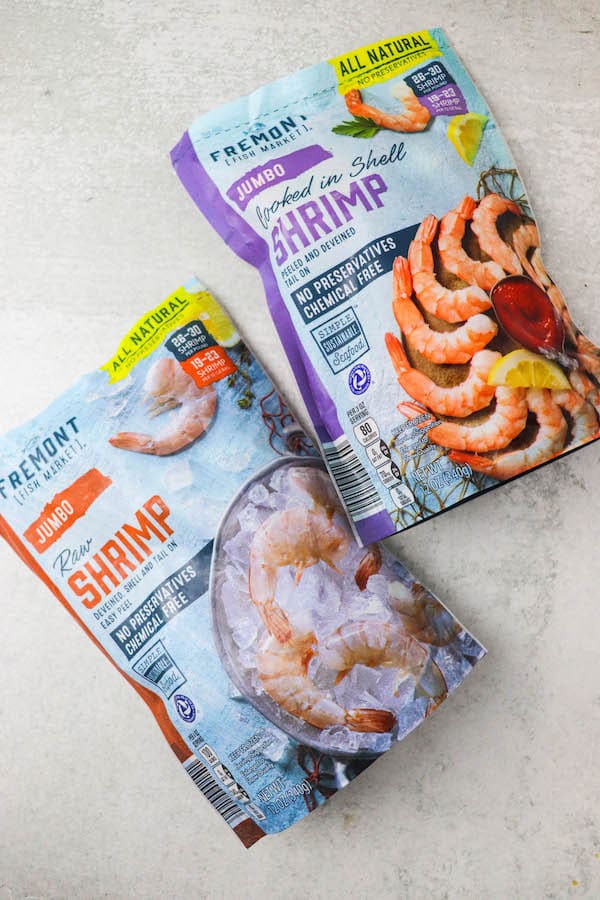 Raw Air Fryer Frozen Shrimp Directions
Set air fryer to 370 degrees
Place frozen shrimp in your air fryer basket and set the cook time to 10 minutes
Shake the basket halfway through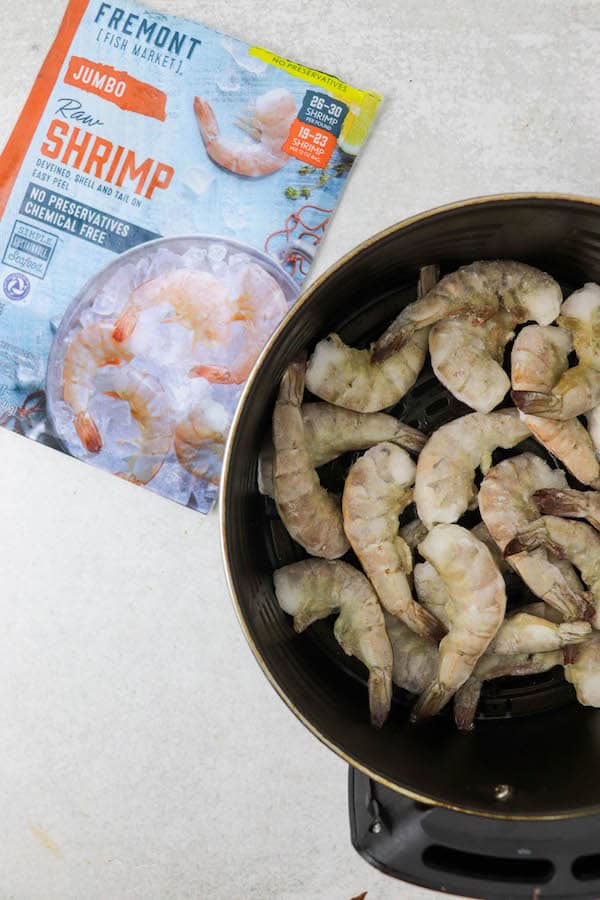 Cooked Frozen Shrimp In Air Fryer
Set air fryer to 370 degrees
Place frozen shrimp in your air fryer basket and set the cook time to 4 minutes
That's it! No shaking halfway required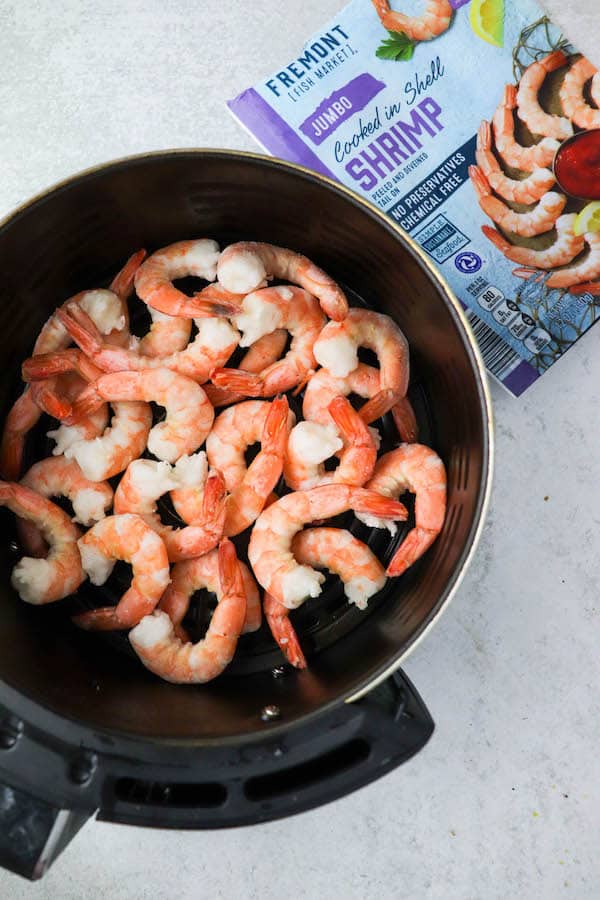 How To Serve Air Fryer Frozen Shrimp
Here are some ways that you can serve air fryer frozen shrimp:
On top of a salad, like the spinach blueberry salad with candied cashews
In tacos
Along side of some seasoned potatoes or sweet potato fries
Mixed into fried rice
Or just add seasonings and enjoy alone! (A fave snack of mine)
Also, just a note, depending on what kind of shrimp you buy you might need to take the shells off! I do this after cooking. They come off super easy!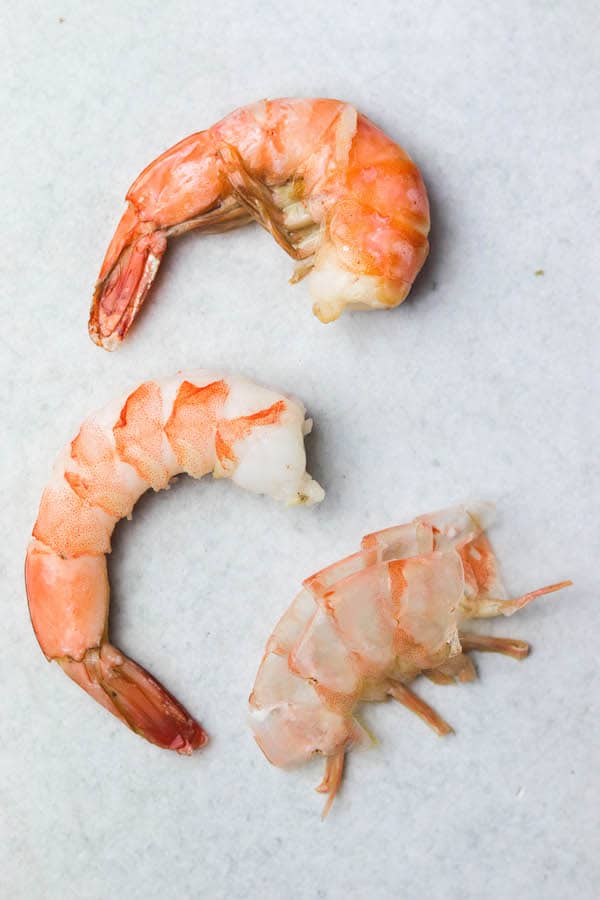 Seasoning Ideas For Air Fryer Shrimp
Usually I don't season my shrimp when cooking them, to be honest. I really like the shrimp taste! However, here are a couple ways I do enjoy seasoning them:
With taco seasoning and using for tacos salads or tacos
lemon pepper seasoning
mixing together equal parts onion and garlic powder plus a dash of salt
sprinkling them with parmesan cheese and a dash of garlic powder
I'd actually recommend doing this with shrimp that do not have shells, especially if it's a dry seasoning. If you're marinating them, you can use the ones with the shell.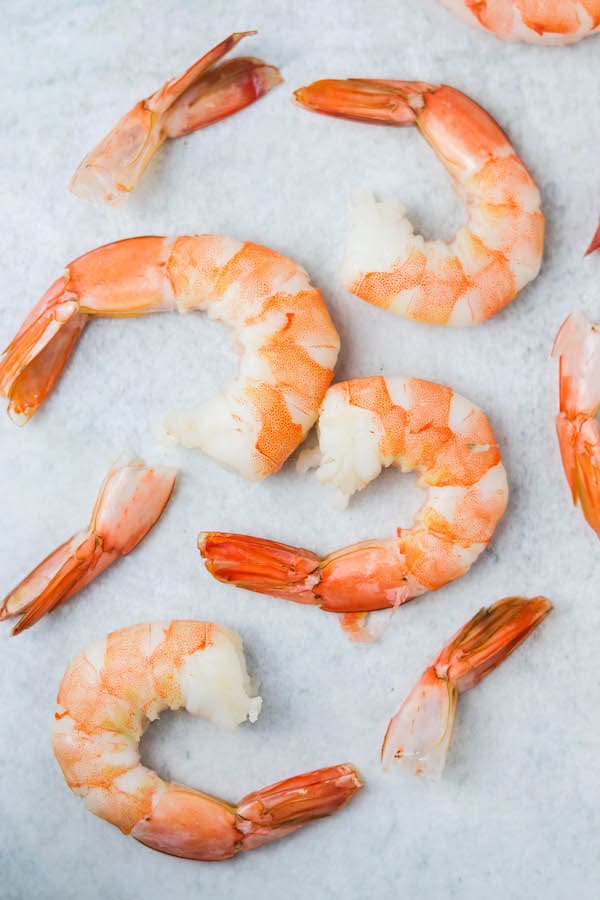 Air Fryer Breaded Shrimp
If you want to make air fryer breaded shrimp that's easy enough, too! All you have to do is whisk up an egg, dip in your shrimp, then dip them into bread crumbs of choice. You can get real creative here and add in different seasonings to your bread crumbs if you like, or keep them plain! For these I would say to thaw the shrimp first and cut cooking time by 1 minute for the pre-cooked and 2 minutes for the cooked. The exact time change will depend on your air fryer. I'd suggest keeping an eye on it.
How To Pick Shrimp
When it comes to seafood I always suggest keeping it simple and buying what you can afford. Don't drive yourself crazy between the different kinds. But if you do want to know more about how to choose safe seafood you can checkout this post on how to choose safer seafood by a couple of other fabulous dietitians.
If you like this recipe be sure to give it a star rating on the recipe card and leave a comment with your thoughts! Doing this really does help to support me making more recipes for you!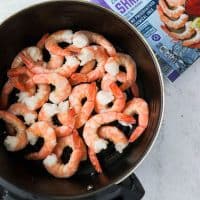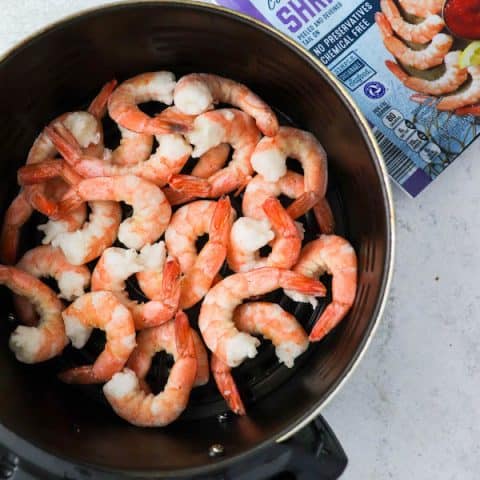 Air Fryer Frozen Shrimp
Perfectly cooked air fryer frozen shrimp with no thawing required in just 10 minutes! Use cooked or raw for this frozen shrimp air fryer recipe.
PRINT RECIPE
Ingredients
12

oz

of frozen shrimp

any kind, cooked or raw, shell on or shell off
Instructions
For cooked shrimp: cook for 4 minutes at 370 degrees

For raw shrimp: cook for 10 minutes at 370, ideally taking a moment to shake the basket halfway through
Notes
May use any type of shrimp. I used jumbo, if using very small shrimp may need to reduce cooking time by 1-2 minutes.
Remember to take off the shell before eating if you are using shrimp with a shell.
No need to thaw!
If thawed, reduce cooking time by about 2 minutes, keep an eye on them.
click To display nutrition info
Nutrition Facts
Nutrition Facts
Air Fryer Frozen Shrimp
Amount per Serving
% Daily Value*
* Percent Daily Values are based on a 2000 calorie diet.
Happy eating!
XOXO
-Colleen
Want more recipes like this? You might like these:
Air Fryer Frozen Chicken Wings