This recipe for a Big Mac in a bowl is what adult dreams are made of! All of the delicious taste you look for in a Big Mac, with some gentle nutrition to allow you to feel fabulous eating this on the daily!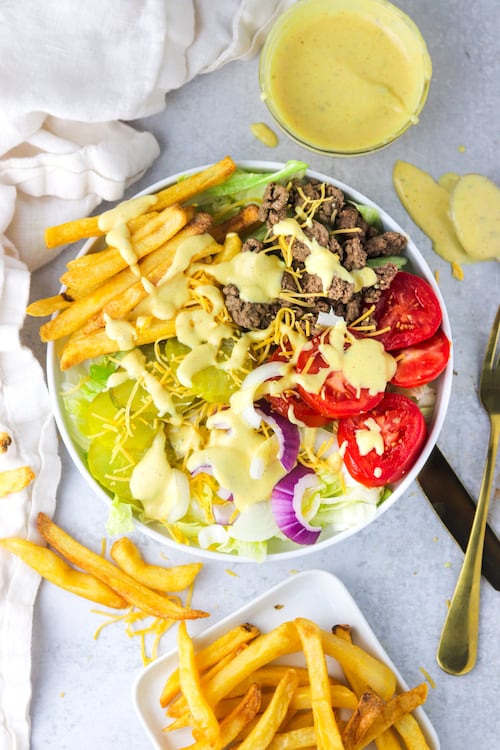 Why Have A Big Mac In A Bowl?
Don't get me wrong, there is absolutely nothing wrong with going through a drive thru, ordering a Big Mac, and devouring it. No need to feel guilty after eating it, no need to "make up" for it by eating only carrots. But part of intuitive eating and living without food rules, which is my personal food philosophy, you also want to do some gentle nutrition and notice how different foods make you feel.
I don't know about you, but having a Big Mac every day? Not going to make me feel super great. So, enter this big mac in a bowl!
Friday's are also known as "hamburger salad night" in my household. Every week we look forward to having this Big Mac salad! So delish!
What You Need For This Big Mac In A Bowl Recipe
The ingredients for this Big Mac salad recipe are pretty simple and straight forward pantry staples that I bet you already have in your kitchen: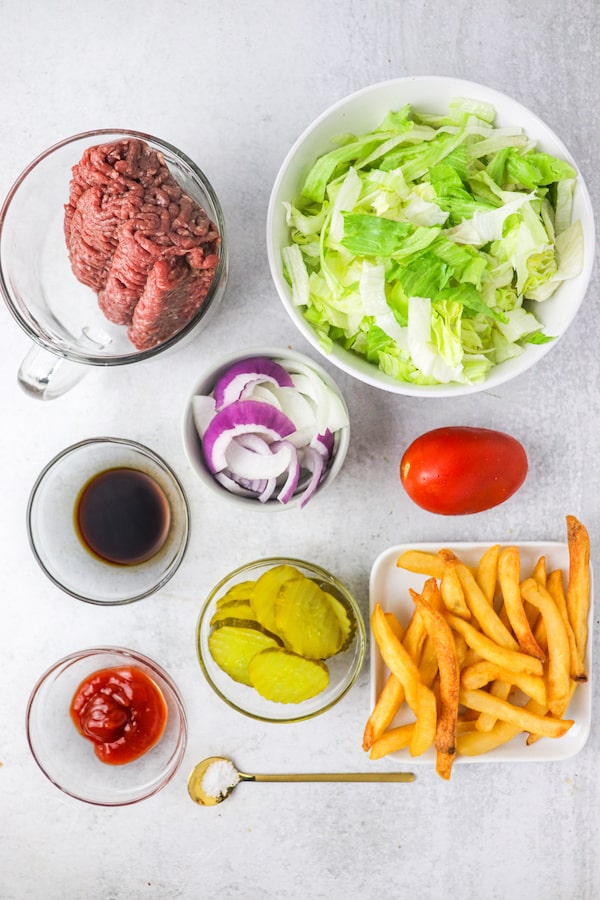 Big Mac Salad Ingredients
lettuce
tomatoes
pickles
onions
cheese
ketchup
Worcestershire sauce
ground beef
potatoes or frozen french fries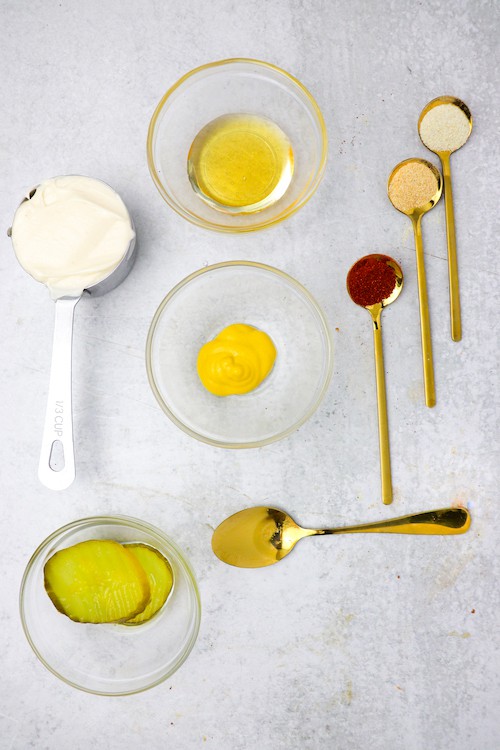 Big Mac Sauce Recipe Ingredients
mayo
mustard
pickles
honey
vinegar
garlic powder
onion powder
paprika
I know that list for the Big Mac sauce recipe looks long, but trust me, SO EASY.
How To Make A Big Mac In A Bowl
Making the salad itself is, again, quite easy.
First you're going to want to cut all of your veggies: the lettuce, onions, and tomatoes.
You're going to want to make some french fries. Typically, I'll either make some of my air fryer seasoned potatoes and cut them fry style, or make some air fryer frozen french fries.
Then, you can cook your beef. Simply brown this is a pan over medium-high heat with the ketchup and Worcestershire sauce.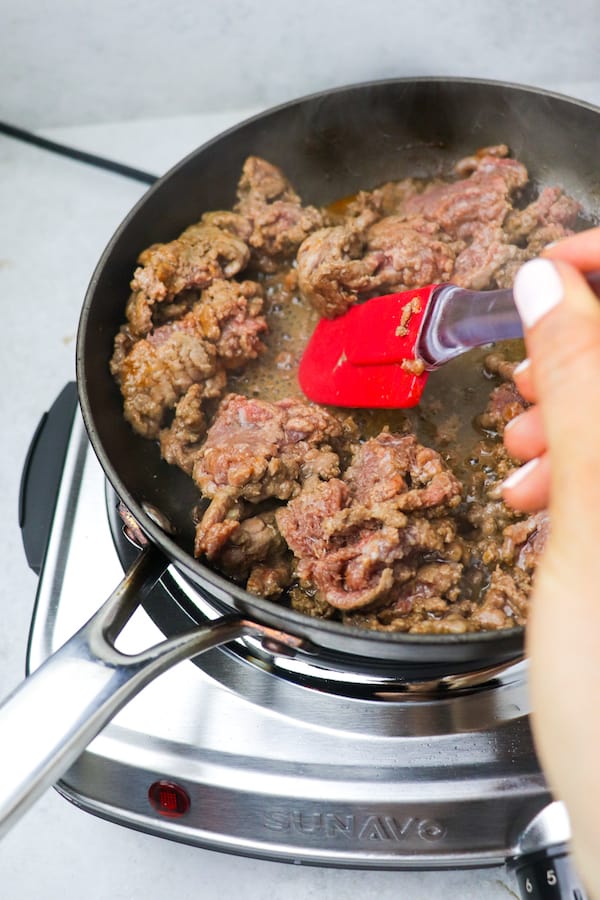 To make your Big Mac sauce simply combine everything in a blender, I like to use my small single cup Ninja blender attachment, and pulse 3-4 times until it's smooth.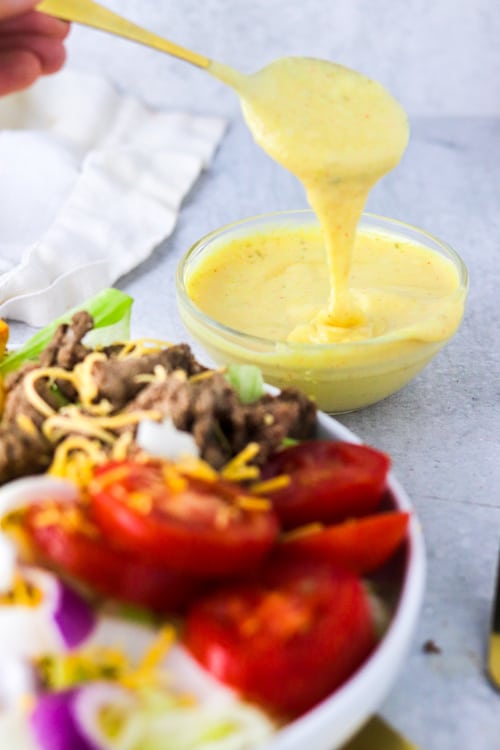 Then, assemble your salads by first laying down the lettuce, then adding the pickles, tomatoes, onion, french fried, ground meat, then cheese.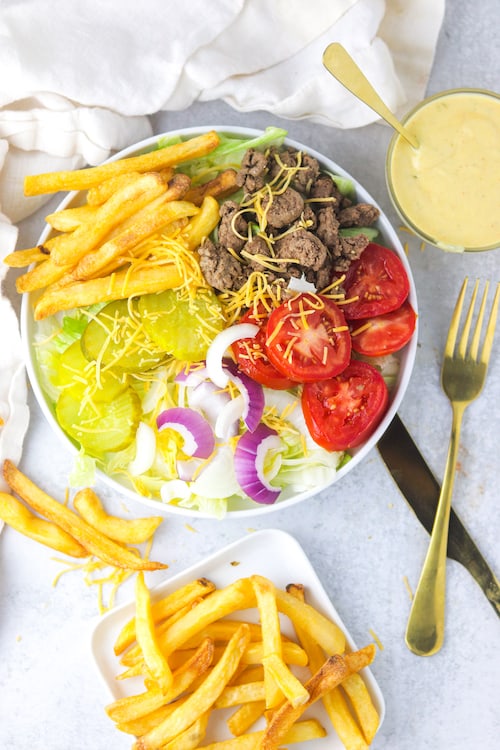 After that, top it with a drizzle of the Big Mac sauce!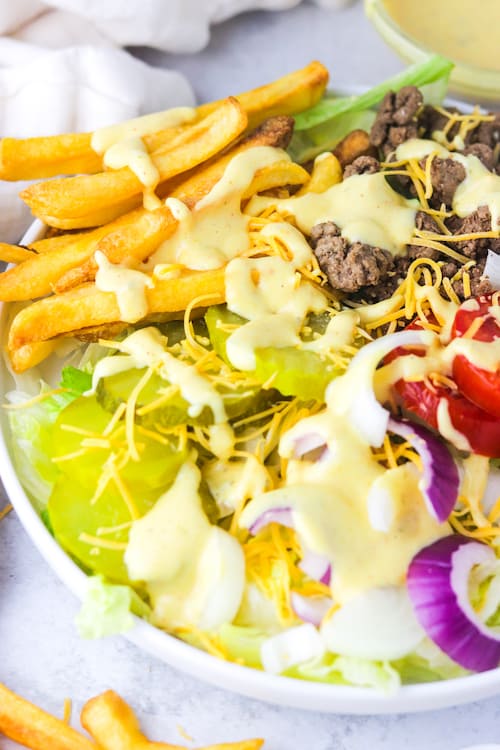 Hamburger Salad FAQ's
Can I use a different kind of meat?
Totally! Sometimes we use beef, sometimes we use turkey, heck, I've even just cut chicken in to bite sized pieces and sautéd that up in the pan if we're out of ground meat!
Can I use sweet potato fries?
Absolutely! Feel free to make any adjustments you like to this hamburger salad! I have a great recipe for some air fryer sweet potato fries which turn out perfectly crisp every time, thanks to a special secret ingredient!
Does the type of lettuce matter?
I like to use just plain ol' ice berg lettuce for this big mac in a bowl. I think it most closely resembles the Big Mac and is most crisp, however you can totally use whatever you like!
How long will the Big Mac sauce recipe last for?
The Big Mac sauce recipe won't go bad quickly. I usually keep it in the fridge for about 5-7 days. Sometimes we will have extra and I'll use it again if we have fries, chicken tenders, air fryer frozen chicken wings in the following days. It makes a great dipping sauce, too!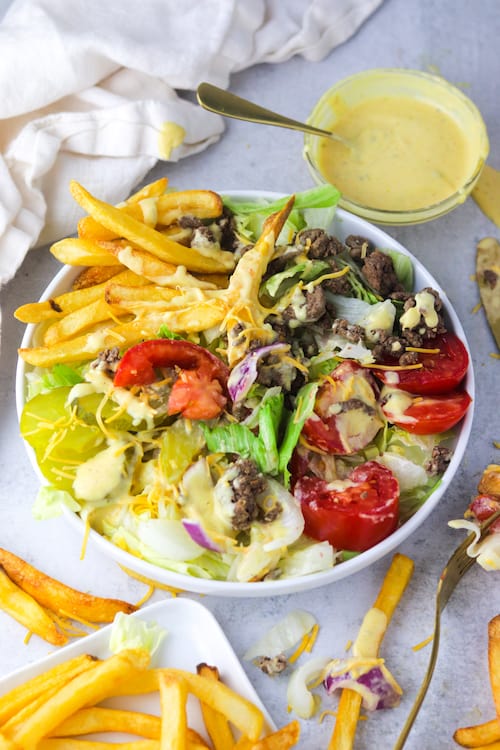 I hope you make Big Mac salad a weekly tradition, like it is in our house!
If you're just as obsessed with this hamburger salad recipe as I am be sure to leave a star rating on the recipe card and a comment!
XOXO
-Colleen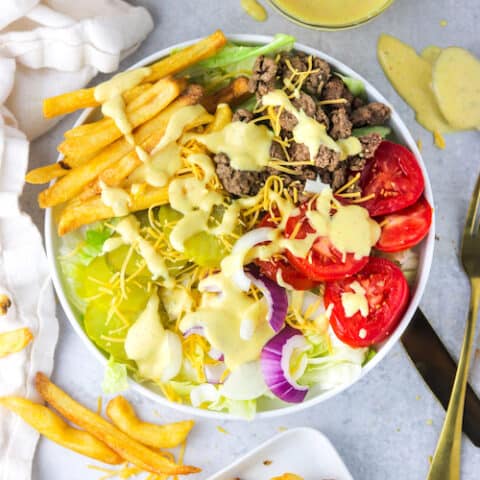 Big Mac In A Bowl - Hamburger Salad
This easy Big Mac In A Bowl recipe is what adult dreams are made of! A Big Mac salad gives you the delicious taste you want with loads of nutrition!
Ingredients
1 lb ground beef
2 tbsp ketchup
1 tbsp Worcestershire sauce
1/4 tsp salt
4-6 cups of shredded lettuce
2 tomatoes, sliced
1/2 cup sliced pickles
1/2 redo onion, sliced
1/2 sweet onion, sliced
potatoes or frozen french fries, cooked
Cheese (optional)
For The Big Mac Dressing
1/3 cup mayo
2 tsp mustard
2 pieces of sliced pickle
2 tsp honey
1/4 tsp onion powder
1/4 tsp garlic powder
1/2 tsp white vinegar
Dash of paprika
Instructions
In a large saucepan over medium-high heat brown the ground beef, adding ketchup, Worcestershire sauce and salt as you cook it. Be sure the ketchups, Worcestershire sauce, and salt are evenly incorporated.
If needed, cook your potatoes or french fries (I use either air fryer seasoned potatoes or air fryer frozen french fries!)
Assemble salads by laying the following: lettuce, tomato, pickles, onion, potatoes, potatoes and ground meat. Top with cheese, if desired.
To make your dressing simply combine all dressing ingredients (mayo, mustard, pickle slices, honey, onion powder, garlic powder, vinegar and paprika in a blender and pulse 3-4 times until evenly incorporated and pickles are in small chunks. If you do not have a blender you can chop up the pickles and whisk everything together.
Pour your dressing over your salad and dive on into your big mac in a bowl!
Nutrition Information:
Yield:

4
Serving Size:

1
Amount Per Serving:
Calories:

454
Total Fat:

17g
Saturated Fat:

6g
Trans Fat:

0g
Unsaturated Fat:

8g
Cholesterol:

103mg
Sodium:

831mg
Carbohydrates:

40g
Fiber:

9g
Sugar:

16g
Protein:

39g