Perfectly cooked, juicy air fryer bbq chicken in just 20 minutes!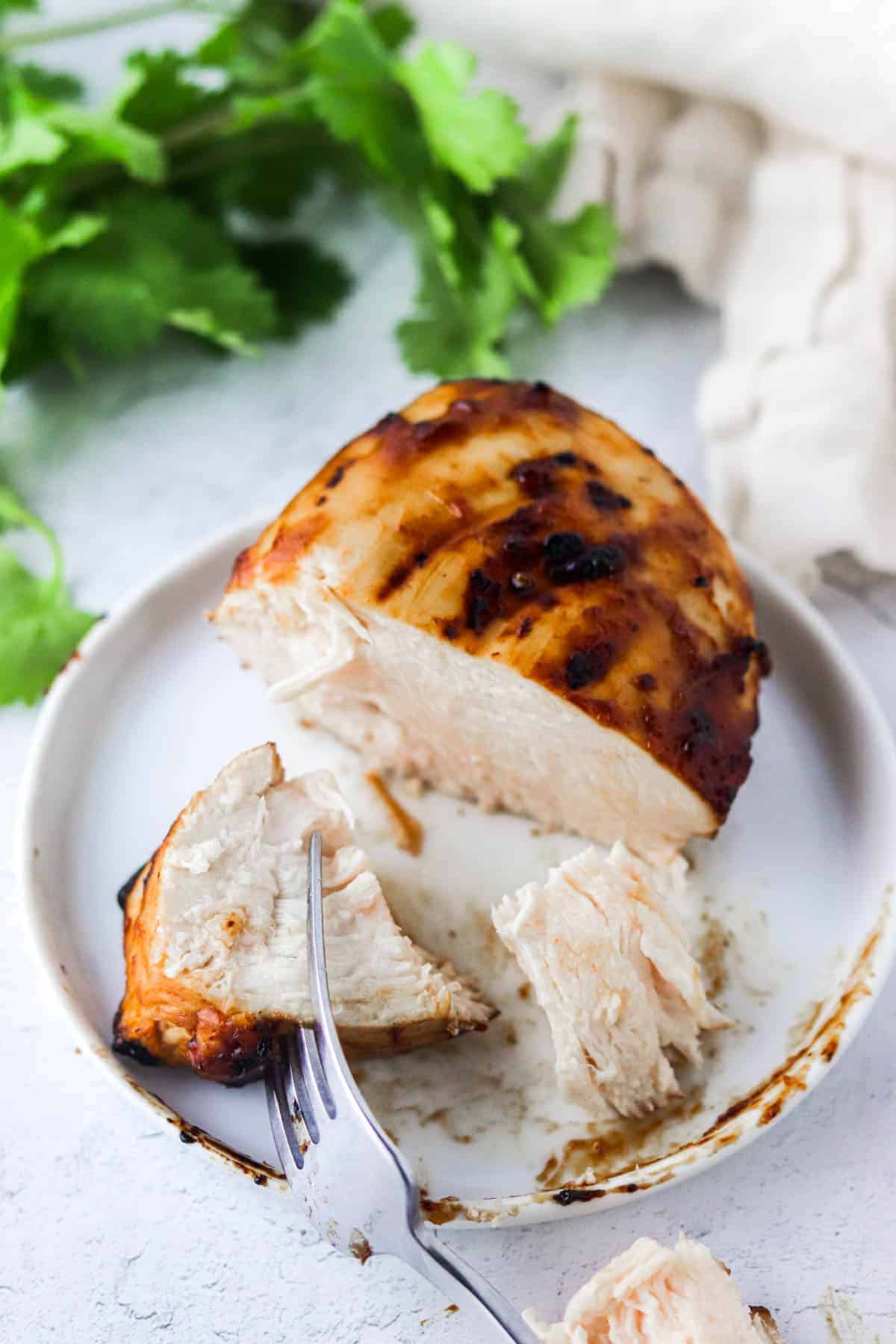 Gone are the days of bbq chicken only being limited to summer when condition are perfect for grilling! Air fryer bbq chicken is a solid go-to weeknight dinner in my house year-round. It's easy, delicious and so so fast to make!
I'll be the first to admit that I am not a grill master extraordinaire . Honestly? I usually forget that I have food actually on the grill because I'm multi-tasking all of the pieces of the meal- roasting the potatoes, steaming the veggies, etc. If you can relate then you're in luck because making air fryer bbq chicken is WAY easier and legit fool proof! You're welcome.
What Temperature Do You Cook Chicken In A Airfryer?
The best temperature to cook chicken in an air fryer at is 370. I find that 350 degrees takes too long and anything above 370 makes for uneven cooking.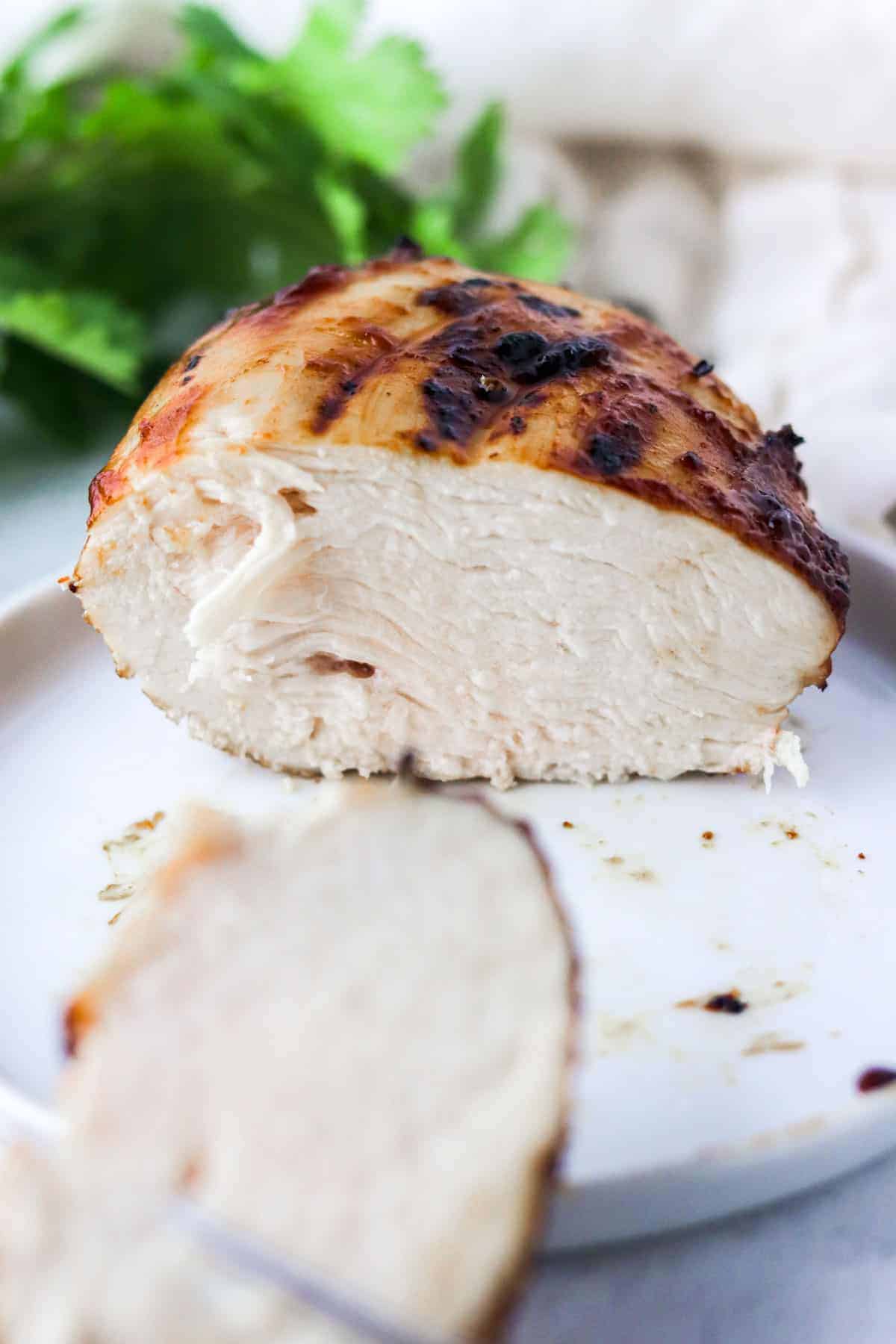 How Long Do You Cook Boneless Chicken Breast In An Air Fryer?
For raw, unfrozen or thawed chicken breasts you will cook them in the air fryer for 15 minutes, flipping them over once halfway through. I like to use a meat thermometer (You can get meat thermometer I use on Amazon for $10) to make sure the chicken is cooked all of the way. Better be safe than sorry. And by sorry I mean not running to the bathroom every 5 seconds to vom or poo… not super fab.
Do You Need To Flip Chicken In The Airfryer?
Yes! Flipping your chicken halfway when cooking it in the air fryer is KEY. If you don't your chicken will likely be unevenly cooked. Nothing is worse than having one side of your air fryer bbq chicken be SUPER tough and the other undercooked. Yuck!
The air fryer that I use, an Instant Pot Vortex (highly recommend this one!), actually has a reminder that goes off halfway through cooking time to remind me to flip it, which I LOVE. Remember how I was talking about multitasking? Yeah, this is helpful.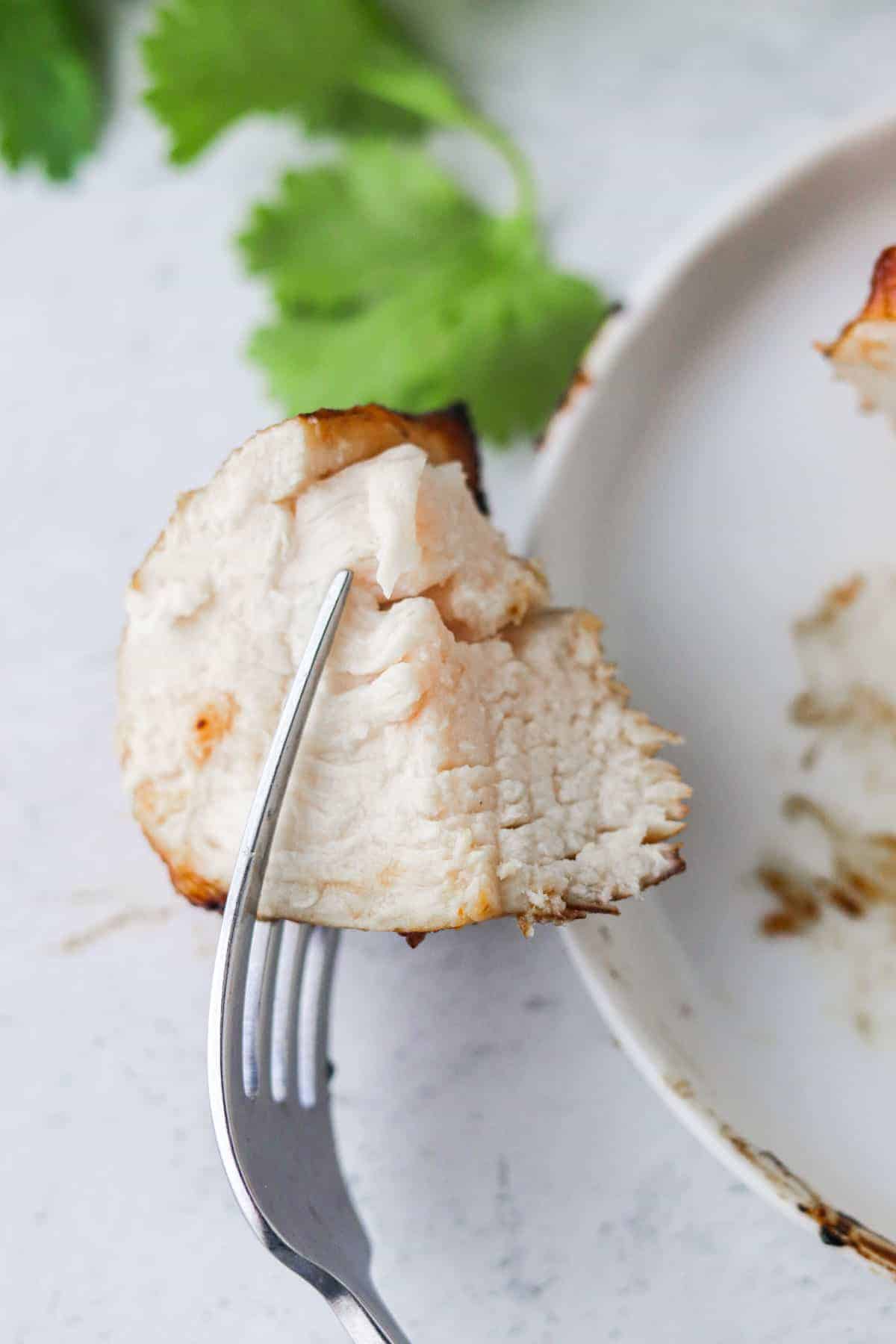 Can I Use PAM In The Air Fryer?
Yes and I recommend it. Lightly spray your air fryer basket with non-stick spray before putting your bbq chicken in it. If you don't do this your chicken will likely stick to it and create a big mess that is tough to clean up. Save yourself the time and stress, spray it with a little PAM/non-stick spray/etc.
How To Cook Air Fryer BBQ Chicken
Preheat your oven, if it has this function, to 370 degrees.
Take your chicken and coat it with BBQ sauce. I usually do about 2 tbsp per chicken breast or so. You don't want to add so much that it falls off of your chicken, this will cause a mess in your air fryer that is a pain to clean up (See above for the PAM tip!)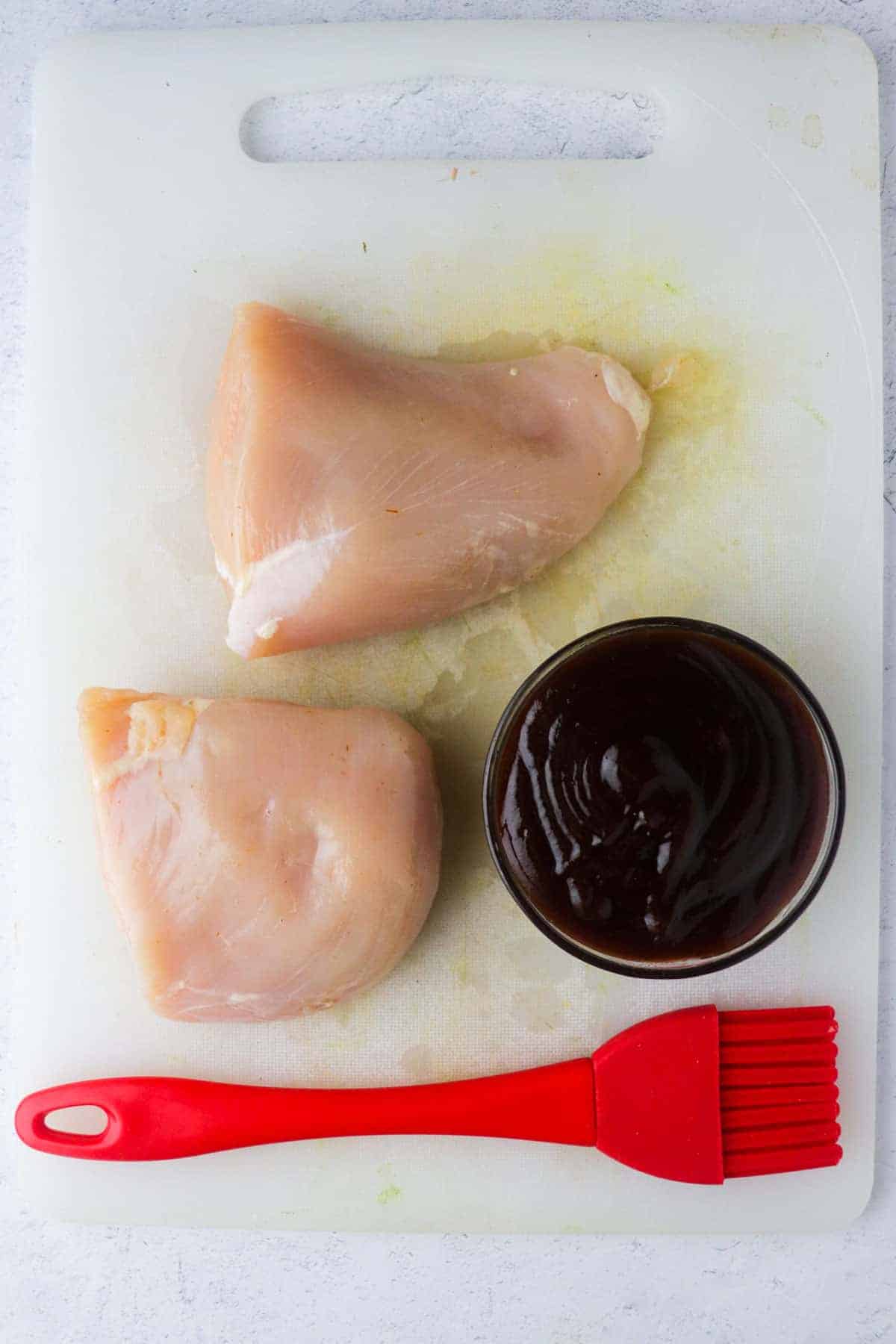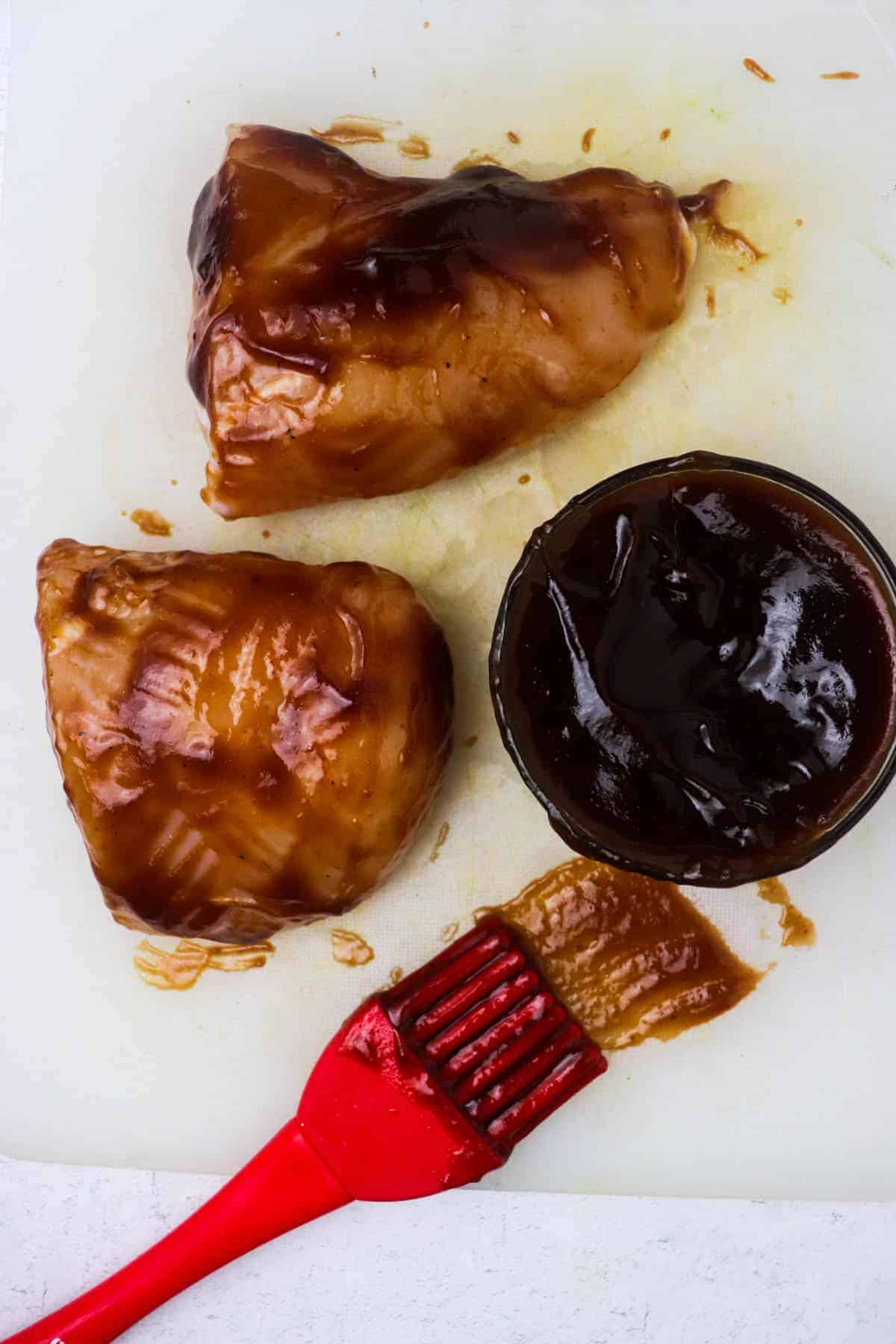 Lightly spray your air fryer basket with non-stick spray and place 1-3 chicken breasts inside, or as many as will fit while not touching. You don't want to over crowd the basket or your chicken won't cook evenly.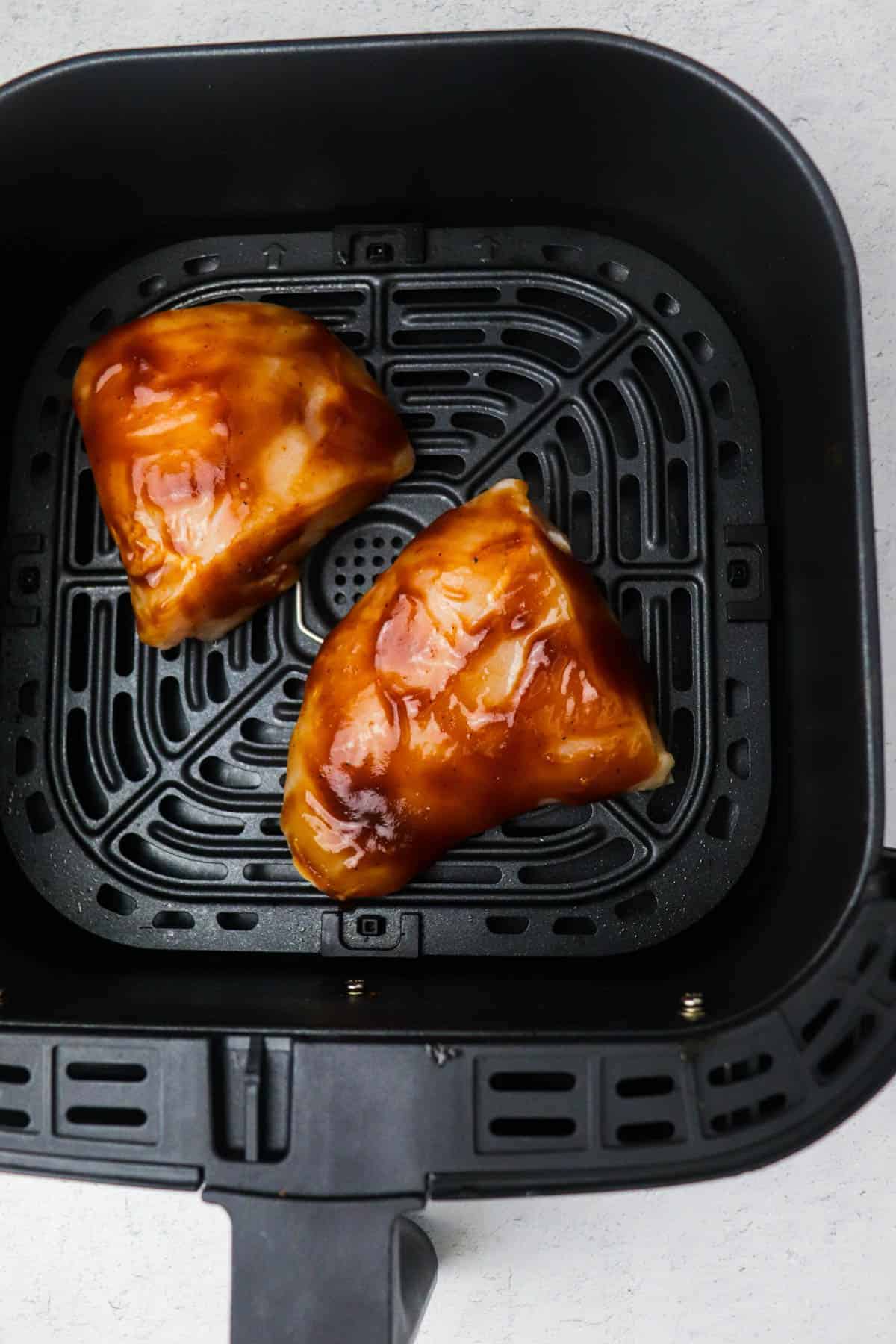 Cook your bbq chicken in the air fryer for 15 minutes, flipping once halfway through.
Use a meat thermometer once your chicken is finished cooking to make sure it's above 165 degrees. This is the right internal temperature for cooked chicken in order to be safe to eat.
Once your chicken is cooked go ahead and dig into your delicious air fryer bbq chicken!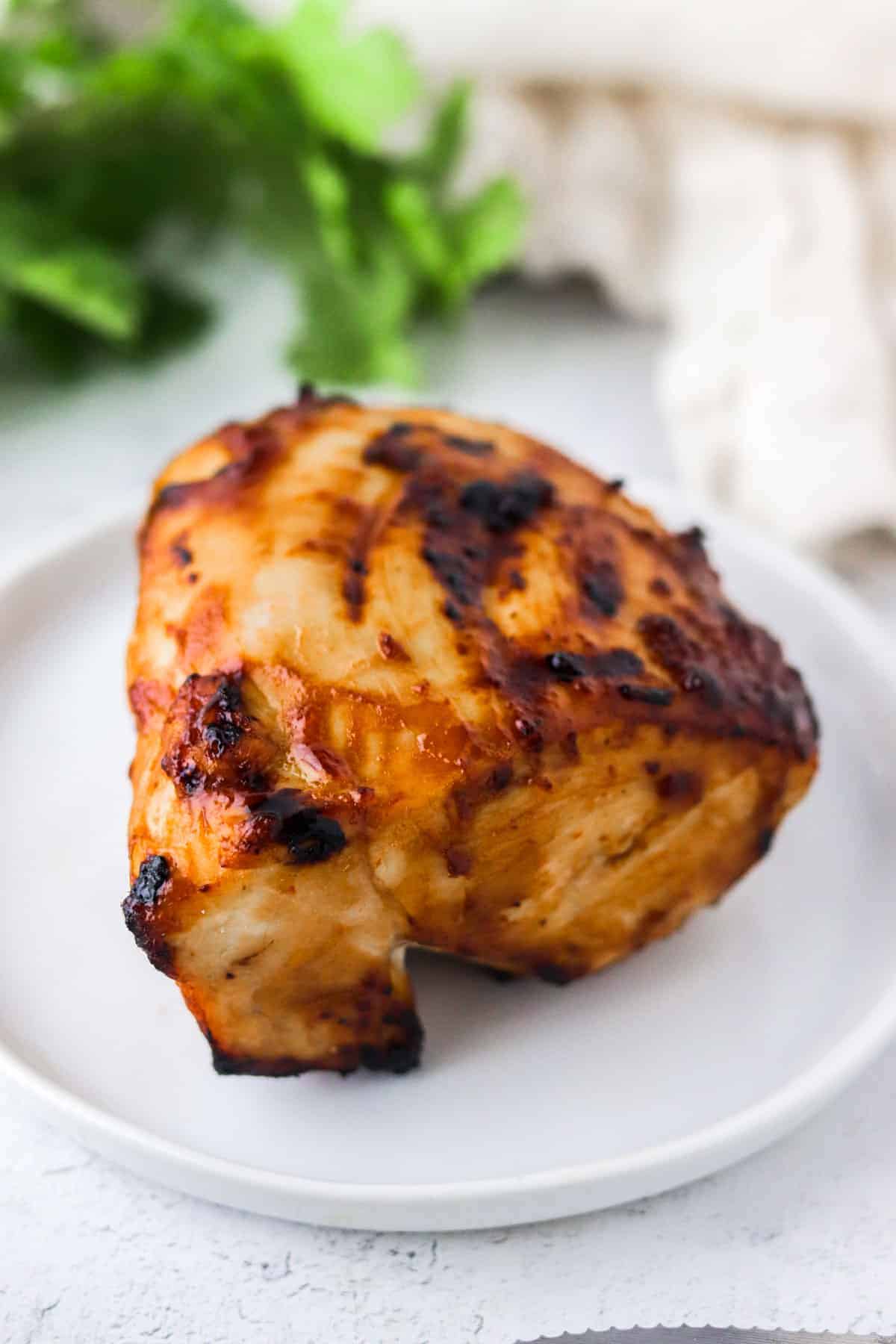 What To Serve With Air Fryer BBQ Chicken
Can I Cook Frozen Chicken In The Air Fryer?
Absolutely! Personally, I think that thawed or not frozen at all chicken tastes better, but sometimes things happen and you forget to take some out of the freezer. I've been there more times than I can count! You can cook frozen chicken in the air fryer by following the same directions and simply extend the cooking time for 20-25 minutes.
Can I Use Other Sauces For My Chicken?
Yeah! Get creative and use things like honey mustard or even a sweet and sour sauce! Anything will work as long as it has some thickness to it so that it wills tick to the chicken. If it's a more watery/thinner sauce you can marinate it before have for 1-2 hours.
Leave a comment below with how you're going to serve your air fryer BBQ chicken! My fave is going classic with a sweet potato and some broccoli, but share more ideas int he comments!
Be sure to give the recipe a star rating on the recipe card if you liked it!
XOXO
-Colleen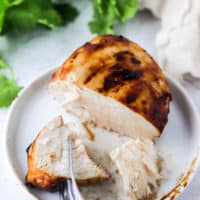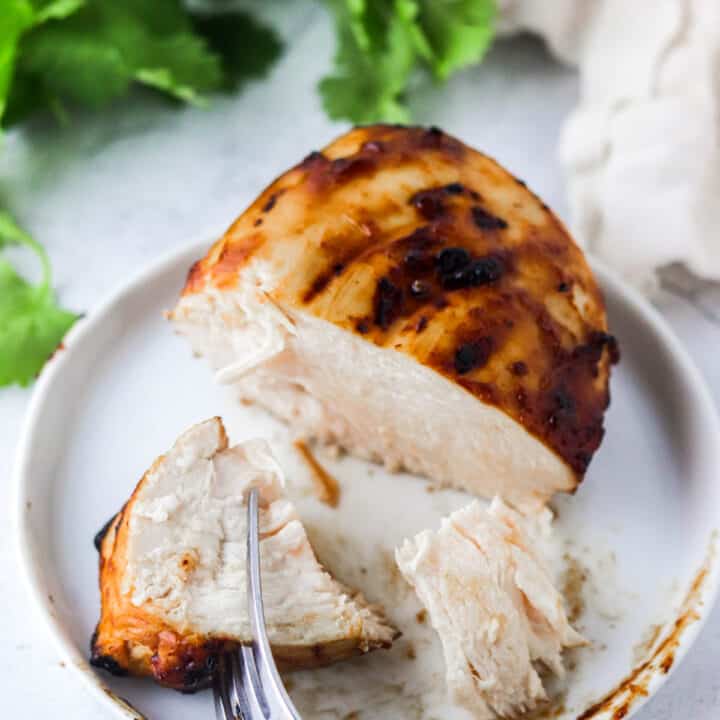 Juicy Air Fryer BBQ Chicken
Perfectly cooked, juicy air fryer bbq chicken in just 15 minutes! Use fresh or frozen chicken for a meal in minutes.
PRINT RECIPE
Ingredients
2

chicken breasts

1/4

cup

bbq sauce
Instructions
Preheat your air fryer to 370 if necessary

Coat chicken with bbq sauce

Spray air fryer basket with non stick spray and then place your chicken into the basket without them touching.

Cooke for 15 minutes, flipping once halfway through

Remove from air fryer and enjoy!
Notes
You can sub thighs for chicken breast.
If your pieces of chicken are smaller/thinner you may need to reduce cooking time to 12-13 minutes.
Use any kind of sauce you like.
click To display nutrition info
Nutrition Facts
Nutrition Facts
Juicy Air Fryer BBQ Chicken
Amount per Serving
% Daily Value*
* Percent Daily Values are based on a 2000 calorie diet.
This blog post contains affiliate links, which means that if you click on a product link, I may receive a commission. All opinions are my own, and all brands featured represent what I personally like and support. This blog is a participant in the Amazon Services LLC Associates Program, an affiliate advertising program where I earn advertising fees by linking to amazon.com.