Crispy on the outside and perfectly soft on the inside. Air fryer tater tots are a FAVE in my house!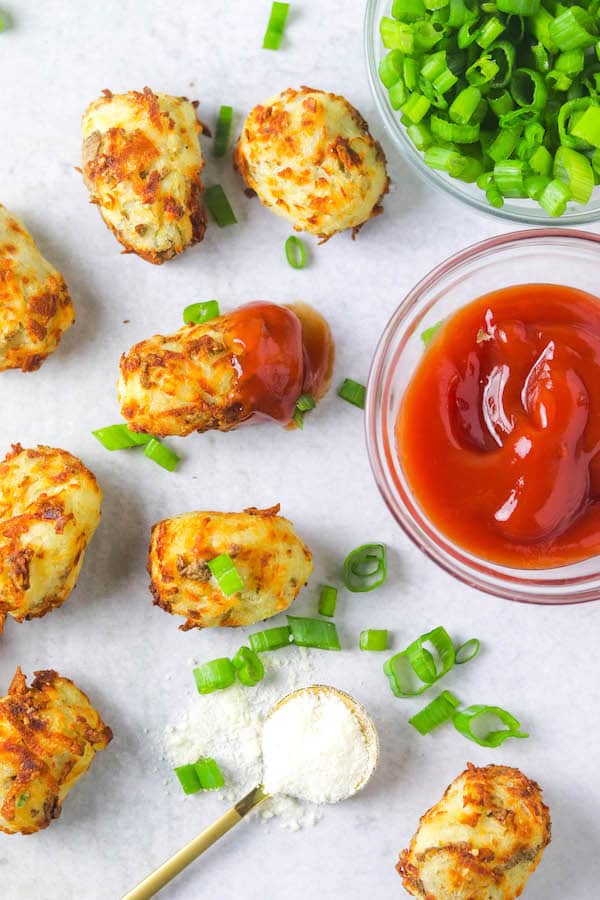 Why Should You Make Air Fryer Tater Tots?
Using an air fryer is hands down the best way to make anything crispy, especially tater tots! I never get quite the same crunchy outside when I bake them, but I always get the perfect crunch with air fryer tater tots. (Same thing with these air fryer pizza rolls!)
You can eat these tater tots in the air fryer plain, dip them in your fave sauce, or load them up! Air fryer loaded tater tots are a fave meal of mine. I like to add some cheese, shredded chicken and green onions!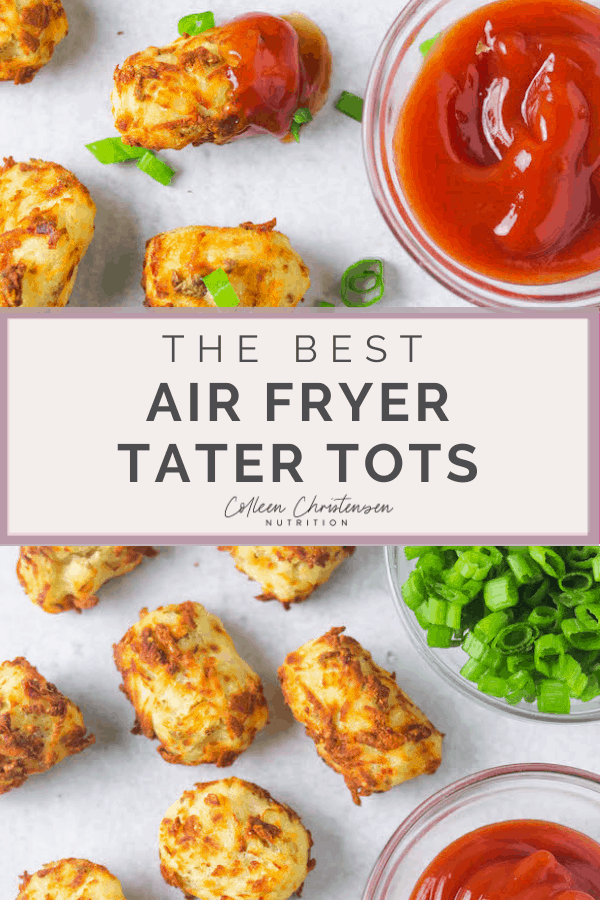 I have a Gourmia air fryer that I bought at Costco a few years ago, but I have a similar air fryer linked here. You won't regret buying one. I seriously use mine almost daily, it's one of my favorite things!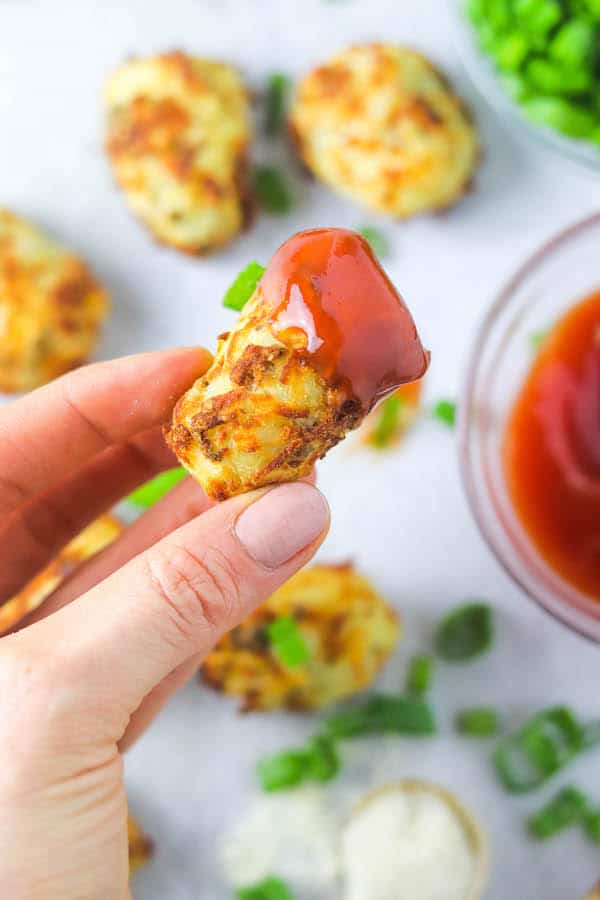 How To Make Air Fryer Tater Tots
To make my air fryer tater tots here is what you do: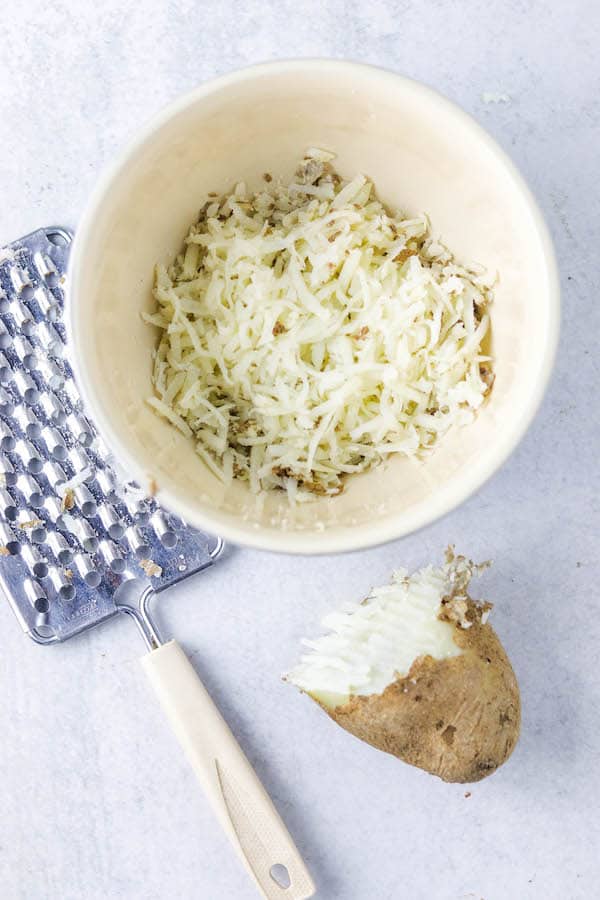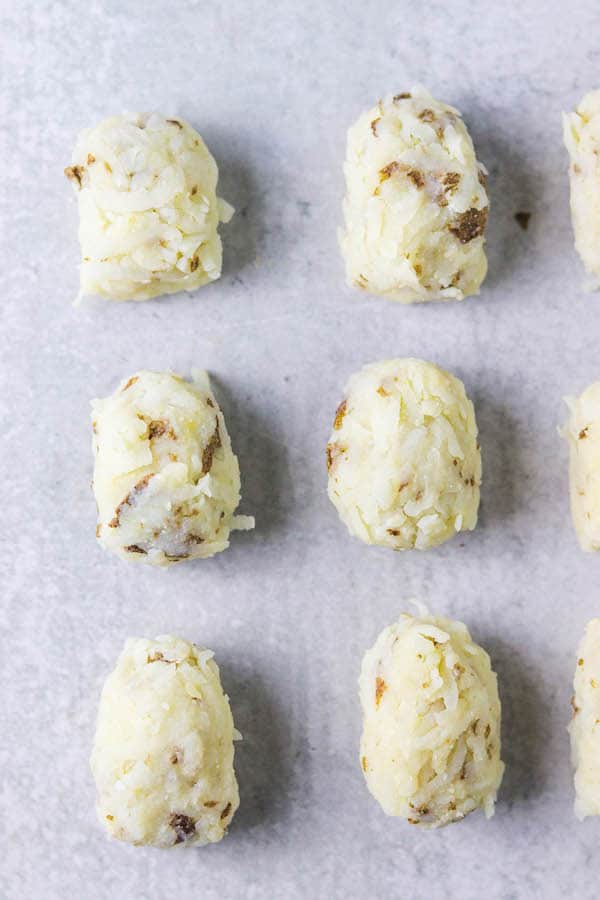 Start with regular potatoes (scrubbed) and cut them into quarters.
Boil over the stove in water for ~5 minutes.
Shred the cooked potatoes with a grater (I use a cheese grater) and place in a large bowl.
Add salt, pepper, and whatever other seasonings you like and mix it up.
Grab about 2 tablespoons of the potato mixture and form it into a tater tot shaped ball, pressingly firmly to be sure it is nice and packed tight.
Repeat this tot shaping process for the remainder of the potato mixture.
Lightly spray the basket of your air fryer, as well as the outside of the tots with non-stick spray.
Cook for 10 minutes total at 370 degrees, stopping halfway to flip the tops over.
Enjoy!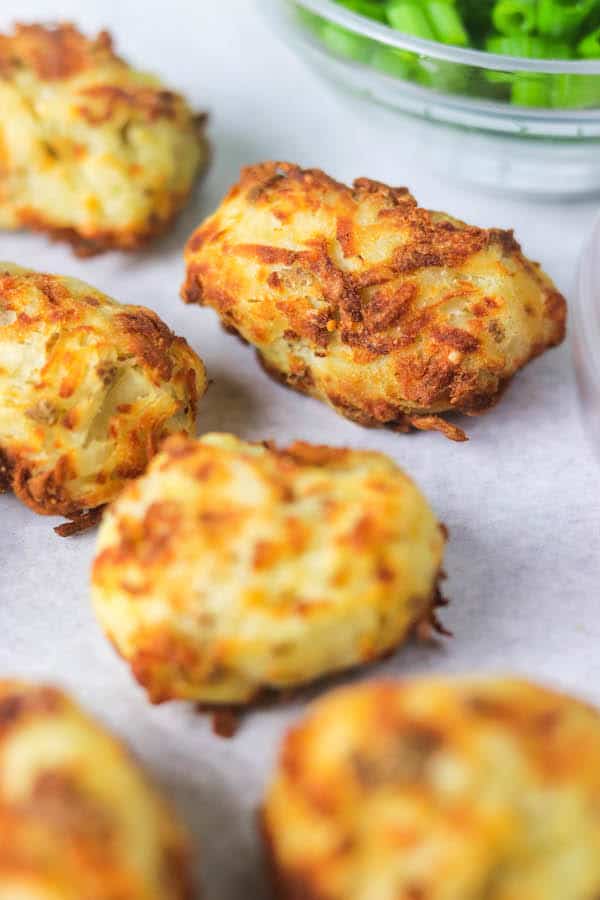 Can You Make Air Fryer Frozen Tater Tots?
180%! While I love making tater tots from scratch let's be real… sometimes there just isn't time! When making air fryer frozen tater tots you'll cook them the same way.
If you're looking for even more convenience you'll want to checkout my air fryer frozen french fry recipe or these seasoned air fryer potatoes. Life can never have enough shapes of potatoes!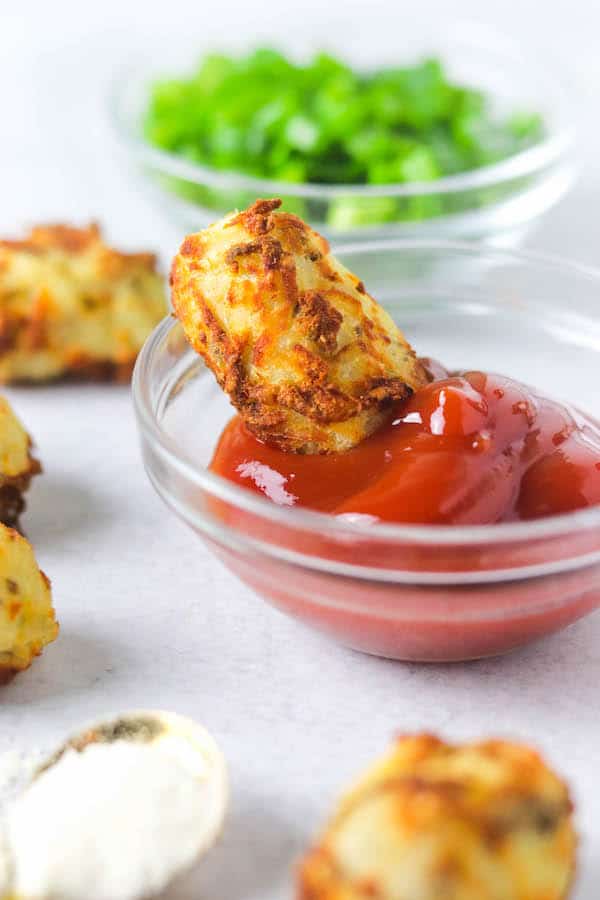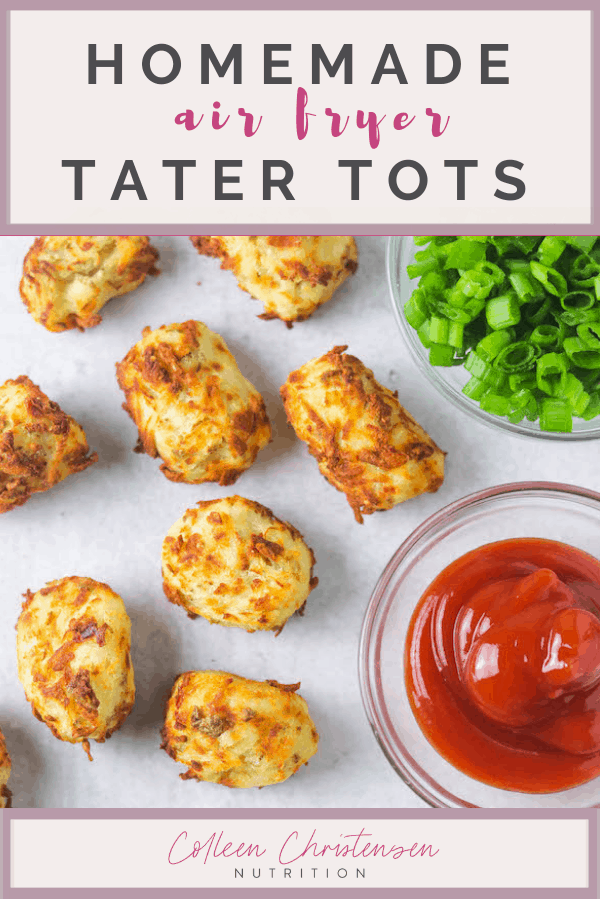 Crispy Tater Tots In Air Fryer Tips
Feel free to swap out whatever type of potato you like. Add some variety!
I like to add a little parmesan cheese when making my air fryer potato tots. It gives it a little extra flavor. You can totally use nutritional yeast to make them vegan!
Don't forget the non-stick spray! Be sure to spray your basket and the tots to prevent them from getting crisped right on to the basket!
Give this recipe for air fryer tater tots a go and leave a comment with how you served them. Plain, with a dip, or loaded? Let me know!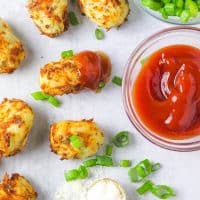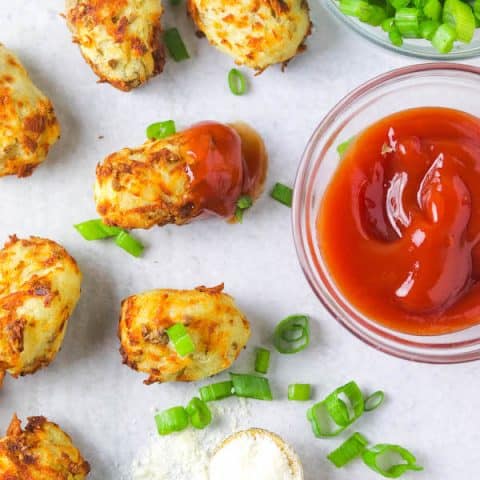 Air Fryer Tater Tots
Easy homemade tater tots in just 20 minutes! Perfectly crisp on the outside and soft on the inside, air fryer tater tots are a dish the entire family will love.
PRINT RECIPE
Ingredients
1

large potato

1

tsp

olive oil

1/4

tsp

salt

1

tsp

parmesan cheese

optional- can sub nutritional yeast

1/4

tsp

onion powder

optional

1/4

tsp

garlic powder

optional
Instructions
Wash & scrub potato and then pierce with a fork.

Wrap the potato in a wet paper towel and microwave for ~5 minutes until soft.

Allow the potato to cool, then shred it using a cheese grater (could also use a food processor)

Add in oil, salt, cheese, onion and garlic (is using), mix until well distributed

Taking about 1-2 tbsp of the mixture, firmly press into a tater tot shape

Repeat with remaining potato mixture

Spray the basket of your air fryer with non-stick spray generously, then place the tater tots into the basket

Cook at 370 degrees for a total of 15 minutes, stopping once halfway to flip the tots

Enjoy warm!
Notes
*To make these in the oven cook on a baking sheet at 375 for for a total for ~15-25 minutes. This will depend on your oven. Turn the tater tots every 5-10 minutes.
*I have not used other types of potatoes beyond a russet potato, but feel free to sub! Sweet potatoes tend to be dryer so you may need to add a splash of water when mixing, they may need additional cooking time as well.
*Nutritional information is provided as it is needed for Google. You can decide your own serving size!
click To display nutrition info
Nutrition Facts
Nutrition Facts
Air Fryer Tater Tots
Amount per Serving
% Daily Value*
* Percent Daily Values are based on a 2000 calorie diet.
Happy eating!
XOXO
-Colleen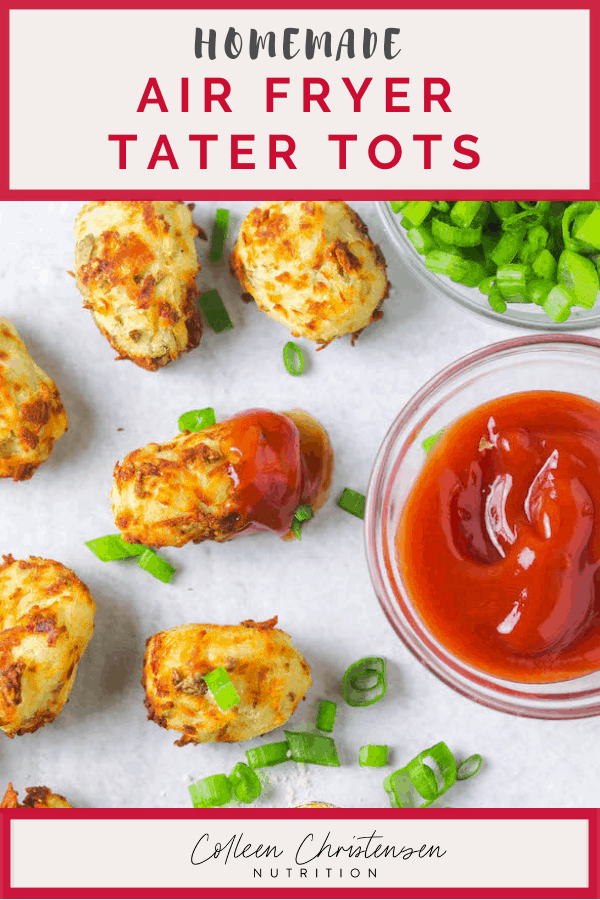 Want more recipes like this? You might like these: