I used to think baking homemade bread was intimidating…. that is until I made this honey buckwheat bread. So easy, so delicious, I'm not sure I'll ever go back to buying it!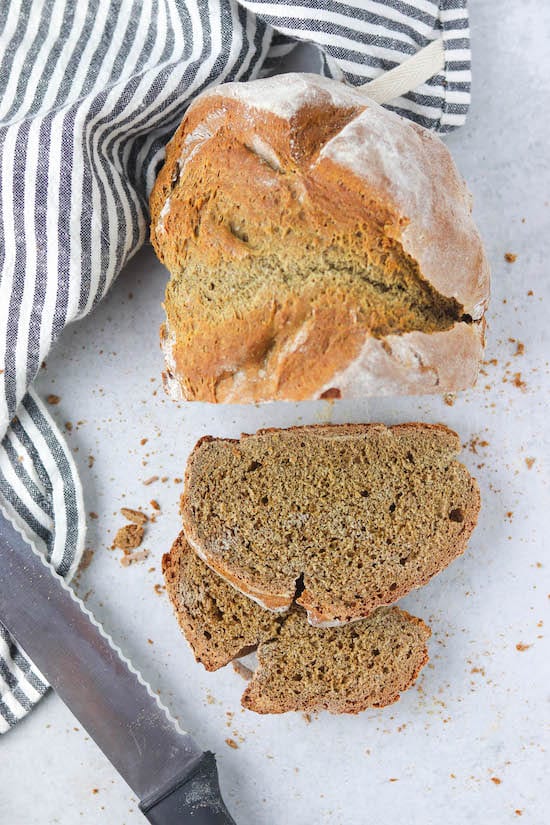 Why This No Yeast Bread Works
During my quest to find the perfect, EASY bread recipe I tried… a lot. Most recipes call for yeast but if I am being honest with you (and I always will be) I am not really great at making things that call for yeast 9 times out of 10 I screw it up. Usually because I am impatient and hate the waiting process. This honey buckwheat bread does not use yeast! That's right. Amazing homemade bread without yeast. Dream come true!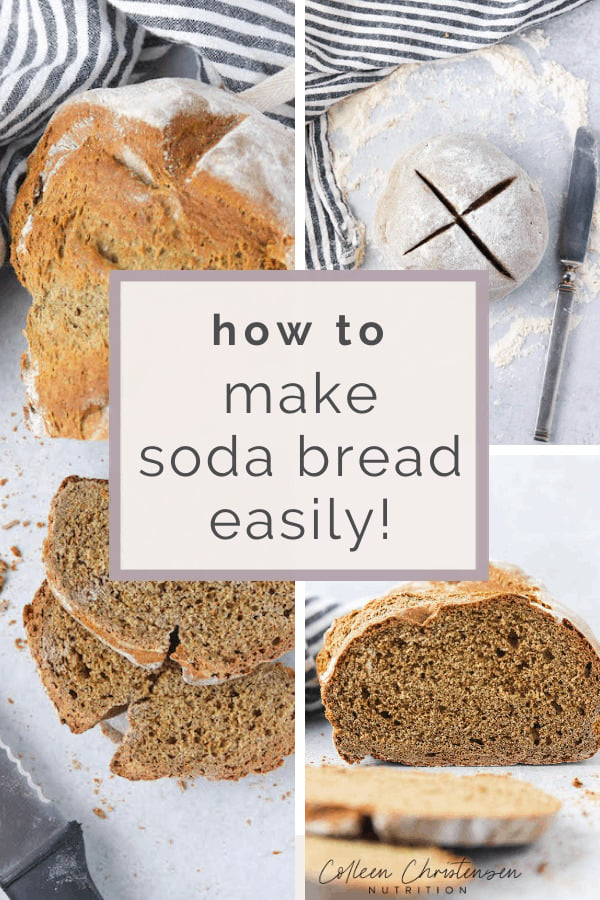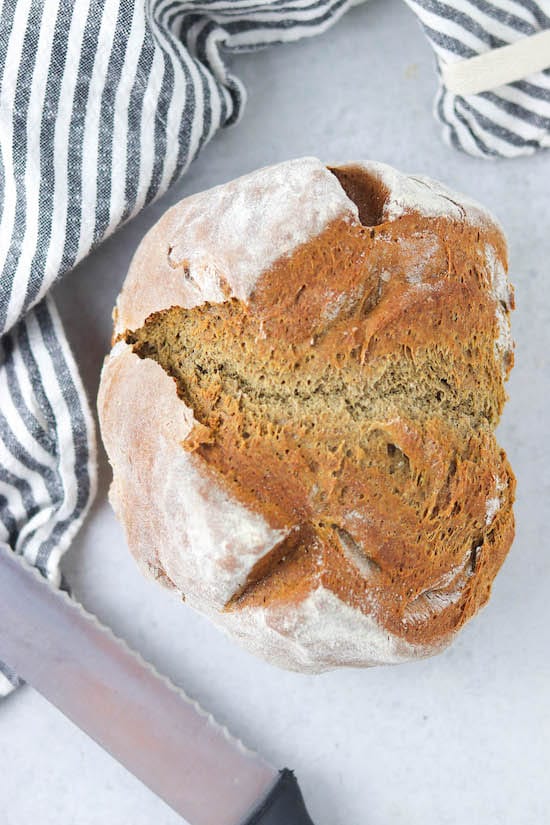 The baking soda in the bread (learn more about soda bread here!) allows the bread to rise, but it won't be super light and fluffy like the loaves of wonder bread you see in the grocery store. It's more of a dense bread, which I loooove for a good hearty sammie, soup dipping or really great slice of toast.
If, after reading all of my hate for yeast, you STILL want to try using it you can find a great beginners guide to using yeast here. Be sure to report back to me. Maybe you'll have better luck than me!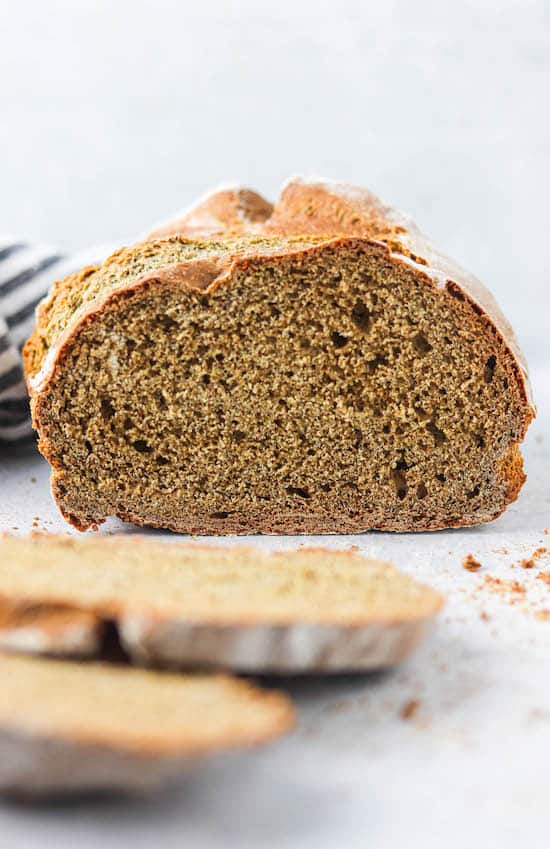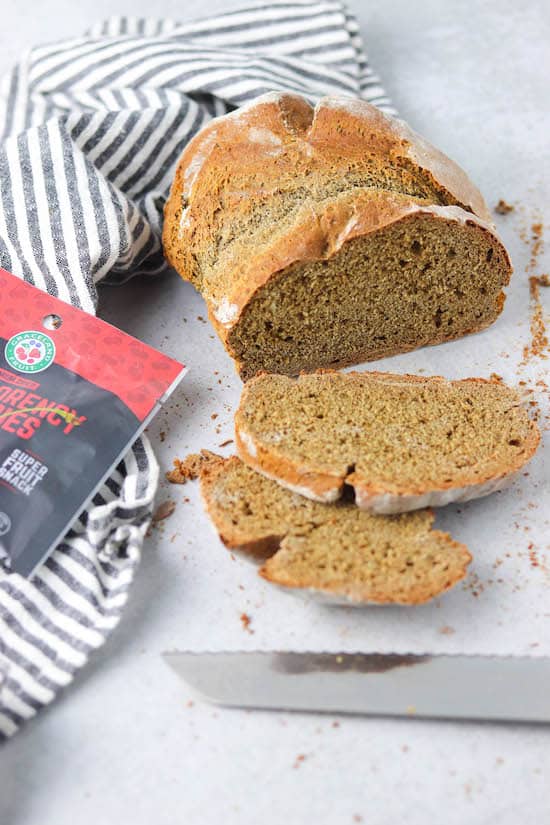 How To Make Honey Buckwheat Bread
Honestly, making this bread is stupid simple. Since it is a no yeast bread recipe there is no setting time, making sure the water is the perfect temperature, etc. Ya basically just mix it, throw it in the oven and you're done. My husband told me the loaf looked so artisan when it came out of the oven. This could easily have been taken as a compliment or insult… I took it as a compliment! I mean, it does look pretty artisan, huh? Sounds trendy. I'm putting that in the title. Decision made.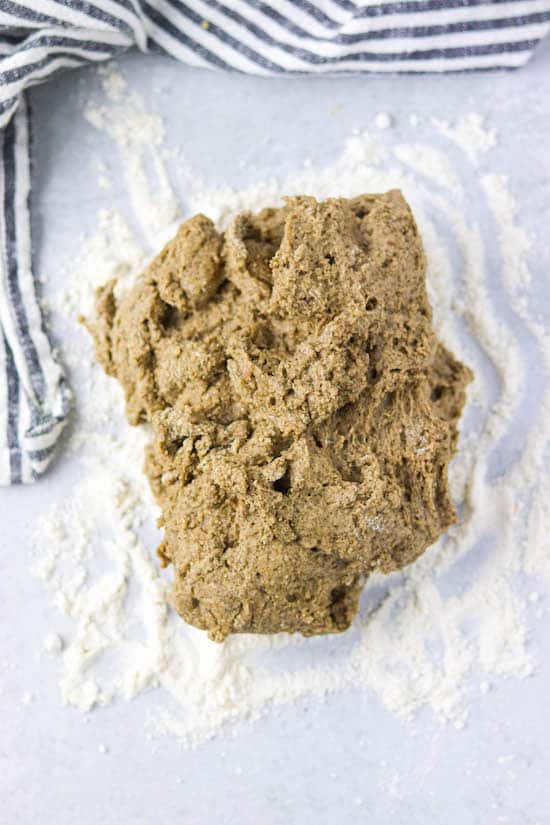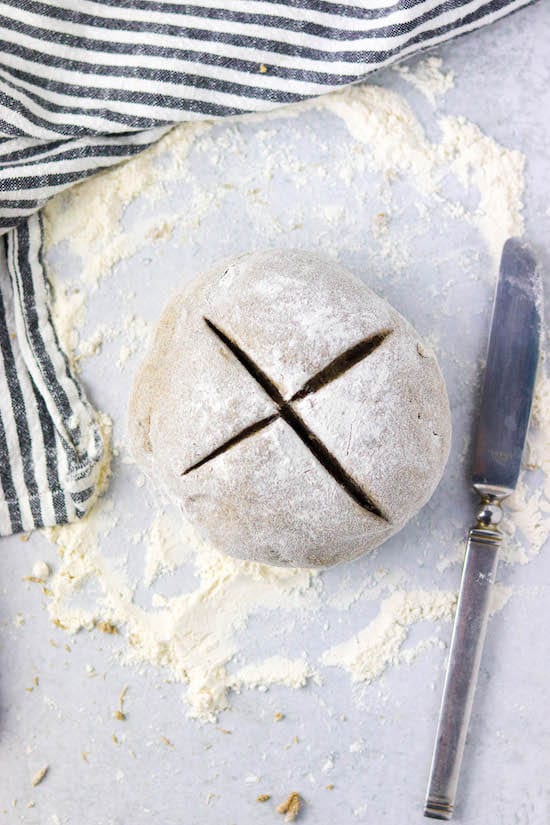 How To Dress Honey Buckwheat Bread
Like I said, one of the ways I love to munch on this artisan bread (now I can't stop using that word. Thanks Joe!) is by making it fancily dressed. Nothing makes me feel more trendy millennial than having a nice slice of fancy toast. Ya feel me? Here are 4 of my fave toast toppings for this buckwheat bread with my fave, Graceland Fruit dried fruits! They're seriously the most flavorful dried fruits. Plus, I am always in favor of supporting local, which this company is. But, lucky for you, they ship! Always love me some sweetness on tops. Okay, here they are: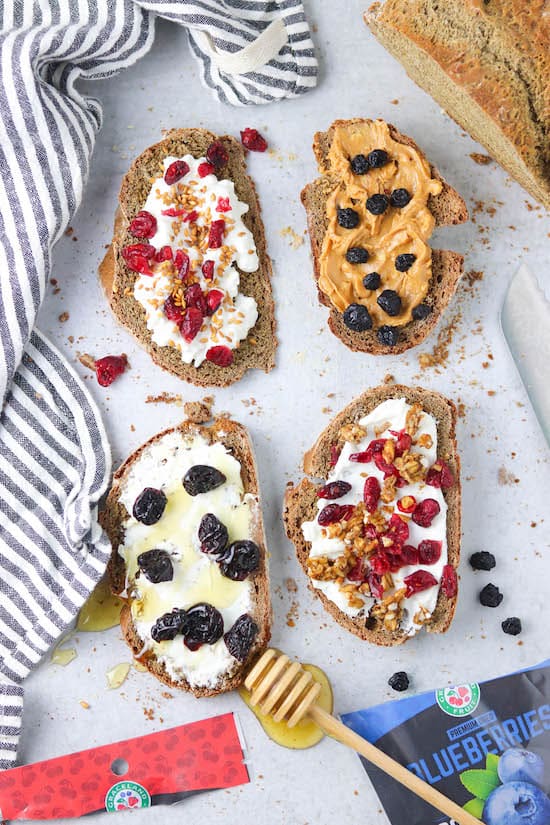 Toast Toppings 4 ways
cream cheese, dried cherries, and honey
peanut butter and blueberries
cottage cheese, cranberries, and flax seed
yogurt, cranberries, and granola
Ps. I found this guide on buying high quality honey, which may be helpful. I feel like honey is kinda like maple syrup. You TOTALLY notice a difference when you get the good stuff, ya know?
y-u-m.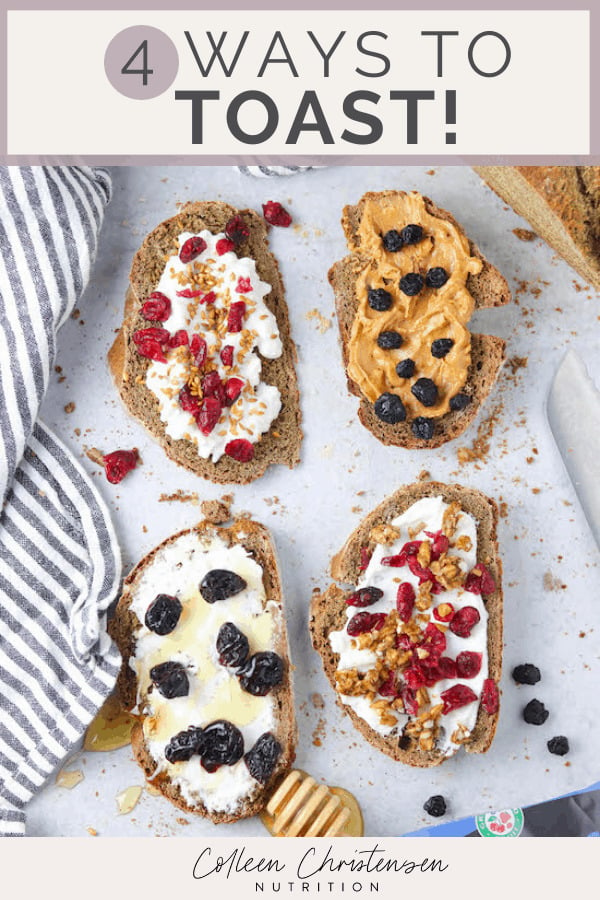 BRB while I go munch on all of these. No shame.
Here are my tasks for you:
Leave a comment with which of those toast toppings looks best to YOU! *Bonus points if you give me a NEW idea for toast toppings!
Go made this bread- it seriously takes 5 minutes to whip together!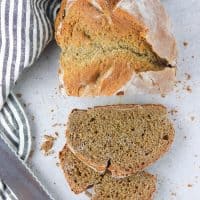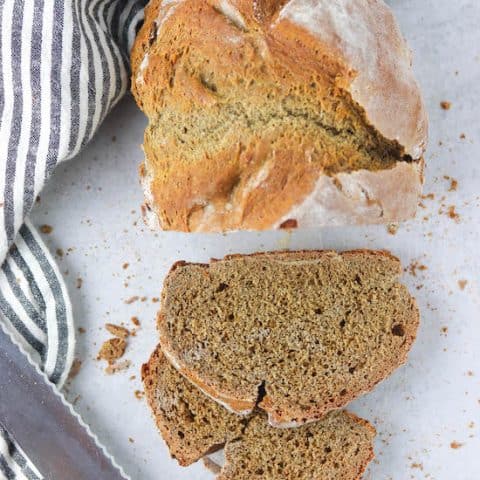 Honey Buckwheat Bread
This honey buckwheat bread is an easy no yeast bread. In just 5 minutes you can have an amazing loaf of homemade bread without yeast in the oven baking!
PRINT RECIPE
Ingredients
1 ¼

cup

white flour

¾

cup

buckwheat flour

¾

tsp

baking soda

¼

tsp

salt

1

egg

2

tbsp

honey

1/2

cup

milk
Instructions
Preheat oven to 375 degrees, lightly spray a baking sheet with non-stick spray and set aside.

In a large bowl or stand mixer combine both flours, soda, and salt.

In a small bowl whisk together egg and honey. Then add in milk.

Pour the egg mixture into the flour mixture and mix until well combined. The dough should be pretty tough!

Sprinkle a little more flour onto a working surface (I use a wood cutting board) and gently knead the dough just a couple of times. The flour from the surface should dry it out just a touch more.

Roll the dough into a ball, placing any seams face down.

Dust the dough with a touch more flour and cut and "X" shape with a knife on top.

Bake for 35 minutes. Bread should be crispy on the outside and sound hollow when you knock it.

Enjoy!
click To display nutrition info
Nutrition Facts
Nutrition Facts
Honey Buckwheat Bread
Amount per Serving
% Daily Value*
* Percent Daily Values are based on a 2000 calorie diet.
RECIPE HERE
Happy eating and happy food rule breaking, friends!
XOXO
-Colleen
**This post has been sponsored by Graceland Fruit, however all thoughts and opinion are my own**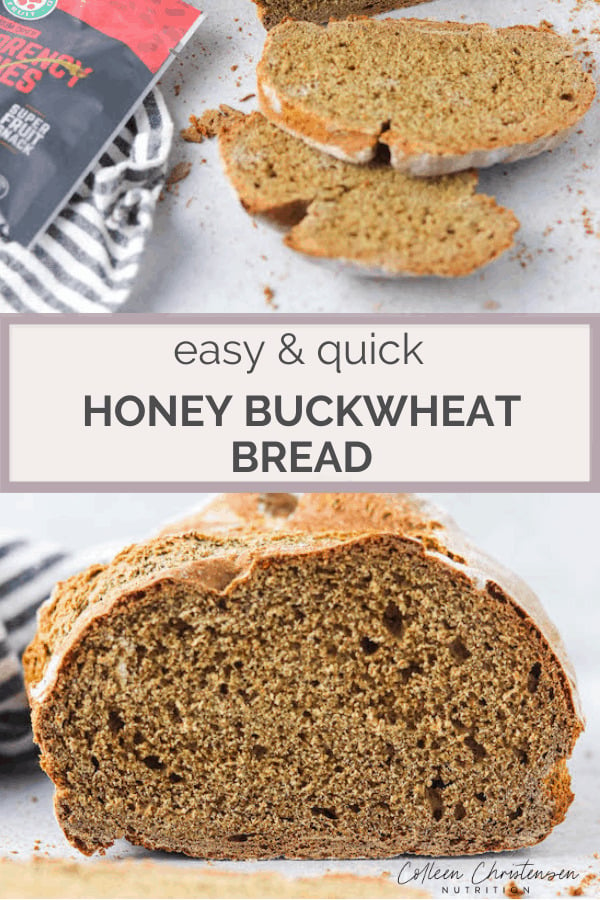 Want more recipes like this one? You might like these: