You know that episode of Friends where Ross get SO mad when someone eats his leftover Thanksgiving sandwich with the "moist maker"? (sorry if you hate the M word!) Well, I feel just as strongly about this turkey avocado sandwich with sweet potato spread.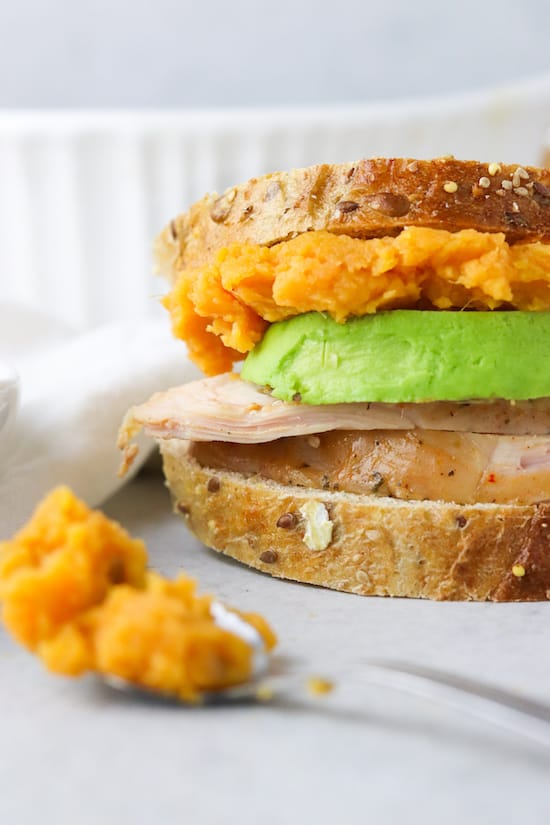 Turkey Avocado Sandwich
If there is one thing I love most about Thanksgiving it's the GIANT container of fresh, roast turkey that we have in the house for days on end after the Turkey day meal. I feel like it's such a fancy upgrade from deli meat turkey, but you could totally use that for this sandwich, too. It's not limited to being a thanksgiving leftover sandwich!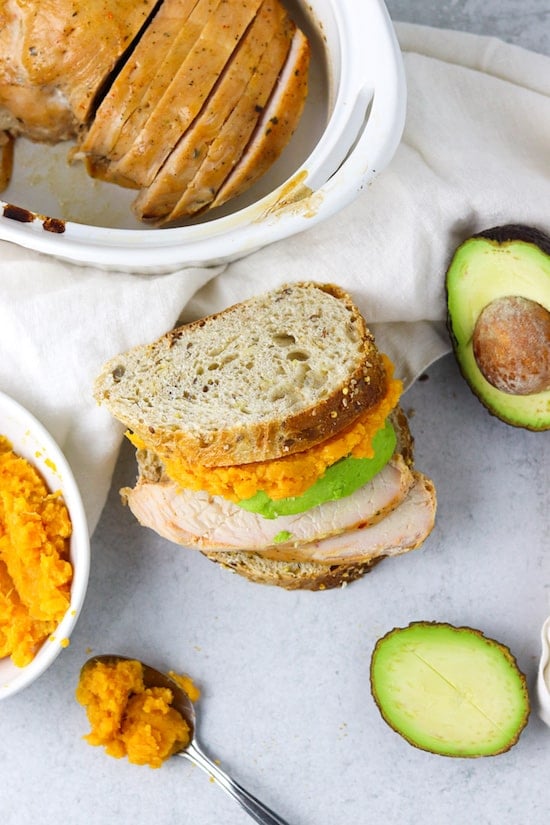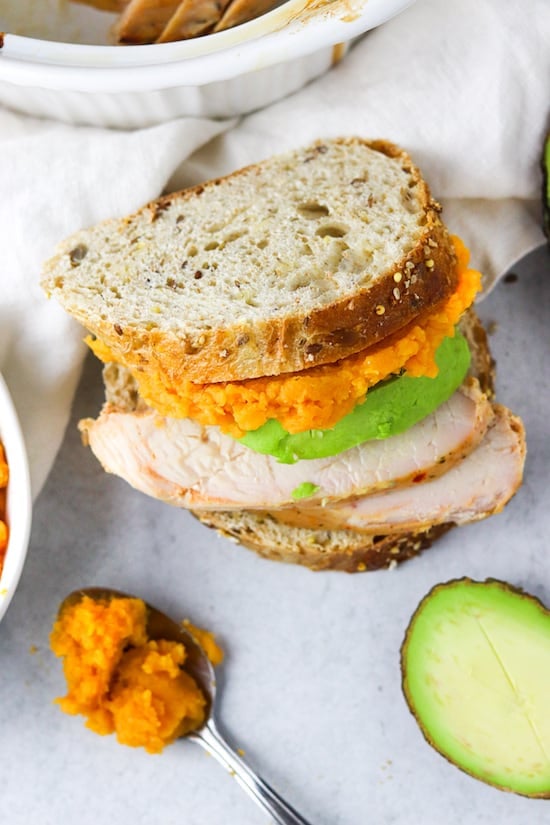 And the avocado part? Well, to be honest it:
tastes FAB
makes me feel super hip and millennial
add some great healthy fats to keep you full and satisfied
I know picking an avocado can be tough. I mean, it's gotta be juuuuust ripe enough! So here is a really great article on how to pick and buy and avocado!
Take a second to Pin this recipe to your Pinterest board. This is going to become a year-round staple!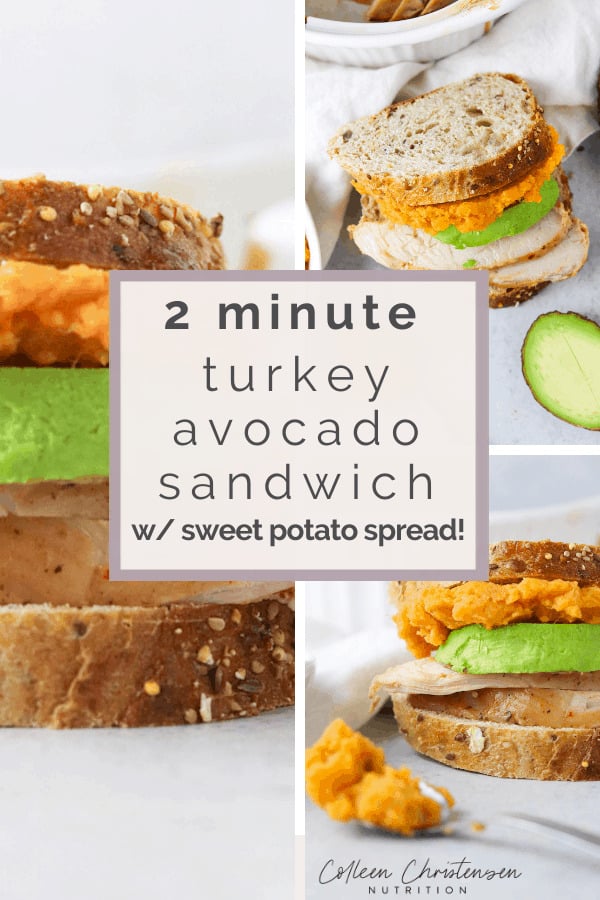 Sweet Potato Spread
For the sweet potato spread on this turkey avocado sandwich you can use whatever sweet potatoes you have from turkey day and make this a true Thanksgiving leftover sandwich (yes, even the sweet potato casserole with the marshmallows will do!) or you can make your own mashed sweet potatoes in the microwave in 5 minutes by doing this:
wash & peel potato
dice potato
place in a microwave safe bowl
fill with water to cover potato
microwave for 5 minutes
mash with a fork!
Boom. So easy. Use that trick for weeknight dinners, too. You're welcome!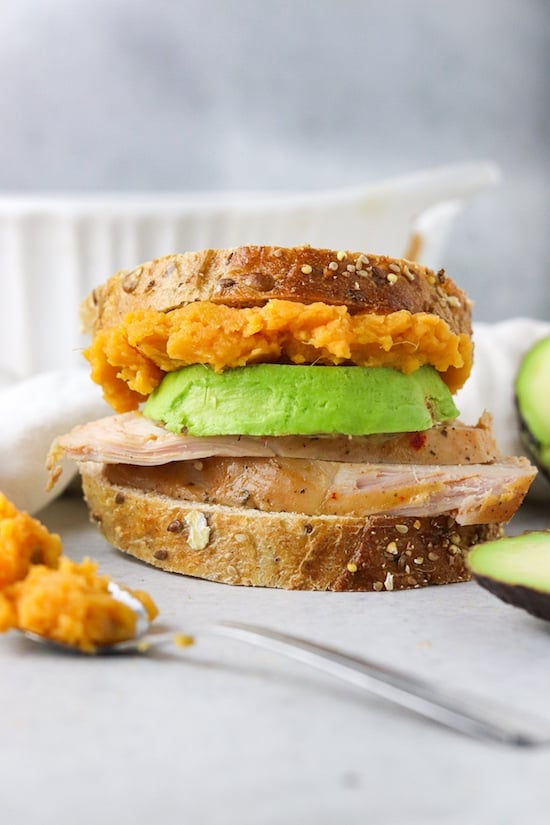 For the bread I highly recommend getting a loaf and cutting fresh slices. Mostly, again, because it makes me feel fancy but also it totally tasted better. But, feel free to use sliced break if that's all you've got!
Whip yourself up one of these turkey avocado sandwiches with sweet potato spread and leave a comment with your thoughts! Did you add anything else to this?! Can't wait to hear how creative you can get!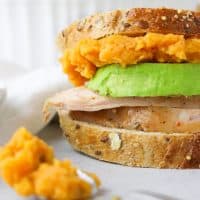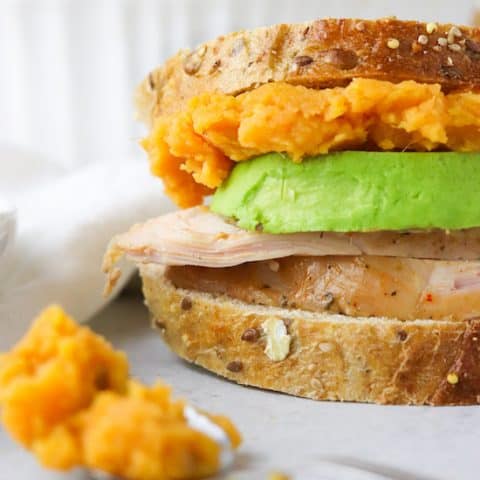 Turkey Avocado Sandwich With Sweet Potato Spread
Thick sliced turkey, creamy avocado and a sweet potato spread make this sandwich irresistible! Plus, it's packed with nutrition to keep you feeling FULL!
PRINT RECIPE
Ingredients
2

slices

break of choice

~2 tbsp mashed sweet potatoes

~2-3oz thick sliced turkey

1, 1/2

" thick avocado slice
Instructions
On one of the slices of bread layer the turkey, followed by avocado.

Next, spread the sweet potatoes onto the remaining slice of bread.

Place the slice of bread with sweet potatoes on top of the avocado layer.

Enjoy!
click To display nutrition info
XOXO
-Colleen
Want more posts like this? You might like these: