This super creamy pumpkin and sweet potato soup takes on 7 ingredients and comes together in just about 20 minutes! It's the perfect addition to any fall meal!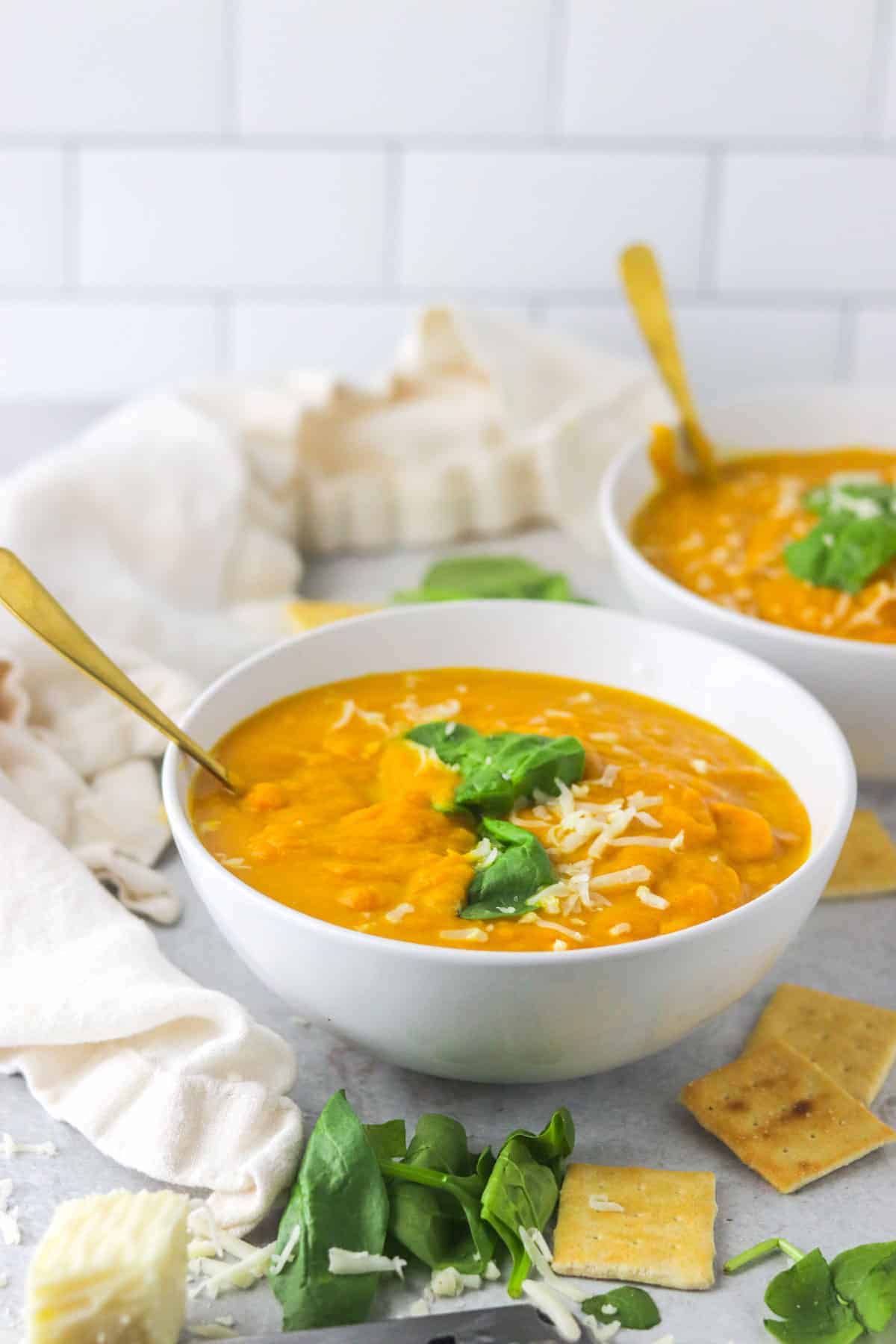 Ingredients For Pumpkin And Sweet Potato Soup
Here is what you'll need to make this delicious soup: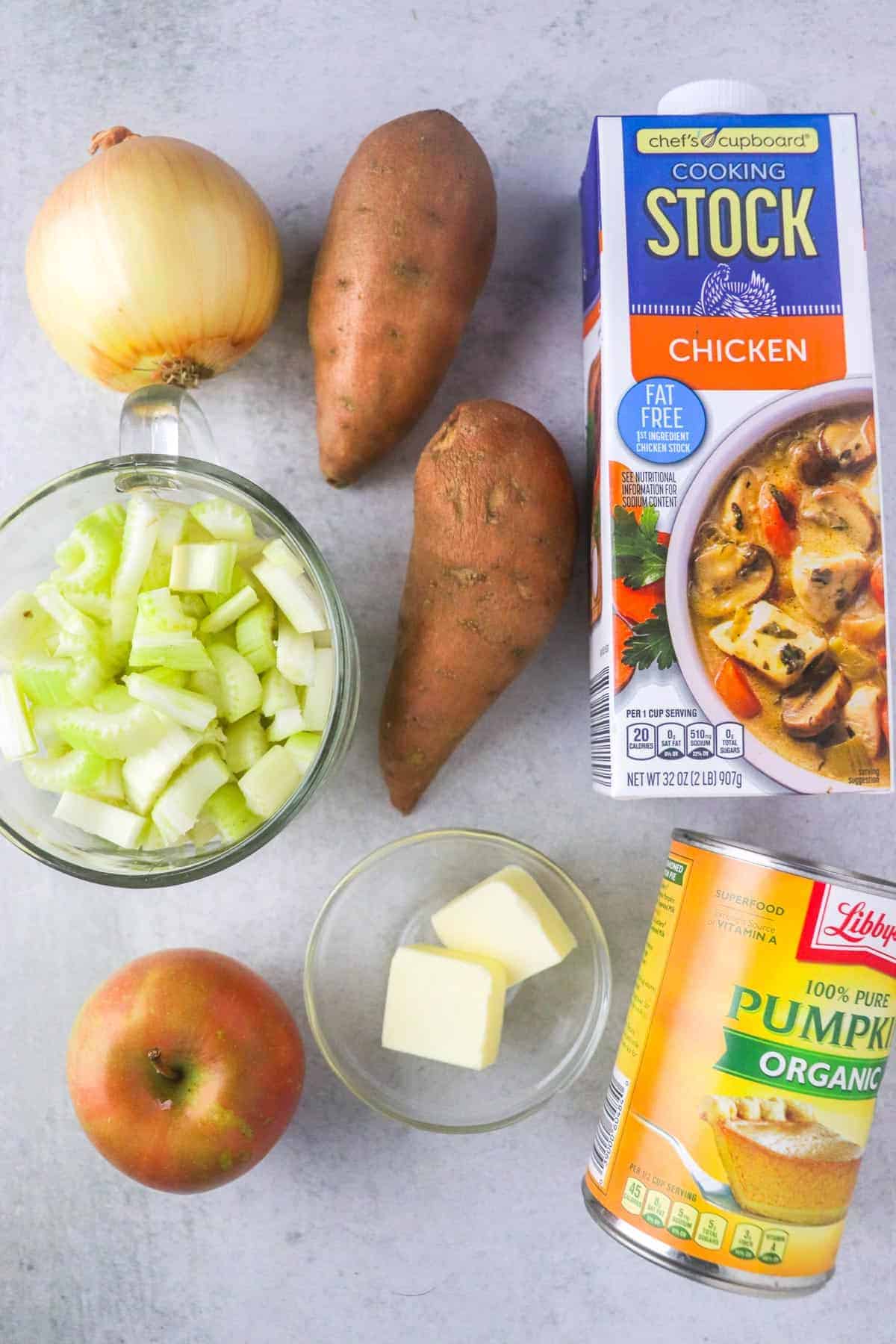 Butter: You'll use this to cook your onion & celery, giving your soup a super delicious flavor
Onion: This should be a sweet, vidalia onion ideally
Celery: Just a couple fresh stalks
Sweet potatoes: You'll need two of these and you're going to want to peel and dice them
An Apple: A crisp, fresh apple adds some additional sweetness! Be sure to peel and chop it
Vegetable Broth: You can also use chicken or even beef if you'd like to add little stronger, meaty flavor
Pumpkin: I use canned because it's just easier and faster, but you can make your own puree if you like. Which I'll tell you about later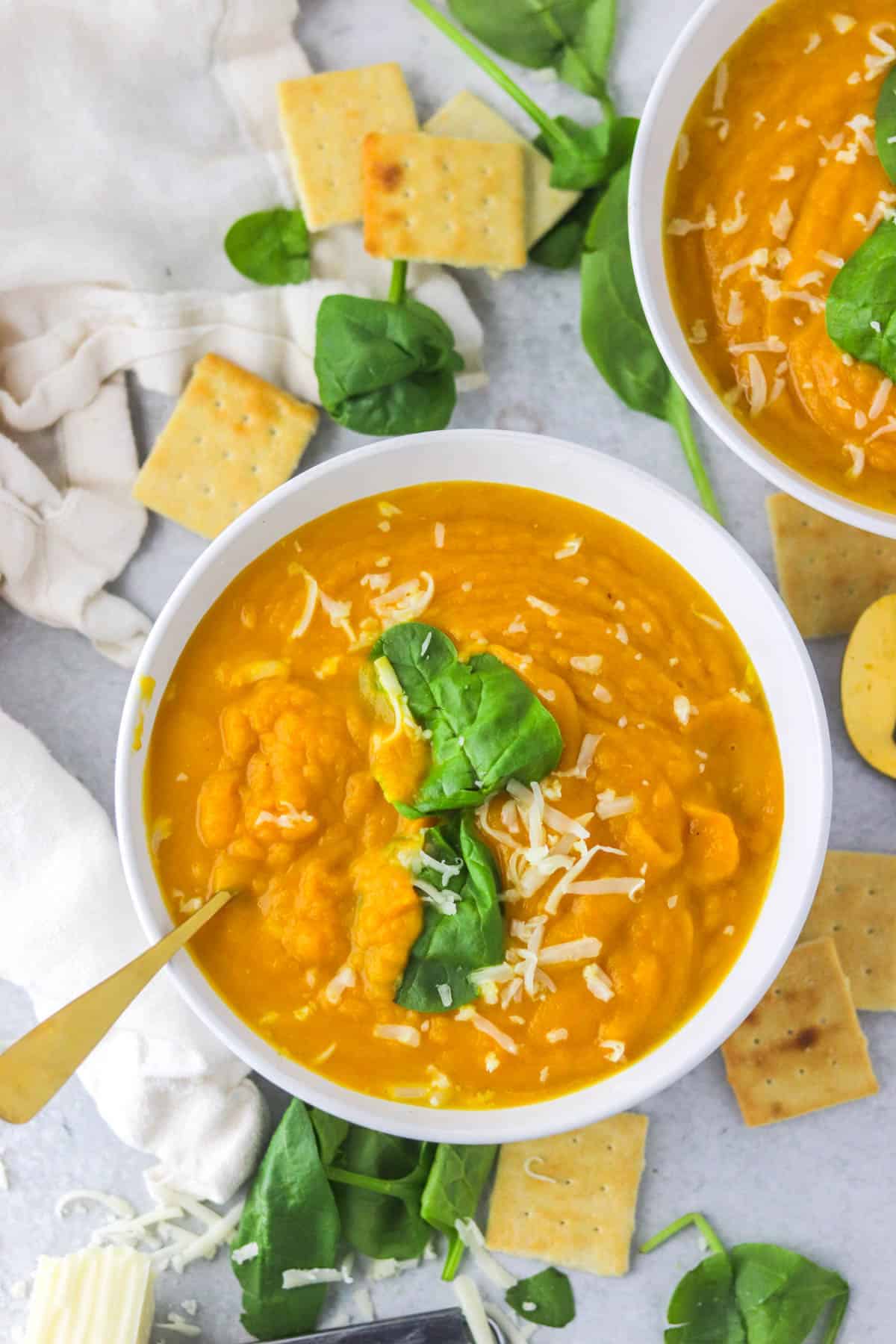 Supplies You'll Need For Pumpkin Sweet Potato Soup
To make this pumpkin sweet potato soup you'll also want to gather up:
Large pot
Veggie peeler
Cutting board & knife
Can opener (If using canned pumpkin like I do!)
High powered blender (I use one like this Ninja blender, love it! You can also use an immersion blender)
How To Make This Pumpkin And Sweet Potato Soup
First, prepare all of your veggies. Chop your onion and celery, peel and dice your apple and sweet potato, and open your can of pumpkin.
In the bottom of a large pot melt butter and then add onion and celery. Saute these until translucent, about 3-5 minutes.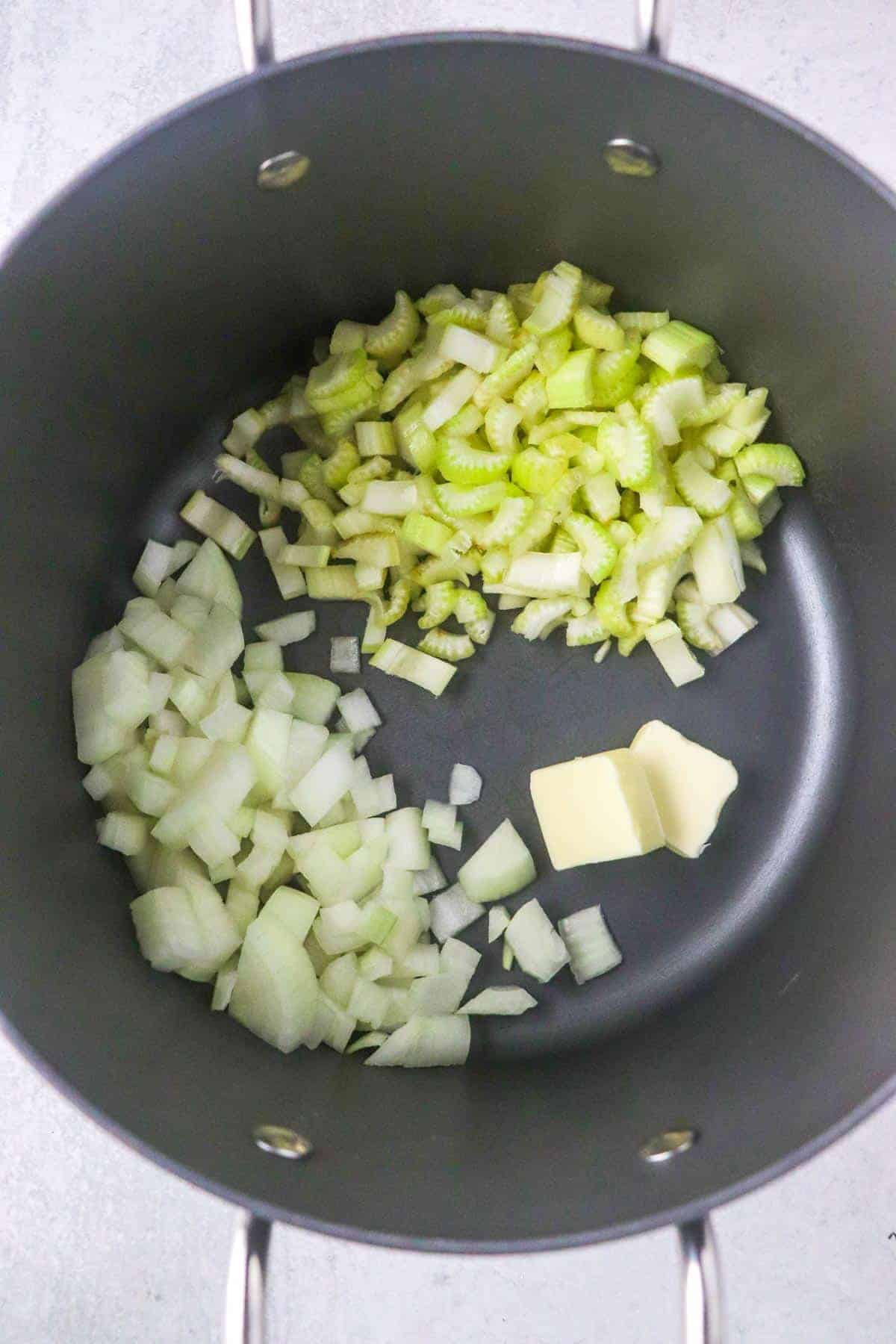 Now, add in your apple and sweet potato and broth. Cover your pot and allow this to simmer for ~10-15 minutes, or until the sweet potatoes are soft. Allow this to cool fully once potatoes are softened.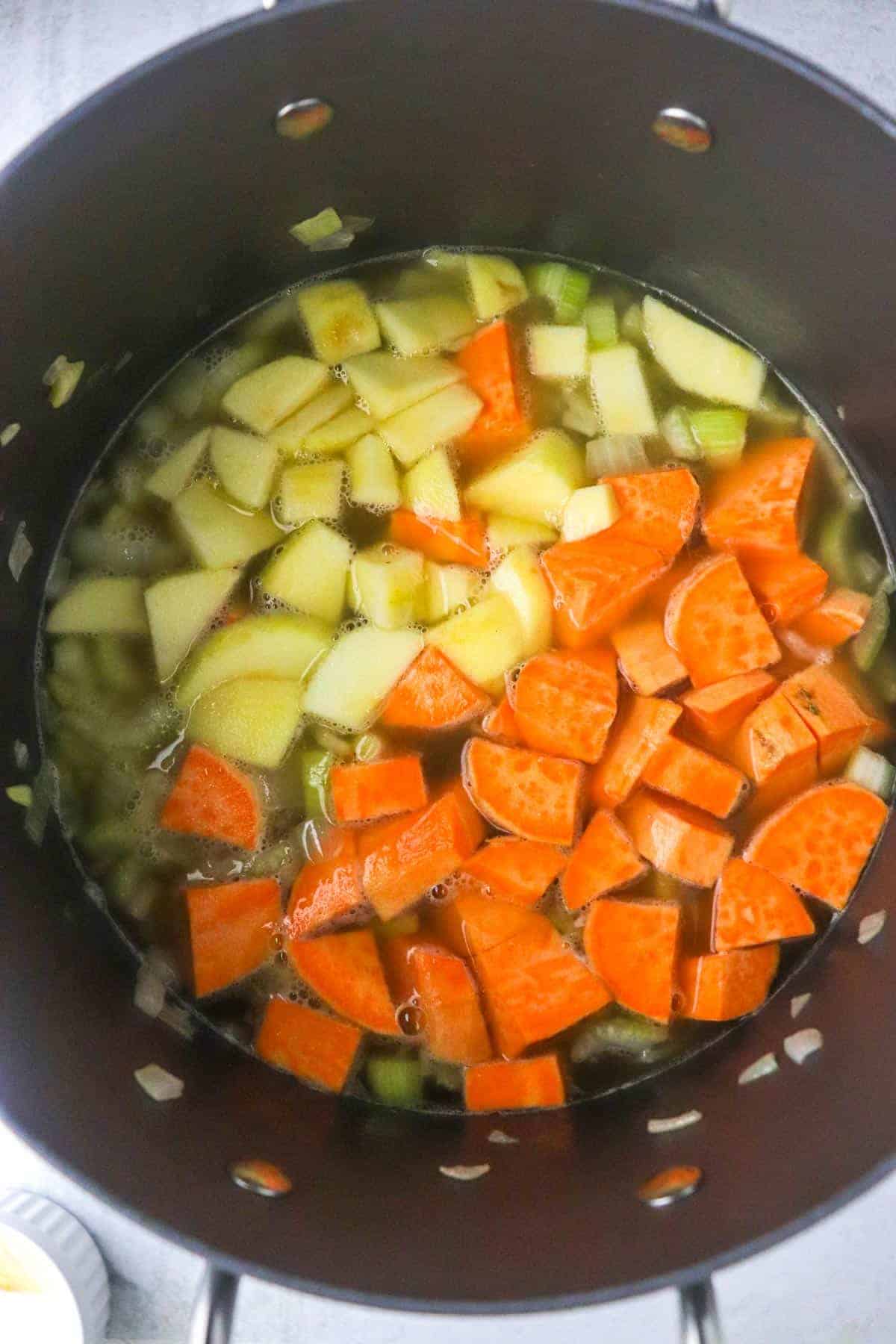 In your blender, add the canned pumpkin and the cooled ingredients from the pot. Blend first on low, then on high speed until very smooth.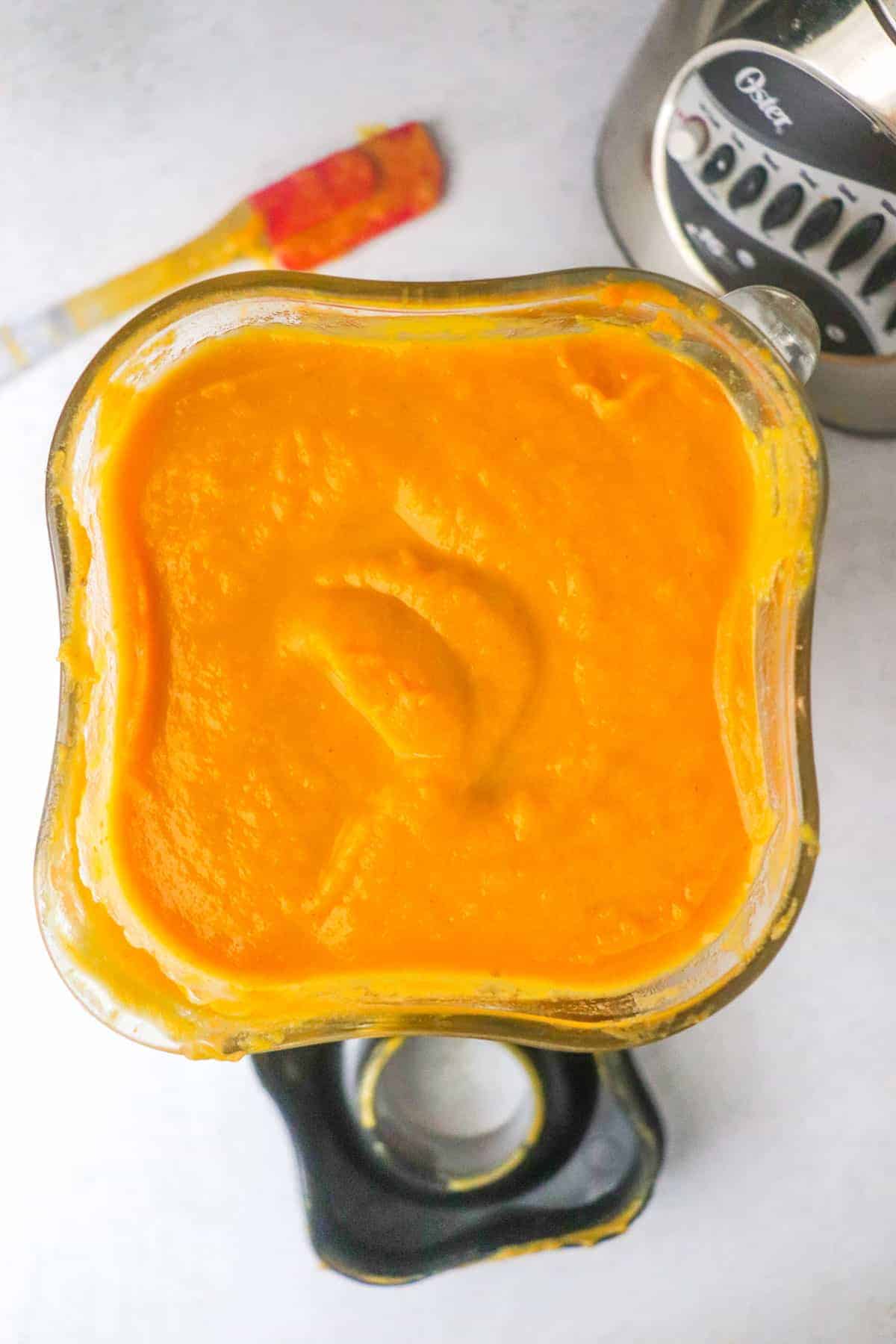 Place blended soup back into your pot and heat if planning to eat now, or transfer to a container for later!
Garnish with greens and cheese if desired!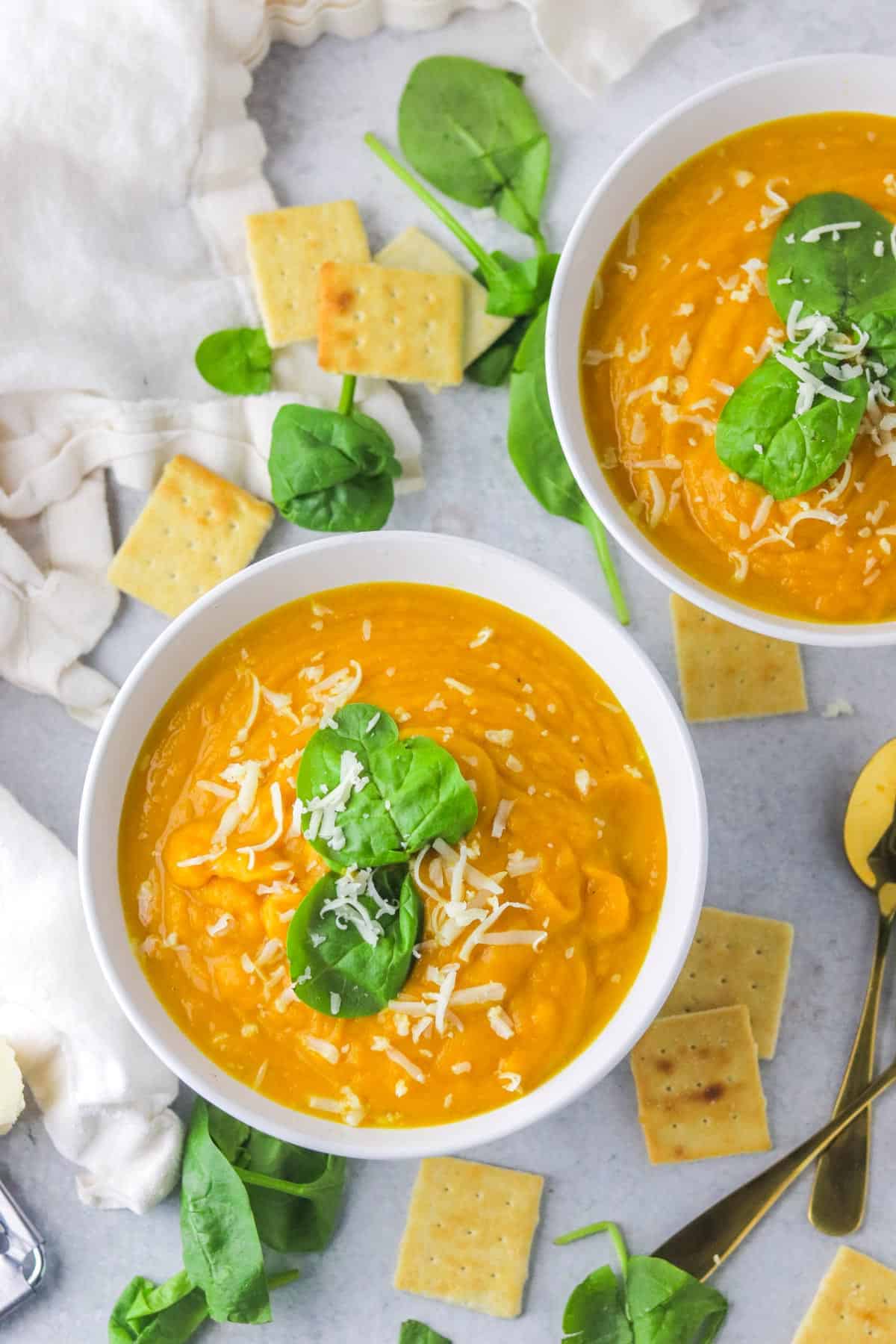 How To Make Pumpkin Soup From Scratch
If you want to make this soup totally from scratch you can make your own pumpkin puree. It's really not hard, only somewhat time consuming. You'll need to buy a pie pumpkin, gut it, roast it, scoop out the flesh and then finally puree it. Here is a good post on how to make homemade pumpkin puree with a video from HeyNutritionLady!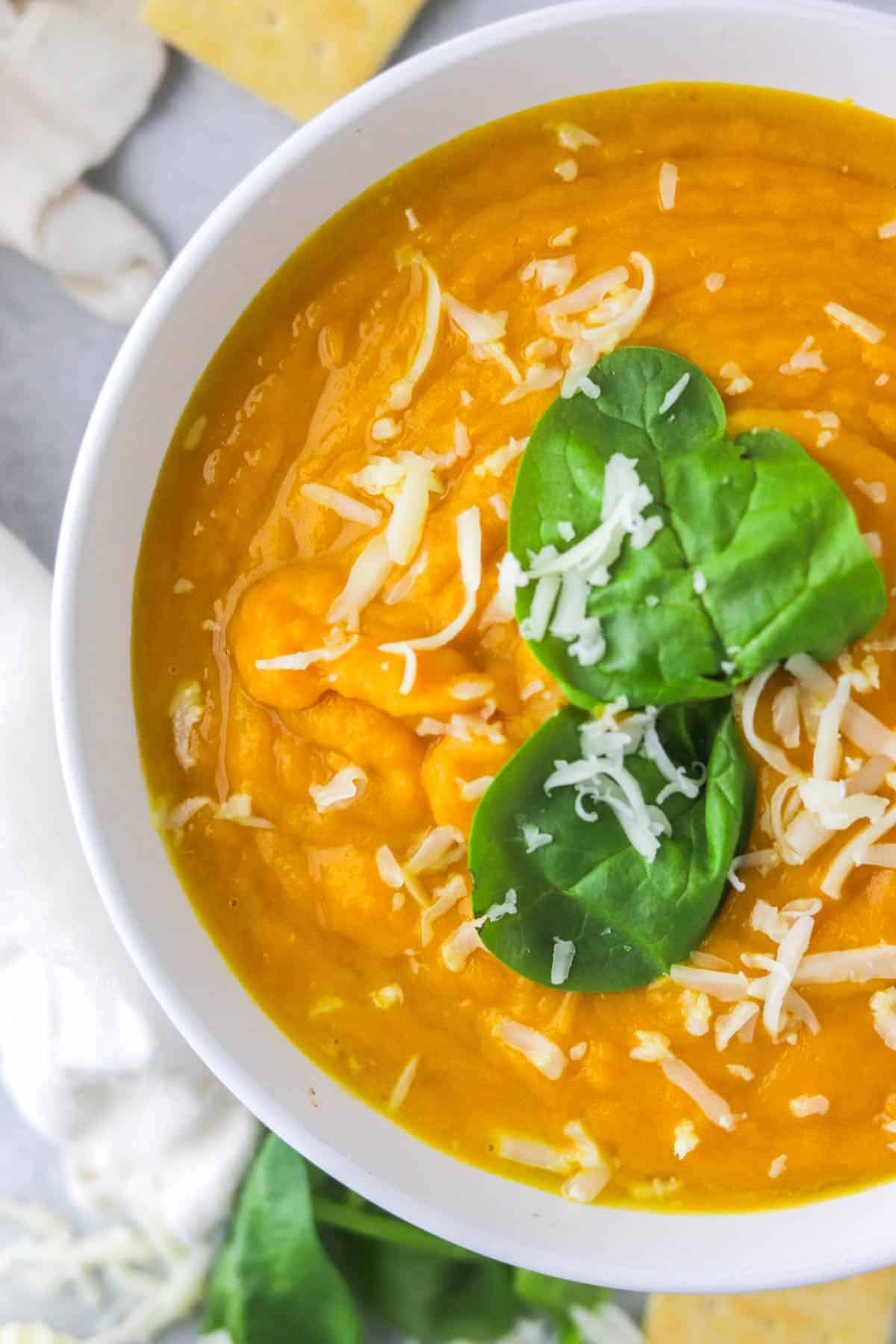 Can I used baked sweet potatoes?
Yes! If you already have some baked or roasted sweet potatoes on hand you can use those. Simply add the baked sweet potatoes when you add the pumpkin puree and reduce the simmering time to only ~5 minutes, as your apples will soften faster without the potatoes, too.
Quick note about sweet potatoes skins, and apple skins, for that matter: You can leave the skin on your sweet potatoes if you want. You might not get quite as smooth of a soup, but, hey, there are loads of nutritionist int he skins, too! So if you like a chunkier soup, go for it!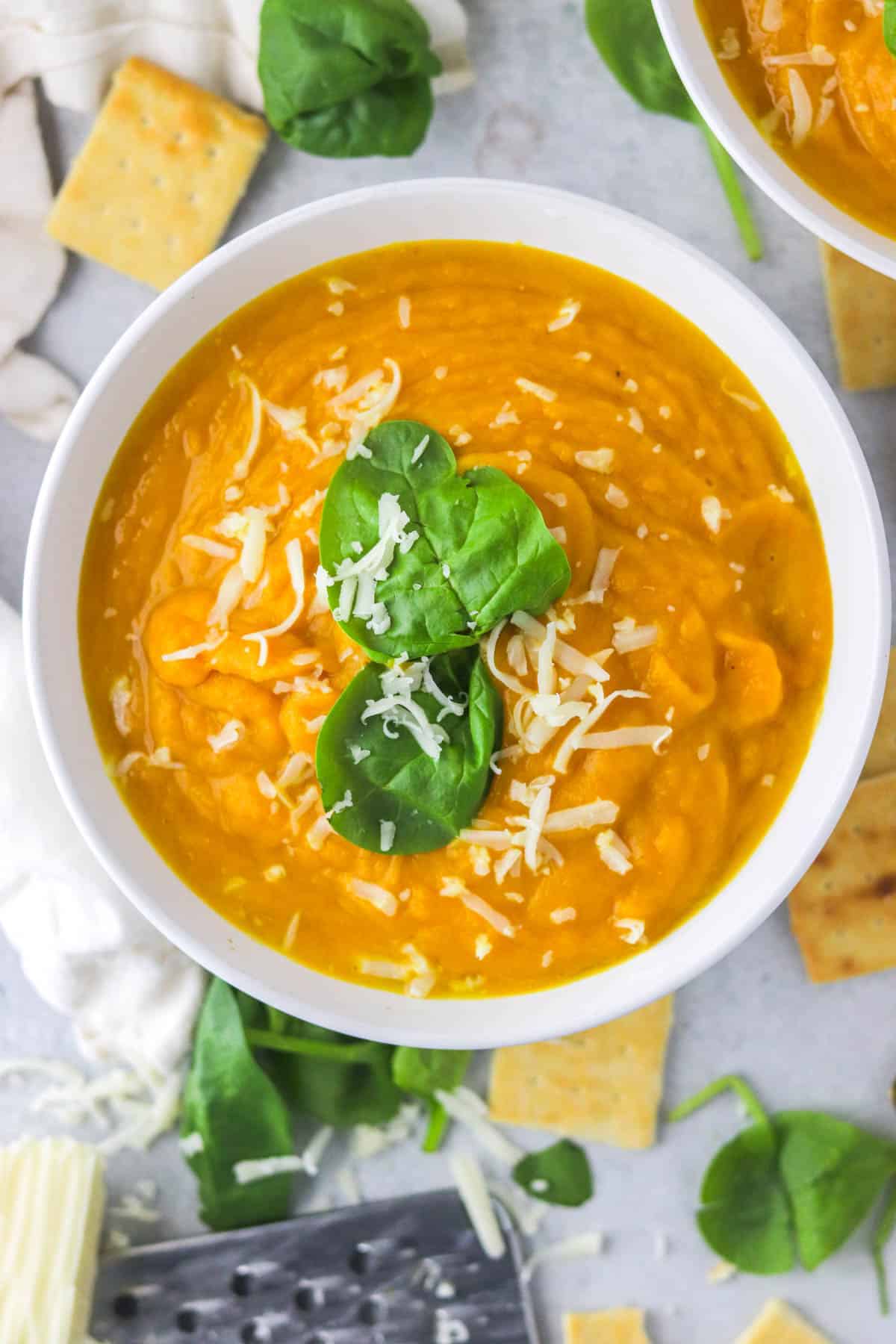 What Goes With Pumpkin Soup?
I always like to have something to chew when I eat soup. I usually like to add croutons on top, have a slice of bread for dipping, or a nice sandwich like this turkey avocado sandwich with sweet potato puree. (SO GOOD!) I also like to have a source of protein in here to help keep me full. I love adding my extra crispy spicy chicken nuggets on top (Trust me, it's delish!), some crispy air fryer tilapia, or even just some ground meat.
A nice salad would go good with this as well, if you want to stick with the pumpkin theme try this roasted pumpkin feta salad!
Can I Freeze Pumpkin Soup?
Of course! Here are the directions for storing your soup, if you're not going to eat it right when you make it:
Fridge: Simply put your soup into an air tight container in the fridge for about 5-7 days. When you're ready to eat it I'd recommend re-heating it in a saucepan. This will ensure your soup is heated evenly (cold spots are the woooorst!) but, you can also microwave if you're in a pinch. If you're microwaving be sure to stop it every ~30 seconds to stir to ensure even heating.
Freezer: If you're going to freeze the soup be sure to let it cool FULLY. Then, fill a container (you can get cute takeout soup containers like these! or use one of your own. You could even use a freezer bag, too!) but be sure to not fill it all the way! Liquid will expand when it freezes. To be sure your container doesn't explode, be sure to leave space. Label it and then store it in the freezer for up to ~3 months!
Feel free to also get creative with this soup! I keep the spices minimal because I love the simple flavors of sweet potato, apple and pumpkin. However, feel free to add some garlic, cumin or even a touch of heat with some chili powder!
Be sure to leave a comment with your thought and how you enjoyed it, making note of any tweaks! Also be sure to leave a star rating on the recipe card if you enjoyed it!
XOXO
-Colleen
This blog post contains affiliate links, which means that if you click on a product link, I may receive a commission. All opinions are my own, and all brands featured represent what I personally like and support. This blog is a participant in the Amazon Services LLC Associates Program, an affiliate advertising program where I earn advertising fees by linking to amazon.com.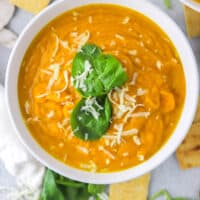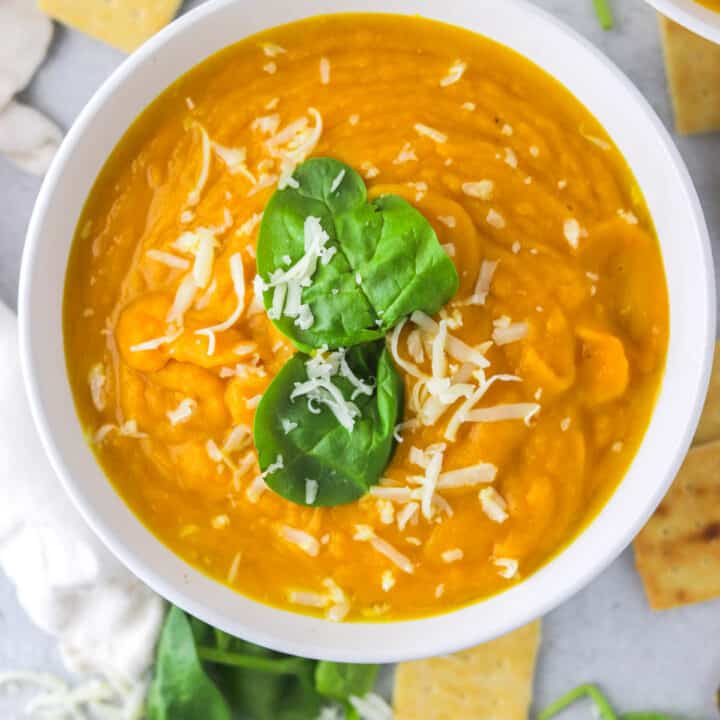 Creamy Pumpkin And Sweet Potato Soup
This super creamy pumpkin and sweet potato soup takes on 7 ingredients and comes together in just about 20 minutes! It's the perfect addition to any fall meal!
PRINT RECIPE
Ingredients
2

tbsp

butter

1

sweet onion

diced

3

stalks of celery

diced

1

apple

peeled and chopped

2

sweet potatoes

peeled and chopped

4

cups

of vegetable stock

1, 15

oz

can of pumpkin puree
Instructions
In a large pot melt butter. Add onions and celery, cooking for 3-5 minutes until translucent.

Add sweet potatoes, apple and stock to the pot and simmer for 10-15 minutes until sweet potatoes are soft. Allow to cool fully.

In a blender, add pumpkin puree and the cooled ingredients from your pot. Blend on low, then high speed until smooth and creamy.

If planning to eat now, return to the pot to heat, adding salt, pepper and any other desired spices. If not cooking now, store per the directions listed above in this blog post.

Topping ideas: spinach, croutons, herbs, cheese (mozzarella, parmesan, gruyere, and Swiss work well!) or herbs (cilantro, parsley or chives are great!)
Notes
If using homemade pumpkin puree, use 1.75 cups.
Feel free to add any spices like cumin, chili powder, garlic powder, etc.
click To display nutrition info
Nutrition Facts
Nutrition Facts
Creamy Pumpkin And Sweet Potato Soup
Amount per Serving
% Daily Value*
* Percent Daily Values are based on a 2000 calorie diet.