I used to never eat rice. I thought carbs were basically the devil during my eating disorder. HOW SILLY!!! Carbs are our bodies preferred source of energy, our brains NEED carbs. So, basically by avoiding carbs I was sacrificing brain health. Sounds extreme, I know, but it's true! Man am I one happy girl that I overcame this because I LOVE CARBS. I especially love carbs that are ooey gooey and "cheesy" – like this creamy butternut squash risotto!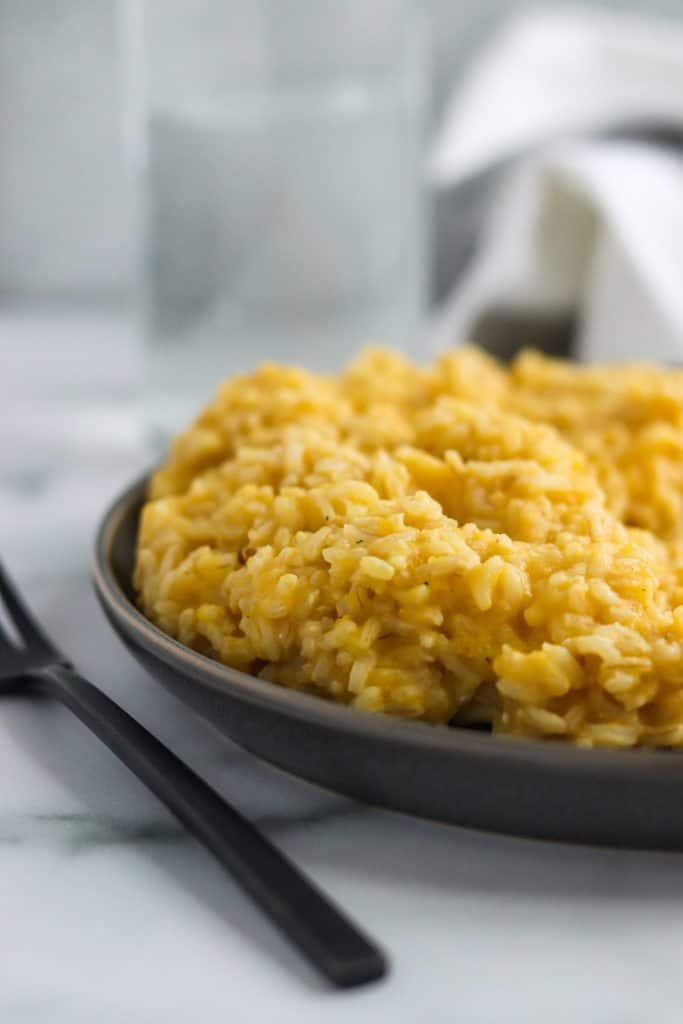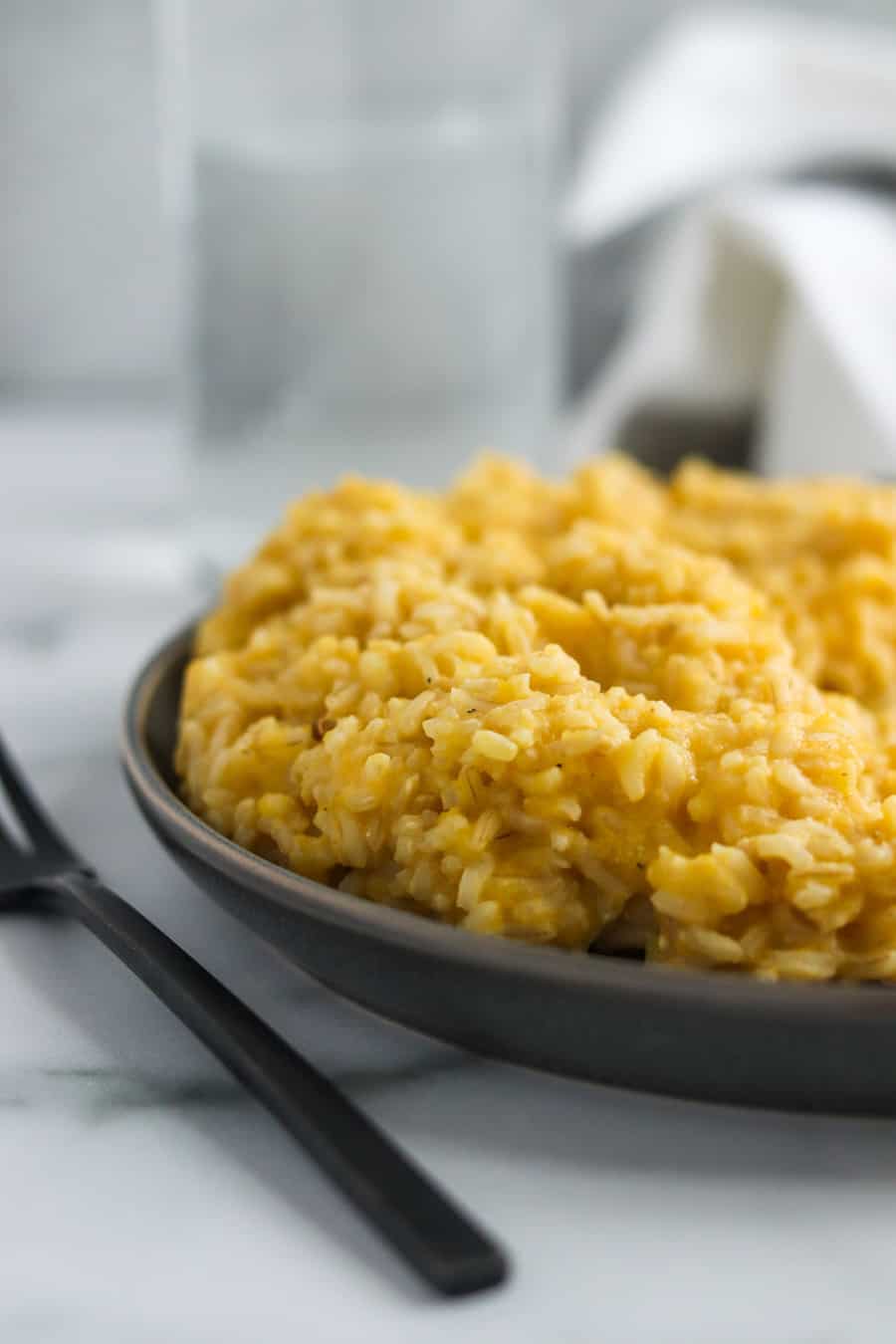 Okay, before you get a huffy and say "Colleen, I can NOT make risotto, that's too hard" hear me out. This risotto is my week night, I have no idea what's for dinner recipe- it's that easy to make. It's what I call "lazy girl's risotto" because, essentially, you're just overcooking rice and adding a cheesy sauce. Totally probably not culinary accurate- but it does the job (and does it WELL)
This creamy butternut squash risotto uses a batch of my 5 minute butternut "cheese" sauce. If you haven't checked out that recipe yet hit PAUSE on reading this post and head to that one. I seriously make this at least once a week. You can put it on pasta (Hellooooo vegan mac n cheese!), over veggies, as a pizza sauce, or even use it as queso for dippin' you fave chips. It's super versatile and, uh, takes five minutes. SCORE.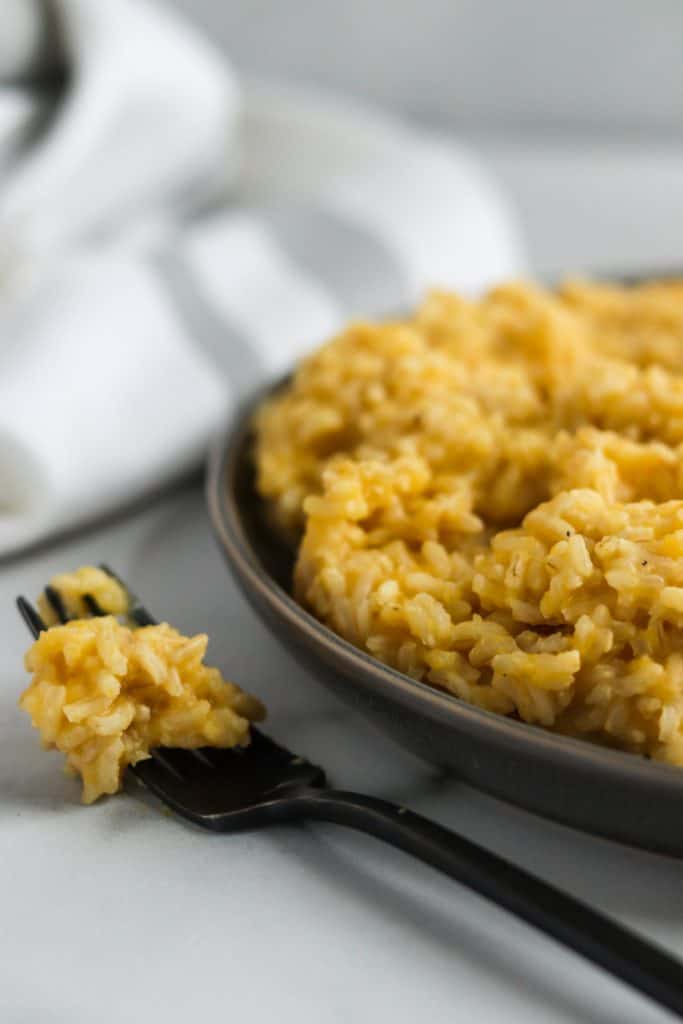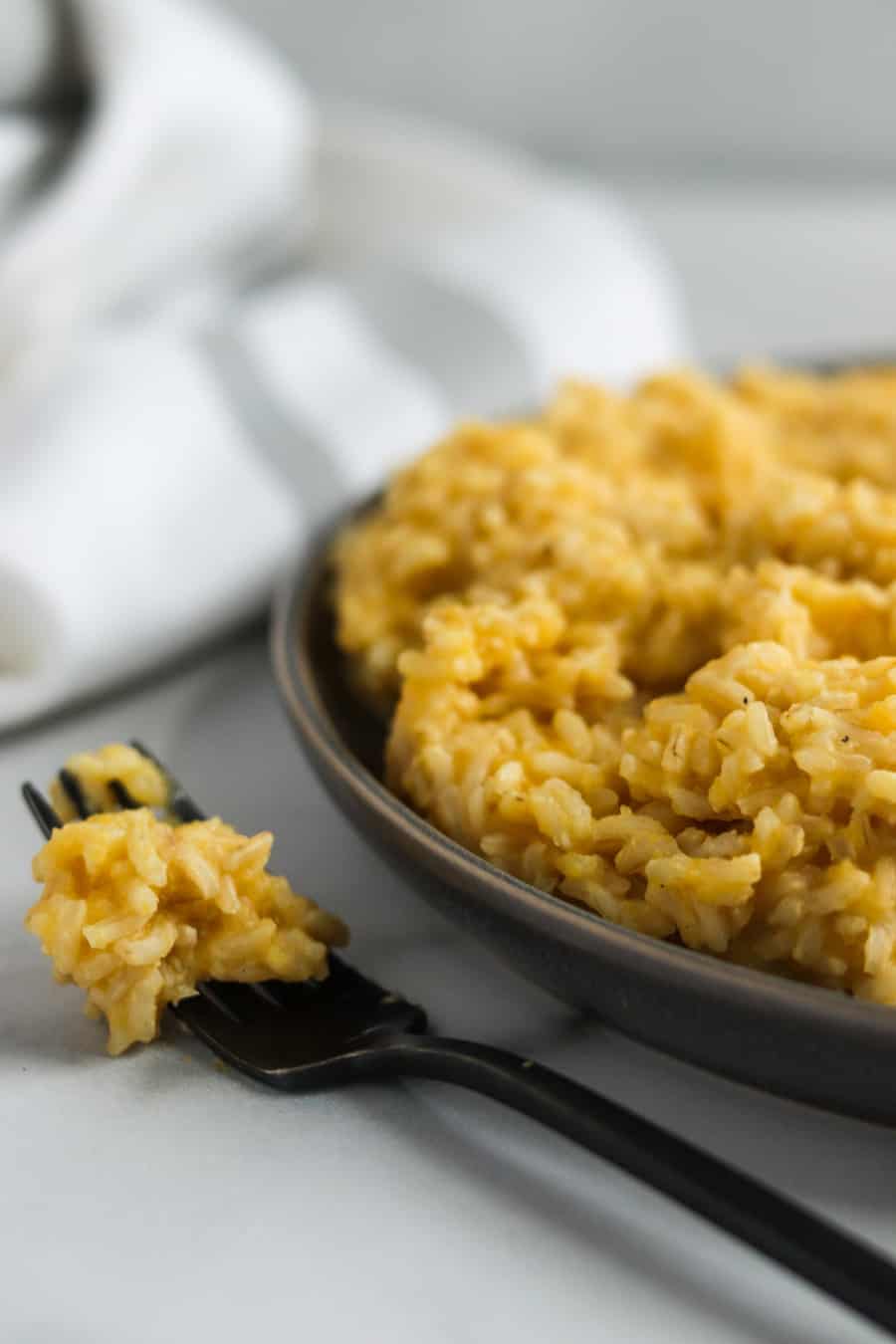 Like I said, I usually make this recipe as part of an easy weeknight dinner. I'll pair it with a source of protein and a side of veggies (microwave steamable bags are my JAM.) Some of my fave protein sources to pair with this creamy butternut squash risotto are:
Grilled chicken
Air fried tofu
Pan seared tilapia
Turkey meatballs
Did I mention that this recipe is vegan? Cause it TOTES is. It's loaded with nutrients that your body will thank you for. Now, I am not a vegan (at ALL) as you know. However, I do eat vegan foods often. That's not because I'm trying to eat "clean" by sticking to mostly vegan foods. My body feels super fab after eating a plant based meal, like one including this creamy butternut squash risotto VS eating a giant plate of high fat mac n cheese. Now, somedays I totally WANT that mac n cheese, and ain't nothing wrong with that. But, on a more day-to-day basis, not so much. Intuitive eating is, yes, about food freedom to eat those food commonly viewed as "bad" but it's also about listening to how your body reacts to those foods and choosing the ones that allow it to feel it's best.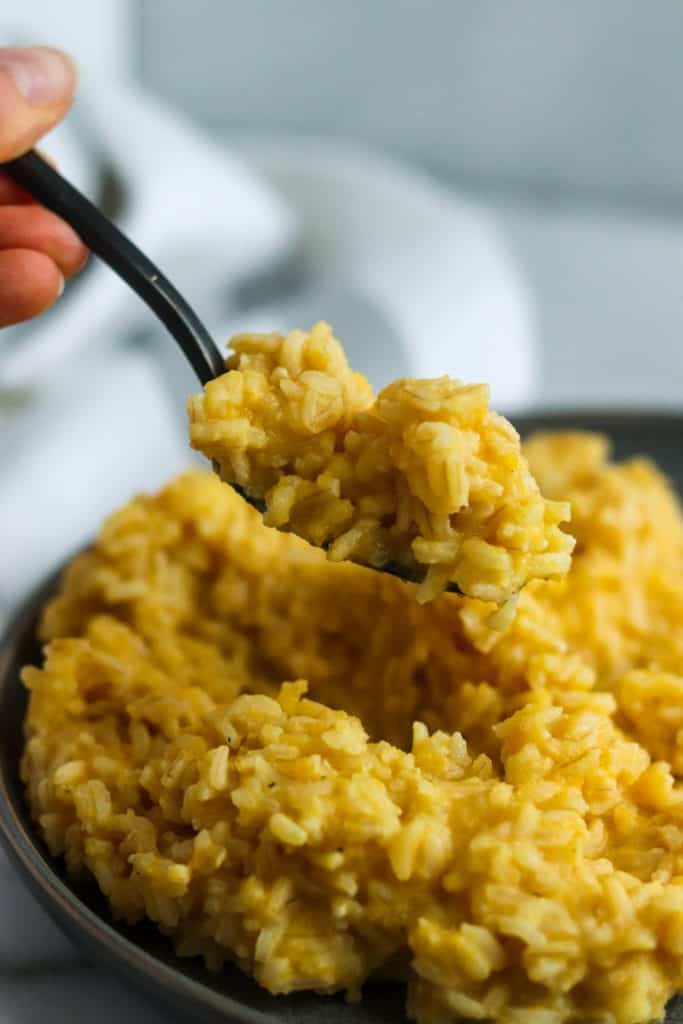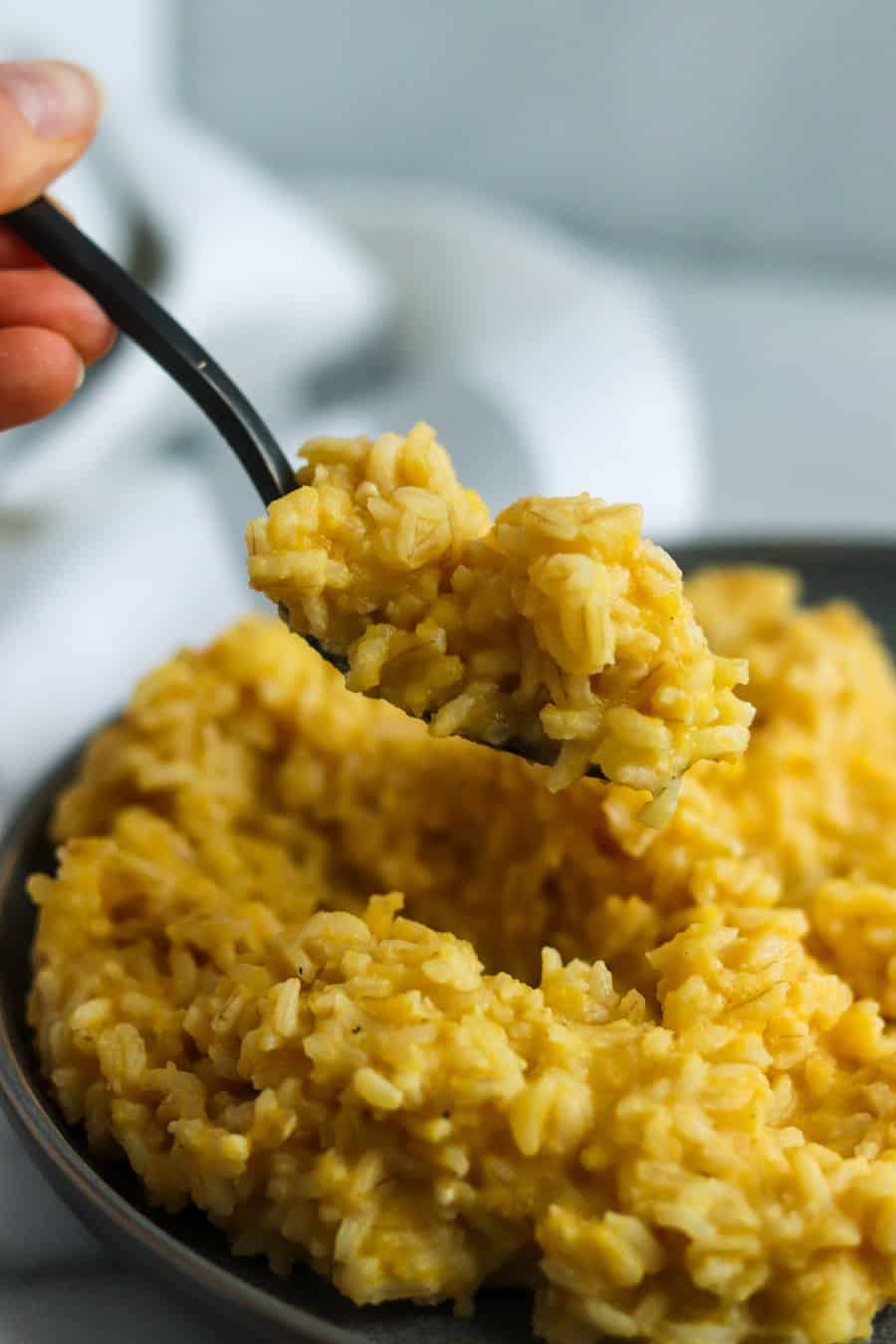 Try this recipe out and let me know what you think in the comments!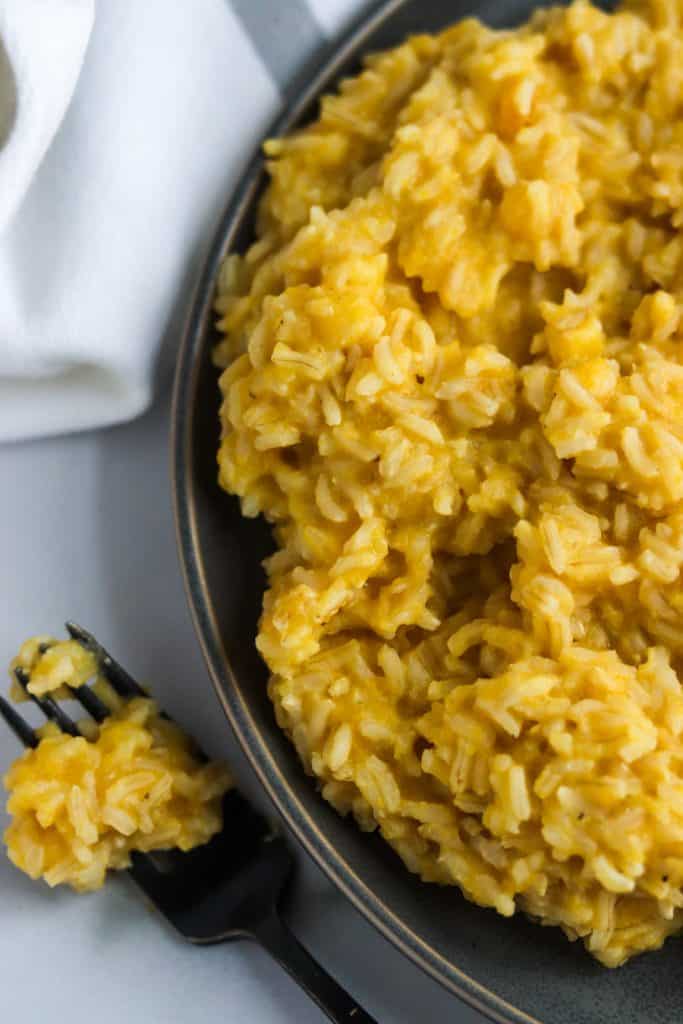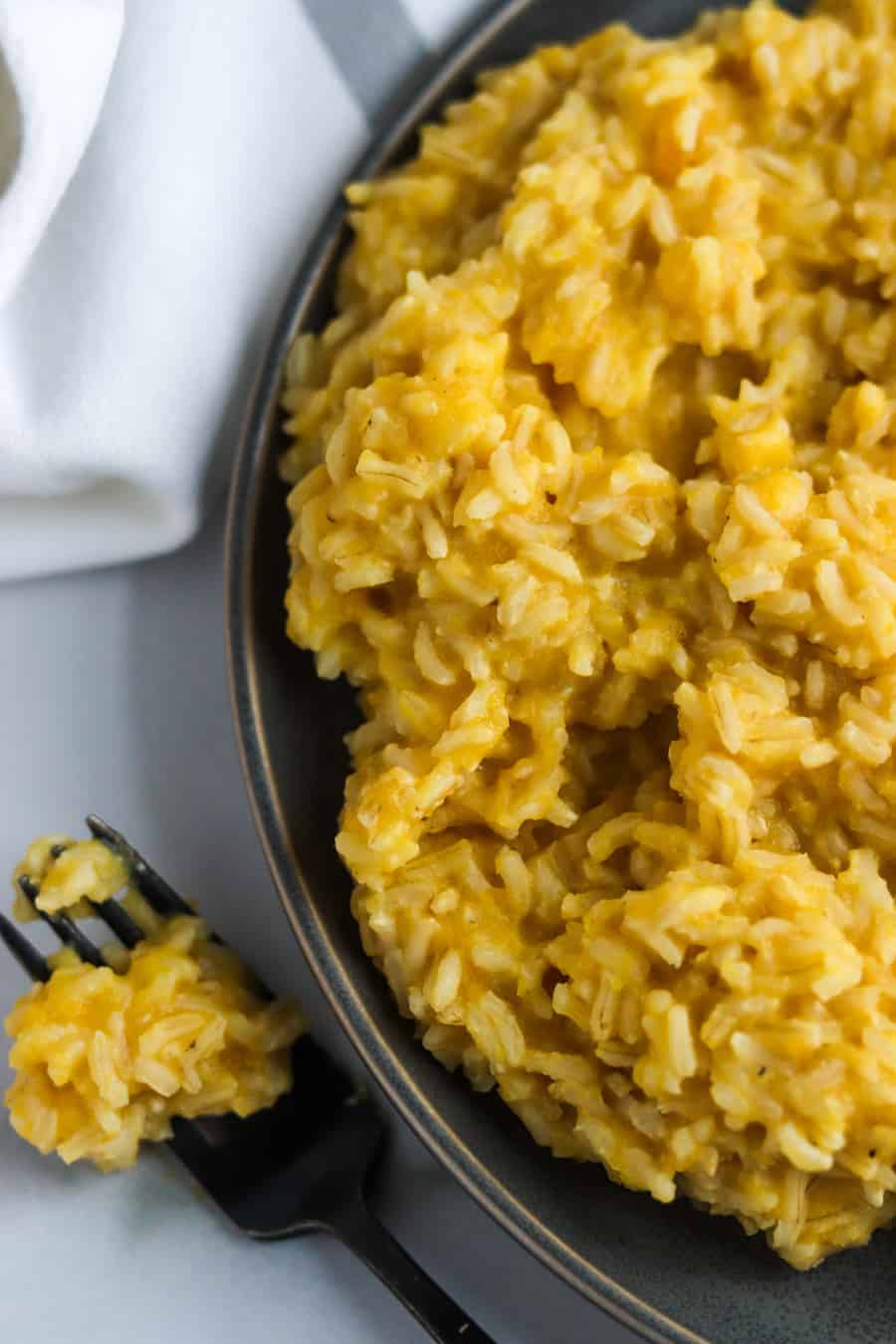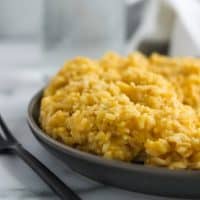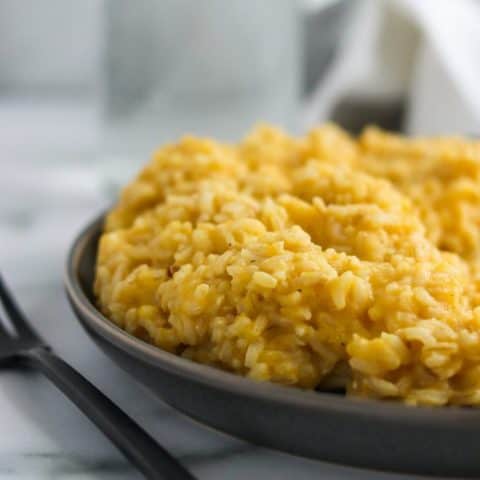 Creamy Butternut Squash Risotto
This creamy butternut squash risotto is a quick week night side dish that is loaded with veggies and nutrients that your body will thank you for!
PRINT RECIPE
Ingredients
1/2

cup

quick cooking brown rice

dry

1

and 1/4 cup water

1

batch of 5 minute butternut squash "cheese" sauce
Instructions
In a medium sauce pan simmer rice and water for 10-15 minutes, until all of the water is absorbed.

Stir in butternut cheese sauce and simmer for ~2 minutes, until heated through

Serve warm and enjoy!
click To display nutrition info
Nutrition Facts
Nutrition Facts
Creamy Butternut Squash Risotto
Amount per Serving
% Daily Value*
* Percent Daily Values are based on a 2000 calorie diet.
Don't forget to pin this recipe for later!
Happy eating,
Colleen