"Colleen, I need to know how to travel & practice intuitive eating!" That's what I get asked over and over again! And, today I'm going to give you the 411 on how to do just that.
Take a second and watch the full YouTube video for this blog post, then come back and snag all of the resource I chat about! Be sure to hit subscribe to the channel so you get be the first to know when new videos come out!
This past week I flew to LA. Now, four years ago that would have made me anxious AF. I mean, who knew what food would be available, what would I do if I got hungry, and God forbid someone suggest we go out to eat somewhere that didn't have nutrition info! But, this trip was different. After improving my relationship with food and living life with No Food Rules it was actually ENJOYABLE and I had ZERO stress about food. Amazing, right?
If you're still working to improve your relationship with food and figure that ish out, be sure to snag my free e-book, The Ultimate 5 Step Guide To Food Freedom. This is the exact roadmap that I used and now use with my clients to start living a No Food Rules lifestyle! You can too, girlfriend. Snag that guide here!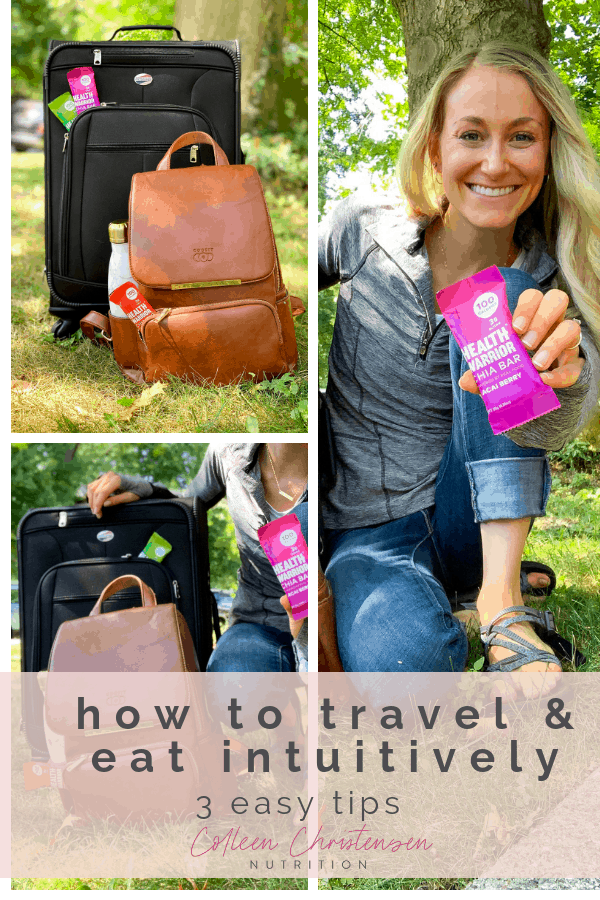 Okay, so, how exactly do travel and practice intuitive eating? How do you stay healthy while traveling? Let's dive on into to my 3 top tips:
How To Travel And Eat Intuitively Tip #1
Eat Before You Go
I can't stress this one enough. Eat normally before you travel! Don't try to cut calories for the "bad" food you might eat on your trip. Firstly, remember no food is actually BAD! By not eating regular meals and snacks you're setting yourself up to be A.) hangry B.) drawn to those "bad" foods C.) over eat said "bad" foods. Avoid this all and just eat before, okay?
Tip #2
Pack Snacks
A big part of intuitive eating is about listening to and honor your hunger and fullness. So, in order to do that it's important to actually have food to honor your body with, right? I'm a proud supporter of having a snack bag. Yes, I am aware that makes me sound like a pre-school teacher, but I don't care. I stuffed quite a few of these Health Warrior Chia Bars in my backpack. They're the perfect little size for traveling and they even fit into my small purse for when I was out and about!
Tip #3
Use The Hunger Scale
I can't sing the hunger scale enough praises. It is the KEY tool for eating a meal and being able to leave the table feeling like you got your full but did so without feeling stuffed. I use this tool with my clients all the time. I swear by it. I recommend that you check in with where you're at on the hunger scale 3x per meal when you're feeling anxious, stressed, etc. Once before, during and after. You can learn more about this exercise I call "mid-meal checkins" in this blog post!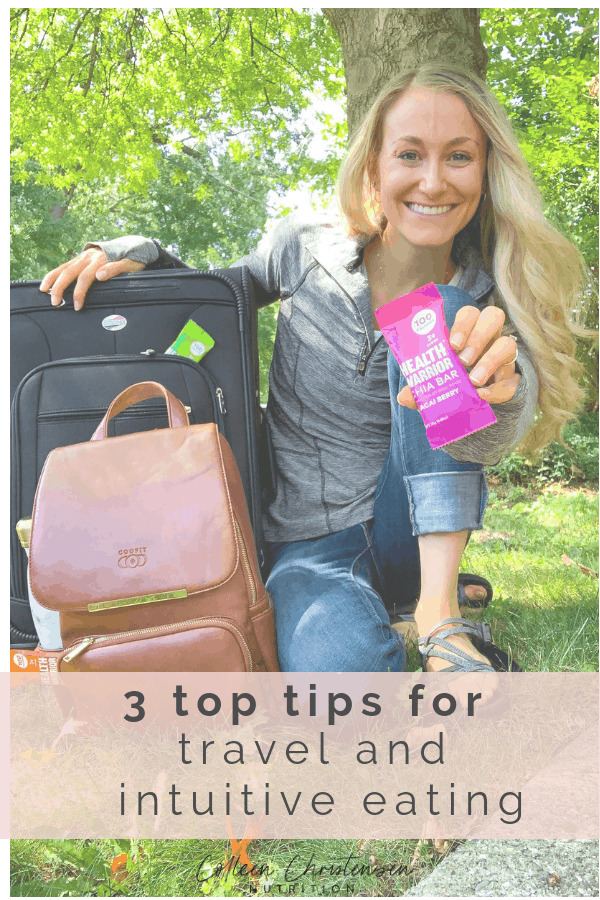 That's it, girlfriends, my 3 top tips on how to travel and practice intuitive eating. I hope you take these tidbits of wisdom and use them on your next trip no matter how near or far!