Late summer in Michigan means one thing to me: Blueberry season! To me, this is quite possibly the most wonderful time of the year. I've gotten a total of 20 lbs from the two times I've made it out, and that still doesn't feel like enough!! I may have a problem… BUT, no one is complaining because loads of blueberries means loads of blueberry treats, like these blueberry crumble bars.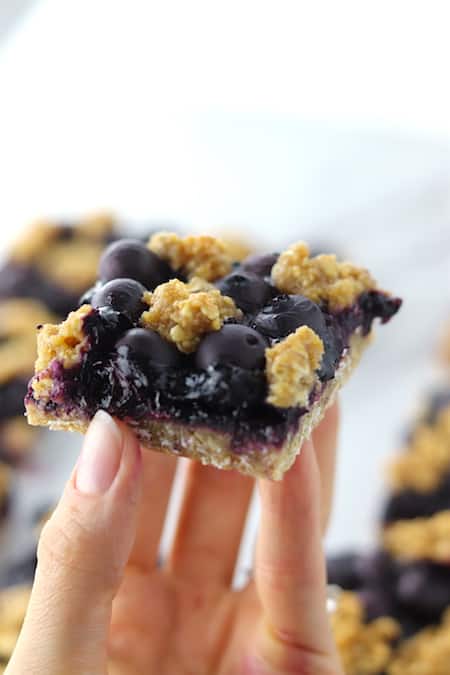 Now, these aren't your average blueberry crumble bars, no sir. Let me preface that they taste as delicious as they look- probably more so, actually.
Before we go on- be sure to pin this recipe to your Pinterest board. Trust me, it's going to be a go-to!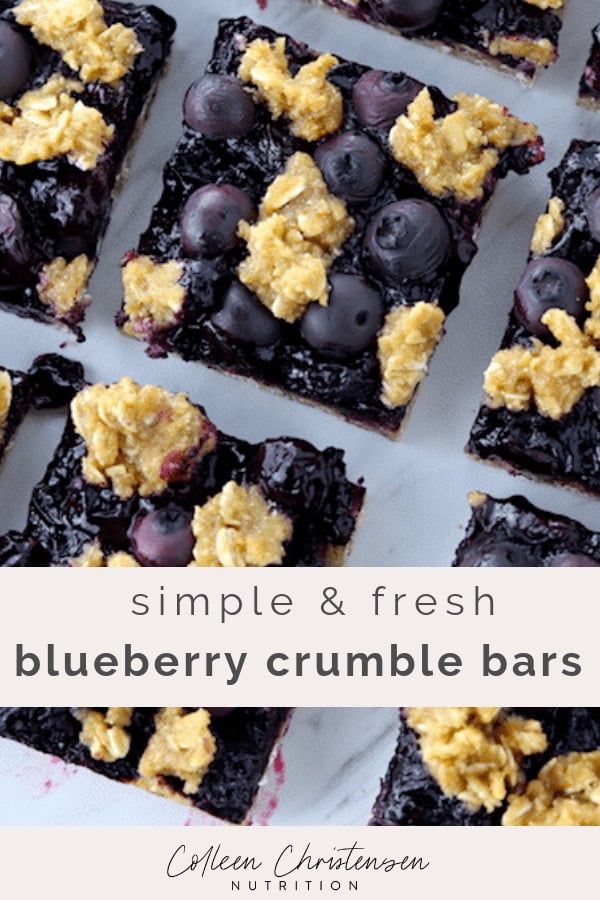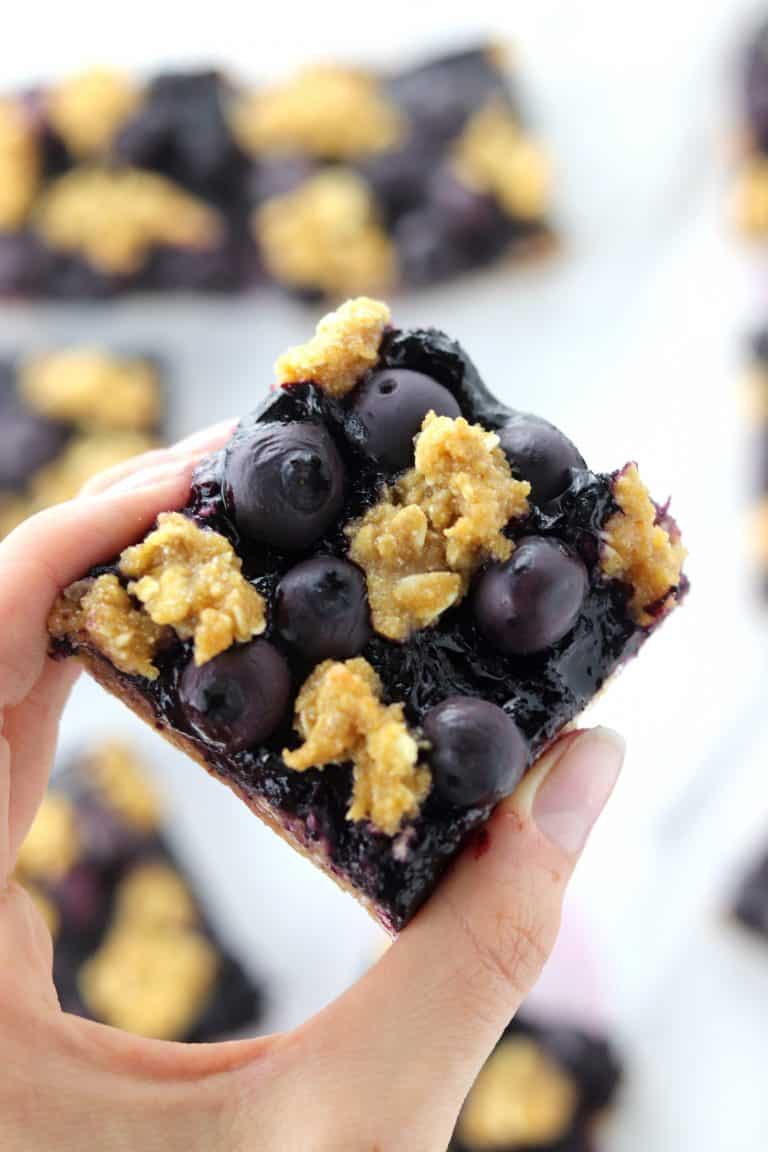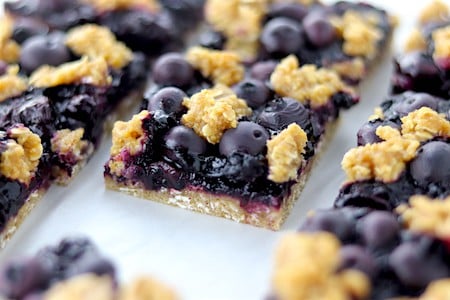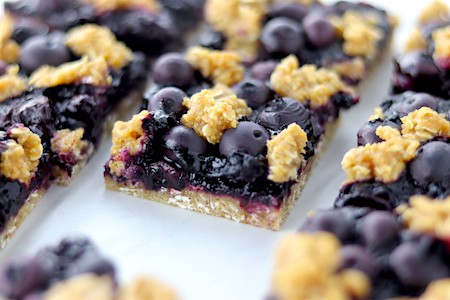 Need more reasons to make these? Blueberries are packed with nutritional benefits like:
Vitamins A, C, E, and K
Fiber
Iron
Antioxidants
So, either get to the blueberry farm or run to the store to stock up while these blue gems are still in season! If you're headed to the farm I can tell you that going with a 2 and 4 year old makes it a little [lot] more challenging (like most things in life). Our last time out we paired up with my sister's fam, and not ONE berry went into those kiddos buckets. They either went A.) in their mouth or B.) soaring through the air at someone. Maybe teaching them to throw blueberries was a bad auntie move? I regretted it about five minutes later, but they had a blast.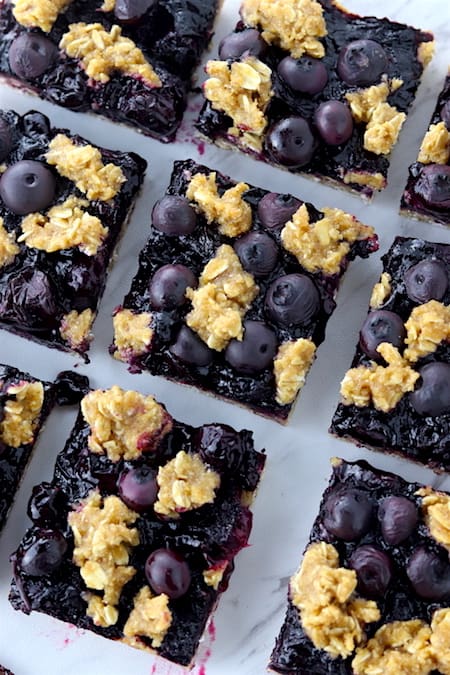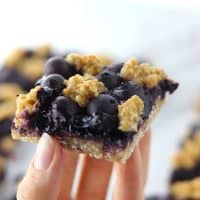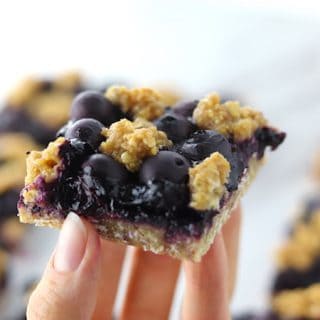 Simple Blueberry Crumble Bars
These blueberry bars are bursting with flavor! You'd never know they were entirely vegan! Perfect for breakfast or dessert.
PRINT RECIPE
Ingredients
3/4

cup

whole wheat flour

3/4

cup

rolled oats

1/2

cup

packed brown sugar

1/4

tsp

salt

2

tsp

vanilla

1/2

cup

applesauce

2 1/2

cups

blueberries
Instructions
Preheat oven to 350 degrees and spray an 8x8 baking dish with non-stick spray

In a medium sized bowl, combine flour, oats, brown sugar and salt

Add in vanilla and applesauce and continue mixing until uniformly combined

Press about 3/4 of the crumble into the bottom of the baking dish to make the crust layer and bake for 5 minutes

Meanwhile, heat 2 cups of the blueberries in a small saucepan on medium-high heat. Cover for about 2 minutes, then uncover and mash berries, creating more of a "sauce". Let simmer for 2-5 minutes, until slightly thickened

Spread blueberry sauce on top of crust layer, top with remaining 1/2 cup of blueberries, and top with the remaining crumble mixture

Return to the oven to bake for an additional ~15 minutes

Let cool, cut into 9 squares and enjoy!
Notes
When pressing oat mixture into the baking dish, I recommend wetting your hands with cool water to prevent it from sticking and to more evenly spread
click To display nutrition info
Do you have blueberry farms where you live? Are you team U-pick or pick up at the store?
Happy eating!
-Colleen