It's one of my absolute favorite times of the year… Rhubarb season! Not only is it delicious, but it signals the start of summer, YAY!
Joseph and I were in Grand Rapids this weekend visiting the fam for birthdays and for me to run the River Bank run. We were sitting on his parent's patio drinking beer we picked up from a local brewery on our way over (Tell me that isn't the best sentence you've ever heard and you're a liar…) when his mother asked me my favorite question "Do you want to take some Rhubarb?" Yes. Please.
Speaking of "Yes, Please" *total side note* I am reading Amy Poehler's book "Yes Please", and it's hilarious.
Anyway, you all know my rule of dessert every night, so I whipped up this low-sugar Rhubarb Crisp. It's the perfect amount of tart and sweet, and when you serve it warm with vanilla ice cream- to DIE for.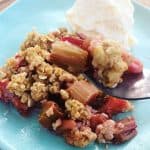 Low-Sugar Rhubarb Crisp
PRINT RECIPE
Ingredients
5

cups

rhubarb

chopped

3

tbsp

Stevia

1

tsp

lemon juice

¾

cup

rolled oats

¼

cup

flour

2

tbsp

brown sugar

packed

½

tsp

cinnamon

2

tbsp

butter

chilled and cut into c

2

tbsp

applesauce
Instructions
Preheat oven to 375 degrees and lightly coat 9 x 11 baking dish with non-stick spray.
In a large bowl coat rhubarb with stevia and lemon juice. Spread evenly into prepared baking dish.Mix together rolled oats, flour, brown sugar, and cinnamon in a medium sized bowl.Using a pastry blender, cut in butter and applesauce, blending until just combined.Top rhubarb with oat mixture.Cover with aluminum foil and bake for 30 minutes.Remove foil and bake for an additional 10 minutes.Serve warm with vanilla ice cream (optional, but encouraged!)
click To display nutrition info
Nutrition Facts
Nutrition Facts
Low-Sugar Rhubarb Crisp
Amount per Serving
% Daily Value*
* Percent Daily Values are based on a 2000 calorie diet.
Right now you are probably wondering why in the world I added applesauce. I'll tell you- Applesauce is the key to low-fat clumps. I use it in Granola religiously and it worked like a gem for this recipe too.
I have a few more photos to share- I am about to brag so either prepare yourself or stop reading.
My oldest nephew turned 3 this weekend- stop growing up!! And yes, I did make his paw patrol cake that he has been asking me for the last 6 months.
It was Mother's Day this weekend and yes I consider myself a mother to this little fur ball. Isn't he the cutest?!?!
Lastly, My best friend graduates from Law School and I could not be more proud. It's isn't a coincidence that Carley Kocks and Colleen Kokx became best friends. (tell me that isn't crazy..)
End Brag-Rant.