I love snickerdoodles. They are such an underrated cookie. Snickerdoodles are like the little black dress of cookies, both deliciously timeless and fabulous. Plus, let's be honest, I really love saying the work "snickerdoodle". I've been wanting to make these cookies for MONTHS now, I kid you not, but I waited until the perfect time and that time is now! I'm kicking off the first week of fall with not one but TWO batches of these soft baked pumpkin snickerdoodles. Sounds amazing, right?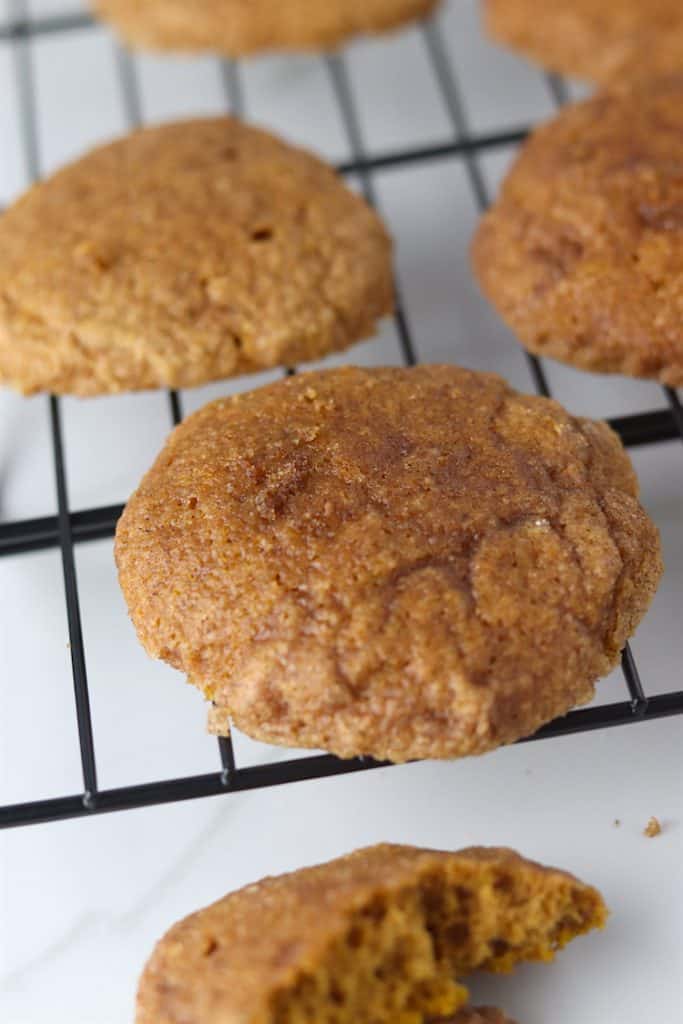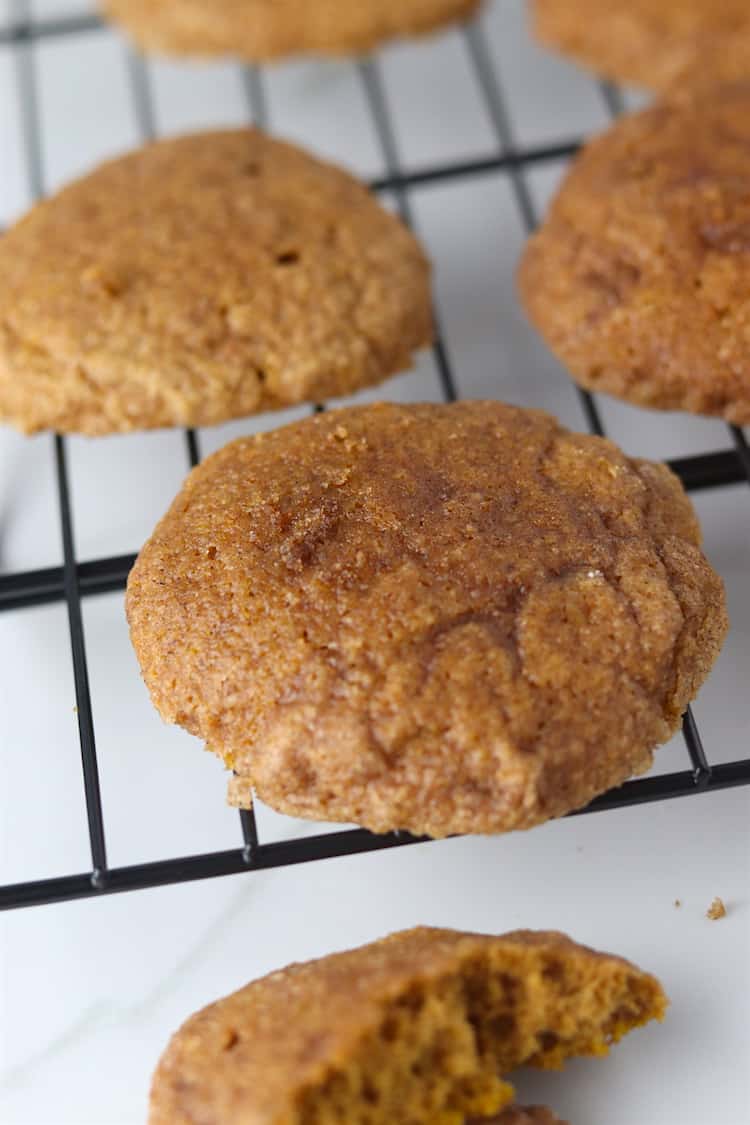 I love baking with pumpkin in the fall for obvious reasons, I mean, it's basically the unofficial flavor of fall. But, did you know that baking with pumpkin can actually be healthier? Pumpkin puree can be used as a butter or oil replacer, making your baked goods lower in total fat, saturated fat, and overall calories. You can substitute pumpkin for oil using a 1:1 ratio (1 cup oil = 1 cup pumpkin) and for butter by multiplying the amount of butter needed by 3/4 (1 cup butter = 3/4 cup pumpkin).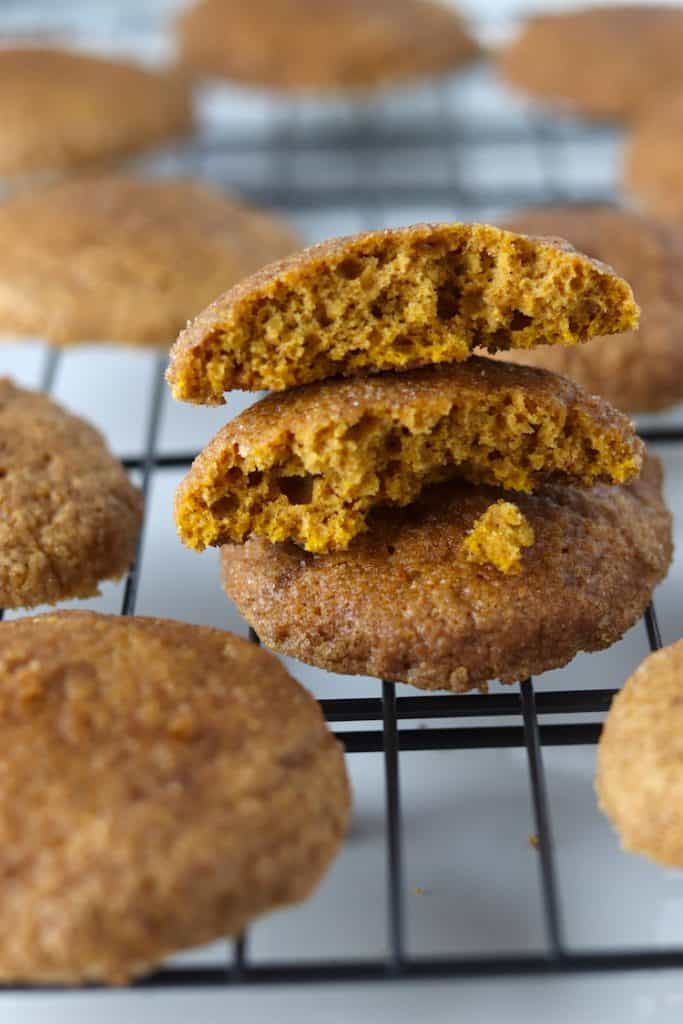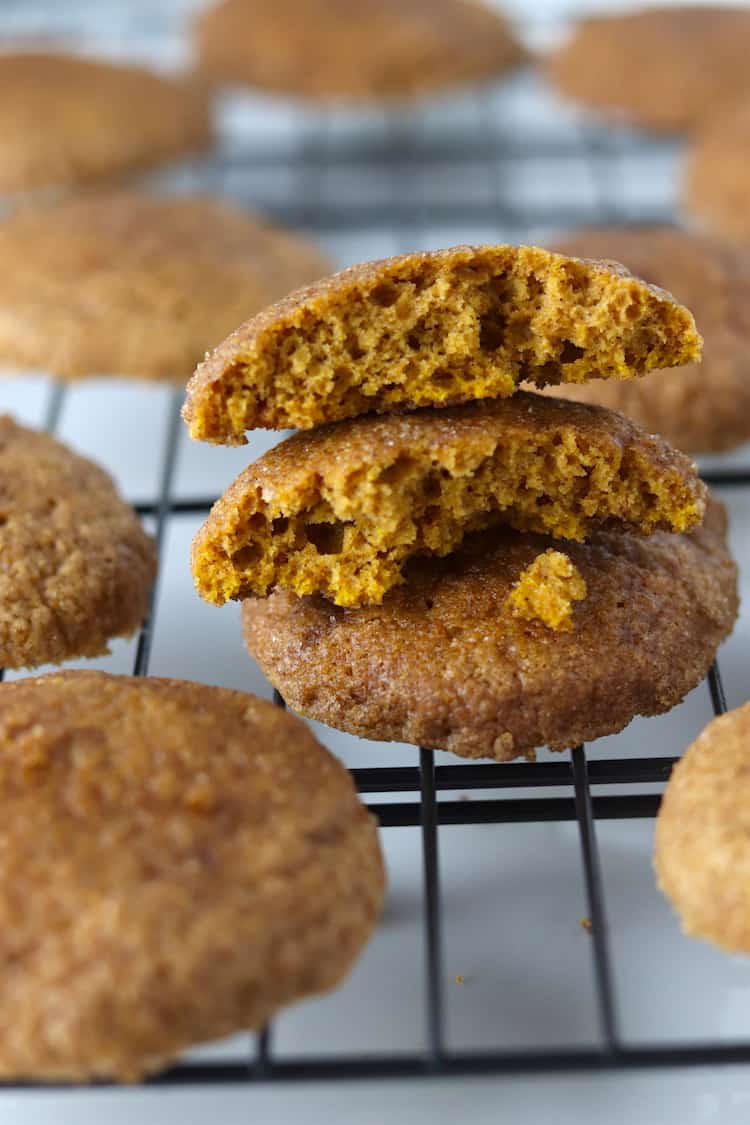 Substituting pumpkin for oil won't change the consistency too much. However, using pumpkin in place of butter will give you a slightly different texture. You'll end up with a soft, cakey cookie VS a crisp, crunchy cookie. For this recipe I originally used all applesauce (another healthy baking hack!) in place of butter, but they were way too cakey and not enough cookie with that plus the pumpkin. The mix of butter and pumpkin makes for the perfect balance. Just goes to show you life is all about balance and that going to extremes (i.e. using all of the healthy baking hacks) is not always better.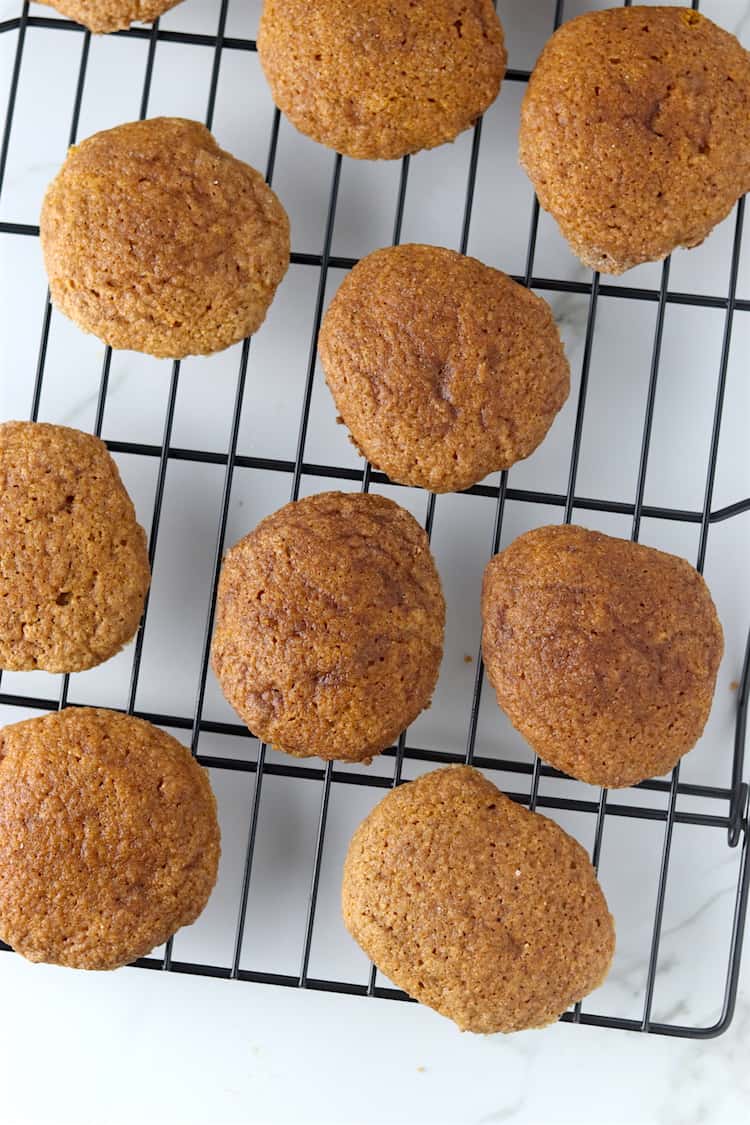 In addition to being lower in fat, here are some other great things about the ingredients in these cookies:
Whole wheat flour. Using whole wheat flour in place of standard, heavily refined white provides you with some whole grains and increases the fiber content.
Cinnamon. Cinnamon has been linked to various health benefits such as blood sugar control and protecting the body from oxidative damage.
Pumpkin. Pumpkin provides 250% of your daily vitamin A needs, which is essential for eye health and immunity.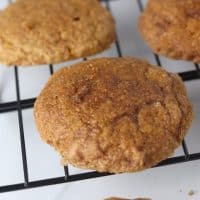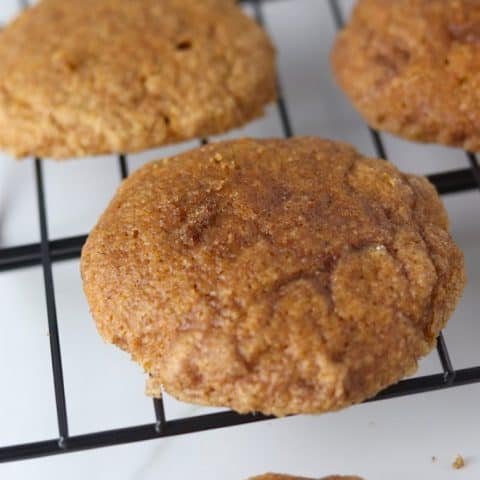 Soft Baked Pumpkin Snickerdoodles
These soft baked pumpkin snickerdoodles are the perfect healthy treat! They're low fat and made with whole wheat flour. So go ahead, have two!
PRINT RECIPE
Ingredients
1/4

cup

butter

softened

2

tbsp

brown sugar

2

tbsp

white sugar

1/4

cup

pumpkin

1

egg

1/2

tsp

vanilla

3/4

cup

white whole wheat flour

1/4

tsp

cream of tar tar

1/2

tsp

soda

1/2

tsp

pumpkin pie spice

1/4

cup

sugar

1/2

tsp

cinnamon
Instructions
Cream together butter and sugars. Add in pumpkin, egg, and vanilla.

In a small-medium sized bowl mix together flour, cream of tar tar, soda and pumpkin pie spice. Add dry ingredients to wet ingredients, 1/3 at a time, mixing until well combined.

Refrigerate dough for at least ~1 hour

When ready, preheat oven to 350 degrees. Line a cookie sheet with parchment paper or lightly grease, set aside.

In a small dish combine 1/4 cup sugar and cinnamon.

Using a cookie scoop or heaping tablespoon. Drop balls of dough into cinnamon sugar and roll, coating entirely. Place on cookie sheet, flattening slightly.

Repeat with remaining dough.

Bake for 8-10 minutes until golden. Remove from oven and allow to fully cool.
click To display nutrition info
Nutrition Facts
Nutrition Facts
Soft Baked Pumpkin Snickerdoodles
Amount per Serving
% Daily Value*
* Percent Daily Values are based on a 2000 calorie diet.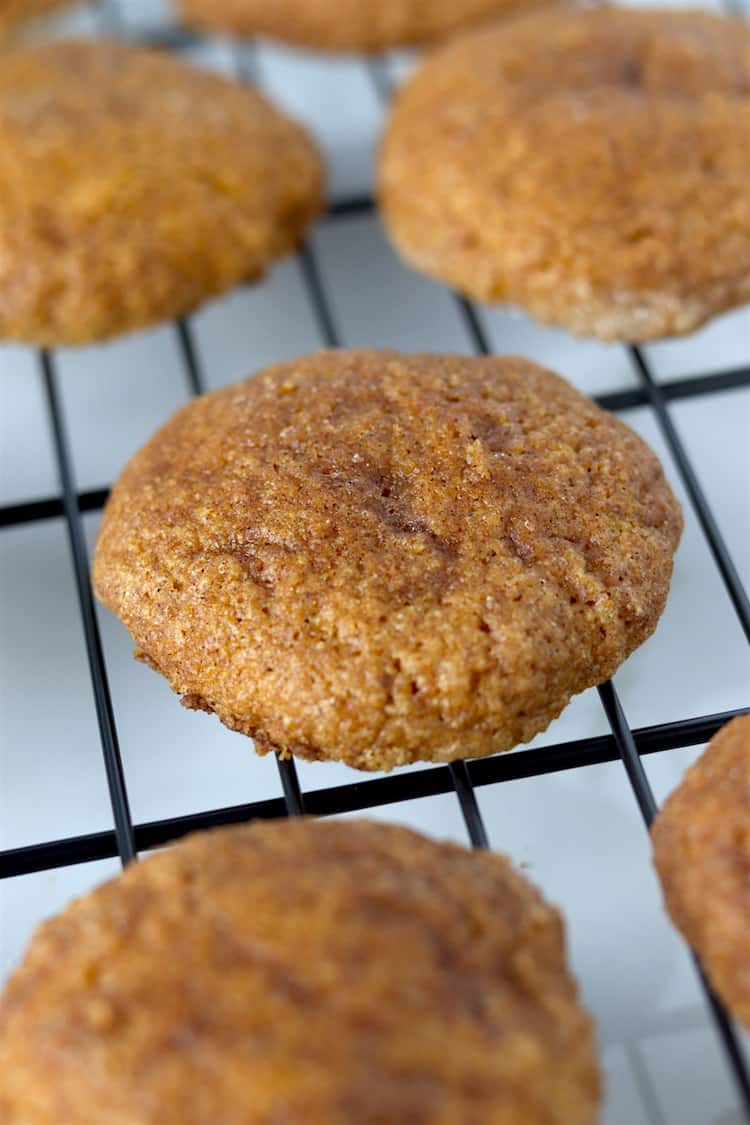 These cookies are seriously phenomenal. Another great place to use pumpkin is in brownies. I do this year round. The chocolatey flavor of the brownies really overpowers the pumpkin flavor. I can't tell you how many times I've made brownies this way and no one has ever know! Well, except maybe now…
Give this recipe a spin, you'll be happy you did!
Happy eating,
Colleen
Don't forget to pin this recipe to your Pinterest board!!!