These creamy strawberry cheesecake cookies are like a dream come true! A no chill dough combines with freeze dried strawberries and a cream cheese filling for the ultimate cookie experience!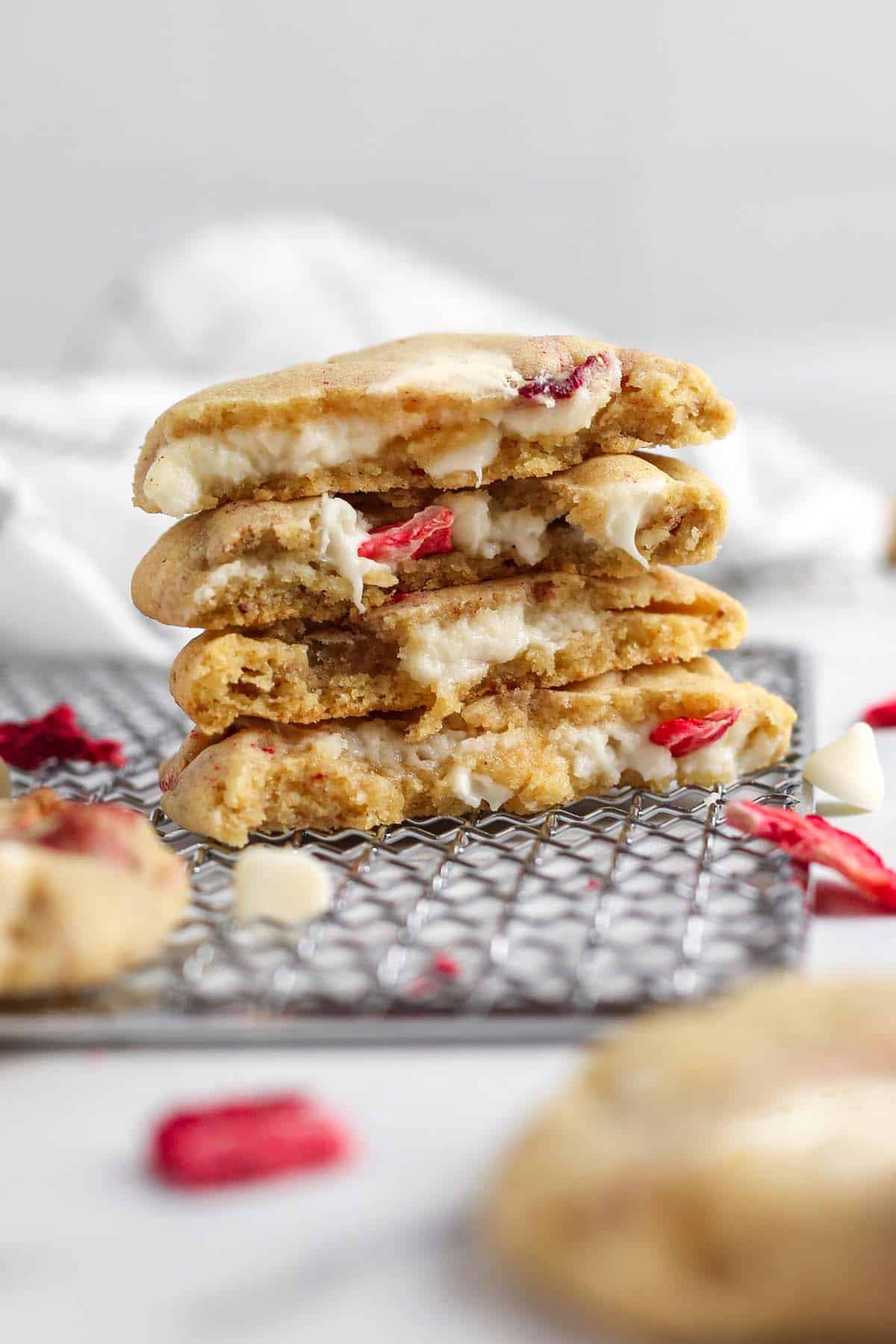 Why This Recipe Works
These strawberry cheesecake cookies are seriously delicious! I mean, is it possible to go wrong when you combine the yummy fruity flavor of strawberry, with the creamy, decadent goodness of cheesecake!? I think not!
If you like soft cookies that are loaded with delicious mix-ins, you're going to be totally in love with these cookies. The use of cheesecake flavored pudding mix PLUS a generous dollop of cream cheese filling makes these cookies absolutely drool-worthy!
If you're like me and love cookies filled with allll the goodies, I highly recommend you check out my recipe for my leftover candy cookies. Or if you love the combo of white chocolate + fruit, try this recipe for white chocolate and raspberry cookies.
However you like your cookies, you're sure to enjoy these creamy and sweet strawberry cheesecake cookies. Easily made with a no chill dough, they are the perfect way to satisfy a craving for something sweet and fruity. Best of all? You can try endless variations with your favorite freeze dried fruits!
Ingredients Needed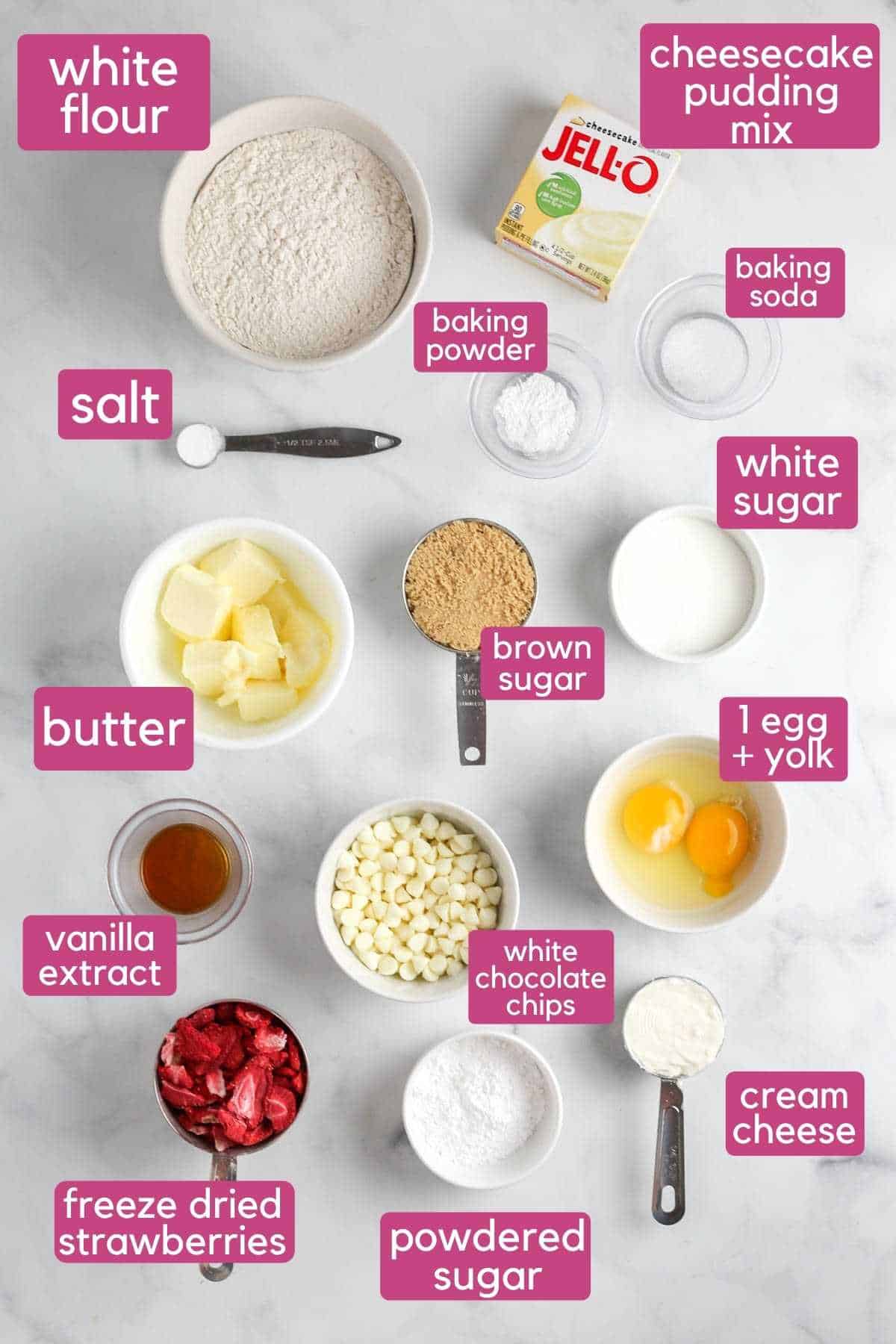 Freeze dried strawberries: You can find these at many big box stores, or online for convenience.
Pudding mix: This makes the cookies super soft and pillowy. I recommend the cheesecake flavor!
White chocolate chips: What would cookies be without a little bit of chocolate!?
Cream cheese: We can't have cheesecake without cream cheese!
Butter: Let your butter sit at room temperature for several hours to make sure it is soft and spreadable.
Eggs: You will need 1 egg, plus 1 egg yolk.
Pantry staples: like flour, powdered sugar, baking powder, baking soda, salt, sugar, brown sugar, and vanilla extract.
How to Make This Recipe
Step One: Start off by adding your dry ingredients to a large bowl. This includes the flour, pudding mix, baking soda, baking powder, and salt. Whisk everything together.
Step Two: Then, in a separate bowl, cream together the softened butter, sugar, and brown sugar. Mix until smooth and creamy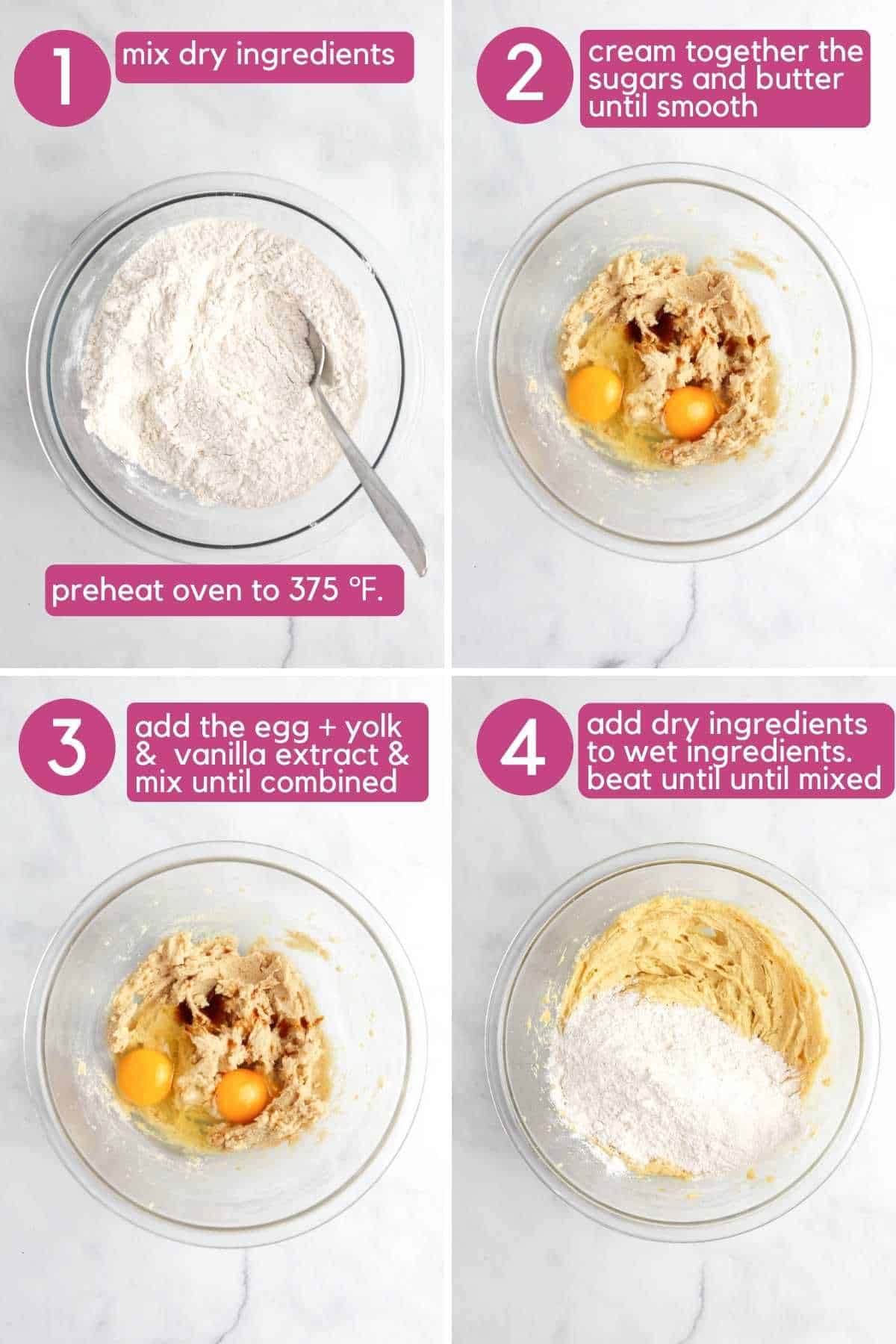 Step Three: Add the egg and the additional egg yolk to the creamed sugar mixture, and add in your vanilla extract. Gently mix until everything is incorporated.
Step Four: Slowly add the dry ingredients to the creamed butter and sugar mixture. Beat until no dry bits of flour remain.
Step Five: Add the white chocolate chips to your dough and fold them in using a silicone spatula.
Step Six: Then, add in the freeze dried strawberries and fold them in until evenly distributed.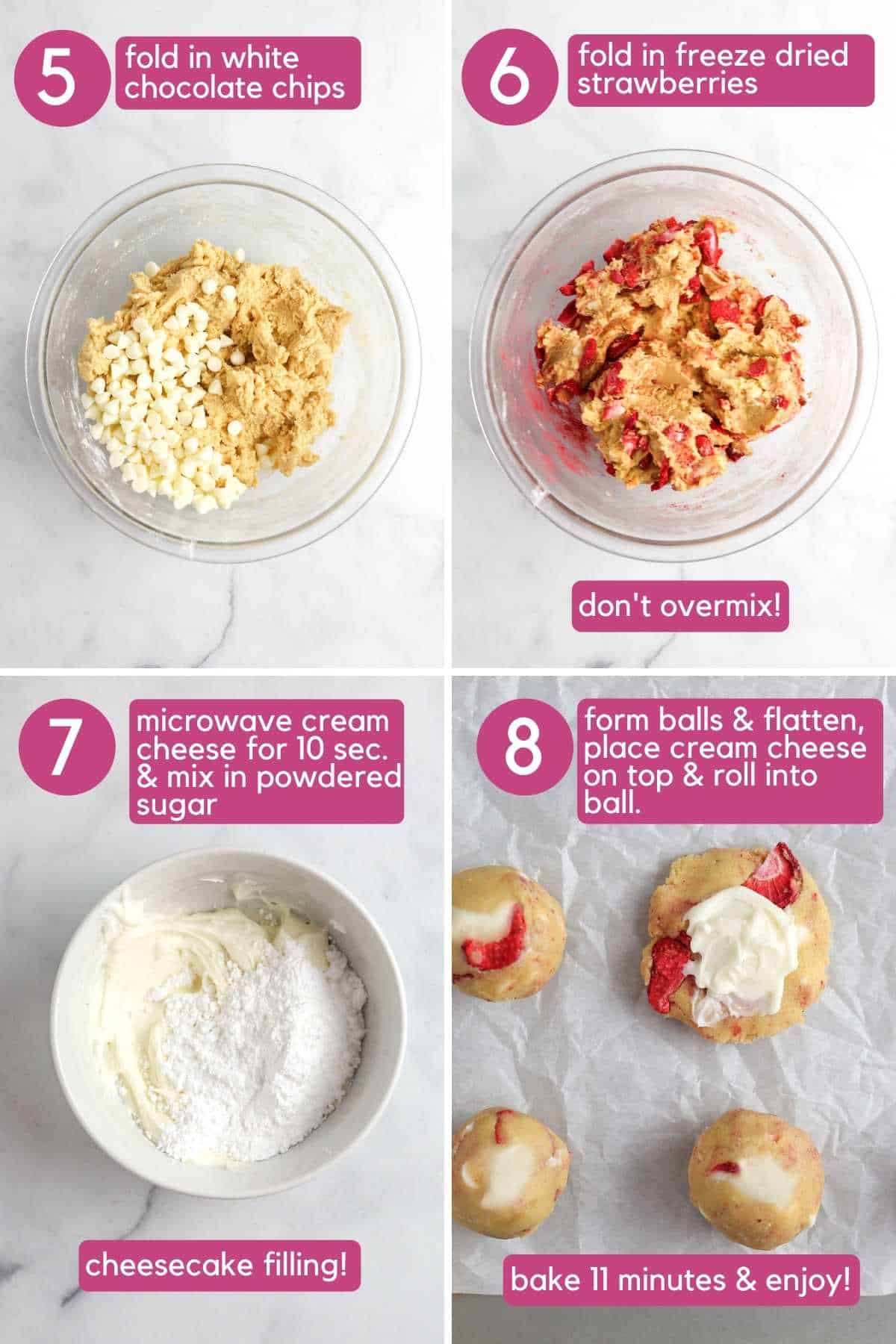 Step Seven: Add the cream cheese to a microwave safe bowl and microwave it for 10 seconds. Add in the powdered sugar and stir well to combine.
Step Eight: Portion out your cookie dough into evenly shaped balls, and flatten them using the back of your hand or a drinking glass. Spoon a small amount of the cheesecake filling into the middle, and wrap the dough around the filling. Roll into an evenly shaped ball and place on a lined cookie sheet.
Bake for 11 minutes, or until the edges of your strawberry cheesecake cookies have just begun to brown.
Allow to cool for a few minutes on the baking sheet, and then transfer them to a wire cooling rack to finish cooling off.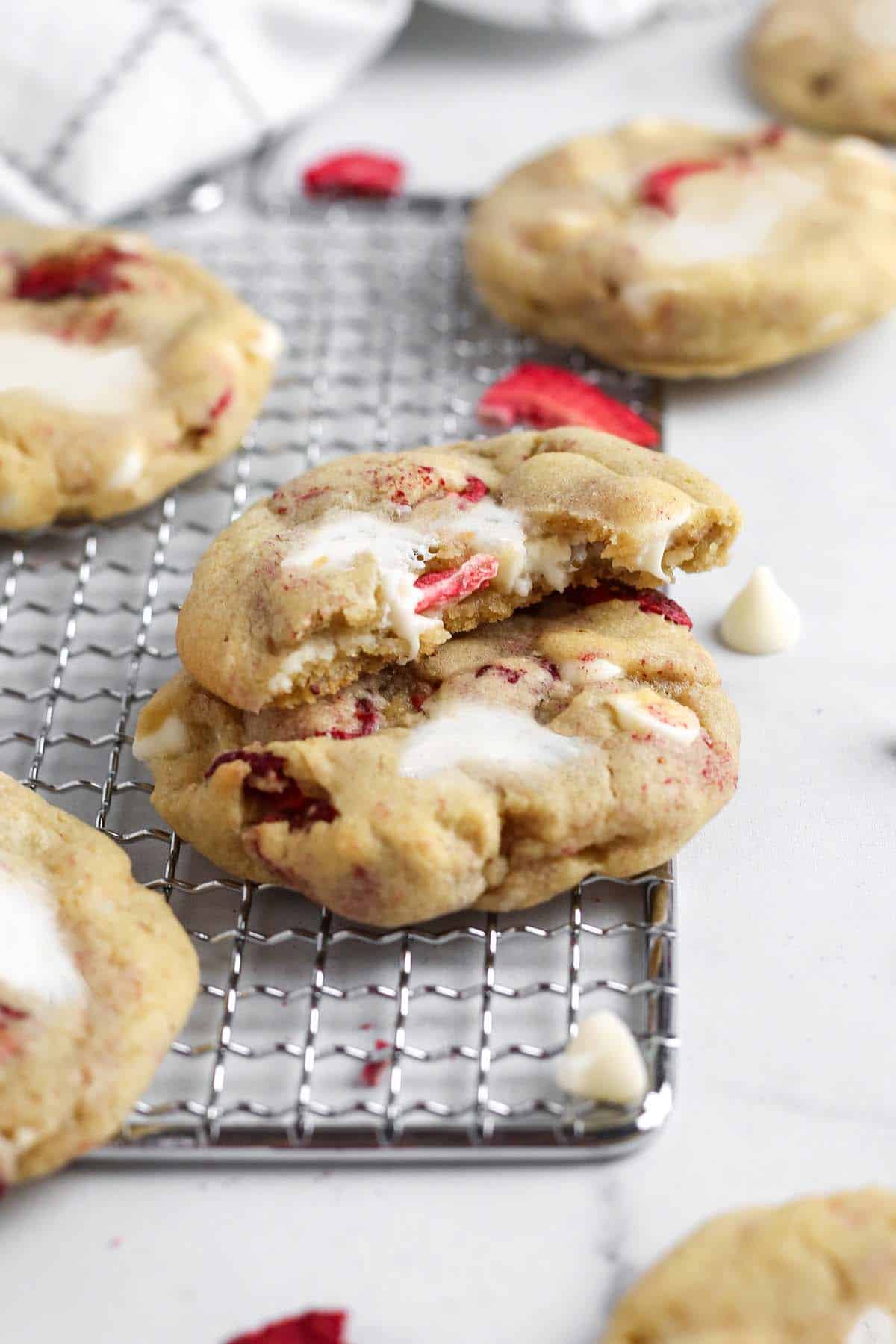 Frequently Asked Questions
Are dried strawberries the same as freeze dried?
Dried strawberries are a little different than freeze dried, but for the most part they can be used interchangeably. Freeze dried foods have to be processed using a specialized machine, while dehydrated foods can easily be dried in a home dehydrator or even a low temperature oven. This gives freeze dried foods a more vibrant color and longer shelf life when compared to dehydrated food.
Do cookies with cream cheese need to be refrigerated?
If the cream cheese portion of your cookie has been baked, you don't need to refrigerate them. If the cream cheese is uncooked (for example, a frosting), it's best to refrigerate your cookies. Store your cookies either in the fridge or at room temperature for 3-5 days.
What is the best way to store cookies?
The best way to store cookies to keep them soft, is to store them in an airtight container at room temperature. Place sheets of parchment paper between each layer of the cookies to prevent sticking. Most cookies will last like this for 3-5 days. If you are looking for extended storage, freeze your cookies for up to 2 months.
Expert Tips and Variations
Take a little extra time to carefully add the cream cheese and roll into balls. You'll have perfect strawberry cheesecake cookies with a bite of yummy cheesecake filling in every bite!
Line your cookie sheets with parchment paper or a silicone liner. This makes for an ultra easy clean up, and your cookies won't stick. Awesome, right!?
Use a cookie scoop to portion your dough. This will make sure all of your cookies are the same size, giving them a beautiful presentation when stacked or packaged for gifting.
Get creative and substitute the freeze dried strawberries for any of your favorite freeze dried fruits! A blueberry cheesecake cookie would be absolutely delicious!
More Easy Cookie Recipes:
If you love this recipe, be sure to leave a star rating on the recipe card and leave a comment below!
Don't forget to pin it on your Pinterest board for later, or tag me on IG @no.food.rules if you try the recipe and love it!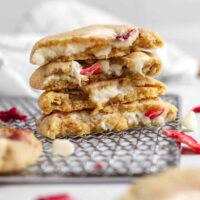 Strawberry Cheesecake Cookies
These strawberry cheesecake cookies are soft, sweet, and filled with decadent cheesecake flavor! Fruity, creamy, and totally delicious.
PRINT RECIPE
Ingredients
1.5

cups

white flour

1, 3.4

oz

box of cheesecake pudding mix

1/2

tsp

baking soda

1/2

tsp

baking powder

1/4

tsp

salt

1/2

cup

softened butter

soft but not warm!

1/2

cup

brown sugar

packed

1/4

cup

white sugar

1

egg + 1 yolk

1/2

tsp

vanilla extract

1/2

cup

white chocolate chips

1

cup

freeze dried strawberries

1/4

cup

cream cheese softened

2

tbsp

powdered sugar
Instructions
1. Preheat your oven to 375 degrees and line a baking sheet with parchment paper or a non-stick silicone baking mat. Set aside.

2. In a medium-sized bowl combine your dry ingredients together; flour, pudding mix, baking soda, baking powder, and salt.

3. In a large bowl using electric beaters (or a stand mixer) cream together butter, white sugar, and brown sugar. Do this for about 2 minutes until smooth.

4. Now, add in the egg, egg yolk, and vanilla. Mix until just combined.

5. Slowly add your dry ingredients (flour mixture) to the wet ingredients (butter and sugar mixture) and beat until mixed well.

6. Then, fold in your white chocolate chips. Your dough will be firm- this is good! Now fold in your freeze-dried strawberries until just evenly distributed- mixing them too much will cause a pink dough- keep them in chunks!

7. Now make your cheesecake filling: Microwave your cream cheese in a small bowl for ~10 seconds to soften. Then mix in 2 tbsp powdered sugar.

8. Using a cookie scoop or a spoon take ~2 tbsp of cookie dough and form it into a ball, flatten into a disk and set 1 tsp of cream cheese filling on top. Fold up the sides to create a ball, leaving a bit of the cheesecake filling peeping out in the center. Place your ball on the cookie sheet and flatten slightly (~½ way- it can be helpful to wet your hands a bit!)  Repeat with remaining cookie dough, leaving ~2 inches of space between the cookies. Make sure you can see strawberry bits.

9. Bake your cookies for 11 minutes . Allow to cool fully and enjoy!
click To display nutrition info
Nutrition Facts
Nutrition Facts
Strawberry Cheesecake Cookies
Amount per Serving
% Daily Value*
* Percent Daily Values are based on a 2000 calorie diet.