Let's play the "Desert Island" game. You know, the one where you can only pick one thing to bring with you? Well, let's play kitchen style. What is the ONE ingredient you'd bring with you on a desert island? For me, it's a no-brainer. My answer: Sweet potatoes. Hear me out here before you go hating on my choice! They're SO versatile! Sweet potato pancakes, hash, toast, mashed taters, fries, twice baked and sweet potato brownies. That last one is my personal favorite!
You guys are in for a REAL treat today, because I've revamped my original recipe for sweet potato brownies. Sweet potato brownies 2.0, if you will. If you've made my original recipe you know how goooood they are, so you can only imagine was 2.0 is like. Amazing. These babies are thicker and fudgier than sweet potato brownies 1.0 And who doesn't love THAT?!?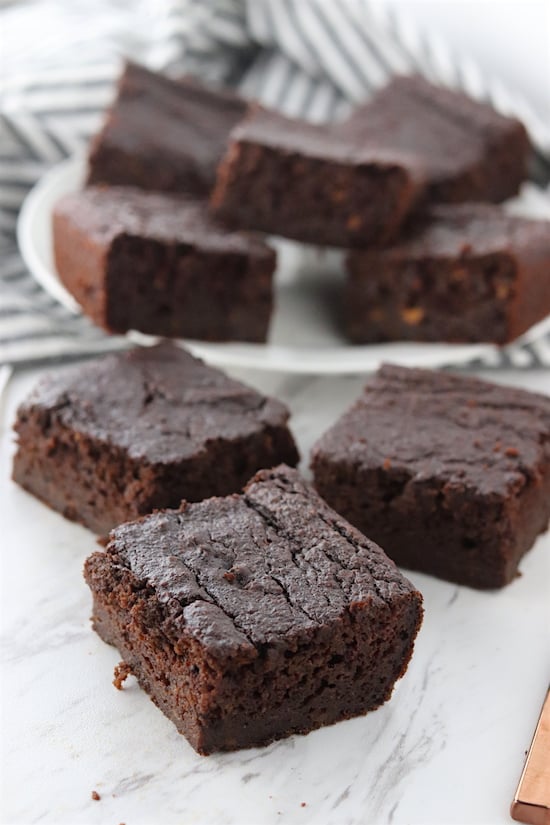 These are Joe's absolute favorite brownies. He was out of town for work this week and I knew he could use a pick-me-up when he got back. Poor guy had flight delays and little sleep, but that's nothing a good brownie can't fix. Am I right?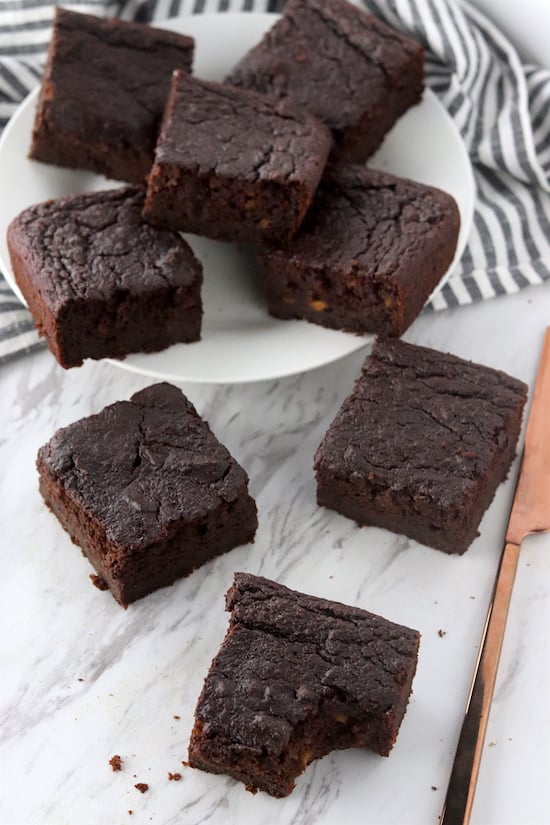 Now there is nothing wrong with making regular ol' brownies at all. Heck, I love me some Costco sized Ghirardelli brownie mix as much as the next gal! But sometimes it's fun to play with flavors and pack in some extra nutrients. BOTH are fine options. What matters is the "why". Are you doing it because you want to and it's fun to experiment, or are you doing it because you think you "should" in order to be "good" per diet culture standards.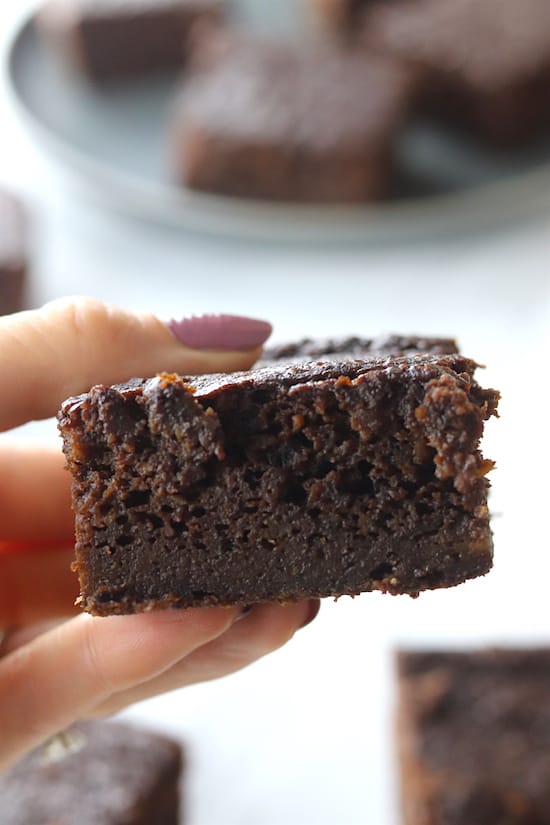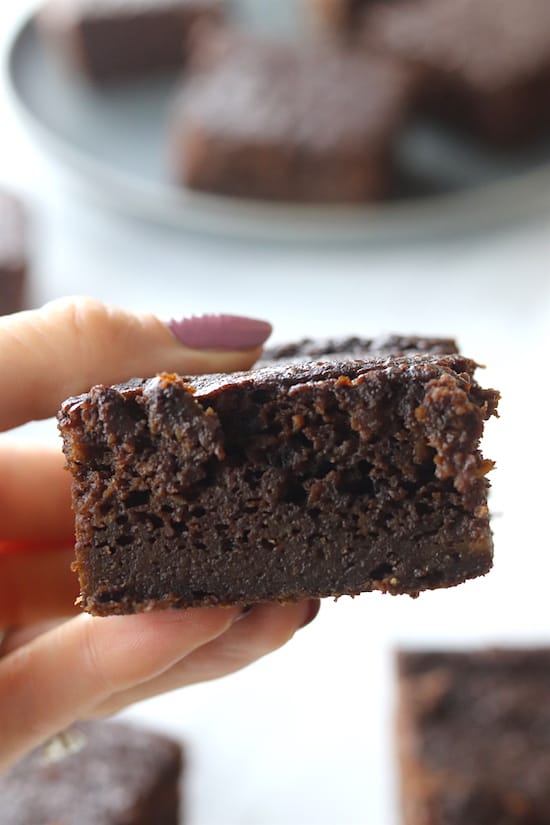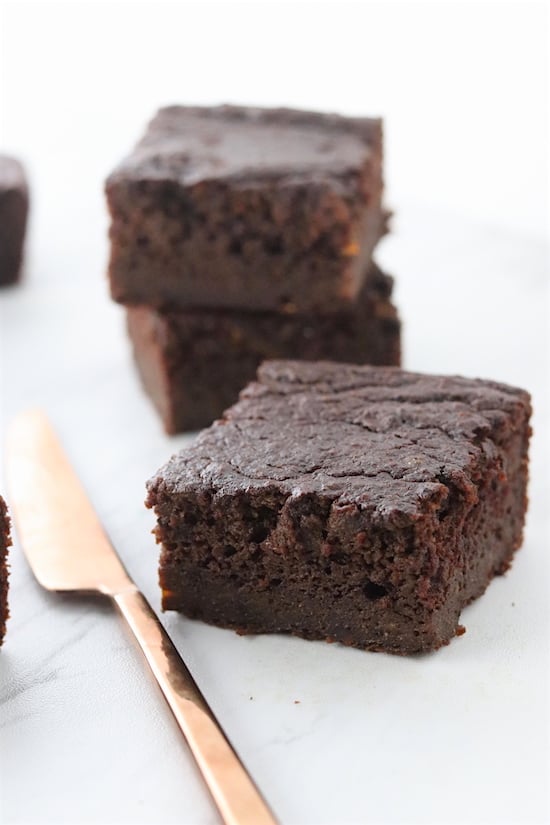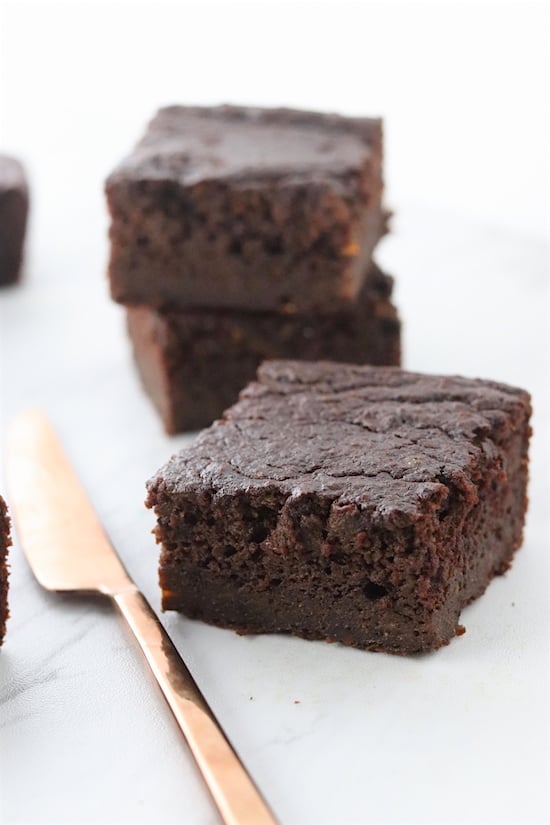 You good now? Good. Once you make these sweet potato brownies, you might not be able to go back to the regular kind. You're welcome!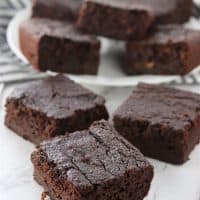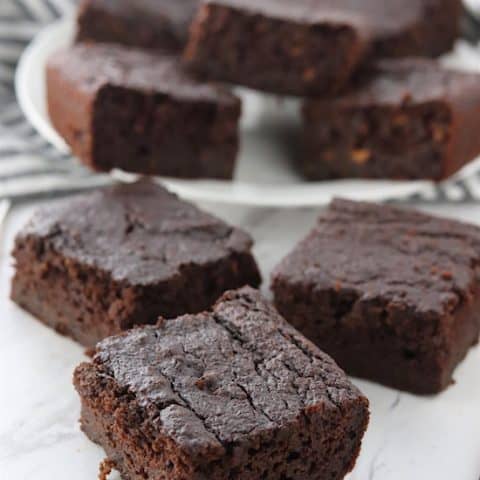 Sweet Potato Brownies
Super fudgey and rich! These sweet potato brownies pack in some extra vitamin A and fiber, while still satisfying a sweet tooth!
PRINT RECIPE
Ingredients
2

Medium Sweet Potatoes

1/4

cup

Applesauce

1

tsp

Vailla

1/2

cup

Milk

2

Eggs

1/2

cup

Sugar

1/2

cup

Whole Wheat Flour

1/3

cup

Unsweetened Cocoa Powder

1

tsp

Baking Soda

1/2

tsp

Baking Powder

1/8

tsp

Salt
Instructions
Preheat oven to 350 degrees and lightly spray a 9x9 baking pan with non-stick spray, set aside.

Peel sweet potatoes and roughly chop. Microwave them in a large bowl of water for ~8 minutes.

In a food processor, process sweet potatoes, applesauce, vanilla, and milk.

In a large bowl combine sweet potato mixture and eggs.

In a medium sized bowl combine sugar, flour, cocoa, soda, powder and salt.

Add dry ingredients to the wet ingredients, ~1/3 at a time until just combined.

Pour into prepared baking pan and bake for ~35 minutes.

Allow to cool fully and cut into 9 squares.
Notes
I like to store mine in the fridge, since they're super moist.
click To display nutrition info
Nutrition Facts
Nutrition Facts
Sweet Potato Brownies
Amount per Serving
% Daily Value*
* Percent Daily Values are based on a 2000 calorie diet.
Happy Eating!
-Colleen