Breakfast is probably my favorite part of the day. Not only do I love that each morning stands for a new day and a fresh start, but let's be real, breakfast food is totally the best food. But, every day I find myself running out the door with zero time to sit down for my morning meal, so along it comes with me to work. Lately I've been LOVING these vegan & gluten free dark chocolate espresso breakfast cookies for my grab-and-go breakfast, and I think you might become just as obsessed!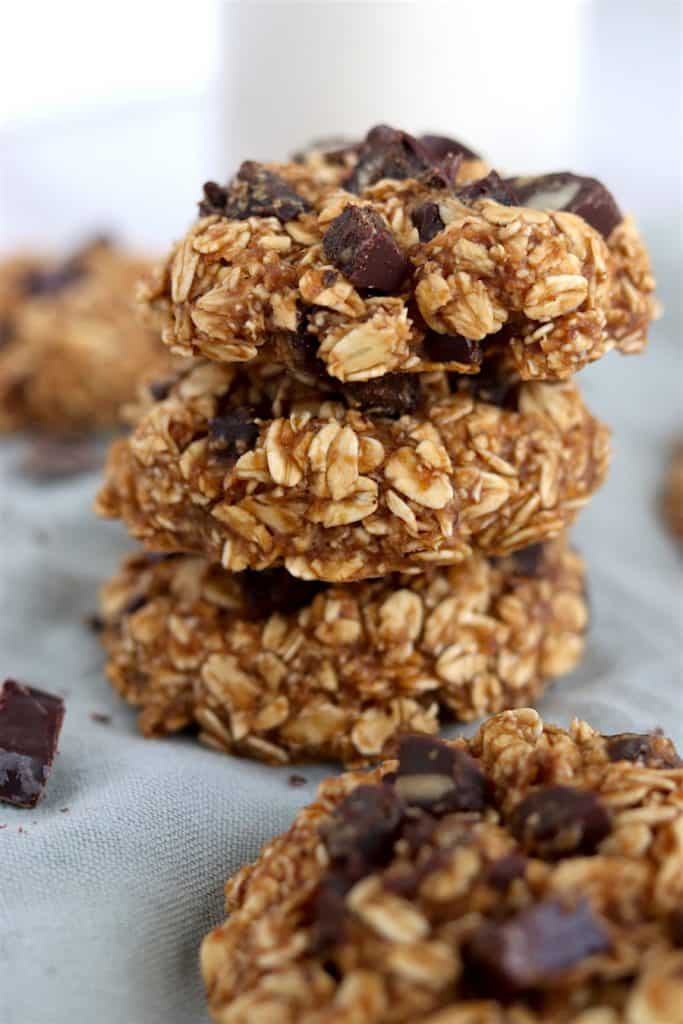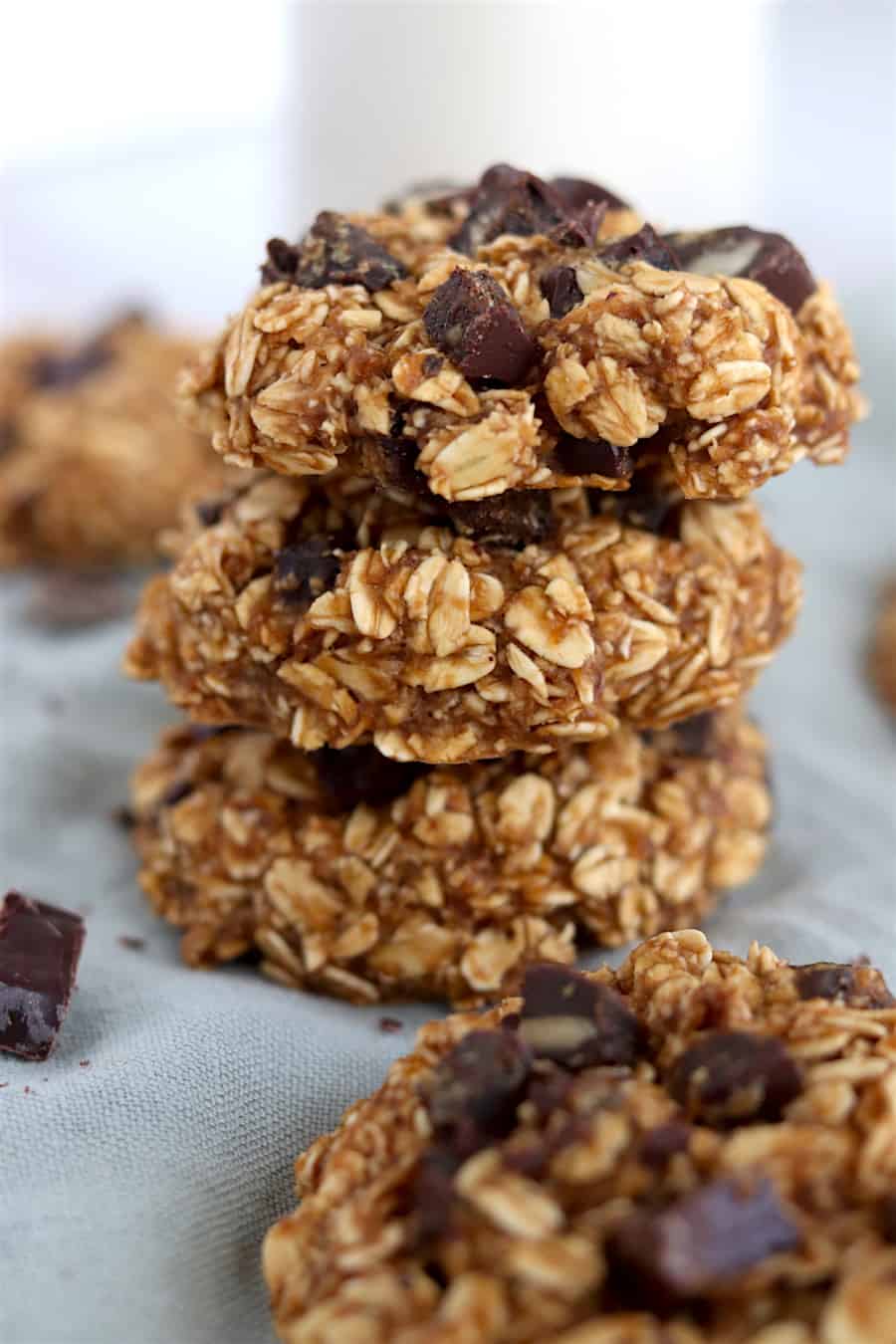 I love that these cookies have a short ingredient list of some serious nutritional powerhouses. And, they can be made in a double batch and stashed in the freezer- take note all you meal prep-ers! Having them at the ready will save you loads of time in the morning, which, I know we can all totally use.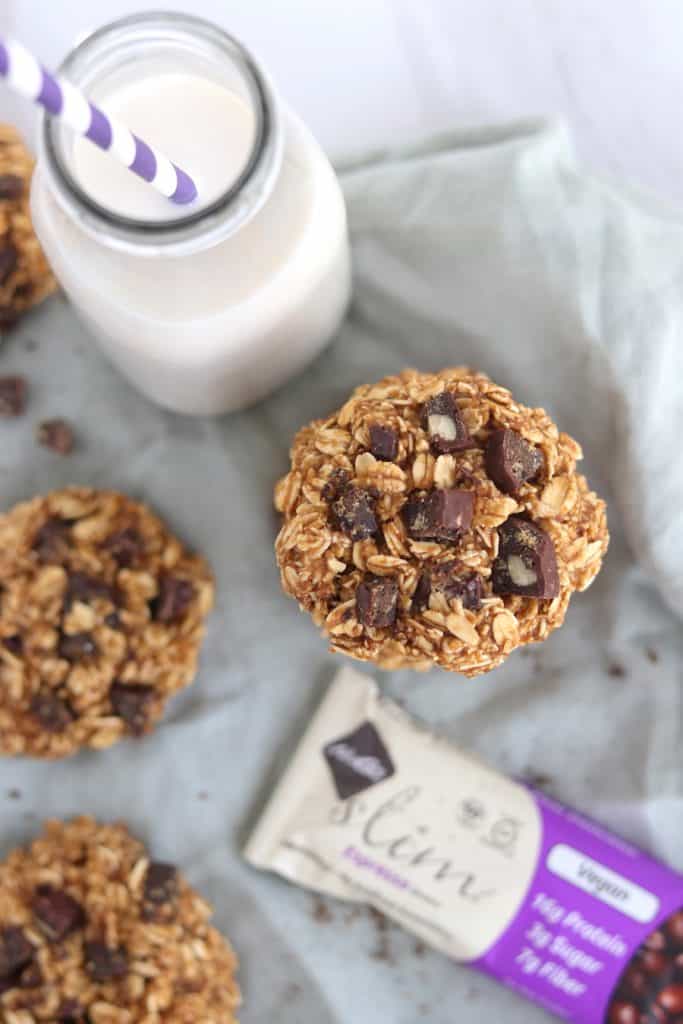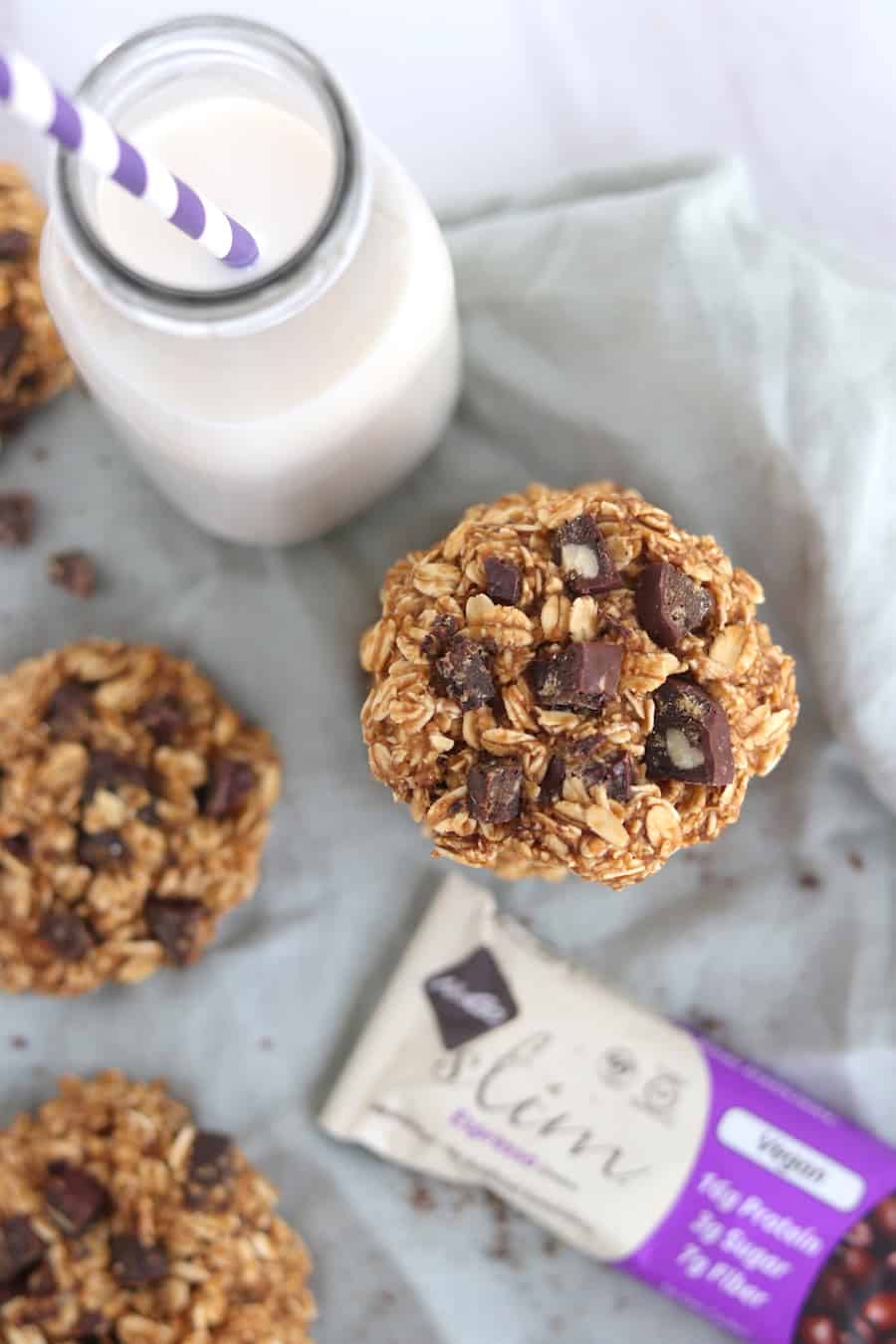 In place of your typical chocolate chips I opted to add in a chopped NuGo Slim Espresso protein bar, which are one of my absolute favorite protein bars. This simple swap gives these cookies extra protein and fiber, which will help get your body up and running while keeping you feeling full and satisfied.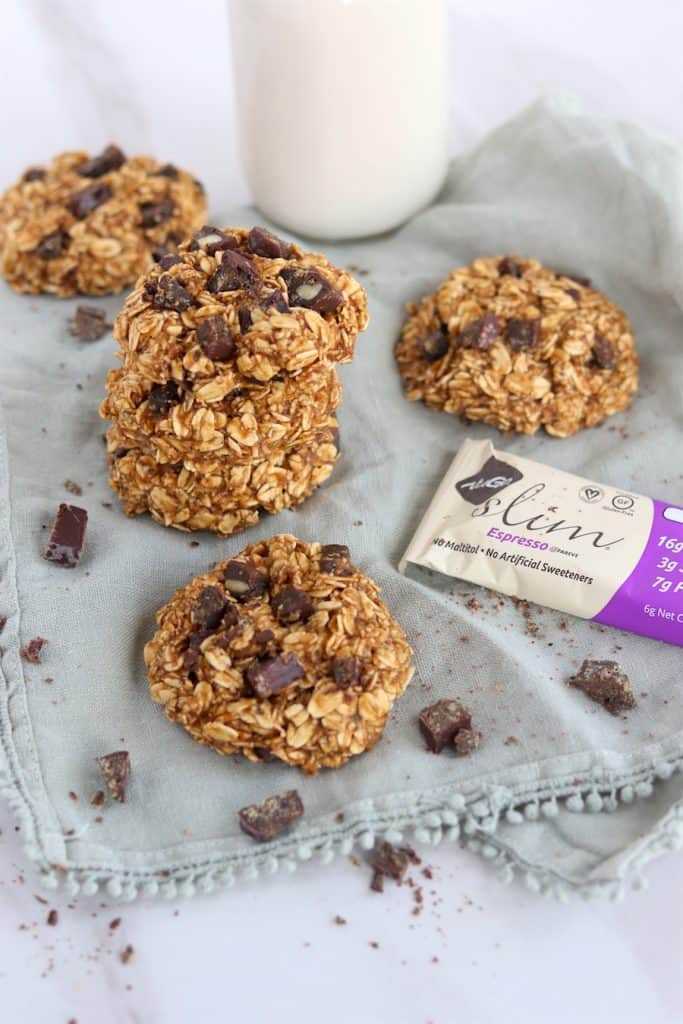 I love NuGo Slim bars for so many reasons, like being low in sugar and having a low glycemic index. This means that these bars won't give you a huge spike in blood sugar, which is usually followed by an unwanted crash. And ain't no body got time for that! I also love that they use REAL dark chocolate! This totally sets them apart from most protein bars and seriously makes them taste amazing! I look forward to my mid-morning bar on the daily because of this! I know it's hard to find a go-to protein bar, but not any more thanks to NuGo Slims!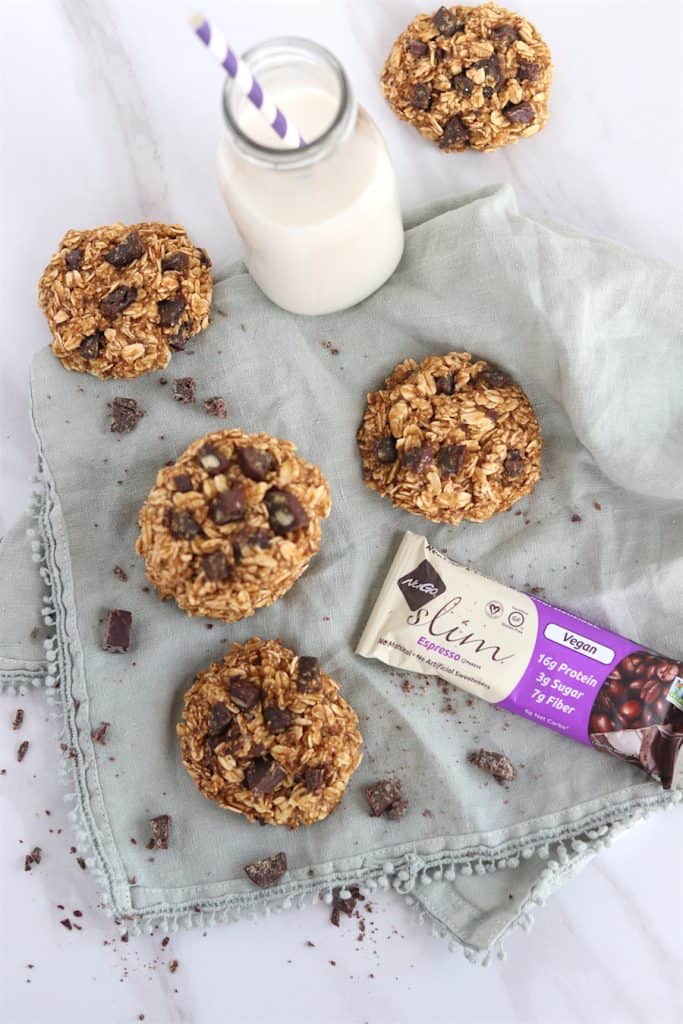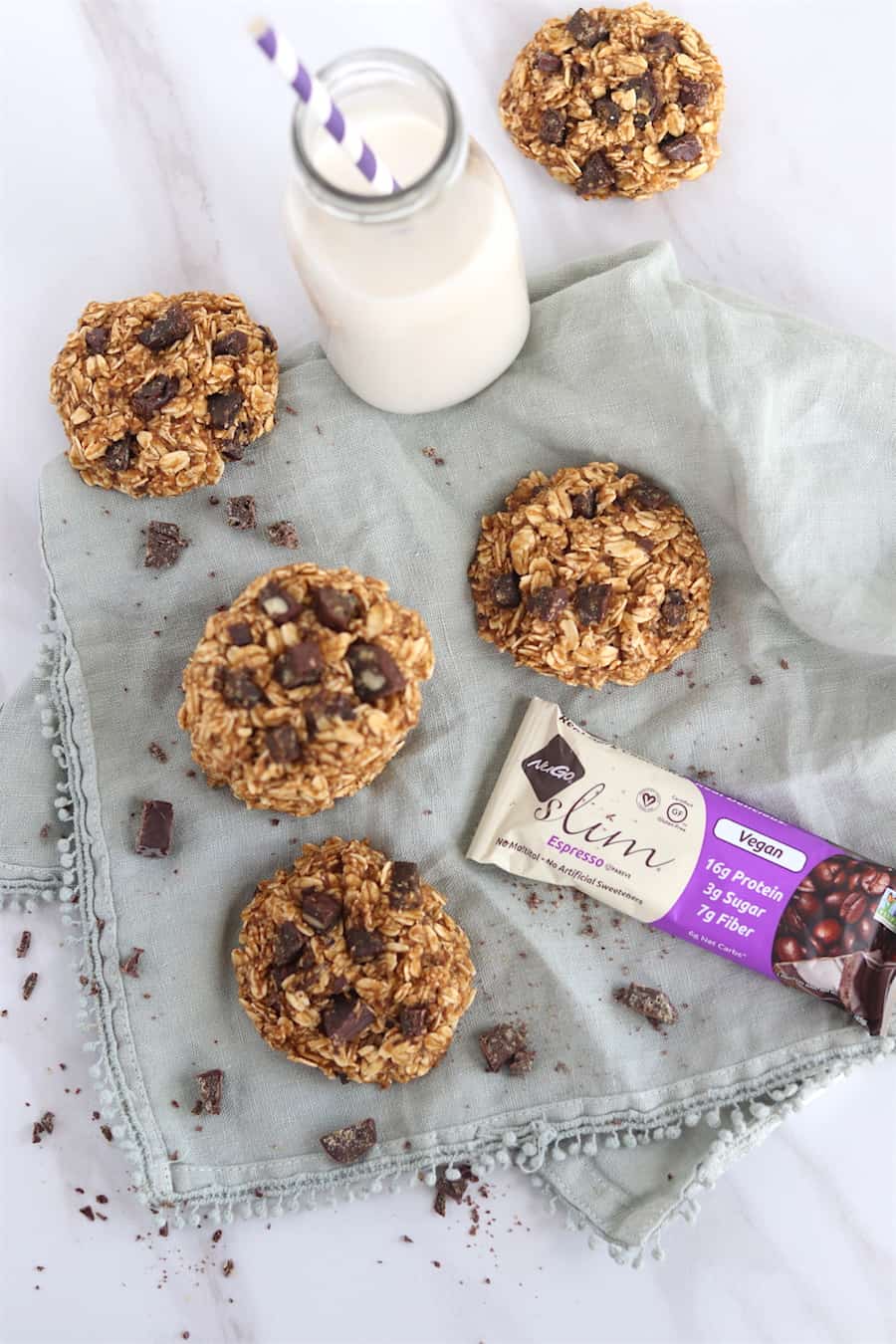 I like to dip these cookies in a little almond butter, crumble then on top of a smoothie bowl, or use them to scoop up a little yogurt (Greek or dairy-free coconut yogurt). They also make a fabulous post workout snack too! And, if I'm being honest, I've totally just eaten them by themselves for a sweet, nourishing treat after dinner. Yup, they're that good.
Now the biggest question is what flavor bar will I use for my next breakfast cookie recipe?! NuGo has 7 flavors of their Slim bars and they're all so fabulous. It's impossible to pick a favorite!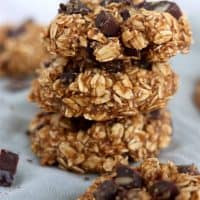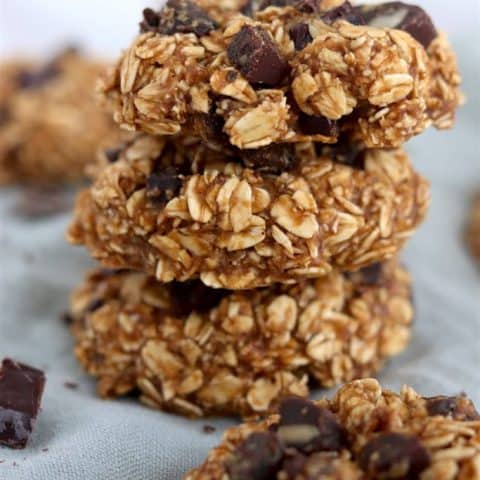 Vegan & Gluten Free Dark Chocolate Espresso Breakfast Cookies
These vegan & gluten free dark chocolate espresso breakfast cookies are a healthy and delicious grab-and-go breakfast to start your day!
PRINT RECIPE
Ingredients
2

cups

rolled oats*

1

cup

applesauce

2

tbsp

instant espresso powder

2

tsp

vanilla

3

tbsp

maple syrup

dash of salt

1

Espresso NuGo Slim Bar

chopped
Instructions
Preheat oven to 350 degrees and line a baking sheet with wax paper or lightly coat with non-stick spray, set aside.

In a large mixing bowl combine oats, applesauce, espresso powder, vanilla, maple syrup and salt.

One all ingredients are thoroughly combined fold in chopped Espresso Nugo Slim bar.

Using a 1/3 measuring cup scoop dough and form roll into a ball.

Place ball of dough onto prepared baking sheet and slightly flatten.

Repeat with remaining dough, you will end up with 9 cookies.

Bake for 12 minutes, until golden brown.

Remove cookies from the oven and allow to cool.

Store in an airtight container for up to one week.
Notes
*Be sure to look for gluten free rolled oats
click To display nutrition info
Happy eating,
Colleen
**This post has been sponsored by NuGo Nutrition. However, all thoughts and opinions are my own*
Don't forget to pin this recipe so you don't lose it!