Lately I've been craving smoothies, which is super strange since I've never really been big on them. Maybe it's the summertime heat or just a kid-like food jag, who knows, but I dig 'em. One of the reasons that I've really never been big on smoothies is because while it's great that you can pack SO many nutritious foods into them, it's easy to get a little carried away and make them WAY more nutrient dense (i.e. high in calories) than you think. But how do you get a great consistency without having it rival a five course meal? I've got the answer: Riced Cauliflower.
Guys, this stuff is HOT right now as a low carb version of traditional rice, but it can be used in more ways than that- enter smoothies. No need to cook it before, simply dump the frozen stuff right into the blender. You can easily make your own by plopping a head of cauliflower into a food processor and pulsing, or simply buy the bagged stuff (that's what I do!)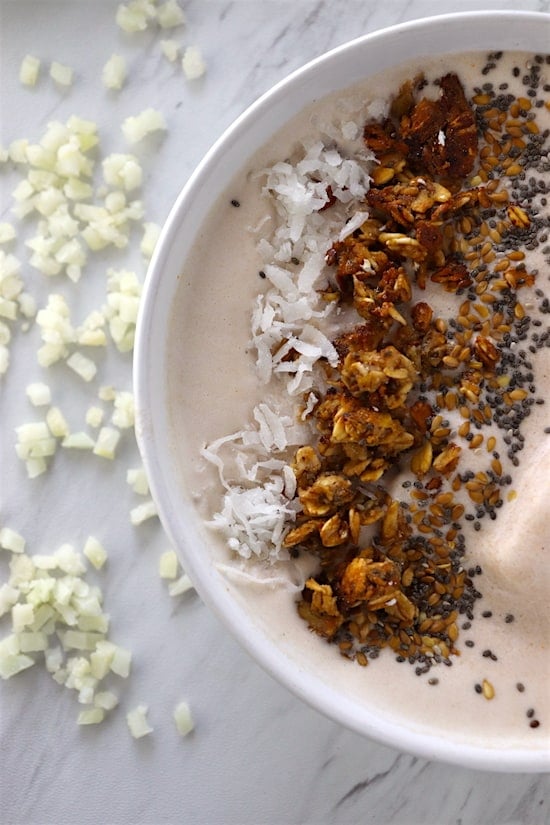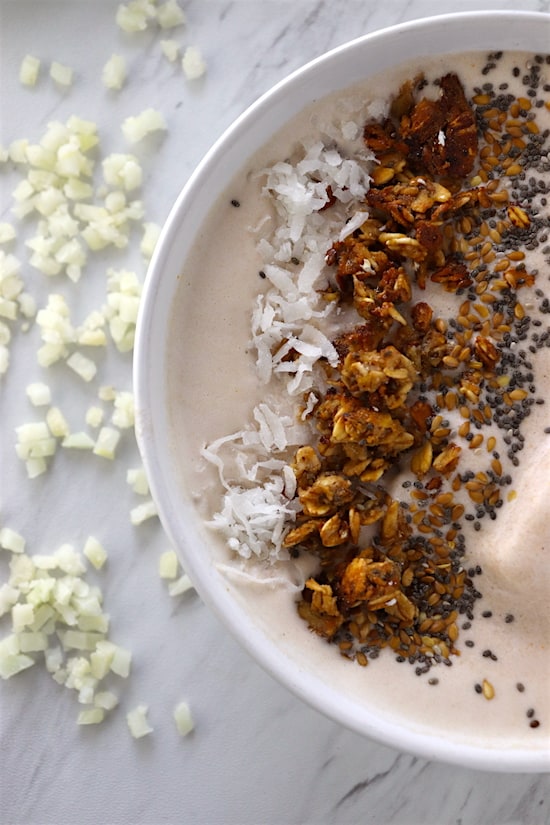 Here are 6 reasons why I add riced cauliflower to my smoothies – and why you should too!
Creamy Texture. It gives smoothies THE absolute creamiest texture. By using the riced stuff there are zero large chunks at all after blending, and it creates a really great base for other ingredients to blend with.
Low Calorie. For me to be satisfied with a smoothie, it's gotta have bulk. I'm definitely a volume eater and the cauliflower does just that for a tiny amount of calories (20 per 3/4 cup!)
Slow Melting. Smoothies made with ice as the "bulk" melt SO fast! There is nothing worse than your delicious refreshing smoothie turning into a juice, so sad. As the smoothie warms the cauliflower won't turn into a liquid – problem solved! So go ahead, take your sweet time sipping, no rush!
Vitamin C. One serving of riced cauliflower provides 70% of the daily value for Vitamin C. WOA. This nutrient is helpful for protecting cells from free radicals, collagen production, and protein metabolism – just to name a few.
Feel Full Fiber. Half of the carbohydrates in cauliflower are fiber. And fiber keeps you full. Need I say more?
You'll Use Less Fruit. Now, I'm a dietitian, and you know I love fruit and that it's super healthy. But like I've said, you can add a LOT more than you think when making a smoothie. Too much of a good thing is just too much of a good thing. You wouldn't normally eat 3 cups of strawberries (or maybe you would) so why would you drink them? The cauliflower really soaks up the flavor and disperses it evenly throughout the smoothie, meaning you don't need to add you entire fruit bowl to actually taste the flavor.
My favorite time to make smoothies is after a good morning workout. Take a look at this recipe that I've been using on repeat: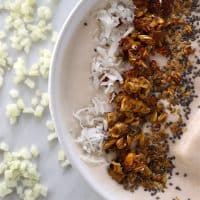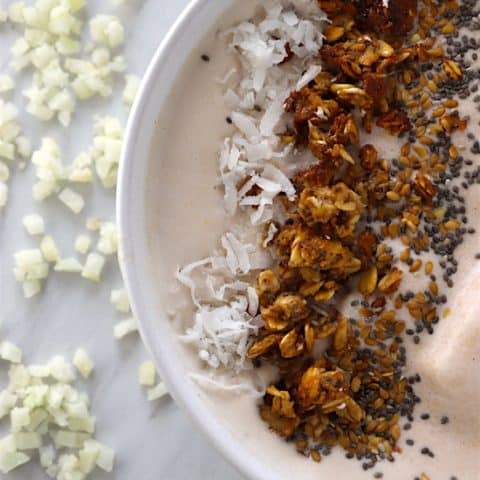 Post Workout Smoothie
This simple smoothie recipe can be customized with whatever fruits you have on hand or other flavors you want to add!
PRINT RECIPE
Ingredients
1

scoop protein powder

2

tbsp

plain greek yogurt

1/2

cup

riced cauliflower

1

banana

frozen

1/3

cup

milk of choice

8-10

ice cubes
Instructions
Simple add all ingredients to a blender and blend until smooth!
Notes
Add water as necessary to get smoothie to blend
May add sweetener of choice if desired
click To display nutrition info
Nutrition Facts
Nutrition Facts
Post Workout Smoothie
Amount per Serving
% Daily Value*
* Percent Daily Values are based on a 2000 calorie diet.
So, what do you think? Have I sold you on adding in this strange smoothie addition? Give it a try and let me know what you think!
Happy eating,
Colleen