Halloween may be done and gone, but we all know that pumpkin really lives on through November (and beyond).  I know I'm still devouring the orange stuff on a pretty regular basis. If you thought that pumpkin was reserved for breads, muffins, and pies, think again. One of my favorite ways to use it is at dinner! Recently, I've been making this 4 ingredient pumpkin protein pasta on repeat.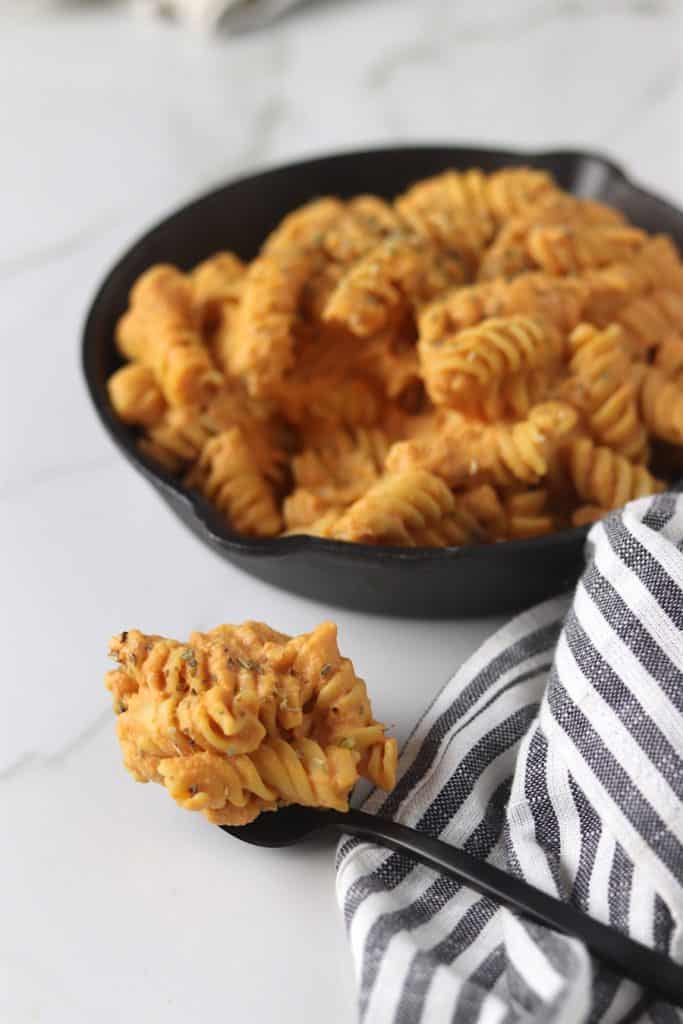 Pumpkin pasta, besides being a super cute alliteration, is a total powerhouse of a dish. It's loaded with both protein and fiber, which both work to keep you FULL! It's so creamy and indulgent yet totally nourishing at the same time. Each serving gives you 32% of your daily vitamin A needs, which is fabulous for eye sight, skin, and immunity.
This 4 ingredient pumpkin protein pasta is pretty much the definition of fuss-free. It's ready in about fifteen minutes. FIFTEEN MINUTES! The most difficult part is actually just waiting for the water to boil, ha!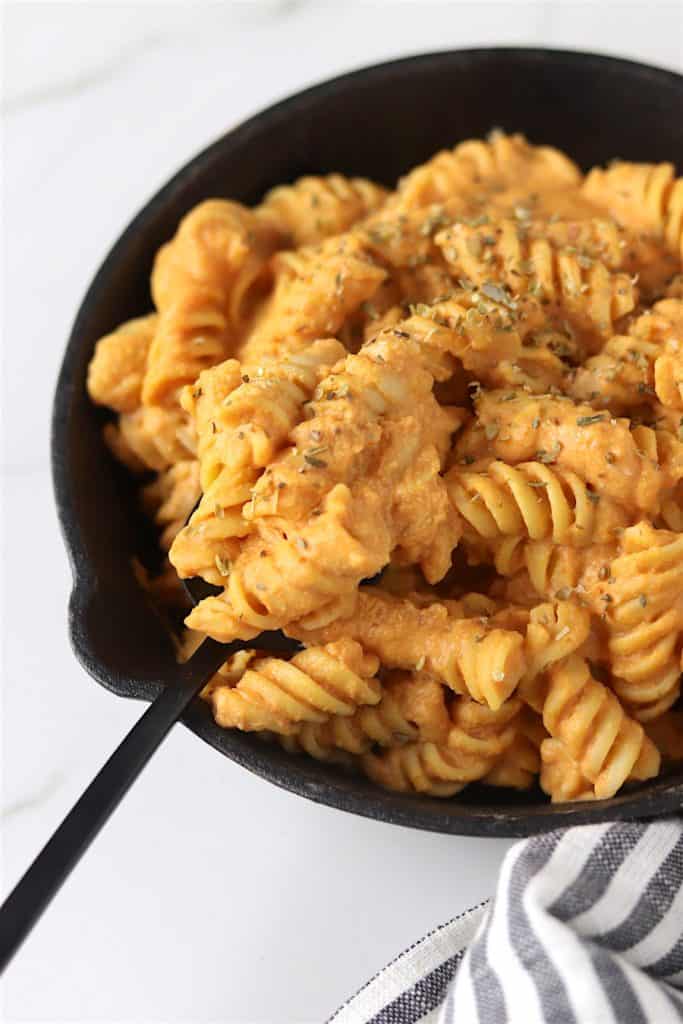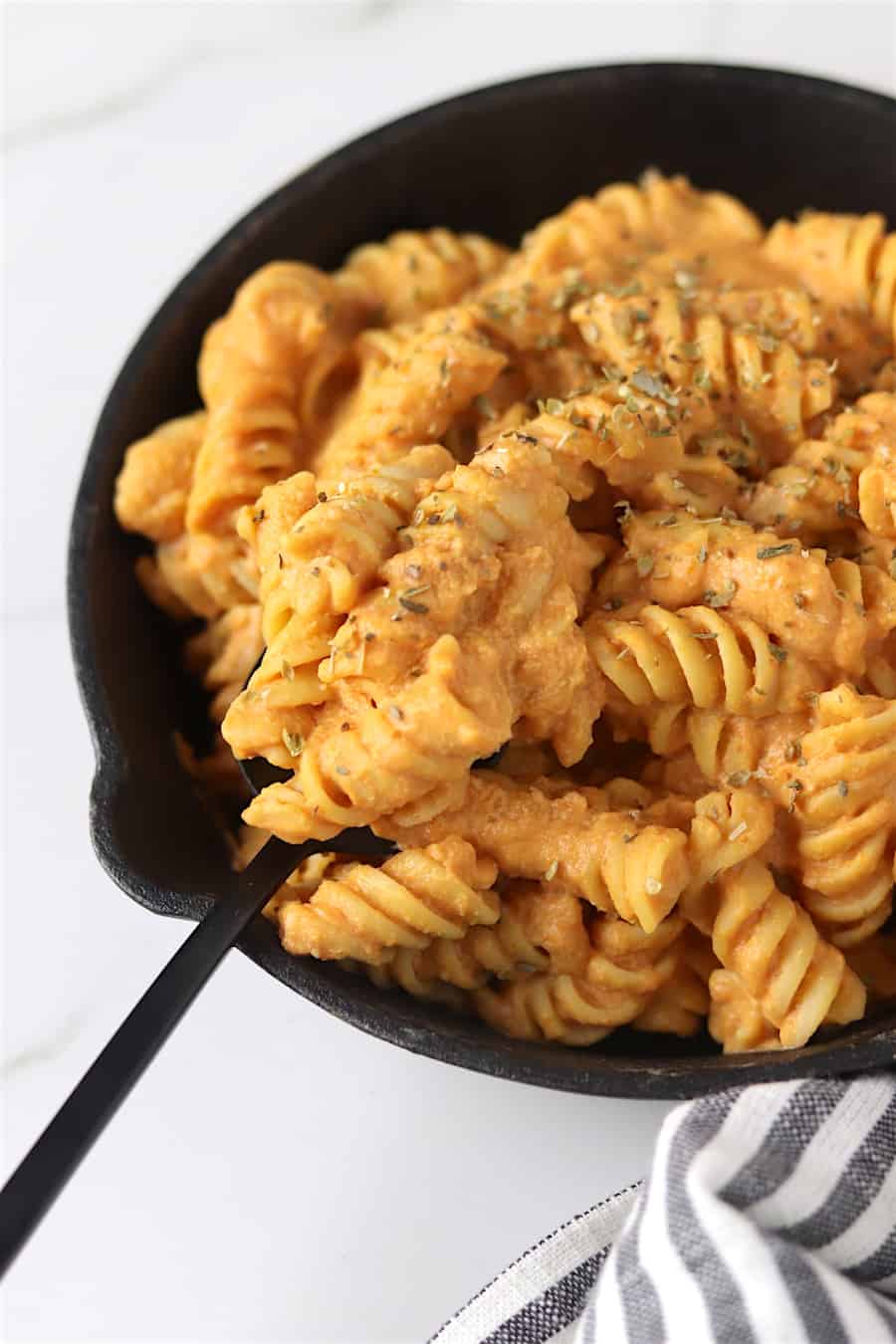 I love making this warm, creamy and comforting dish during the fall and winter months. We take our little fur baby, Theo, for a walk every day before dinner. And by walk I mean hike. It take a solid hour (at least) of walking to get that guy even moderately tired. Let me tell you, if you've ever wanted to increase your physical activity … get a dog! Seriously though. Anyway, back to the walk, there is nothing I love more than coming home to a big ol' plate of THIS!
Another fabulous time to whip out this 4 ingredient pumpkin protein pasta? The night when your dog gets sprayed by a skunk and requires FOUR baths… Yup.. That totally happened to me this week. I've never had a dog get sprayed by a skunk before (thank the lawd) but luckily (I guess..) my husband had, so he knew what to do. You know how when a baby is being born and there is a kid that doesn't know what's going on and is just in the way you tell them to go get towels? Well, it was kinda like that, and I was the kid. Somehow I ended up at the blender blending an unnecessary amount of canned whole tomatoes.
I seriously hope you don't have the deal with the whole skunk situation…EVER… but I do seriously hope you make this STAT.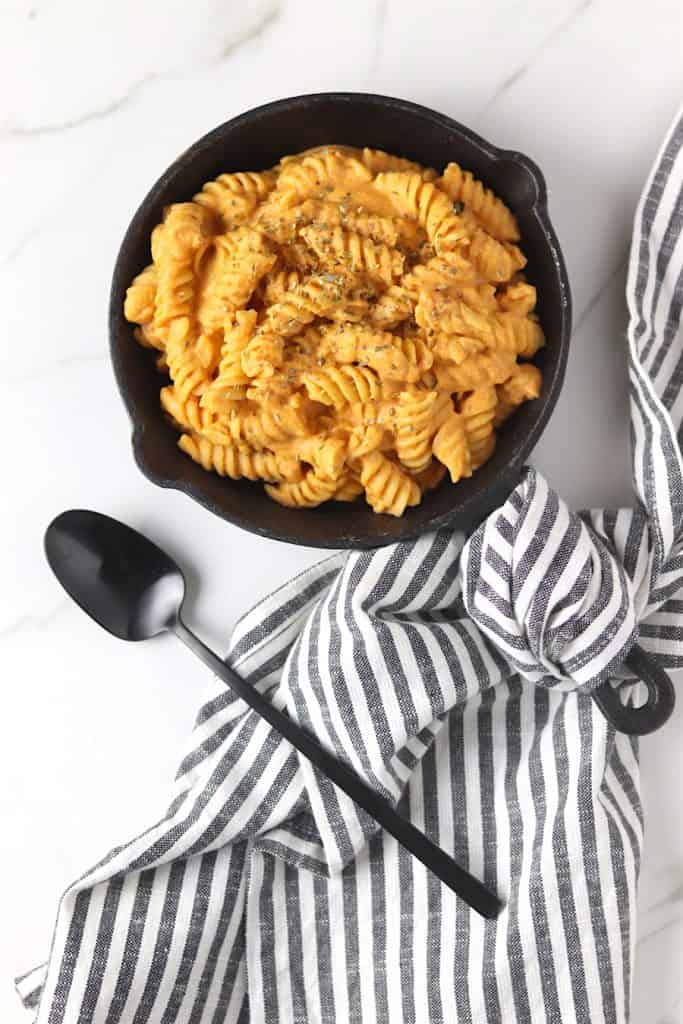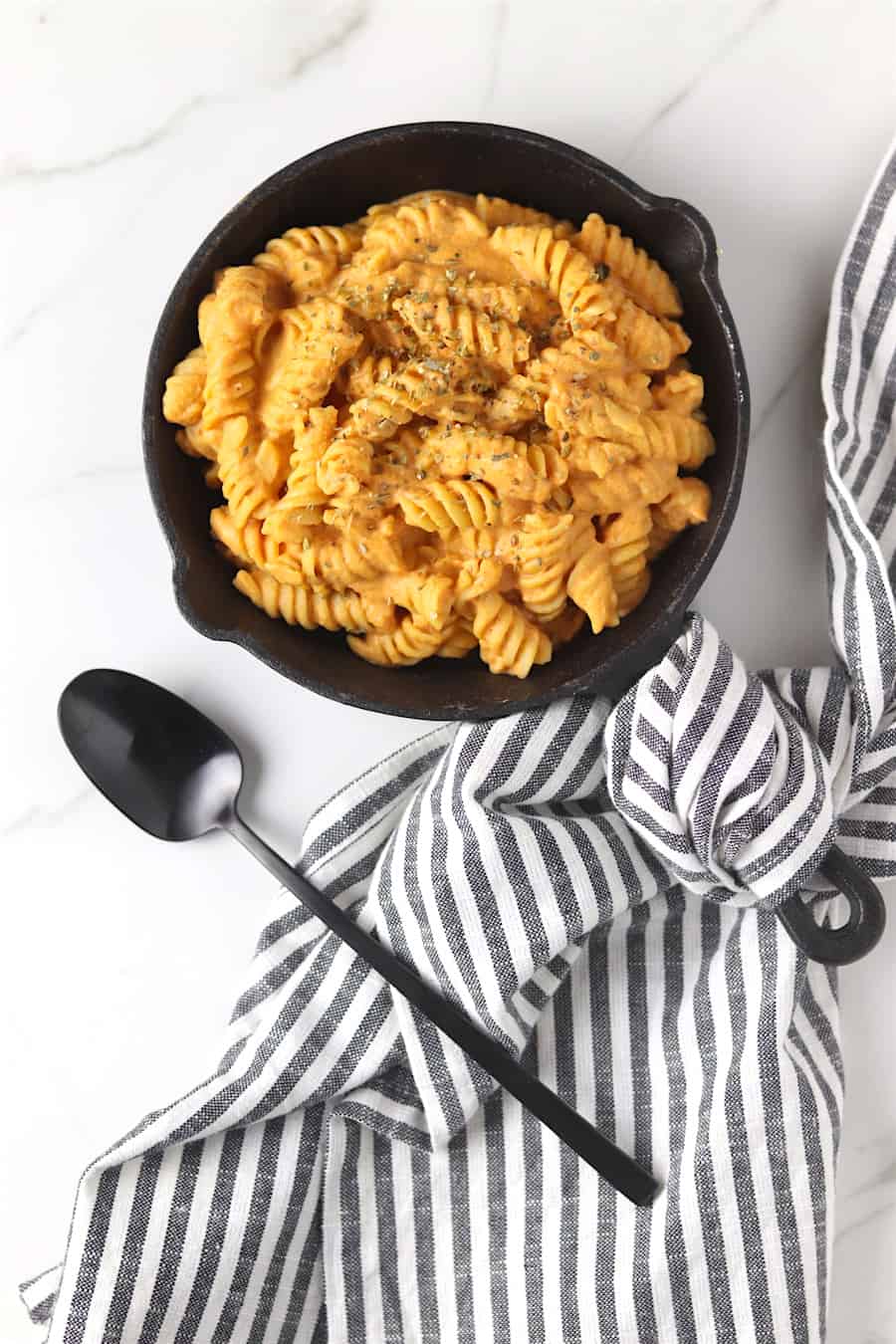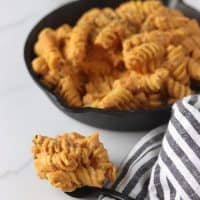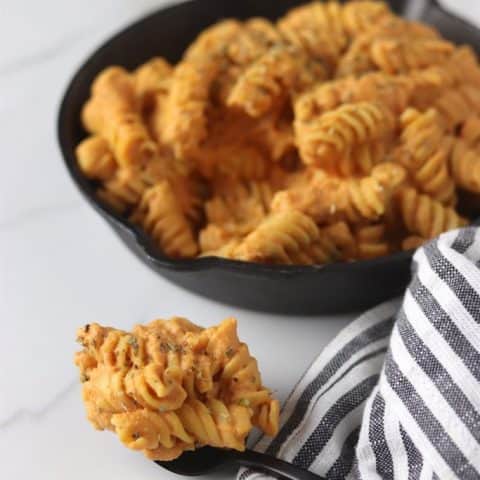 4 Ingredient Pumpkin Protein Pasta
This 4 ingredient pumpkin protein pasta is a healthy and easy dinner that is packed with protein and fiber to keep you full!
PRINT RECIPE
Ingredients
1

cup

bean pasta

1/2

cup

canned pumpkin puree

1/2

cup

plain greek yogurt

1/4

heaping tsp onion powder

1

tbsp

Nutritional Yeast

optional
Instructions
Cook pasta according to stove-top directions

In a small bowl combine pumpkin, yogurt and onion powder. May add nutritional yeast here, if you are using it.

Once pasta is cooked and drained, coat with pumpkin mixture.

Add salt and pepper to taste.

Serve warm.
Notes
Add nutritional yeast if you want a more cheesy, less pumpkin-y flavor.
Garnish with oregano, if desired.
click To display nutrition info
Happy eating,
-Colleen