Looking for the easiest, most delicious chicken recipe? I've got you covered with this recipe for baked sunflower chicken tenders!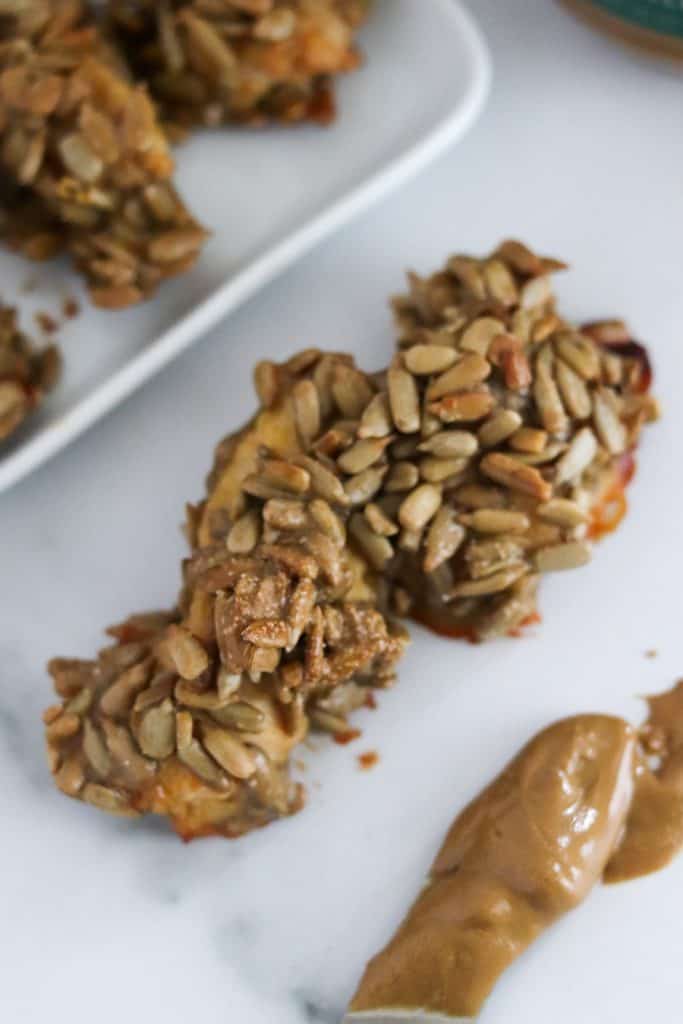 Now, when it comes to meal prep I'm a pretty simple girl. I don't put loads of things nicely layered into a mason jar or have a fridge full of perfectly stacked containers. BUT, I do believe in being prepared with a few essentials each week. Those are:
Chicken
Hard boiled eggs
A sweet treat
That's it. Those are my 3 essential meal prepping items. Usually, I'm a simple instant pot a shredded chicken kinda gal, but that get BORING. I was craving something a little more jazzy for my chicken so I whipped up some of these bakes sunflower chicken tenders and OH MY GOSH, heaven.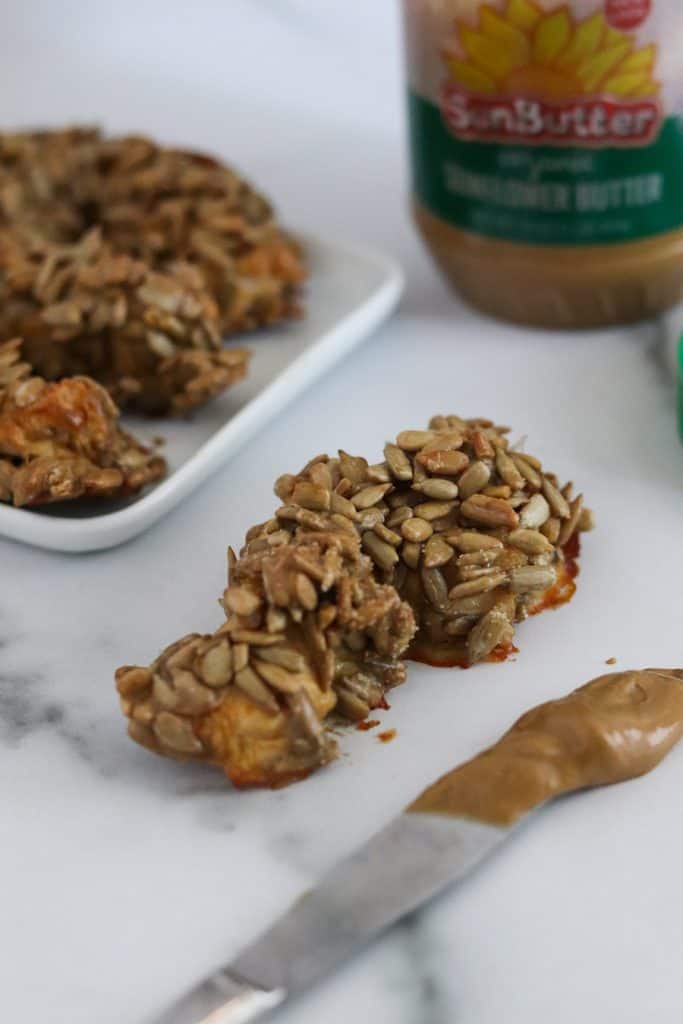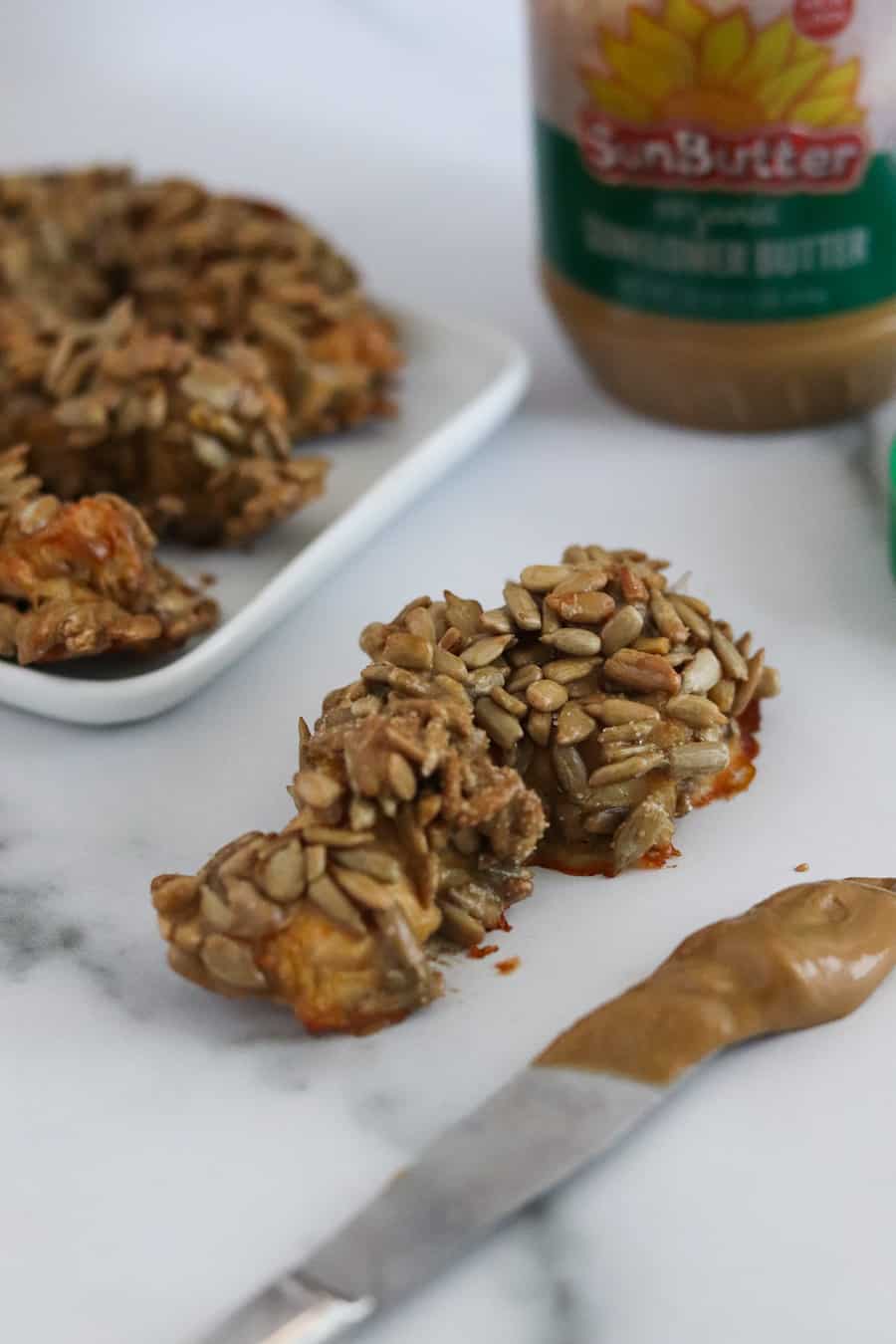 Before we go on, take a sec and pin this recipe to your Pinterest board so you don't lose it. That would be, like, really sad.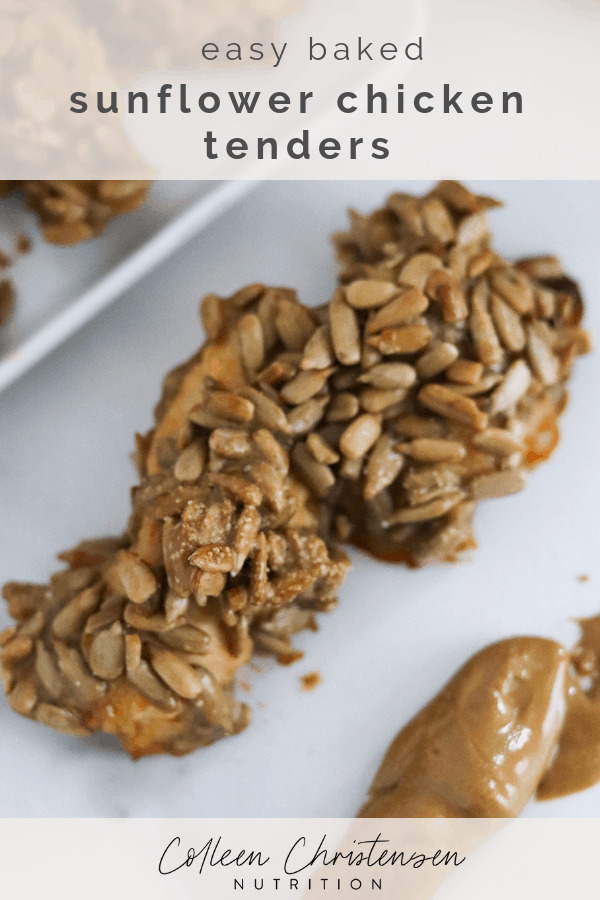 These baked sunflower chicken tenders are FAB for meal prep because they're insanely versatile. You can eat them as-is, chop them up and throw on top of a salad, slice them for a sammie or pita, or dice and mix in some rice or quinoa.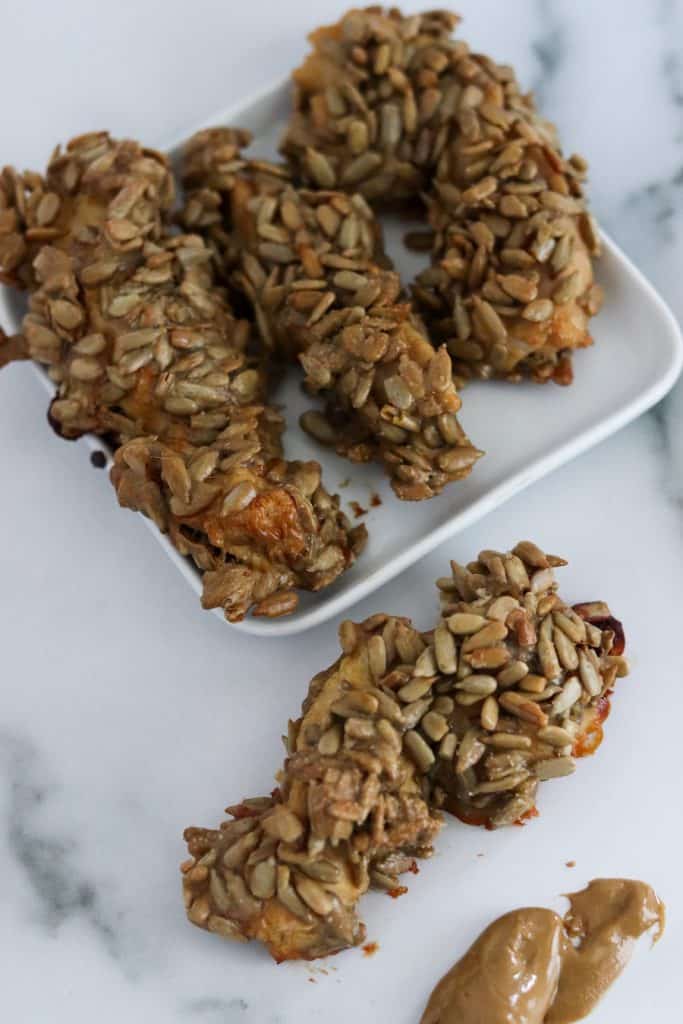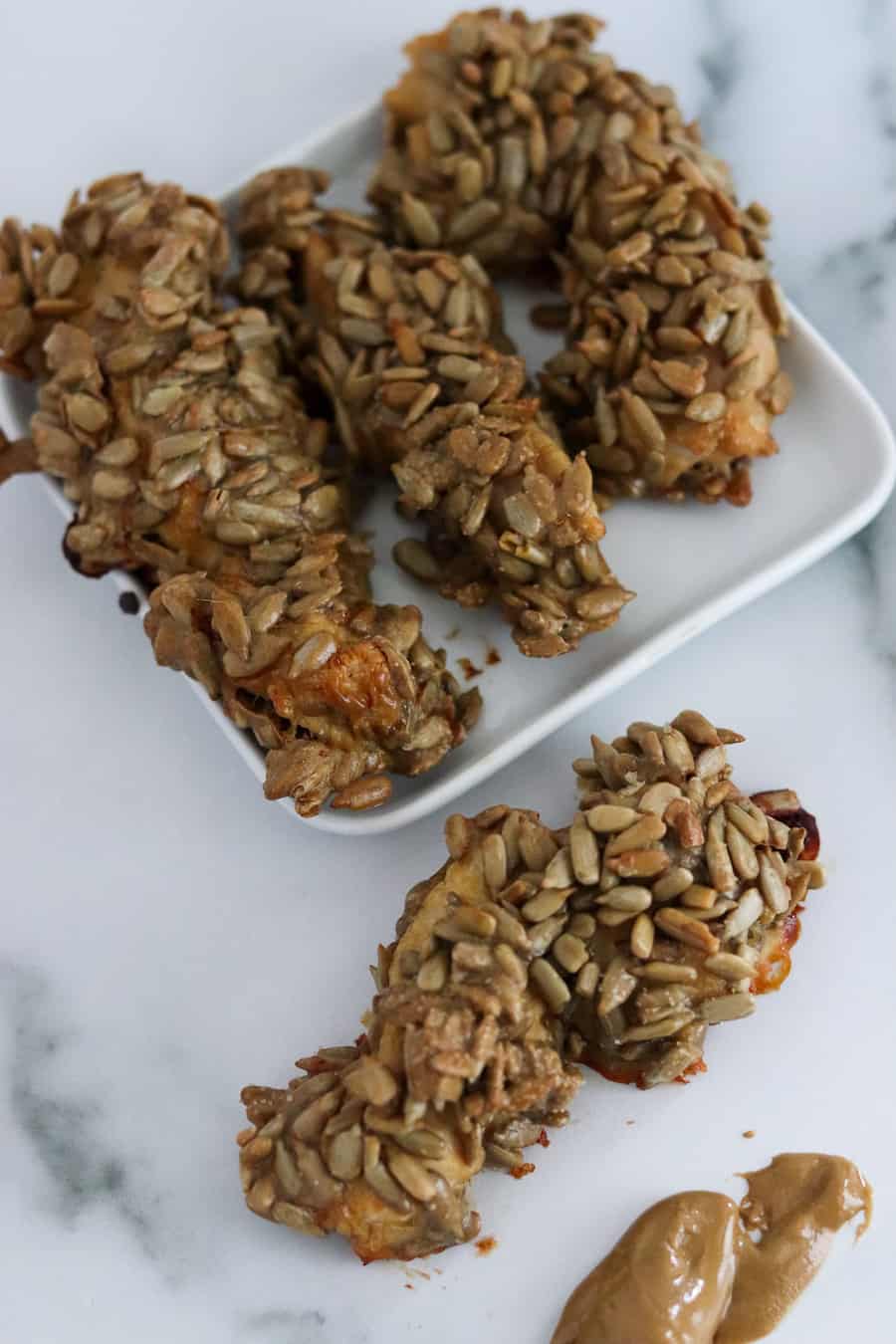 Not into the whole meal prep thing? No worries, they make a FAB quick weeknight dinner, too. The ingredients and prep are minimal so you can really throw these things together and have a full dinner on the take in under and hour. Mind you, only like 10 minutes of that time is you ACTUALLY doing anything. How great is that?
This recipe uses boneless, skinless chicken breast which is a great source of protein but usually is low in fat. I love that the SunButter and the seeds add really amazing healthy fats to this recipe. Having those healthy fats on board will help to keep you satisfied, not searching for something else 20 minutes after you eat these. Come on, we've all been there! Don't fear fat, guys. SunButter is here to rescue that with these baked sunflower chicken tenders.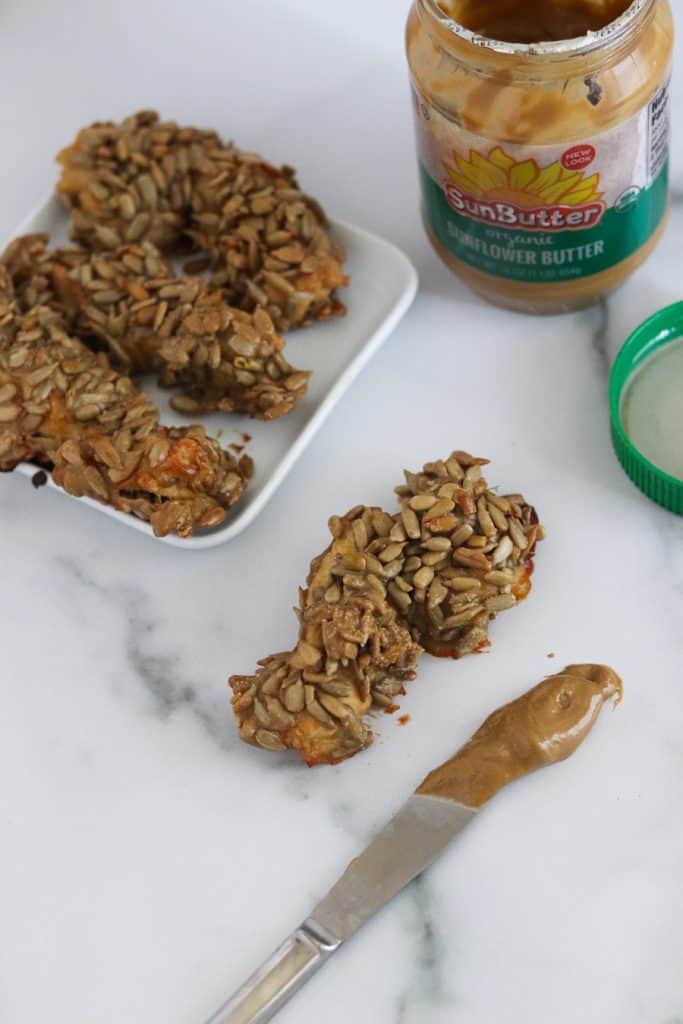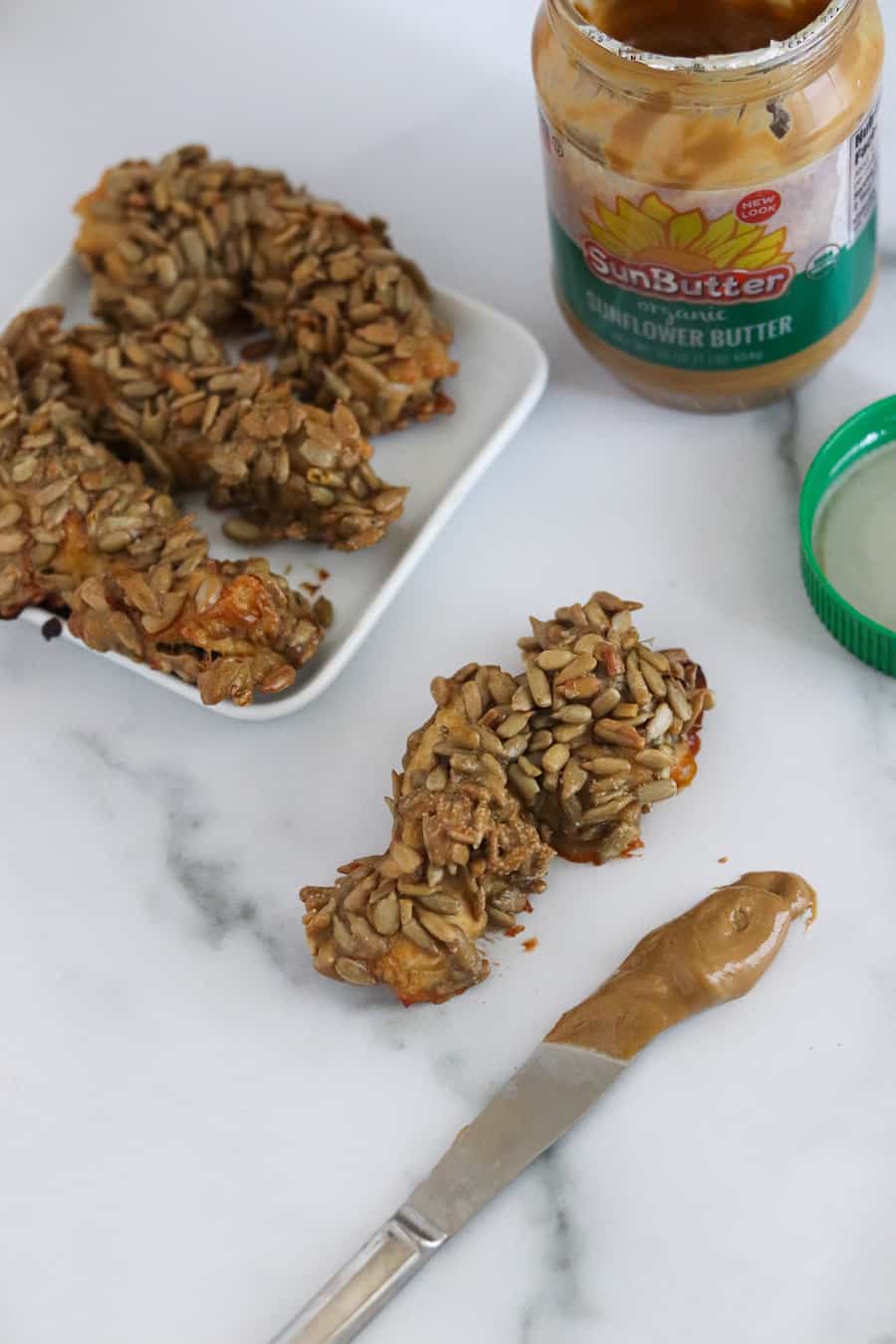 If all of this talk about fat gives you the heebie jeebies because you're scared of the calories, check out my free e-book that will help you break your food rules and find food freedom so that you can enjoy fun, delicious, satisfying fat INCLUDING recipes! Life is too short to fear fat. You can find that e-book here.
Also, I just found out this fun fact: For all of you eco-friendly humans out there, sunflower seeds use WAY less water than almonds (which use 400 gallons per 1 lb!) AND!!! The sunflower seed shells get recycled to make bedding for turkeys. You can't lie, those are some pretty cool facts!
You can snag a coupon for $1 off your fat rescuing, eco-friendly SunButter to make these easy baked chicken tenders here! Who doesn't love saving a buck?!
Print this recipe (or Pin it and have Pinterest open on your phone- let's be real!) and get to cookin'! Then, leave a comment with how YOU enjoyed these baked sunflower chicken tenders and share ideas with each other. I'm a fan of plain, on a salad, or in a pita!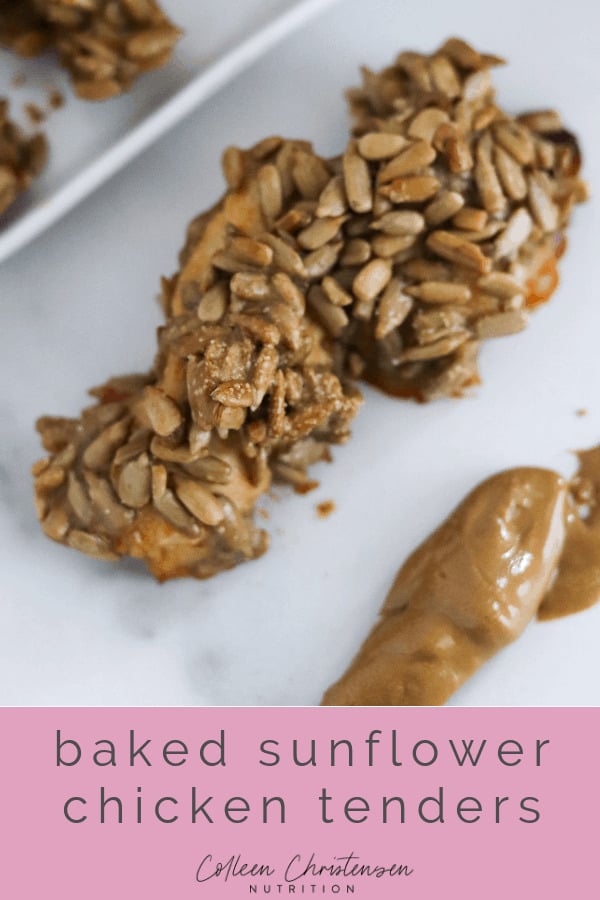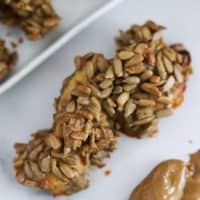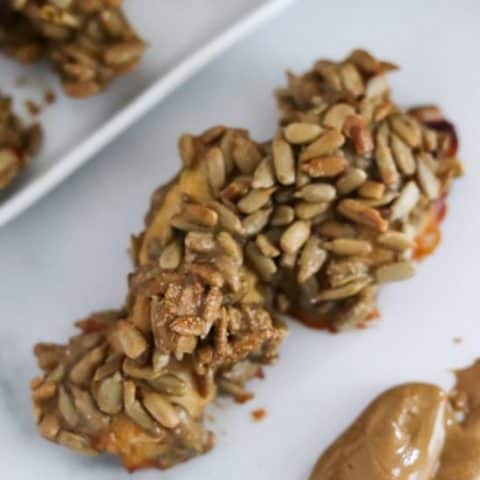 Baked Sunflower Chicken Tenders
These easy baked sunflower chicken tenders will be your new meal prep and quick weeknight dinner go-to! Delicious and healthy!
PRINT RECIPE
Ingredients
1

lb

boneless

skinless chicken breast

-1 egg

-¼ cup Smooth

Organic SunButter

-~¾ cup roasted

unsalted sunflower seeds

-dash of salt
Instructions
Preheat oven to 375 degrees, line a baking sheet with a spill mat or aluminum foil

Slice chicken into even strips, about 1" thick

In a blender, blend together egg and sun butter until even consistency and no chunks appear. Place into a shallow bowl.

Place sunflower seeds into another shallow bowl.

Take a chicken strip and dip it into the egg mixture, then dip it into the sunflower seeds to coat. Place on the prepared baking sheet and repeat with remaining chicken pieces.

Once all chicken pieces are coated top with a dash of salt.

Bake chicken tenders for ~40 minutes, until crips and golden.

Remove from oven and serve immediately or store for later! Enjoy!
click To display nutrition info
Nutrition Facts
Nutrition Facts
Baked Sunflower Chicken Tenders
Amount per Serving
% Daily Value*
* Percent Daily Values are based on a 2000 calorie diet.
Happy eating!
XOXO
-Colleen
Want more posts like this? You might like these:
Cranberry Pistachio Tuna Salad
**This blog post has been sponsored by SunButter. However, all thoughts and opinions are my own**