Breakfast food is the best food. Morning, noon, night- any time of the day I'm down for it. We have been having brinner (breakfast for dinner) at least once a week in my house, usually for meatless Monday. Lately, I can't get enough of this super easy recipe for sweet potato hash & eggs, which I'm excited to share with you today!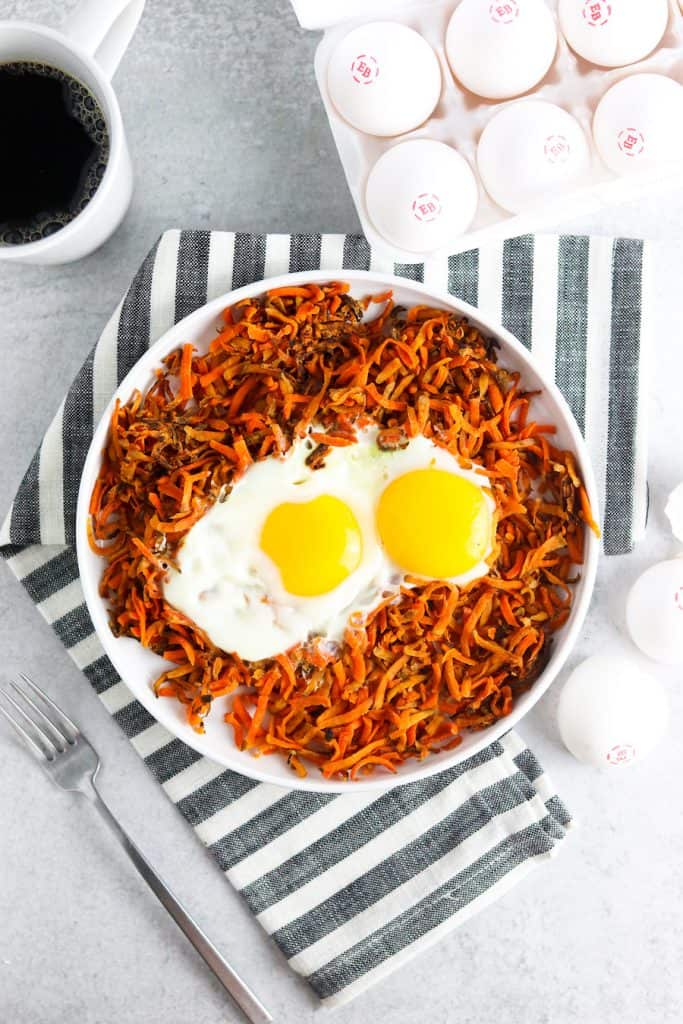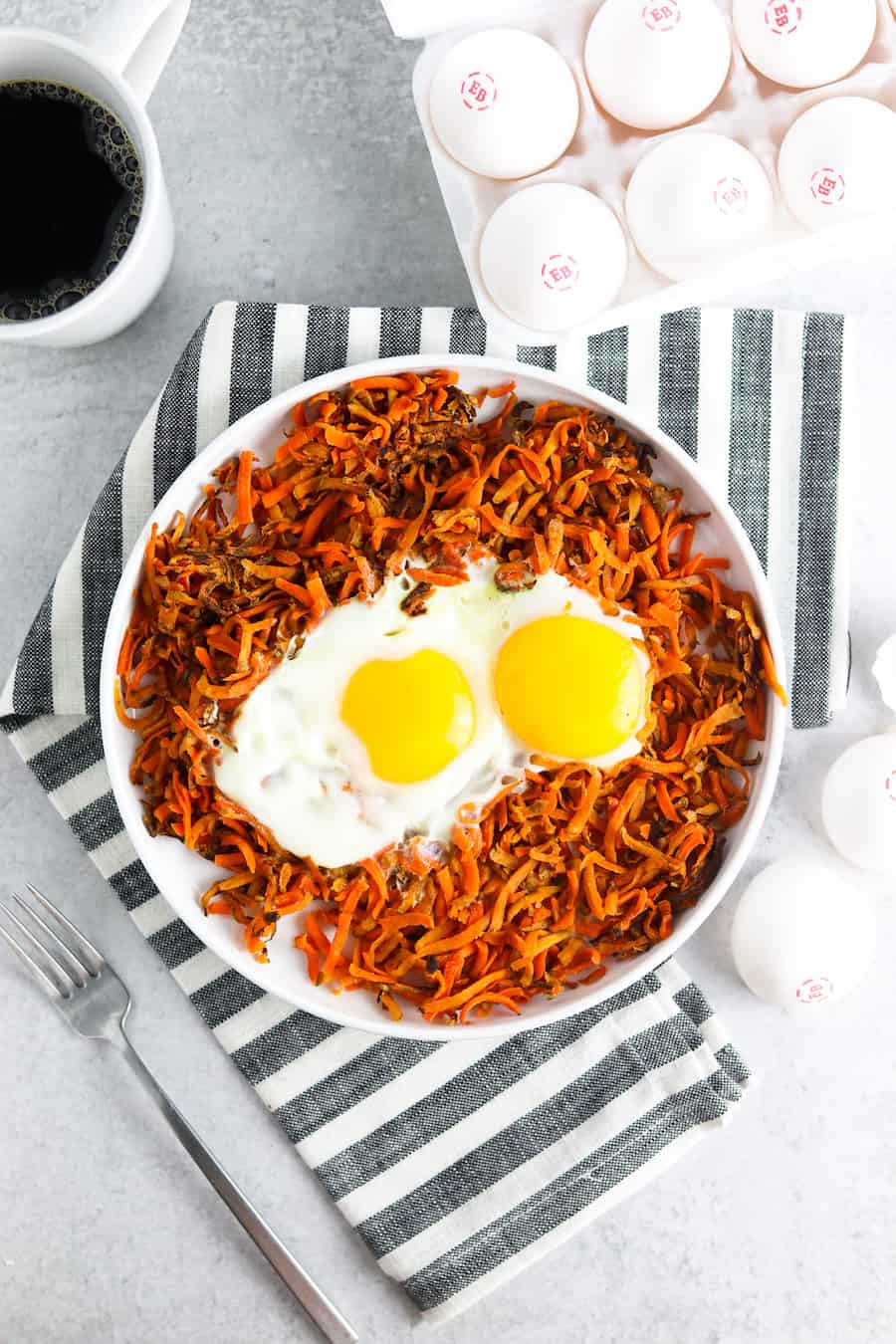 This sweet potato hash & eggs recipe is a true one pan meal. Ya got your carbs, veggies, (sneakin' those in!), protein and fats all in there. Gang's all here! (anyone else thing of How To Lose A Guy In 10 Days when you hear that?!) Also, one pan means less dishes! And I'm all about that.
Take a second and pin this recipe to your Pinterest board before you forget. I have a feeling it is about to become a weekly staple in your household, too!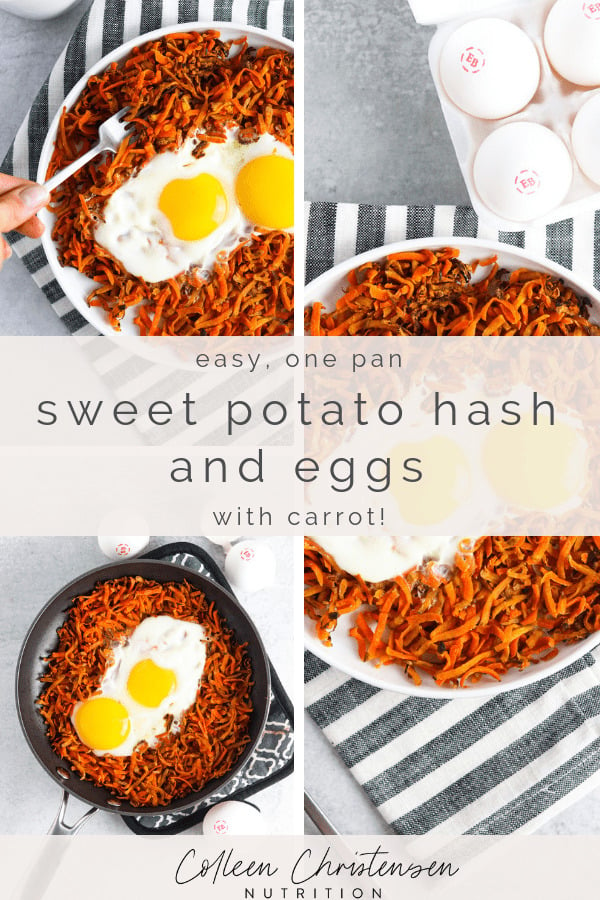 Not only is this recipe super convenient in that it's got ALL of the things in one pan, it's seriously SO easy to make. Even those with next to no skills in the kitchen can whip this together no problem. And all ya need is about 10 minutes. SCORE.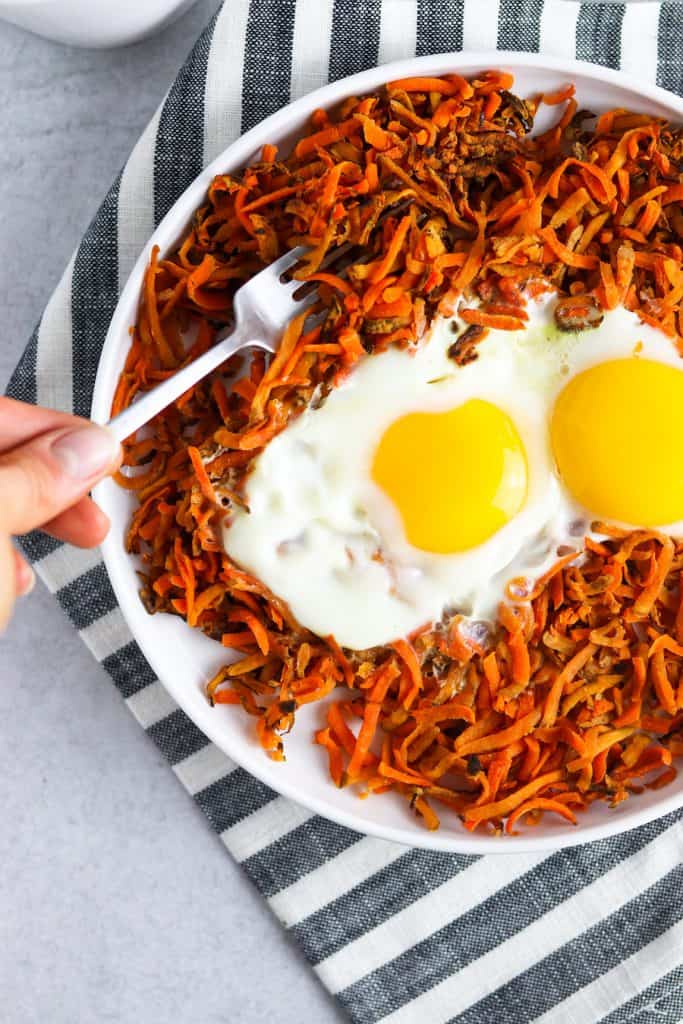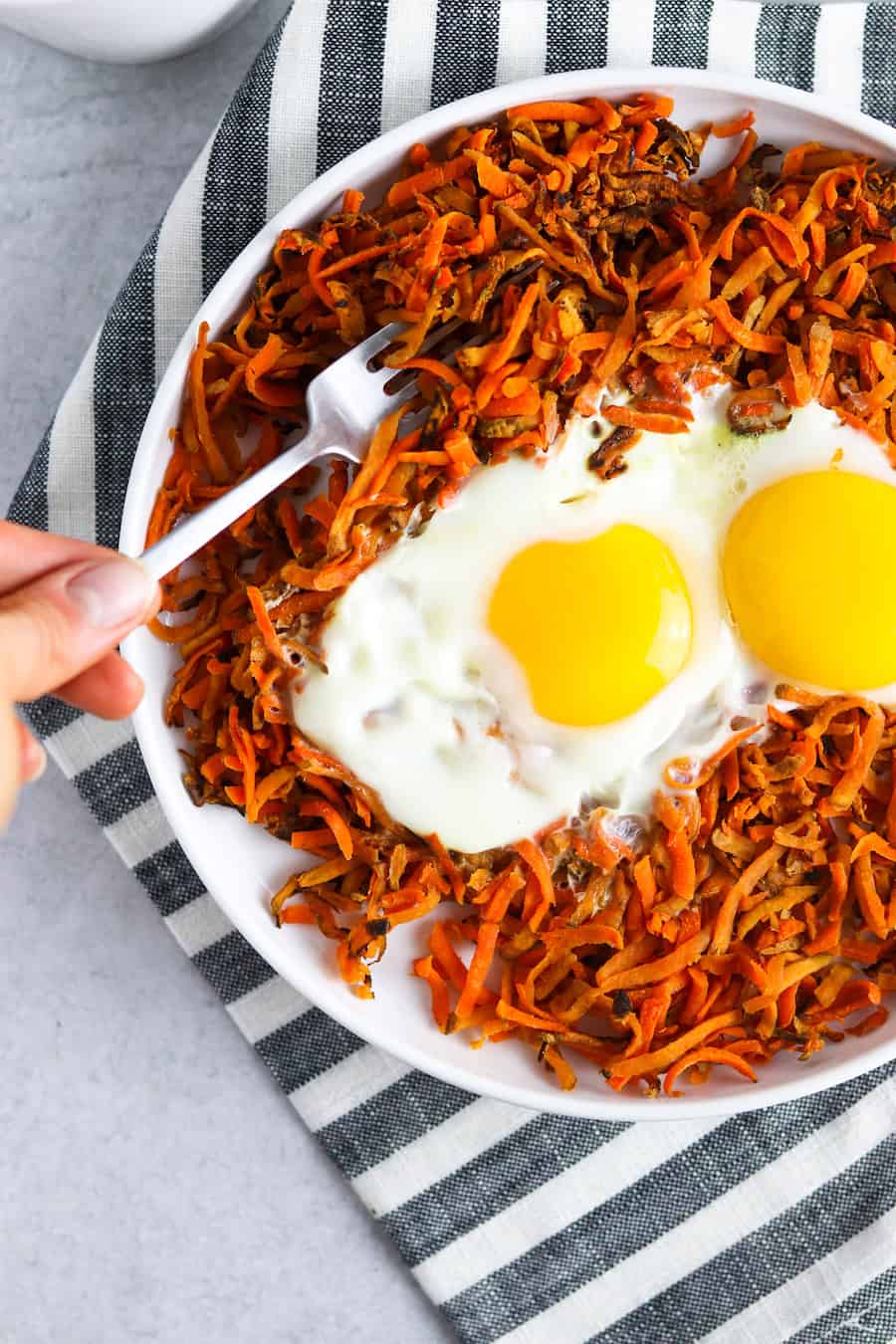 Okay, let's go through the 3 main ingredients of this sweet potato hash & egg skillet real quick:
Sweet Potato Hash & Egg Ingredients
Sweet Potato
I'll say it once and I'll say it again, your body NEEDS carbs. Especially at dinner. Why? You're about to fast (i.e. not eat) for a long time while you're sleeping. And, guess what? Your body STILL needs energy when it does that! Having carbs at dinner will allow you to have sustained energy overnight and prevent you from waking up FAMISHED, which is likely to cause A.) hanger and B.) overeating.
Carrot
Carrots are my fave veggie. They're loaded with nutrients like vitamin A, potassium, and fiber. I also love that they're a little sweet. Such a powerhouse veggie!
Eggs
For eggs I make a point to choose Eggland's Best Eggs. They have superior nutrition compared to your standard store brand eggs. They have 10x more vitamin E (fab for skin and joint health), 6x more vitamin D (helps keep those bones & muscles strong) and they're an excellent- or should I say EGGcelent- source of Vitamin B2 (this helps to actually get the carbs you eat into energy you can use). Simply picking up the EG stamped eggs VS the ordinary brand will amp up the nutrition of any egg dish you make. Plus, I can honestly taste the difference between the two. The yolks in Eggland's Best Eggs are so rich and flavorful. Seriously yolk porn goin' on!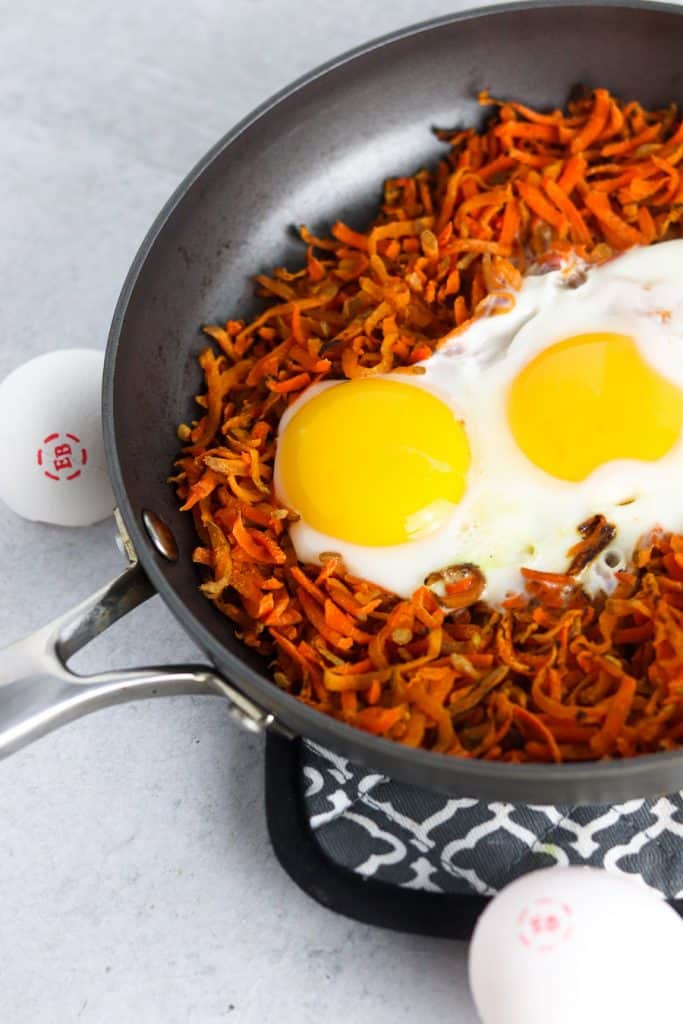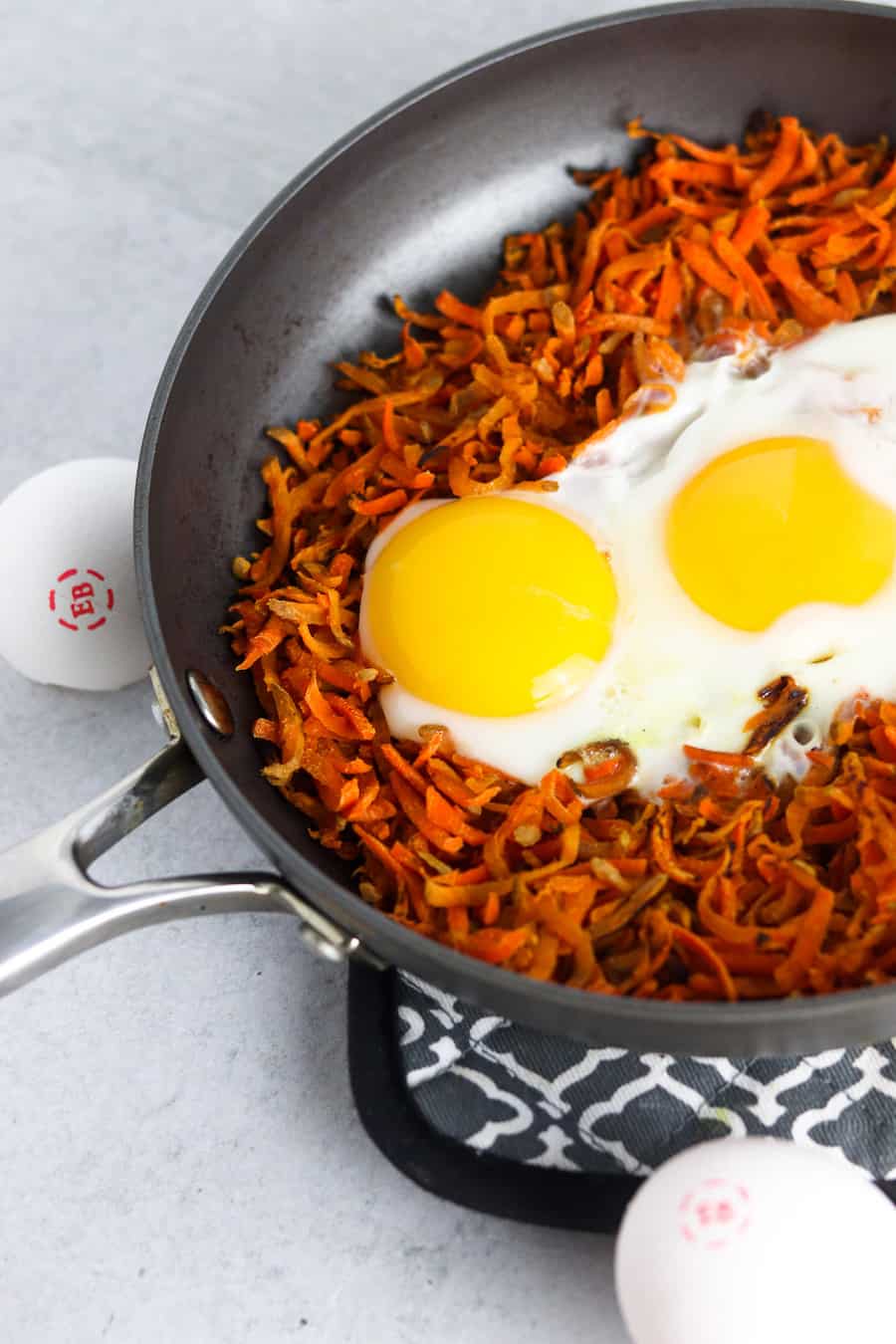 Don't Fear The Yolk
I remember there was a solid 6 years where I never allowed myself to eat the yolk. I thought it was a "waste" of calories. But, lordy, was I wrong! I was able to overcoming my food rules of lowest calorie option = best option and now I LOVE eating Eggland's Best Egg yolks. They taste delicious and help keep me satisfied for so long. If you're avoiding the yolk because of obscure food rules, like sticking to the low-cal option you can snag my roadmap to finding food freedom here. I'm sharing my exact roadmap of how I made living with no food rules a reality!
Like I said, this sweet potato hash & eggs recipe is seriously the easiest. Plus, you can totally prep the veggies beforehand and throw them into a pan when you're ready to get cookin'. Meal preppers rejoice!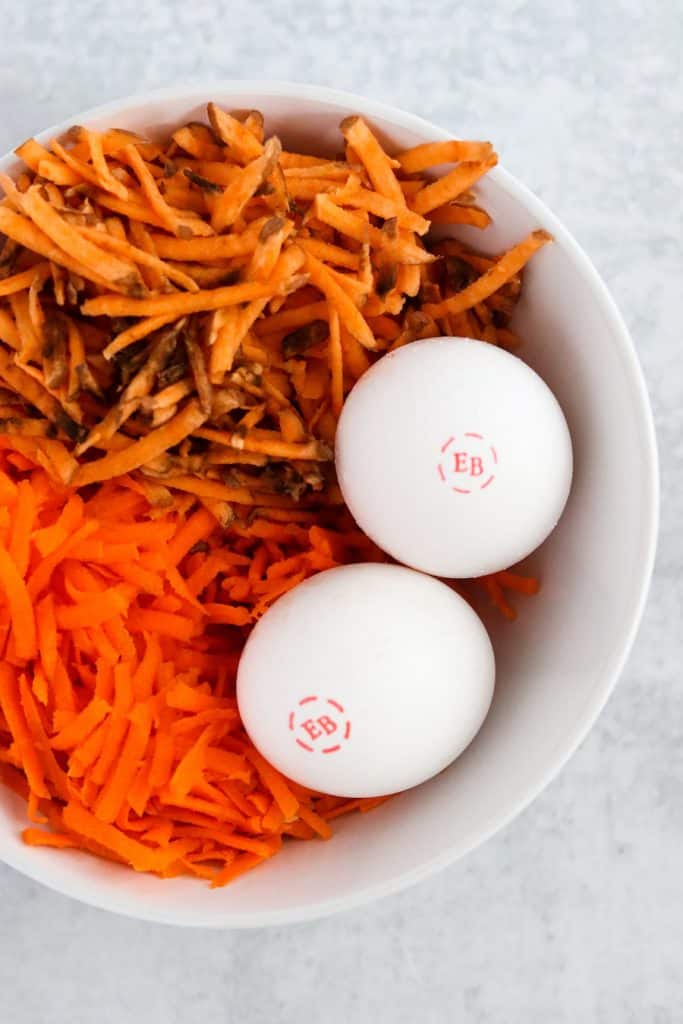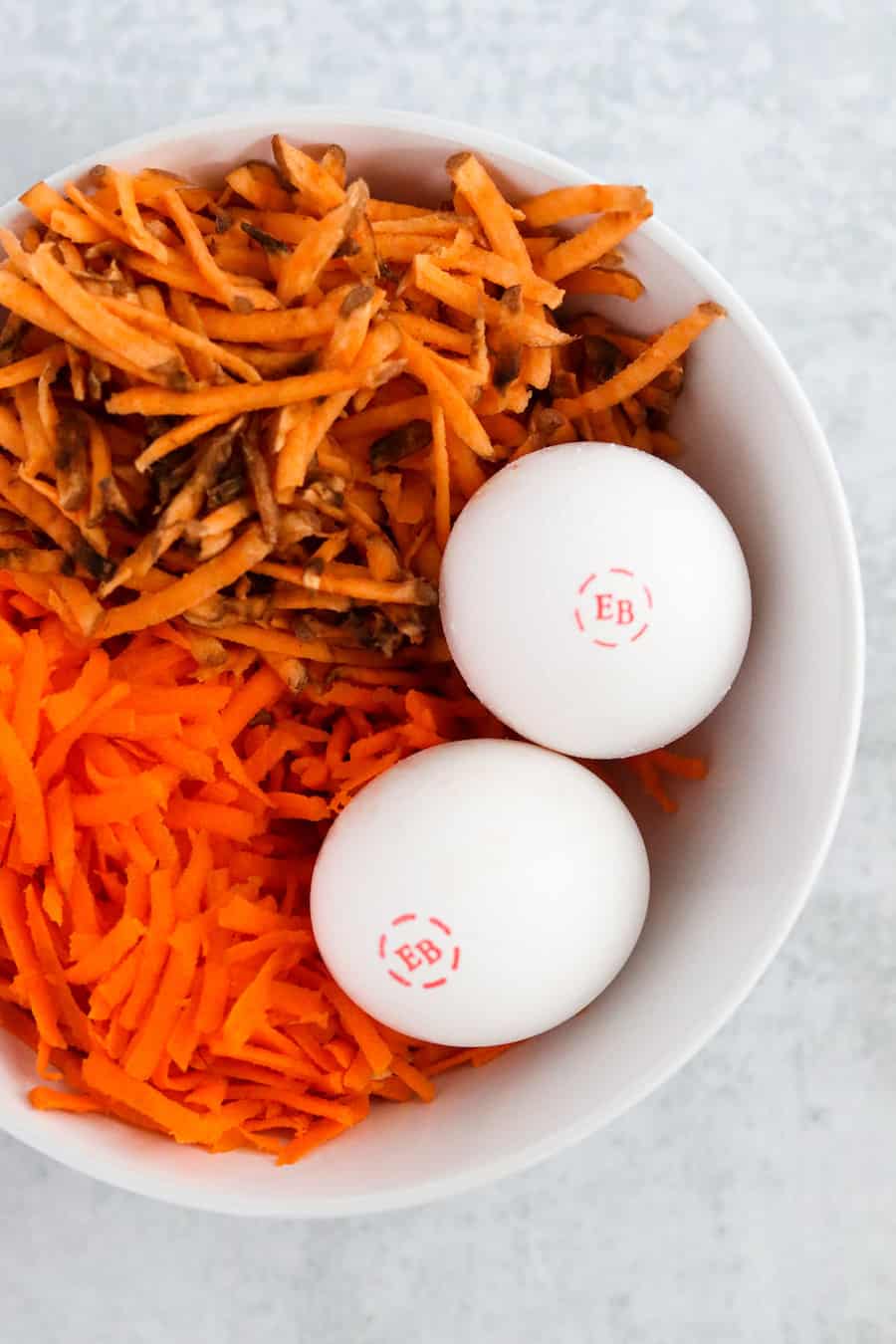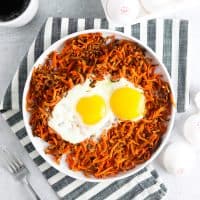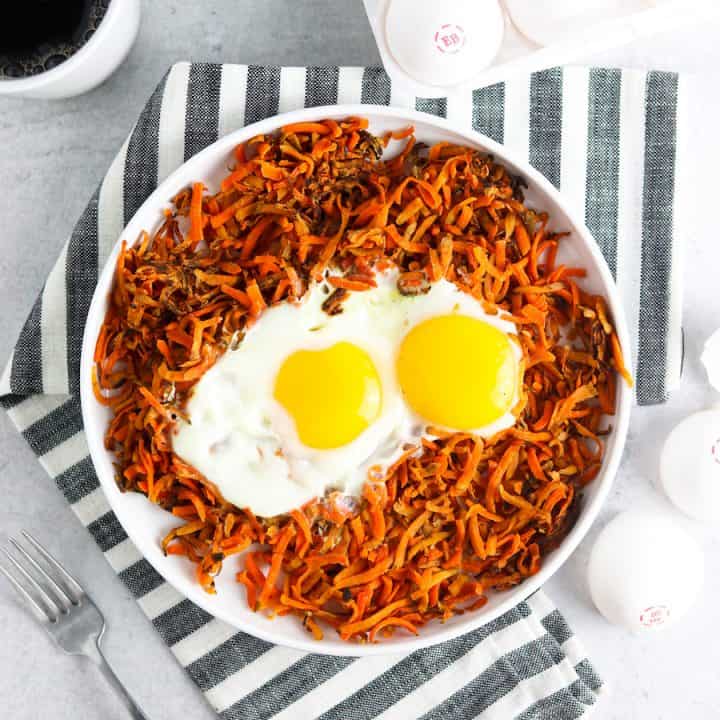 Sweet Potato Hash & Eggs
This easy sweet potato hash & eggs skillet is a one-stop-shop (and one pot!) for any meal!
PRINT RECIPE
Ingredients
1

small-medium sweet potato

washed & scrubbed

2

large carrots

peeled

Dash of onion powder

optional

Dash of garlic powder

optional

2

Eggland's Best Eggs

Pinch

of salt
Instructions
Using a food processor, shreds potato and carrots

Heat a large pan on medium-high heat and lightly spray with non-stick spray

Sauté shredded potato & carrot for ~5-6 minutes until soft

Add onion and garlic powders to cooked sweet potato & carrot

Next, create two small welts in the potato & carrot mix to place you eggs. Crack eggs into these welts. Top with a pinch of salt.

Cover the pan with a lid and cook for ~2 minutes, until eggs are cooked sunny-side up. The egg whites will be cooked firm, but the yolks will still be runny.

When eggs are fully cooked, remove pan from heat, serve and enjoy!
Notes
Feel free to customize the spices in this recipe, these are simply the ones that I used. Add some red pepper flakes for spice or herbs for additional flavor!
Regular, white potatoes can be substituted for the sweet potato.
This recipe can easily be doubled, tripled, or even quadrupled to serve a crowd!
click To display nutrition info
Get into the kitchen and whip up this easy sweet potato hash  & eggs skillet then come back and leave a comment with what you think! And let me know what meal you had it for- are you a brinner lover like me?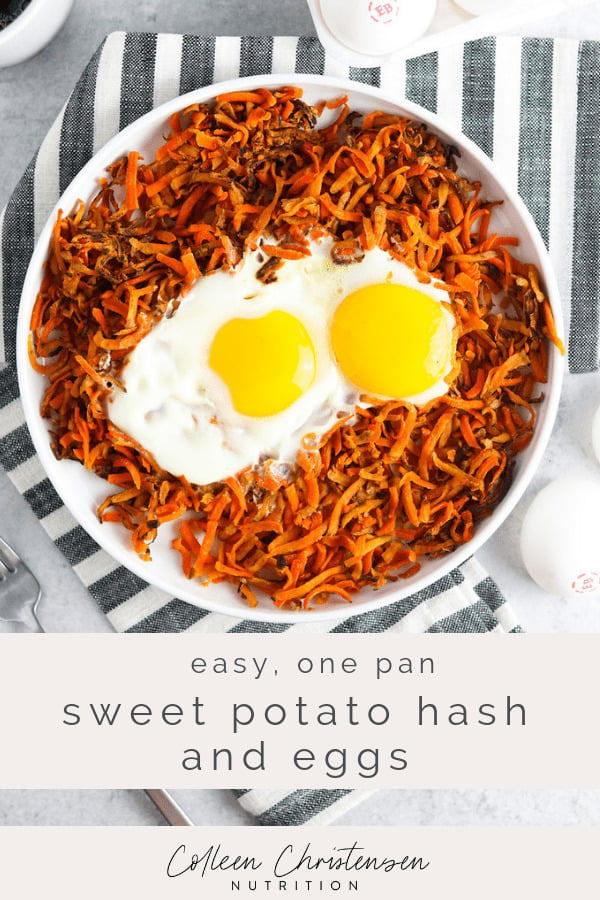 Happy eating!
XOXO
-Colleen
Want more recipes like this one? You might like these!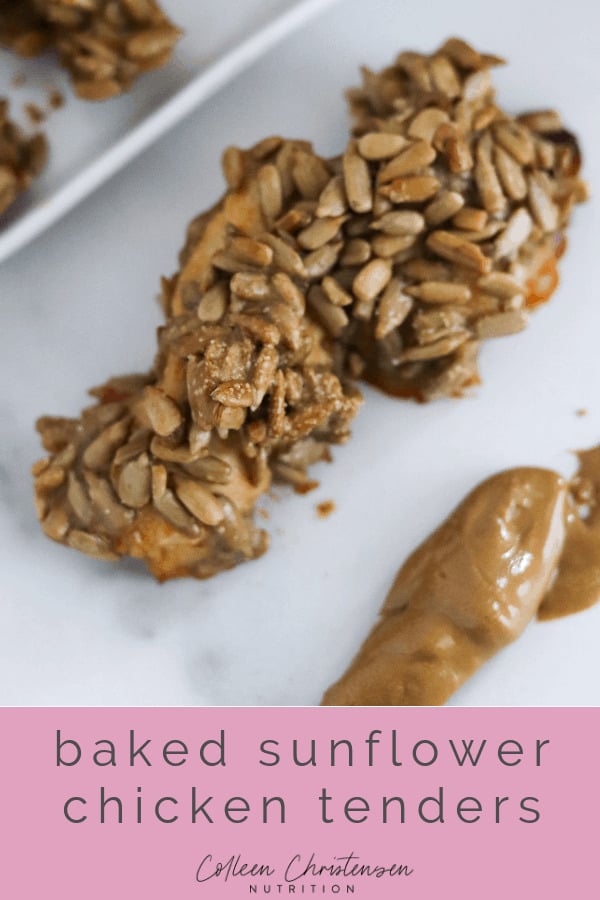 Baked Sunflower Chicken Tenders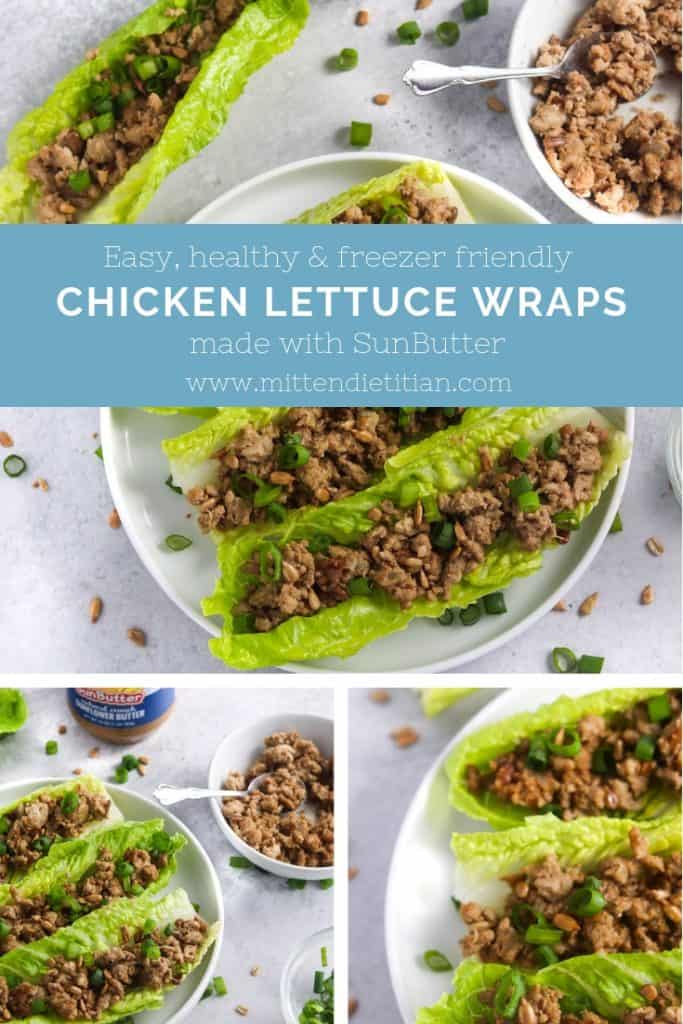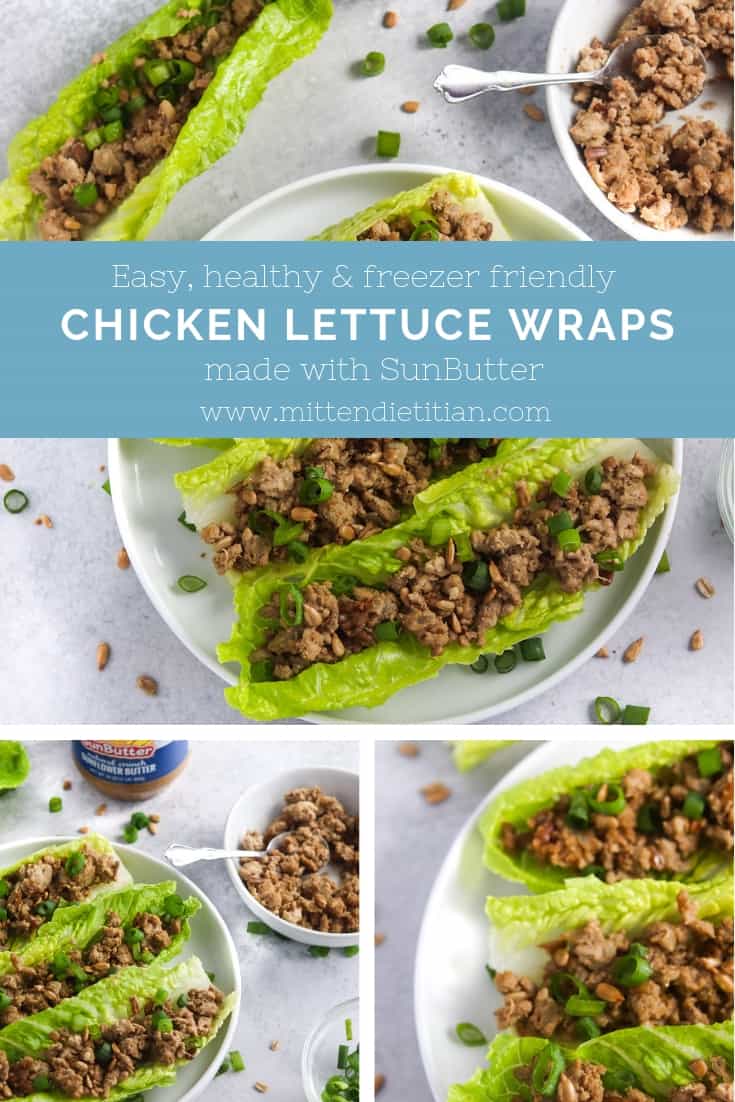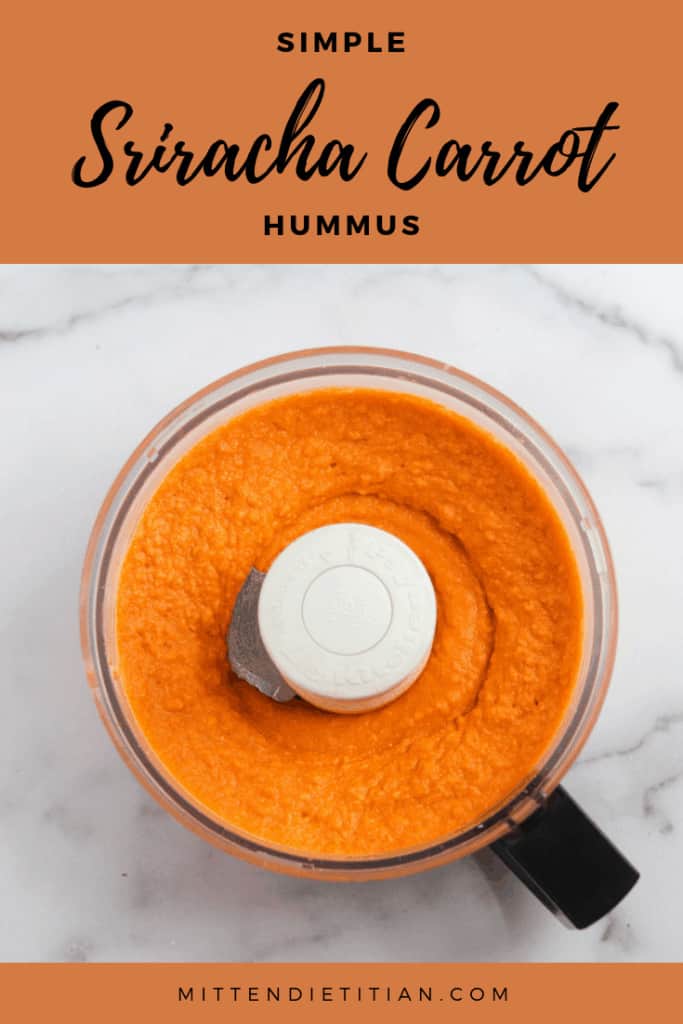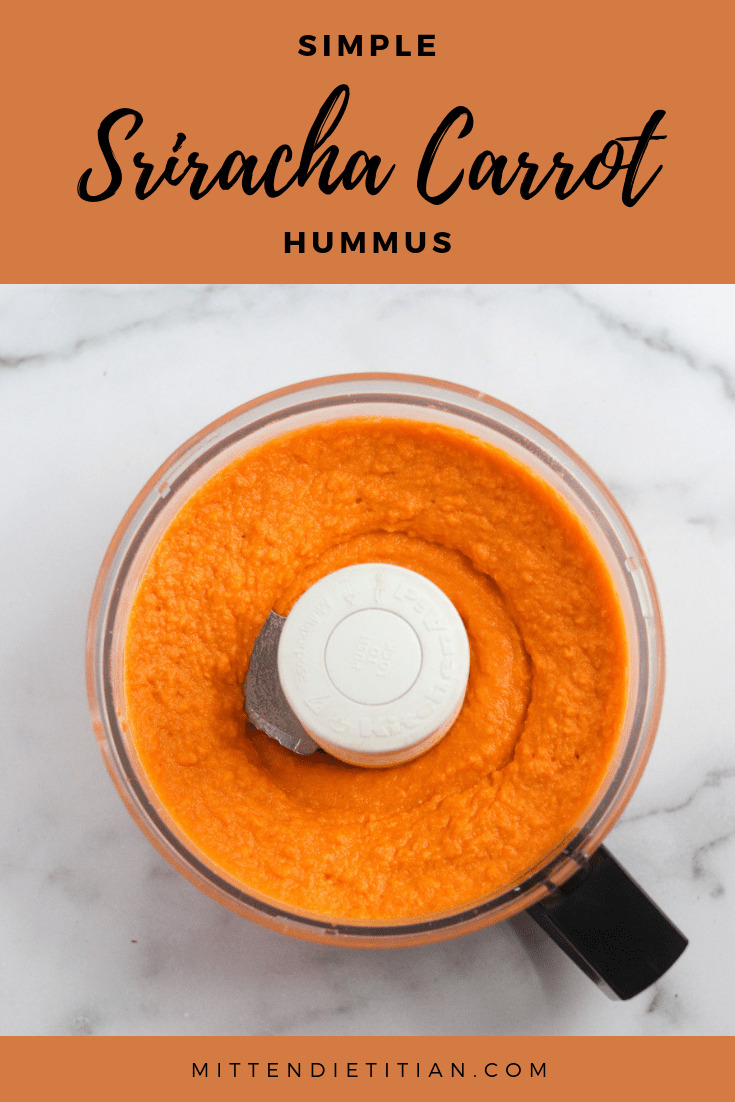 **This post has been sponsored by Eggland's Best Eggs. However all thoughts and opinions are my own**