Most of you know the weekly tradition in my house of Sunday Night Pizza Night. Every Sunday for almost the past four years we have eaten pizza for dinner on Sundays. And I mean every. single. Sunday. It started off as an easy, cheap meal for us to have after a long day of errand running in our early post-grad life, but even after life slowed down and stabilized, we continued the tradition. With the pizza we have one of two things: macaroni and cheese or soup. They way that I know that the colder months are officially here is when we switch from macaroni and cheese (our "summer" side) to soup (our "winter"side). Let me just tell you, the switch has happened and started off strong with some creamy butternut squash & tomato soup.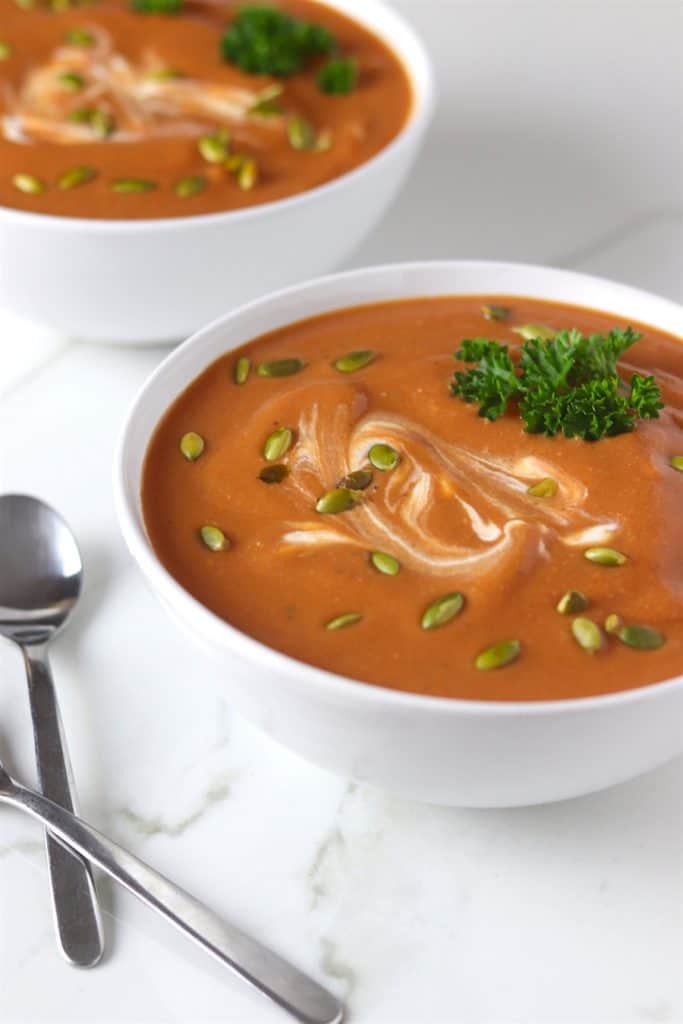 I'm a huge tomato soup lover. I could just SWIM in a big ol' creamy bowl of the red goodness. And, as a dietitian, I know how nutrient packed tomatoes are. They provide loads of antioxidants that are fabulous for your eye sight, skin, immunity, and so much more! However…. sometimes, those nutritious benefits can be overpowered by the amount of fat and calories that some tomato soups have. The solution to this little dilemma? Make it yourself!
If it sounds hard, relax, it's totally not. Plus, when you make it yourself you can add a little extra somethin' somethin' like I did here with adding butternut squash. Butternut squash and tomato are a POWER COUPLE. Their flavors compliment each other so well and the squash adds creaminess. Also, instead of using heavy cream, which many recipes use, I used non-fat greek yogurt which adds a little extra boost of protein, which I'm ALL about!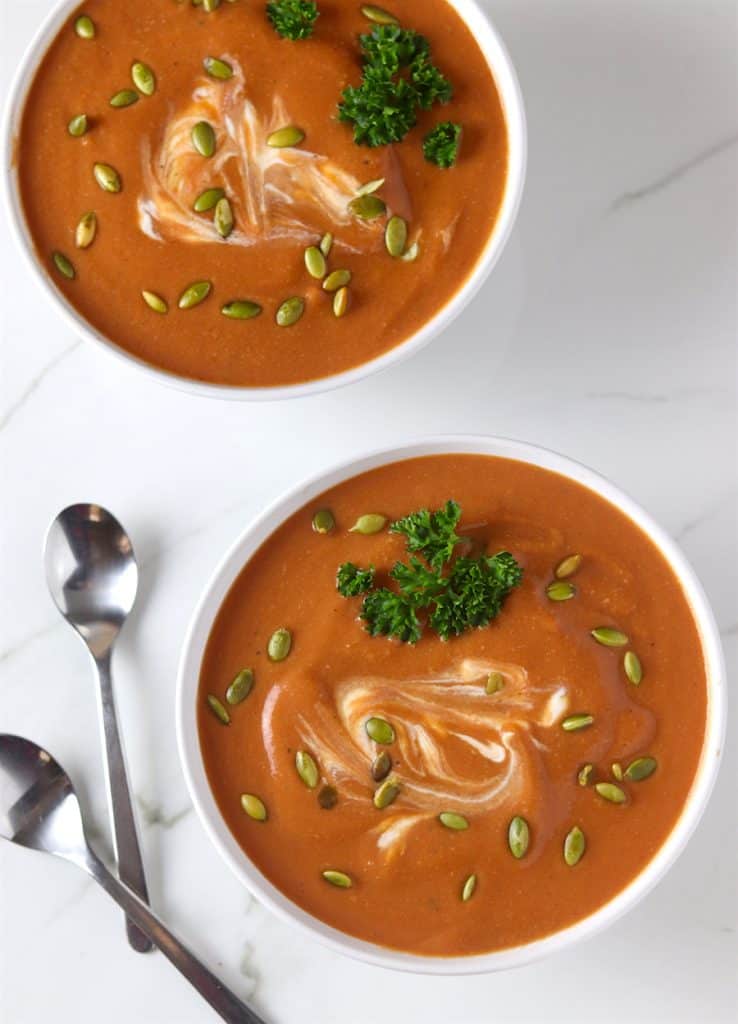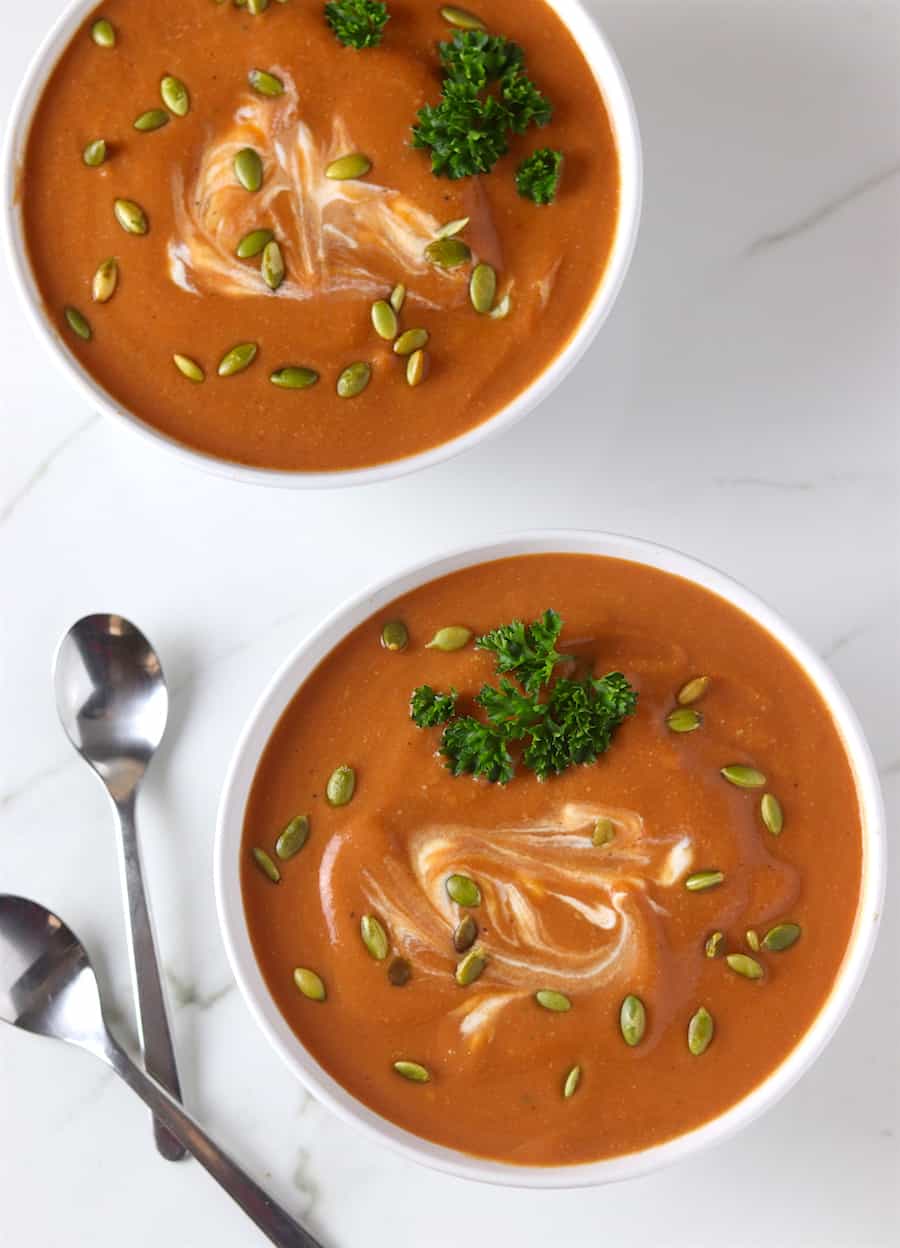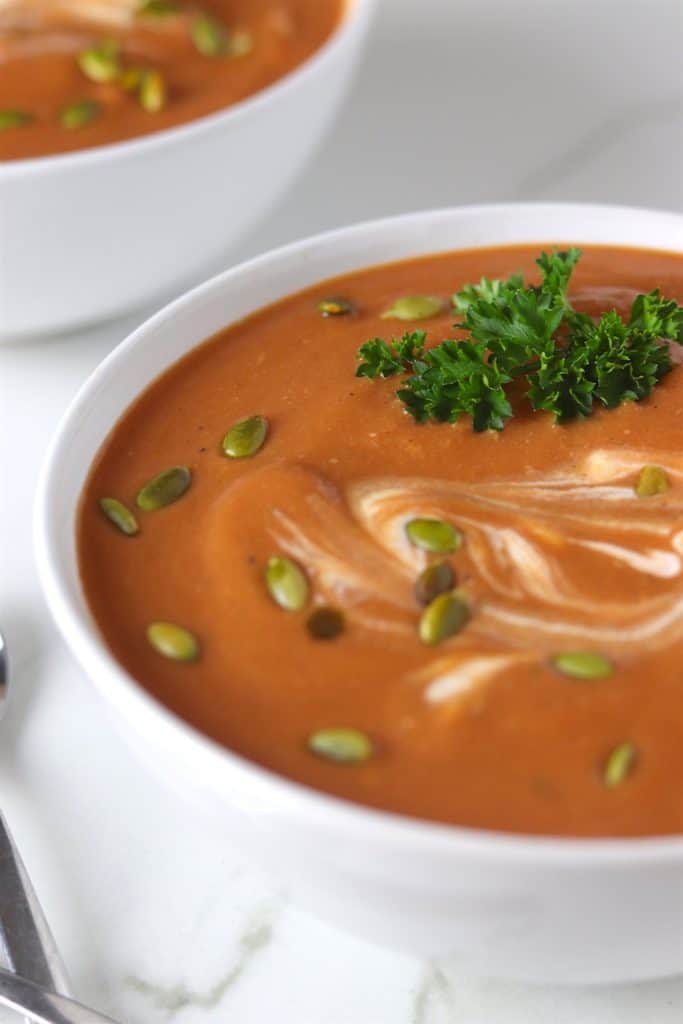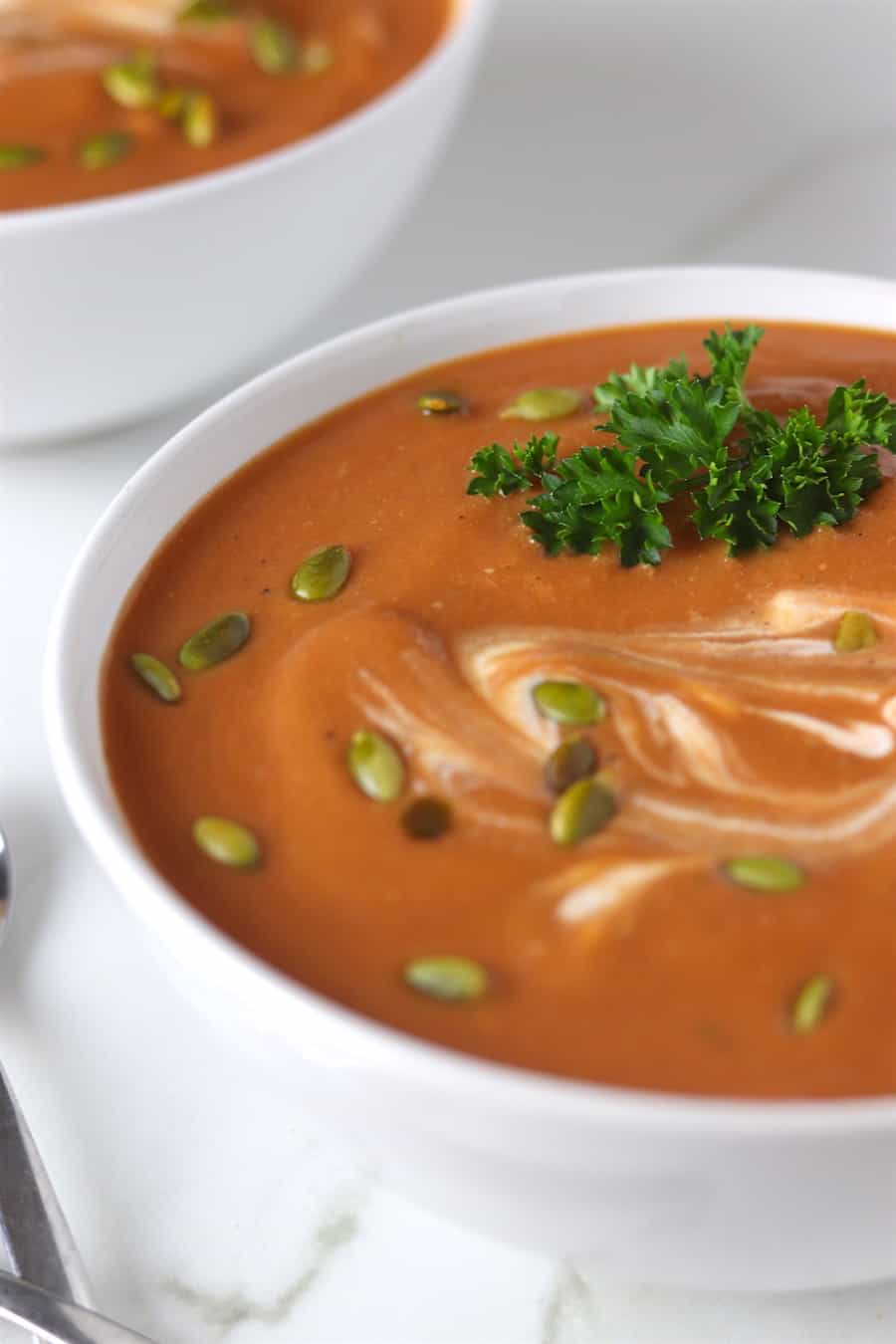 When you're picking your tomatoes choose wisely. I used high-quality Pomi brand tomatoes. Pomi uses 100% fresh Italian tomatoes with no funny stuff. They're non-GMO and all natural. Plus, they're diligent on reducing their environmental impact. All of their tomato products are BURSTING with amazingly fresh flavor, which is so important when it comes to creating an exceptionally delicious tasting dish.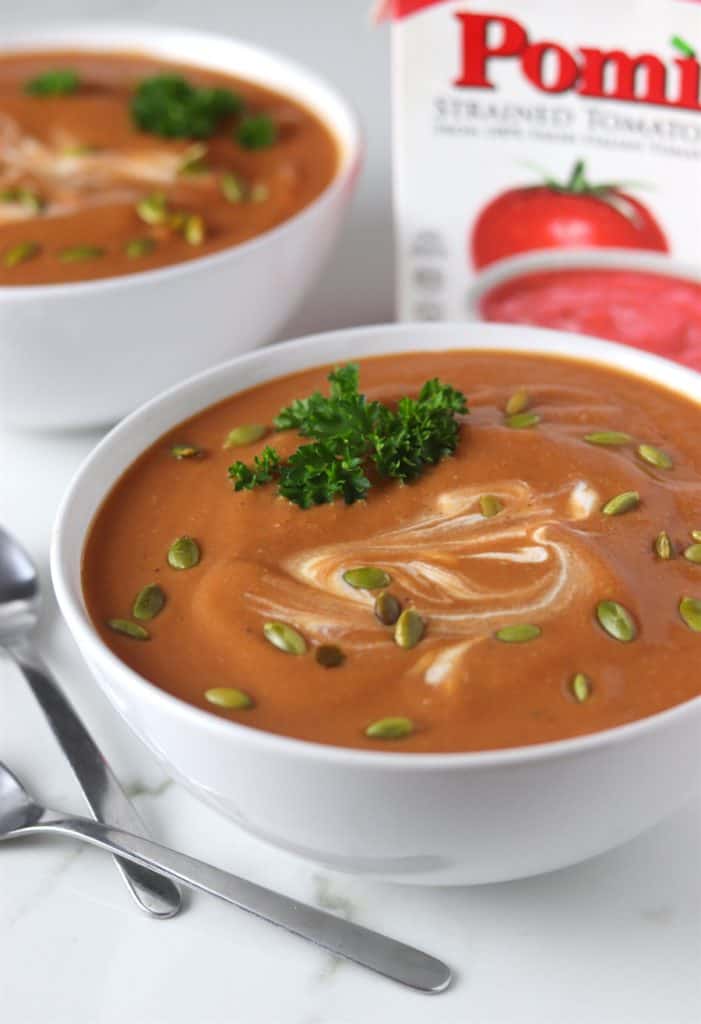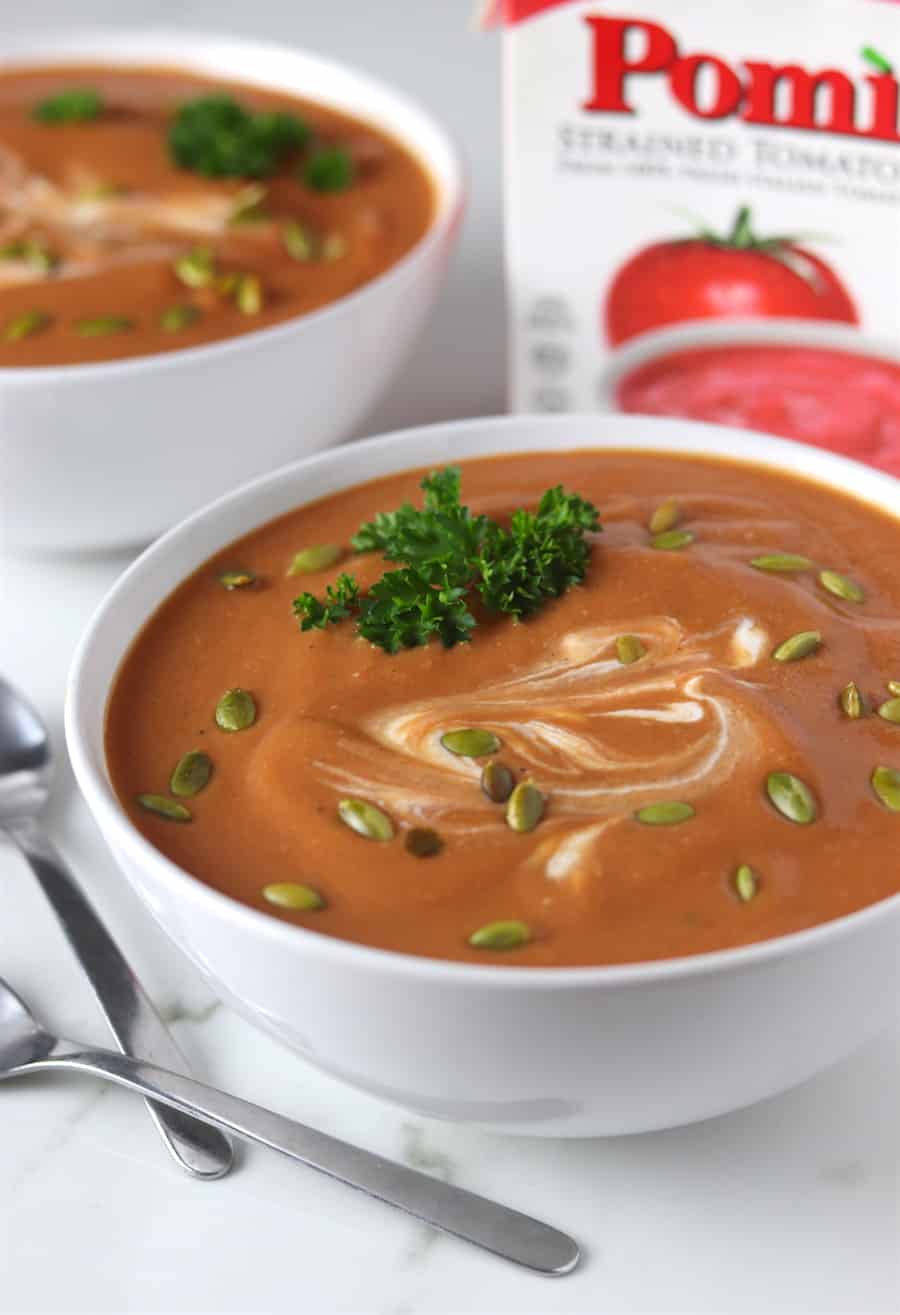 If you're a tomato soup lover, like me, then you need to try this recipe! Trust me, you'll want to swim in it too.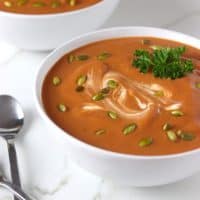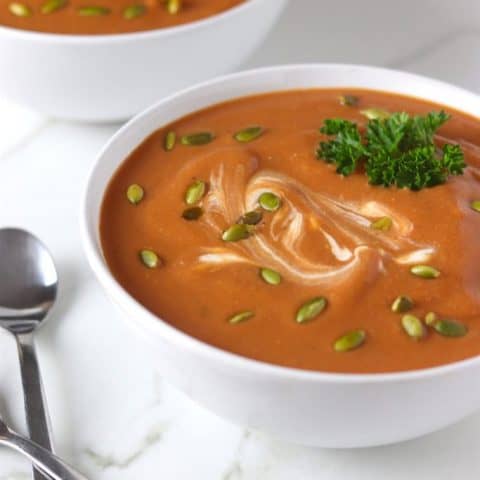 Creamy Butternut Squash & Tomato Soup
This easy creamy butternut squash & tomato soup is shockingly healthy! It's lower in calories and fat while packing a little extra protein punch!
PRINT RECIPE
Ingredients
2

cups

butternut squash

cooked

1, 26.46

oz

carton of Pomi strained tomatoes

1

cup

vegetable broth

2

garlic cloves

1.5

tbsp

nutritional yeast

1

tsp

cumin

1/2

tsp

salt

1/4

tsp

nutmeg

1/4

tsp

dried parsley

1/2

cup

plain greek yogurt
Instructions
In a large blender of food processor combine squash, tomatoes, stock and garlic cloves. Blend until it is a uniformly smooth consistency.

Transfer tomato mixture to a medium sized pot and heat on medium-low heat.

Add nutritional yeast, cumin, salt, nutmeg and parsley to the pot and simmer for 1-2 minutes, allowing the flavors to combine.

Next, slowly add in the greek yogurt and stir until evenly distributed and color is unform.

Serve warm. Garnish with additional yogurt if desired.
Notes
To cook squash you can roast it in the oven for ~45-60 minutes, or microwave it in a bowl of water for 5 minutes.
Other optional garnishes: roasted pepitas and additional parsley.
click To display nutrition info
Happy eating,
-Colleen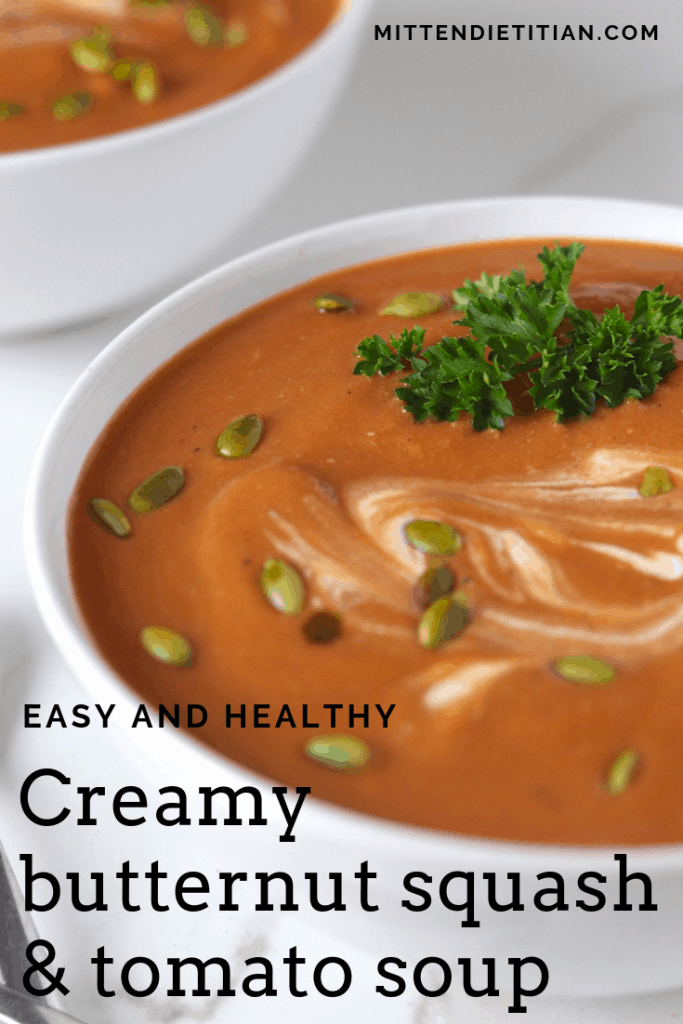 **This post has been sponsored by Pomi. However, all thoughts and opinions are my own**