How many times have you gone through the produce section at your grocery store or strolled through the farmers market, spotted something, and thought "What the heck is that?" The thought probably comes and goes followed by a "Hey, I've got stuff to do, so let's stick to the list already." I'll admit I do this frequently, and it sometimes causes me to get sucked into a cooking rut. Yup, happens to me too. However, I was recently forced out of my kitchen comfort zone — and the result was delicious. This Swiss chard and mushroom quinoa not only tasted fab, but it reminded me that trying new things can be like a breath of fresh air.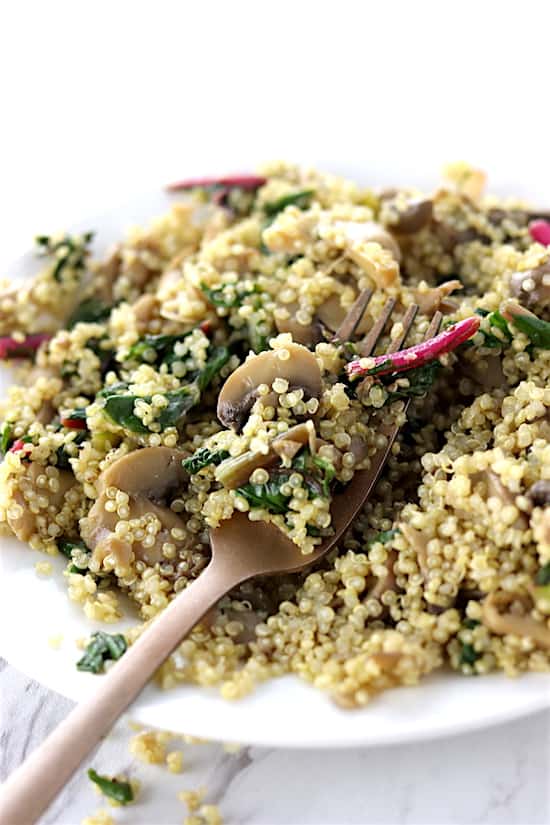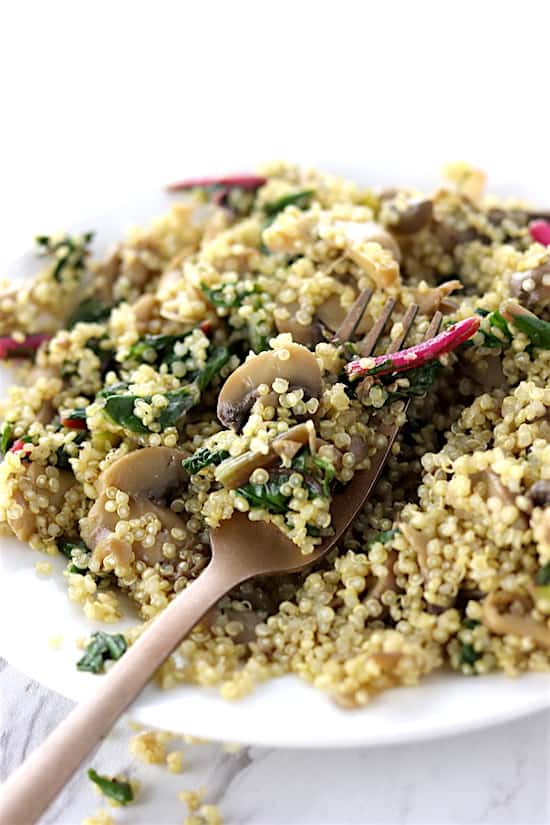 Joe's parents get tons of produce weekly from their CSA. And since we, so conveniently, live about six blocks away, sometimes get any extras. There are always tons of fun things like fresh greens and herbs. Seriously though, you've never tasted a salad until you've had one made with farm fresh greens. Uh. Maze. Ing. Anyway, in one of our most recent hauls I saw a pop of purplish-pink mixed in there – Swiss Chard. Guys, I had no idea what in God's name I was going to make with that, I had never used it before! It actually gave me a touch of anxiety because I hate food waste and thought that might be its destiny. Wrong.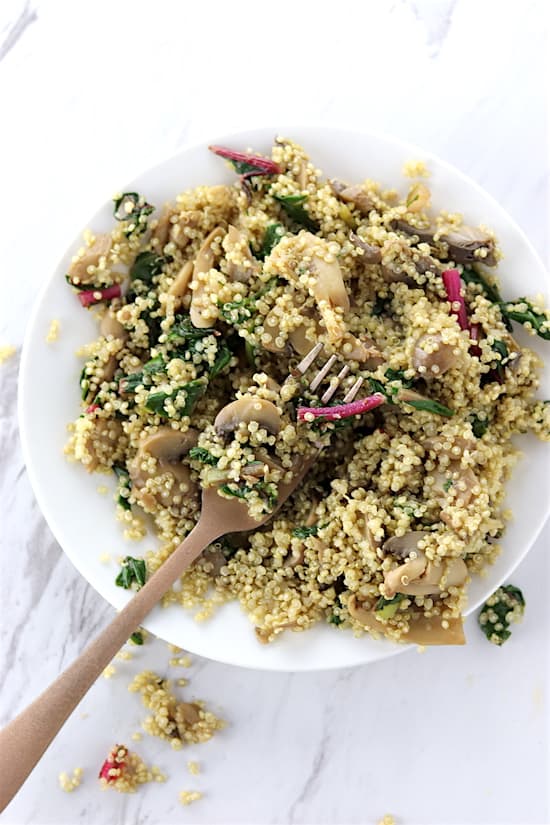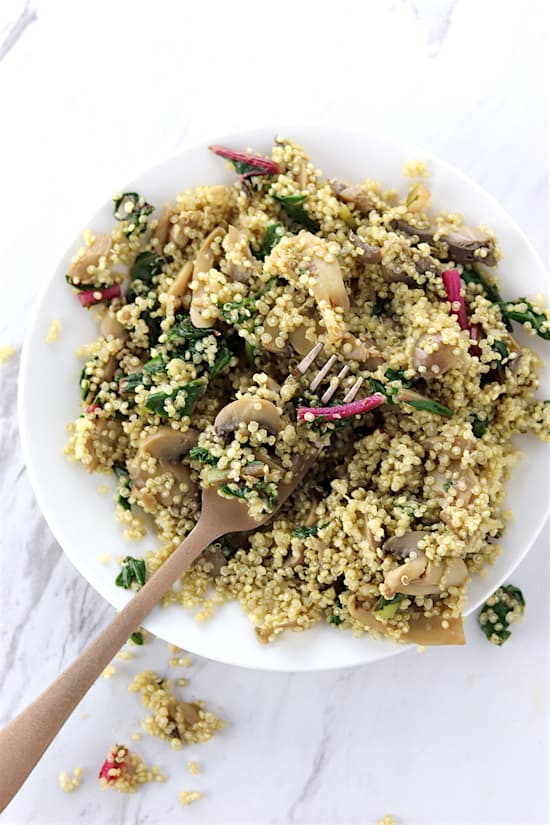 After a little searching I realized this little foreign thing was so simple and versatile to cook with. Sometimes, learning something new is literally as simple as a google search. Yet, we often think that if we don't know how to do something it's too hard or will be too much work to learn. Wrong again. Even something as simple as using a new ingredient made me feel accomplished and refreshed.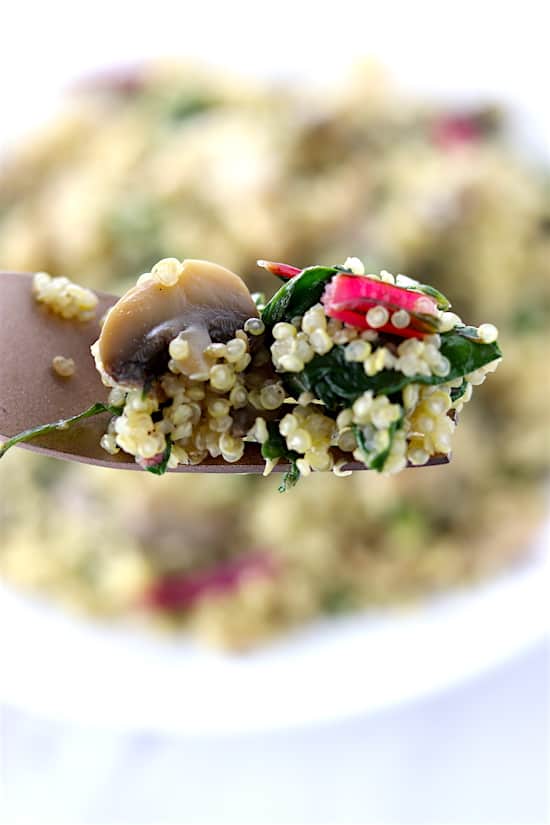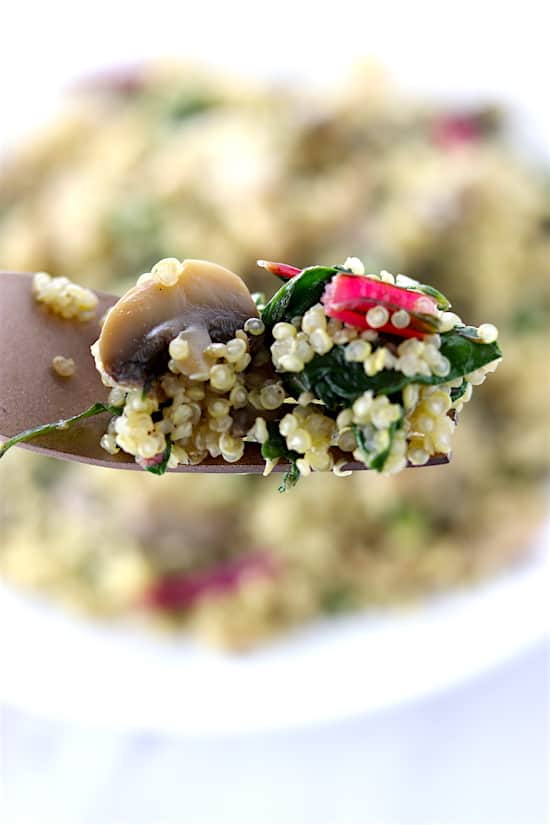 So, while I want to share this recipe with you all because it tasted bomb, I also wanted to share it with you to remind you to get out of your comfort zone, challenge yourself, and learn something new. Some pretty neat (and delicious) things can happen.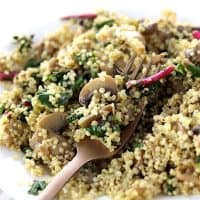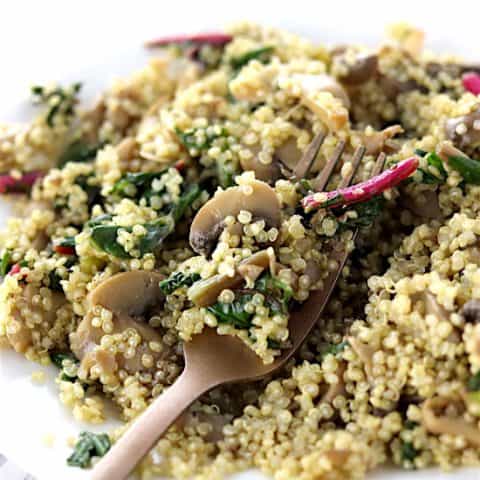 Swiss Chard and Mushroom Quinoa
This swiss chard and mushroom quinoa makes the perfect base for any meal. Add lean protein, like grilled chicken, or try tofu to keep it vegan.
PRINT RECIPE
Ingredients
1

cup

uncooked quinoa

2

cloves

garlic

2

tsp

Extra virgin olive oil

2

cups

swiss chard

2, 4

oz

cans of mushroom pieces

Salt and pepper to taste
Instructions
Cook quinoa according to package directions, stopping ~1-2 minutes shy of suggested cooking time.

While quinoa is cooking, heat oil in a skillet. Once hot, add in garlic (I used a garlic press, but you could also finely chop)

Next, add Swiss chard and sauté until wilted, ~1-2 minutes. Add in mushrooms, season with salt and pepper, and cook for ~1 minute until heated through.

Add swiss chard mixture to quinoa and cook for last 1-2 minutes

Voila! Dig in!
click To display nutrition info
Nutrition Facts
Nutrition Facts
Swiss Chard and Mushroom Quinoa
Amount per Serving
% Daily Value*
* Percent Daily Values are based on a 2000 calorie diet.
What have you been holding back on because you don't know how? Let me know — and then go learn!!
Happy Eating,
-Colleen
Don't forget to pin this recipe – and motivation to keep learnin' – for later!