Creamy, nutty, sweet, and so easy to make, these 3 ingredient peanut butter energy balls are everything! Made with oat flour and peanut butter with an option to dip in melted chocolate, you will love this nutrient packed recipe!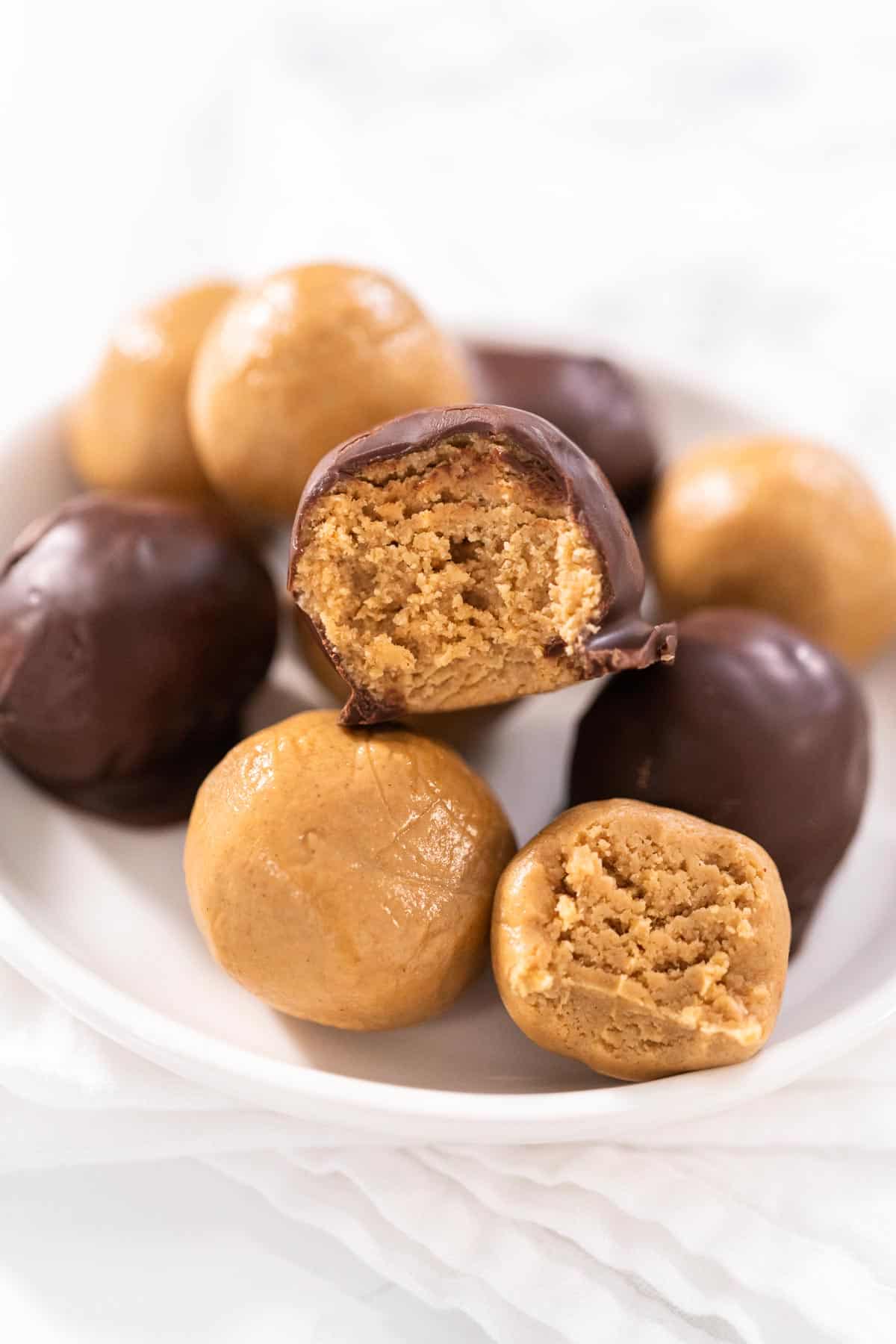 Why This Recipe Works
Ahh, 3 ingredient peanut butter bliss balls that give you all the energy you need. What could be better? Chocolate peanut butter balls–there I said it. When you are short on time and just want a quick breakfast or snack, these easy protein bites definitely come in handy.
Prepare these no-bake energy balls for meal prep to make sure you have plenty of snacks to eat throughout the week. I love this recipe because one ball contains so much protein which is perfect if you need a quick boost of energy.
Chocolate and peanut butter go hand and hand. Indulge in yourself and dip these protein balls in melted chocolate or just keep things plain by leaving it out. Either way, these peanut butter bites make the perfect companions with a ton of nutty flavors.
If you're looking for more ways to incorporate delicious treats into your daily habits, then be sure to join my premium membership where I share tons of tricks, tips, and advice on how to eat intuitively with all kinds of foods and recipes.
Ingredients Needed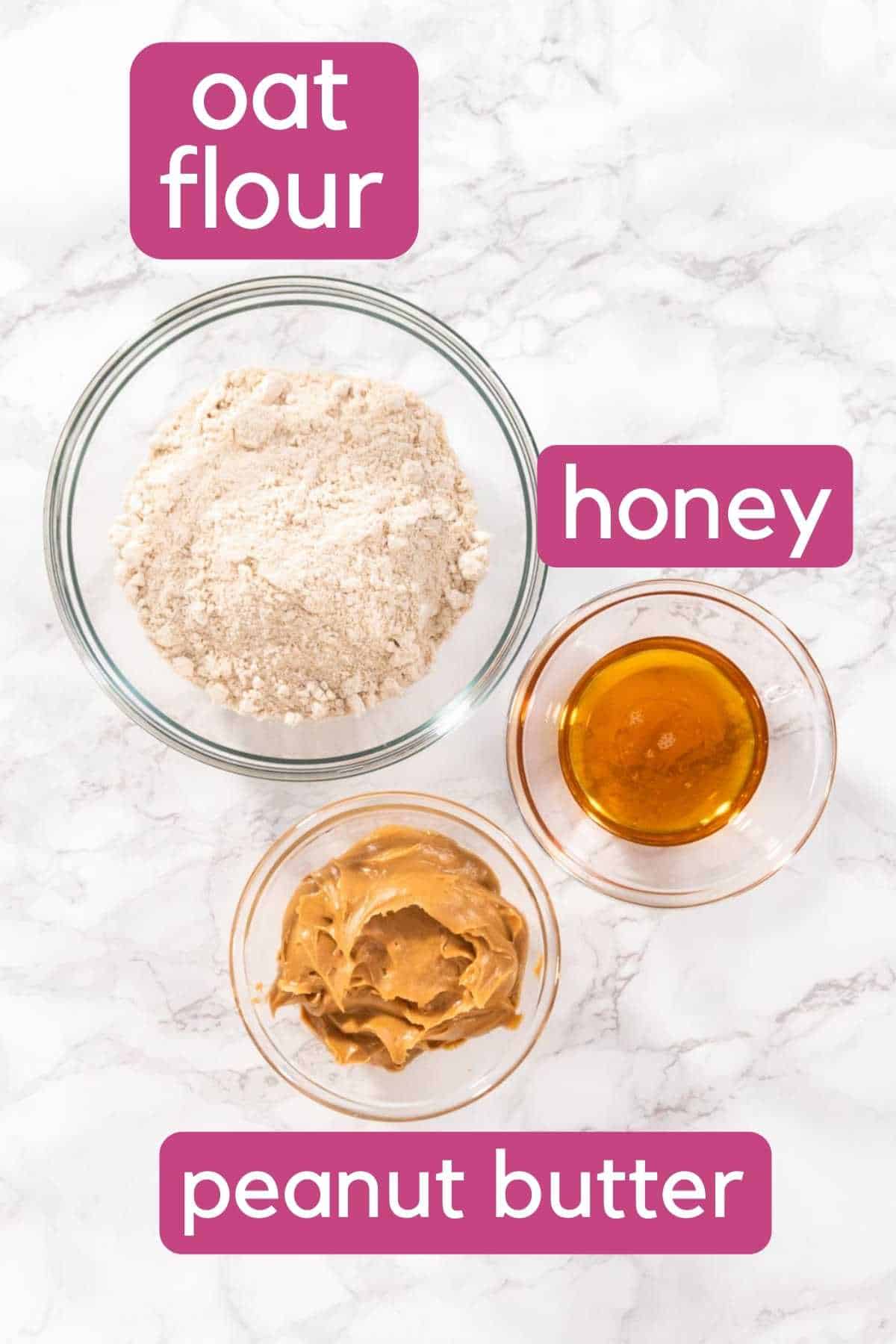 Peanut Butter: I use creamy peanut butter to keep things smooth and easy to work with. I'm sure you could use crunchy peanut butter, too, if you like texture!
Oat Flour: Oat flour holds these peanut butter balls together and does not need to be heat treated prior to using!
Honey: Just a little bit of honey is used to give this recipe a little sweetness. You don't need much!
Optional for dipping in chocolate: Chocolate chips and coconut oil
How to Make This Recipe
In just very few steps, you will have your very own old-fashioned peanut butter balls ready to be eaten! This recipe is super easy and stress-free!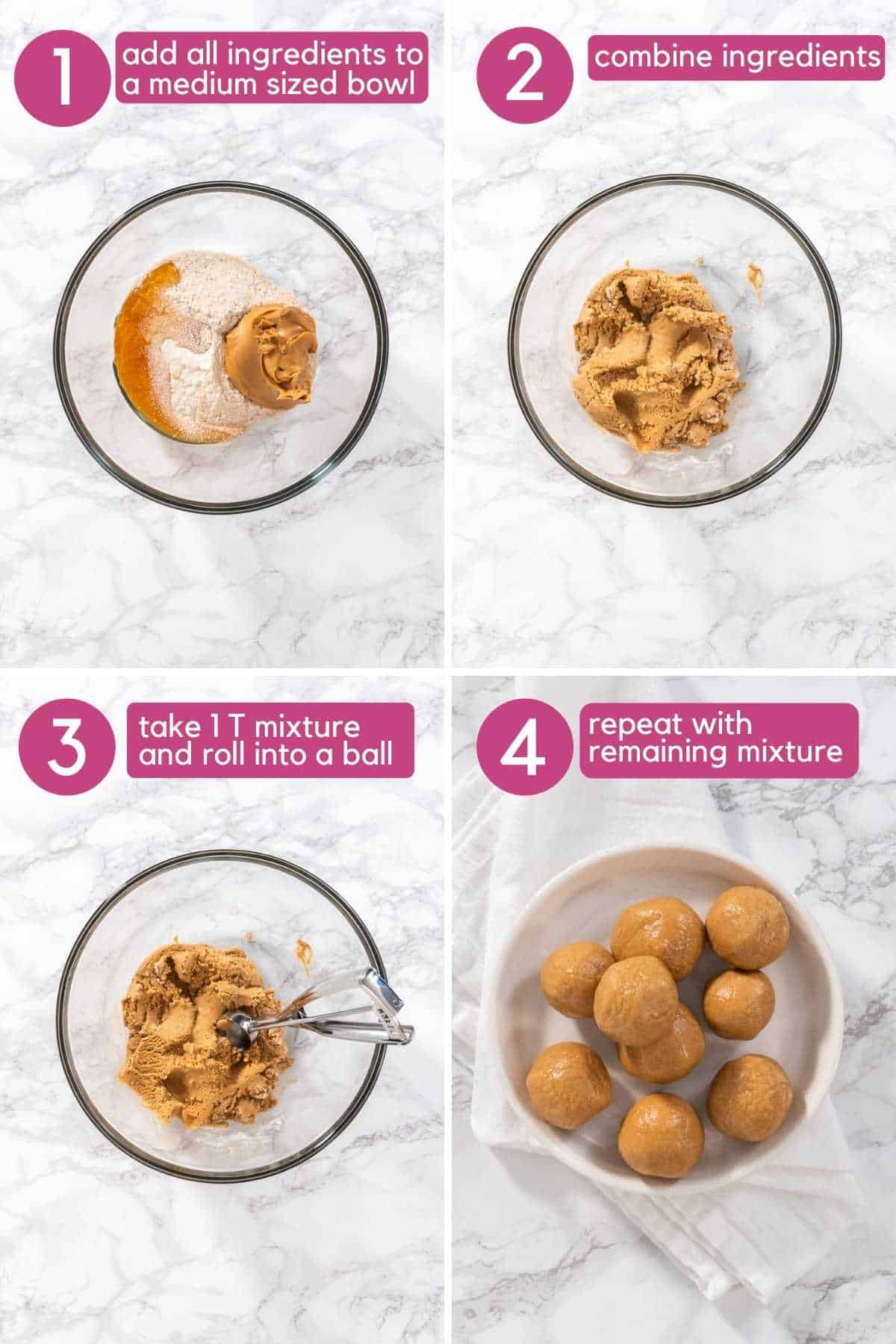 Step One: First, mix all of the ingredients with a rubber spatula in a medium bowl. Make sure the mixture is uniform and evenly mixed. There should be no lumps of peanut butter or flour present in the mixture!
Step Two: Take about one tablespoon of the peanut butter mixture and gently roll it into a round ball. Repeat with the remaining peanut butter mixture until it is all gone.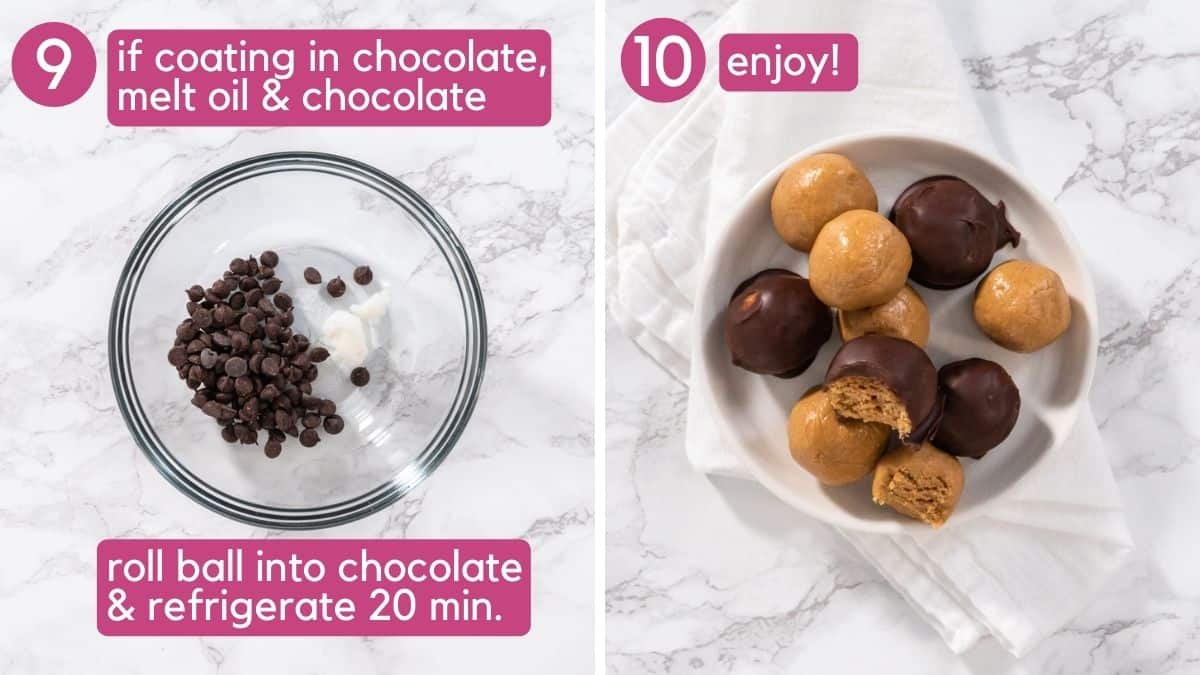 Step Three: If you are coating these protein balls in chocolate, then melt the chocolate chips and coconut oil in a small bowl in the microwave for 60 seconds. Make sure to check the chocolate every 20 seconds to stir and prevent it from burning.
Step Four: Once the chocolate has melted, individually dip the peanut butter balls into the chocolate until coated on all sides. Be sure the chocolate does not get too thick or thin. You want there to be a nice even layer!
Transfer the balls to a parchment paper-lined plate.
Finally, place the 3 ingredient peanut butter energy balls in the refrigerator for 20 minutes to harden and enjoy!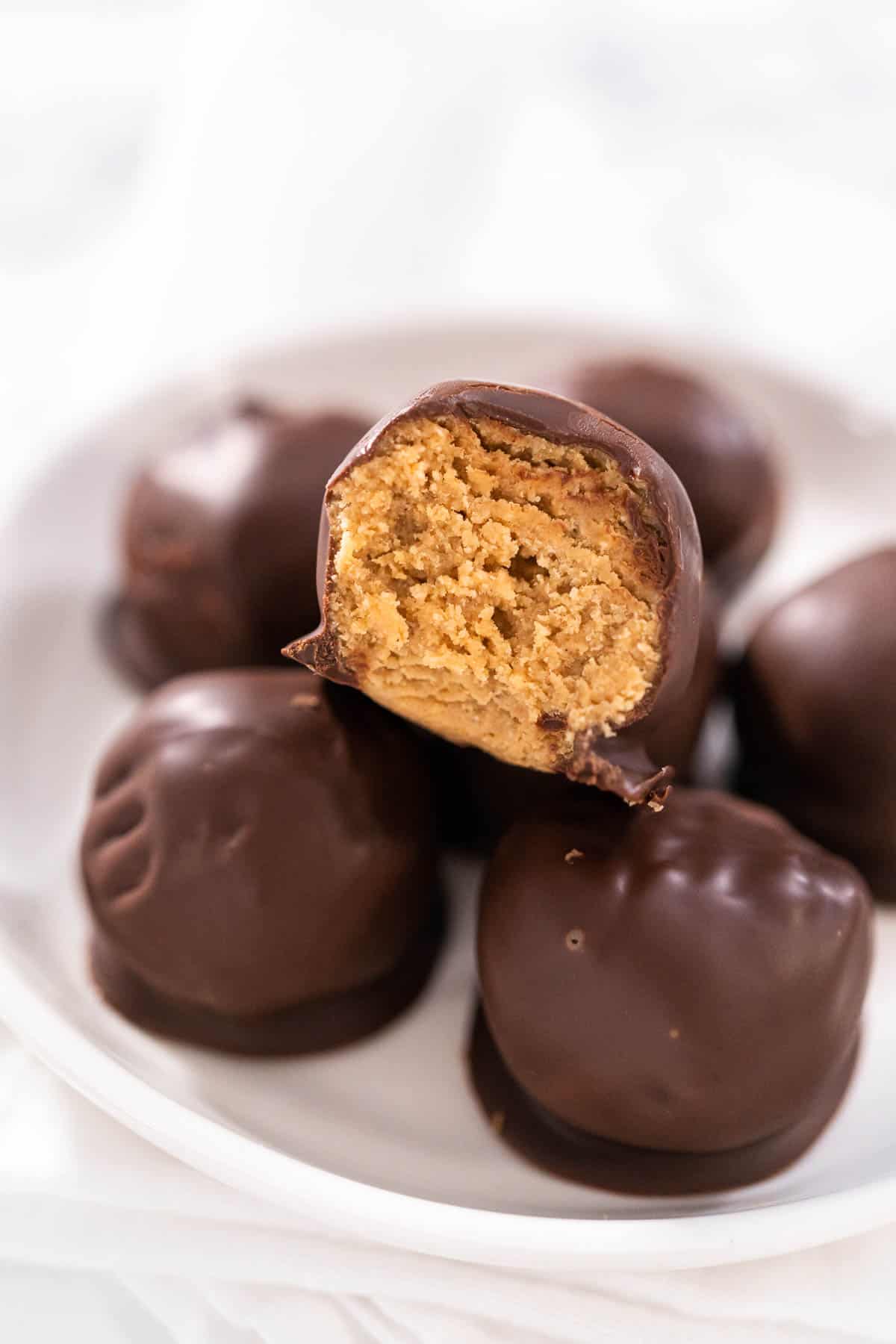 Recipe FAQs
What is in peanut butter balls?
Peanut butter balls can be made in a bunch of different ways, but I like to keep it simple with only three ingredients: peanut butter, honey, and oat flour.
What can you do with peanut butter?
Peanut butter is so versatile and handy for a variety of recipes! Add peanut butter to sauces, smoothies, shakes, chia pudding, overnight oats, oatmeal, protein balls, etc.
How do you dip balls in chocolate?
You can either dip the balls in chocolate with your hands or use a fork or spoon to gently place the balls into the chocolate.
Why is homemade peanut butter runny?
Homemade peanut butter has been minimally processed and contains all of the natural oils and fats from the peanuts. Just mix the peanut butter together before using it!
Expert Tips
Freeze these energy balls for later by placing them on a baking sheet and freezing for thirty minutes to an hour. Once frozen, transfer the peanut butter bites to a freezer-safe bag, seal, and freeze them for three months.
Thaw the peanut butter balls at room temperature or in the refrigerator prior to eating if enjoying from the freezer.
Roll these balls in shredded coconut for extra nutty flavors.
I have only tested peanut butter for this recipe so I do not know how almond or cashew butter would work!
Store the leftovers in the refrigerator in an airtight container for up to one week.
Make vegan peanut butter energy balls by using maple syrup in place of the honey.
If you love this recipe, be sure to leave a star rating on the recipe card and leave a comment below!
Don't forget to pin it on your Pinterest board for later, or tag me on IG @no.food.rules if you try the recipe and love it!
More Recipes You Will Love!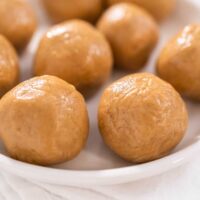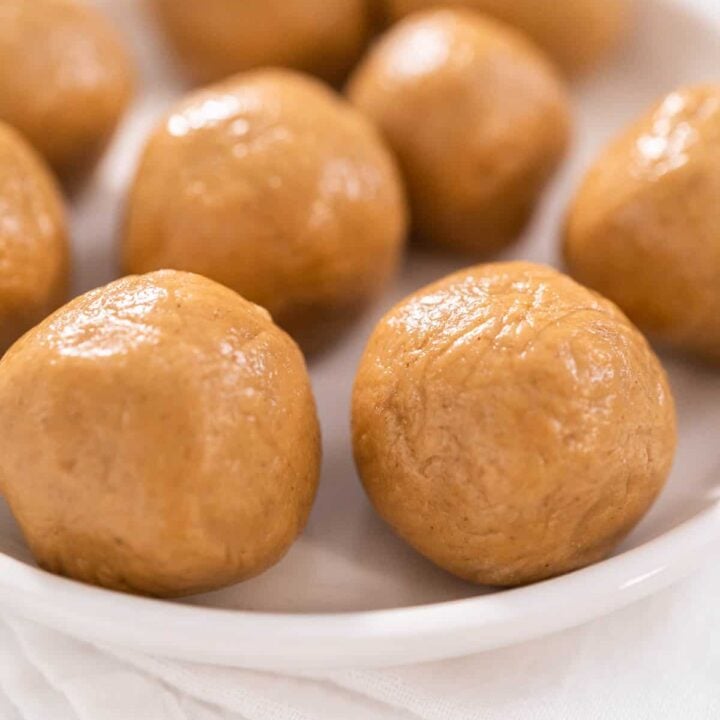 3 Ingredient Peanut Butter Balls
Creamy, nutty, sweet, and so easy to make, these 3 ingredient peanut butter energy balls are everything! Made with oat flour and peanut butter with an option to dip in melted chocolate, you will love this healthy recipe!
PRINT RECIPE
Ingredients
½

cup

peanut butter

creamy

⅔

cup

oat flour

very finely ground

2

tablespoons

honey

⅓

cup

chocolate chips

I used semi-sweet

1

teaspoon

coconut oil
Instructions
Mix all ingredients together in a medium sized bowl until you have a uniform mixture. You should not be able to see any lumps of oat flour or PB, it should be completely smooth!

Take ~1 tbsp of the mixture and roll it into a smooth ball. Repeat with remaining mixture.

If coating in chocolate, heat coconut oil and chocolate in the microwave for 60 seconds stopping every 20 seconds to stir.

Once chocolate is melted drop a peanut butter call into the bowl and roll it around to cover. Let as much chocolate drip off as you can while still having it be entirely coated (you don't want it to be too thickly coated OR be see through!) place on a parchment paper lined plate, then repeat with remaining peanut butter balls. Place in the fridge for 20 minutes to harden and enjoy!
click To display nutrition info
Nutrition Facts
Nutrition Facts
3 Ingredient Peanut Butter Balls
Amount per Serving
% Daily Value*
* Percent Daily Values are based on a 2000 calorie diet.