Is life feeling pretty difficult right now? Are you struggling with anxiety and loss of appetite…and just aren't sure how to move through it?
Firstly, I am so sorry that you're struggling right now. I've been there and man, is anxiety so dang draining. Thank you for visiting with me. I'd like to offer you some Intuitive Eating tools to help you to restore your appetite, even in the face of anxiety. It's tough!
As an Intuitive Eating dietitian, I'm here to help you nourish your mind, body, and soul using your Intuitive Eating toolbox.
Let's dive in.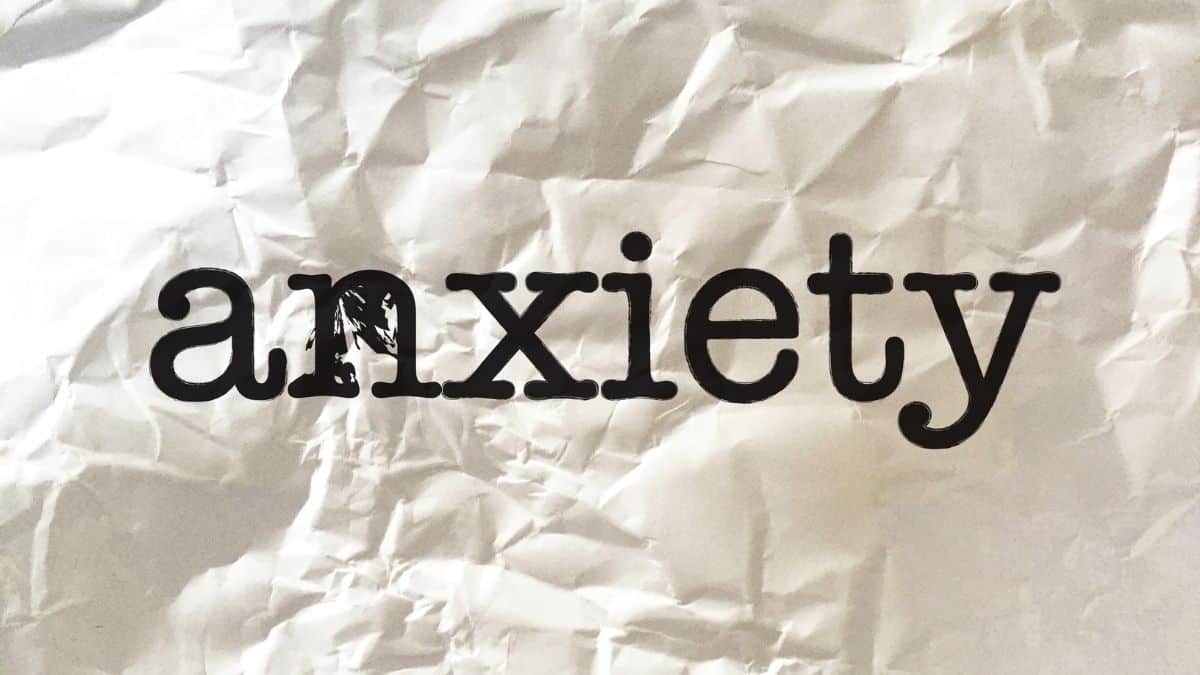 What is anxiety?
Let's start with the basics: what is anxiety…and is it "bad"?
Anxiety once in a while is your body's completely natural response to fear and uncertainty. It isn't bad, it is simply your body's way to communicate with you. We don't really like to be uncertain, and so anxiety is uncomfortable. Your body wants you to find more certainty!
If you have anxiety symptoms that persist longer than a few weeks, or anxiety symptoms that interfere with your normal daily routine, I recommend speaking with your doctor about it.
How do you know if you have anxiety? Let's talk about symptoms next.
What does anxiety feel like?
The interesting thing is that anxiety symptoms can manifest really differently from one person to the next. Some people might have a hard time sleeping or find it difficult to focus. Your heart rate might be racing and you might be restless and irritable.
These anxiety symptoms are your sympathetic nervous system gearing up to get your body out of perceived physical danger (even if there isn't any, your body may be thinking there is!). The increase in blood flow means that you're more able to escape danger. The tricky thing is that these days, we are anxious about things like bills to pay, deadlines and strife with friends or family – not escaping a saber-toothed tiger.
Sometimes people with anxiety find comfort in food and self-soothe in that way while others don't feel hungry at all. Like, not even a little bit.
There is no right or wrong way to "feel" anxious. However your body is choosing to communicate with you, this is an opportunity to build those communication skills, respond to them and to build trust with your body and yourself.
Why does anxiety make you lose your appetite?
When your sympathetic nervous system is in high gear – as in anxiety – your body is not prioritizing digestion. Your anxiety might pump the brakes on your hunger and now nothing sounds good. Ugh!
If you're struggling with anxiety and loss of appetite, you might feel frustrated and defeated: how are you supposed to eat when nothing sounds good?
As an Intuitive Eating dietitian, I know that sometimes the simplest message – eat when you're hungry and stop when you're full – can be the most difficult. While that message is a big part of of Intuitive Eating, it is a skill set that requires a lot of unlearning of diet culture, practice and patience. 
And not all days are smooth sailing. Especially when the anxiety dial is turned the heck up.
Friend, this is completely normal. Let's talk about some gentle strategies to help you to nourish your body in this moment when you're feeling anxious.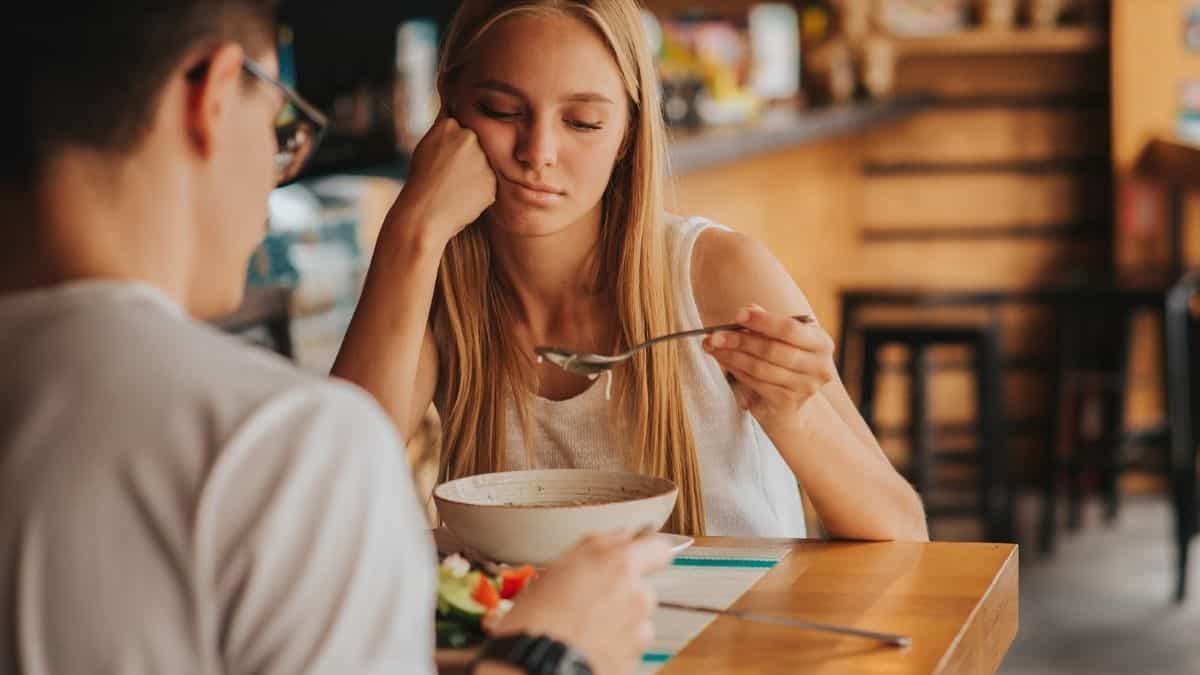 Practical hunger
When you're struggling with anxiety and loss of appetite, the Intuitive Eating tool that I'll hand you first is called "practical hunger." Practical hunger means that you're using your noggin to critically think about your body's needs for nourishment because your body's signals are less clear right now.
We talk about practical hunger in detail in The SociEATy intuitive eating membership community– intuitive eating is more than just "eat when you're hungry and stop when you're full! It means also using our noggins (totally a part of the body and therefore part of "listening to your body"!)
While I'm not about rules and numbers, sometimes guidelines are helpful. In general, we need to eat about every 3-5 hours throughout the day. If you're in an anxious state, it might be helpful to set an alarm every 3 hours or so and simply check in with yourself.
This is not an alarm that is bossing yourself around – you have to eat right now – but rather a chance to check in with yourself:
How are you doing?
How are you feeling?
Can we try eating a few bites of something?
When was the last time I had water?
For more info about practical hunger, please check out my post: What Is Practical Hunger & How To Use It.
Other hunger cues
If you're feeling anxious, or recovering from chronic dieting (Or both!) you might have a harder time being able to tune into your hunger cues.
While there are many signs of physical hunger (i.e. – your body needs fuel) such as a grumbling in your stomach, these clues are less reliable when you're anxious. Instead, your mental cues of hunger might stand out more: grumpy mood, even more anxiety, thinking about food and so on.
For more examples of hunger cues, check out my post: Signs of Hunger: Your Body Wants Your Attention.
How do you eat when you have anxiety?
If you're home with the flu, you probably don't have the same appetite or expectations of what you "should" be eating, right?
Same idea if you're feeling anxious with a loss of appetite: your body is in a different place and so she needs different foods and drinks for this moment. Your expectations are allowed to adjust as your life changes.
For some people with anxiety, drinking may be easier than eating. You might consider a protein shake, a smoothie, a glass of chocolate milk or even a milkshake. What might feel best are choices that are lower volume for the nutrition they offer: a full belly is probably not going to feel all that great right now.
Plus, these options help you to stay hydrated. More on that next!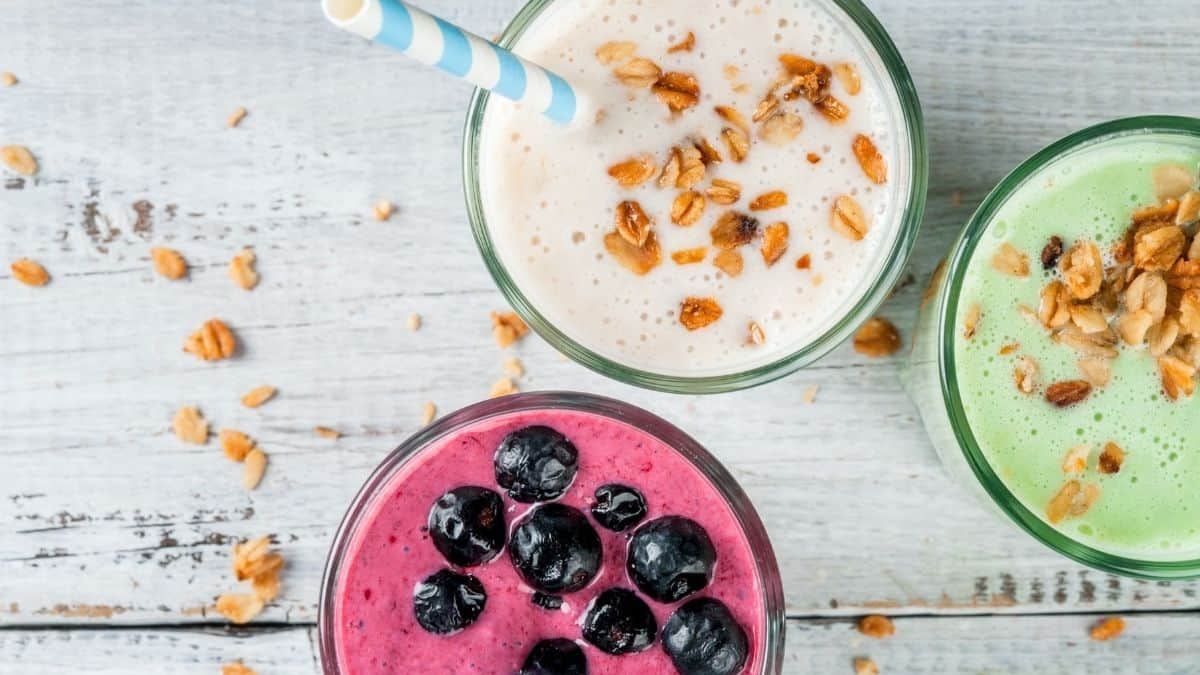 Don't forget to drink water
Keep hydration in mind, too. Your cues to drink water might be a bit overwhelmed by your anxiety, but you still need water to keep your head as clear as possible. If your thirst isn't a signal you can read right now, pay attention to if you're able to go to the bathroom a few times each day and that your urine is pale like lemonade.
If you're not able to urinate every few hours and the volume is low or the color is dark, know that you need some extra fluids, even if you're not feeling particularly thirsty right then.
For some people, they feel more anxious when they're dehydrated. So an added bonus of staying on top of your hydration needs is that your anxiety levels might fall a bit more quickly.
What to eat when you don't feel like eating?
The worst thing when you're feeling anxious and have a loss of appetite is to have to make a zillion more decisions. No thank you!
Frozen dinners or burritos might be a helpful option to have on hand for the times that you feel anxious and cooking sounds dreadful. Offer yourself some simple food without having to do any cooking or dishes.
Or maybe some of the foods that you eat when you have a cold might feel soothing: soup, crackers, applesauce and some fruit juice were my go-to foods when I was under the weather and they're still soothing today.
No takers on those suggestions? Give yourself full permission to provide yourself with some self-care and order some carryout. A simple bowl of noodles or that chicken and rice soup from your local Mexican restaurant might be just the ticket.
When you're deciding what to eat when you don't feel like eating, focus more on overall energy VS nitpicking your nutrients!
Take a few deep breaths
When you're anxious, your cortisol levels spike and your breathing becomes rapid and shallow. This feeds that information loop that tells your body: THIS IS STRESSFUL! I FEEL STRESSED.
But did you know that this communication is a two-way street? Whenever you can take a few minutes to pause in your day take some slow deep breaths: it actually helps to lower your heart rate, stress and anxiety levels. This may help you to be able to eat more!
Plus, if they sound good, there are some specific foods that you can eat to lower your cortisol levels. My blog post – 30+ Foods To Lower Cortisol & Stress – offers some specific ideas on that topic. But remember: the point is not to force yourself to eat a certain food that might help cortisol if you HATE that food or it doesn't sound good.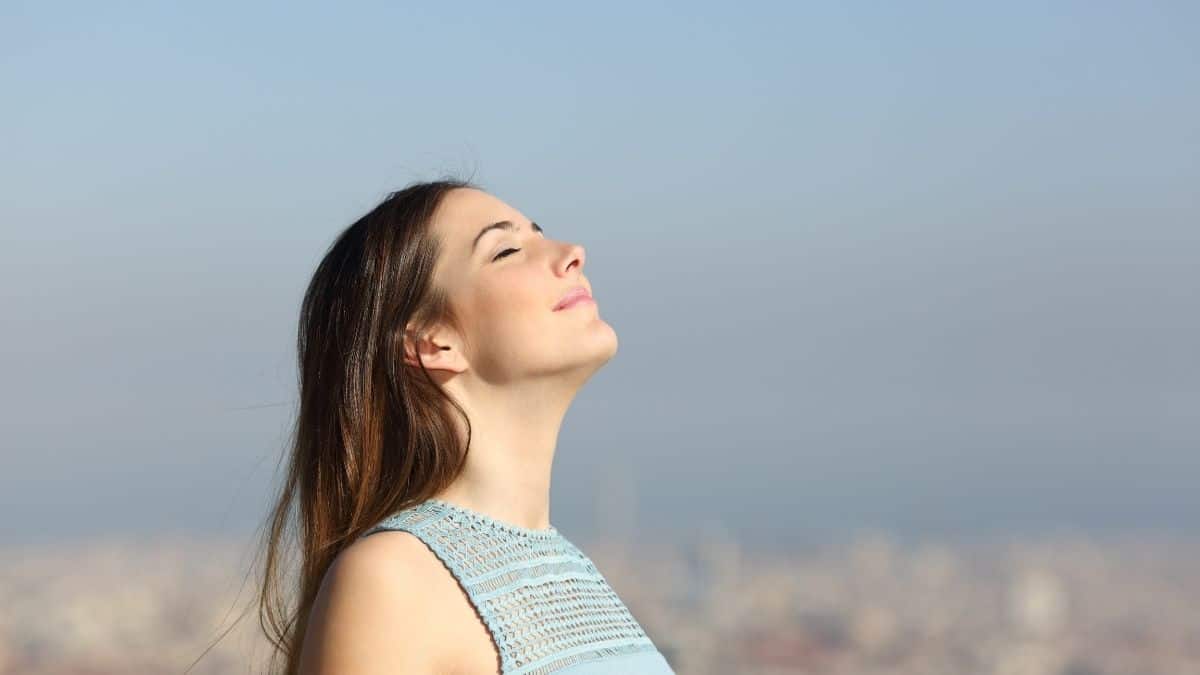 How do I get my appetite back?
Anxiety is a signal that you have an opportunity for self-care. This is not a negative thing or anything to feel bad about. It simply is an opportunity for you to course-correct where you can.
Just like you wouldn't feel guilt about pulling your hand away from a hot stove to prevent getting a burn, there is no reason to feel guilt about your body asking for self care. If you're able to read her signals, she really is a good communicator!
Self-care might include journaling to help weed through your thoughts. It might involve gentle movement that feels good, taking some time to be alone, getting outside or rescheduling events and obligations for when you feel more like yourself. Self-care might also be an appointment with a therapist.
Key Takeaways: anxiety & loss of appetite
Friend, I've been there. Struggling with anxiety & loss of appetite makes Every. Little. Thing. feel so much harder. Those day-to-day tasks that you've done a zillion times suddenly feel like you're slogging through the mud carrying a giant backpack.
This is a season to be extra gentle with yourself and to use your head to help nourish your body, rather than relying on hunger signals that might be less clear at this moment. We're always supporting each other through this in The SociEATy.
And if your anxiety is not relenting, or if it is interfering with your ability to participate in your normal life, please don't hesitate to reach out for help.
XOXO-
Colleen