This Funfetti baked birthday cake oatmeal is sweet, fun, and colorful! Flavors of almond and vanilla come together to create oats that are sweet, moist, and replica of a classic birthday cake.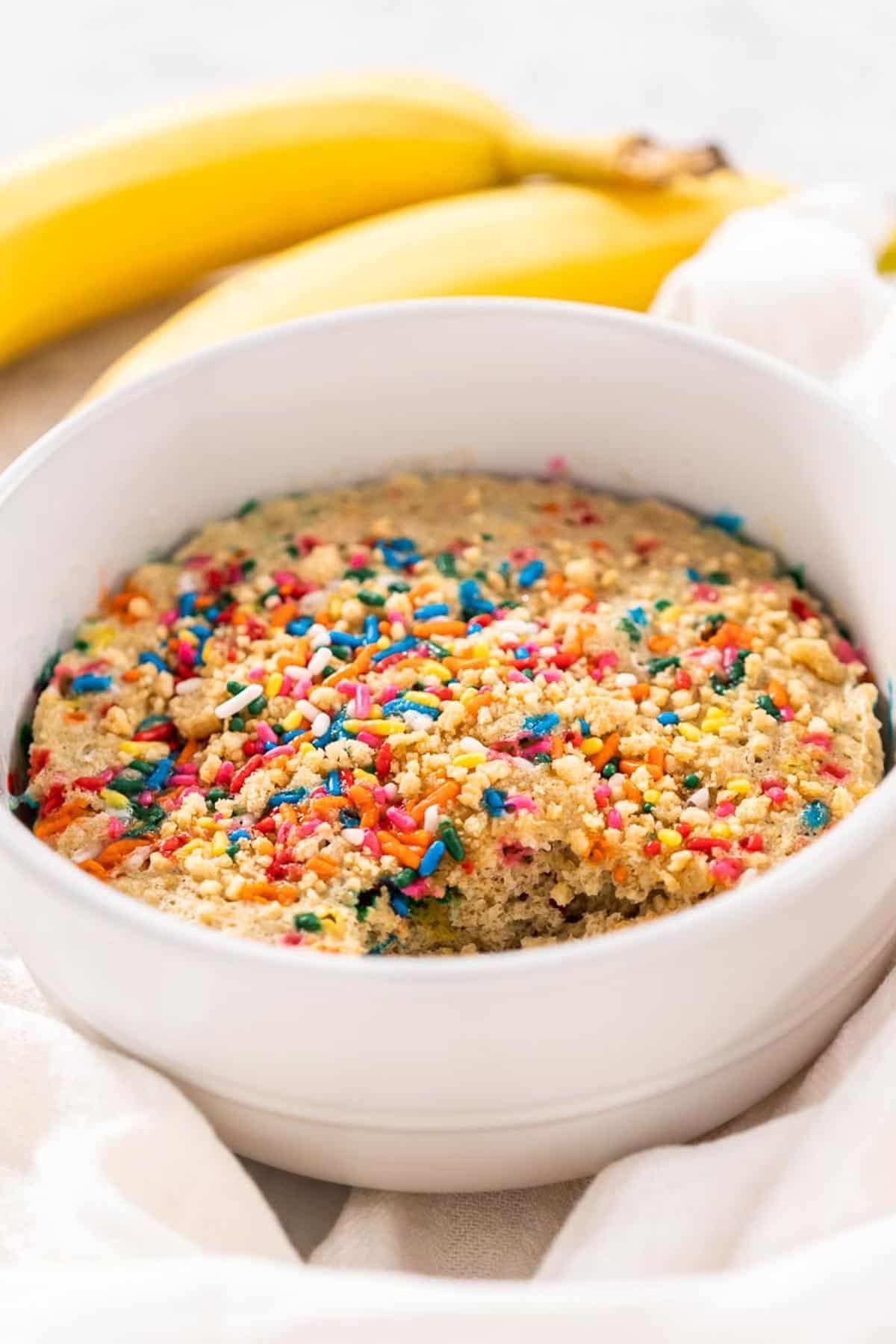 Why This Recipe Works
Convinced you need a small serving of birthday cake with pops of color? This easy-baked oatmeal is a simple and stress-free way to satisfy any sweet tooth while giving your body some serious nourishment–no matter what time of the day it is.
Gooey, sweet, and made with crunchy Oreos, this cake is a utopia in a bowl! Looking to serve only yourself and maybe one other? This recipe yields one cake so you don't have to worry about a whole bunch of leftovers. If you and a friend are celebrating something festive, then go all out with these Funfetti baked oats!
Similar flavors as my cakesicles, this recipe is exactly what I need whenever I am looking for something sweet and filled with birthday cake batter flavors accompanied with various colors of sprinkles. In addition to overcoming a negative body image, I like to enjoy this recipe when I'm in need of remembering the good things in life: sweet foods.
Ingredients Needed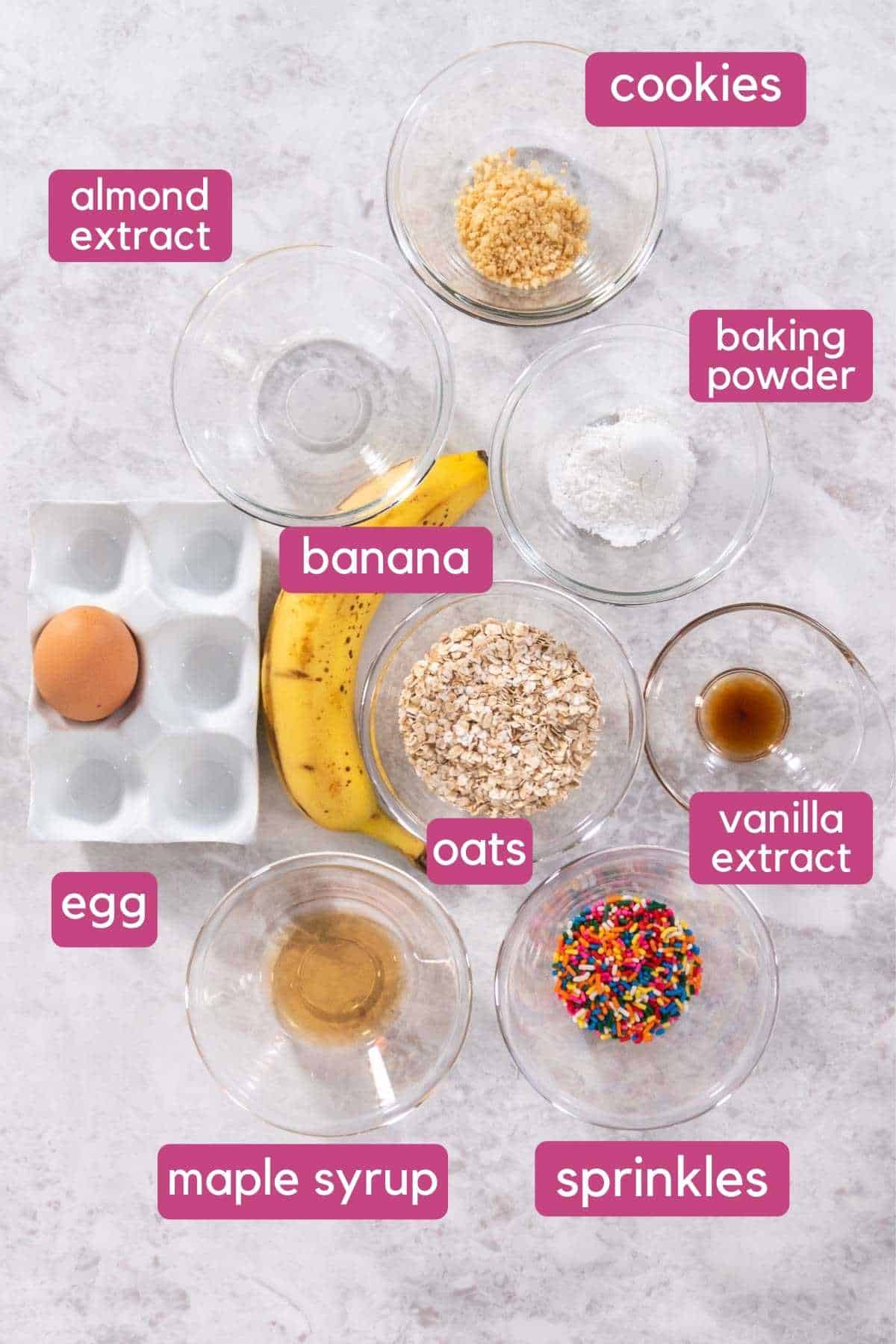 Banana: Make sure the banana is ripe and spotty! The softer and spottier the banana, the sweeter this baked oatmeal will be.
Oats: I used quick oats for this recipe. Although I have not tried rolled or old-fashioned oats for this recipe, they are definitely worth experimenting with!
Maple Syrup: My preferred sweetener for this recipe. You can also sweeten these oats with honey, agave nectar, or monk fruit sweetener.
Egg: Make this recipe vegan by using a flax egg.
How to Make This Recipe
In just minutes, you will have your favorite dessert ready to be enjoyed and remembered. Who doesn't like birthday cake recipes?!
Step One: Place the banana, oats, egg, maple syrup, baking powder, and extracts into a blender.
Step Two: Next, fold in the sprinkles and cookie pieces.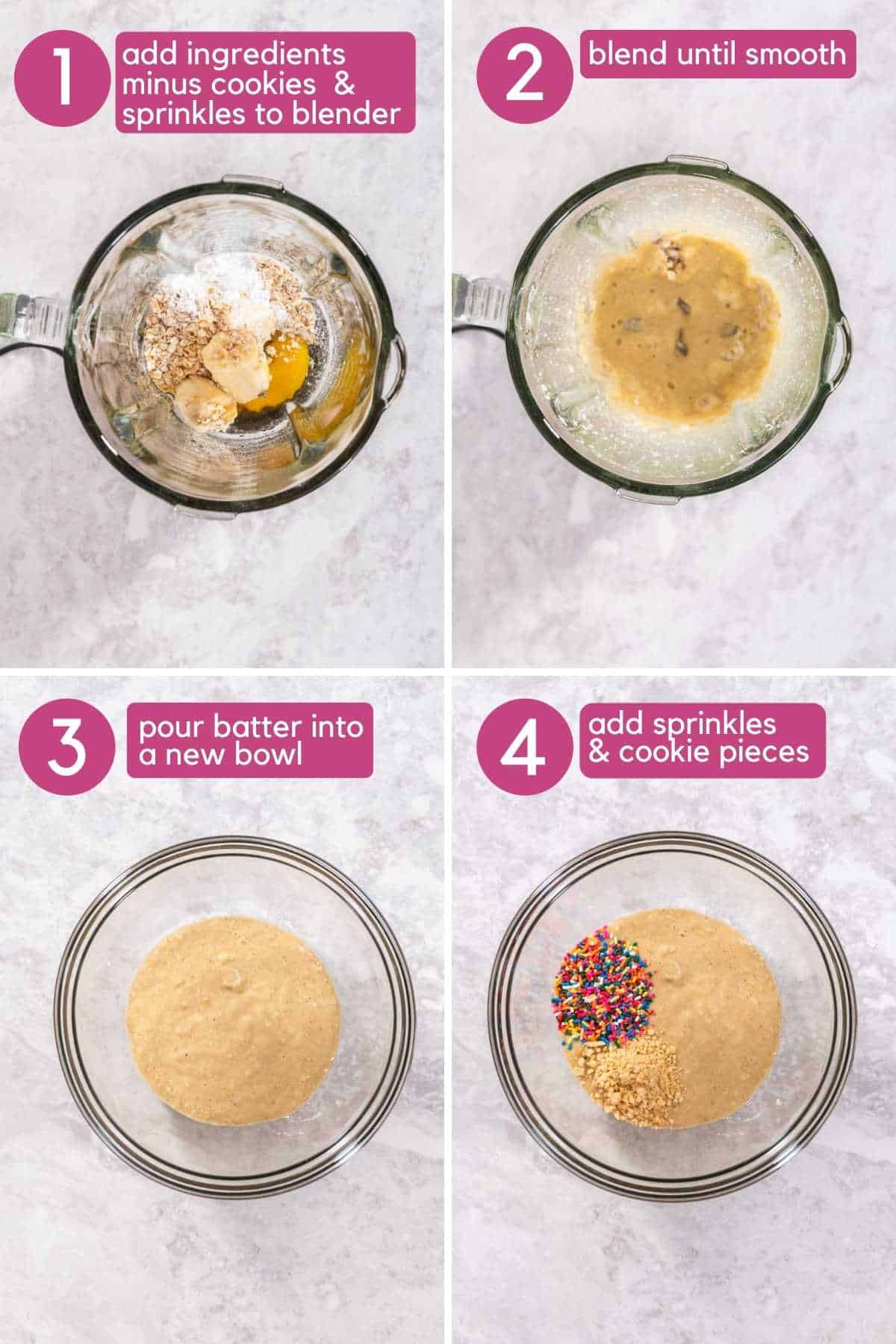 Pour the oatmeal cake batter into a microwaveable safe bowl. Add more sprinkles and crushed cookies if desired.
Step Three: Microwave the oatmeal batter for a couple minutes. After two minutes, check the texture of the cake by inserting a toothpick in the center.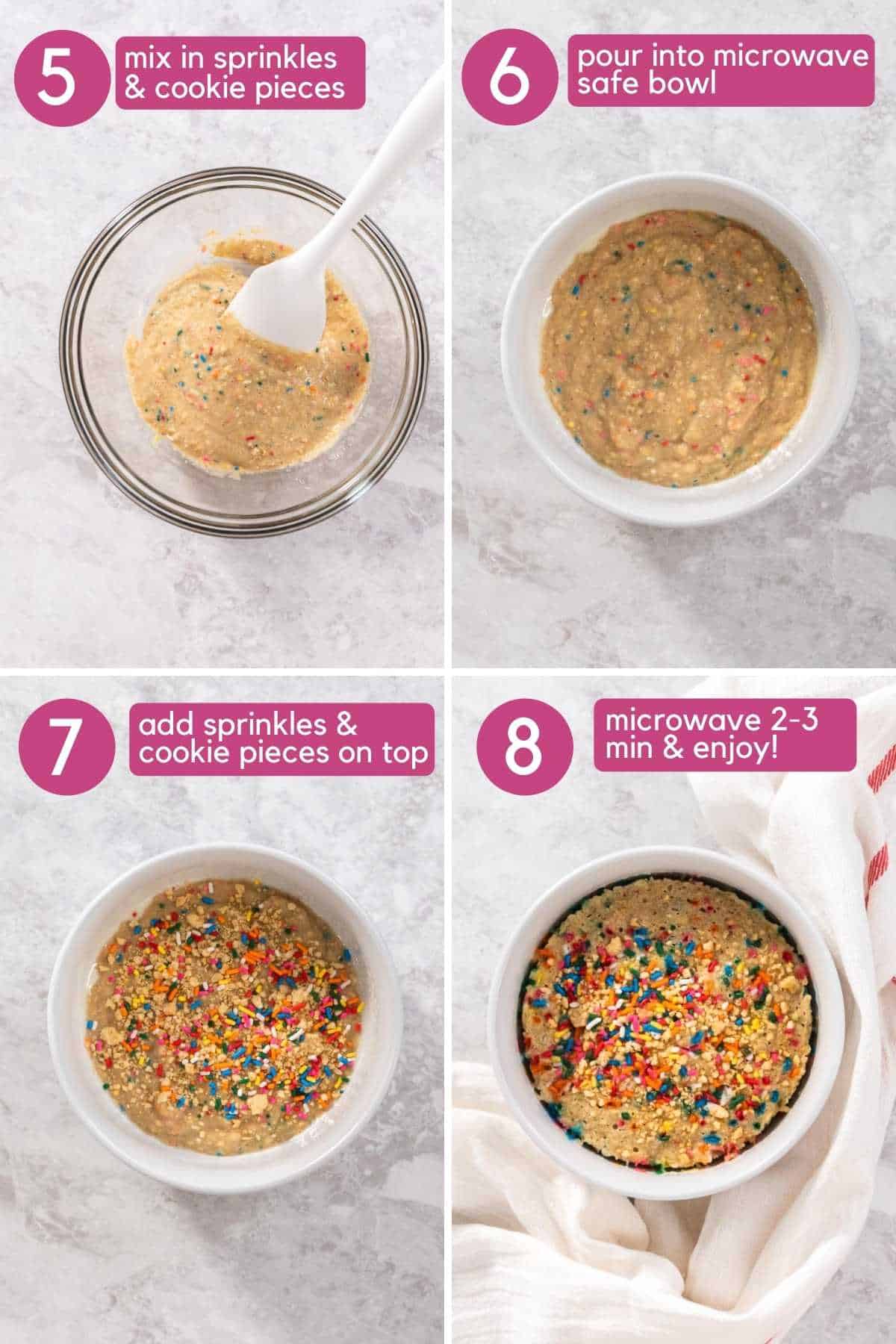 Enjoy!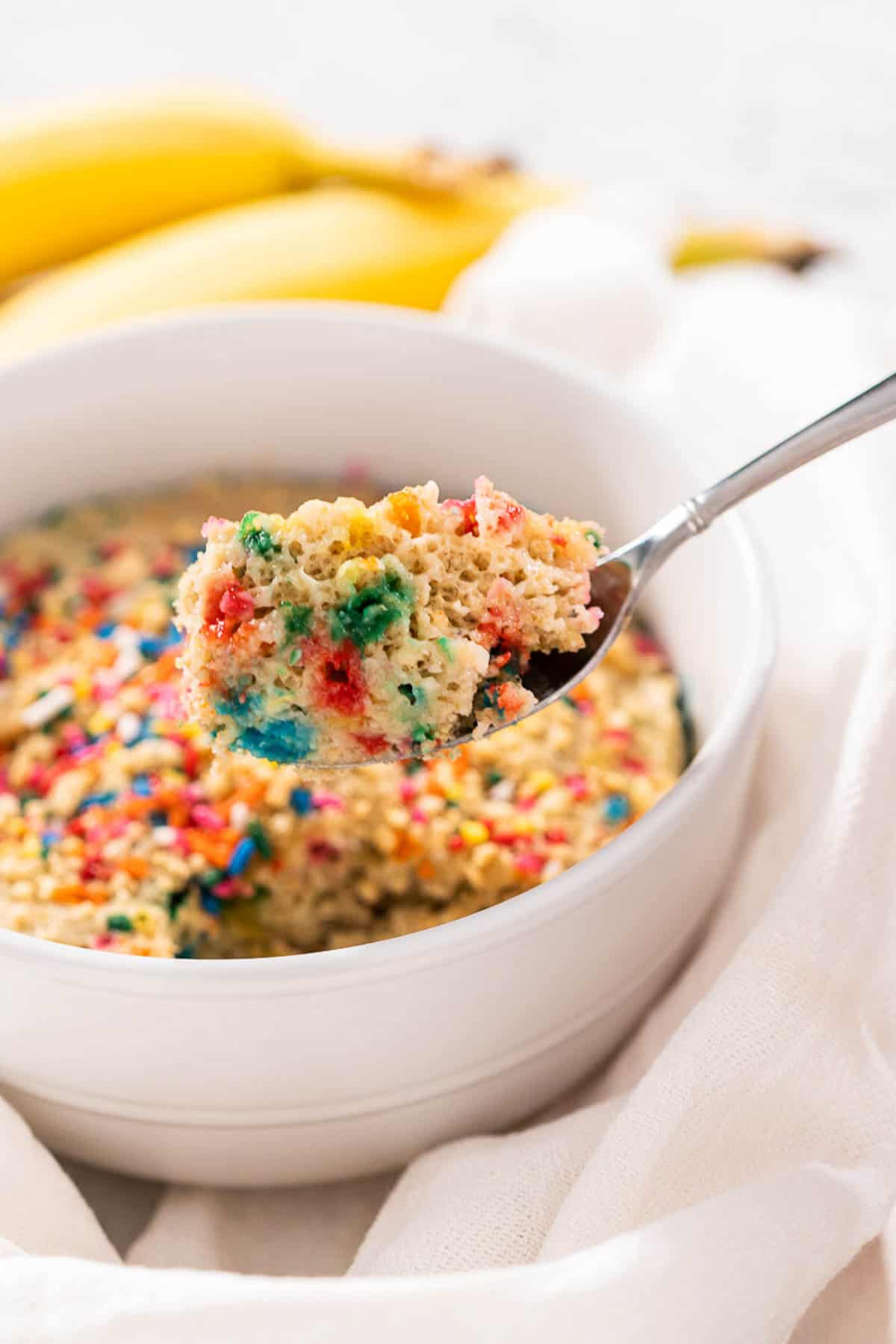 Recipe FAQs
Do you have to refrigerate baked oatmeal?
Since this recipe contains an egg and banana, it is best to refrigerator any leftover birthday cake-baked oatmeal!
How long can you keep baked oatmeal in the refrigerator?
If you manage to have any of these cooked oats as leftovers, then you can store them covered in the refrigerator for up to three days.
How long does baked oatmeal last in the freezer?
You can safely store cooked oatmeal in the freezer for up to six months. Just make sure it is stored in a freezer-safe bag or container.
Expert Tips
If you are gluten-free, then double-check to make sure the oats are sans gluten.
Feel free to switch things up for different holidays by using various sprinkles for Halloween, Christmas, Valentine's Day, and even Easter.
Instead of Golden Oreos, use chocolate Oreos for even richer flavors.
Different microwaves will yield different results so you may want to cook the oats in small increments.
If you love this recipe, be sure to leave a star rating on the recipe card and leave a comment below!
Don't forget to pin it on your Pinterest board for later, or tag me on IG @no.food.rules if you try the recipe and love it!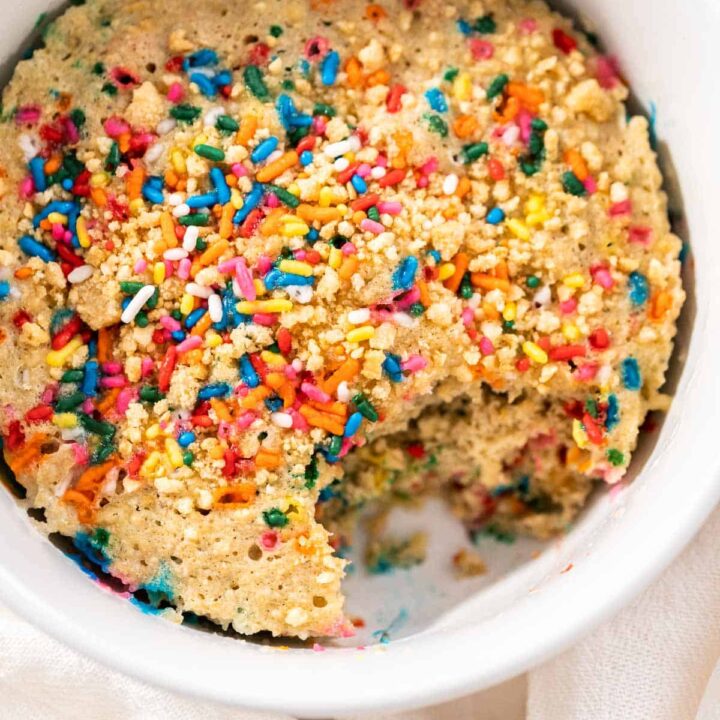 Baked Birthday Cake Oatmeal
This Funfetti baked birthday cake oatmeal is sweet, fun, and colorful! Flavors of almond and vanilla come together to create baked oats that are sweet, moist, and replica of a classic birthday cake.
Ingredients
1 ripe, spotty banana
½ cup quick oats
1 egg
1 tbsp maple syrup
2 tsp baking powder
½ tsp vanilla extract
1 tsp almond extract
1-2 tsp sprinkles (plus additional 1-2 tsp for topping if desired)
~1 tbsp crushed golden Oreo cookies (plus an additional 1 tbsp for topping if desired)
Instructions
Place banana, oats, egg, maple syrup, baking powder and extracts into a blender and blend until smooth.
Fold in sprinkles and the cookie pieces.
Pour baked oatmeal cake batter into an microwave safe bowl that has been sprayed with non-stick spray
Add more sprinkles and cookie pieces on top if desired
Microwave for 2-3 minutes. Check after 2 minutes as the power of microwaves can vary! A toothpick should come out clean when inserted.
Enjoy!
Recommended Products
As an Amazon Associate and member of other affiliate programs, I earn from qualifying purchases.
Nutrition Information:
Yield:

1
Serving Size:

1
Amount Per Serving:
Calories:

487
Total Fat:

13g
Saturated Fat:

3g
Trans Fat:

0g
Unsaturated Fat:

9g
Cholesterol:

186mg
Sodium:

1190mg
Carbohydrates:

81g
Fiber:

6g
Sugar:

38g
Protein:

13g
Nutrition info is provided for Google. You get to determine what your portion size is each and every day! There is no right or wrong.