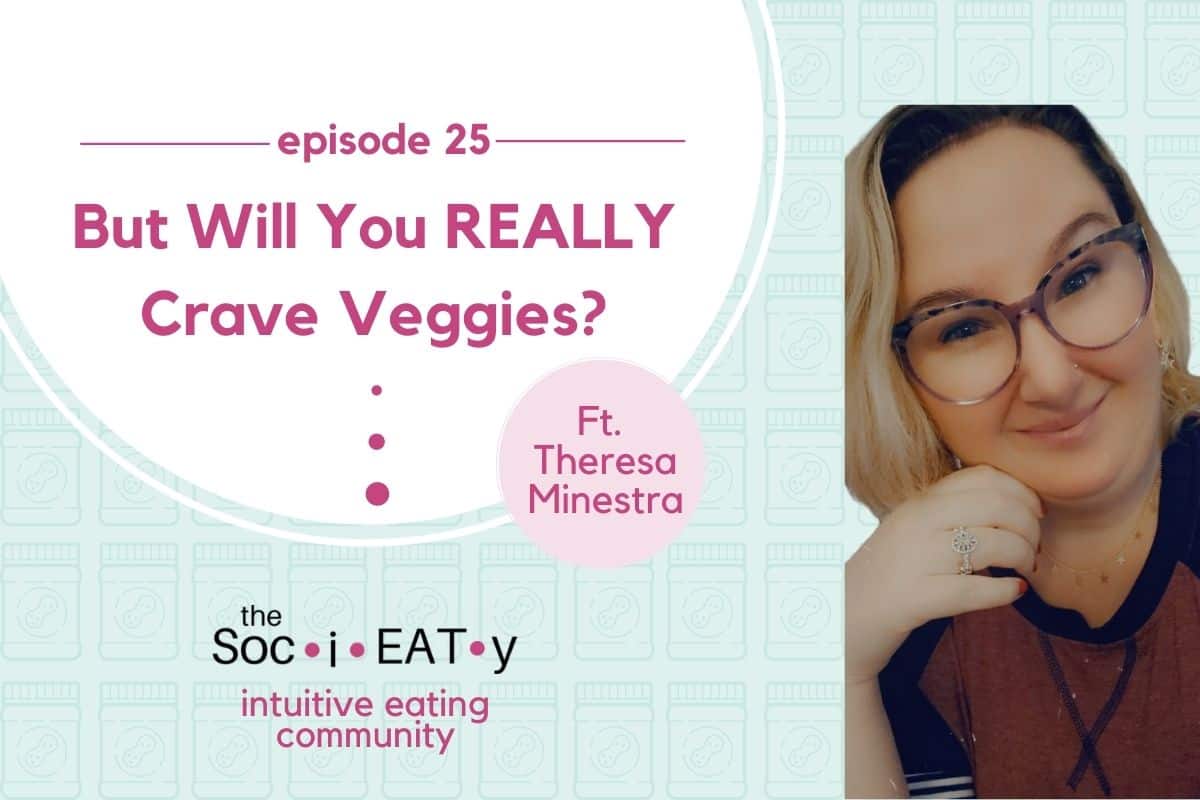 One common misconception about finding food freedom and eating intuitively is that it means that you just eat pizza and cupcakes all the time, but believe it or not, eating whatever you want and whenever you want will often eventually result in listening to your body, and your body will sometimes tell you that it wants veggies! Yes, you will crave veggies, and fellow SociEATy member Theresa Minestra joins me in this episode of the podcast to discuss that very topic!
Theresa is a married mother of two little girls who has been on her intuitive eating journey for approximately six months. She found herself on this journey after ten years of trying to diet. Her most recent attempt being with Weight Watchers, she found herself frustrated and hungry all the time which wasn't even worth it because she wasn't even losing any weight. Knowing that something needed to change, she ultimately discovered intuitive eating and committed to her path by getting rid of her Weight Watchers app and her Fitbit device.
As we have said countless times before on the podcast, finding food freedom does not happen overnight, and there is no gold star to be awarded at the end of a journey because there is no end. It is a process – a journey – that requires work and reflection, and Theresa walks us through the baby steps that she took making the transition from Weight Watchers to eating intuitively. She also shares her surprise at having realized that after starting to eat intuitively, her body didn't just want pizza and chips and ice cream all of the time; it was actually craving vegetables, as she found herself wanting salads and broccoli alongside her meals!
Theresa has balanced this journey so beautifully, especially only being six months into her journey. She is such an inspiration, and I love how she talks about things like enjoying a burger with her family so nonchalantly because that's exactly what intuitive eating is! She closes by offering a few actionable tips such as reading Health at Every Size and the Intuitive Eating book and taking the process slowly by starting with breaking a couple of food rules. She also stresses how important that it is to declutter your social media, removing or muting pages that can be emotionally triggering.
I think that this episode will be helpful to tons of listeners as Theresa offers a lot of inspirational insight and helpful information! As always, I love hearing from you, so screenshot this episode and let me know that you are listening to it! I would also love it if you would share with me what you took away from this episode and what was especially helpful for you! Reaching out to us means the world to both myself and the guests!
Time Stamps
[1:41] – Colleen announces SociEATy member Theresa Minestra as this episode's guest and gives us some brief background information about her.
[2:47] – Theresa goes into further detail about her background regarding her history with diets and how she found food freedom.
[4:27] – Theresa reveals how difficult the transition was between Weight Watchers and intuitive eating.
[6:20] – Theresa walks us through what the first six months of her food freedom journey have been like.
[7:41] – We learn how Theresa went about breaking her first food rule – eating breakfast.
[9:53] – Theresa reflects on how she realized that she was craving vegetables after she started eating intuitively.
[12:07] – We discover when Theresa started adding gentle nutrition into her intuitive eating journey.
[14:36] – Theresa reveals whether or not she struggled with finding a balance between adding veggies to her plate but not doing so with a diet mindset.
[18:59] – Theresa and Colleen discuss hunger cues and fullness cues.
[25:10] – We learn about Theresa's recent birthday and how it was different now since finding food freedom.
[30:34] – Theresa offers us a few actionable tips upon which we can act today, recommending, for example, the books Health at Every Size and the Intuitive Eating book.
[34:54] – Theresa emphasizes the importance of cleaning up our social media pages.
Links and Resources
Colleen Christensen Nutrition – Website
The SociEATy – Become a Member
Linda Bacon – Health at Every Size (The Surprising Truth About Your Weight)
Other Episodes You Might Like: