What are you supposed to do when you feel overworked, stressed, lonely and Ben and Jerry's is singing the siren call from the freezer? Emotional self-care, friends!
This blog post goes over everything you need to know to develop a full toolbox of tools to manage and work through feelings, not just dull or numb them with food. Emotional self-care is skill-building, just like learning to play the piano or baking a perfect cake: it takes practice.
And here is what might surprise you: as an intuitive eating registered dietitian, I do recommend allowing yourself to emotionally eat.
Say what?
Yes! Emotional eating is a completely normal part of being a healthy human…we just need to have more tools than that one. More on that in a bit!
First – what are emotions exactly, and are they "bad" ?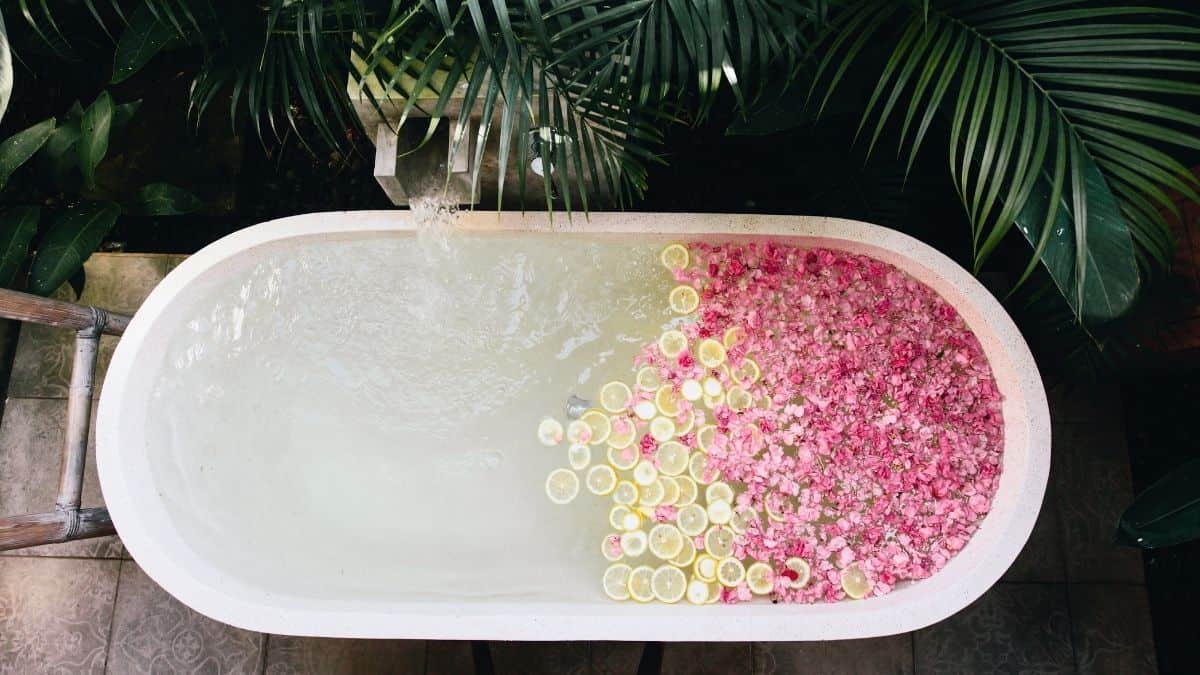 What are emotions?
Emotions don't always feel good to feel. They're uncomfortable…and we don't like to feel uncomfortable.
And so we look for ways to dull or numb those feelings to lessen the discomfort. We might dull feelings by watching a zillion reruns of your favorite show that you can recite along with each of the actors' lines (I'm lookin' at you Friends!) Or you might be eating a whole bag of chips, drinking too much cheap wine or hyped up on a lotta lattes…or a combo of several of these throughout the day.
But here's the thing: emotions are simply signals that something is off.
Think about it – if you accidentally touched a hot stove, your body would instantly tell you that you're getting burnt and you'd get your hand the heck outta there. That signal isn't bad, it saves your body from further harm.
Emotions are the same. Are you sad and cranky because you're a "bad" person? Absolutely not! You might be feeling cranky because you need some time away from your stressful job, a nourishing meal and an evening with friends laughing so hard your stomach hurts.
Emotions are a completely normal human experience, but many of us can use some practice and new tools in the tool belt to manage them without so much overwhelm.
Let's chat about this hot potato first: emotional eating.
Emotional eating
Emotional eating has a bit of a bad rep that isn't entirely warranted. Eating does feel good. And it should feel good.
Eating can make us feel better. What surprises a lot of members of The SociEATy intuitive eating membership community is learning that emotional eating is actually a broad spectrum. Emotional eating involves eating for some reason other than refueling.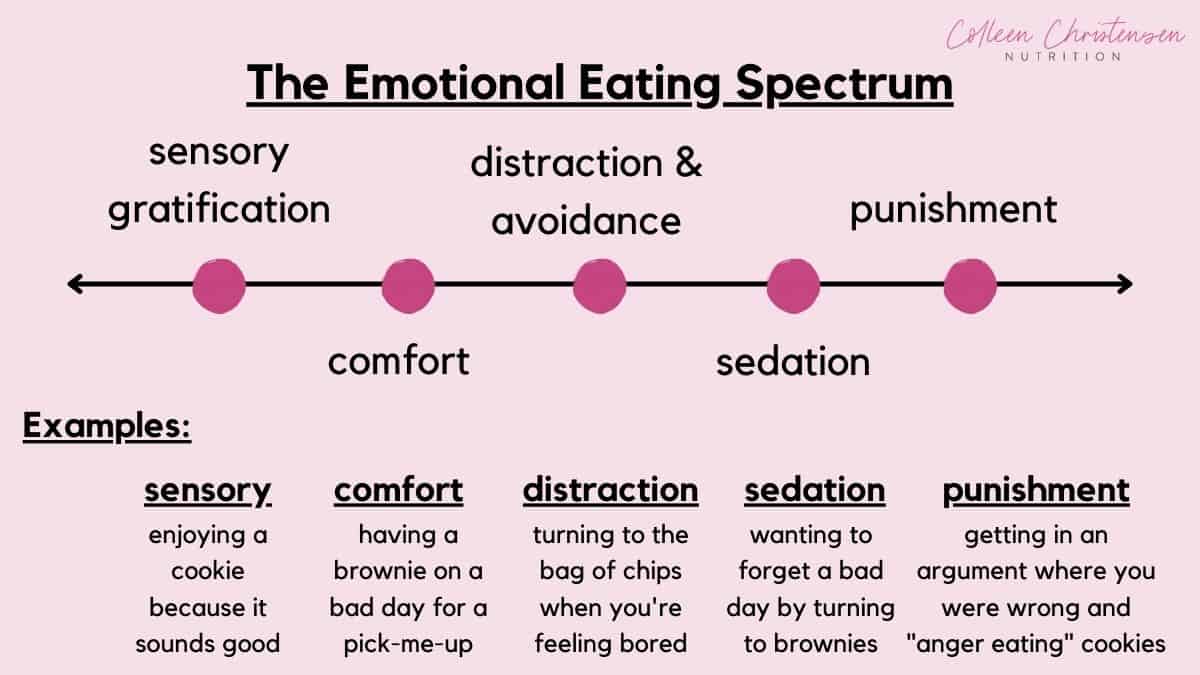 Let's explore a few examples.
This kind of (totally appropriate) emotional eating might be enjoying a warm and gooey chocolate chip cookie right out of the oven or celebrating your friend's birthday and enjoying a slice of decadent cake. You might not have been hungry at that exact moment, but it felt good to enjoy those treats. This is great!
And the having things because you're sad example from above? That's actually ok, too! I'll go over a few tips and strategies for using this kind of emotional eating when needed, without regret or shame.
The trouble comes in when eating is our only way to deal with uncomfortable emotions such as fear, sadness or overwhelm and when we do it in a way that consistently makes our bodies not feel so great.
Picture a new toolbox: if the only tool that is inside is a hammer, you're going to be out of luck next time you need to measure a new piece of furniture or tighten a screw. A hammer is not good or bad, it simply isn't the only tool you need. A tape measure and a few screwdrivers mean you're better equipped to solve more issues.
Instead, emotional self-care can include emotional eating, without judgment or guilt. I would also advocate for other tools to feel and process emotions to have a more helpful toolbox.
Let's kick off the expanded toolbox with naming feelings.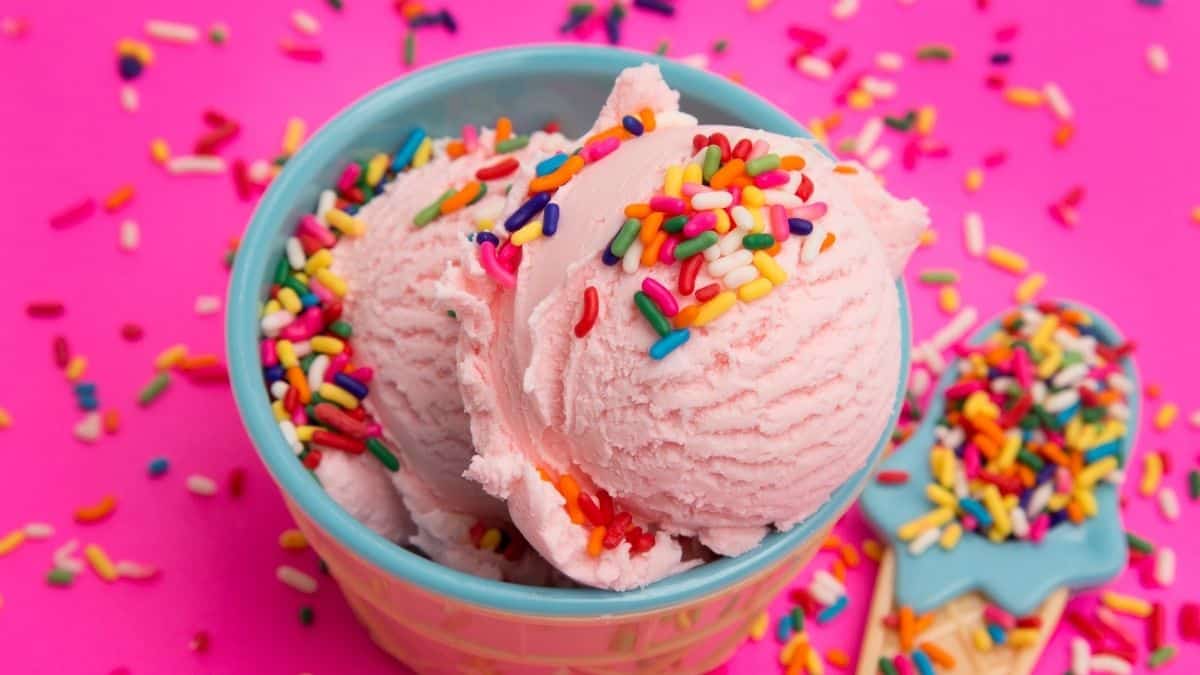 Name the feeling
The scariest things are the things we can't fully name or describe. Even a diagnosis can be a relief to finally have a name for what has been ailing you.
Any Harry Potter fans? Dumbledore always insisted on calling Voldemort by his name, not he-who-shall-not-be-named, because "fear of the name only increases fear of the thing itself."
Sometimes feelings feel all whirly, swirly and hard to describe or even pinpoint. And oh-so-overwhelming…what's going on?
It is hard to solve a problem if you don't actually know what is bothering you. Loneliness might be soothed with different strategies (calling a friend, writing a letter) than boredom (grab an exciting book or spend some time doing your hobby).
And if your head feels completely full of all of these emotional feelings, sometimes getting it all out on paper is a great place to start. Journaling is our next emotional self-care strategy!
It's ok that this might feel hard at first…with practice this will feel simpler.
Write it out
You know how an organizing project at home sometimes gets far messier before it gets better? You want to organize your closet, but in order to do so, you've gotta take everything out and throw it on your bed. And empty the dresser drawers. And right: finish the laundry so that you know what you actually have.
Journaling can be the same way: get allllll of those feelings out on paper so that you actually know what you're dealing with. If you can give yourself permission to journal without any expectation and just write things down as soon as they bubble up in your head, you might be surprised by what you uncover.
Once you have the whole gamut of the feeling out in front of you, your head probably feels a bit clearer and calmer. And you know what? A clearer head is far better at deciding which next step of emotional self-care will serve you best.
Not into journaling? Try writing a letter. It could be a fun letter to a friend to increase your feelings of connection or a letter that you'll never send to get those heated feelings off of your chest. It might even feel ceremonial and cathartic to burn this kind of letter: feel those feelings, sit with them and then let them go. Bye-bye bonfire!
Another option is to simply color. Maybe coloring will give your mind the freedom to explore feelings or to take a break and recharge. Pay attention to which art supplies you're drawn to. If you prefer markers over crayons, get what you need to have the experience you deserve.
Consider therapy
I wish we lived in a world in which going to a therapist had no greater significance than getting your teeth cleaned. They are both part of treating your physical body and mental health with respect.
Our friends and family have great potential to support us…but they aren't therapists, and we shouldn't treat them as such.
Sometimes it can take visiting a few different therapists to find the right fit, but when you do, there is so much potential to learn new coping skills, to identify your own personal patterns and to only continue with the ones that are supporting your best life.
Find joyful movement
I don't know about you, but the gym at my college was chock full of women swooshing away on the elliptical machines. Popular? Yes. Were any of them looking joyful while moving their bodies? Not so much.
Joyful movement is exactly as it sounds: movement that brings a smile to your face and you do purely for fun: not for burning calories, weight loss or to "earn" a specific meal or snack. (As an intuitive eater, you always (always) have full permission to enjoy any food or drink you'd like.)
For me, I love activities on wheels: bring on the roller skates, rollerblades and biking. For you, it might be Zumba classes with the exuberant music and outfits, or quiet hikes among the trees.
Movement boosts your endorphins, helps to cultivate good gut health, promotes a good night's sleep and even helps you to have more regular bowel movements (talk about a mood booster!).
I haven't always had the best relationship with exercise: I was using that self-care tool for all of the wrong reasons: "earning" food and punishing my body for changing when I went to college. Here are the 3 Tips That Helped Me Love Exercise Again.
Joyful movement is one example of an emotional self-care hobby. I have a few more ideas for you next!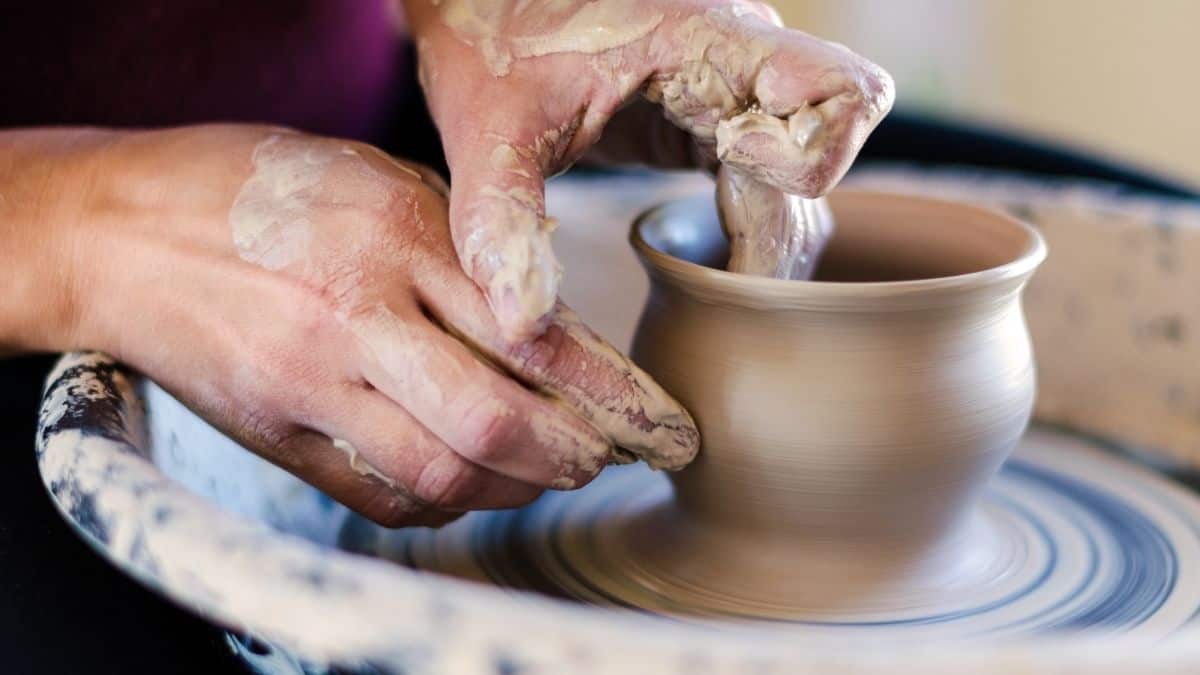 Cultivate hobbies
We feel best when we have lives outside of our work and families. Something that you enjoy so much you lose track of time while doing it. What do you do that gets you super excited? Is it gardening? Pottery? Or something yet to be discovered?
Having activities that get you off of screens and learning new skills is a chance to fully immerse and lose track of time. It also curbs boredom and the boredom eating that might not be far behind.
And if boredom eating feels like a struggle for you, my blog post How To Stop Boredom Eating In 4 Steps is ready for you!
Set boundaries
Oof. This one can take practice. So many of us are people pleasers and society expects it of women. Advocating for your own needs can feel like swimming upstream…but the thing is, you are worth protecting the boundaries that make you feel safe, secure and relaxed.
How to not take on yet another project at work, leaving you feeling even more drained? Or how to deflect your mother's body comments that make you feel about two inches tall?
Sticking up for yourself takes practice, but it is work that is worth doing. Sometimes it can help to picture your best friend in your exact stressful situation, to see how you'd advocate for protecting her. This helps to overcome our tendencies to want to protect everyone but ourselves.
A therapist can really help with role-playing these conversations out in advance so that you can have real-life conversations more smoothly and with greater confidence.
Unplug
Social media is omnipresent these days. It isn't just the magazines with messages of thinness and needing to change your body to be worthy, it is every social media platform, 24/7 on your phone, computer and tablet.
I encourage you to notice how you feel after scrolling. Do you feel more connected and fulfilled, or do you feel icky? I recommend that you unfollow anyone that makes you feel bad. And to only subscribe to magazines that make you happy.
For many of us, scrolling through social media leads to comparison…and feeling pretty darn crummy. Check out my post 3 Steps To Stop The Comparison Game for some ideas to pump the brakes on comparison.
Next up: eating!
Eat!
If what you really want, after considering a few different options of emotional-self care, is to eat something delicious…eat!
Sometimes what really feels best is to eat the cookies, to dunk the fries in the milkshake. Own your choice! Here is my only advice about this kind of emotional eating: stay present.
When we use food to soothe emotions, there is a tendency to "check out" of the experience because there might be shame or other negative feelings paired with this choice. As I mentioned earlier, eating to soothe feelings is a perfectly valid choice, we just don't want to have that be our only tool in our toolbox.
If we check out and try to hide from our true preferences in that moment, it isn't as satisfying of an experience.
How to be present? My simple cue is to ask yourself, "how does this taste?". Slow down, turn off distractions and experience each bite fully.
Extra bonus? Being present helps you to also honor your fullness cues and not eat past fullness…another common opportunity to be on the shame train. Hop off the train by eating the amount of dessert or salty snack that you actually want, whenever you want, and stopping when you're done.
For more practice with this idea, check out my video, Stop Using Food to Cope with your Emotions.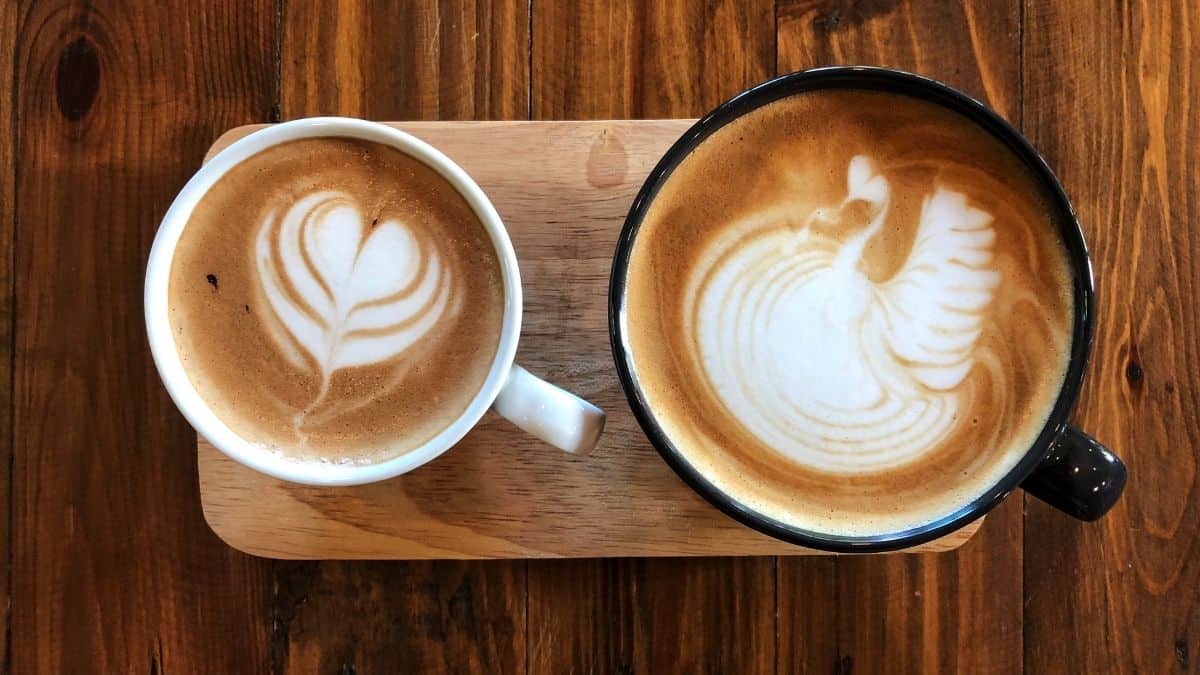 Recharge
You know the saying: you can't pour from an empty cup. Getting a good night's sleep, spending time with friends and family whose company you enjoy, having peaceful time alone and moving joyfully all help to recharge your own batteries.
Emotional self-care isn't just bubble baths and chocolate. Emotional self-care is also about creating a life that you don't want to escape from all the time.
Key takeaways: Emotional self-care
Ready to cultivate your dream life? It starts with emotional self-care! Be sure to check out my YouTube channel for more tips to help in your intuitive eating journey. Finally, take the no food rules quiz which will tell you what's holding you back from truly finding food freedom and give you customized resources (and a workbook!) to overcome it!
Other Blog Posts You Might Like:
XOXO-
Colleen