These chocolate bliss balls are high in protein and rich in sweet flavors! Notes of vanilla, cocoa powder, honey, and peanut butter shine throughout these protein bliss balls.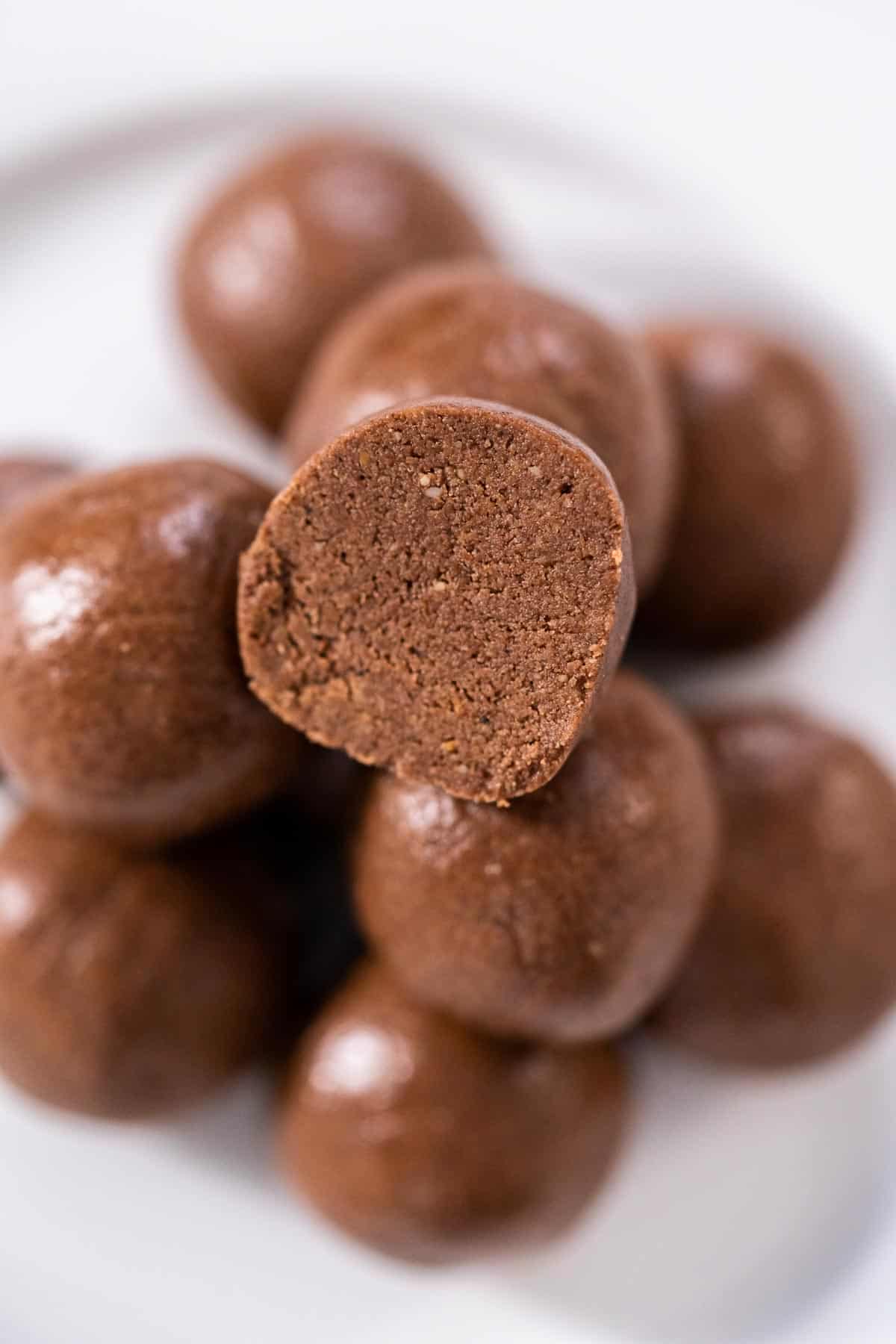 Why This Recipe Works
Chocolate protein bliss balls are easy enough to make on any day whenever you feel like indulging in rich and creamy flavors that are nutty and sweet. Ready in about five minutes, you will have your own high-protein balls recipe ready to be devoured!
Great for breakfast, snacking, running errands, and more, peanut butter bliss balls are great for whenever you need to have something filling to keep the hunger away.
What's better than chocolate and peanut butter? Not much. This recipe is perfect for meal prep whenever you need to make sure you are prepped for the busy week ahead.
Ingredients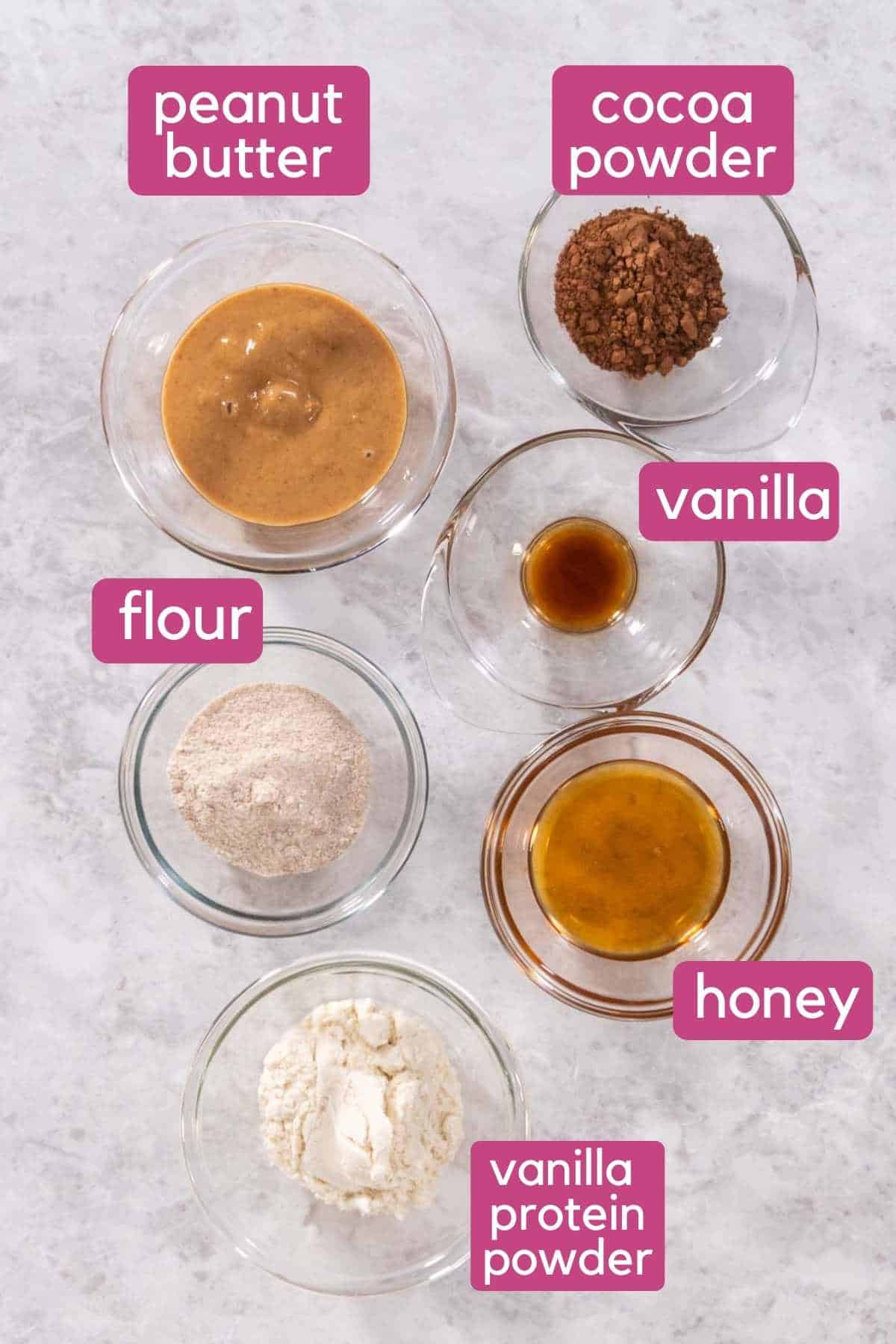 Peanut Butter: Creamy peanut butter is what I used for this recipe because of its smooth texture. I haven't tried crunchy peanut butter, but I'm sure the results would be just the same since everything goes into the food processor!
Protein Powder: Vanilla protein powder gives these bliss balls a little sweetness and rich vanilla flavor. Feel free to switch things up with different protein powders like chocolate, strawberry, or peanut butter.
Honey: A natural sweetener that gives these bliss balls their sweet flavors, just a little bit of honey is used!
Cocoa Powder: Unsweetened cocoa powder gives these protein balls their rich chocolate flavors. Feel free to use cacao powder in place of cocoa powder.
Flour: Heat treated whole wheat flour is used to hold things together. All-purpose flour will work, too!
Vanilla: Pure vanilla extract is just what these bliss balls need! Nothing is complete without vanilla extract!
How to Make This Recipe
Step One: First, combine the peanut butter, protein powder, honey, cocoa powder, heat-treated flour, and vanilla extract in a food processor. Combine until uniform.
Step Two: Take one and a half to two tablespoons of the chocolate mixture and roll it into a ball. Be sure to roll out all the creases to the balls can be super smooth and round!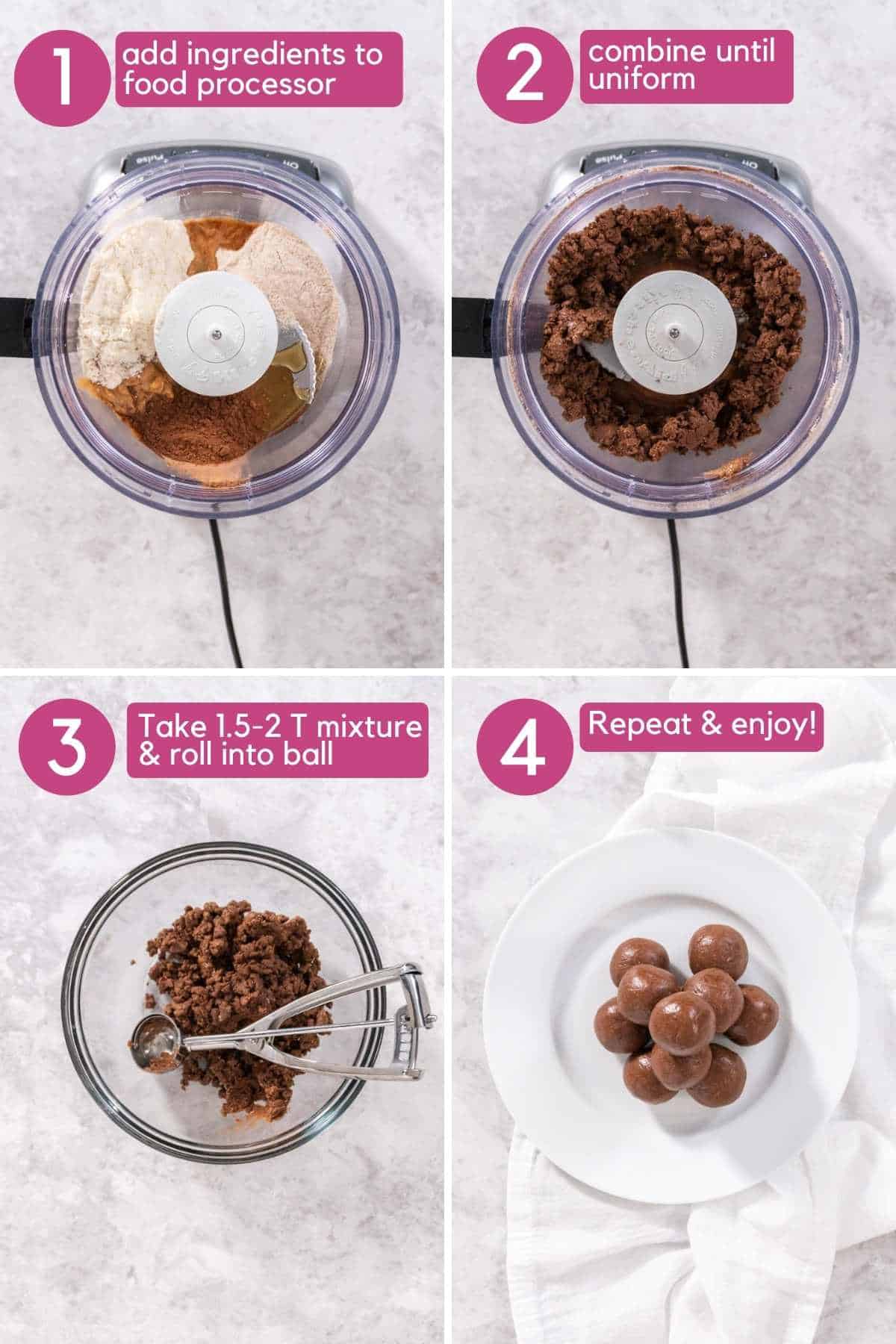 Store these protein chocolate bliss balls in the refrigerator until ready to eat or enjoy immediately!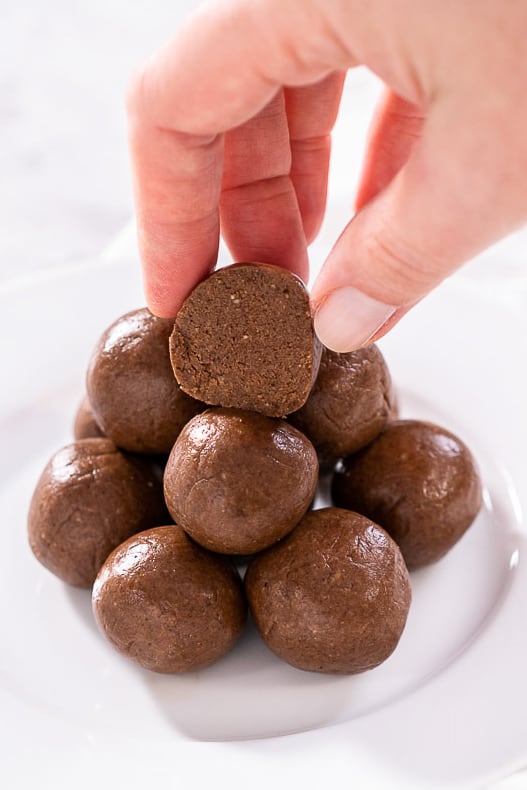 Recipe FAQs
When should you eat protein balls?
You can eat protein balls WHENEVER! Enjoy these bliss balls in the AM or PM. Life is too short to not enjoy things when you want them! They're a great snack between meals that will give you lasting energy thanks to the protein, fat and carb combo!
What is the best food for high protein?
You can eat a variety of things for high protein such as eggs, nut butter, broccoli, chicken, different types of fish and meat, various types of beans, and more.
How long can you keep protein balls in the fridge?
Protein balls are great to last in the refrigerator in an airtight container for up to two weeks! Bliss balls are great for prepping ahead of time.
Expert Tips
Make vegan chocolate bliss balls by using maple syrup in place of honey and using a plant-based protein powder that is dairy-free.
If the chocolate mixture is sticking to your hands, then try putting a little bit of oil on them before rolling the balls.
Use a gluten-free flour like almond or coconut instead of all-purpose flour.
Roll these bliss balls in additional cocoa powder to give them an even richer chocolate flavor.
If you love this recipe, be sure to leave a star rating on the recipe card and leave a comment below!
Don't forget to pin it on your Pinterest board for later, or tag me on IG @no.food.rules if you try the recipe and love it!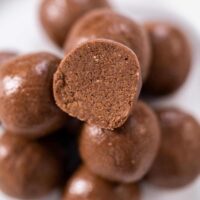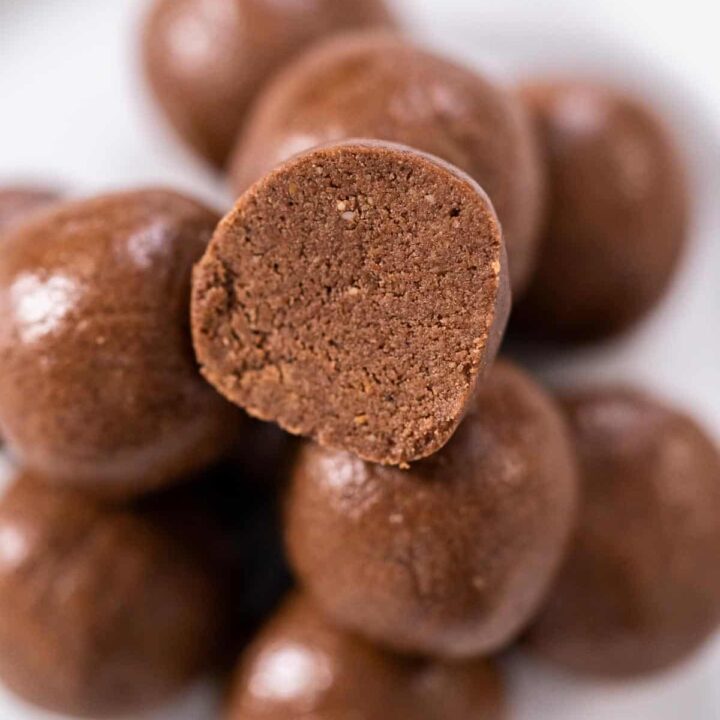 Protein Packed Chocolate Bliss Balls
These chocolate bliss balls are high in protein and rich in sweet flavors! Notes of vanilla, cocoa powder, honey, and peanut butter shine throughout these protein bliss balls.
PRINT RECIPE
Ingredients
½

cup

peanut butter

⅓

cup

vanilla protein powder

1-1.5 scoops total

2

tablespoons

honey

1

tablespoon

cocoa powder

2

tablespoons

flour

heat treated*- I like to use whole wheat

1

teaspoon

vanilla
Instructions
Combine all ingredients into a food processor and combine until uniform

Take ~1.5-2 tbsp of the mixture and roll it into a ball. Try to roll it out so that you can get rid of the creases as much as possible making a smooth outside.

Repeat the rolling process with the remaining mixture and enjoy!
Notes
To heat treat flour, bake it for 5 minutes in a 13×9 pan at 350 degrees F. Allow to cool fully,
click To display nutrition info
Nutrition Facts
Nutrition Facts
Protein Packed Chocolate Bliss Balls
Amount per Serving
% Daily Value*
* Percent Daily Values are based on a 2000 calorie diet.