Protein packed chocolate bliss balls are the perfect on-the-go snack or nourishing dessert! Made in only 5 minutes with 5 ingredients, you'll want to have these on hand at all times for a dose of quick chocolate bliss!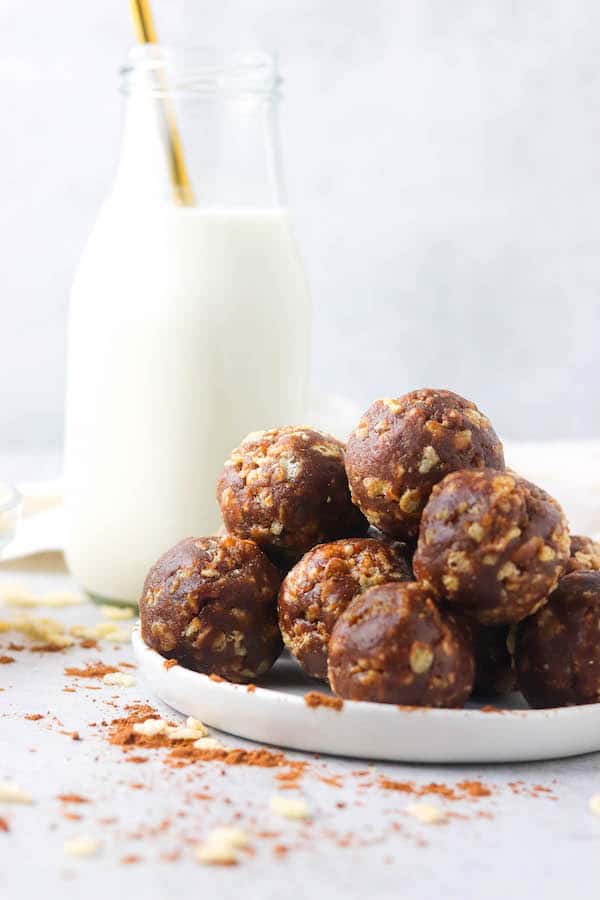 Are Chocolate Bliss Balls Healthy?
Over the past few years Pinterest has EXPLODED with bliss ball recipes. They're super trendy, there is no denying that, but are they healthy? Well, if you guys know me at all you know I don't like to label foods as "good" or "bad", "healthy" or "unhealthy". When we do that we're actually likely to restrict then binge the foods we see as "bad" or "unhealthy". I totally think that it's time to change how we label "healthy" food!
But, this chocolate bliss balls recipe IS super nourishing! They're packed with ingredients that will give you protein, healthy fats and a quick burst of energy to leave you feeling ready to tackle anything! I have a couple other versions of these bliss balls like my 2 ingredient cherry cashew bites or my easy cookie dough bites!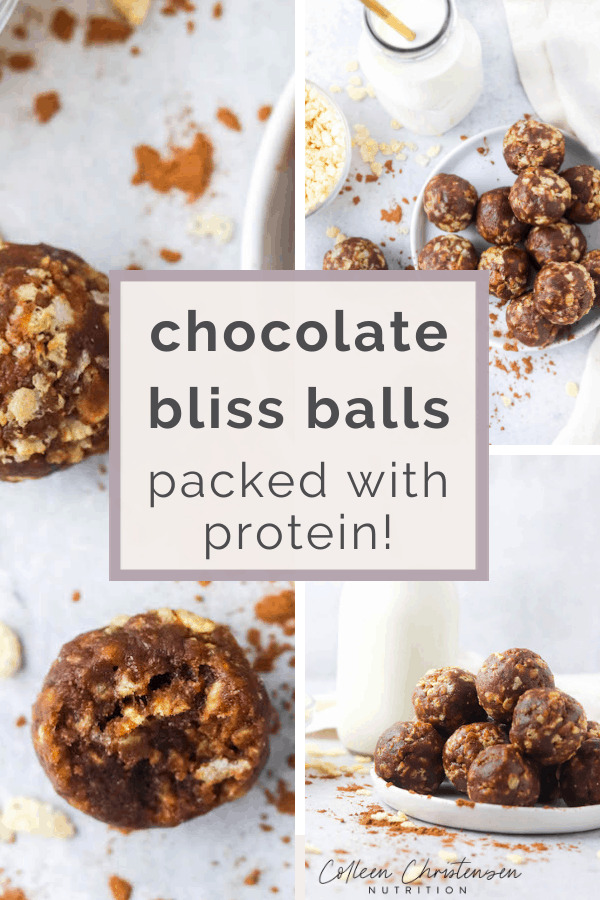 Be sure to take a second and pin this recipe to your Pinterest board! Sharing is caring!
Chocolate Bliss Balls Ingredients
Dates
These are a fab source of quick energy and dates give you tons of health benefits. Plus they add natural sweetness which is to DIE FOR! I recommend soaking these overnight to allow before making this bliss ball recipe. This will give you a little more chewy of a bliss ball, not so dense. Plus, you can totally revive stale dates by doing this, which means less food waste!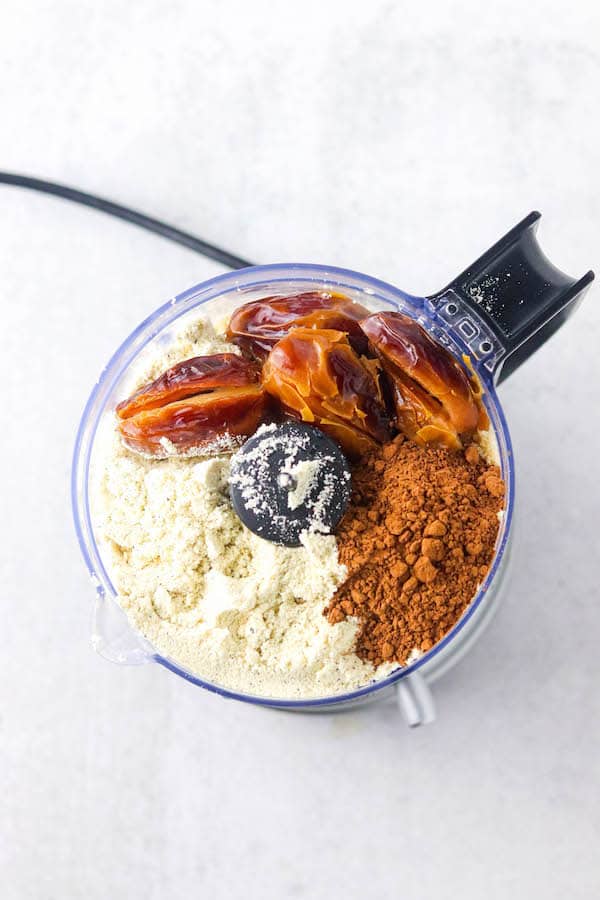 Almond Flour
I tried this recipe with a few different flours and almond flour was the clear winner. It gave me the lightest, least dense result making them taste like a legit brownie bite! You can use other flours, but they'll just be a little more dense. I buy my almond flour from the store, but you can also learn how to make almond flour here!
Protein Powder
Who doesn't love a dose of protein to help keep you full and keep your muscles nice and strong?! I used a whey protein but you can use whatever you have on hand! Here is a great guide to the best protein powder and how they taste!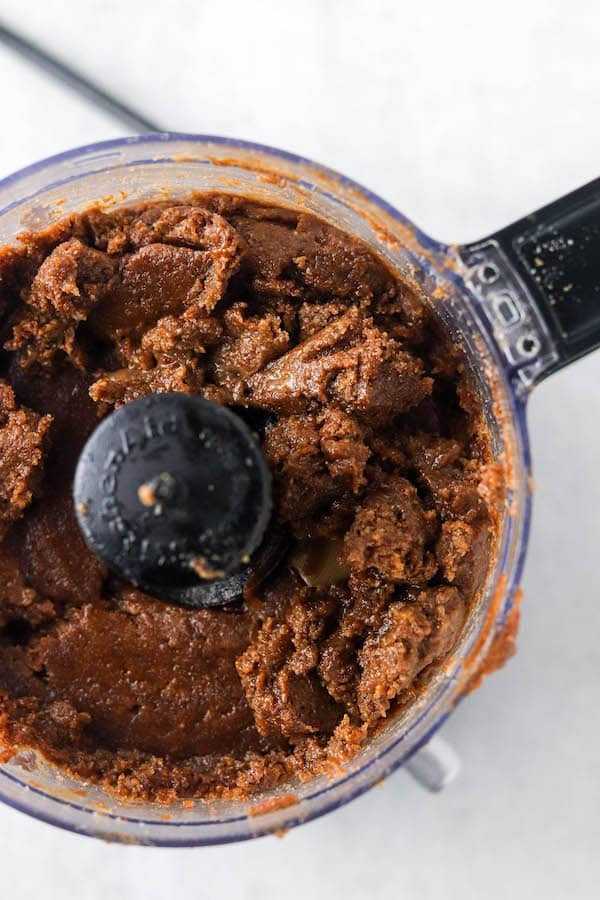 Cocoa Powder
I made these bliss balls chocolate in flavor so obvi we add a little cocoa powder! Utter chocolate bliss!
Puffed Rice
Okay, hear me out here. I don't like eating a bliss ball that has no depth to it. Ya know? So, I added some puffed rice which just gives it a little texture and I think really increases the satisfaction!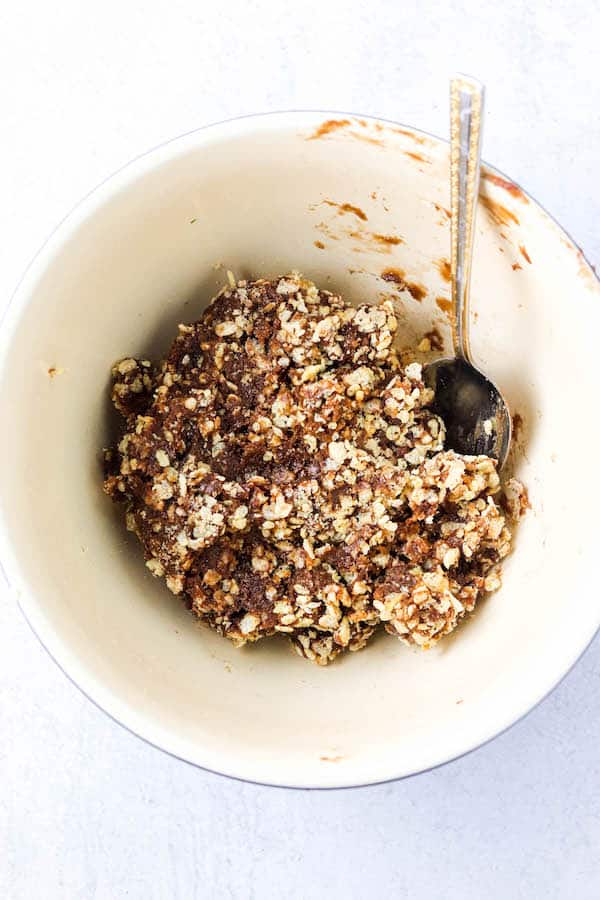 How To Make Bliss Balls
Making bliss balls couldn't be easier! Seriously. You just pulse the first 4 ingredients in a food processor until smooth, then fold in the puffed rice. Folding, not processing the puffed rice is key. You don't want to pulverize it!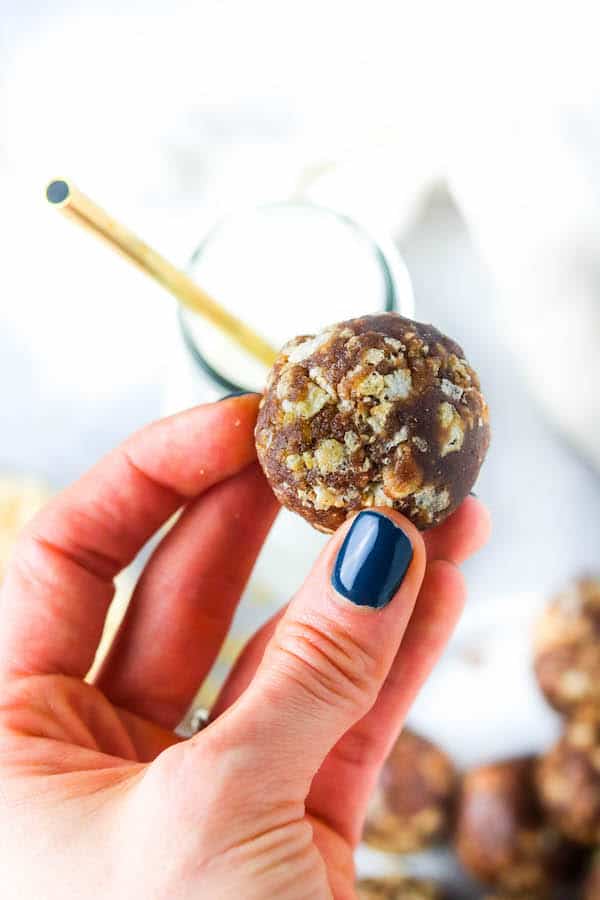 I like using a mini food processor for this recipe (here is the Kitchen Aid food chopper that I have) but if you're doing a larger batch you might want the full sized Kitchen Aide food processor!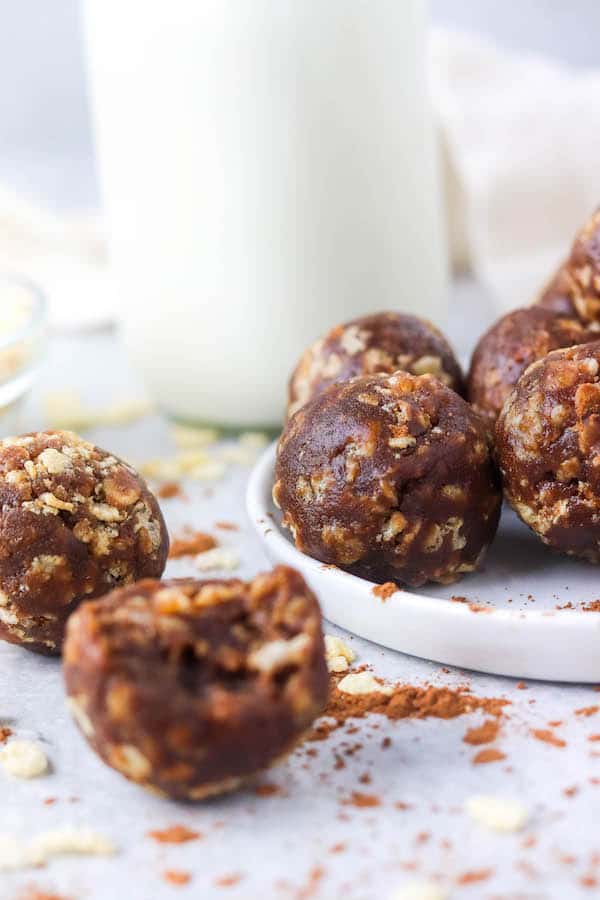 I've made multiple batches of these chocolate bliss balls and don't see that stopping any time soon! I love having them in the house for a quick snack or nourishing dessert! A little bite of nourishing chocolate bliss!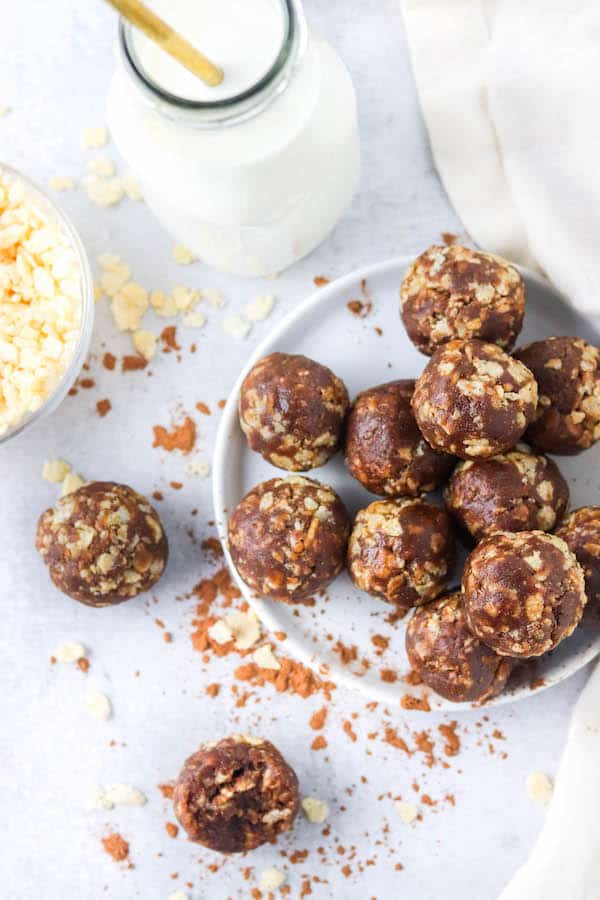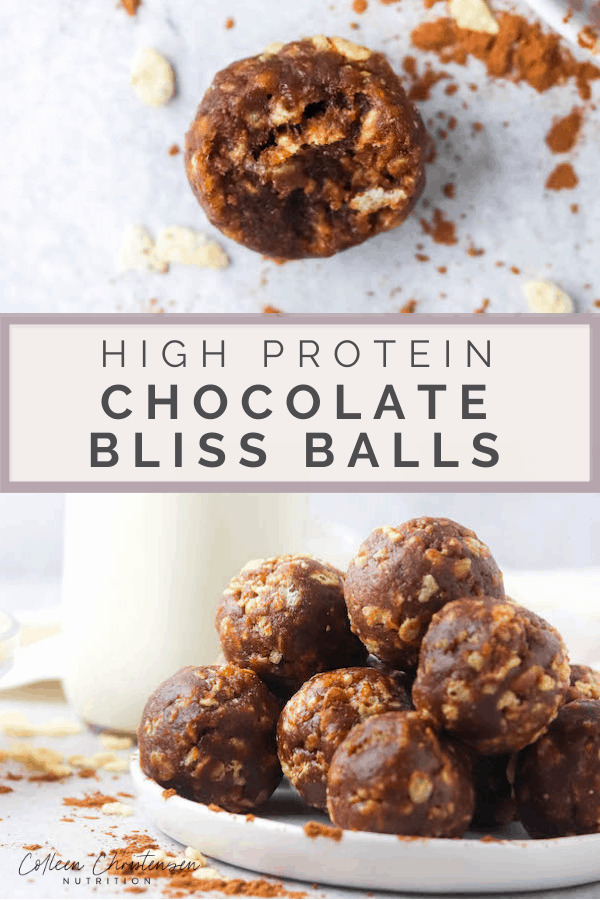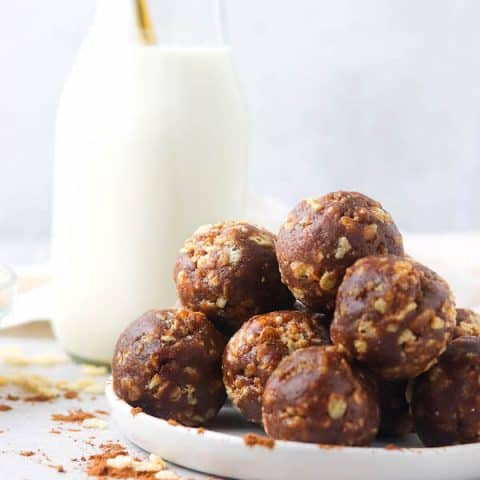 Protein Packed Chocolate Bliss Balls
These chocolate bliss balls are soft, chewy and will leave you feeling full! You can whip these bliss balls up in only 5 minutes with 5 ingredients!
Ingredients
4 dates, pitted & soaked
1 cup almond flour
1 cup protein powder
1.5 tbsp unsweetened cocoa powder
1.5 cups puffed rice cereal
Up to 4 tbsp date water (water you soaked the dates in!)
Instructions
In a food processor combine dates, almond flour, protein powder and cocoa powder. Pulse until smooth.
If needed, stream in date water (the water you used to soak the dates) 1 tbsp at a time. You want the mixture to be a little sticky and be able to blend, but not too wet. (The longer you soak the dates, the less water you'll need)
Transfer date mixture to a large bowl and fold in puffed rice cereal.
Lightly wet your hands and roll 1tbsp of the bliss ball mixture into a ball.
Repeat with remaining mixture.
Store in the fridge & enjoy!
Notes
To soak dates place them in warm water for at least one hour. You may leave them overnight, too!
Sub any protein powder you like. I used vanilla flavor, but you can use any!
You can replace dates with other dried fruits like raisins, prunes, etc. You'll need about 2/3 cup of soaked fruit.
Depending on how long you soaked your dates you may need to add water. If you soak them overnight, you may not need any.
Nutrition Information:
Yield:

18
Serving Size:

1
Amount Per Serving:
Calories:

77
Total Fat:

3g
Saturated Fat:

0g
Trans Fat:

0g
Unsaturated Fat:

3g
Cholesterol:

1mg
Sodium:

17mg
Carbohydrates:

7g
Fiber:

1g
Sugar:

3g
Protein:

6g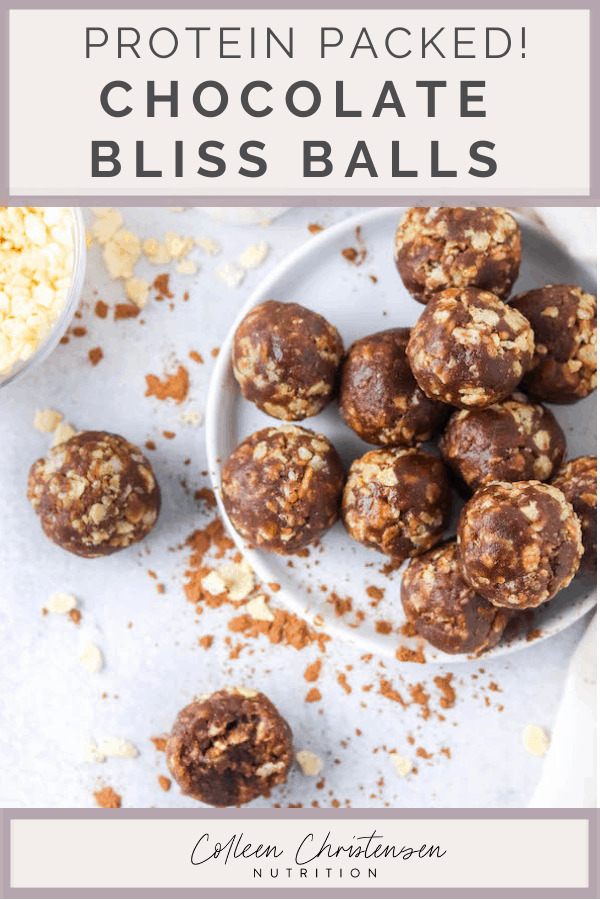 Leave a comment with your thoughts on this! Are you a fan of bliss balls, too? What's your favorite flavor combo? The possibilities are really endless!
Happy Food Rule Breaking!
XOXO
-Colleen
This blog post contains affiliate links, which means that if you click on a product link, I may receive a commission. All opinions are my own, and all brands featured represent what I personally like and support. This blog is a participant in the Amazon Services LLC Associates Program, an affiliate advertising program where I earn advertising fees by linking to amazon.com.
Want more recipes like this? You might like these!