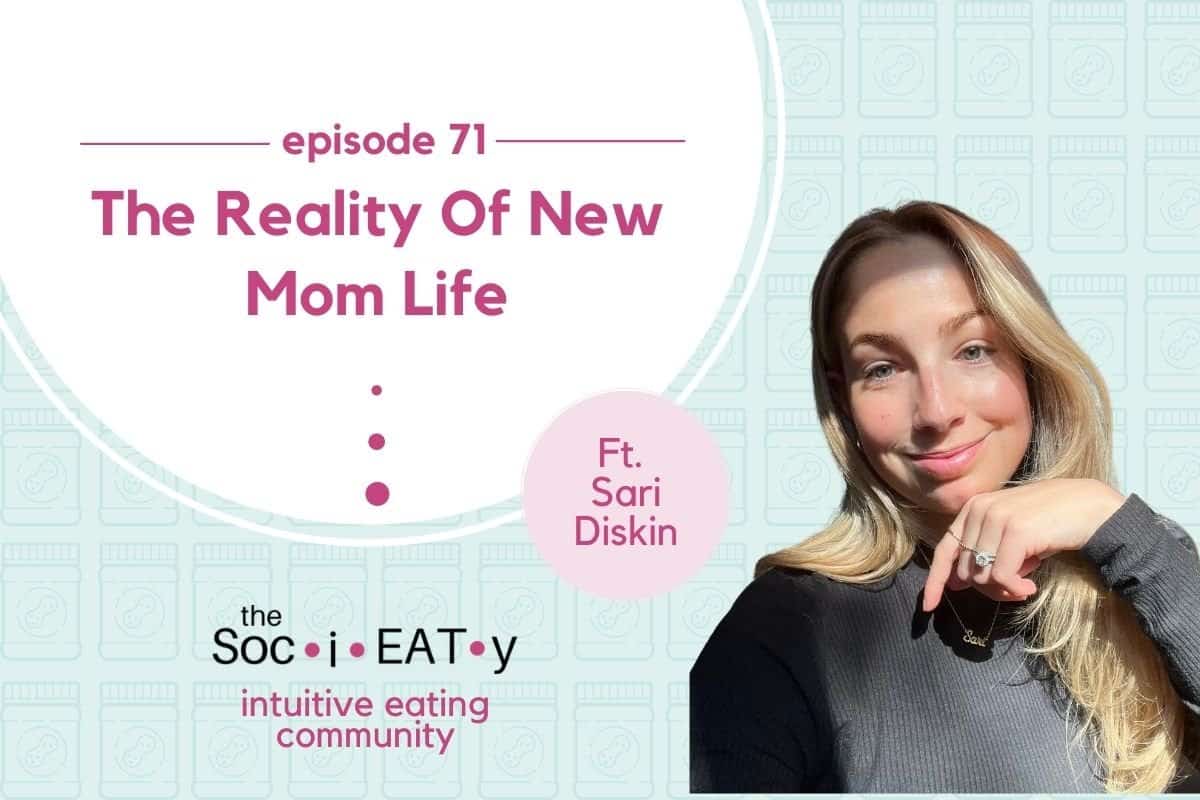 Today's topic is an interesting one to me because it's one that I can't speak much about – that topic being motherhood! I follow today's guest Sari Diskin on Instagram, and I love her profile and the content that she shares! She focuses on things like easy recipes, mental health and wellness, and her motherhood journey! A lot of women in The SociEATy seem to wonder how motherhood is going to change them – what is going to happen to their bodies and to their identities and how their work/life balance is going to change. As I said, I am also interested in these answers because I am not a mother myself, so I am really excited to be chatting with Sari about this!
Sari got started in corporate advertising working at big ad agencies in Toronto (which is where she is originally from) and Detroit but is now a full-time content creator which allows her to marry her love for content creation with her passion for mental health awareness and recipes. She walks us through her journey and how she left her corporate job to start working for herself creating content.
She also walks us through her journey around food and how she healed her broken relationship with it, revealing what her lightbulb moment was and how she went about doing something about it. She discusses what eating looked like while she was pregnant and emphasizes that the type of intuitive eating during pregnancy is different because it's even more intuitive. She shares the positives and the negatives about her pregnancy and what came after, such as the postpartum depression that she experienced and how she dealt with her body changing.
Sari also reveals what her mission statement is as a content creator and leaves us with a few actionable tips, such as fighting against thoughts telling you not to eat something (or in other words, to break a food rule) and, as a mother, to find something to do for yourself. I am so grateful for Sari's time, and I hope that everyone who listens feels inspired! As always, please be sure to share this episode with anyone in your life who might benefit from it, and I would also appreciate it if you would rate, review, and subscribe if you haven't already! I also love hearing from you, so feel free to reach out to me to let me know what about this episode was especially insightful for you! Until next time!
Show Sponsor
Equilibria CBD – Get 20% off (podcast fam exclusive!) using the code NOFOODRULES20 when you click this link!
Time Stamps
[3:41] – Sari tells us a little bit about herself.
[7:25] – Sari details what she was sharing when she first started working for herself.
[10:01] – Sari discusses her journey around food.
[15:09] – We discover when Sari realized that her disordered eating needed to change.
[21:35] – Sari walks us through her motherhood journey.
[25:42] – Sari describes the postpartum depression that followed her giving birth.
[29:01] – Sari advises us that giving birth also means experiencing our own rebirth.
[35:01] – Colleen argues that anything involving food and body is a lot of work.
[37:13] – Discover how motherhood has changed Sari's relationship with food and exercise.
[41:53] – Sari explains how she got rid of MyFitnessPal and abandoned tracking.
[46:35] – Colleen reminds us that intuitive eating means seeing food as normal.
[49:07] – Sari reveals what her mission as a content creator is.
[51:44] – Sari drops a few actionable tips that can be implemented today.
Links and Resources
Colleen Christensen Nutrition – Website
The SociEATy – Become a Member
Freckled Foodie & Friends, Episode 28: Catching Up with Sari Diskin
Freckled Foodie & Friends, Episode 98: Spilling the Influencer Tea with Sari Diskin
Katie Sturino – Body Talk: How to Embrace Your Body and Start Living Your Best Life
Other Episodes You Might Like: